The Best Non-Toxic Swaps For Kids
You may be unknowingly exposing your children to toxic chemicals. I've found safer, non-toxic kids swaps to create a healthy home environment for your children.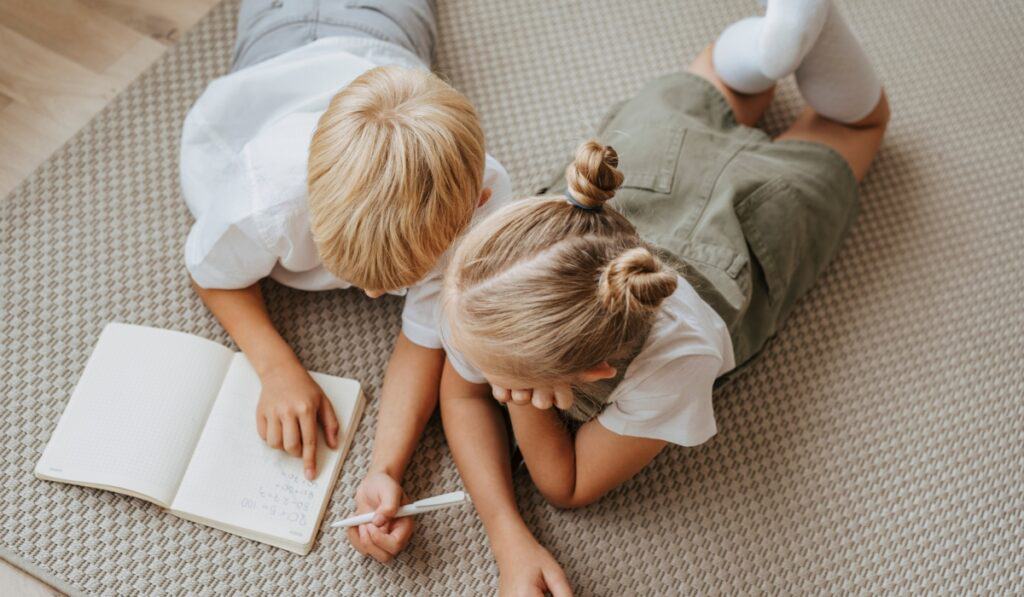 Disclosure: This post contains affiliate links, which means if you make a purchase through these links, we may receive a small commission at no extra cost to you.
If you're looking to create a healthier home for your kids, start by focusing on the items you bring into the home. That's especially true for products your kids use every day, like bath and body care, bedding and drinkware. All of these items may contain toxic chemicals that can impact the health of your child, and harmful chemicals in some products have been associated with hormone disruption, asthma, eczema and cancer. 
Because children are growing and developing, they are at greater risk of developing health issues when exposed to toxins. If you start making small non-toxic swaps around your home, then before you know it, you and your family will be on the way to a healthy living space!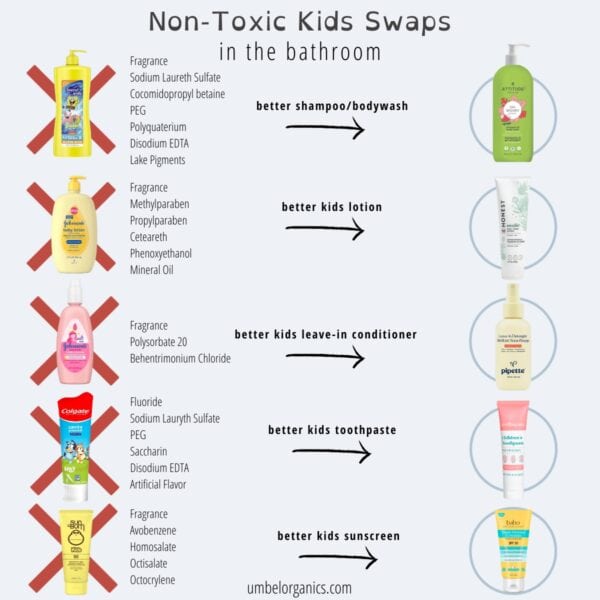 Non-Toxic Bathroom Swaps For Kids
A good portion of children's bath products claim to have safe and gentle formulas for babies and kids, yet a large number of these products contain ingredients that may be harmful to your child's health. The EWG surveyed more than 3,300 parents and found that children are exposed to 27 different unsafe and harmful chemicals in body care products on a daily basis. Some of these chemicals are associated with health risks like nervous system damage, cancer and hormone disruption.
Here are some simple non-toxic swaps to make in the bathroom:
Clean and non-toxic bath products are a must for your kids, and we've got recommendations for everything from bubble bath to shampoo to body wash. Spray in non-toxic leave-in conditioner for no-tangle brushing.
Beyond the bathtub, brush your child's teeth with fluoride-free toothpaste. Banish dry skin with non-toxic lotion for kids and protect them from UV damage with non-toxic mineral sunscreen for kids. For babies and kids with skin rashes, non-toxic eczema treatments are a safe way to tame inflamed skin.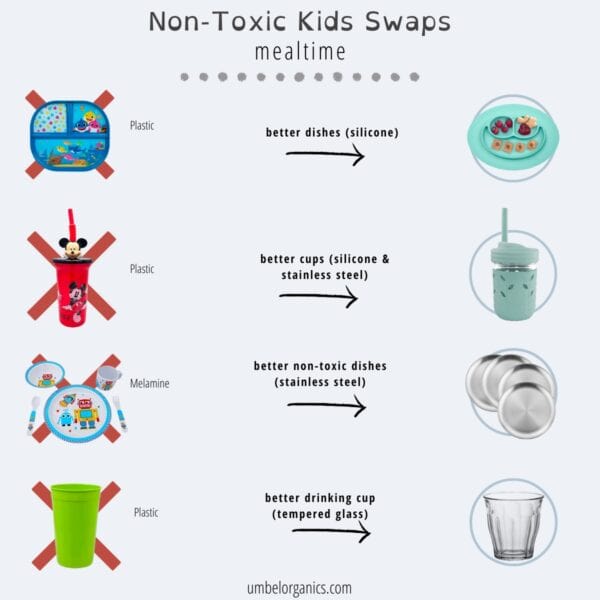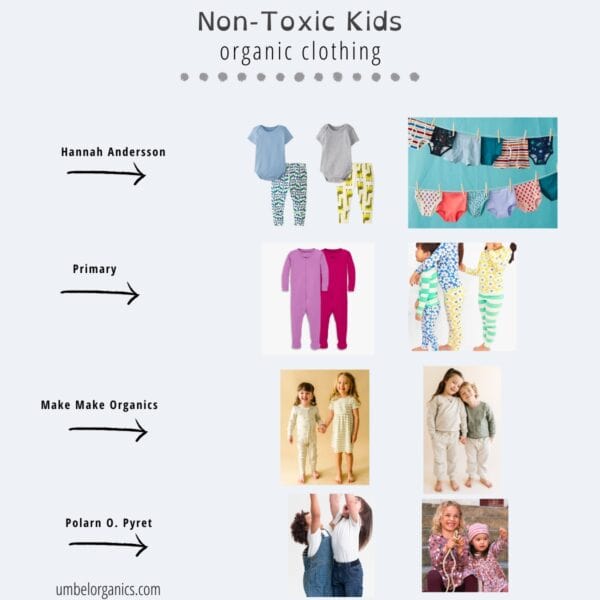 Non-Toxic Clothing Swaps
Other than bathtime, kids are wearing either clothes or pajamas at all times. Why not dress them in organic cotton – the most environmentally-friendly, chemical residue-free option available. Choosing children's clothing made from sustainably grown organic cotton can help you protect the health of your child, farm workers and our planet.
Some of my favorite organic clothing brands for kids:
Put your child to bed in the most adorable Organic Cotton Pajamas For Kids. Swap out their underwear for soft, comfortable, non-irritating Organic Underwear For Kids. And when it comes to heading outdoors, send your kiddo outside with PFAS-Free Rain Gear For Kids and PFAS-Free Winter Outerwear For Kids.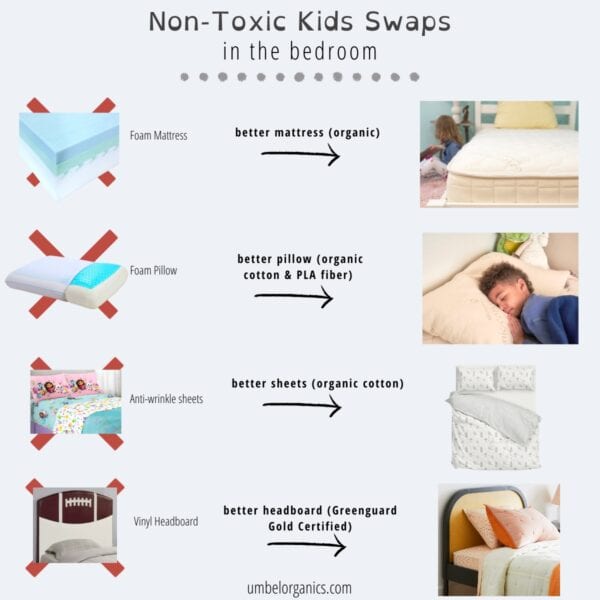 Non-Toxic Bedroom Swaps
Whether they're sleeping or playing, kids spend a lot of time in their bedrooms. In order to create a healthier bedroom environment without harmful chemicals off-gassing, there are a few swaps for a healthier bedroom for your child.
Tuck your child to bed on an Organic Kids Mattress for a healthier sleep environment. Beyond the mattress, make the bed or crib with the cutest Organic sheets and crib sheets for kids. These pair perfectly with adorable and comfy Organic Cotton Pajamas For Kids.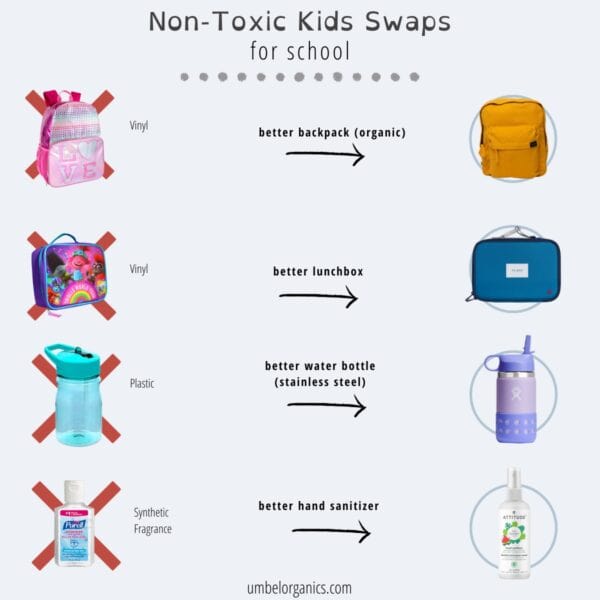 Non-Toxic School Swaps
A 2012 study by the Center For Health, Environment and Justice (CHEJ) found high levels of phthalates in children's back to school products, including backpacks, lunchboxes, and 3-ring binders. Phthalates are used to soften plastic, including vinyl, and they can off-gas and leach from the plastic onto hands.
Here are some simple non-toxic school swaps:
Find backpacks for kids of all ages in my Non-Toxic Backpacks For School guide. Pack your child's lunch in a Non-Toxic Lunchbox and send them to school with Non-Toxic School Supplies.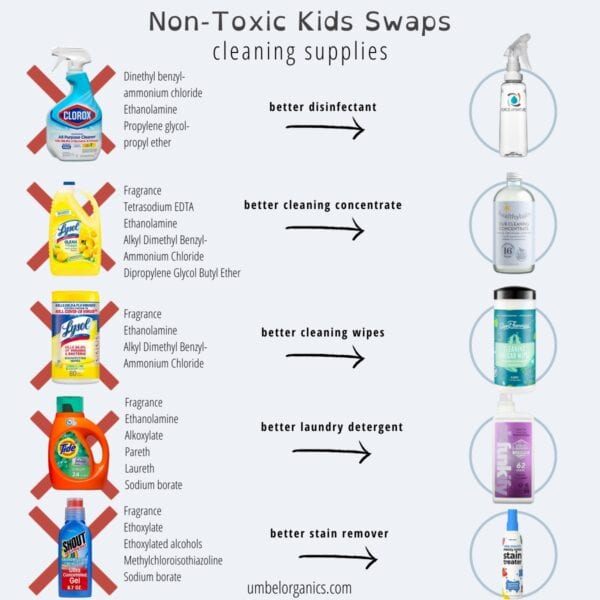 Non-Toxic Cleaning Swaps
It's so important to use cleaners that don't contain harsh chemicals, especially around children, since they're developing and are more vulnerable to toxins. Your cleaning spray shouldn't leave behind a harmful chemical residue, and it shouldn't release volatile organic compounds (VOCs), an off-gassing of fumes produced by cleaning products. 
A 2020 Canadian study found that chronic low-level exposure to cleaning products triggered asthma symptoms and caused chronic inflammation. 
Here are some recommendations for kid-safe cleaning supplies (note- kid-safe does not mean that they can ingest it).
Babies crawl all around on the floor, put their little faces close to the flooring, and even lick the floor, so it's important to use Non-Toxic Kid-Safe Floor Cleaner. Dishes should be washed with Non-Toxic Dish Soap, and for the rest of the house, use a Non-Toxic All-Purpose Cleaning Spray that doesn't contain endocrine-disrupting ingredients and Non-Toxic All-Purpose Bathroom Cleaner.
More Non-Toxic Inspiration For Kids