The Best Safe & Non-Toxic Dish Soap Brands
Scrub your dishes sparkling clean with safe, eco-friendly dish soap for a healthy home and a healthy environment. We're sharing the best non-toxic and eco-friendly dish soap brands that deliver foamy suds and cut grease without the harmful chemicals.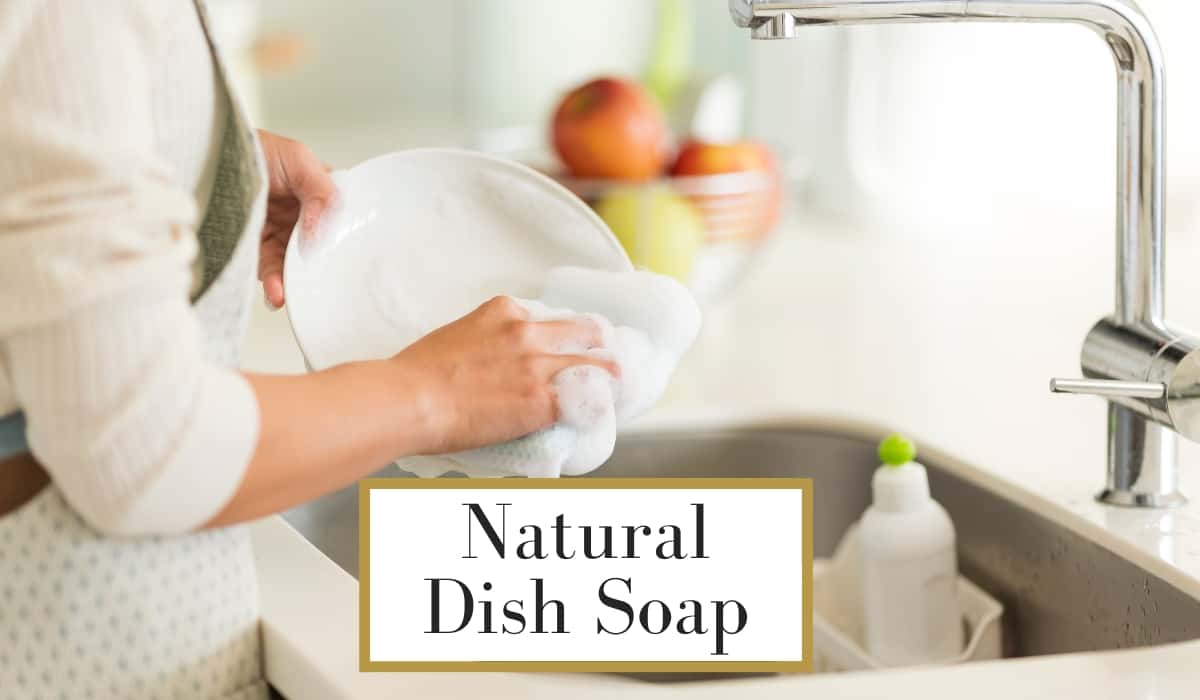 Disclosure: This post contains affiliate links, which means if you make a purchase through these links, we may receive a small commission at no extra cost to you.
Dish soap is one of those household products that everyone uses, usually more than once per day. If you're trying to avoid harsh preservatives, endocrine disruptors, allergens and irritants, you may want to check the ingredient list of the dish soap you're currently using. Not only can conventional dish soap affect the health of you and your family, but once dish soap washes down the drain, it can negatively affect the health of the aquatic ecosystem.
The good news is that there are some brands of natural dish soap that don't contain harmful ingredients and are greywater-safe. Beyond dish soap, use non-toxic all purpose cleaners and give your kitchen a plastic audit, replacing what you can with non-plastic alternatives.
I've found 6 brands of dish soap that don't contain any harsh preservatives, endocrine disruptors, allergens and irritants. But first, here's a list of chemicals that you don't want in your dish soap.
Ingredients To Avoid In Dish Soap
Even if you think your dishes are rinsed clean, there may be soap residue containing any of the harmful chemicals listed above left on the dishes. You may also risk exposure by inhaling fragrance chemicals and bubbles as you do dishes or cause irritation on your hands.
When there are effective dish soap alternatives that are safe and non-toxic, there's really no need to expose yourself and your family to the harmful chemicals in some dish soap brands like Dawn Ultra Dishwashing Liquid (this gets a score of D from the Environmental Working Group). Aside from your family's health, all of the greywater gets washed into our waterways, and any harmful chemicals can negatively affect the aquatic ecosystem.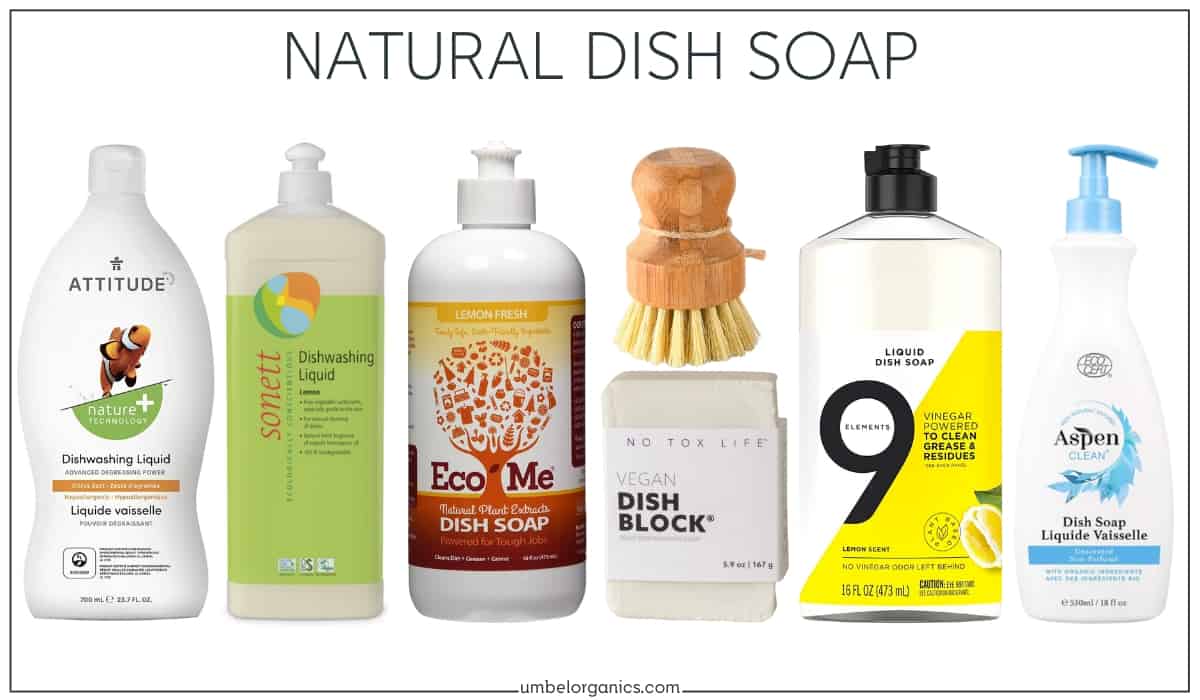 We're sharing the best non-toxic dish soap brands that cut through grease and get your dishes clean without harmful chemicals.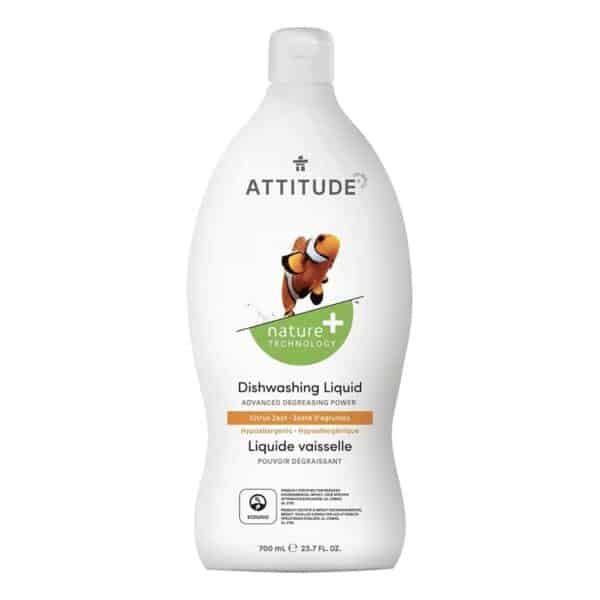 Attitude
Cost: $4.95 for 23.7 oz ($0.21 per ounce)
Scents: Citrus zest, Pink Grapefruit, Coriander & Olive, Green Apple & Basil, Wildflowers, Unscented
From the Attitude Living website: Keep your kitchen sink and dishes spick and span with ATTITUDE Nature + TechnologyTM Dishwashing Liquid – Citrus Zest. Our unique formula is made with deep-cleansing and antibacterial agents like saponin, and uses natural and plant-based ingredients. Plus, it's ECOLOGO® Certified, sustainable and biodegradable, with foaming action that is tough on grease but soft on hands, so you can use it daily, worry-free!
Shop: Attitude Dish Soap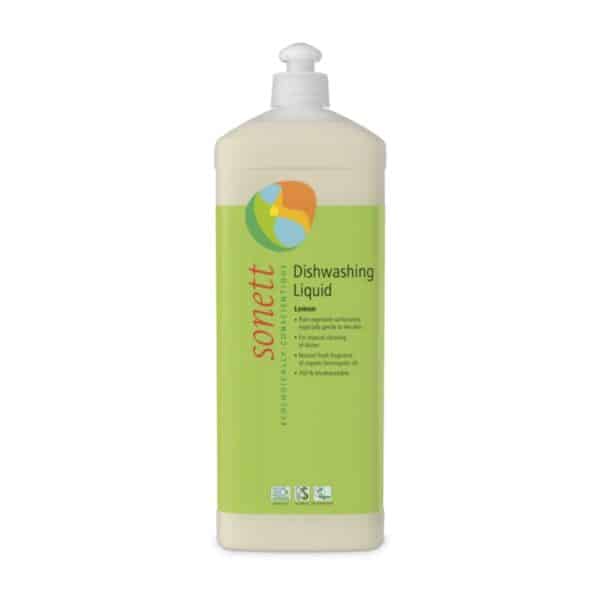 Sonett
Cost: $14.99 for 34 oz ($0.44 per ounce)
Scents: Lemon, Calendula, Sensitive (all scents are natural essential oils from organically grown plants).
From the Sonett website: Sugar, starch, and coconut oil serve as raw materials for the sugar surfactants used. Combined with coconut oil alcohol sulphate produced from coconut oil and sulphur oxides, they form a combination of substances which complement each other, increase their cleansing performance and possess excellent fat-dissolving properties as well as outstanding skin tolerance.
Shop: Sonett Dish Soap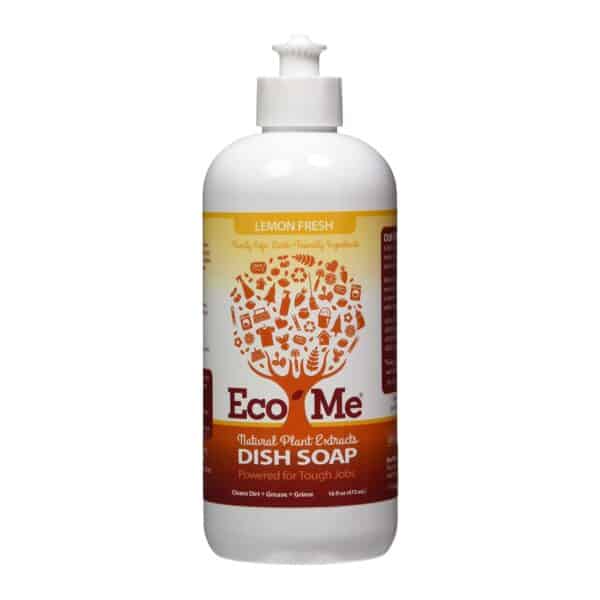 Eco-Me
Cost: $11.70 for 16 oz ($0.73 per ounce)
Scents: Fragrance-free, Lemon Fresh, Herbal Mint, Citrus Berry (scented using plant essential oils)
From the Eco-Me website: This powerful plant-based natural dish soap works quickly cutting through dirt, grease and grime leaving dishes sparkling clean without a filmy residue. It's packed with natural plant extracts and plant derived soap making it safer for you and your family. It rinses off easily and is gentle on hands. No Harsh Chemicals, Great Natural Scents, Greywater & Septic Safe. What it Doesn't Contain: No Dyes or Colorants, No Harsh Preservatives, No Sulfates (SLS, SLES, ALS), No Animal Testing or By-Products.
Shop: Eco-Me Dish Soap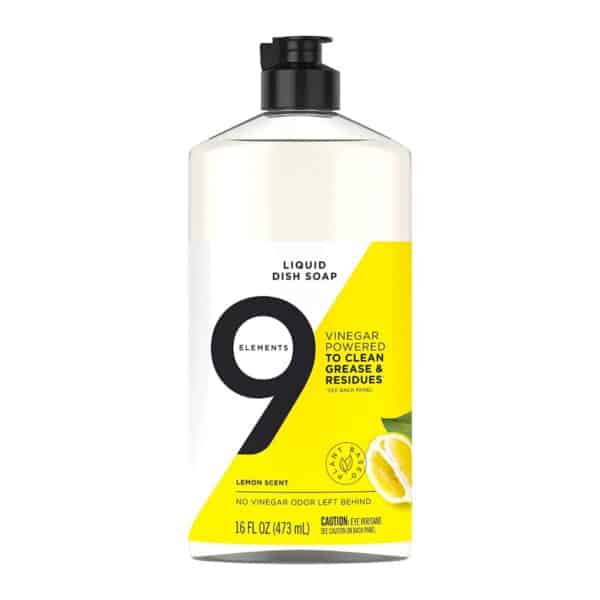 9 Elements
Cost

: $8.99 for 16 oz ($0.56 per ounce)

Scents

: Lemon, Eucalyptus

From the 9 Elements website: 9 Elements Dish Soap is vinegar powered to remove grease and residues, like hard water minerals and tough coffee & tea stains. This formula cuts through grease, tough beverage stains, and chalky hard water residues with the purifying power of vinegar without leaving behind vinegar odors. Made with 100% Lemon Essential Oil for a refreshing scent. Made without artificial preservatives, dyes, thickeners, and synthetic fragrances.
Shop

:

9 Elements Dish Soap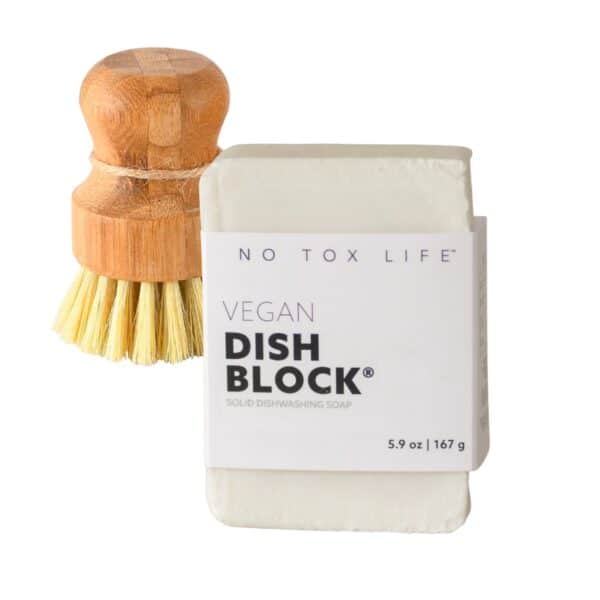 No Tox
Cost: $9.99 for 6 oz ($1.67 per ounce)
Scents: Fragrance-free
From the No Tox website: New updated formula with bigger, fluffier bubbles and stronger grease cutting in all water types. The DISH BLOCK® concentrated dishwashing soap is a cleaning powerhouse with a rich, sudsy lather. Cuts stubborn grime and grease on dishes, pots and pans. With added aloe vera to be gentle on your hands. Free of dyes and fragrance.
Shop: No Tox Dish Block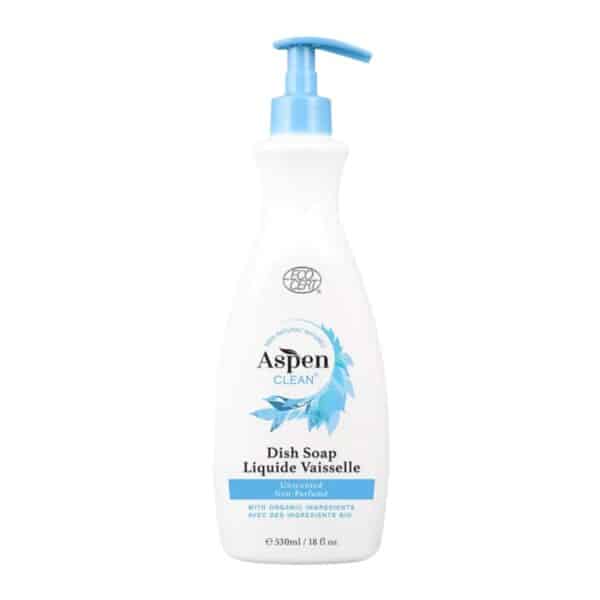 Aspen Clean
Cost: $9.99 for 18 oz ($0.56 per ounce)
Scents: Unscented, Lavender & Lemongrass, Eucalyptus & rosemary (scents made from natural essential oils from organically grown plants)
From the Aspen Clean website: EWG verified. This dish soap is natural, nontoxic, and eco-friendly. It's made from sustainable ingredients, and septic tank safe so you know it's not harming the environment when going down the drain. It is hypoallergenic and made only from cosmetic grade ingredients. It will leave all your dishes shiny clean and free of toxic residues, and your hands soft and healthy thanks to skin-smoothing ingredients. Ecocert certified, Vegan.
Shop: Aspen Clean Dish Soap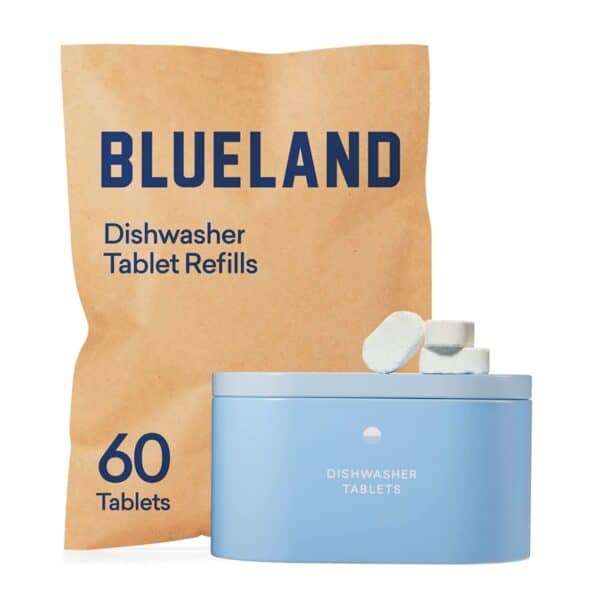 Blueland
Cost: $18 for 40 tablets plus reusable storage tin
From the Blueland website: All power, no plastic—our naked dishwashing tablets come free of PVA/PVOH (polyvinyl alcohol), so you can consciously clean your dishes. Includes 1 Forever Tin and 40 Dishwasher Tablets. Once empty, simply refill with more tablets. Refills packaged in compostable paper pouches.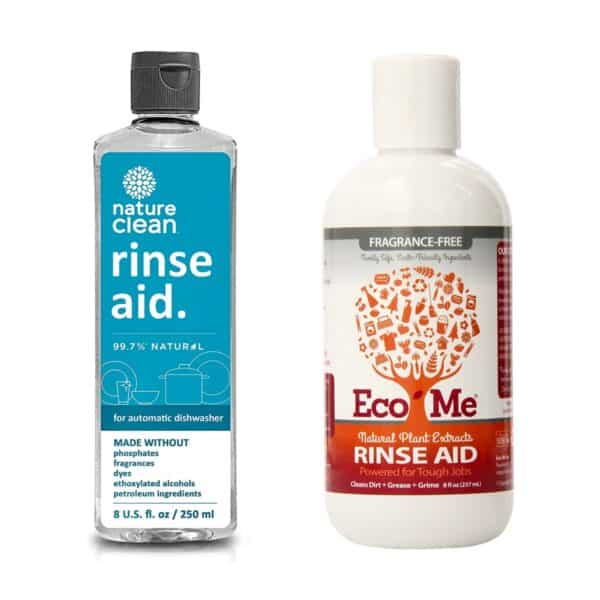 Natural Rinse Aid
Nature Clean Dishwasher Rinse Aid
Cost: $6.67 for 8 oz ($0.83 per ounce)
From the Nature Clean website: Nature Clean® Dishwasher Rinse Agent removes spots and film from dishes, glassware, and cutlery without the use of phosphates, EDTA, NTA, alcohol ethoxylates, dyes and fragrances. Just good, clean ingredients. This product is biodegradable and not tested on animals.
Shop: Nature Clean Dishwasher Rinse Aid
Eco Me Rinse Aid
Cost: $19.99 for 8 oz ($2.50 per ounce)
From the Eco Me website: This natural Rinse Aid adds a cleaning boost to your dishwasher to help remove caked on food, detergent and water spots. It leaves a streak-free shine. This natural plant-based cleaning system is free from dyes or colorants, harsh preservatives, sulfates (SLS, SLES, ALS) and no animal testing or by-products. Fragrance free, natural antibacterial properties, greywater & septic safe, no harsh chemicals.
Shop: Eco Me Rinse Aid
More Natural Kitchen Inspiration