The Best Organic Crib Sheets For A Healthy Nursery
Reduce toxin levels in your baby's bedroom by using organic crib sheets. I'm sharing 11 brands of organic crib sheets that don't contain harmful chemicals, so you can create a healthy sleep environment for your baby.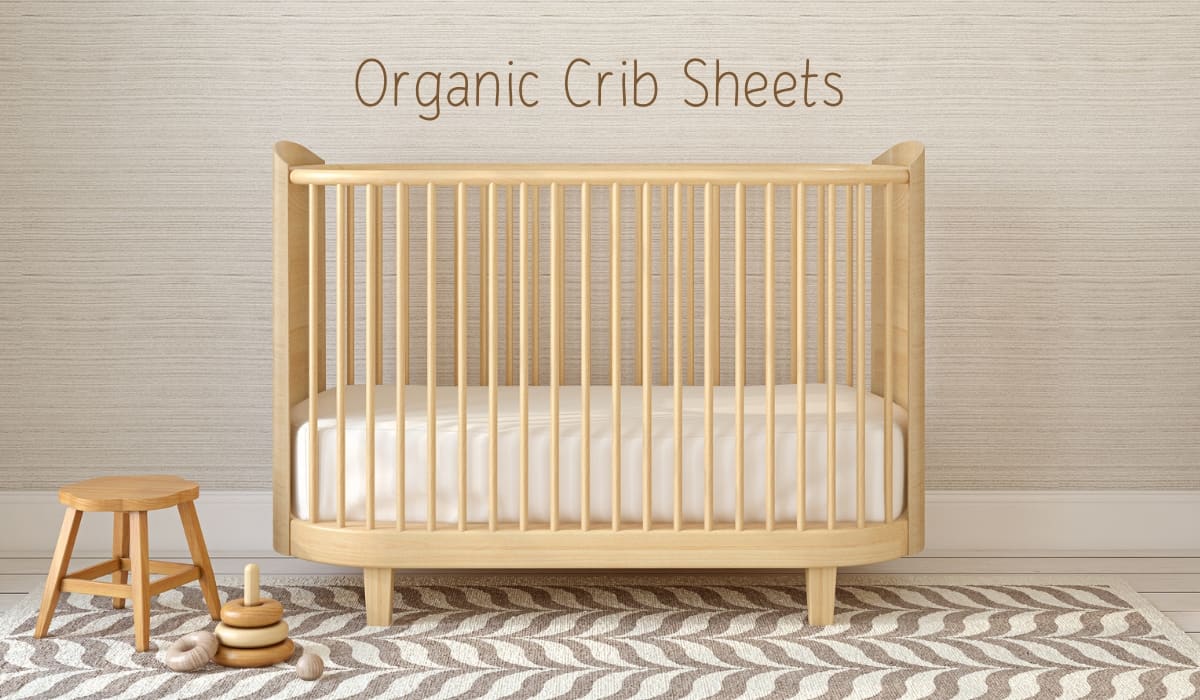 Disclosure: This post contains affiliate links, which means if you make a purchase through these links, we may receive a small commission at no extra cost to you.
Organic crib sheets are an excellent choice for parents who want to ensure that their baby's sleep environment is free from harmful chemicals and toxins. Newborn babies spend about 16 hours a day sleeping, and it's important that the fabric closest to their skin is not leaching and off-gassing chemicals that can negatively affect their development and health in any way. 
Eliminating harmful chemicals in your baby's bedding is an important step toward a less toxic bedroom. Stain resistant crib sheets may sound like a smart choice for bedding, but there are harmful chemicals added to the fabric that can off-gas and adversely affect your baby's health. 
Why Should Babies Use Organic Crib Bedding?
Approximately 10% of the chemicals used in producing textiles are considered to be harmful to human health. These chemicals can remain in the fabric after production and pose a risk to the consumer, and especially to babies and young children, since their growing bodies are more vulnerable to toxins and harmful chemicals. 
A 2018 study found that chemically-treated fabric released harmful chemicals (in this case carcinogenic benzothiazole) from the textile materials and penetrated a porous model replicating human skin. This indicates that textile contaminants can travel through the skin membrane and cause potential health risks.
Picture your baby sleeping soundly, with your baby's cheeks directly touching crib sheet fabric, and their mouth and nostrils taking in air. If you're not using organic crib sheets,  your baby is potentially breathing in Volatile Organic Compounds (VOCs) that can adversely affect their health and development.
Babies and small children are particularly vulnerable to toxins because their little bodies are still developing, making the brain, immune system, and other vital organs more susceptible to damage. If babies are exposed to harmful chemicals repeatedly or in large quantities, toxins can accumulate since babies are not as efficient at eliminating toxins as adults are.
Beware of crib sheets marketed as stain resistant, waterproof or easy care, since there are harmful chemicals either applied directly to the fabric or added to the fabric fibers that can leach and off-gas, adversely affecting your baby's health.
A quick run through the washing machine won't wash these chemicals off, since formaldehyde is embedded in the fibers of the fabric. Stain resistant fabric is typically coated with PFAS chemicals (aka forever chemicals) that won't wash off in the washing machine either. 
Harmful Chemicals Found In Fabric
Antibacterial Agents– Some fabric is coated with antibacterial and antifungal agents to discourage mold and bacterial growth. These antibacterial biocides may contribute to antibiotic resistance, and may contain endocrine disruptors.
AVOID fabrics with anti-bacterial and antimicrobial on the label.
Formaldehyde– Formaldehyde is a Volatile Organic Compound (VOC), meaning that it can off-gas into the air. Formaldehyde is typically used in fabrics to prevent wrinkling, but it is also used for color fastness and for water-proofing. Short-term exposure to formaldehyde is associated with watery, burning eyes, throat pain, nausea, difficulty breathing, coughing, asthma attacks, headaches, skin rashes and fatigue. Exposure to formaldehyde also raises your risk for cancer.
AVOID fabrics with anti-wrinkle and easy care on the label.
Azo Dyes– Azo dyes create vivid colors in fabric. They can release aromatic amines, some of which cause cancer from long term exposure. Azo dyes also contain heavy metals like antimony, cadmium, chromium, lead and cobalt. Although Azo dyes are banned in the United States during the manufacturing phase, they are still used in developing countries, and the fabric is imported to the US.
LOOK FOR GOTS certified organic cotton and OEKO-TEX® Standard 100 certifications to avoid Azo dyes in your bedding. 
PFAS Chemicals– PFAS chemicals are used as a barrier on fabric to protect it from stains. PFAS Chemicals are also used to preserve fabric from developing mold during shipment. PFAS chemicals have been linked to weakened immunity, thyroid disease, cancer, autoimmune diseases, infertility, and more. They are nicknamed "forever chemicals" because they accumulate in the body over time and don't readily break down.
AVOID Stain Resistant or Sweat Wicking on the label
Phthalates and BPA– Synthetic fabrics like polyester, acrylic, and nylon can contain phthalates and BPA. Both phthalates and BPA are known endocrine disruptors. They are associated with reproductive issues such as infertility, obesity, cancer, and organ damage. Since synthetic fabrics are made from petroleum and are plastic, they're not great for the environment.
AVOID Synthetic Fabrics like nylon, polyester and acrylic
Non-Organic Cotton– Seven of the 15 pesticides commonly used on cotton in the United States are listed as "probable" or "known" human carcinogens by the Environmental Protection Agency (EPA). Pesticide and herbicide residues can show up on the finished fabric and also show up in the environment as contaminated crop water run-off and contaminated soil.
LOOK FOR 100% organic cotton (GOTS certified is best)
What Certifications To Look For
GOTS Certified Organic Cotton– The Global Organic Textile Standard (GOTS) certification requires that at least 95 percent of the materials in fabric are certified organic, and the entire production chain, from USDA certified organic raw materials to manufacturing the final certified product, and includes chemical inputs, fair trade and labor practices and environmental impact.
GOTS certification prohibits the use of azo and other conventional dyes which are known to release carcinogenic compounds. GOTS also prohibits dyes that are known to cause other health risks, like birth defects or brain damage, or are harmful to the environment (including dyes toxic to aquatic life, terrestrial vertebrates or that negatively impact the ozone layer).
OEKO-TEX® STANDARD 100– This Oeko-Tex certification means the fabric goes through rigorous testing for harmful substances (less rigorous than GOTS certified, but the next best). If certified, the fabric is free from harmful substances like formaldehyde, pentachlorophenol and nickel. Currently, Oeko Tex is adding PFAS chemicals to the list of chemicals that are restricted.
MADE SAFE®– MADE SAFE® certifies that products are not made with substances that are known or suspected to be harmful. MADE SAFE® certified products are tested for behavioral toxins, carcinogens, developmental toxins, endocrine disruptors, toxic fire retardants, heavy metals, neurotoxins, high-risk pesticides, reproductive toxins, toxic solvents, harmful VOCs, endangered species. 
Beyond organic crib sheets, the bedroom can harbor harmful chemicals in mattresses and bedroom furniture. Choose an organic crib mattress that's not coated with harmful flame retardants and stuffed with petroleum-based foam. Look below for 11 brands of organic crib sheets to reduce harmful VOCs in your baby's bedroom. I've listed all of the prices for a single crib sheet. Scroll down for one budget-friendly brand that made my list!
The Best Organic Cotton Crib Sheets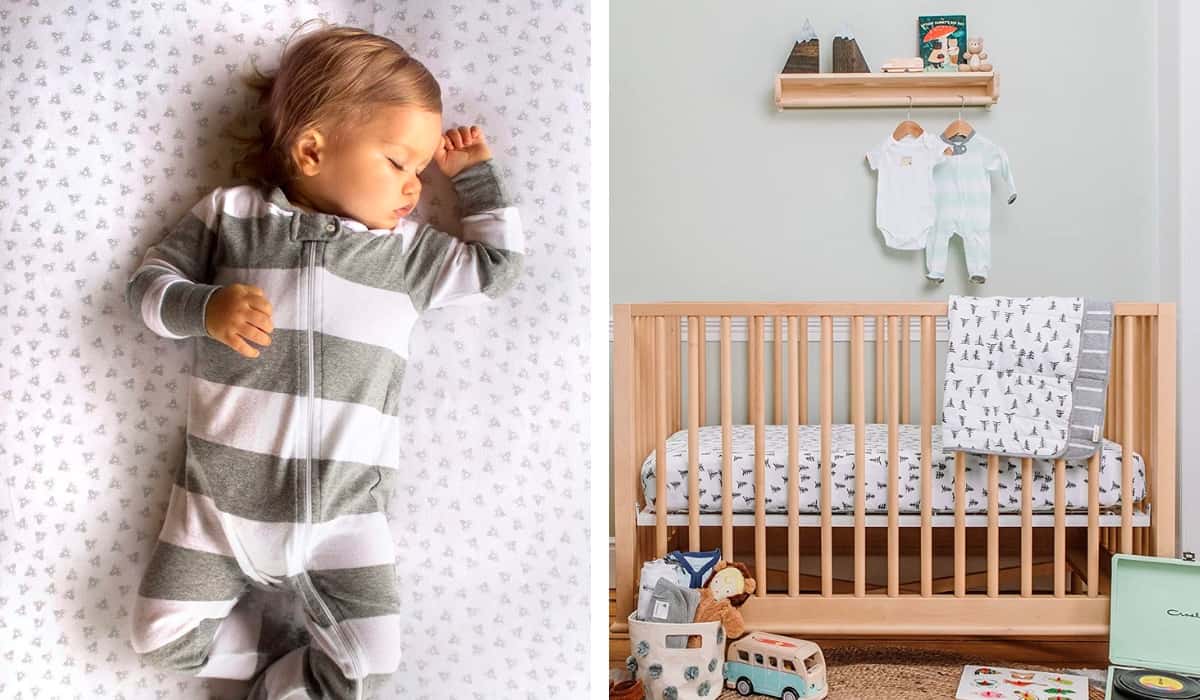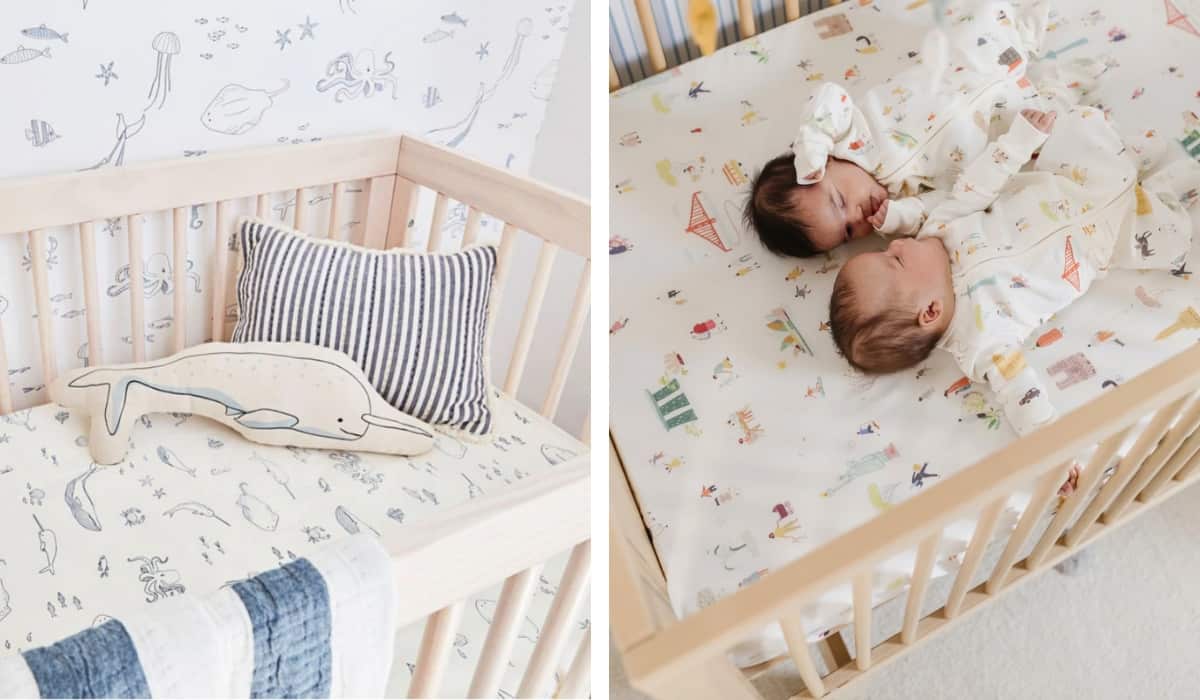 Pehr
Pehr is a female-founded, female-led company that supports women in the workplace. Pehr practices thoughtful design, uses organic materials and processes, and strives for a tiny footprint.
Pehr Organic Crib Sheets– breathable and soft brushed organic cotton. Ethically made and Screen printed by hand using AZO-Free dyes.
Certifications: 100% GOTS certified organic cotton
Depth of Pockets: 8" deep
Cost: $39 printed
Colors: 29 patterns
Washing Instructions: Machine wash cold, tumble dry at low temperature, iron at low temperature.
Pehr also carries:
Pehr Organic Stokke Sheets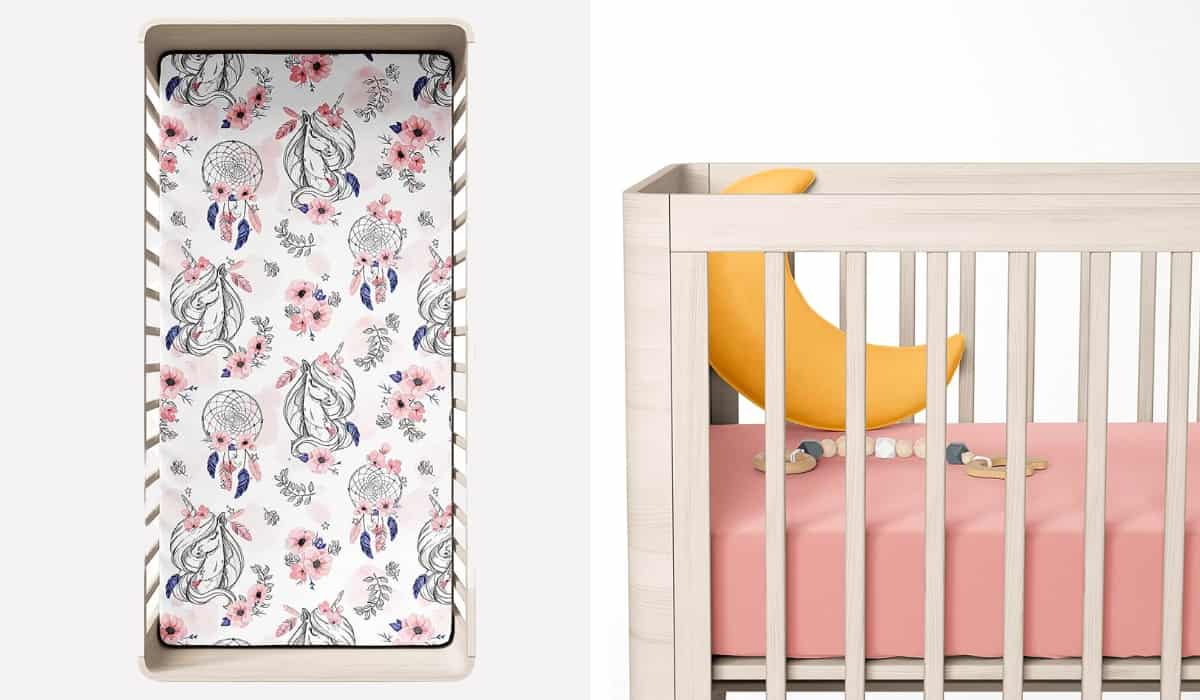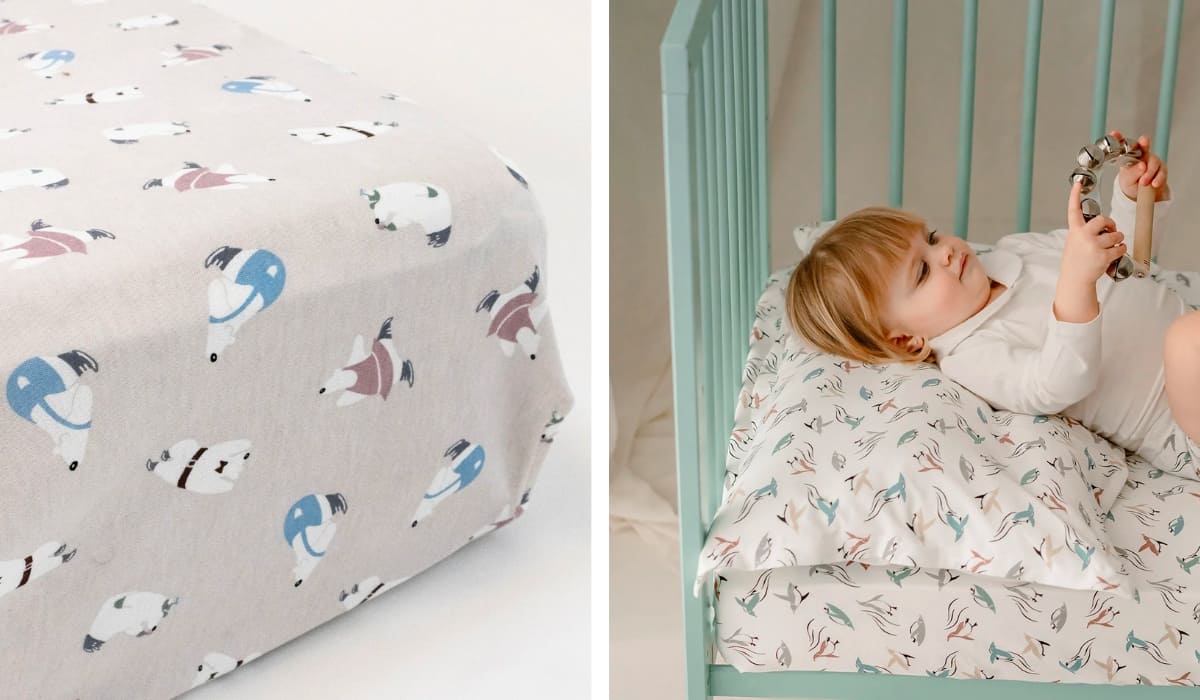 Nest Designs
Nest Designs hand-picks their partners based on the quality of their product, craftsmanship skills, experience in the field, and how the partners operate. Each product goes through a rigorous review process to ensure top quality. All of the organic cotton used is GOTS certified.
Nest Designs Organic Crib Sheets
Certifications: 100% GOTS certified organic cotton
Depth of Pockets: n/a
Cost: $37 printed
Colors: 2 patterns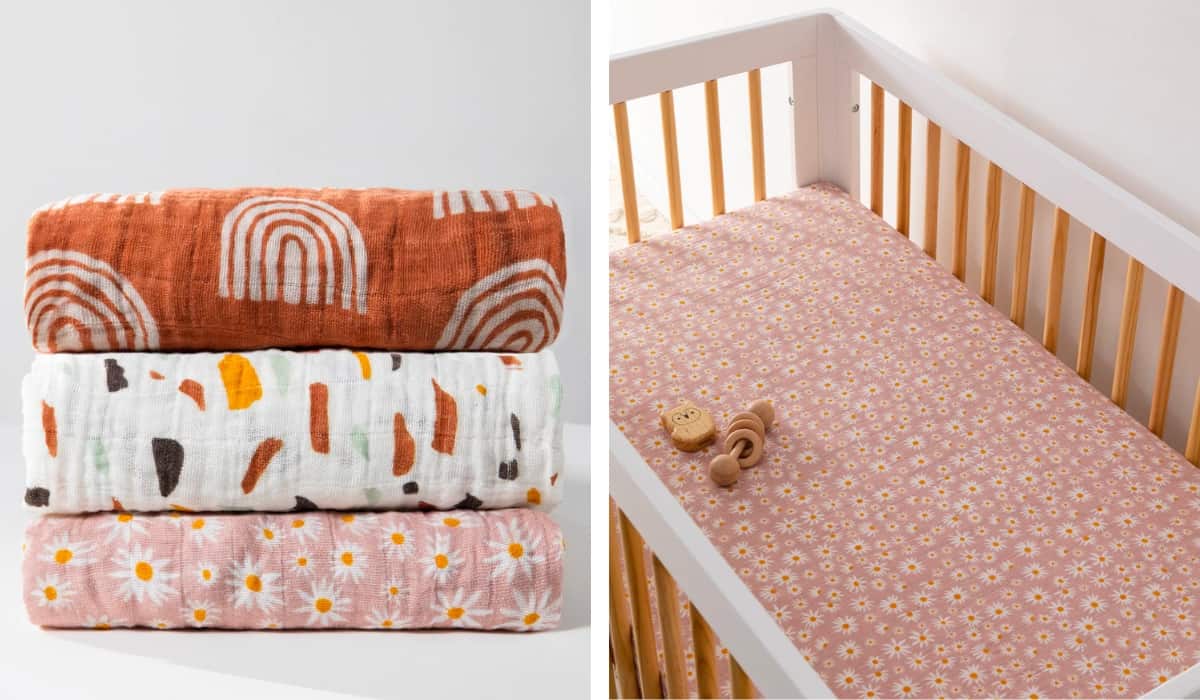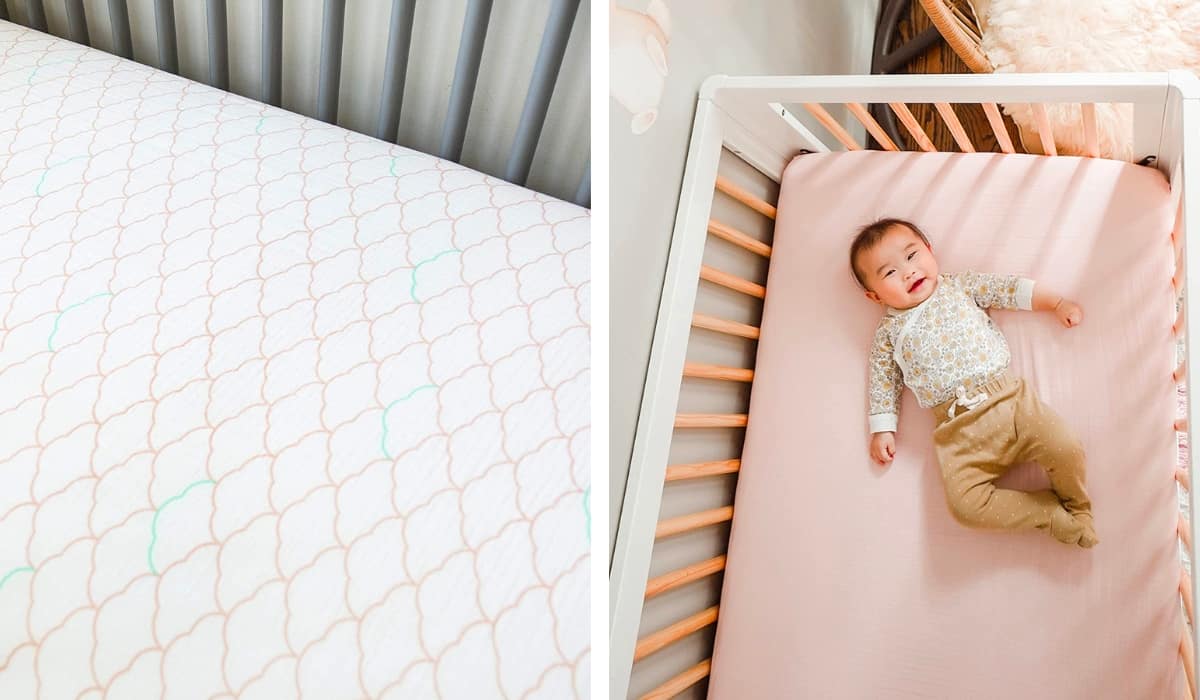 Newton Baby
At Newton Baby, they believe in the importance of sleep in living a happy and healthy life. They have devoted years of research to creating solutions for better sleep for the entire family, and support the idea that the healthy development of your baby depends on you providing them with good quality sleep.
Newton Baby Organic Crib Sheets– muslin cotton. Pre-shrunk, organic muslin cotton is machine washable for the most hygienic sleep surface.
Certifications: 100% GOTS certified organic cotton
Depth of Pockets: 8" deep with elastic around entire edge
Cost: $20
Colors: 6 patterns, 4 solid colors
Washing Instructions: 100% machine washable
Newton Baby also carries:
Newton Baby Organic Mini Crib Sheets
HonestBaby
The entire HonestBaby line is crafted from super soft, sustainably sourced, 100% certified organic cotton, and perfect for delicate skin and safe sleep. Jessica Alba founded this baby-friendly line with little luxe touches and modern designs.
HonestBaby Organic Crib Sheets– Cozy, super-soft fitted crib sheets. Made from 100% organic cotton, they're designed to fit both standard crib and toddler mattresses.
Certifications: 100% GOTS certified organic cotton
Depth of Pockets: 6" deep with elastic around entire edge
Cost: $20
Colors: 30 patterns, 14 solid colors
Washing Instructions: Machine wash and dry
Keababies
Keababies creates safe and gentle bedding and clothing for your little one, and is made with only the best materials. Keababies stringently tests for safety and quality, and they are internationally-certified.
Keababies Organic Crib Sheets– soft and breathable premium jersey cotton
Certifications: 100% GOTS certified organic cotton
Depth of Pockets: 8" deep with elastic around entire edge
Cost: $14.50
Colors: 14 patterns, 12 solid colors
Washing Instructions: Machine wash and dry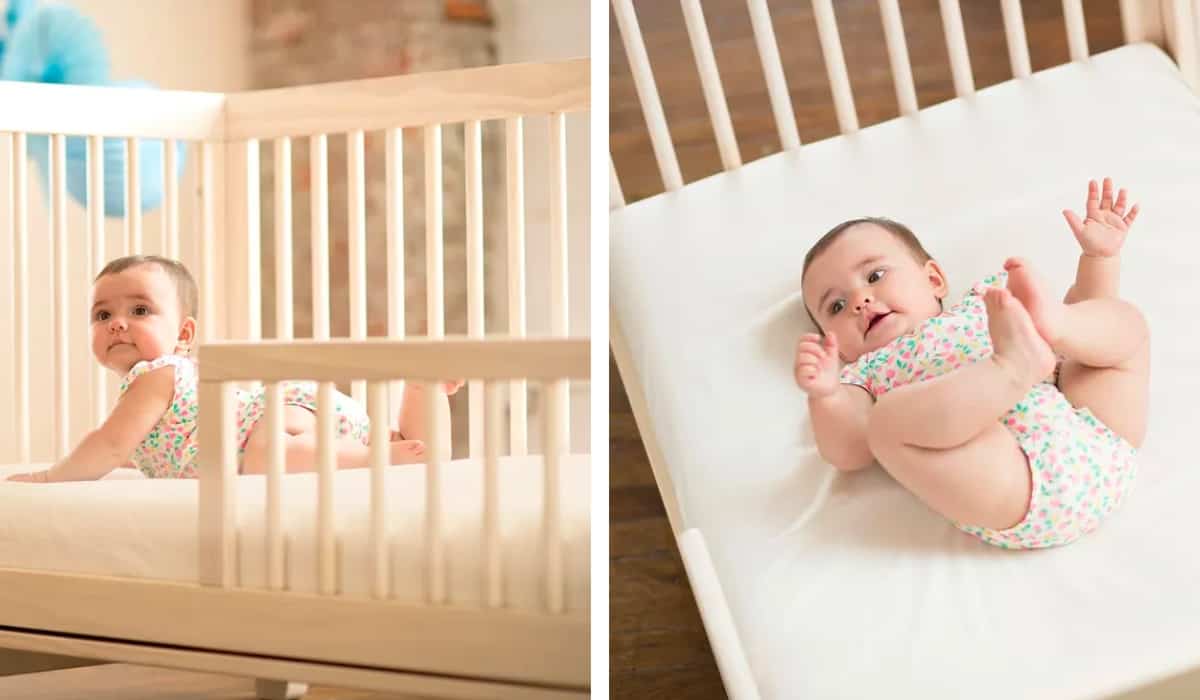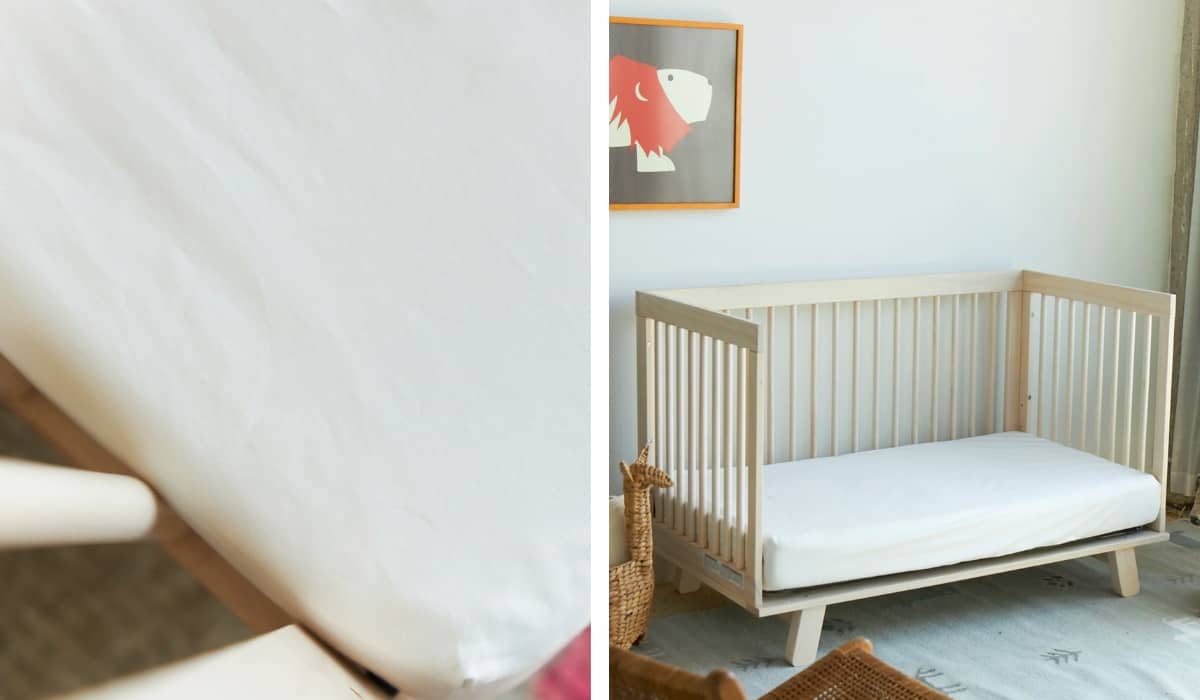 Avocado
Avocado Green Mattress makes nontoxic, certified organic mattresses and bedding, sustainable furniture and natural sleep accessories. The organic cotton sheets are made in India. They donate one percent of all revenues to environmental nonprofits through 1% For The Planet. 
Avocado Organic Cotton Crib Sheets– Non-toxic, lightweight, breathable fabric. 400 thread count single ply weave.
Certifications: 100% GOTS certified organic cotton, Made Safe certified
Depth of Pockets: 10"
Cost: $49
Colors: 1 solid color
Washing Instructions: Machine-wash on a gentle cycle with similar colors in cold water. Do not use fabric softeners, bleach, or whiteners. Line dry or tumble dry low.
Avocado Green Mattress also carries:
Avocado Organic Crib Mattresses
Avocado Organic Waterproof Crib Mattress Protector
Frequently Asked Questions
Do babies need crib sheets?
Yes! Babies need crib sheets for warmth, comfort and hygiene.
How often do you change crib sheets?
As long as your baby has not had a diaper blowout or is not sick, crib sheets should be changed at least once every two weeks. If your baby is spitting up a lot on the sheet, drools a lot, or has a runny nose, the crib sheets should be changed more often as needed.
How many crib sheets should I have?
I would aim for at least 4 crib sheets. That would be one on the crib mattress and three at the ready.
More Natural Kids Inspiration