Stainless Steel Snack & Lunch Containers For Kids
Ditch plastic baggies and choose stainless steel snack containers for a durable, non-toxic, plastic-free way to eat on-the-go at school. I've rounded up the best snack and lunch containers that are free from BPA, phthalates, and other harmful chemicals, and kids of all ages will love these non-toxic, plastic-free containers for snacks and lunch. From preschool to high school and beyond, there's a stainless steel non-toxic food storage option for all! 
Disclosure: This post contains affiliate links, which means if you make a purchase through these links, we may receive a small commission at no extra cost to you.
It's time to ditch the plastic baggies you're using for food storage and replace them with stainless steel food storage containers. It may be more expensive up front to stock up on all stainless steel food storage, but these durable, reusable containers will last forever, won't leach harmful chemicals, and you'll save money in the long run.
Plastic food storage may be convenient, but you run the risk of the plastic containers leaching chemicals into your food, and plastic containers contribute to the plastic waste piling up in landfills. Make the switch to reusable lunch containers that you can use again and again!
Although public outcry has resulted in many companies removing BPA, a known endocrine disruptor, from a slew of plastic food storage containers, plastic containers labeled "BPA-free" don't necessarily mean they're any safer. They may contain other bisphenols, such as BPS, which have the same harmful properties as BPA (1). Even bisphenol-free plastics may contain other endocrine-disrupting chemicals (2).
Plastic wrap and plastic baggies are just so handy…but they're made with potential endocrine disruptors. Although phthalates were phased out of plastic wrap in 2006, low-density polyethylene (LDPE) or polyvinylidene chloride (PVDC) are now used (3). LDPE may contain diethylhexyl adipate (DEHA), a potential endocrine disruptor and carcinogen (4).
Although I use glass for food storage at home, I don't recommend sending your kids off to school with any glass containers, even if they are wrapped in silicone sleeves. I had a baby bottle break in my local library, and although no one got hurt, this material is not safe for taking on the go. Also, some schools ban the use of glass food storage for safety reasons.
WHY USE STAINLESS STEEL SNACK & LUNCH CONTAINERS?
Stainless steel is durable, long-lasting, non-toxic, does not leach harmful chemicals, and, because it's reusable, it's a money-saver in the long run. Stainless steel is also 100% recyclable without any loss of quality, whereas plastic quality is downgraded when it's recycled.
According to an ECOlunchbox lunch waste study, a typical family using conventional throw-aways generates approximately 4,320 pieces of trash annually and the disposable packaging costs more than $400 annually!
I've rounded up my favorite stainless steel food storage options for snacking and eating on-the-go. These containers are great for school because they can be dropped on the ground and won't break, and they can be washed in the dishwasher again and again. The lids are made from non-toxic silicone, so you won't have to worry about any plastic leaching with these either. Look below for stainless steel food storage containers I recommend for school snacks and lunch time. These non-toxic snack and lunch containers are perfect for kids of all ages!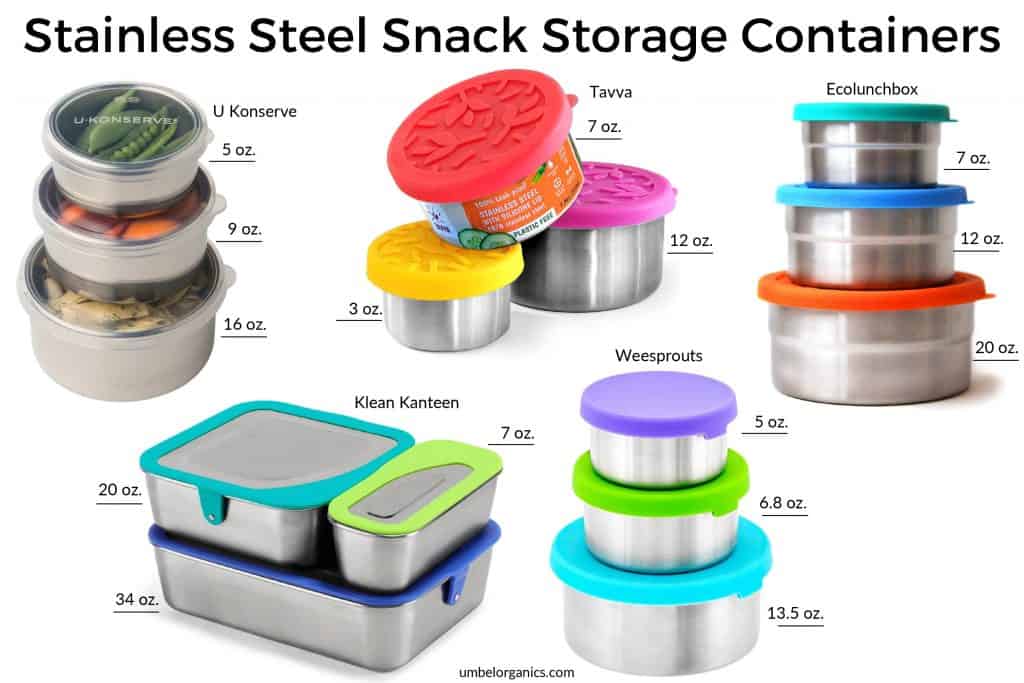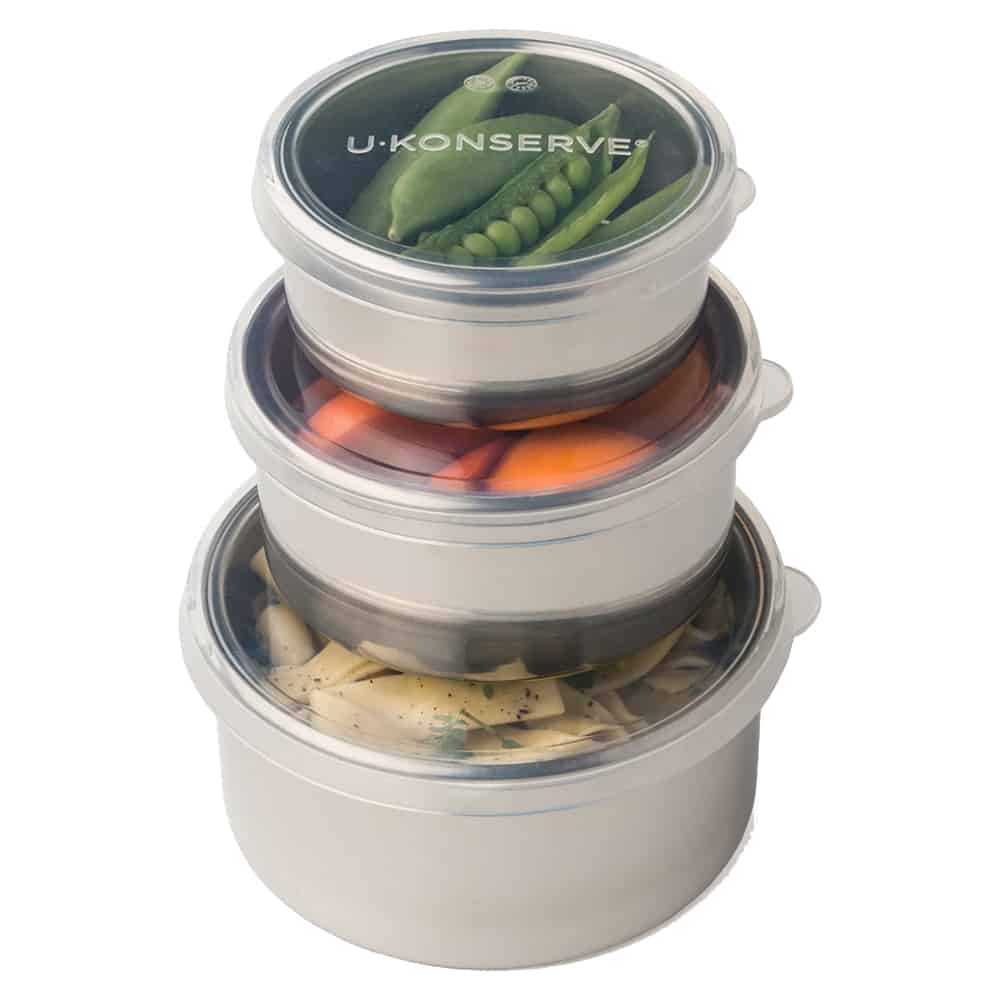 Cost: $24.95
Sizes: 16 oz,. 9 oz., and 5 oz.
From the UKonserve website: These Ukonserve Stainless Steel Lunch Containers are long-lasting, durable and designed for the whole family to eat healthier and ditch single-use disposables. As a Certified B Corporation, they meet rigorous social and environmental standards. They are a proud member of 1% for the Planet, and give 5% of every online purchase to our non-profit partners.
Cost: $53.35
Sizes: 34 oz., 20 oz., and 7 oz.
From the Klean Kanteen website: With durable stainless steel construction and food-grade silicone lids, the Klean Kanteen Stainless Steel Food Box Set is 100% plastic-free. All three sizes come with leakproof, press-fit lids with flexible corner for easy venting. Lunch and Meal size boxes feature snap-and-lock tabs for extra protection against leaks and spills.
Cost: $20.99
Sizes: 13.5 oz., 6.8 oz., and 5 oz.
From the Weesprout website: Weesprout Stainless Steel Food Containers are indestructible, ultra-lightweight and won't leach harmful chemicals. The 100% leakproof silicone lids ensure that liquids never leak in lunch bags, work bags, or backpacks, and they're dishwasher safe.
Cost: $27.49 for 3 containers
Sizes: 12oz., 7oz. and 3oz
From the Tavva website: These Tavva Stainless Steel Food Containers with silicone lids are dishwasher & oven safe, eco-friendly, reusable & recyclable, durable & lightweight, BPA free and plastic free. They're totally kid-proof and unbreakable, and the perfect vessel to cart all your healthy foods & snacks around with.
Cost: $34.99 for 3 containers
Sizes: 20 oz., 12 oz., and 7 oz.
From the Ecolunchbox website: These Ecolunchbox Stainless Steel Food Storage Containers are plastic-free and leak-proof, and made from 18/8 stainless steel topped with silicone lids. All parts of the metal and silicone bento boxes are dishwasher safe, including the lid. The Ecolunchbox mission is to help families reduce their dependence on plastic by providing high-quality, plastic-free food container options. They purchase carbon offsets for UPS shipments to help combat global warming.
Stainless Steel Snack Containers
Stainless Steel Thermos
Stainless Steel Lunch Bowls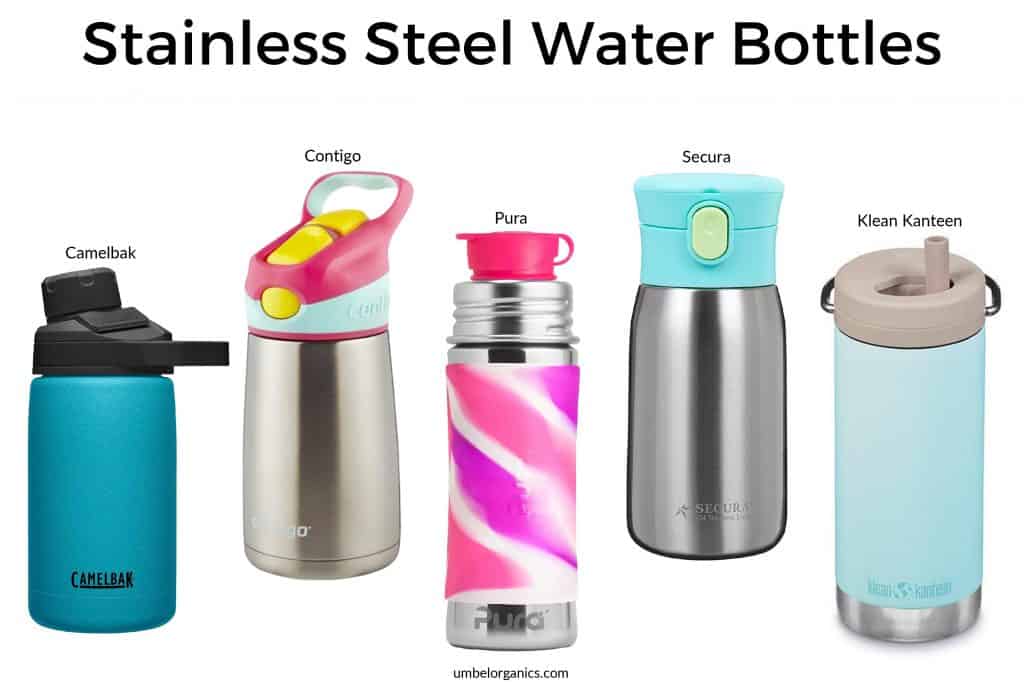 Stainless Steel Water Bottles
More Natural Kids Inspiration