Shop Stainless Steel Insulated Containers
Shop Stainless Steel Water Bottles For Lunchboxes
Shop Stainless Steel Food Storage For Lunch
Shop Stainless Steel Bowls For Lunch
What Chemicals To Avoid In Lunchbox Material
How To Disinfect A Lunchbox
High quality insulated and cloth lunchboxes should be able to tolerate the washing machine on the gentle cycle with cool water and a small amount of natural, fragrance-free detergent. Check the care instructions or revisit the website where you bought the lunchbox for more cleaning details. If you have a stainless steel bento, that can go right in the dishwasher.
How To Hand Wash A Lunchbox:
Fill a sink with warm water and add a small amount of dish detergent. There's no need to use antimicrobial soap. Plain soap breaks down the fatty layer surrounding virus and bacteria particles, destabilizing them. Also, a vigorous scrubbing and rinsing with water will wash them away.
Submerge the lunchbox in the soapy water and agitate to mix.
Scrub the interior and exterior with a clean washcloth, sponge or toothbrush.
Rinse with running water and dry with a towel.
Allow the lunchbox to air dry completely before using again.
To Disinfect The Lunchbox Without Washing:
Spray the interior and exterior with Force of Nature Spray and let sit for 10 minutes.
Mix equal parts vinegar and water in a spray bottle and spray the interior and exterior of the lunchbox. This will disinfect and deodorize (the vinegar smell disappears when it dries).
Pour 70% rubbing alcohol (ethanol or isopropyl) in spray bottle. Spray all over the lunchbox and let it sit for 30 seconds.
Pour 3% hydrogen peroxide in an opaque spray bottle, spray the lunchbox let sit for 5 minutes.
Force of Nature is a broad-spectrum disinfectant and sanitizer that's EPA registered for use in hospitals, ICUs, daycares, schools, veterinary clinics, gyms, restaurants & more. It kills 99.9% of germs: Staph, MRSA, Norovirus, Influenza A, Salmonella, and Listeria. How does it work? Salt, water and vinegar are converted to electrolyzed water when an electrical current changes the chemical composition of the solution into two new ingredients. The Force of Nature Starter Kit contains: Electrolyzer with power cord (compatible with any household electrical outlet), Spray Bottle (12 oz), 5 Activator Capsules (each makes enough multi-purpose cleaner, disinfectant & deodorizer to last 2 weeks). Just add your own water right from the tap. I started using Force of Nature recently and I love it!
Tips For Non-Toxic Back To School Lunch
Luckily there are a lot of safe food storage products on the market today. Here are some tips to help with back-to-school lunch packing and beyond:
Pack food in reusable lightweight stainless steel containers. I don't recommend glass because I've broken a glass baby bottle in a library bathroom in the past, and I can't imagine this scenario happening at school.
Pack a metal spoon and fork from home.
If you want to go the baggie route, use If You Care waxed baggies or Lunchskins Paper Sandwich Bags. Stasher makes reusable silicone baggies.
EWG tip sheet has suggestions for where to start with toxin-free back-to-school products.
This PVC-Free guide to school supplies from Greenschools is a great reference.
More Natural Kids Inspiration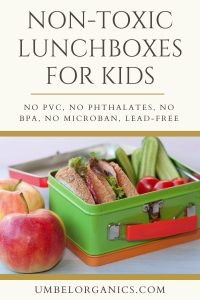 References
Gangi, J. Lead and Cadmium in Children's Vinyl Products
http://pvcinformation.org/assets/pdf/PbCdChildrenProducts.pdf
Daluga M, Miller K. Lead in your child's lunch box. Clin Pediatr (Phila). 2007;46(2):151-153. doi:10.1177/0009922806294068
Patisaul, H.B. and Adawele, H.B. Long-Term Effects of Environmental Endocrine Disruptors on Reproductive Physiology and Behavior. Front Behav Neurosci. 2009; 3: 10.
https://www.ncbi.nlm.nih.gov/pmc/articles/PMC2706654/
Radke, E.G. et al. Phthalate exposure and male reproductive outcomes: A systematic review of the human epidemiological evidence. Environ Int. 2018 Dec;121(Pt 1):764-793.
https://www.ncbi.nlm.nih.gov/pubmed/30336412
Stahlhut, R. et al. Journal of the Endocrine Society, Volume 2, Issue 10, October 2018, Pages 1173–1187, https://doi.org/10.1210/js.2018-00151
Hu, C. et al. Bisphenol A, Chlorinated Derivatives of Bisphenol A and Occurrence of Myocardial Infarction in Patients with Type 2 Diabetes: Nested Case-Control Studies in Two European Cohorts.  Environ Sci Technol. 2019 Aug 20;53(16):9876-9883.
https://www.ncbi.nlm.nih.gov/pubmed/31310111
Bilbrey, J. BPA-Free Plastic Containers May Be Just as Hazardous. Scientific American. Aug. 11, 2014.
https://www.scientificamerican.com/article/bpa-free-plastic-containers-may-be-just-as-hazardous/
Jacobson, M., Woodward, M. et al. Urinary Bisphenols and Obesity Prevalence Among US Children and Adolescents. Journal of the Endocrine Society, 2019 DOI: 10.1210/js.2019-00201
Kitamura, S., et al. 2005. Comparative study of the endocrine-disrupting activity of bisphenol A and 19 related compounds. Toxicol Sci 84(2):249-259.
Weatherly, L. and Gosse, J. Triclosan Exposure, Transformation, and Human Health Effects. J Toxicol Environ Health B Crit Rev. 2017; 20(8): 447–469.
https://www.ncbi.nlm.nih.gov/pmc/articles/PMC6126357/