The Best PFAS-Free, PFC-Free Rain Gear For Kids
Send your kids out in the rain with peace of mind that they won't get soaked and won't be exposed to harmful PFAS/PFC chemicals from their outdoor gear. We've found the best non-toxic, PFAS-free, PFC-free rain jackets, rain pants, rain boots and umbrellas for kids of all ages!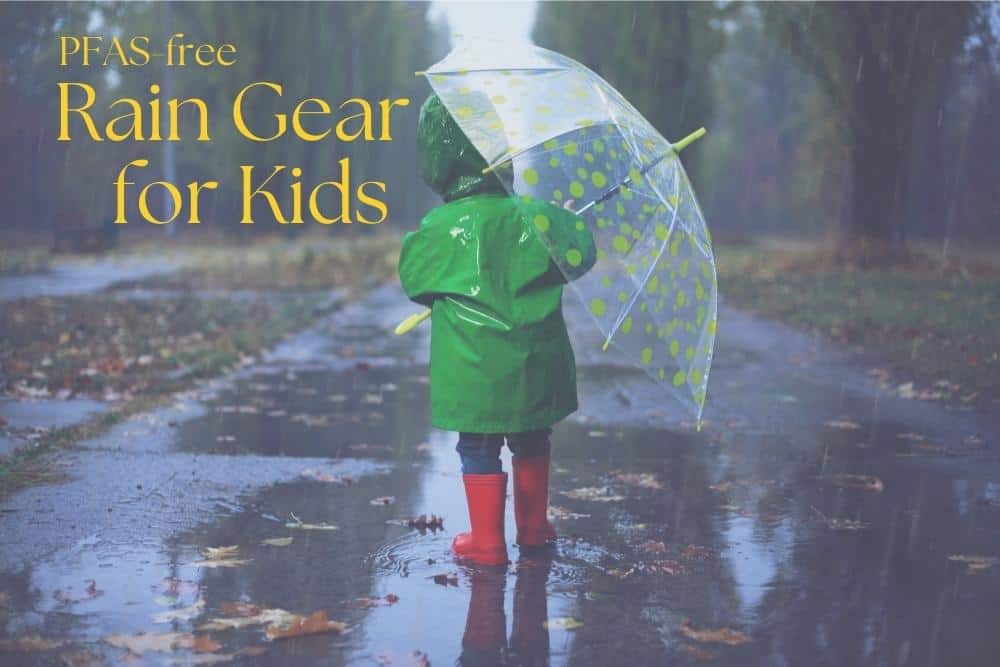 Disclosure: This post contains affiliate links, which means if you make a purchase through these links, we may receive a small commission at no extra cost to you.
No matter what the weather, Kids require outside play time. Whether you live in a region with lots of rain or intermittent storms, kids need proper rain gear. We've lived in two very different climate extremes- Vancouver, Canada and Tucson, Arizona, and in both places, we got rained on. We experienced intermittent monsoon rain in Arizona and all-winter-long rain in Vancouver.
The tricky part is getting the best waterproof clothing without compromising on materials that contain harmful, toxic chemicals. PFAS chemicals are often used in waterproof and water resistant rain gear to make the water bead up and roll off the fabric. The problem is that PFAS chemicals are harmful to both the environment and to human health.
Luckily there are treatments and fabrics that keep kids dry from rain without utilizing harmful chemicals like PFAS. Read on to find the safest options for non-toxic, PFAS-free kids rain gear.
Two Safer Options For Water Resistant Material
What Is PU Coating?
Polyurethane applied to the surface of a fabric is known as PU coating. Polyurethane fabric doesn't use plasticizers or solvents and doesn't produce harmful toxins.
What Is PFC-Free DWR?
DWR stands for "Durable Water Repellant", and this membrane makes fabric impermeable to water while also having the added benefit of keeping it breathable as well as repelling stains and oil.
Traditional DWR materials contain PFAS (per- and polyfluoroalkyl substances). However, PFC-free DWR is now available and offered by some outdoor clothing retailers. PFC-Free DWR does not contain per-fluorinated chemicals. In outdoor industry lingo, PFC is the same group of fluorinated chemicals as PFAS.
WHY SHOULD I LOOK FOR PFAS/PFC-FREE FABRIC?
Per- and polyfluoroalkyl substances are bad for both the environment and for human health. PFAS chemicals don't easily break down, and they can persist in your body and in the environment for decades.
What Are The Health Risks Of PFAS Exposure?
Kidney and testicular cancer, thyroid disease, high cholesterol, ulcerative colitis and other health problems. Further research has associated PFAS with more health risks, including increased risk of asthma, immune system disfunction, decreased vaccine response in children, changes in liver enzymes, increased risk of high blood pressure and pre-ecalmpsia in pregnant women, small decreases in infant birth weight and weight gain in adults.
What Is In PFC-Free DWR Coating?
PFC-FREE DWR is completely fluorocarbon free. These innovative coatings are made from materials like silicone, nylon, polyethylene, wax and plant-based technologies. As an example, the Nau clothing company uses bio-based and hydrocarbon polymer-based chemistries as an alternative to PFC-based DWR coatings.
Outdoor play time for kids is so important to their overall health and wellness, no matter the weather. Send them out in the rain with peace of mind that they won't get soaked and won't be exposed to harmful PFAS/PFC chemicals from their outdoor gear. I've rounded up the best rain jackets, rain pants, rain boots and umbrellas that repel water but don't contain PFAS/PFC chemicals. Look below for non-toxic PFC-free rain gear for kids of all ages.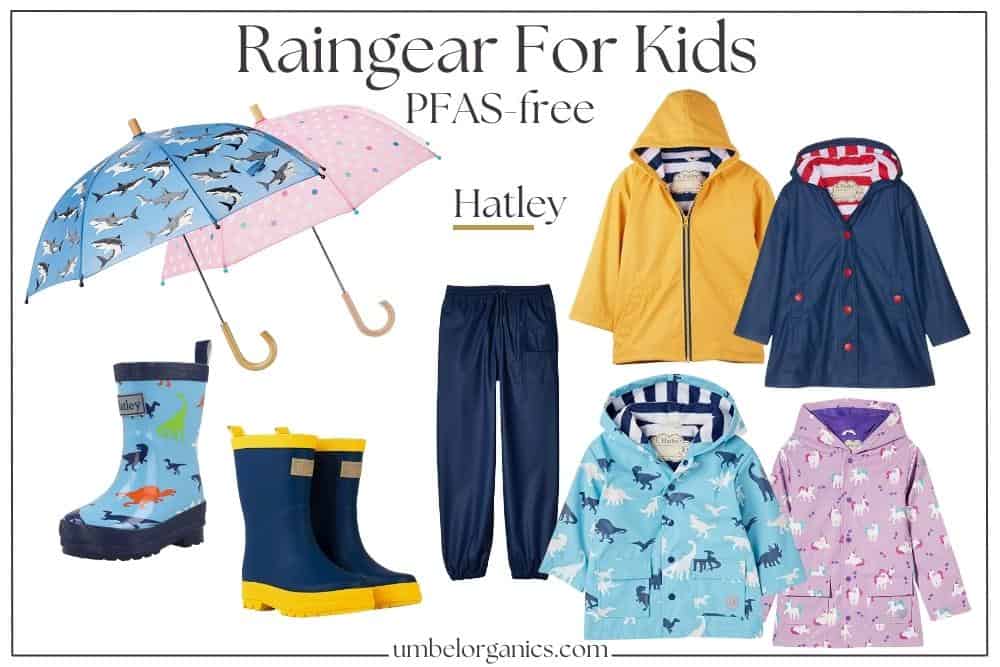 Burton & The North Face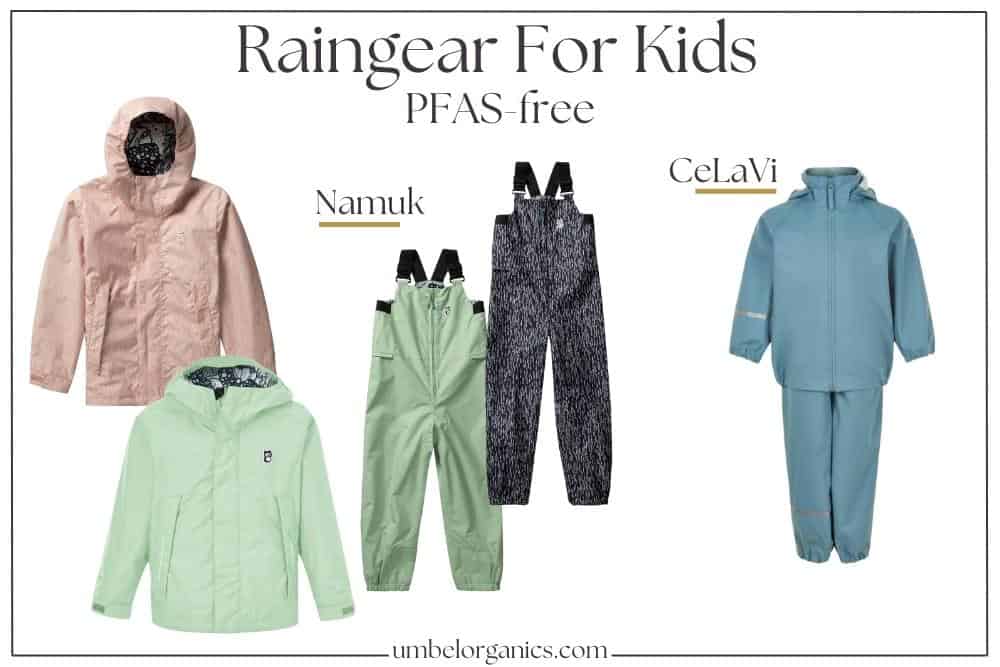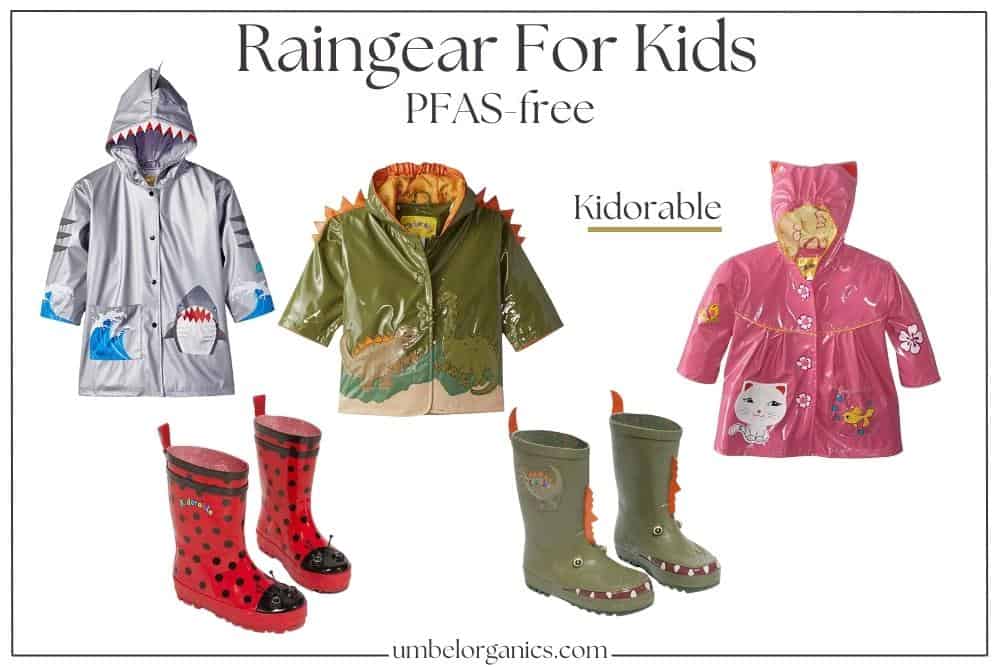 Kidorable
If your kids gravitate toward bright, fun designs, Kidorable rain gear is made just for them! The rain coats are made with a lightweight, comfy nylon lining and premium quality polyurethane (PU). The rain boots are natural rubber with a cotton lining.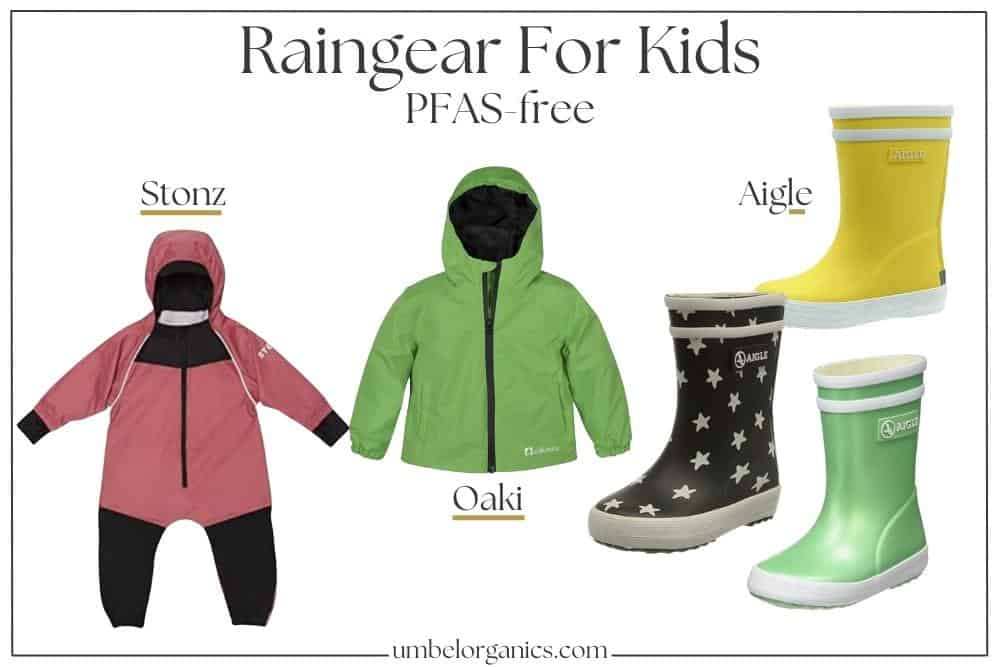 Stonz, Oaki & Aigle
Stonz is a Canadian company with a vision to connect kids to the outdoors. If you have a little one that loves puddle splashing, this baby and toddler rain suit is made with 100% nylon ripstop and coated with PU coating. Vegan & Non-Toxic Materials.
SHOP: Stonz Baby & Toddler Rainsuit
Oaki rain gear is made with a polyester outer with a polyurethane (PU) coating. The liner is polyester.
 SHOP: Oaki Kids Rain Jacket
Aigle is a French company that makes high-quality natural rubber boots. The Majority of the upper boot is natural rubber. The lining is 65% polyester and 35% cotton. The insole is polyester. The outsole is rubber.
 SHOP: Aigle Kids Rain Boot, Aigle Toddler Rain Boots, Aigle Kids Star Rain Boots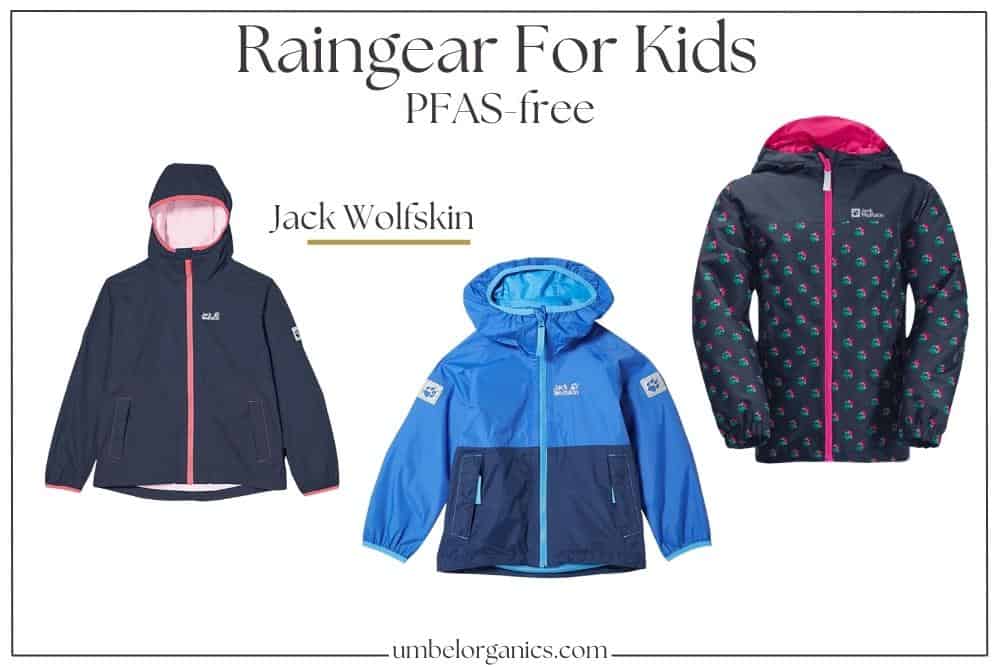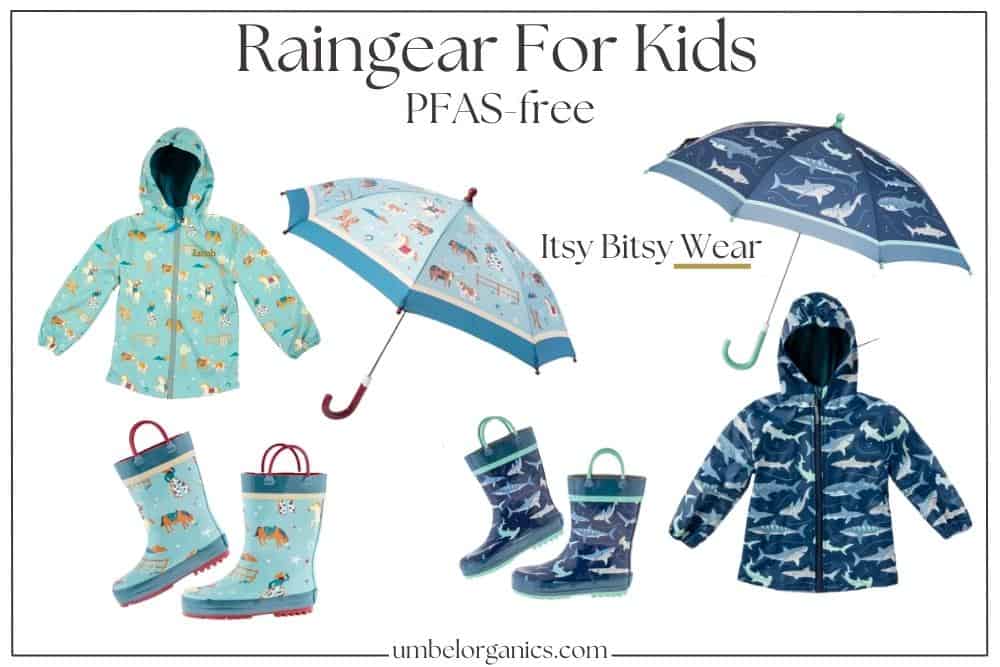 Itsy Bitsy Wear
Itsy Bitsy Wear carries cute patterned raincoats that are made with polyurethane (PU) fabric. The Umbrellas have an AC waterproof coating and the rain boots are rubber with SBS coating (Styrenic Block Copolymers).
SHOP: Itsy Bitsy Wear Western Themed Rain Gear, Itsy Bitsy Shark Themed Rain Gear
More Natural Kids Inspiration