The Best Organic Mattresses For Kids
Put your child to bed on an organic kids mattress for a healthier sleep environment. From cribs to big kid beds, we're sharing 5 of the best organic mattress brands for kids that won't off-gas harmful chemicals while your child sleeps.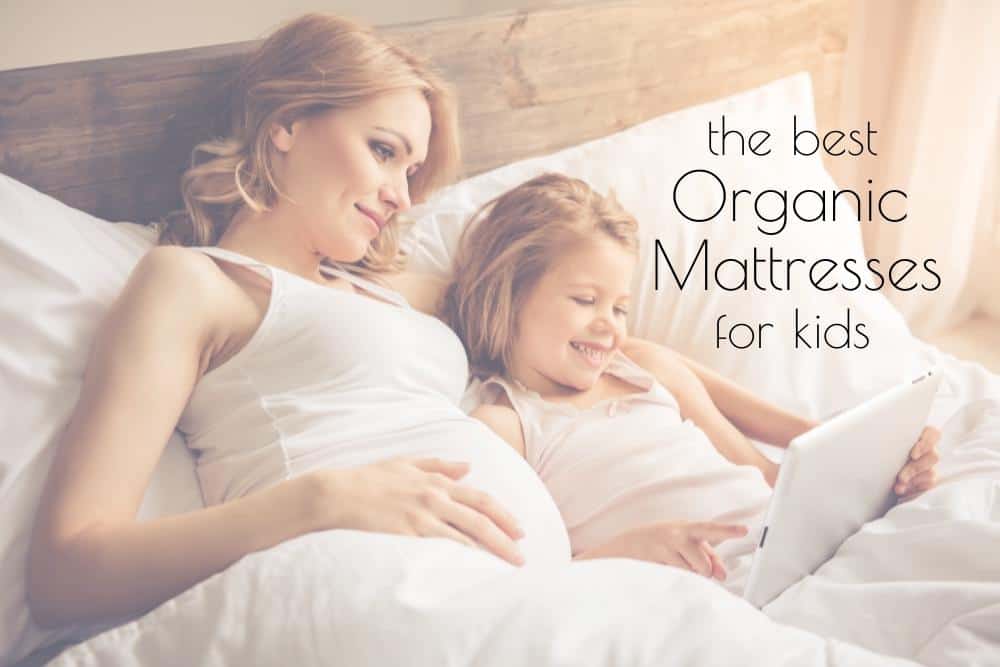 Disclosure: This post contains affiliate links, which means if you make a purchase through these links, we may receive a small commission at no extra cost to you.
My daughter is due for a new mattress, so I researched a bunch of mattress brands to find the best ones. In order to create a healthier bedroom environment without harmful chemicals off-gassing, I'm buying her an organic kids mattress.
Conventional mattresses are made with petroleum-based foams, usually polyurethane or memory foam, which are highly flammable. To meet the federal flammability standards, petroleum-based foam is doused in flame retardants. Flame retardants are associated with health risks like cancer and endocrine-disruption.
Aside from flame retardants, a conventional mattress contains up to 10 pounds of glue. Between the glue, flame retardants and other chemicals, a mattress will emit volatile organic compounds (VOCs) such as formaldehyde, toluene, chlorofluorocarbons (CFCs), benzene, styrene-butadiene, trichloroethane, and perfluorocarbons, that "off-gas" into the air. EPA research has found that indoor air is 5 times more polluted than outside air, and your mattress could be contributing to the poor air quality in your home.
Continuous exposure to VOCs, like sleeping on a mattress every night for 7 to 12 hours (not including nap time), can potentially lead to an increased risk of nervous system damage, liver or kidney damage, and even cancer. Children are especially vulnerable to harmful VOCs since they're still growing and developing.
By replacing a conventional mattress with a kids organic mattress, you can reduce your child's exposure to harmful chemicals as they sleep. From crib mattresses for babies to toddler and big kids mattresses, you'll find all the information on the best organic kids mattresses below.
Best Of | Organic Mattress Brands
What Materials Are In An Organic Mattress?
Organic mattresses can be made of organic latex foam, organic cotton, organic wool and inner spring steel coils for support and comfort, in any combination of the above materials. If wool is used as a material in the mattress, no added chemical flame retardants are needed since wool is naturally flame resistant. Hydrated silica and PLA fiber, made from plant starch, are also safe flame-resistant alternatives.
Latex foam is made from the renewable sap of rubber trees which has been harvested and baked into a foam. If you have a latex allergy, there are organic mattresses that use non-latex materials like certified organic wool, organic cotton fabric, & organic cotton fill.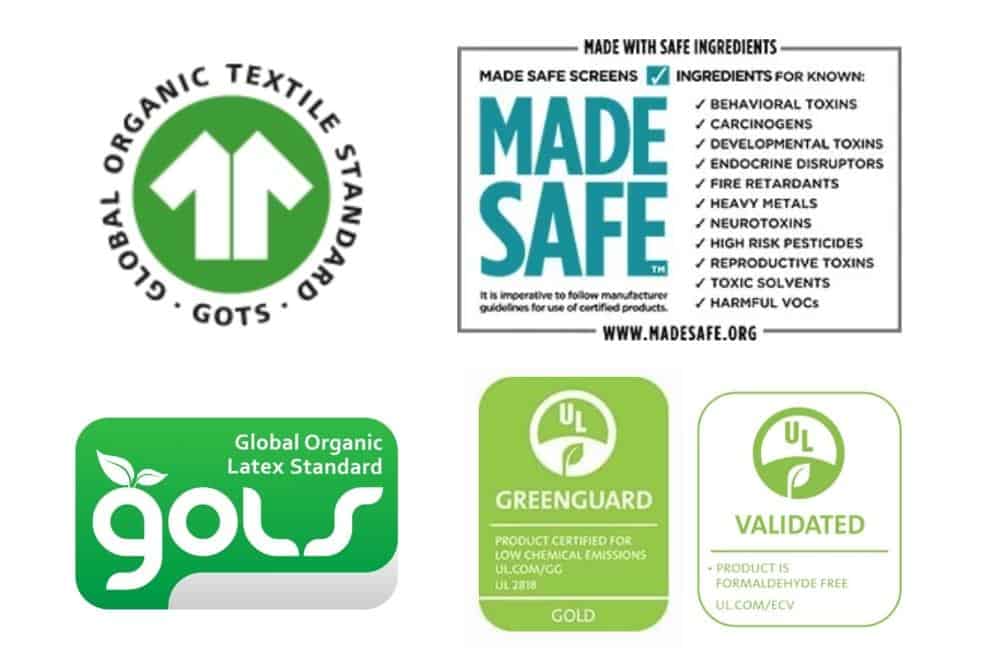 Organic Mattress Certifications To Look For
GOTS Certified (Global Organic Textile Standard)- The Global Organic Textile Standard (GOTS) certification is the leading standard for organic mattress materials using cotton and wool fabric. The GOTS certification requires that at least 95 percent of the materials in the mattress are certified organic, and it prohibits the use of some chemicals like certain flame retardants, formaldehyde and polyurethane, even in the other 5 percent. GOTS certifies the entire production chain, from USDA certified organic raw materials to manufacturing the final certified product, and includes chemical inputs, fair trade and labor practices and environmental impact.
Something to consider: Some mattress manufacturers use the GOTS logo from a supplier. For example, if the supplier of the organic cotton fabric has a GOTS certified logo, a mattress company may put that logo on their website even if the rest of the mattress components aren't organic. If you don't check this certification, you'll never know. To verify that a mattress company holds a GOTS certification, enter the name of the company into the GOTS certified suppliers database.
Global Organic Latex Standard (GOLS) Mattress and Components Latex– GOLS is the global standard for certifying latex as organic. In order for a mattress to be GOLS certified, it must contain at least 95% organic latex, and 70% of the fibers and materials used in processing must also be organic. The latex does not contain fillers or synthetic latex. Standards also include evaluation of environmental impact, farming practices, social impact, and chemical inputs. The GOLS certification ensures you're getting latex with optimal health and performance benefits while protecting the health of our planet, the latex workers and you.
MADE SAFE® Certification– MADE SAFE® certifies that products are not made with substances that are known or suspected to be harmful. MADE SAFE® certified products are tested for behavioral toxins, carcinogens, developmental toxins, endocrine disruptors, toxic fire retardants, heavy metals, neurotoxins, high-risk pesticides, reproductive toxins, toxic solvents, harmful VOCs, endangered species. MADE SAFE® is a rigorous certification with strict standards. Naturepedic, Happsy and Avocado Green Mattress are MADE SAFE® certified.
GREENGUARD Certification– GREENGUARD certification means a mattress has been scientifically tested for approximately 360 common volatile organic compounds (VOCs) through prolonged exposure in environmental chambers. This safety testing standard tests a whole mattress to ensure low levels for harmful VOC's. GREENGUARD Gold certification signifies that the product has been tested for additional chemicals.
Formaldehyde-Free by UL– UL Solutions validates claims that a product does not contain formaldehyde, or formaldehyde precursors, using a combination of auditing raw material inputs and testing chemical emissions from the product. Qualifying products must also maintain UL GREENGUARD Gold certification to ensure no other harmful chemicals are emitted into indoor air.
The Organic Mattresses That We Bought
Since 2 of the mattresses in our house were old and worn out, we bought both a Happsy organic mattress and an Avocado Green Mattress. Both of these mattresses are great choices for children. My teen daughter loves her Happsy mattress, so much so that she doesn't want to get up in the morning because it's so comfortable! I also bought the Avocado Organic Latex Mattress Topper, which has 2 inches of latex along with cotton and wool. This softens the firmness of the mattress for those who prefer a plusher surface. I also bought an Avocado Organic Cotton Mattress Pad for each bed, which added a little more cushioning.
Only 3 mattress brands have the MADE SAFE® certification- Naturepedic, Happsy and Avocado Green Mattress, so these 3 brands have an extra level of assurance. Look below for five mattress brands that all make organic mattresses for babies, children and adults. With a range of organic mattress sizes and prices, including crib mattresses, you'll find the perfect kids organic mattress for a healthy sleep environment!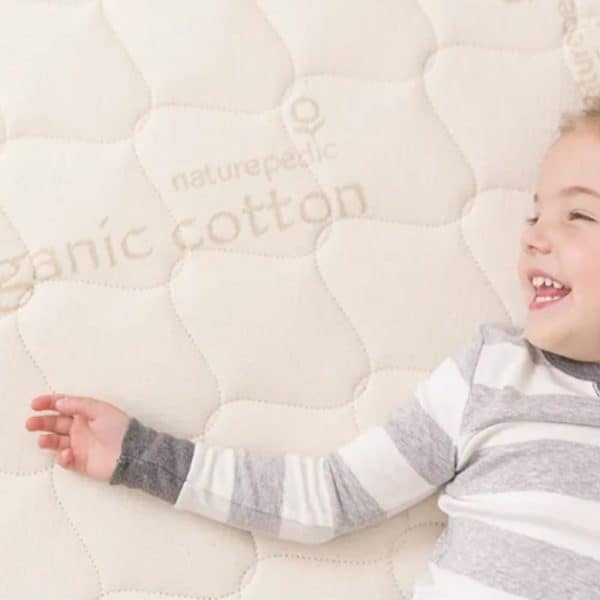 Naturepedic
From the Naturepedic website: Barry Cik and his two sons founded Naturepedic, a non-toxic and organic mattress manufacturer. They created the first and only organic baby crib mattress designed with a patented food-grade waterproof surface made from non-GMO sugarcane with various breathable options. Since then, Naturepedic has led the industry by introducing organic mattresses designed for kids as well as highly sought-after luxury organic mattresses for adults. Extras: Naturepedic also carries organic mattress toppers, non-toxic wooden bed frames, mattress protectors, changing table pads, pillows, sheets and pillowcases.
Crib sizes: Naturepedic Crib Mattresses come in classic, breathable, breathable ultra, mini crib and oval
Crib prices: $249 – $499
Kids Mattress Sizes: The Naturepedic 2-in-1 Organic Kids Mattress is perfect for young children making the big transition. Works great in bunk beds, platform beds and trundles. It is a two-sided mattress with one side using a proprietary food-grade waterproof surface designed to flip over once children are ready for more of an "older kids" mattress. (Twin, Twin Trundle, Twin Trundle Sport, Full); The Naturepedic Verse Organic Kids Mattress is the ultimate natural mattress for kids. Works great for young children as well as older kids (Twin, Twin XL, Full, Queen).
Kids Mattress Prices: 2-in-1 ($699 – $999); Verse ($999 – $1,499)
Adult Mattress Sizes: Traditional (Twin, Twin XL, Full, Queen, King, Cal King), Eos Customizable (Twin, Twin XL, Full, Queen, King, Cal King), Halcyon Luxury (Twin, Twin XL, Full, Queen, King, Cal King)
Adult Mattress Prices: Traditional ($1,399 – $3,599); Eos Organic Latex ($2,199 – $4,999); Halcyon Luxury ($4,199 – $11,999)
Mattress Materials: Kids mattresses contain organic cotton fabric and fill, organic cotton fabric with an LDPE waterproof coating so pure it actually meets food contact standards (made from non-GMO sugarcane without any glues or adhesives. PLA is a high-performance synthetic fiber made from non-GMO sugarcane that adds resiliency and unique performance characteristics. Adult beds contain organic cotton, organic latex, organic wool and steel coils.
Free From: Flame retardants, glues and adhesives, polyurethane foam
Mattress Types: Organic Hybrid mattress, Organic latex mattress, Organic latex-free mattress
Certifications: GOTS certified mattresses & Bedding, Global Organic Latex Standard certified, FSC & Rainforest Alliance certified latex and wood, MADE SAFE® certified non-toxic, GREENGUARD Gold tested and certified for chemical emissions, Formaldehyde Free by UL, Organic Exchange OCS100 Certification Program, Green America, Organic Fraud Prevention Partner, Certified Vegan, Health Product Declaration® Collaborative member, PETA vegan approved.
Trial: 100 night trial
Warranty: 25 year warranty
Manufactured In: Made in the USA
Shipping: Free shipping and free returns
Giving Back: 1% For The Planet, Women's Voices For The Earth, Ecology Center, American Sustainable Business Network, see more on their Advocacy and Membership page
Shop: Naturepedic Crib Mattresses, Naturepedic 2-in-1- Kids Organic Mattress, Naturepedic Verse Organic Kids Mattress, Naturepedic Organic Waterproof Kids Mattress Protector Pad,  Naturepedic Organic Cotton Changing Pad, Naturepedic Adult Organic Mattresses
Avocado Green Mattress
From the Avocado Green Mattress website: Avocado mattresses are made with only the finest certified organic, natural, and non-toxic materials. Their mission is to be the most respected source for organic and natural mattresses, pillows, and bedding at affordable prices — while maintaining environmentally conscious, ethical, and sustainable business practices across the entire supply chain — to help safeguard your health and protect our planet. Avocado owns their entire supply chain and even makes their own lightweight, airy innersprings.
Extras: Avocado Green Mattress also makes a vegan-certified mattress, organic mattress toppers, organic cotton mattress pad protectors, organic pillows, organic sheets, bedding and towels, non-toxic bedroom furniture. They even carry organic dog beds and organic yoga accesssories!
Crib Mattress Sizes: Avocado Crib Mattresses come in Eco Crib, Crib, and luxury Crib options
Crib Mattress Prices: Eco Crib $349, Crib $439, Luxury Crib $1379
Kid Mattress Sizes: Avocado Eco Organic Kids Mattress (Twin, Twin XL, Full)
Kids Mattress Prices: Avocado Eco Organic Kids Mattress ($649 – $849)
Adult Mattress Sizes: Avocado Eco Organic Mattress (Twin, Twin XL, Full, Queen, King, Cal King), Avocado Green Mattress (Twin, Twin XL, Full, Queen, King, Cal King), Avocado Organic Luxury Mattress (Twin, Twin XL, Full, Queen, King, Cal King)
Adult Mattress Prices: Eco Organic ($799 – $1599), Avocado Green Mattress ($1399 – $2599), Organic Luxury ($2799 – $6198)
Free From: Toxic chemicals, chemical flame retardants, petroleum-based foams, fiberglass, or adhesives to bind the layers.
Mattress Materials: Hybrid organic, organic vegan latex, organic latex
Certifications: 100% GOTS certified organic mattress, GOTS certified organic cotton and GOTS certified organic wool, GOTS certified organic kapok fiber, GOLS certified organic latex, MADE SAFE® certified, GREENGUARD Gold certified, Formaldehyde Free by UL, FSC & Rainforest Alliance certified latex and wood
Trial: 1 year sleep trial
Warranty: 25 year warranty
Manufactured In: Made in the USA
Shipping: Free shipping and free returns
Giving Back: Certified B Corp, Climate neutral certified, 1% For The Planet, Fair Trade Certified, Clean Energy Partner Certified
Shop: Avocado Green Mattress Crib & Kids Mattresses, Avocado Green Mattress Organic Mattresses, Avocado Eco Organic Kids Mattress, Avocado Kids Bed Frame, Avocado Malibu Wood Dresser, Avocado Eco Organic Mattress, Avocado Luxury Organic Mattress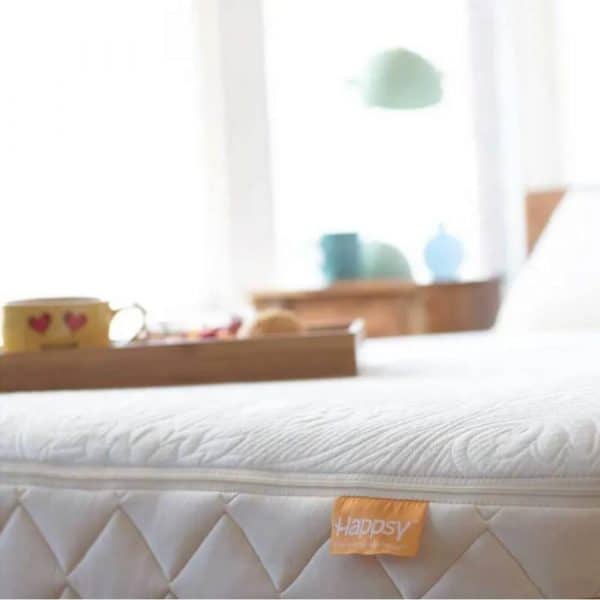 Happsy
From the Happsy website: The Happsy mattress is manufactured in their own certified organic factory which is used exclusively for organic mattress production, so there is no chance of contamination. From design and development to production and packaging, Happsy organic sleep products are handcrafted by skilled artisans right here in the U.S.A. Happsy also carries organic mattress toppers. This brand was founded by Naturepedic to create an affordable non-toxic mattress.
Extras: Organic Mattress Toppers, Organic Bed Foundation, Organic Pillows and mattress pads.
Sizes: Happsy Organic Hybrid Mattress (Twin, Twin XL, Full, Queen, King, Cal King)
Prices: $899 – $1699; Twin $899 (plus topper: $249); Twin XL $999 (plus topper: $279); Full $1548 (plus topper: $349); Queen $1,399 (plus topper: $399); King $1,699 (plus topper: $499); Cal King $1,699 (plus topper: $499).
Mattress Type: Organic Hybrid (latex plus pocket springs)
Mattress Materials: Certified Organic Cotton Fabric, Certified Organic Cotton Filling, Certified Organic Wool, Certified Organic Latex
Free From: Polyurethane Foam, Synthetic Latex or Blends, Fire-Retardant Chemicals or Flame Barriers, Glues or Adhesives
Certifications: GOTS Certified Organic Mattress,  GOLS Certified Organic Latex, MADE SAFE® Certified Mattress, GREENGUARD Gold certified, Formaldehyde Free by UL, Zero Toxics Product Registry, Rainforest Alliance
Trial: 120 night trial
Warranty: 20-year limited warranty- full 10 year warranty plus an additional 10 year pro-rated warranty for a total of 20 years.
Manufactured In: Made In The USA
Shipping: Free shipping and free returns
Giving Back: 1% For The Planet, Women's Voices For The Earth, American Sustainable Business Network, Kids For Saving Earth, Sustainable Furnishings Council, Organic Trade Association, Organic Consumers Association, The Conservation Alliance
Shop: Happsy Organic Hybrid Mattress, Happsy Organic Latex Topper, Happsy Organic Cotton Sheet Set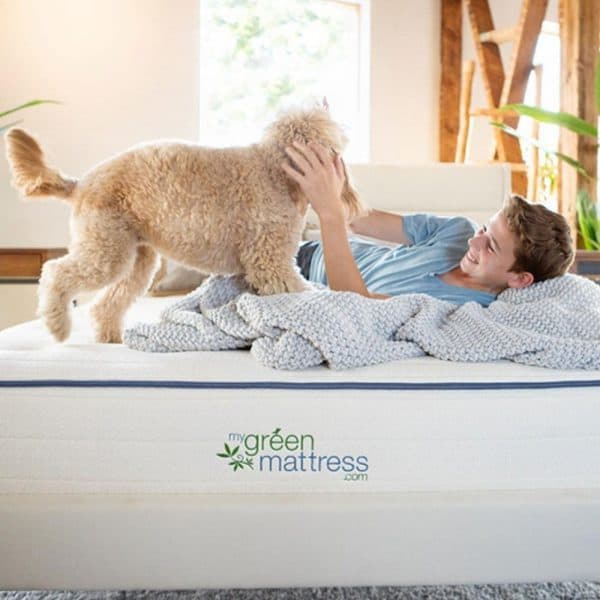 My Green Mattress
From the My Green Mattress website: Founder, Tim Masters, was driven to make a healthier, natural mattress for his infant daughter who suffered from eczema and allergies. He developed My Green Mattress where customers can purchase healthy, certified organic mattresses for their families. Their mattresses, materials and factory meet Control Union's strict standards for organic certifications and are manufactured in their GOTS certified factory.
Extras: Organic Latex Mattress Topper, Organic Cotton Mattress Protectors, Organic Cotton Sheets, Organic Latex Pillows, Organic Cotton Pillowcases, Platform Bed
Crib Mattress Sizes: My Green Mattress Emily Organic Crib Mattress
Crib Prices: Crib $299
Kids Mattress Sizes: My Green Mattress Kids Kiwi Mattress(Kiwi Bunk Bed, Twin, Twin XL, Full, Queen, King, Cal King); My Green Mattress Hope Organic Latex Mattress (Twin, Twin XL, Full, Full XL, Queen, King); My Green Mattress Pure Eco Latex Free Mattress (latex-free) (Twin, Twin XL, Full, Full XL, Queen, King, Cal King)
Kids Mattress Prices: Kids Kiwi Mattress ($679 – $1,599); Hope Latex mattress ($999 – $1,999); Pure Eco Mattress ($789 – $1,539)
Adult Mattress Sizes: My Green Mattress Natural Escape Organic Mattress (Twin, Twin XL , Full, Queen, King, Cal King)
Adult Mattress Prices: Adult Natural Escape ($999 – $2,074)
Mattress Types: Organic Hybrid mattress, Organic latex mattress, Organic latex-free mattress
Mattress Materials: GOTS Certified organic cotton, GOTS certified organic wool, and GOLS certified organic Dunlop latex, steel springs.
Free From: chemical flame retardants or polyurethane foams
Certifications: GOTS Certified organic cotton, GOTS certified organic wool, and GOLS certified organic Dunlop latex.
Manufactured In: Made in the USA
Trial: 120 night trial
Warranty: 20 year warranty
Shipping: Free Shipping
Giving Back: 1% For The Planet
Shop: My Green Mattress Emily Organic Crib Mattress, My Green Mattress Kids Kiwi Mattress, My Green Mattress Hope Organic Latex Mattress, My Green Mattress Pure Eco Latex Free Mattress, My Green Mattress Natural Escape Organic Mattress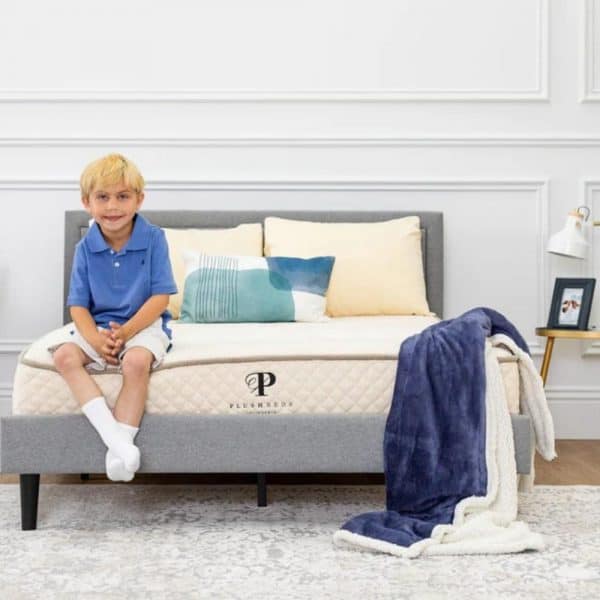 Plushbeds
From the Plushbeds website: Plushbeds designs, responsibly sources, and manufactures organic & sustainable bedding that doesn't break the bank. The founder's father was diagnosed with Parkinson's Disease at just 40 years old. When his daughter was born, he did a lot of research and eliminated as many chemicals in their home as possible, which included looking for healthy, toxin-free mattresses for their family. He quickly learned how hard it was to find healthy, toxin-free mattresses and founded PlushBeds to provide healthier sleep options.
Extras: Plushbeds offers a luxury 4″ Quilted Organic Latex Topper, organic latex pillows, organic cotton sheets
Crib Mattress: Plushbeds Healthy Baby Organic Crib Mattress
Crib Mattress Price: $649
Kids Mattress Sizes: Plushbeds Healthy Child Organic Latex Mattress (Twin, Full, Queen),
Kids Mattress Prices: $949 – $1149
Adult Mattress Sizes: Plushbeds The Botanical Bliss® Organic Latex Mattress (Twin, Twin XL, Full, Queen, King, Cal King, Split King, Split Queen, Split Cal King)
Adult Mattress Prices: $2799- $3798
Mattress Types: Organic latex mattress
Mattress Materials: GOTS-Certified Organic Cotton, GOTS-Certified Organic Wool, GOLS-Certified Organic Latex
Free From: petroleum-based polyurethane foams, memory foams, solvent-based chemical adhesives, chemical fire retardants and ozone-depleting substances
Certifications: GOTS Certified organic cotton, GOTS certified organic wool, and GOLS certified organic Dunlop latex, GREENGUARD Gold certified, Formaldehyde Free by UL, Rainforest Alliance certified latex
Manufactured In: Made in the USA
Trial: Trial- 120 night trial
Warranty: 20 year warranty
Shipping: Free Shipping
Giving Back: 1% For The Planet, member of the Sustainable Furnishings Council, Green America–recognized, Control Union, eco-INSTITUT.
Note: The Plushbeds factory manufactures both organic and conventional non-organic mattresses (if this is a concern for you).
Shop: Plushbeds Healthy Baby Organic Crib Mattress, Plushbeds Healthy Child Organic Latex Mattress, Plushbeds The Botanical Bliss® Organic Latex Mattress