Safe, Natural & Non-Toxic Bathroom Cleaners
Want a naturally squeaky clean bathroom? Switch to a non-toxic bathroom cleaner to cut through shower grime, sink gunk and toilet filth without harmful chemicals.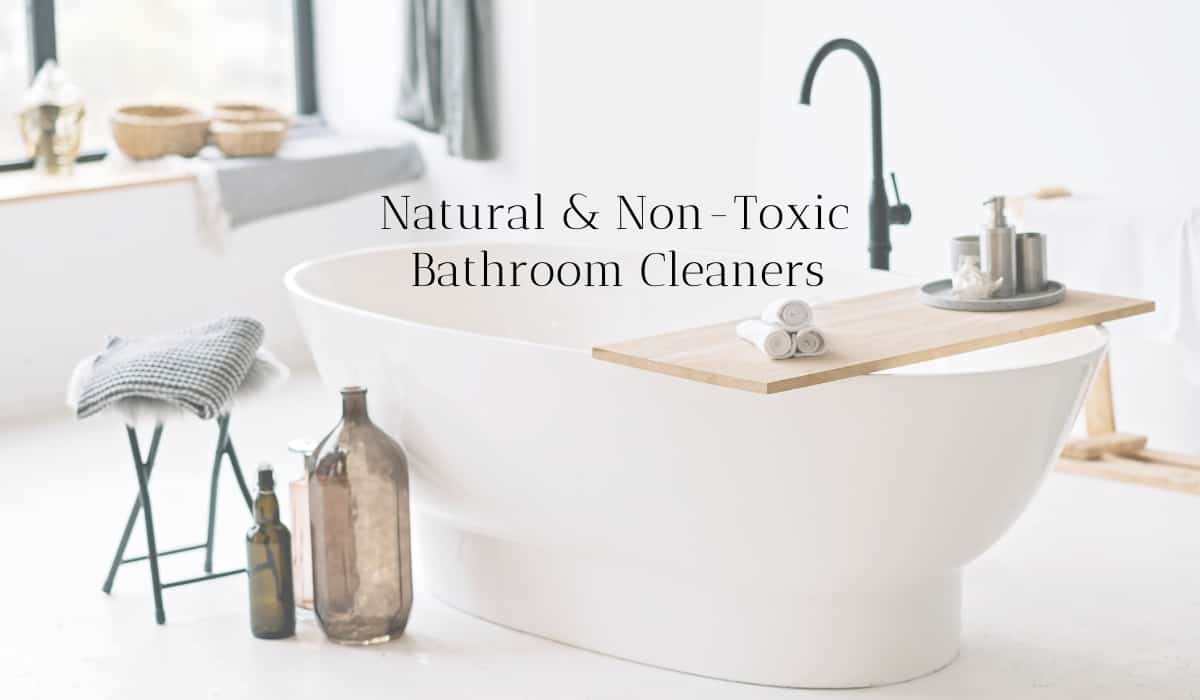 Disclosure: This post contains affiliate links, which means if you make a purchase through these links, we may receive a small commission at no extra cost to you.
The bathroom is the dirtiest room in the house, and traditional bathroom cleaners are formulated to get rid of gunk and filth with chemicals that can be hazardous to human health. Truth be told, bathroom cleaners can be packed with toxic chemicals and artificial fragrance, and we've been tricked into thinking that a bathroom has to have a certain antiseptic scent in order to feel clean.
Most bathroom cleaners contain harsh chemicals that are associated with endocrine disruption, skin and respiratory issues and even cancer. Well known brands like Clorox, Comet, Drano, Kaboom, Liquid Plumr, Lysol and Scrubbing Bubbles have bathroom cleaning products that consistently get ranked with an "F" rating by the Environmental Working Group (EWG).
In fact, the Environmental Working Group, (EWG) tested over 2,000 cleaning supplies and the ingredients found in some of the cleaners are known to cause serious health problems. One in five of the cleaners produced fumes that induce asthma in otherwise healthy individuals. Testing by the EWG detected formaldehyde, a carcinogen, in Comet, Pine-Sol and Simple Green cleaning products.
Below are some harmful chemicals to avoid in home cleaning products:
Synthetic Fragrance: The term "fragrance" on a label can be a mixture of several dozen to several hundred chemicals, most of which have not been evaluated for safety. Companies get around having to list all of the actual ingredients due to a "trade secret" loophole. Potential health effects of synthetic fragrances include asthma, allergic reactions, endocrine disruption, neurotoxicity, respiratory issues and possibly cancer.
2-Butoxyethanol: 2- butoxyethanol is found in all-purpose cleaners and can cause skin and eye irritation, pulmonary edema, and liver and kidney damage. 
Bleach: Bleach fumes can contain chlorine and chloroform, which have been linked to respiratory and neurological effects and cancer. If bleach comes into contact with ammonia or acids like vinegar, it can form other dangerous gasses. Potential health effects include skin rashes, eye irritation, respiratory problems, kidney and liver damage.
Quaternary Ammonium Compounds or "Quats": Quats can trigger asthma and some quats release formaldehyde. 
Antibacterials: Triclosan and other antibacterial compounds may still be found in cleaners. Antibacterials have been linked to endocrine disruption and antibiotic resistance. 
Methylisothiazolinone: This preservative, often used in cleaning products, is associated with allergic reactions, and is potentially neurotoxic

.

Sodium Laureth Sulfate– This surfactant is the salt of sulfated ethoxylated alcohols. It is an ethoxylated ingredient, and the laureth can be contaminated with 1,4-dioxane and ethylene oxide, both of which are possible carcinogens.
It's also important to choose natural all-purpose cleaners,  non-toxic dish soap and natural laundry detergent when it comes to safer cleaning supplies.
Swapping out my conventional bathroom cleaning products for non-toxic brands was one of the important steps I took to detox my home. Below are my top picks for all-purpose cleaners that don't contain harmful ingredients like endocrine disrupting chemicals.
A note about EWG ratings and what I look for: if a product is EWG VERIFIED™, that means the product meets EWG's strictest standards for your health. I check the EWG rating for each product, but I also look at each individual ingredient myself, and look for ingredients like phenoxyethanol, which is an ethoxylated preservative (see Sodium laureth sulfate below) that makes my "no" list.
Luckily there are alternatives to conventional bathroom cleaning products that are just as effective at getting your bathroom squeaky clean without harmful chemicals. I've found 14 non-toxic bathroom cleaners that are safe to use in your bathroom every day to tackle the gunk and grime.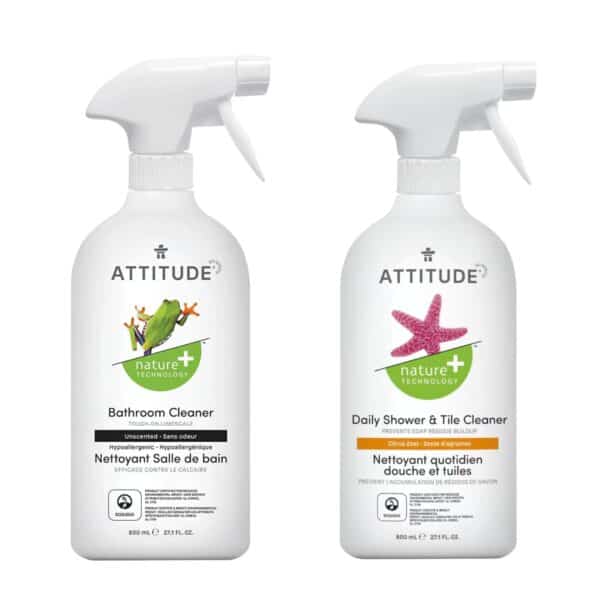 Attitude
Attitude Bathroom Cleaner
Cost: $13.59 for 27.1 oz ($0.50 per ounce)
EWG Rating: EWG Verified
From the Attitude website: ATTITUDE Nature+TechnologyTM Bathroom Cleaner is tough of limescale and designed to efficiently eliminate soap scum and grime on surfaces like tiles, shower curtains, countertops and toilet bowls. This effective natural formula, featuring cleansing and antibacterial ingredients like saponin and green tea extract, will keep your washroom looking spotless! Plus, it only uses plant- and mineral-based ingredients.
Scents: Citrus Zest and Unscented
Shop: Attitude Bathroom Cleaner
Bonus: Attitude Bulk Bathroom Cleaner 67.6 ounce Eco Refill 
Attitude Daily Shower & Tile Cleaner
Cost: $11.46 for 27.1 oz ($0.42 per ounce)
EWG Rating: EWG Verified
From the Attitude website: ATTITUDE Nature + Technology™ Daily Shower & Tile Cleaner is both efficient and contains plant- and mineral- based ingredients like saponin, a natural cleansing agent. Your bathtub, shower and tiles will be sparkling clean! Available in an eco-refill box, this powerful formula is ECOLOGO Certified, sustainable, biodegradable and removes soap scum, mildew and grout. Plus, our PETA Certified vegan liquid shower and tile cleaner has a fresh citrus zest scent, so your bathroom will have an energizing smell.
Scent: Citrus Zest
Shop: Attitude Daily Shower & Tile Cleaner
Bonus: Attitude Bulk Shower & Tile Cleaner 67.6 ounce Eco Refill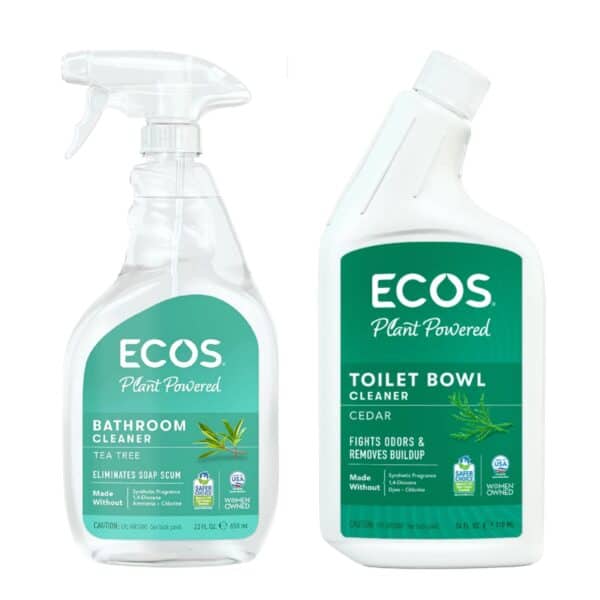 ECOS
ECOS Bathroom Cleaner
Cost: $5.05 for 22 oz($0.23 per ounce)
EWG Rating: A
From the ECOS website: plant-powered bathroom cleaner uses mineral-based water softeners to remove smudges, soap scum and stains, and the tea tree oil leaves a bright, refreshing aroma behind to delight the senses.
Scent: Tea Tree
Shop: ECOS Bathroom Cleaner
ECOS Toilet Cleaner
Cost: $18.97 for 24 oz ($0.79 per ounce)
EWG Rating: A
From the ECOS website: A certified Safer Choice product, our toilet cleaner uses a plant-powered formula with cedar oil and citric acid to lift tough stains and keep your toilet smelling fresh. Our formula is readily biodegradable, greywater safe and septic safe. It's a safer, more sustainable choice for you and the environment.
Scent: Cedar
Shop: ECOS Toilet Cleaner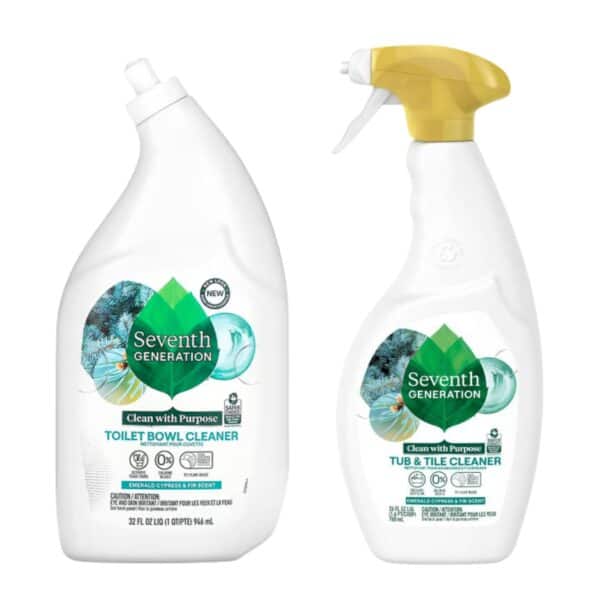 Seventh Generation
Seventh Generation Toilet Bowl Cleaner
Cost:v$11.52 for 32 oz ($0.36 per ounce)
EWG Rating: A
From the Seventh Generation website: This plant-based formula is specially designed to provide a powerful clean that helps fight rings and stains. It's septic safe and biodegradable for our planet's water supply. Both the Emerald Cypress and Fir and Fresh Mint Scents are made with 100% essential oils and botanical ingredients.
Scents: Emerald Cypress & Fir, Fresh Mint
Shop: Seventh Generation Toilet Bowl Cleaner or try Seventh Generation Toilet Bowl Powder (Fragrance Free)
Seventh Generation Tub & Tile Cleaner
Cost: $27 for 32 oz ($0.84 per ounce)
EWG Rating: A
From the Seventh Generation website:  The plant-derived cleaning agents in our formula go right to work on the soap scum build up that we all know too well. Our tub and tile cleaner not only works great, but it's also super versatile and safe for use on ceramic tile, shower doors, plastic, chrome, fiberglass, stainless steel and more!
Scent: Cedar
Shop: Seventh Generation Tub & Tile Cleaner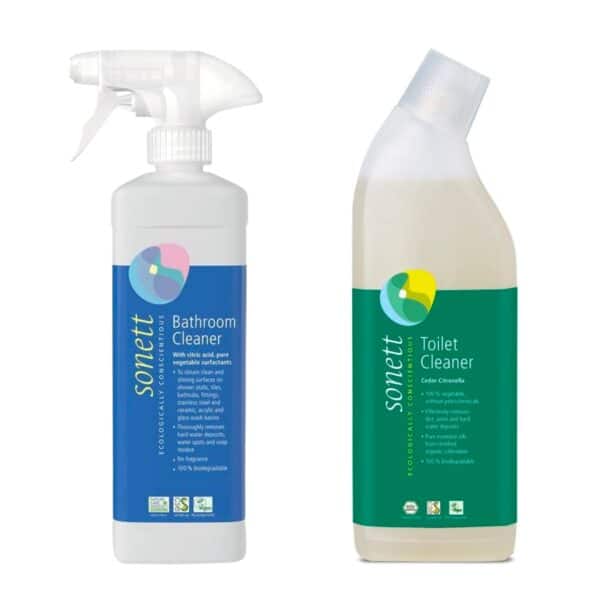 Sonett
Sonett Toilet Cleaner
Cost: $13.99 for 25 oz ($0.56 per ounce)
EWG Rating: n/a
From the Sonett website: With the fragrance of fresh mint and tangy myrtle. The essential oils originate 100% from certified organic cultivation. Soiling and limescale are efficiently being eliminated thanks to purely vegetal surfactants and the power of citric acid. The product is vegan and completely biodegradable.
Scent: Mint & Myrtle
Shop: Sonett Toilet Cleaner
Sonett Bathroom Cleaner
Cost: $14.99 for 17 oz ($0.88 per ounce)
From the Sonett website: The Bathroom Cleaner can be used wherever you need to remove limescale and greasy dirt at the same time. Removes limescale deposits in hard-to-reach places and simultaneously cleans fittings, stainless steel, floor tiles and shower walls in bathrooms and kitchens.
Scent: Unscented
Shop: Sonett Bathroom Cleaner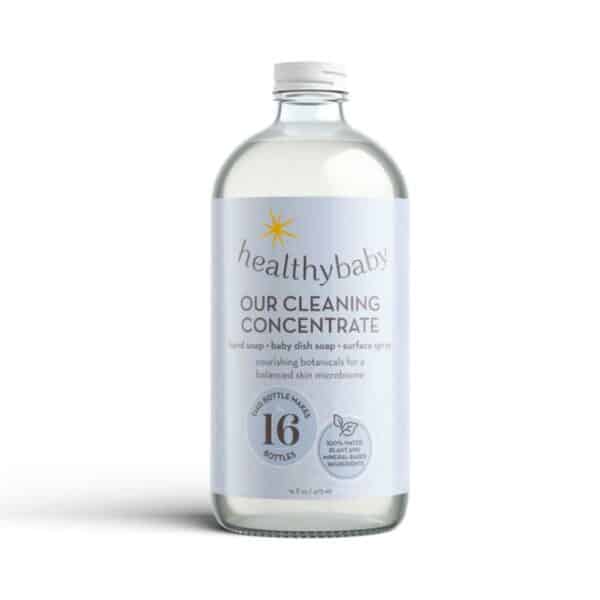 Healthybaby
Healthybaby Cleaning Concentrate
Cost: $30 for 16 oz ($1.88 per ounce) Basically this works out to $1.88 per bottle for 16 bottles, since this is a concentrated formula and 1 oz concentrate is combined with 15 ounces of water.
EWG Rating: EWG Verified
From the Healthybaby website: Made Safe Certified (a comprehensive human health and ecosystem-focused certification for nontoxic products). Reduce, refill and reuse with our 100% plant, mineral, water-based cleaning concentrate and stainless steel bottles. One bottle of our multi-purpose cleaning concentrate makes 16 surface sprays, hands soaps, or baby bottle soaps. A gentle yet effective solution for your family that's microbiome friendly, sustainable, and safe for baby's developing body and brain.
Shop: Healthybaby Cleaning Concentrate
Everneat
Everneat Soft Scrub
Cost: $17.99 for 16 oz ($1.12 per ounce)
EWG Rating: A
From the Everneat website: Natural Soft Scrub Cleaner powered with the best in class Plant-based Ingredients, Probiotics, and Essential Oils to deep clean your surfaces scratch-free. Plant-based ingredients, Vegan & Cruelty-Free (Leaping Bunny Certified), Powerful Cleaning, Refillable + Reusable, Probiotic Cleaning. Cleans safely every space in your home: In the Kitchen: Countertops, sink, cabinets, cookware, stovetop, refrigerator, toaster oven, etc., In the Bathrooms: Tub, sink, toilet, tile, grout, glass doors, and fixtures., In the Living Areas: Walls, trim, and more! Works on tile, Glass, Metal, Wood, Paint, Stone and Laminate.
Scents: Unscented, Purify
Shop: Everneat Soft Scrub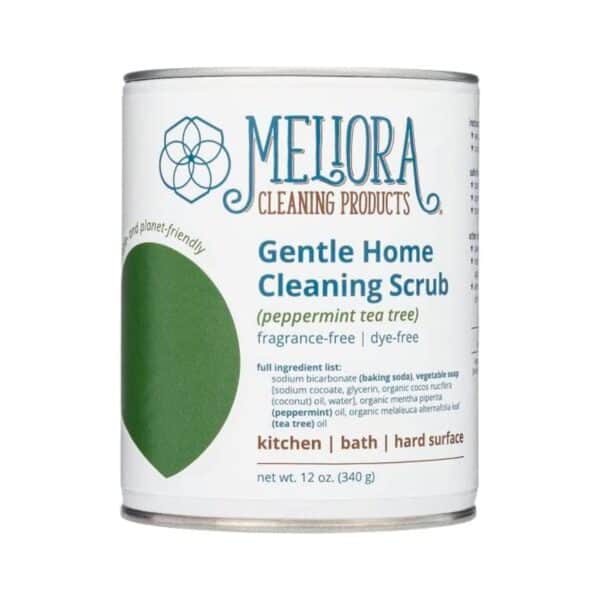 Meliora
Meliora Gentle Cleaning Scrub
Cost: $15 for 12 oz ($1.25 per ounce)
EWG Rating: A
From the Meliora website: Meliora Gentle Cleaning Scrub is a mixture of baking soda and Meloria All-Purpose Home Cleaner Soap. It works great on the tub, tiles, and stovetops around your home. 100% Plastic-Free, Dye-Free, Preservative-Free, Palm-Oil Free, Cruelty-Free, Synthetic Fragrance-Free.
Scent: Peppermint Tea Tree, Unscented
Shop: Meliora Gentle Cleaning Scrub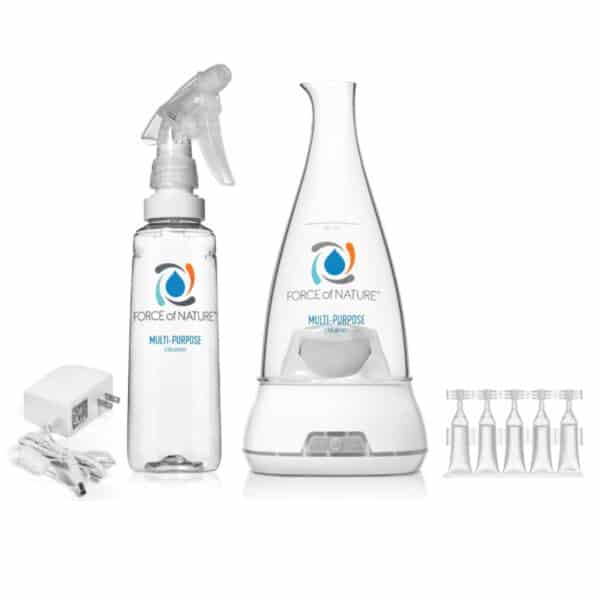 Force of Nature
Force of Nature
Cost: $80 for starter kit- The Force of Nature Starter Kit contains: Electrolyzer with power cord (compatible with any household electrical outlet), Spray Bottle (12 oz), 5 Activator Capsules (each makes enough multi-purpose cleaner, disinfectant & deodorizer to last 2 weeks). Just add your own water right from the tap.
From the Force of Nature website: This is a spray disinfectant, designed to disinfect & sanitize with no toxic chemicals. It's kid and pet friendly. Force of Nature is a broad-spectrum disinfectant and sanitizer that's EPA registered for use in hospitals, ICUs, daycares, schools, veterinary clinics, gyms, restaurants & more. It kills 99.9% of germs: Staph, MRSA, Norovirus, Influenza A, Salmonella, COVID-19, Monkeypox and Listeria. How does it work? Salt, water and vinegar are converted to electrolyzed water when an electrical current changes the chemical composition of the solution into two new ingredients.
Scent: Fragrance Free
Shop: Force of Nature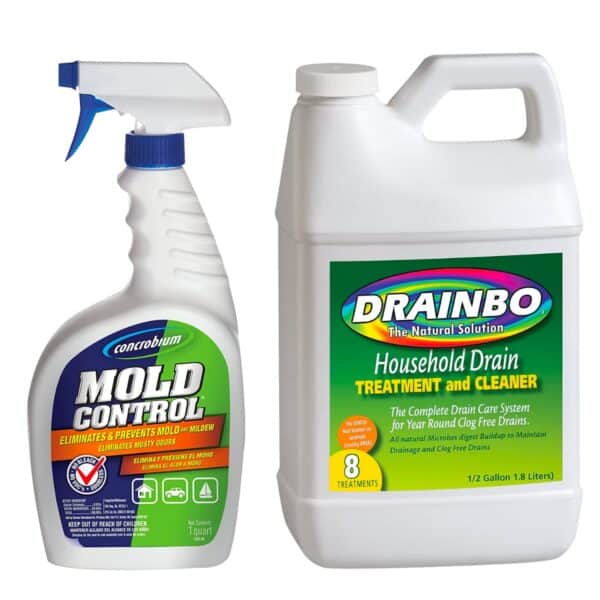 Concrobium & Drainbo
Concrobium Mold Control Spray
Cost: $13.48 for 32 oz ($0.42)
EWG Rating: n/a
From the Concrobium website: Concrobium Mold Control is an innovative, market-leading product that effectively eliminates existing mold, prevents mold re-growth and eliminates musty odors with no harmful chemicals.  The unique technology is used by homeowners, professional remodelers, contractors and remediators. Drywall, wood, composite wood, plastic, concrete, siding, shakes, metal, brick, stone, tile, grout, stucco, fabric, furniture, upholstery, flooring, and many more surfaces.Concrobium Mold Control effectively eliminates and prevents mold with no bleach, ammonia or VOCs. Concrobium works as it dries by crushing the mold spores at the source, leaving behind an invisible antimicrobial barrier to prevent future mold growth.
Shop: Concrobium Mold Control Spray
Drainbo Drain Treatment & Cleaner
Cost: $24.54 for 64 oz ($0.38 per ounce)
From the Drainbo website: This product is made of ingredients that are extremely effective without any of the dangers of most drain cleaner. In fact, DRAINBO's drain cleaner is the first and only drain cleaner on the market certified safe and all-natural by the Natural Products Association. All natural, nontoxic, and 100% safe to the environment.
Shop: Drainbo Drain Treatment & Cleaner
More Natural Living Inspiration