The Best Non-Toxic Dinnerware For Kids Of All Ages
From bowls and spoons for babies to silicone feeding mats for toddlers to tempered glass and enamelware for older kids, we've found the best safe, non-toxic alternatives to plastic dinnerware. Set your table worry-free with a roundup of fun, colorful and non-toxic dinnerware options for kids.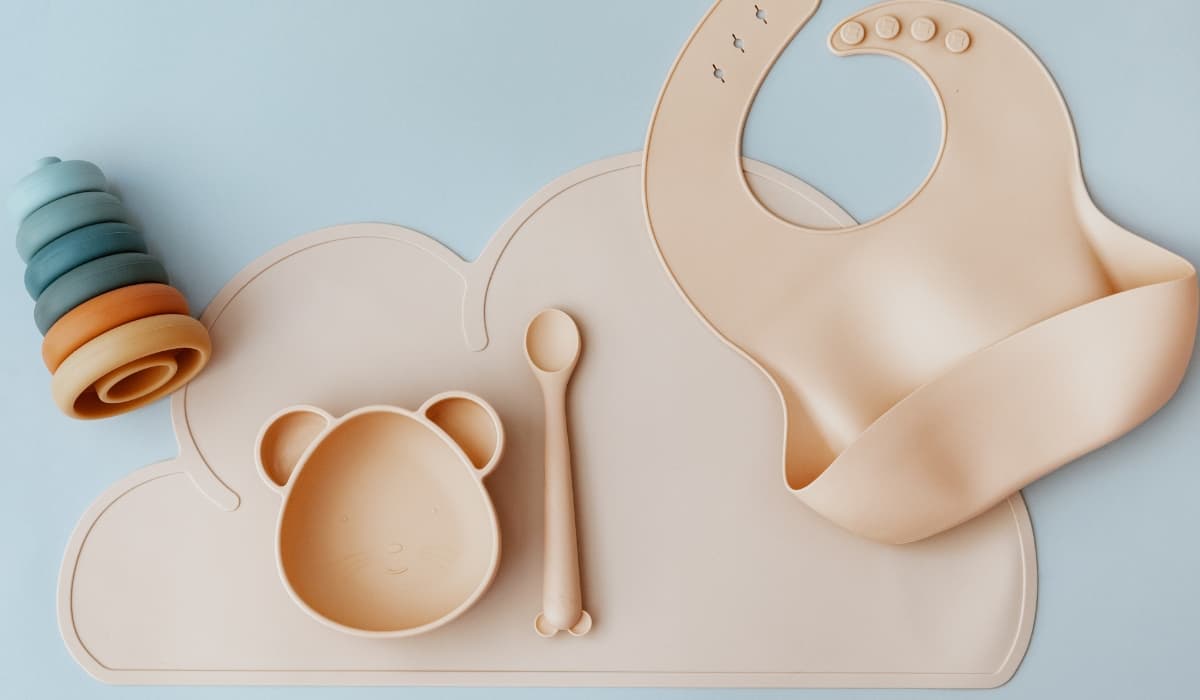 Disclosure: This post contains affiliate links, which means if you make a purchase through these links, we may receive a small commission at no extra cost to you.
Plastic dinnerware may seem like the best choice if you have a strong-willed toddler, but it isn't the best option if you worry about harmful chemicals leaching from the plastic. When food is heated on plastic plates and in plastic bowls, the plastic can leach harmful chemicals into the food. There are plenty of safe, non-plastic dinnerware options for kids that look cute on the table and won't break if thrown. From babies to toddlers to kids, we've found the best non-toxic kids dinnerware for every stage of feeding.
Best Materials For Kids Dinnerware
Silicone: Look for food-grade silicone. Unlike plastic, silicone is a non-reactive, non-toxic material. Silicone is unbreakable and oven safe (up to 350°F), microwave, dishwasher, & freezer-safe. Silicone is mainly made up of oxygen and silicon (present in sand and glass).
Stainless Steel: Stainless steel is unbreakable and will not leach harmful chemicals into your food. Stainless steel cannot be microwaved, and the material can get dents in it, but is otherwise indestructible. Stainless steel snack and lunch containers are great options for on-the-go and school lunches.
Plant-Based: Made of renewable plant materials like bamboo, corn or sweet potatoes. Look for plant-based dinnerware without melamine-based binders and lead-based colorants.
Glass: Tempered glass is very sturdy, but not entirely unbreakable. It's a great non-toxic dishware option for older kids. Tempered glass can be microwaved and is oven (check with manufacturer), dishwasher and freezer safe.
Enameled Dishware: Made from porcelain-coated steel. Check that the glaze meets regulations for lead and cadmium. Stovetop, dishwasher and freezer safe. Very sturdy, but not entirely unbreakable.
When my kids were babies and just starting with pureed foods, I would hold a Pyrex glass custard cup and feed them. As they transitioned to feeding themselves, dishes got tipped and spilled and thrown on the floor, so unbreakable bowls were the best choice at this stage. There are some very cute non-toxic dinnerware options for toddlers that have suction cup bottoms to keep the dish in place. Non-toxic bowls and plates that hold food come in materials like stainless steel, bamboo, silicone or glass with a silicone suction on the bottom. Most kids that are beyond the toddler stage can handle food served on strong tempered glass plates and enamelware. Plant-based dishware is also a good option since it's hard to break.
Whether you're in the market for bowls and spoons for babies, silicone feeding mats for toddlers or tempered glass and enamelware for older kids, look below for the best safe, non-toxic alternatives to plastic dinnerware.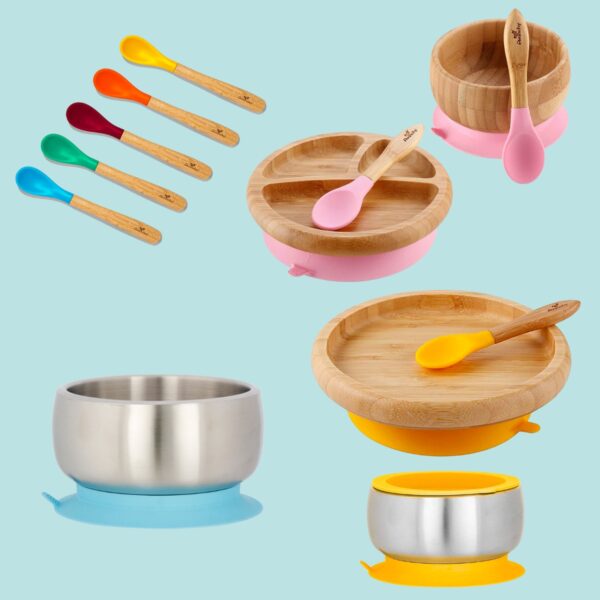 Avanchy
Avanchy makes baby bowls, baby plates, baby spoons and baby forks, all made from sustainable, eco-friendly materials. Avanchy baby dishes are made with organic bamboo and food grade stainless steel with silicone, they are non-toxic, earth-friendly, BPA, BPS, PVC, Lead, and Phthalate free. Their stylish products are designed with safety in mind, and the suction cup plates and bowls stay in place, reducing spills and making meal time less messy.
Avanchy Bamboo Training Plate Set– Comes with a baby bowl, baby plate and 2 spoons. The bowl and plate have a non-slip silicone suction bottom. Lead Safe, No Added Formaldehyde, BPA + BPS Free, No Known Harmful Phthalates, PVC Free, No Known EDCs. Ages 4-72 months.
Avanchy Stainless Steel Bowl With Suction– The stainless steel feeding bowl is made of double wall non-heat transferring food grade #304 stainless steel and comes with a suction cup bottom and air tight lock lid for storage and travel. 100% environmentally friendly. Plastic, BPA, PVC, lead and Phthalate free. Made from stainless steel and food-grade silicone. Age 6 months +.
Avanchy Silicone Baby Spoons– For babies 4+ months and younger, these infant feeding spoons feature 100% food safe silicone spoon heads with a non-toxic bamboo spoon handle for easy use to support a safer mealtime.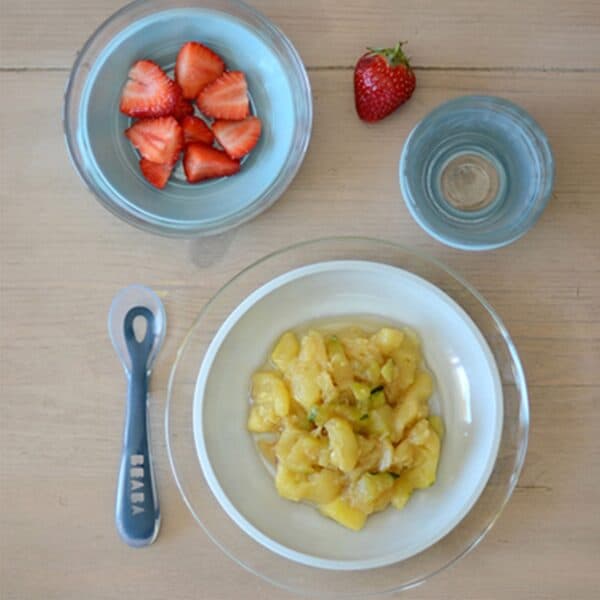 Beaba
Beaba makes a whole range of French baby-related products, including the Beaba Babycook Neo Glass Babyfood Maker, a steam cooker and blender for making baby food.
Beaba Glass Meal Set– The Beaba Glass Meal Set is a collaboration between two French brands, Beaba & Duralex. This eco-friendly, microwavable, freezer- and dishwasher-safe set includes pieces that are made for little hands. This feeding set is independently-tested: Lead Safe, BPA + BPS Free, No Known Harmful Phthalates, Undetectable Levels of Heavy Metals, PVC Free. The set includes a Duralex glass & suction base plate, bowl, and suction sleeve cup, for an easy mealtime with fewer mishaps. Made from high-grade tempered glass made by Duralex in France. Sleeve material is TPE. Plate has a high rim to help baby scoop food and suction pads fix plate and bowl to the table or tray. Age 4-36 months.
EZPZ
ezpz is a mom-owned business based on safe and independent eating, and 100% non-toxic food-safe silicone suction feeding mats are their specialty. ezpz products are 3rd party quality tested, and ezpz has won numerous awards and accolades. Their products are designed for babies, toddlers and preschoolers and are microwave, dishwasher and oven safe (up to 350 degrees). Free of BPA, BPF, BPS, PVC, lead, cadmium and phthalates. The non-porous surface helps inhibit bacterial growth, and the silicone is bendable and flexible and doesn't fade or corrode.
ezpz Toddler Placemat
ezpz Mini Mat
ezpz Silicone Training Cup
ezpz Tiny Bowl
ezpz Silicone Training Cup With Straw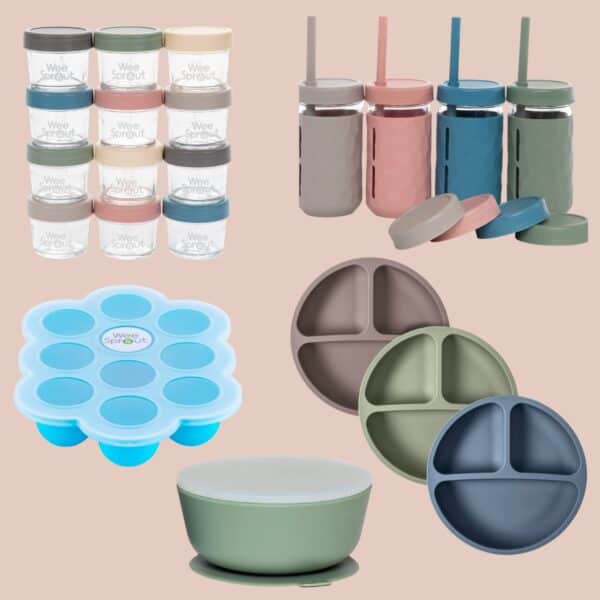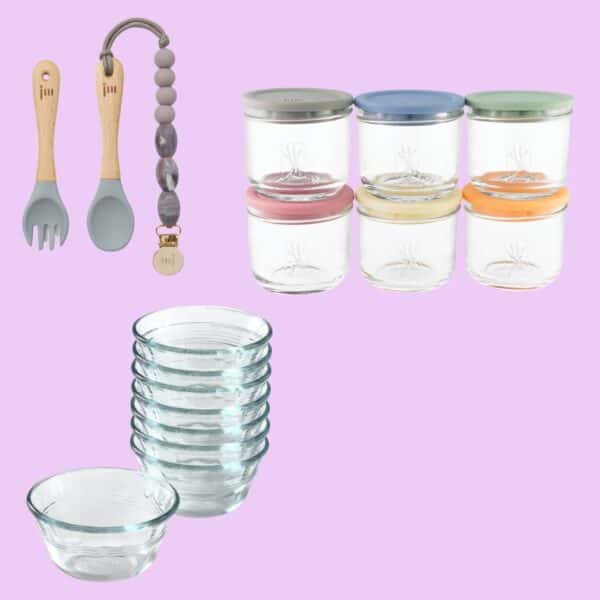 Elk & Friends, January Moon & Pyrex
Elk & Friends– Elk & Friends Glass Baby Food Jars borosilicate glass baby food jars are microwave, oven and dishwasher safe. The lids are food-grade silicone and leakproof.
January Moon Feeding Set– Made with premium and non-toxic materials, this set includes a fork, spoon, and coordinating clip – all which double as gum-soothing teethers! Made from 100% food-grade silicone, FSC certified birch, Japanese rope, and safety compliant metal. Birch is 100% biodegradable and environmentally friendly. Cleans easily with soap and water (Feeding Sets should not be washed in a dishwasher. Age 3+.
Pyrex Glass Custard Cups– Durable high-quality tempered glass. Resists stains and does not absorb food odors or flavors. Dishwasher, freezer, microwave and preheated-oven safe.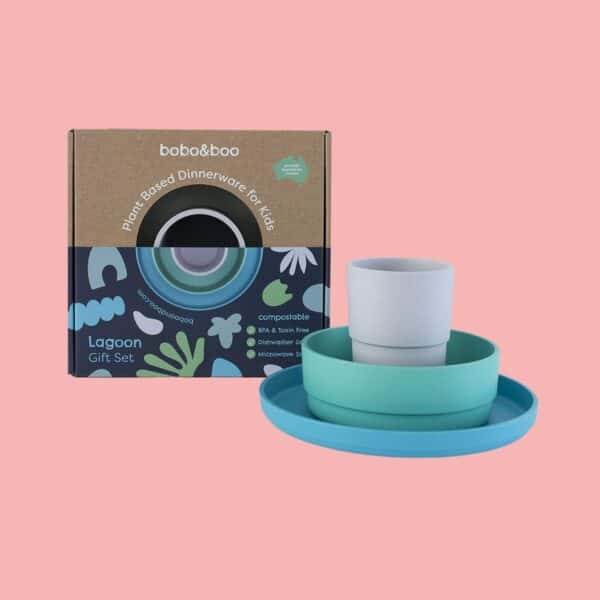 Bobo & Boo
Bobo & Boo is a mom-owned company with a mission is to produce quality, eco-friendly children's dishes that are stylish, functional and affordable. Made from natural, renewable and sustainable materials, these colorful bamboo and plant-based children's dishes are non-toxic to people and the planet alike. Bobo & Boo products are free from BPAs and melamine, which means zero toxins and nasties. Dishwasher and microwave safe.
Bobo & Boo Kids Dinnerware Set– Features food-safe PLA-based plates, cups and bowls. PLA is a bioplastic made using a plant-based resin created from renewable fibers extracted from crops like corn and sweet potatoes and is compostable.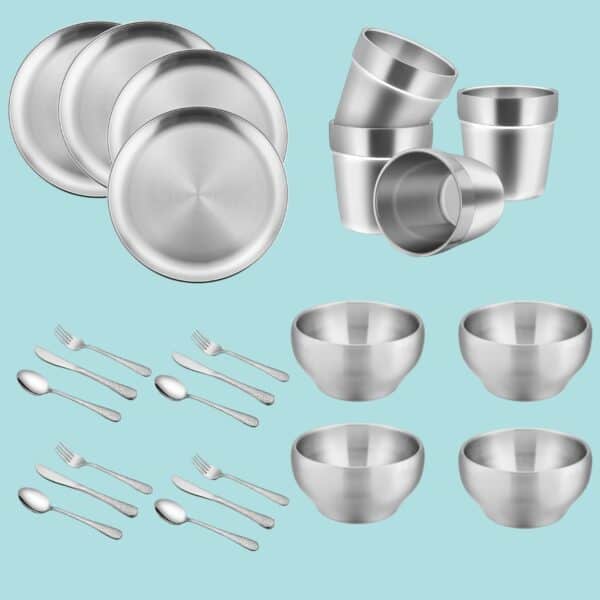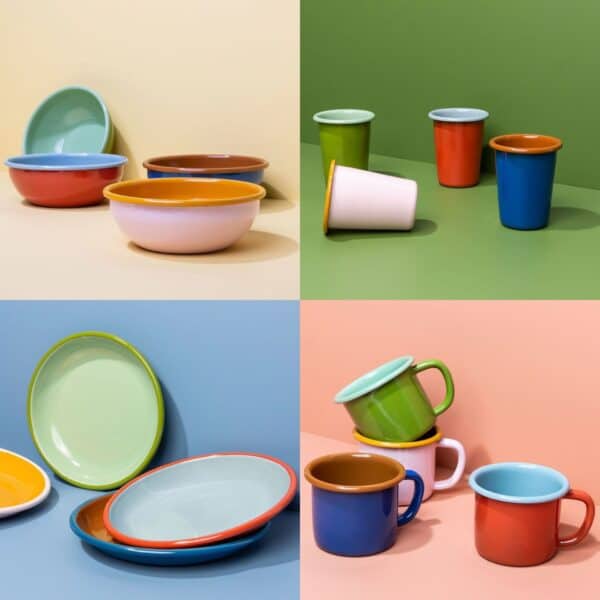 Crow Canyon
Established in 1977, Crow Canyon is a family-owned business that is focused on creating stylish, versatile and eco-friendly enamelware that connects generations. This lovely enamelware passes all FDA and California Prop 65 food service requirements. It's food-safe and is rigorously tested to meet both FDA as well as California Food Safety regulations for lead and cadmium. Safer than glass — it's shatterproof. Can be used in an oven or on the grill.
Crow Canyon Enamel Bowls
Crow Canyon Enamel Plates
Crow Canyon Enamel Tumblers
Crow Canyon Enamel Mugs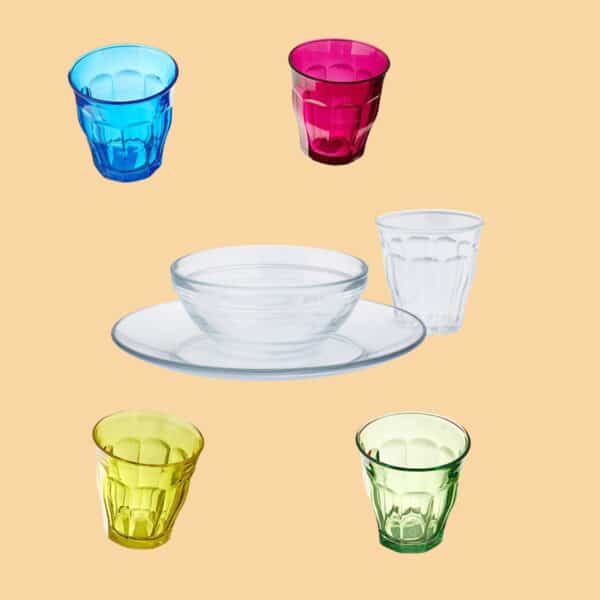 Duralex
Founded in 1945, the French company Duralex has been manufacturing tempered glassware for over 80 years. Impact & chip resistant, extremely durable Duralex tempered glass is 25 times stronger than ordinary glass. Shock resistant manufactured to withstand sudden temperature extremes from -4 Degree to 266 Degree and is suitable for hot or cold liquids. Microwave, freezer and dishwasher safe. The colored glass uses organic colors and is food safe and Lead free, cadmium free, and BPA free.
Duralex Kids Glass Tumblers
Duralex Picardie Kids Glassware Set
More Natural Kids Inspiration