The Best Non-Toxic All-Purpose Cleaning Spray
Keep your home clean and your family safe from toxic chemical exposure with non-toxic cleaning spray. Clean and scrub with a non-toxic all-purpose cleaning spray that cuts through grime without using harmful ingredients.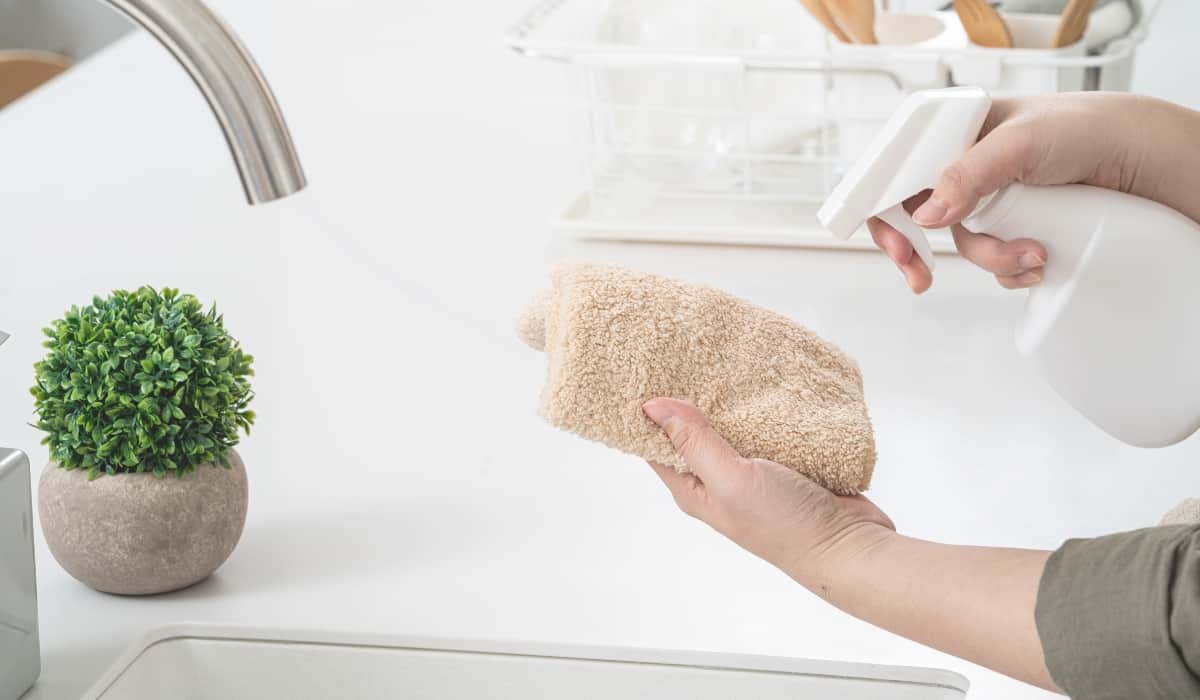 Disclosure: This post contains affiliate links, which means if you make a purchase through these links, we may receive a small commission at no extra cost to you.
The cleaning products you use to make your home sparkling clean may contain harmful chemicals. It's possible that you're breathing in asthma-inducing fumes and leaving a harmful residue on surfaces. 
The thing I love about all-purpose cleaning spray is that it can truly be used in any room of your home, whether it be the bathroom, mudroom or kitchen, to tackle dirt, grime, grease and icky messes. 
The problem with conventional all-purpose cleaning spray is that some formulas contain harsh chemicals that are associated with endocrine disruption, skin and respiratory issues and even cancer. 
The Environmental Working Group, (EWG) tested over 2,000 cleaning supplies and the ingredients found in some of the cleaners are known to cause serious health problems. One in five of the cleaners produced fumes that induce asthma in otherwise healthy individuals. Testing by the EWG detected formaldehyde, a carcinogen, in Comet, Pine-Sol and Simple Green cleaning products, and these products are used in California schools.
If you're wondering about other conventional all-purpose cleaners like Formula 409 Antibacterial Kitchen All-Purpose Lemon Fresh Cleaner, it gets a score of D from the Environmental Working Group (EWG). Several of the ingredients can cause respiratory effects, skin allergies and irritation, nervous system effects, general system/organ effects, and developmental and reproductive toxicity.
Below are some harmful chemicals to avoid in home cleaning products:
Luckily there are alternatives to conventional cleaning products that are just as effective at getting your home squeaky clean without harmful chemicals. I've found 8 non-toxic all-purpose cleaning sprays that are safe to use every day to tackle the dirt and grime. They all get top ratings from the EWG, which has strict standards for ingredients. Scientists conduct rigorous reviews of test data, ingredient safety substantiation reports and ingredient concentrations in order to rate products for consumer safety.
It's also important to choose non-toxic dish soap and natural laundry detergent when it comes to safer cleaning supplies.
Swapping out conventional all-purpose cleaning spray for a non-toxic brand was one of the first steps I took to detox my home. Below are my top picks for all-purpose cleaners that don't contain harmful ingredients like endocrine disrupting chemicals.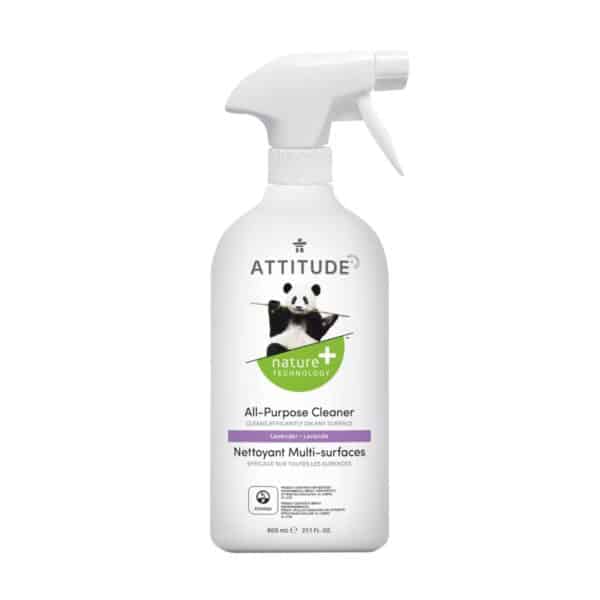 Attitude
Attitude All Purpose Cleaner
Cost: $10 for 27.1 oz ($0.37 per ounce)
EWG Rating: EWG Verified
From the Attitude website: Attitude All Purpose Cleaner is both natural and efficient. Thanks to its formula which contains plant- and mineral- based ingredients like saponin, a natural cleansing agent, your entire house will be sparkling clean! This powerful ECOLOGO Certified sustainable and biodegradable cleaner removes scum, mold and dust. Use this all-natural cleaning spray on every hard surface. Plus, the PETA Certified vegan liquid multi-purpose cleaner has a natural lavender scent, so your entire home will smell fresh.
Scents: Citrus Zest, Lavender, Pink Grapefruit, Unscented
Shop: Attitude All Purpose Cleaner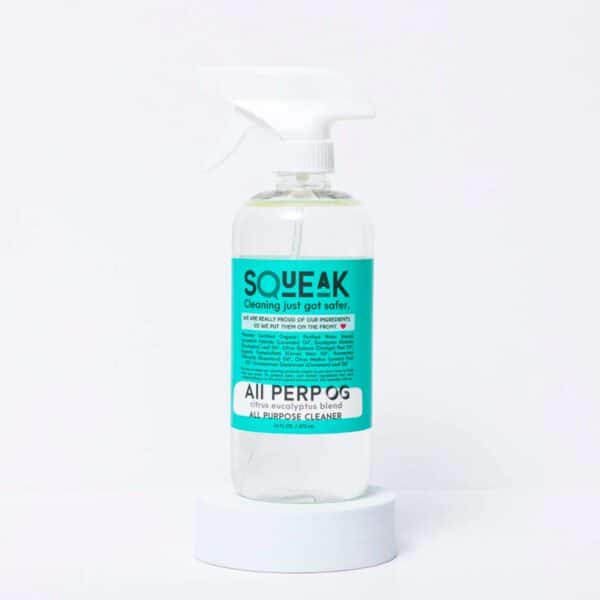 Squeak
Squeak Citrus Eucalyptus All Purpose Cleaner
Cost: $10 for 16 oz ($0.63 per ounce)
EWG Rating: EWG Verified
From the Squeak website: Instead of synthetic fragrances and nifty colors (which can be filled with unsafe ingredients not even listed on the label thanks to those ridiculous proprietary laws that let companies keep some of their ingredients secret), they chose hard working, organic essential oils with antimicrobial, antifungal and antibacterial properties like clove, lemon, cinnamon + rosemary to make All PERP OG products are safe and effective.
Scents: Citrus Eucalyptus, Tea Tree, Citrus + Eucalyptus, Peppermint, Tea Tree + Lavender, Patchouli, Peppermint + Lavender
Shop: Squeak Citrus Eucalyptus All Purpose Cleaner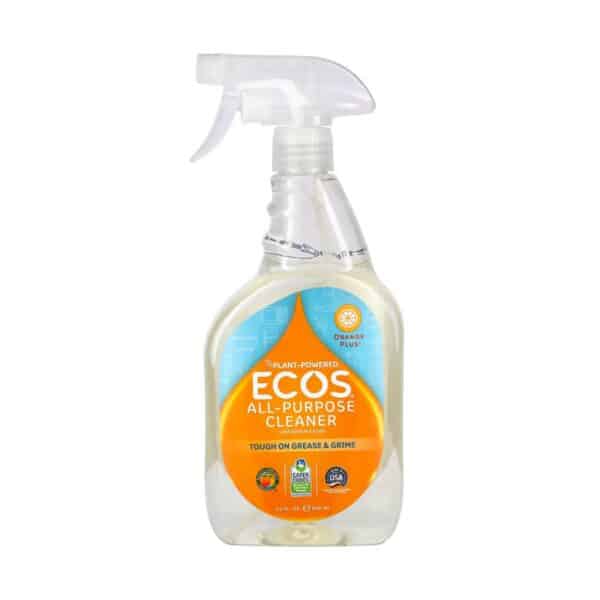 ECOS
ECOS Orange Plus All-Purpose Cleaner
Cost: $9.45 for 22 oz ($0.43 per ounce)
EWG Rating: A
From the ECOS website: Tackle dirt, grime and grease in every corner of your home with ECOS Orange Plus All-Purpose Cleaner. This formula uses plant-powered ingredients to clean up even the toughest of residue. Powered by orange oil, one of nature's toughest degreasers, this citrus-infused formula is a must-have for every cleaning pantry.
Scents: Orange, Parsley Plus (this scent gets an EWG rating of B)
Shop: ECOS Orange Plus All-Purpose Cleaner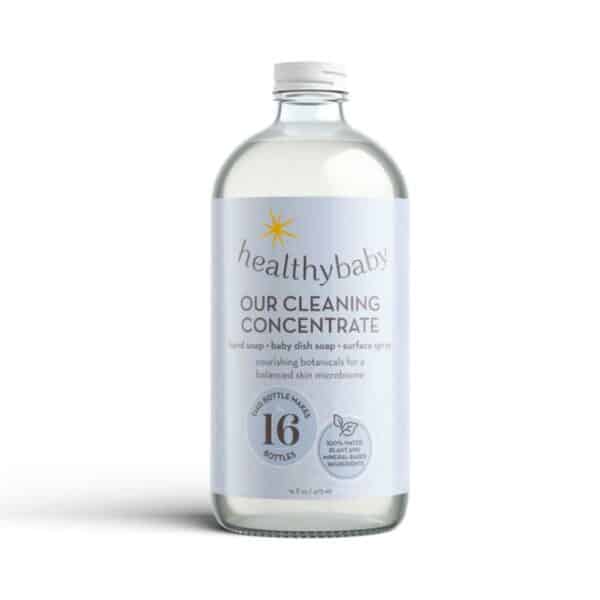 Healthybaby
Healthybaby Cleaning Concentrate
Cost: $30 for 16 oz ($1.88 per ounce) Basically this works out to $1.88 per bottle for 16 bottles, since this is a concentrated formula and 1 oz concentrate is combined with 15 ounces of water.
EWG Rating: EWG Verified
From the Healthybaby website: A gentle yet effective solution for your family that's microbiome friendly, sustainable, and safe for baby's developing body and brain. Reduce, refill and reuse with this 100% plant, mineral, water-based cleaning concentrate and stainless steel bottles. One bottle of multi-purpose cleaning concentrate makes 16 surface sprays, hands soaps, or baby bottle soaps. Made Safe Certified (a comprehensive human health and ecosystem-focused certification for nontoxic products).
Shop: Healthybaby Cleaning Concentrate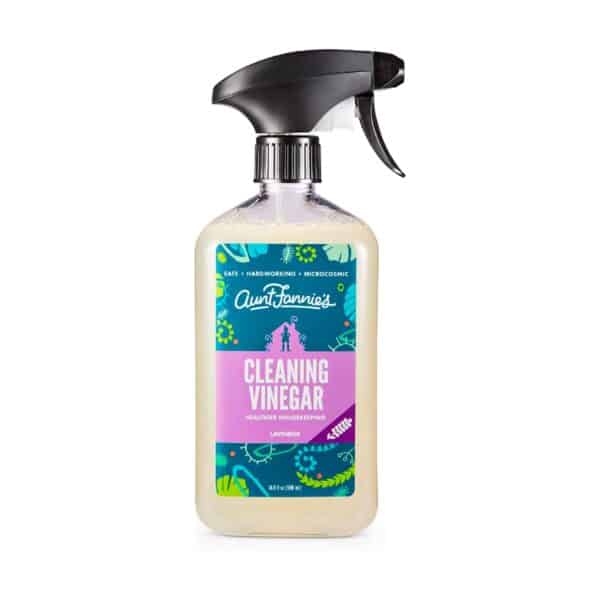 Aunt Fannie's
Aunt Fannie's All Purpose Cleaning Vinegar
Cost: $12 for 16.9 oz ($0.71 per ounce)
EWG Rating: A
From the Aunt Fannie's website: Aunt Fannie's All Purpose Cleaning Vinegar tackles the greasy, grimy, sticky and icky, with vinegar and plant-based cleaners. A-OK on food surfaces like counters, fridge, high chair trays. Also works on outdoor furniture, grill areas, and more. Contains vinegar, plant-based cleaner, and essential oils. EWG A-rated for your safety. Dermatologist tested and Hypoallergenic. Manufactured in the USA.
Scents: Bright Lemon, Eucalyptus, Lavender
Shop: Aunt Fannie's All Purpose Cleaning Vinegar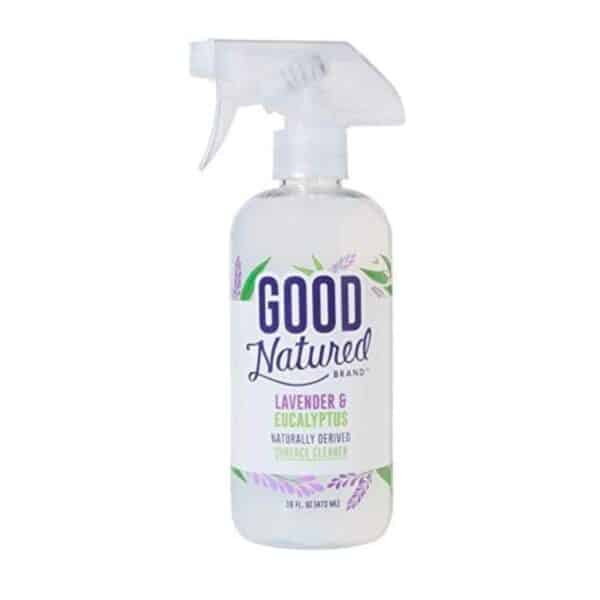 Good Natured
Good Natured Multi-Surface Cleaning Spray
Cost: $13 for 16 oz ($0.81 per ounce)
EWG Rating: A
From the Good Natured website: Good Natured Multi-Surface Cleaning Spray is made in small batches in Maine; it's free of dyes, parabens and synthetic preservatives. This surface cleaner is made with high quality essential oils and simple ingredients. Use it on countertops, appliances, tables, chairs, floors, walls, bathrooms, high chairs, toys, electronics, or any areas you want clean.
Scents: Lavender & Eucalyptus, Lemon Love, Endless Summer, Fragrance Free
Shop: Good Natured Multi-Surface Cleaning Spray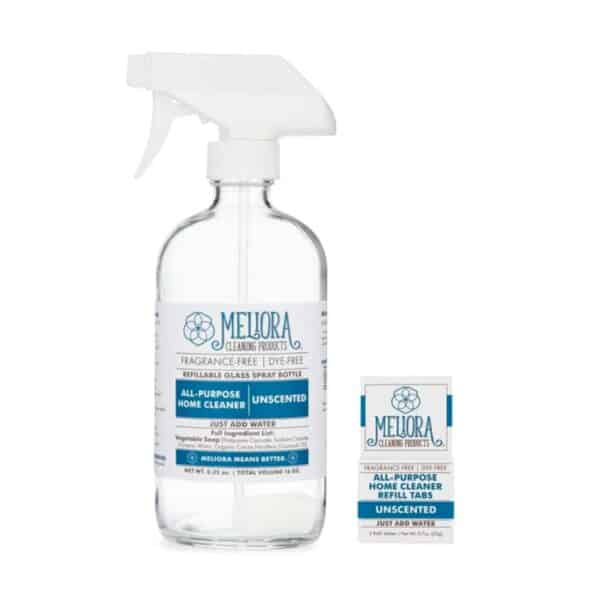 Meliora
Meliora All-Purpose Cleaning Spray
Cost: $11 for 16 oz ($0.69 per ounce)
EWG Rating: A
From the Meliora website: Meliora All-Purpose Cleaning Spray is a people- and planet-friendly all-purpose cleaner made with non-toxic ingredients and eco-friendly packaging. These solid soap refill tablets are just as effective as pre-mixed cleaning spray but are ultra-concentrated, plastic-free, and preservative-free. This cleaner is effective on any hard surface, including wood, stone, metal, and glass. MADE SAFE® Certified, Leaping Bunny certified cruelty-free, and vegan.
Scent: Fragrance Free
Shop: Meliora All-Purpose Cleaning Spray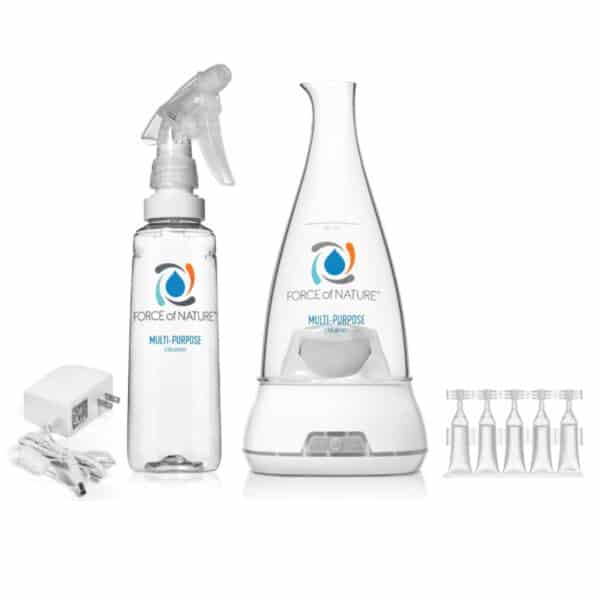 Force of Nature
Force of Nature
Cost: $80 for starter kit- The Force of Nature Starter Kit contains: Electrolyzer with power cord (compatible with any household electrical outlet), Spray Bottle (12 oz), 5 Activator Capsules (each makes enough multi-purpose cleaner, disinfectant & deodorizer to last 2 weeks). Just add your own water right from the tap.
From the Force of Nature website: This is a spray disinfectant, designed to disinfect & sanitize with no toxic chemicals. It's kid and pet friendly. Force of Nature is a broad-spectrum disinfectant and sanitizer that's EPA registered for use in hospitals, ICUs, daycares, schools, veterinary clinics, gyms, restaurants & more. It kills 99.9% of germs: Staph, MRSA, Norovirus, Influenza A, Salmonella, COVID-19, Monkeypox and Listeria. How does it work? Salt, water and vinegar are converted to electrolyzed water when an electrical current changes the chemical composition of the solution into two new ingredients.
Scent: Fragrance Free
Shop: Force of Nature
More Natural Living Inspiration