Non-Toxic Cookware For A Healthy Home
Switch out your Teflon-coated non-stick cookware for safer, healthier non-toxic cookware. From cast iron to stainless steel to pure ceramic, we've found the best non-toxic cookware for a healthier home. Whether you need safer non-stick sauté pans, a Dutch oven or a stock pot, our top non-toxic, healthy cookware picks won't leach harmful chemicals into your food or the air around you.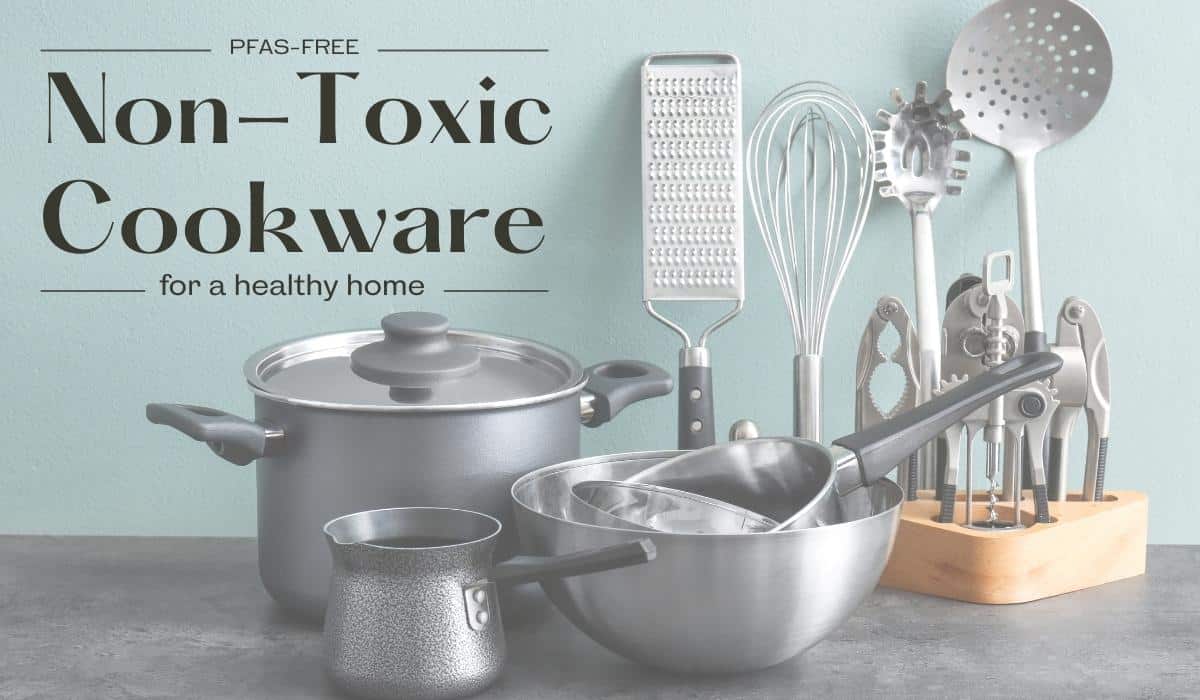 Disclosure: This post contains affiliate links, which means if you make a purchase through these links, we may receive a small commission at no extra cost to you.
You may be putting a lot of effort into preparing and cooking balanced, nutritious and nourishing meals, but what you might not realize is that some of the pots and pans you cook with may contain chemicals that are potentially harmful to the health of your family. With this non-toxic cookware guide, you can sauté and cook with peace of mind knowing your cookware doesn't contain PFAS or other harmful chemicals. I'm sharing the best non-toxic cookware brands for a healthy home.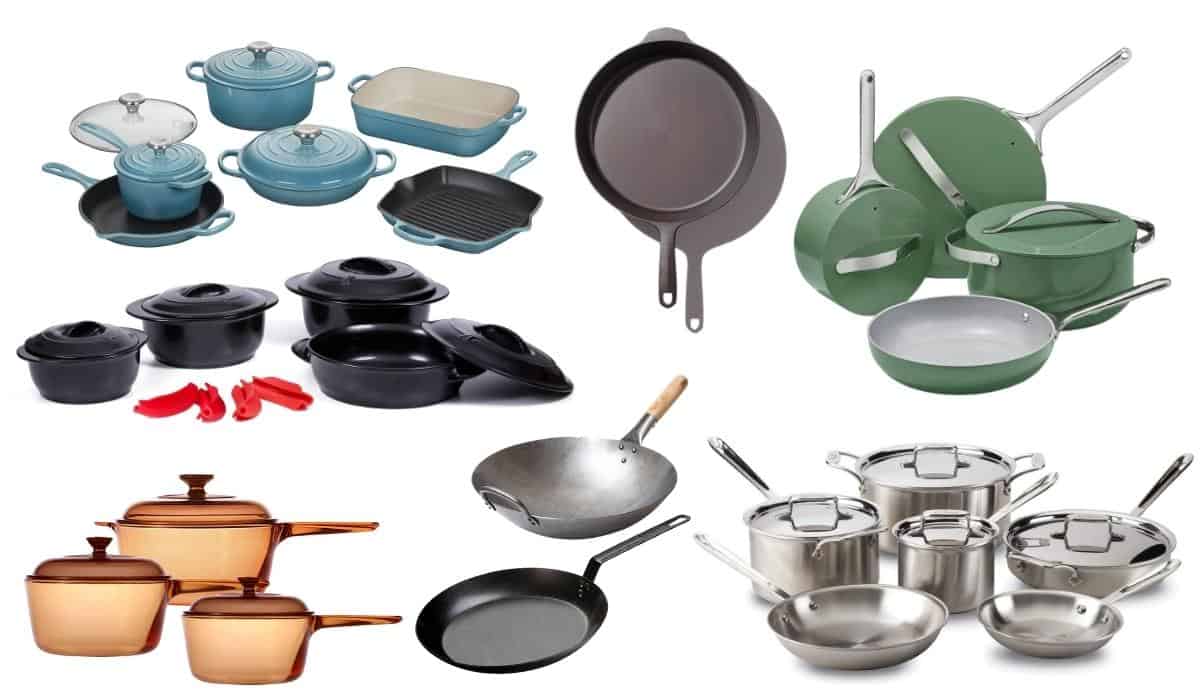 Here's Why You Should Ditch Teflon Pans
The non-stick coating on your cookware most likely contains Teflon (which contains PFAS chemicals) – it's so handy for cooking eggs and for super easy clean-up, but there are health concerns that make non-stick Teflon less than ideal.

PFAS is short for per- and polyfluoroalkyl substances. PFAS chemicals are found in products like nonstick pans (e.g. "Teflon"), food packaging, waterproof jackets, and carpets to repel water, grease, and stains.
PFAS chemicals don't break down easily, and they can persist in your body and in the environment for decades. As a result of their pervasiveness, more than 95 percent of the U.S. population has PFAS in their bodies, according to the Centers for Disease Control and Prevention (CDC).
What is Teflon? Teflon, otherwise known as polytetrafluoroethylene (PTFE), is the brand name for the non-stick coating used in cookware and bakeware. Prior to 2013, a chemical called perfluorooctanoic acid (PFOA or C8) was added to PTFE to give it non-stick properties. Although the majority of PFOA was burned off during processing, small amounts remained in the cookware coating.
Hundreds of pet bird deaths have been blamed on toxic emissions from non-stick cookware. In humans, inhalation of Teflon fumes (from heating an empty pan above 500°F) can cause "Teflon flu" with coughing, fever and sore throat.
Are you thinking that there's no way your non-stick pans could get 500°F hot? Good Housekeeping performed a test to determine how fast three sets of non-stick pans (cheap and light, midweight, and heavy, high end) heat up past 500°F. All three pans heated up past 500°F in just minutes!
DuPont manufactured Teflon for decades, despite the fact that confidential internal company studies showed the chemicals caused cancer and birth defects.
Chemical waste containing PFOA from a Teflon manufacturing plant near Parkersburg, West Virginia leached into the groundwater and polluted the drinking water in the surrounding area. Studies of almost 70,000 people that lived near the Teflon plant linked PFOA in tap water to kidney and testicular cancer, thyroid disease, high cholesterol, ulcerative colitis and other health problems. Further research has associated PFAS with more health risks, including increased risk of asthma, immune system disfunction, decreased vaccine response in children, changes in liver enzymes, increased risk of high blood pressure and pre-ecalmpsia in pregnant women, small decreases in infant birth weight and weight gain in adults.
Although PFOA and PFOS have been voluntarily phased out by industry, they have been replaced by other chemicals in the PFAS family. GenX is a replacement for PFOA, yet studies suggest that GenX is linked to harmful effects in the liver and reproductive problems.
It's not just non-stick cookware that you have to avoid, non-stick bakeware can also be coated with PFAS chemicals. There are non-toxic bakeware materials and brands to look for if you're a home baker and want to avoid non-stick coating with PFAS.
There are other swaps you can make for a toxin-free kitchen as well!
Safer Non-Toxic Cookware Materials
Stainless Steel
Ceramic Coated
100% Ceramic
Porcelain Enamel
Glass
Cast Iron
Carbon Steel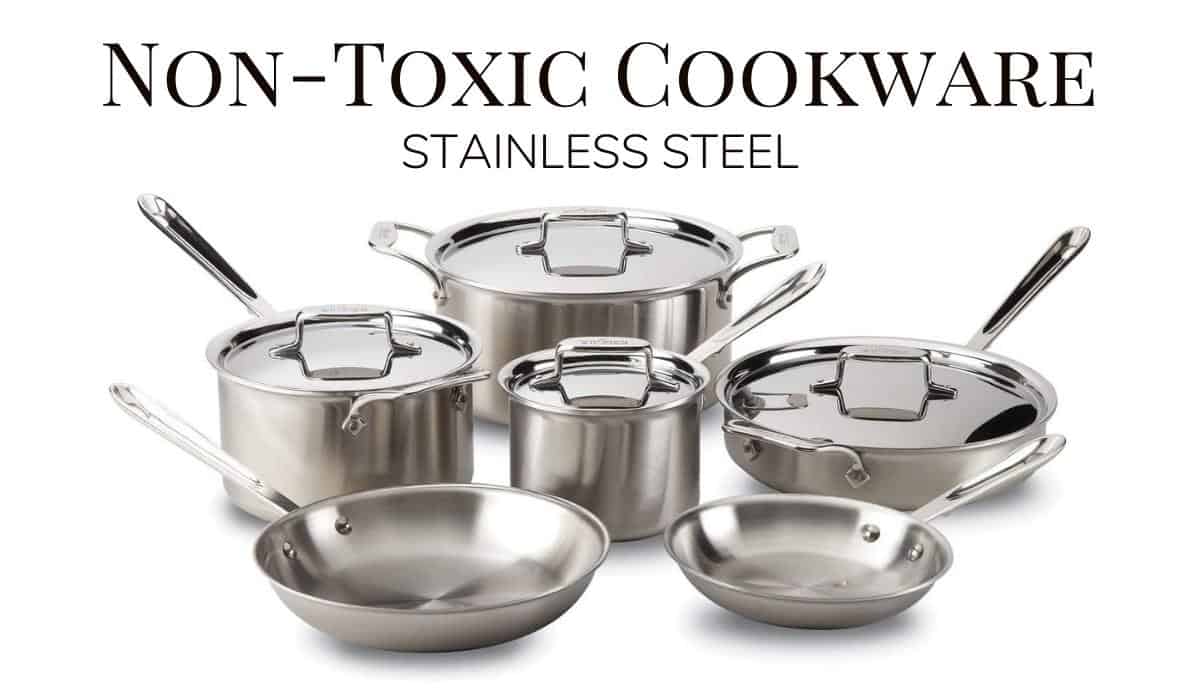 Stainless Steel Non-Toxic Cookware
Stainless steel is PFAS-free and is generally considered safe to cook and bake on. If you're cooking or baking acidic foods (like tomato sauce) or heavily salted foods for extended periods, this can cause leaching of nickel, chromium, and iron into your food, within levels that are safe to consume. Iron and chromium won't pose a risk in the small amounts that they may leach, and nickel only poses a problem if you have a nickel allergy. If you have a nickel allergy, look for nickel-free 21/0 or 18/0 stainless steel or use a different type of cookware.
We got a stainless steel cookware set, similar to this All Clad 5-Ply Stainless Steel Cookware Set, when we were first married, and it's still going strong after almost 20 years. I use the pots and pans to boil pasta, make soup, fry chicken and cook just about any other food you can think of.
PROS: You can use metal utensils and the surface won't scratch. You'll never have to worry about rust or corrosion. Stainless steel can handle high temperatures and can go in the oven, although you'll have to check that the handles are oven-safe.
CONS: Stainless steel is not non-stick (simply soak and scrub to tackle any mess).
SHOP STAINLESS STEEL COOKWARE: All Clad 5-Ply Stainless Steel Cookware Set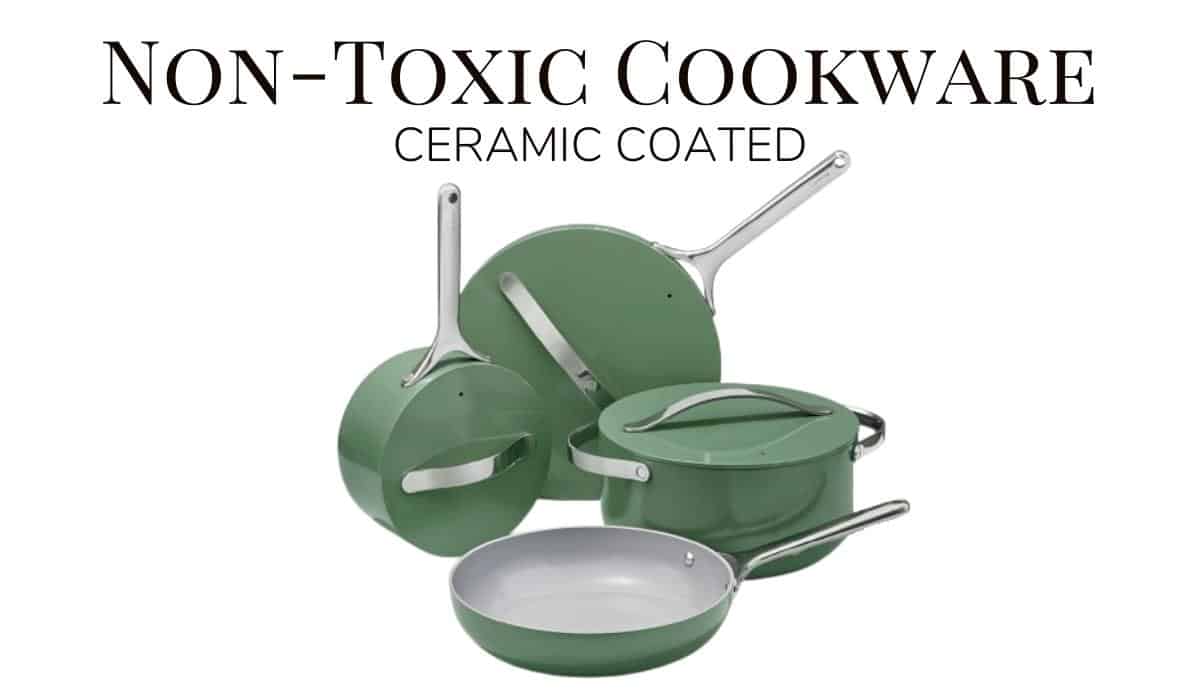 Ceramic Coated Cookware
Caraway ceramic coated cookware is made without Teflon and is PFAS-free. It's SGS third party certified as well as California Prop 65 tested and passed. Caraway cookware and bakeware features an aluminum core completely surrounded in sol-gel, a ceramic non-stick coating. This ceramic coating is made from inorganic natural ingredients that are 100% safe to use in contact with all foods (FDA approved). The main ingredient in the coating is silicon dioxide (silicon and oxygen), which is what sand is made of. I have a Caraway Fry Pan and it's incredible for cooking eggs- they literally slide right out of the pan! If you're looking for the best, safest, healthiest non-stick cookware, the Caraway Cookware Set is the way to go!
PROS: This cookware is lightweight and easy on the wrists. It has a very non-stick surface that wipes clean in seconds. The interior coating is non-reactive with acidic foods and little to no oil is required to cook your food.
CONS: You can't use metal utensils with this type of cookware. I use this Silicone Mixing Spoon and this Silicone Slotted Spatula with my Caraway Fry Pan. I also take care not to scratch the surface by using a protective bag when storing my pan- at the very least don't pile other pans on top of ceramic coated ones. Although it's not dishwasher safe, Caraway cleans so easily that it just doesn't matter.
SHOP CERAMIC COATED COOKWARE: Caraway Cookware Set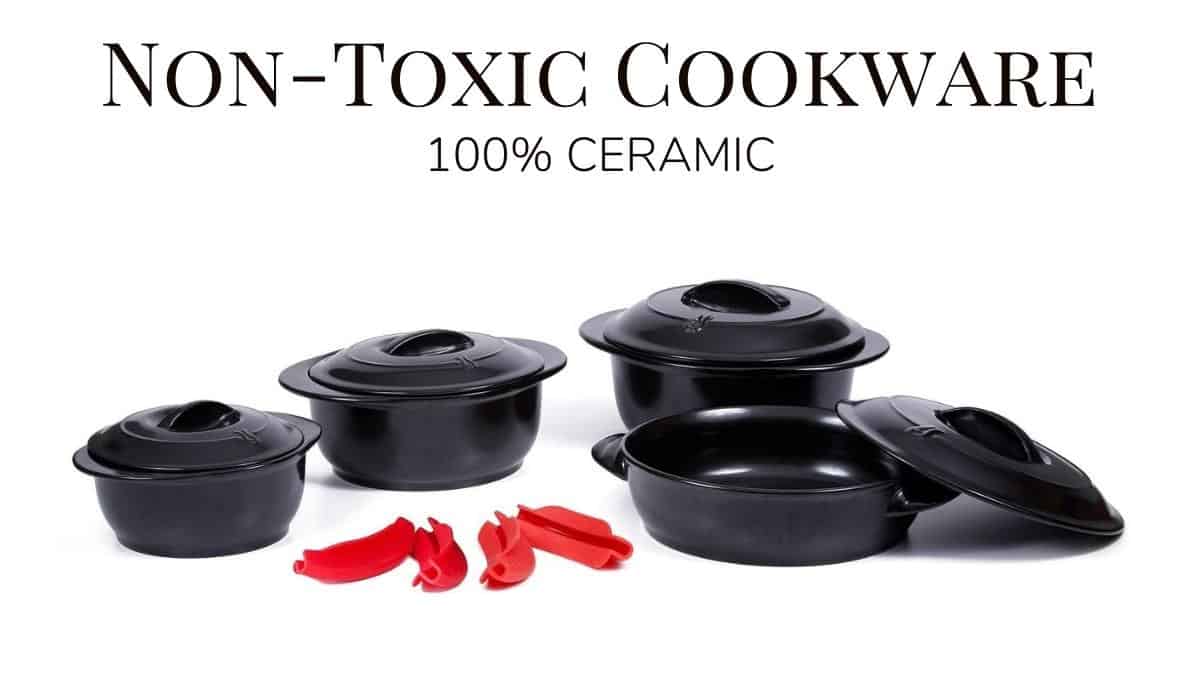 100% Ceramic Cookware
When it comes to pure ceramic cookware, I trust Xtrema, since they test for extractable lead and cadmium, and Xtrema products are California Prop 65 certified. Xtrema 100% ceramic cookware is PFAS-free and non-toxic, and contains no glues, polymers, coatings or dyes. It doesn't each metal, cadmium or lead. You can't go wrong with this high quality Xtrema Ceramic Cookware Set.
PROS: This type of cookware can handle any level of heat, is compatible with metal utensils and works just as well on the stovetop and as it does in the oven.
CONS: Breakable if dropped. Not totally non-stick. We have an Xtrema Loaf Pan and we line it with parchment paper before baking.
SHOP 100% CERAMIC COOKWARE: Xtrema Ceramic Cookware Set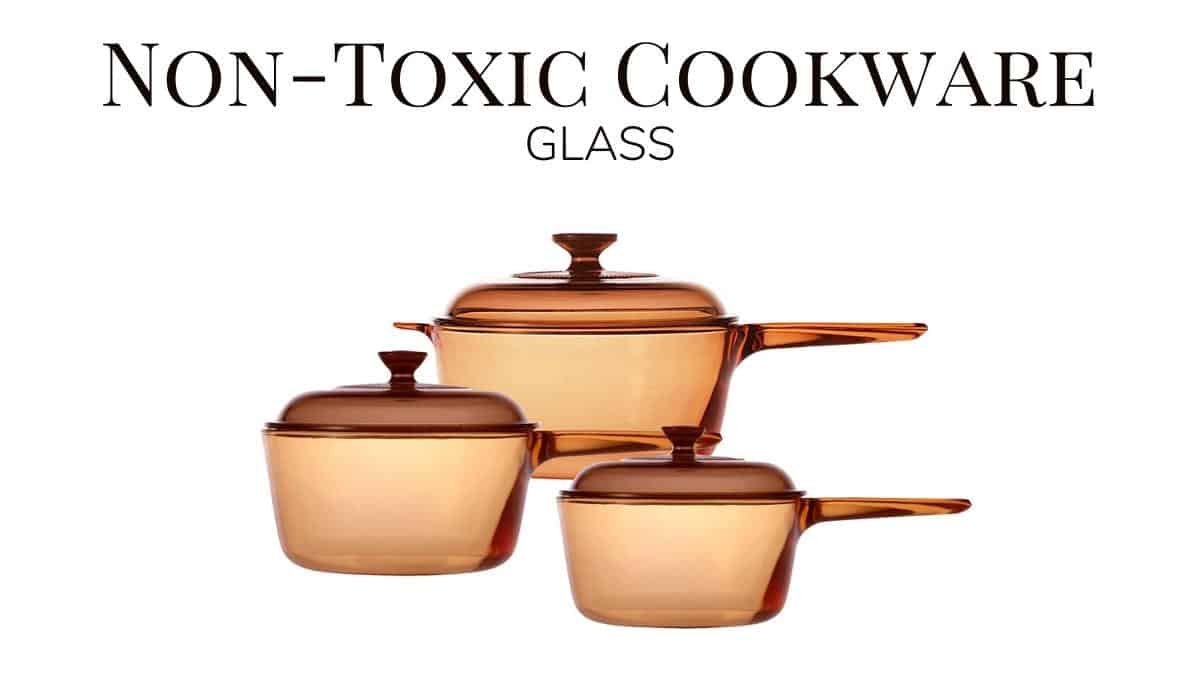 Glass Cookware
Glass is a non-toxic, PFAS-free, inert material that can be used for cooking and baking. I used to have a Visions glass pot and loved it, but it disappeared in one of my moves. I currently use a Pyrex Glass Rectangular Baking Dish for both cooking and baking, and it is an essential in my kitchen.
PROS: Glass is non-reactive with acidic foods and is oven, microwave and dishwasher safe.
CONS: One downfall is that glass can break, especially if dropped or exposed to freezing temps followed quickly by high heat, or vice versa.
SHOP GLASS COOKWARE: Visions Glass Cookware Set and Pyrex Glass Rectangular Baking Dish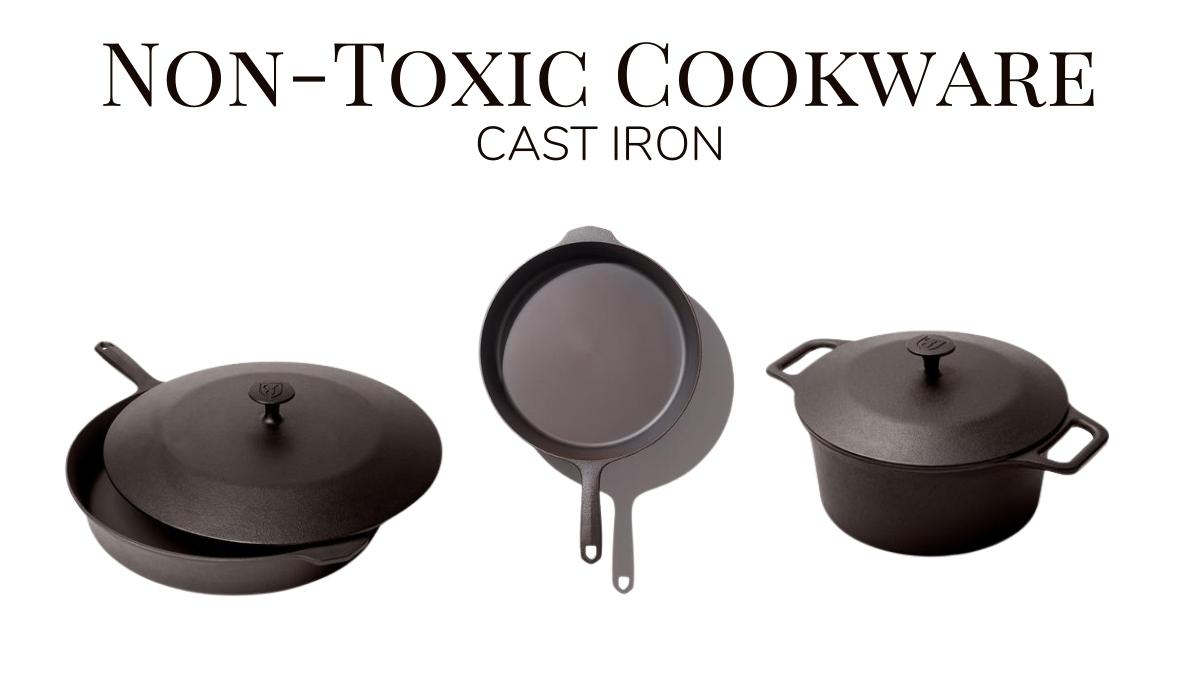 Cast Iron Cookware
Cast iron is generally safe to cook and bake with. It may leach iron into your food, which is a good thing if you're low in iron like I am, but if you have hemochromatosis, you may want to avoid this type of cookware. I have a high-quality Field Cast Iron Skillet and it is so worth the price for this non-stick, well-seasoned pan. I love how well cast iron sears meat like pork chops, steak and chicken, and you can put the pan from the stovetop straight into the oven.
PROS: Cast iron will last more than a lifetime, and you can use metal utensils without scratching the surface.
CONS: Cast iron is heavy and you also have to season cast iron after every use. Cast iron reacts with acidic foods like tomato sauce, so you'll want to avoid cooking acidic foods in cast iron.
SHOP CAST IRON COOKWARE: Field Cast Iron Skillet and Lodge Cast Iron Dutch Oven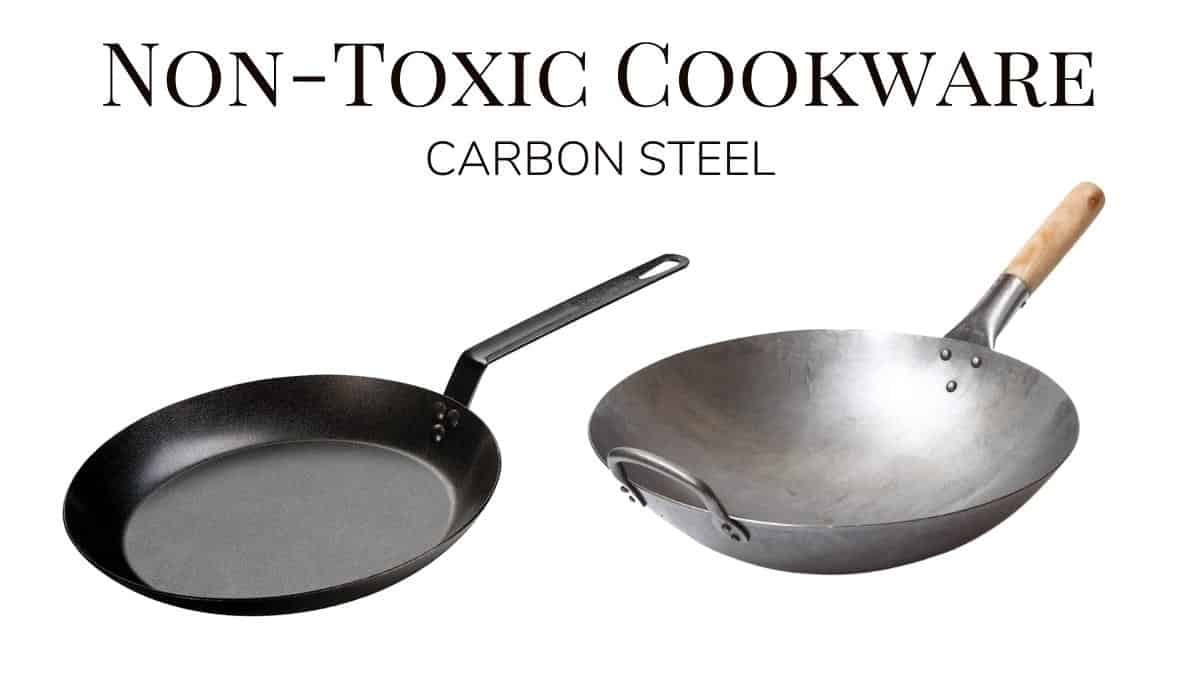 Carbon Steel Cookware
Carbon steel cookware is similar in makeup to cast iron, but much lighter. It consists of approximately 99% iron and 1% carbon
PROS: Works on the stovetop as well as in the oven, and even on the grill or campfire. It's thinner, lighter and smoother than cast iron.
CONS: Just like cast iron, it needs to be seasoned after each use, and it's also reactive to acidic foods like tomato sauce.
SHOP CARBON STEEL COOKWARE: Lodge Carbon Steel Skillet and Craft Wok Carbon Steel Wok
More Healthy Home Inspiration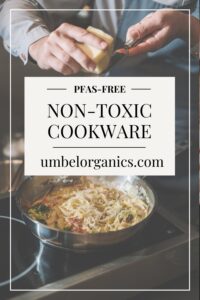 References
1// Exley, Christopher. 'Aluminum Should Now Be Considered a Primary Etiological Factor in Alzheimer's Disease'. 1 Jan. 2017 : 23 – 25.
https://content.iospress.com/articles/journal-of-alzheimers-disease-reports/adr170010
2// Canaries in the Kitchen: EWG finds heated Teflon pans can turn toxic faster than DuPont claims. Environmental Working Group. May 15, 2003.
https://www.ewg.org/research/canaries-kitchen
3// Betty Gold and Amanda Schaffer. Is Nonstick Cookware Safe? Here's Everything You Need to Know, According to Experts. Good Housekeeping Institute, May 20, 2019.
https://www.goodhousekeeping.com/cooking-tools/cookware-reviews/a17426/nonstick-cookware-safety-facts/
4// The PFAS Project
https://pfasproject.com/parkersburg-west-virginia/
5// Conley JM, Lambright CS, Evans N, Strynar MJ, McCord J, McIntyre BS, Travlos GS, Cardon MC, Medlock-Kakaley E, Hartig PC, Wilson VS, Gray LE Jr. Adverse Maternal, Fetal, and Postnatal Effects of Hexafluoropropylene Oxide Dimer Acid (GenX) from Oral Gestational Exposure in Sprague-Dawley Rats. Environ Health Perspect. 2019 Mar;127(3):37008.
https://pubmed.ncbi.nlm.nih.gov/30920876/
6// U.S. Environmental Protection Agency Fact Sheet: Draft Toxicity Assessments for GenX Chemicals and PFBS. https://www.epa.gov/sites/default/files/2018-11/documents/factsheet_pfbs-genx-toxicity_values_11.14.2018.pdf