Non-Toxic Baby Swaps: Everything You Need Without The Harmful Chemicals
Swap out your toxin-laden baby products with safer non-toxic versions. I've found the best non-toxic baby swaps to help you create a healthy home environment for your little ones.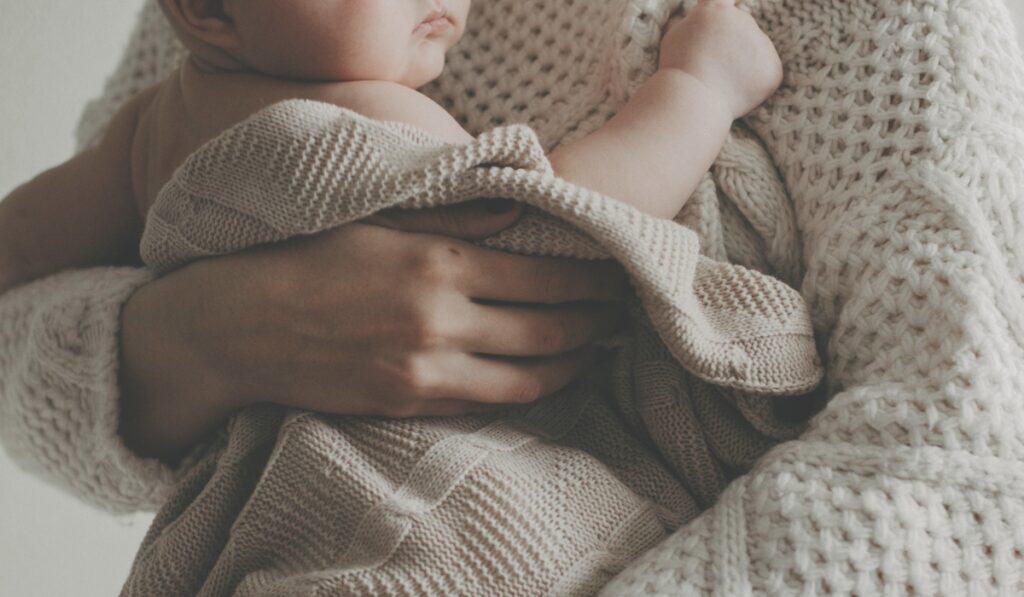 Disclosure: This post contains affiliate links, which means if you make a purchase through these links, we may receive a small commission at no extra cost to you.
Why Non-Toxic Swaps Matter
Back when my teenagers were newborns, it was a little harder to find non-toxic products for babies. Today there are so many amazing non-toxic baby products on the market, and it's always a bonus when you can find products at several different price points, like organic cotton crib sheets. 
Products marketed toward babies may contain toxic chemicals that can impact the health of your baby, and harmful chemicals in some products have been associated with hormone disruption, asthma, eczema and cancer. 
Because babies are growing and developing exponentially, they are at greater risk of developing health issues when exposed to toxins. If you start making small non-toxic swaps around your home, before you know it, you and your family will be on the way to a healthier living space!
Additives & Materials To Avoid In Baby Products
Flame Retardants– These are found in most crib mattresses, strollers, car seats, high chairs and nursing pillows. Studies suggest that infants and toddlers have higher exposures to PBDEs compared to older children or adults.
Plastics– BPA and other endocrine-disrupting plasticizers are found in plastic baby bottles, sippy cups, pacifiers and baby toys. It's not just BPA we should worry about, since other plasticizers like endocrine-disrupting BPS often replace BPA.
Phthalates– Phthalates can be found in baby care products like lotion and baby wash, in laundry detergent and dryer sheets and in plastic packaging. Phthalates are endocrine-disrupting chemicals that can affect neurodevelopment in young children.
PFAS Chemicals– Before a baby is even born, they can be exposed to PFAS chemicals through cord blood. Any product that is advertised as stain resistant most likely contains PFAS chemicals. When it comes to babies, some of the health effects when exposed to PFAS chemicals include reduced antibody response to vaccines, negative effects on neuro-devlopmental and development. 
Formaldehyde– Formaldehyde is a Volatile Organic Compound (VOC), meaning that it can off-gas into the air. Formaldehyde can be found in some crib mattresses and bedding. Short-term exposure to formaldehyde is associated with watery, burning eyes, throat pain, nausea, difficulty breathing, coughing, asthma attacks, headaches, skin rashes and fatigue. Exposure to formaldehyde also raises your risk for cancer.
From non-toxic bathing products to organic pajamas to a flame retardant-free crib mattress to plastic-free pacifiers and bottles, I've found the best non-toxic baby essentials for newborns and beyond.
Looking for a baby shower gift? Check out our non-toxic baby shower gift guide.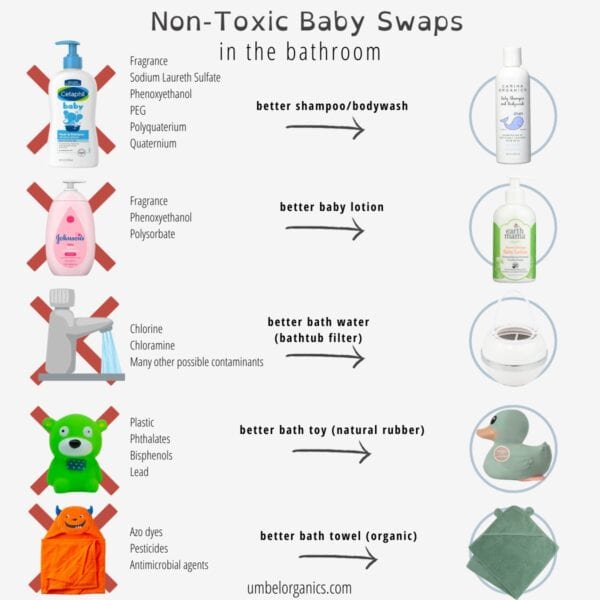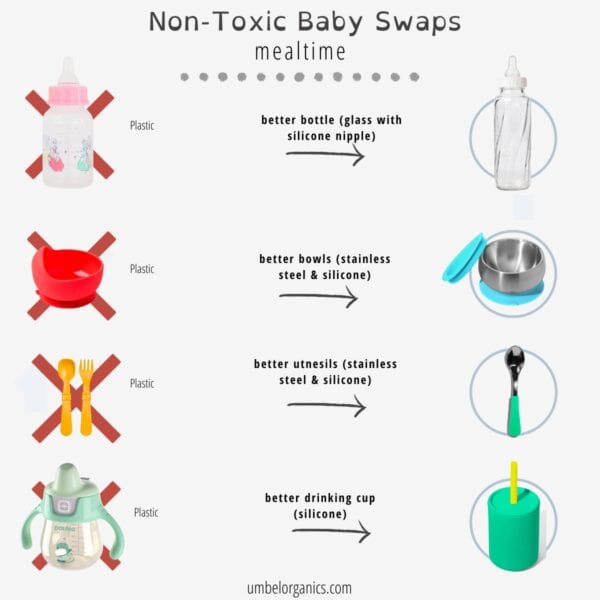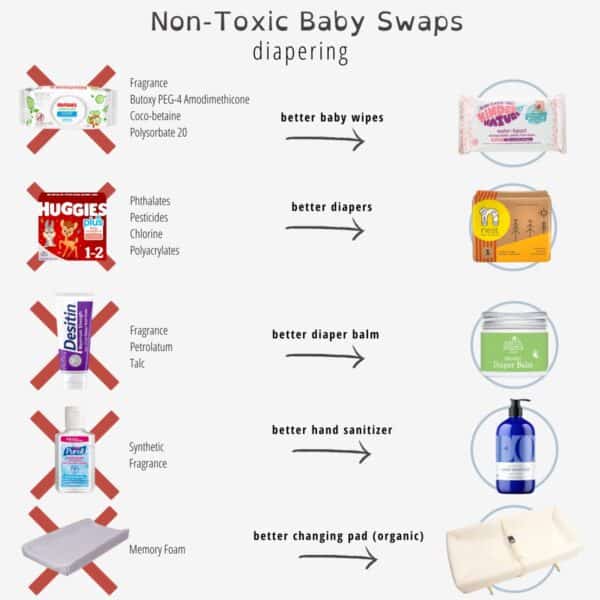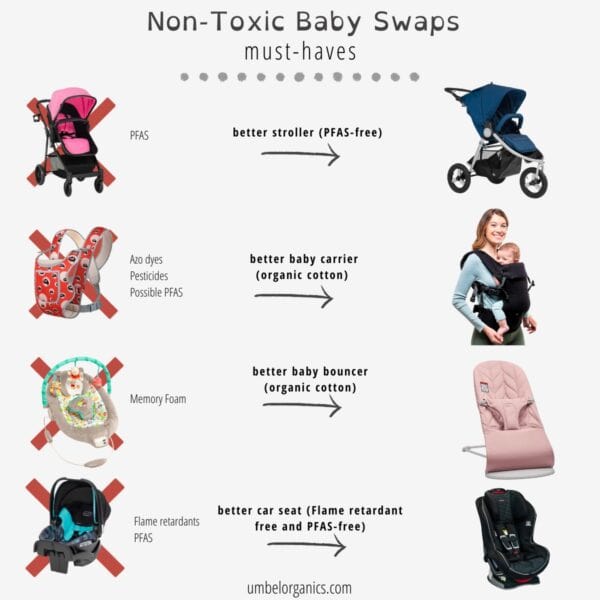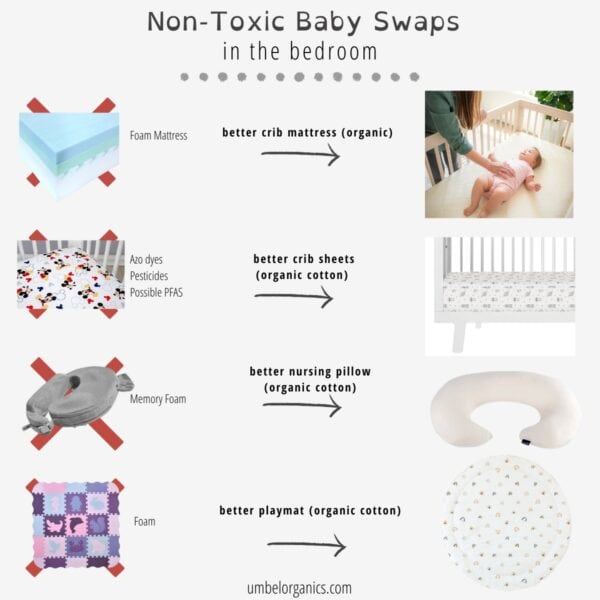 Non-Toxic Nursery Swaps 
Babies spend a lot of time sleeping, and where they sleep matters. A mattress will emit volatile organic compounds (VOCs) such as formaldehyde, toluene, chlorofluorocarbons (CFCs), benzene, styrene-butadiene, trichloroethane, and perfluorocarbons, that "off-gas" into the air. EPA research has found that indoor air is 5 times more polluted than outside air, and your baby's crib mattress could be contributing to the poor air quality in your home.
In order to create a healthier nursery environment without harmful chemicals off-gassing, there are a few swaps for a healthier bedroom for your baby.
Naturepedic Crib Mattresses
MakeMake Organics Crib Sheets
Naturepedic Organic Nursing Pillow
MakeMake Organics Play Mat
Tuck your baby to bed on an Organic Crib Mattress for a healthier sleep environment. Beyond the mattress, make the bed or crib with the cutest Organic crib sheets for babies. These pair perfectly with adorable and comfy Organic Cotton Pajamas For Baby.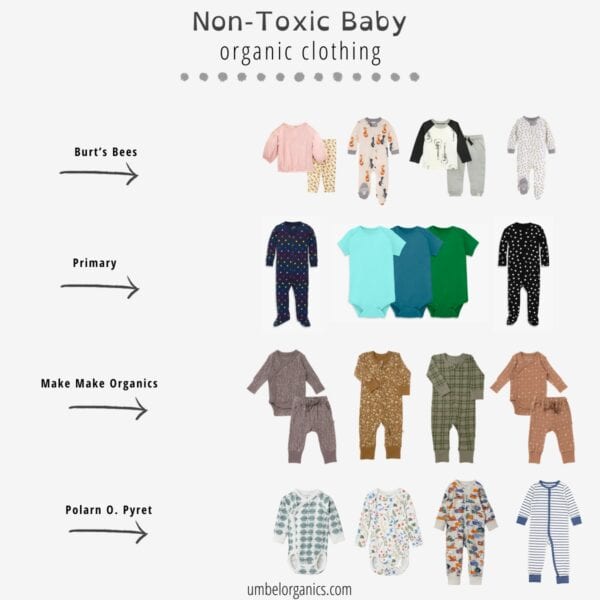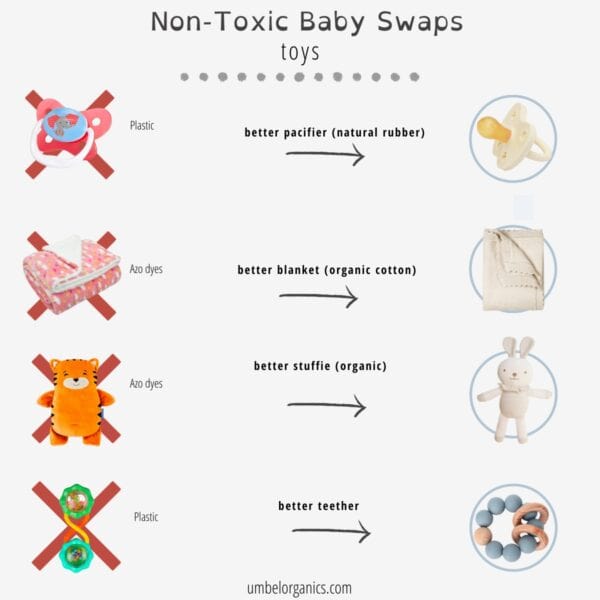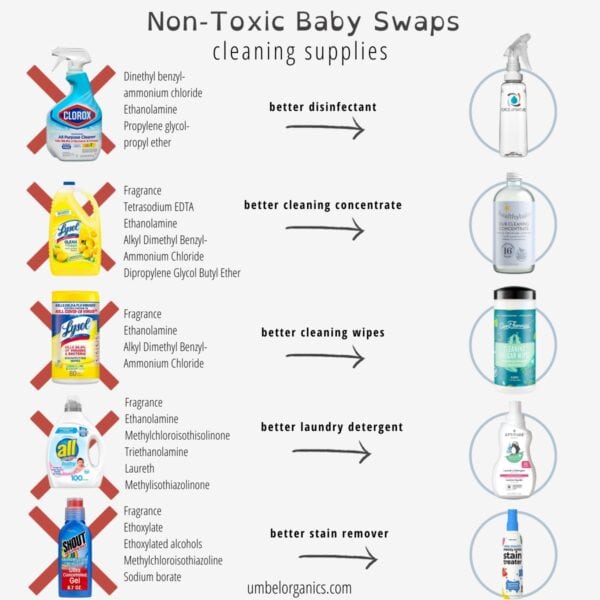 More Non-Toxic Baby Inspiration