Gift Guide For Babies And Kids
This kids gift guide is perfect for babies, preschoolers and elementary-aged kids, and is jam-packed with fun, unique, eco-friendly and non-plastic gift ideas for kids. Whether you're looking for arts & crafts gifts, games & puzzles, cozy and soft gifts, and gifts for play and movement, you'll find something for every kid on your list!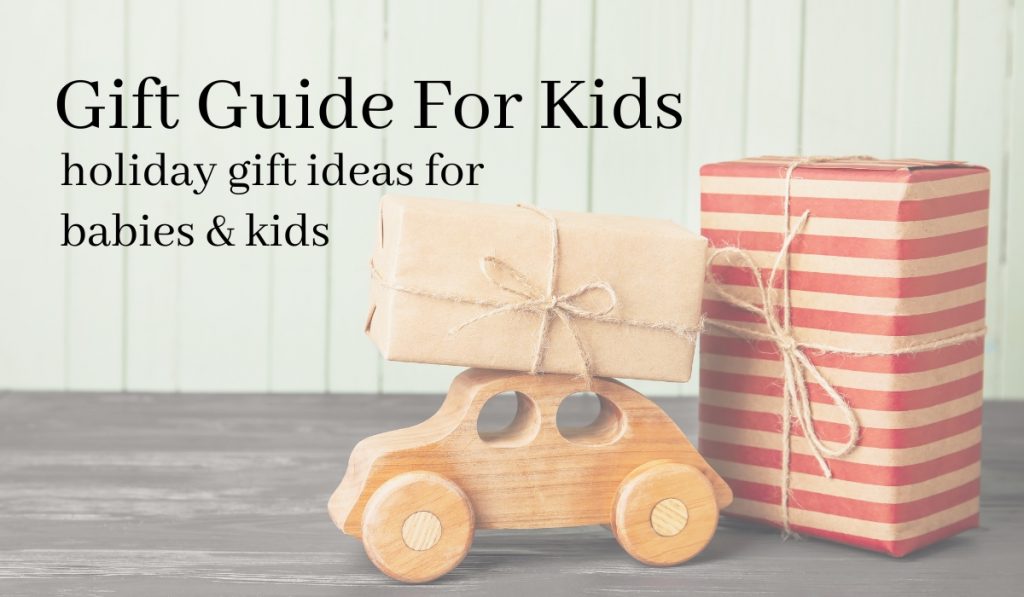 Disclosure: This post contains affiliate links, which means if you make a purchase through these links, we may receive a small commission at no extra cost to you.
It's time for my favorite gift guide- gift guide for kids! I love searching for fun gifts for babies and kids. As a former Montessori preschool teacher, I get really excited about non-plastic Montessori toys that encourage self-sufficiency and creativity. I've searched for gifts that promote learning, relaxing, creating and having fun. There's a little bit of everything in this gift guide for kids, along with just the right gift for kids of all ages.
This gift guide for kids has over 25 gift ideas for babies, preschoolers and elementary-aged kids. From pretend play gifts, arts & crafts gifts, games and movement gifts for kids, this gift guide is jam-packed with fun, unique, eco-friendly and non-plastic gift ideas for kids. Whether you're shopping for a holiday, birthday or special occasion gift, there's an gift idea for every kid in this guide!
Gifts For Babies & Kids
1// Polarn O. Pyret Eco Knit Pilot Cap– Double ply organic cotton knit for warmth with ear flaps. Handy chin ties keep this secure. Little ears for whimsy
2// Lovevery Play Kit– Support your child's learning during important developmental windows with play essentials that are tailored to their exact stage. Sustainably harvested wood, organic cotton, nontoxic paint, and baby-safe plastics.
3// Silicone Stacking Rainbow– Made from 100% platinum silicone. Safe for little mouths. Free of BPA, latex, phthalates & PVC.
4// Hart + Land Silicone Teether– Made of food-grade silicone and untreated wood.
5// Henry The Bunny– Hand-knit and hand-loomed, made using premium 100% cotton yarn, stuffed with hypoallergenic polyester filling.
6// See Kai Run Slippers For Kids– Soft textile upper with breathable canvas lining and flexible rubber outsole.
7// Humming Bird House– Ten der Leaf Toys doll house made from renewable rubberwood and TSCA Title VI compliant plywood and painted with non-toxic, water-based paint. 4 rooms plus space in the attic ready to be filled with furniture. Removable roof panel.
8// Wooden Wobble Board– Comes in two sizes, starter for toddlers (over 18 months), and regular for children over the age of 3. Use as a balance board or let your little one get creative.
9// Go Fish 3-in-1 Card Deck– Oversized, kid-friendly cards includes 52 playing cards (plus two instruction cards). Play Go Fish, Concentration (a memory game) and Snap (similar to Slapjack).
10// Olli Ella Strolley– Hand-woven rattan basket on wheels that switches from a pram to a shopping trolley, by just lowering the hood of the pram. Perfect for dolls, pretend play, fruits and veggies or for your little one to push around their favorite toys.
11// Holtztiger Marten Figurine– Wooden play figurine- 36 months to 96 months.
12// Danish Mice In Camper– Cute cotton mice in cardboard camper with handle.
13// Filana Beeswax Crayons– Organic, non-toxic beeswax crayons.
14// Melissa & Doug Sketch Pad– Spiralbound full-size sketchpad.
15// Silicone & Wood Take Apart Toy Vehicles– Non-toxic and safe for children. STEM learning toy.
16// Babyccino Maker– The Tender Leaf Toys Babbyccino Maker is beautifully painted with water-based paints, and has a clacking bird dial for some extra sensory-driven fun!
17// Primary Cozy Fleece Sweatshirt– Classic sweatshirt, but winter-fied, with ultra-soft fleece inside. Comes in 10 colors.
18// Sleuth & Solve Mysteries– Read the clues, work on solving them, then lift the flap to reveal the answer to each mystery. Ideal for 8 – 12 age range.
19// Toy Mailbox– Encourages creativity and early writing and reading. Made from environmentally responsible, hard wearing teak wood and stylish rattan webbing. For kids aged 2 years and up.
20// Melissa & Doug Solar System Floor Puzzle– includes 48 extra thick cardboard pieces that are easy for children to put together; the finished puzzle displays beautiful original artwork. Perfect for ages 3 to 6.
21// Outfoxed Board Game– A cooperative whodunit game. Ages 5 and up. Playing time: 20 -30 minutes. 2 to 4 players.
22// Rainbow Jenga– Players will take turns rolling the dice, then carefully removing one block of that color and re-positioning it on the top of the tower. The blocks have a smooth surface making it easy to remove. The player who knocks down the tower is the loser.
23// Sibley Backyard Birds Matching Game– Featuring beautiful watercolor bird illustrations from leading ornithologist David Sibley, this 40-piece matching game for children ages 3+ is sure to charm both kids and parents.
24// Primary Kids Puffer Vest– Just-right warmth for cool weather, and a go-to layer for more extreme temps, now made with recycled materials! 100% recycled polyester ripstop shell, lining & insulation.
25// The Complete Baking Book For Young Chefs– Step-by-step recipes were thoroughly tested by more than 5,000 kids to get them just right for cooks of all skill levels―including recipes for breakfast, breads, pizzas, cookies, cupcakes, and more.
26// The North Face Kids Slippers– Warm and cozy slipper that doesn't shy away from outdoor wear. Ripstop face fabric handles wear and tear inside and out. Rubber sole grips inside and outside terrain with ease.
27// Conscious Steps Socks For kids– The perfect gift that gives back- every box protects rainforests, dogs, or oceans. Youth (7-10 years): fits sizes 2-5.
28// Kids Soccer Ball– A must for every kid!
29// Micro Kickboard Scooter– Micro's newly upgraded Maxi Deluxe Foldable LED features motion-activated light-up front wheels and a foldable T-bar for easy carrying & travel. Created with a lean-to-steer design, offering a stable ride that supports children as they curve and carve the sidewalk.
More Gift Guide Inspiration
Looking for more gifts? We have a whole section jam-packed with gift guides! If you're specifically looking for baby and kids gifts, we have lots of ideas in our selection of Gift Guides For Kids.