Eco-Friendly Gift Ideas For Kids
This eco-friendly gift guide is perfect for babies, preschoolers and elementary-aged kids. Whether you're looking for arts & crafts gifts, games & puzzles, cozy and soft gifts, and gifts for play and movement, you'll find something for every kid on your list! Kids will be delighted by the wooden pretend play gifts, the kids room décor gifts, gifts for kids on-the-go and more eco-friendly kids gifts.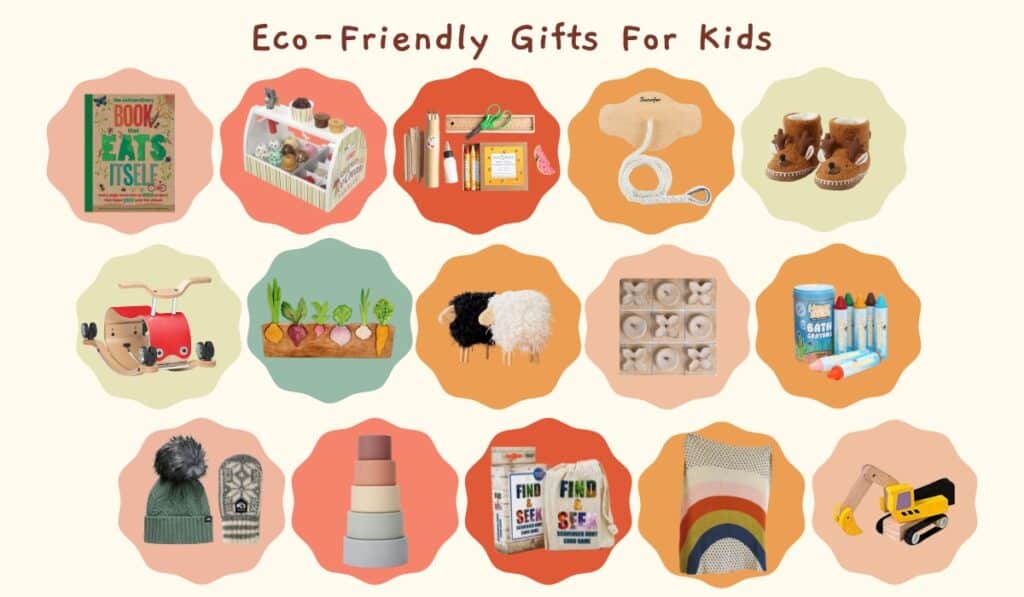 Disclosure: This post contains affiliate links, which means if you make a purchase through these links, we may receive a small commission at no extra cost to you.
The gift ideas in this kids guide are sustainable and eco-friendly, and are made with wood, organic cotton, non-toxic and recycled materials. As a former teacher at a modified Montessori preschool, I wish for every child to thrive, and these eco-friendly gifts are perfect for learning, relaxing, creating and having fun. You'll find just the right gift for kids of all ages in this kids eco-friendly gift guide!
This eco-friendly gift guide for kids has over 60 gift ideas for babies, preschoolers and elementary-aged kids. I've broken the gifts into the following categories: eco-friendly pretend play gifts, eco-friendly arts & crafts gifts for kids, eco-friendly games & books gifts, eco-friendly movement gifts for kids, eco-friendly soft & cozy gifts for kids and eco-friendly bedroom décor for kids. Whether you're shopping for a holiday, birthday or special occasion gift, there's an eco-friendly gift idea for every kid in this guide!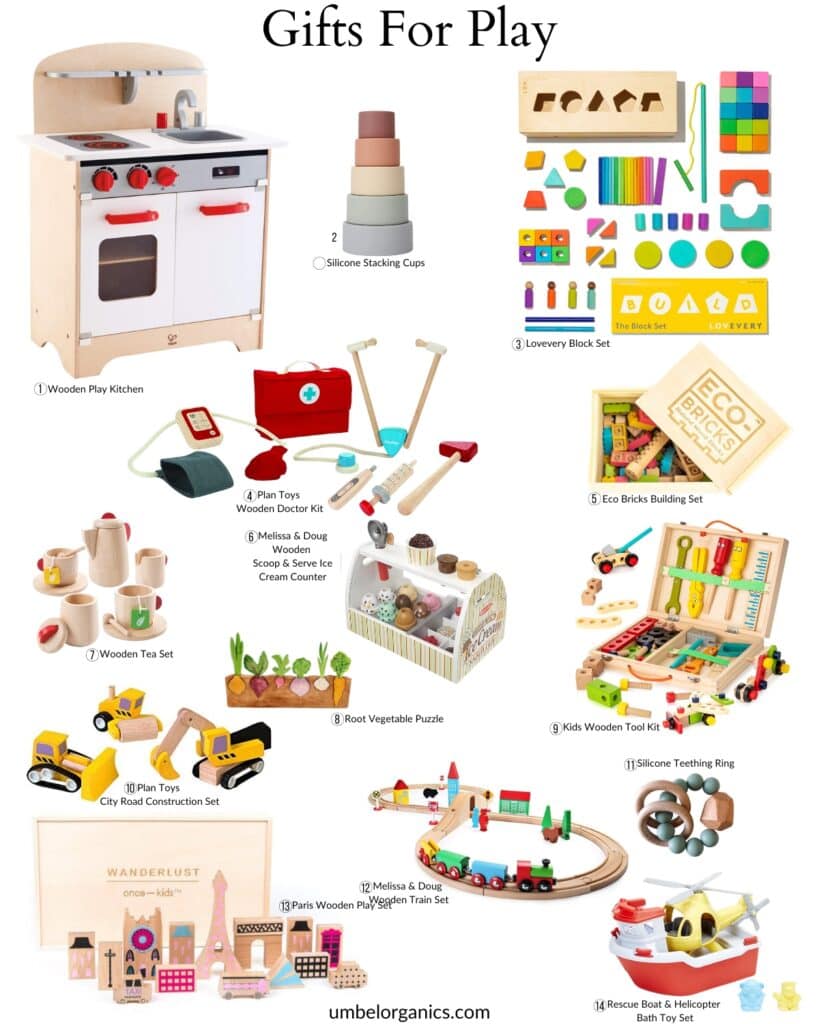 Eco-Friendly Pretend Play Gifts For Kids
1// Wooden Play Kitchen– Hape finishes are all non-toxic, child safe, and of the highest quality. Some easy assembly required. Age 3+.
2// Silicone Stacking Cups– 5 color and size cups included, the stack toys are made of the highest quality food grade silicone, BPA free, lead free, phthalates free, soft and odorless, smooth edge will not hurt your baby, don't be worried about your baby playing or chewing, it is safe.
3// Lovevery Block Set– Possibly the most comprehensive block set ever designed- a brilliant, practical system of solid wood blocks for building spatial, language, and problem-solving skills. 70 heirloom quality pieces that work with each other in more than 20 stage-based activities.
4// Plan Toys Wooden Doctor Kit– Children role play being a Dr. with this set of 5 medical instruments and a medical bag. Includes wooden stethoscope, blood pressure monitor, thermometer, syringe and reflex hammer all packed in a handy little doctors case. Sustainably crafted from chemical free rubberwood trees, formaldehyde-free glues, organic pigments, water based dyes, and safety tested. 3 years and older.
5// Eco Bricks Building Set– Made from FSC Certified Wood, these building blocks are customizable with colored pencils and are compatible with conventional building block alternatives. Each set comes with a variety of different style blocks, allowing for countless configurations and creations. Once-Kids contributes 1% of total sales directly to the Trash Free Seas Alliance®, aiding in the cleanup of plastic from our oceans and waterways!
6// Melissa & Doug Wooden Scoop & Serve Ice Cream Counter– This 28-piece wooden ice cream play set features a scooper that fits into a hole on top of the scoops to lift, stack, and release the scoops. Age 3+.
7// Wooden tea Set– Sustainably crafted from chemical free rubberwood trees, formaldehyde-free glues, organic pigments, water based dyes, and safety tested.
8// Root Vegetable Puzzle– This is a great way to learn how to identify root vegetables via a part we don't often see when we eat them. Handpainted, non-toxic.
9// Kids Wooden Tool Kit– This tool kit designed specially for kids comes with all parts and accessories they want, hammer, wrench, pliers, ruler, saw, screwdriver, nuts and bolts etc. First-class solid wood, non-sharp with a portable wooden storage box. Age 3 and older.
10// Plan Toys City Road Construction Set– This Toy is made from all natural recycled rubber and wood.. Great construction vehicles for little hands.
11// Silicone Teething Ring– Made from a unique combination of eco-friendly organic Maple wood and naturally non-toxic silicone, this teething toy keeps your little one entertained with a variety of textures and shapes for them to play with while they chew and teethe. BPA-free and easy to clean, this teething ring is suitable for kids ages 3 months +.
12// Melissa & Doug Wooden Train Set– With smooth edge and non-toxic water-based paint, all wood of the kids train track set is made of 100% natural birch & beech wood from Australia. Age 3+.
13// Paris Wooden Play Set– Made from sustainably harvested FSC Certified wood and featuring felt details spun from recycled plastic bottles, these wooden pieces have unique and intricate designs that are sure to encourage imagination and storytelling.
14// Rescue Boat & Helicopter Bath Toy Set– This two-in-one toy is perfect for bathtub or playtime outside, with a bright yellow helicopter nestled on the back of the red and white rescue boat! Made from 100% recycled plastic from milk jugs, this ship is the perfect addition to any bathtub fleet. Phthalate-free, BPA-free.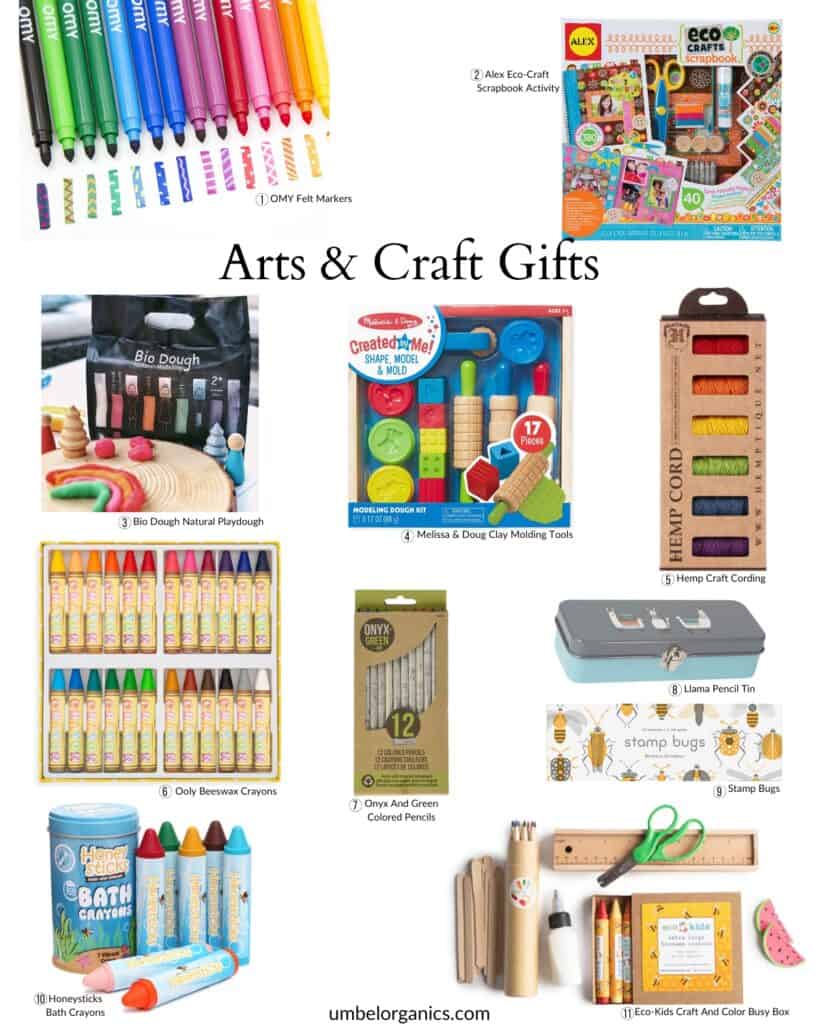 Eco-Friendly Arts & Crafts Gifts For Kids
1// OMY Felt Markers– Non-toxic markers.
2// Alex Eco-Craft Scrapbook Activity– Earth friendly pages and supplies. Includes a scrapbook, stickers, paper shapes, frames, papers, eco pencils, buttons, craft sticks, glue stick, ribbons, twine cords, scissors and instructions. Recommended for children 6 years of age and older.
3// Bio Dough Natural Playdough– Bio Dough is made of organic food grade ingredients (Non Toxic). Bio Dough does not contain, peanuts and tree nuts, soy, dairy, casein or egg. This natural dough can be rehydrated.
4// Melissa & Doug Clay Molding Tools– Colorful collection of play clay and wooden tools. Includes 5 wooden stamping cubes, 3 rolling pins, 4 tubs of modeling dough, 1 patterned wheel press.
5// Hemp Craft Cording– Perfect for knitting and threading whatever your heart desires, the hemp cord multicolor 6-pack from Hemptique has a vibrant selection of colors to fit any style. This soft and durable hemp thread is perfect for macrame, crochet, or anything you'd like to make.
6// Ooly Beeswax Crayons– Thick and triangular shaped for a great ergonomic fit. Eco-friendly!
7// Onyx And Green Colored Pencils– Made from Recycled Newspaper.
8// Llama Pencil Tin– Perfect for storing pencils, pens and small treasures.
9// Stamp Bugs– Stamp Bugs offers an assortment of buggy shapes and textures, so you get to decide what bugs—real and imagined—you want to create. Use the ink pads provided across crafting and DIY projects, from scrapbooking to card making.
10// Honeysticks Bath Crayons– Handmade in New Zealand from responsibly sourced beeswax and soy wax, these crayons use food-grade pigments and contain no petroleum-based ingredients. They come in a reusable metal tin that features drainage holes for post-bath drying and are larger than traditional crayons, making them especially great for tiny hands. These crayons can be used in the bathtub or on tiles, won't stain, and are easy to clean up after use.
11// Eco-Kids Craft And Color Busy Box– This kit includes an art pad, a bottle of non-toxic glue, wooden sticks, a pair of scissors, two watermelon-shaped erasers, a box of beeswax crayons, a canister of colored pencils, and a wooden ruler topped box.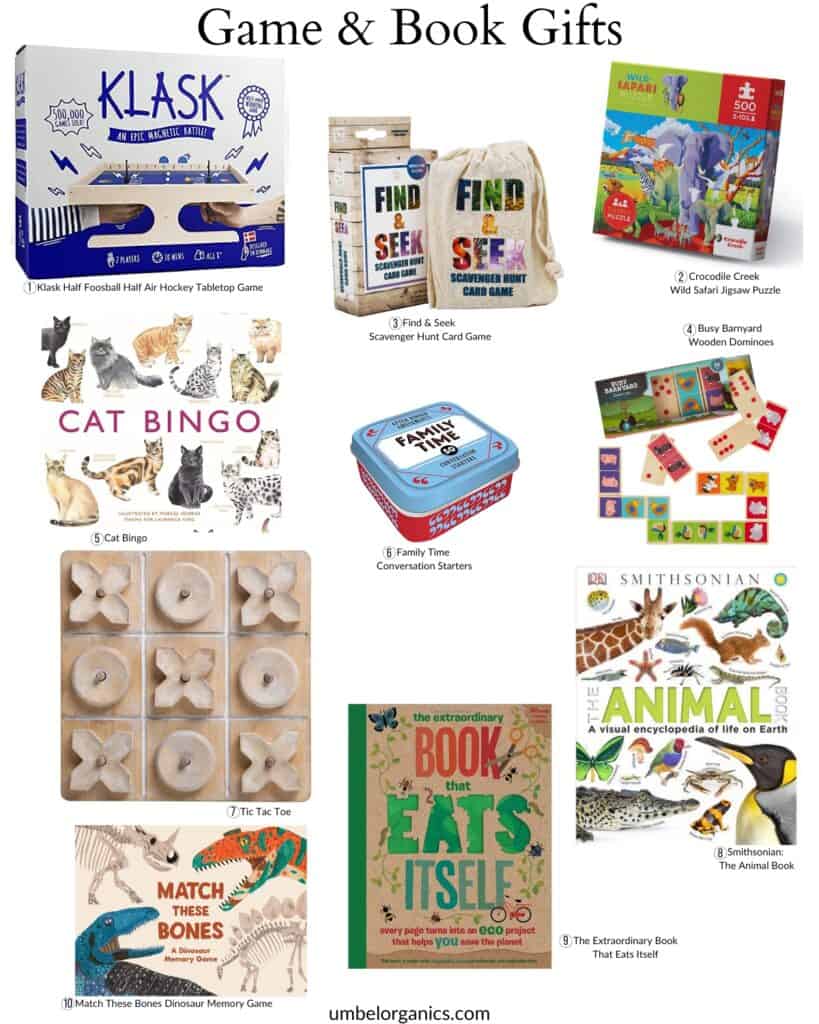 Eco-Friendly Games & Books Gifts For Kids
1// Klask Half Foosball Half Air Hockey Tabletop Game– Ideal for parties big and small, families, or just couples having a game night, Klask is fun for everyone! Play it anywhere: Like a foosball table on-the-go, Klask comes fully assembled and can be played on any flat surface, making it the perfect tabletop game.
2// Crocodile Creek Wild Safari Jigsaw Puzzle– Finished puzzle size is 18″ Long x 24″ High. Puzzle pieces are made of strong, high-quality board that will not tear or break. Printed with soy-based inks. 500 piece puzzle which is great for family!
3// Find & Seek Scavenger Hunt Card Game– Our Find and Seek Scavenger Hunt is a fun activity game for the whole family to play both indoor and outdoor. This set includes 35 Find and Seek cards, 2 instruction cards, and 1 drawstring bag making this game perfect for road trips and travel. Take along to the park, the beach, camping, or the backyard. Ages 3 years and up (even non-readers can play by picture recognition).
4// Busy Barnyard Wooden Dominoes– 28 reversible wooden tiles finished with water-based paint in a tough matchbox-style box. Animals on one side, classic domino dots on the other side.
5// Cat Bingo– A beautifully illustrated bingo game featuring 64 breeds of cat from around the world. Contains 64 superbly illustrated cat tokens, one playing board, 12 bingo cards, brightly colored counters for you to mark up your card, and a leaflet containing information on each of the cats included. Ages 6+.
6// Family Time Conversation Starters– This cute, compact tin is filled with 50 thoughtful and playful questions to inspire great family conversations. Perfect for families: With a wide range of intriguing questions about the past, present, and future, this family-friendly party game leads to interesting conversations.
7// Wooden Tic Tac Toe Game– Handcrafted rubberwood.
8// Smithsonian: The Animal Book– More than 1,500 species, ranging from ants to zebras and everything in between. Stunning pictures bring you face to face with giant predators you know and love, including polar bears and tigers, as well as mysterious microscopic life, including amoebas and bacteria.
9// The Extraordinary Book That Eats Itself– This book turns itself into dozens of eco-projects to inspire you to think more about our planet. You can cut up, fold, tear, and reuse every single page— even the cover—to make all sorts of great projects, from planters and seed writing papers to eco-badges. There are eco-quizzes and nature games, growing projects, and organic recipes, bug hotels, and plastic-free diaries.
10// Match These Bones Dinosaur Memory Game– In Match these Bones, reunite the dinosaurs with their skeletons, learning about your favorite species and how they were discovered.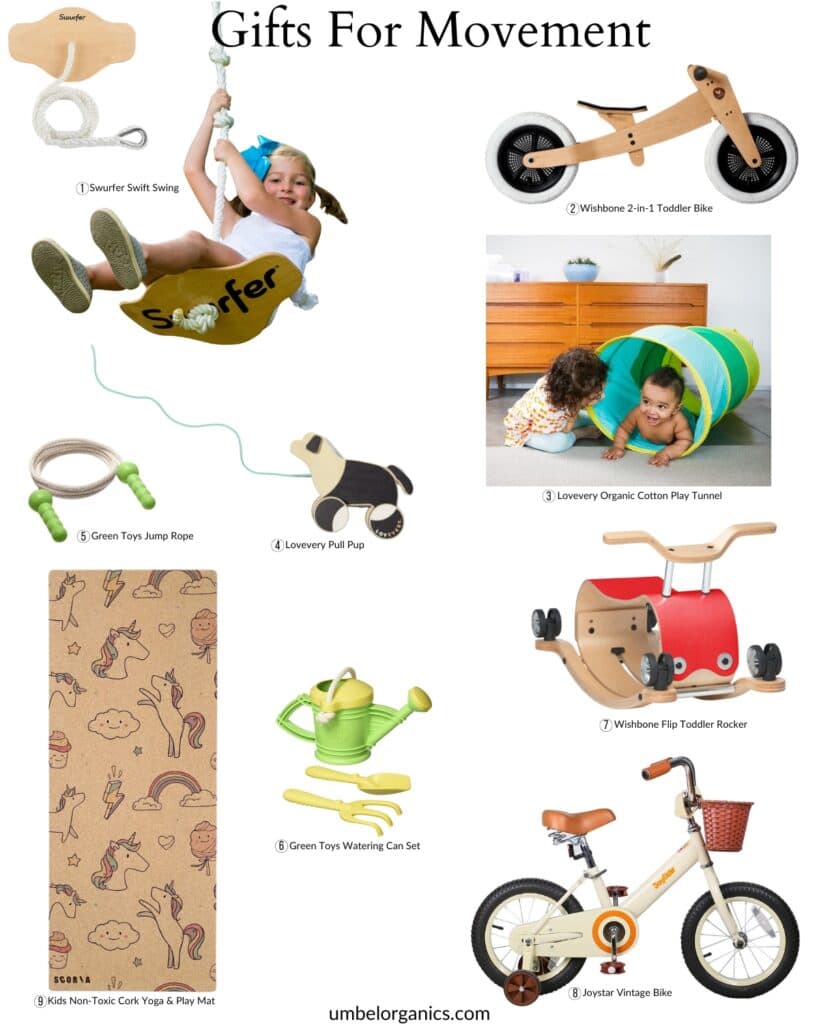 Eco-Friendly On-The-Go Gifts For Kids
1// Swurfer Swift Swing– Made from 100% rock hard maple with a smooth finish to blend in with the natural surroundings. The Swift disc swing board size is 18" x 11.5" and supports up to 150 pounds. Easy-to-follow installation instructions to have your kids will be swinging in no time. Includes enough rope to hang from up to 10 feet high. Hang the Swurfer Swift disc rope swing from your tree and even from a swingset. Age 4+.
2// Wishbone 2-in-1 Toddler Bike– Made from sustainably harvested birch wood, this innovative bike is easy to assemble and incredibly lightweight. Free of pedals, this push-bike encourages balance and mobility. It has air filled tires, a steering limiter, and an adjustable seat to grow with your child. For 18 months to 5 years.
3// Lovevery Organic Cotton Play Tunnel– The Organic Cotton Play Tunnel is perfect for playing hide and seek. Crawling helps develop strength and balance even after your toddler has started walking. Tie it together on one side to make a corner, stand it on its end to create a silly costume, or scrunch it up and watch it bounce back. Comes in its own organic cotton carrying case for on-the-go spelunking!
4// Lovevery Pull Pup– The Pull Pup is designed to warm every toddler's heart. Made of sustainably harvested wood, and ready to roll along a floor, rug, or sidewalk when pulled by its string. Little hands can make the ears and tail stand up and stay up! Age 18+ months.
5// Green Toys Jump Rope– Made with US-made 100% cotton rope. 7 feet long and adjustable. 100% recycled plastic handles.
6// Green Toys Watering Can Set– No BPA, phthalates, PVC. Dishwasher Safe, Recycled Plastic, Made in USA.
7// Wishbone Flip Toddler Rocker– Wishbone Flip is an award-winning 2-in1 rock & roll toy, ideal from 1 to 5 years. With an innovative flipping mechanism, Flip converts from gentle rocker to exciting ride-on toy in seconds, no tools required.
8// Joystar Vintage Bike– Made of premium steel to survive the bumps of learning; the durable steel frame is backed by our limited lifetime warranty. This kids bike comes with coaster brake, simply pushing the pedal backwards and stop the bike. Suitable for 2-4 Year Olds – 12″ is for 2-4 years(33″-41″) girls & boys, comes with basket to transport their loved doll and training wheels for safe cycling.
9// Kids Non-Toxic Cork Yoga & Play Mat– One of the safest mats for kids. Natural and non-toxic, Cork and natural tree rubber backing. No PVC, PER, TPE.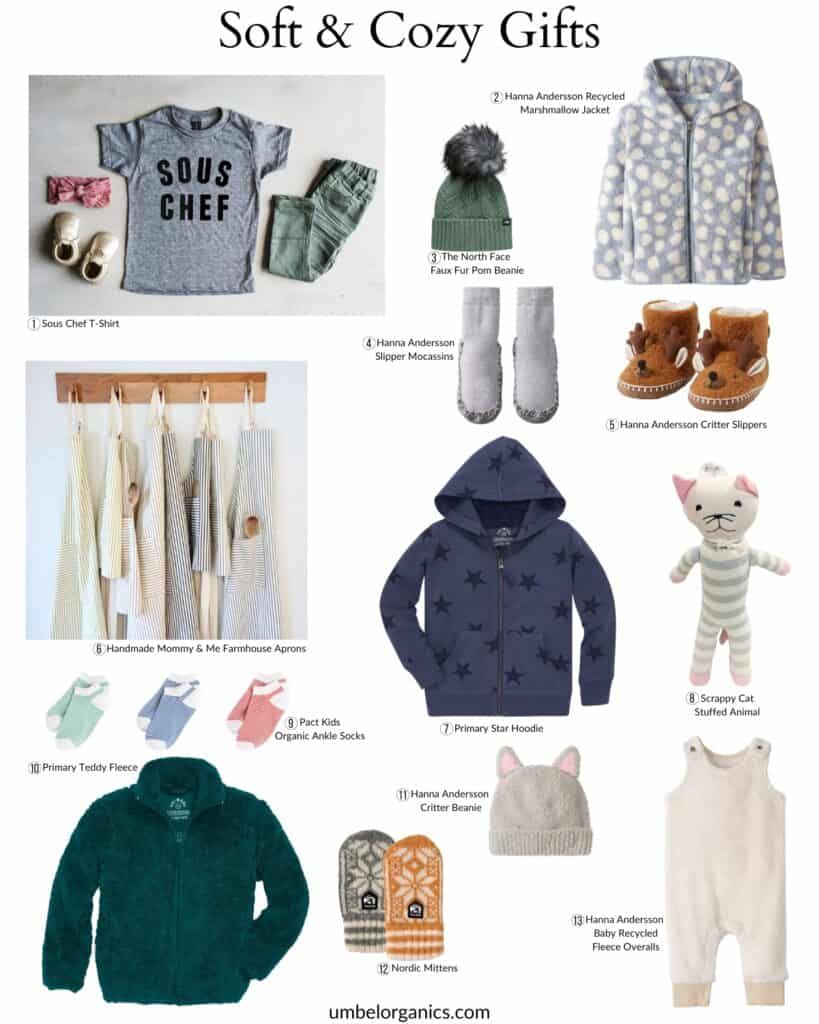 Eco-Friendly Soft & Cozy Gifts For Kids
1// Sous Chef T-Shirt– The sweetest Sous Chef design to accompany an adult Head Chef tee, this tee was designed with love and printed by hand on a high-quality, super soft toddler or youth tee.
2// Hanna Andersson Recycled Marshmallow Jacket– Supersoft and sustainable hoodie crafted in recycled marshmallow fleece so kids can wear their favorite softness all day.
3// The North Face Faux Fur Pom Beanie– Soft, lightweight material provides snuggly warmth. Roomier, deep-fit design provides full coverage.
4// Hanna Andersson Slipper Moccasins– Our moccasins are so comfortable, kids don't want to take them off! Each pair is handcrafted with faux suede microfiber soles with extra-soft and cushiony socks that have extra elastic so they always stay on. Size newborn to 12.
5// Hanna Andersson Critter Slippers– These slippers keep feet cozy-warm, and each pair has adorable original appliqués. Crafted with super comfortable memory foam insoles—so soft it's like walking on pillows. Sizes 7-8, 9-10, 11-12, 13Y-1Y, 2Y-3Y, 4Y-5Y.
6// Handmade Mommy & Me Farmhouse Aprons– Ticking stripe- 1 year to 9 years and adult sizes.
7// Primary Star Hoodie– Made with French terry, 95% cotton / 5% spandex. Size 2T-12.
8// Scrappy Cat Stuffed Animal– Each Scrappy Cat Stuffed Animal is made from scraps left over from freating other Under the Nile organic Egyptian cotton toys.
9// Pact Kids Organic Ankle Socks– Made with organic cotton.
10// Primary Teddy Fleece– Sustainably made with 100% recycled polyester. Double-lined for extra coziness -Just-right warmth for cool weather, and a go-to layer for more extreme temps. Size 2-14. Comes in 5 colors.
11// Nordic Mittens– 85% wool, 15% nylon, [lining] 50% wool, 50% polyester. Size 1 youth to 5 youth.
12// Hanna Andersson Critter Beanie– A supersoft beanie crafted in a gentle marshmallow fleece that's durable through play and in the wash, complete with little ears to spark their imagination.
13// Hanna Andersson Baby Recycled Fleece Overalls– Sweet, soft and sustainable overalls using recylced marshmallow fleece are made for play (or even a quiet day) with snaps to make changes a little easier.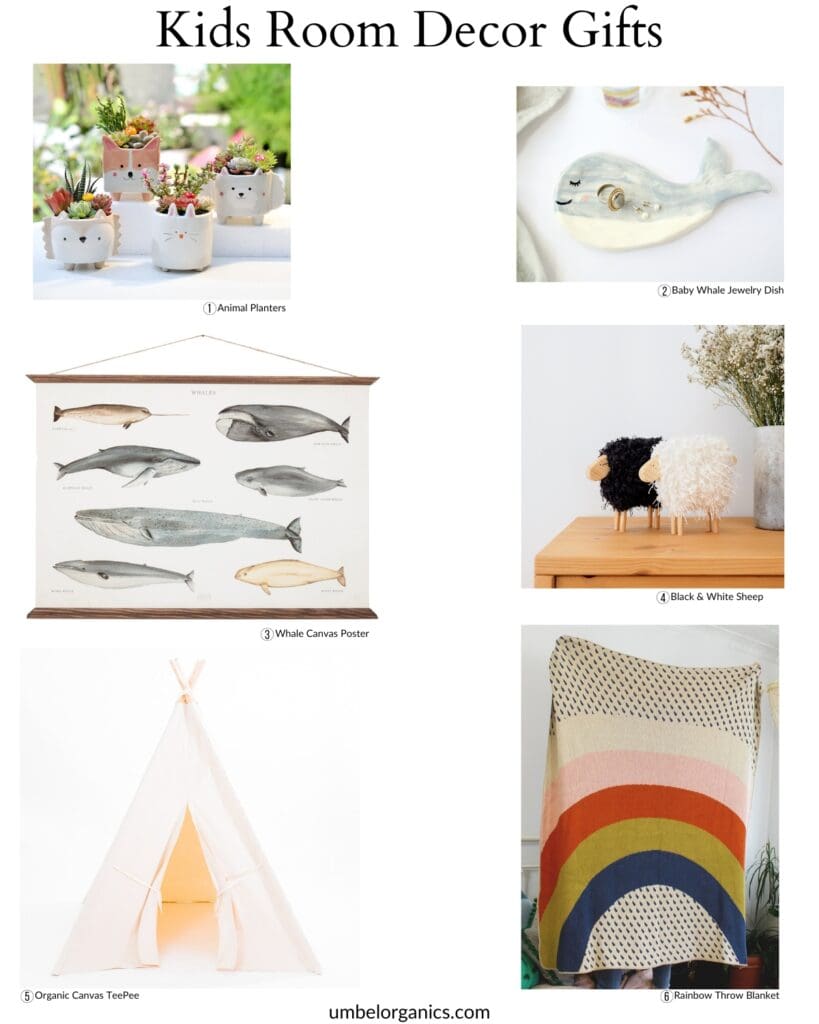 Eco-Friendly Bedroom Decor Gifts For Kids
1// Animal Planters– Cute Animal Style Ceramic Planters.
2// Baby Whale Jewelry Dish– This little ceramic guy can be used as a soap dish or a ring dish, or any use you wish! It is lovingly handmade with porcelain clay.
3// Whale Canvas Poster– Handmade and designed by ARMINHO Studio. Canvas printed from the original watercolor paintings by ARMINHO. Cotton canvas printed and supported with decorative pine wood slats.
4// Black & White Sheep– Handmade pine wood and fabric.
5// Organic Canvas TeePee– This teepee is made with natural or white certified organic cotton canvas. The cotton that is used to create this canvas is grown in an ethical manner without the use of chemical fertilizers or pesticides, then milled organically, as well. The fabric is untreated with flame retardants or chemical treatments.
6// Rainbow Throw Blanket– This blanket will instantly bring a splash of happiness to any room!
More Gift Guide Inspiration