Detox Your Home With These Simple Swaps
If you're looking to reduce exposure to harmful toxins in your home, follow these simple swaps to detox your home. From the kitchen to the living room to the bathroom, we have easy solutions to make your home a healthier place for you and your family. By making small swaps today, you'll be on your way to living a more natural and toxin-free life.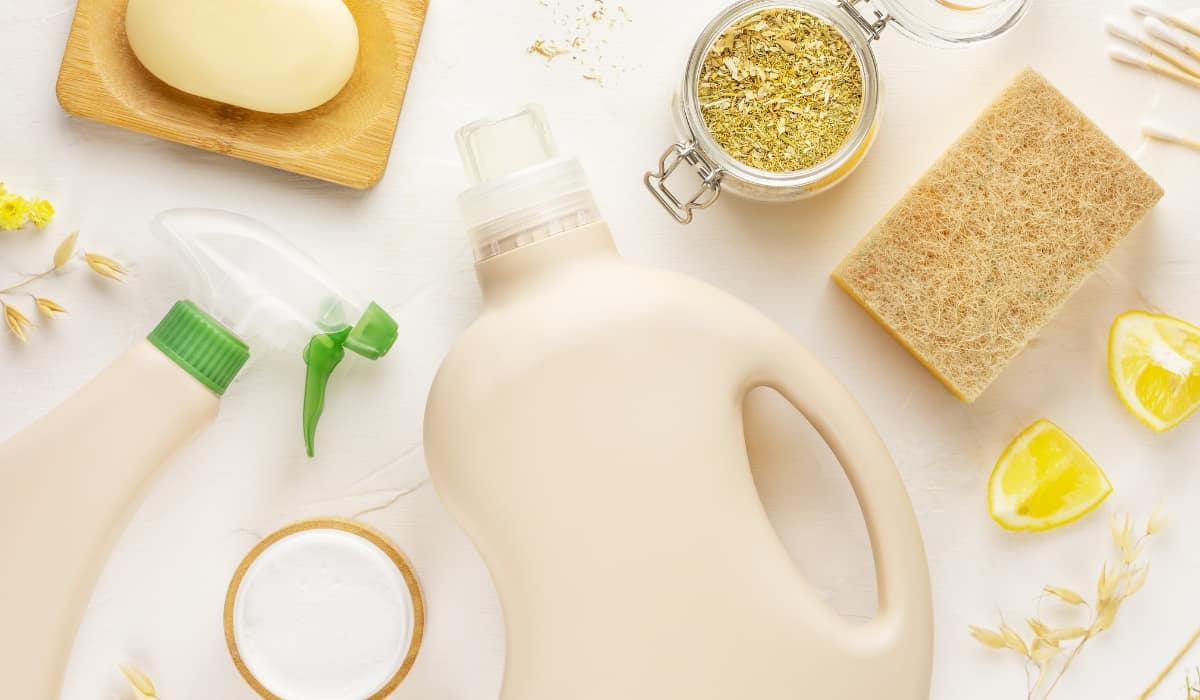 Disclosure: This post contains affiliate links, which means if you make a purchase through these links, we may receive a small commission at no extra cost to you.
Your home is your sanctuary – a safe, comfortable place for you and your family to both relax and thrive. There may be products you're bringing into your home that contain harmful ingredients, and these ingredients can cause health issues or exacerbate pre-existing conditions. With this healthy home detox guide, you can make healthy swaps in every room in your home. From the living room to the kitchen to the bathroom and beyond, there are healthier alternatives to some conventional products that you use everyday that are potentially damaging to your health. When you detox your home with healthier, safer alternatives, you're one step closer to reducing your family's toxin exposure.
To live in a toxin-free home, you don't have to swap everything at once – start small and replace a few products at a time. Try something easy like replacing conventional dryer sheets for wool dryer balls, your standard air freshener for a diffuser with essential oils or conventional cleaners for non-toxic cleaners. Now you're one step closer to a healthier home!
Healthy Swaps In The Kitchen
The kitchen is one of the most important rooms in your home – it's where every meal is prepared to sustain your family. And you probably put a lot of effort into getting healthy food on the table.
If you want a great online market for everything you need to stock your pantry with organic, high-quality products, I recommend Thrive Market. You can read more about everything I stock my pantry with for optimal nutrition here.
Beyond balanced meals and organic food, you might not realize that some of the pots and pans you cook with may contain chemicals that are potentially harmful to the health of your family.
Get started on making your kitchen a healthier place to cook and eat by swapping out plastic food storage containers and Teflon-coated cookware and bakeware.  Exposure to PFAS chemicals (Teflon contains PFAS chemicals) has been linked to kidney and testicular cancer, thyroid disease, high cholesterol, ulcerative colitis and other health problems. I have more tips on further reducing your exposure to PFAS here. You can also read more about endocrine disrupting chemicals and how to avoid them here.
For more details on detoxing your home, including swapping out plastics, read my post on 6 ways to detox your kitchen and this post on 8 steps to a plastic-free kitchen. For more non-toxic bakeware recommendations, you can find more information in this non-toxic, PFAS-free bakeware post.
I use glass, stainless steel and ceramic enamel-coated pans for food storage, cooking and baking. Here are some non-toxic cookware, bakeware and food storage options that I love: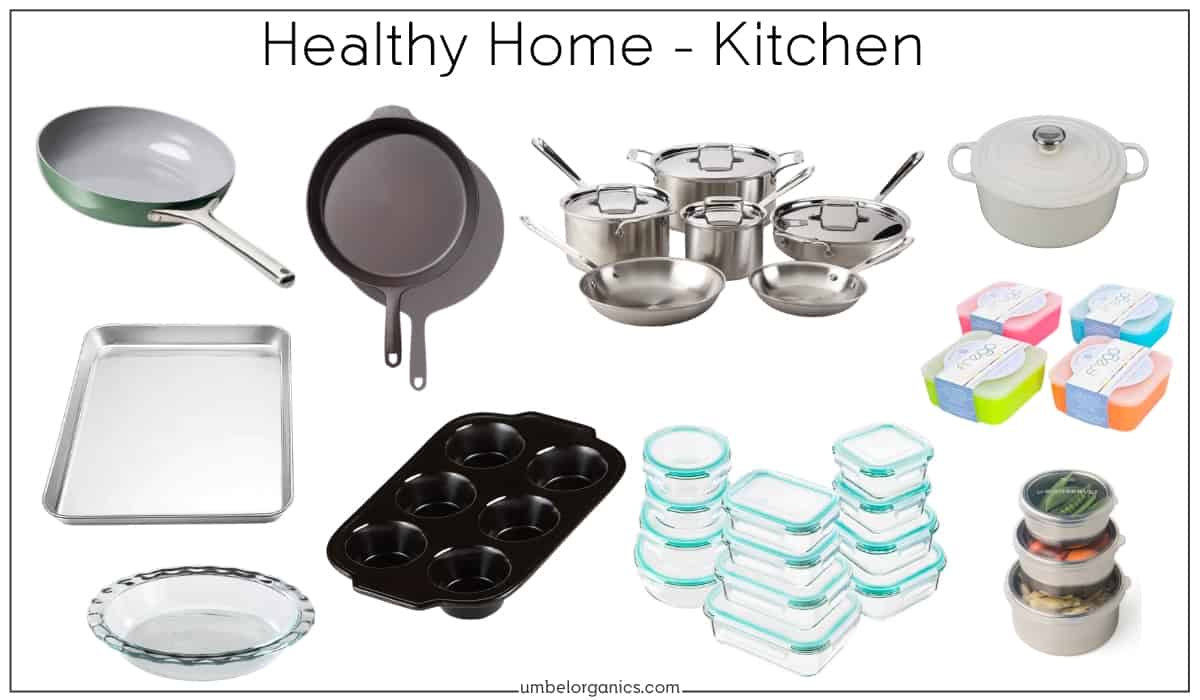 Healthy Cleaning Product Swaps
A 2020 Canadian study found that chronic low-level exposure to cleaning products triggered asthma symptoms and caused chronic inflammation. With this in mind, there are ingredients in conventional cleaning products that you'll want to skip. Here is a list of ingredients to avoid in cleaning products: chlorine bleach, ammonia, phenol, glycol ethers (like 2-Butoxyethanol), phthalates, quaternary ammonium compounds, sulfates, and Triclosan. The products I recommend below are either verified by the Environmental Working Group (EWG), or don't contain ingredients with a high level of concern for health issues.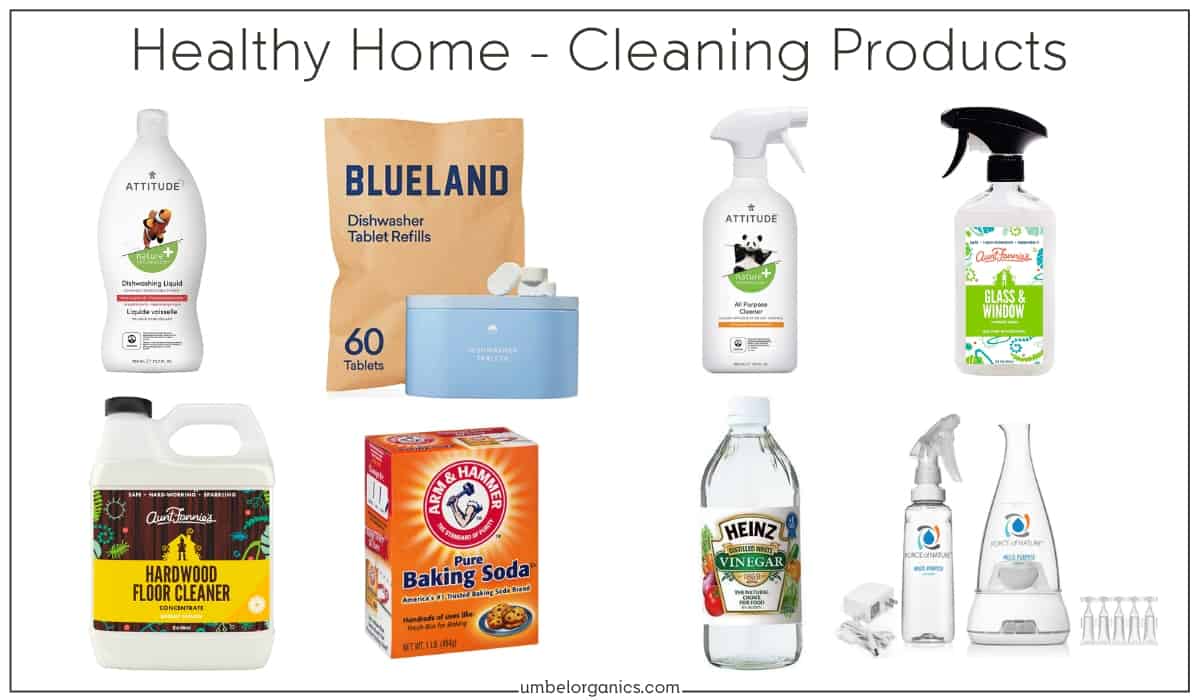 Healthy Swaps In The Laundry Room
From optical brighteners to synthetic fragrance, laundry products designed to clean your clothes and make them smell fresh can actually be harmful to your health. Signature scents like Cherry Blossom and Botanical Rain are designed to permeate and stay in the fabric.
By purchasing laundry products that are free from synthetic fragrance, optical brighteners, artificial colors and surfactants that are harmful to your health (like Nonylphenol ethoxylate and Linear alkyl benzene sultanates (LAS)), you're making healthier choices for your family and for the environment. Read more recommendations for natural laundry detergent here, and learn all about how to reduce static cling naturally here.
Tip: Wash new clothes before wearing them. New clothes may be coated with formaldehyde and other chemicals that pose health risks. These chemicals are used to prevent mold, stop wrinkles in the fabric, repel stains and more. Another good reason to wash new clothes before wearing them – who knows how many other people have already tried on your shirt or pants!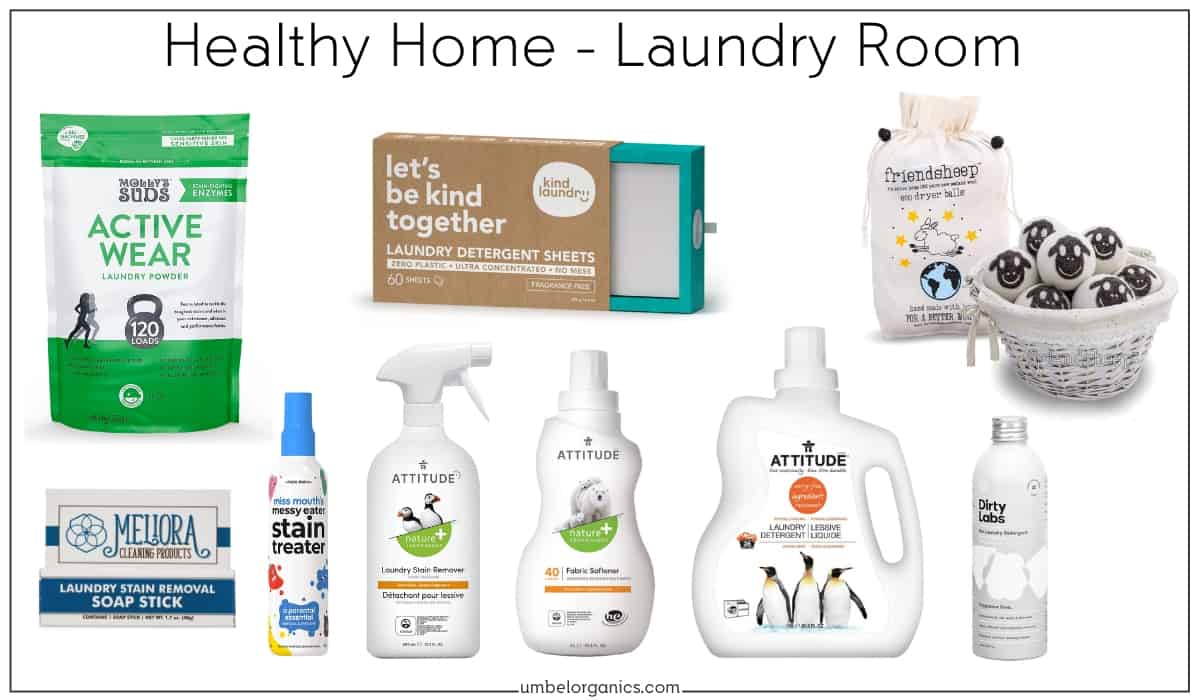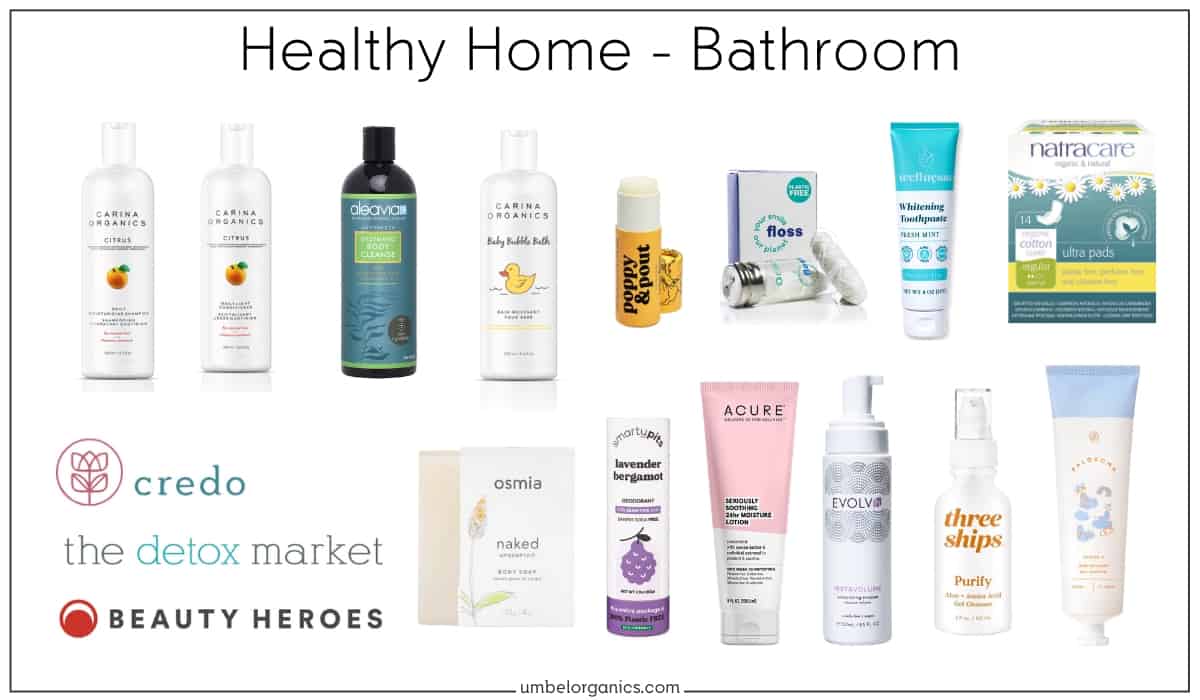 Healthy Swaps In The Living Room
There are some simple solutions to make your living room a healthier place to hang out. Do you have a "No Shoes In The House" policy? This will reduce the spread of allergens, pesticides and germs throughout your home.
Air fresheners and candles can significantly contribute to indoor air pollution. They contain ingredients that can cause potential health risks, including mimicking hormones. Phthalates are just one of the ingredients you'll find in conventional air fresheners and candles, and are widely used in fragrance as solvents and fixatives to make scents last longer (they're inexpensive and have no odor). It's legal to use the term "fragrance" in a product ingredient list when there may actually be hundreds of chemicals combined in one formula! Read my post on 11 non-toxic candles for more suggestions on candles that don't contain harmful chemicals.
Super Simple Tip: Open a window. Indoor air can easily get polluted from off-gassing flooring, building materials, paint and furniture. By opening a window for even 5 minutes, your home gets aired out and toxin levels are reduced by incoming fresh air. If the pollen count is high or if there are forest fires in your area, turn on an air purifier instead.We leave our Germ Guardian True Hepa Air Purifier on auto at all times.
Tip: Dust and vacuum regularly. House dust is more than just harmless dirt. Dust can contain lead, flame retardants, pesticides and endocrine disrupting chemicals. The less exposure to any of these chemicals, the better. The Dyson V11 Cordless Vacuum Cleaner is by far my favorite vacuum, and it's the only one I'll use (and I have more than one).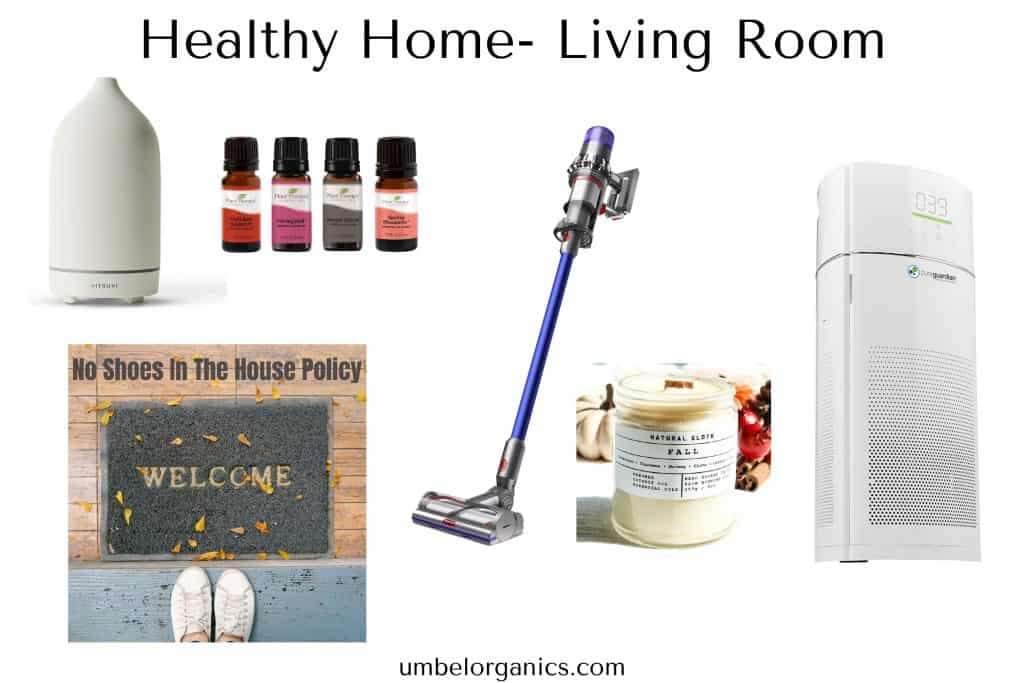 Healthy Swaps In The Bedroom
We spend a lot of time sleeping, yet the bedroom is one of the last places we think of for healthy home swaps. Organic mattresses can be pretty pricey, but organic sheets, organic mattress pads and organic mattress toppers are all better options if you can't afford to switch everything out at once. Most mattresses, toppers and pillows contain flame retardants.  Chemicals from flame retardants can linger in our bodies, and these chemicals are associated with endocrine disruption, cardiovascular disease, and cancer.
If you have a bedroom renovation coming up, choose zero-VOC paint. Some paint emits odors that can have adverse effects on your health. Look below for products that don't contain flame retardants and will lower the VOC levels in your bedroom. It's also a good idea to open windows or run an air filter in your bedroom for better air quality.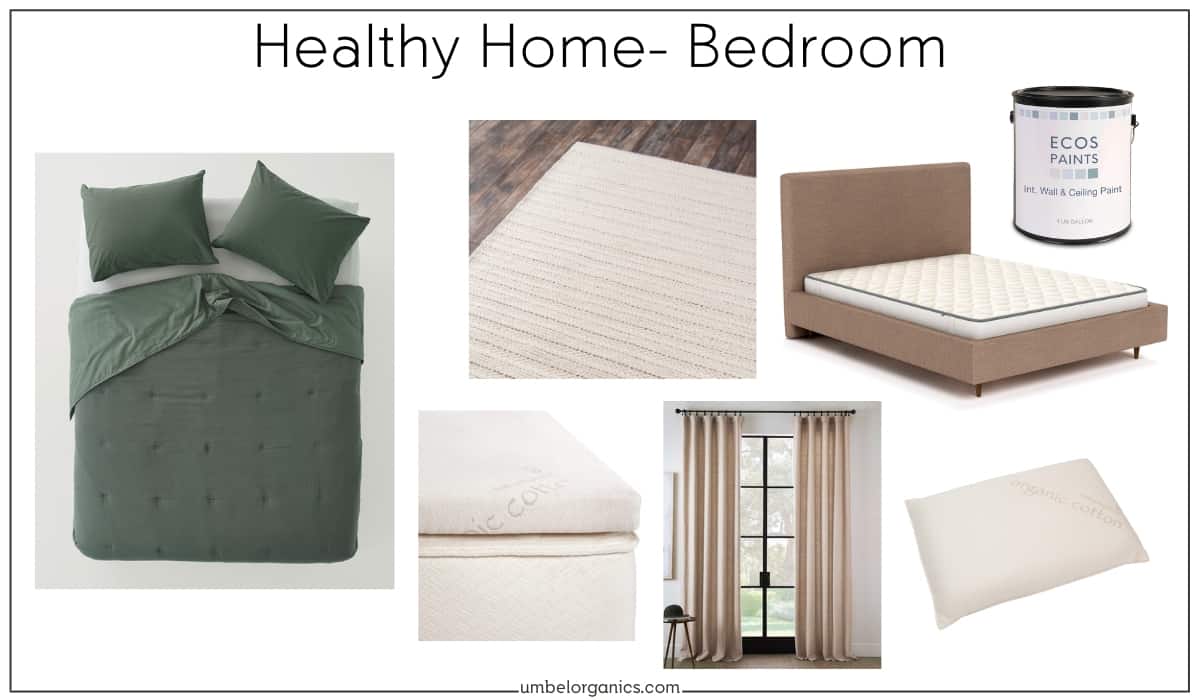 Healthy Swaps In The Garden
With conventional gardening methods for insect and weed control, pesticides and herbicides can be taken up by the plants and residue is present on the outside of fruits and vegetables.
Organic gardening focuses on healthy soil, and this method of gardening cultivates a complex ecosystem of soil microbes, plants, beneficial insects and pollinators.
Because healthy soil holds more water, less water is used in organic gardening than in conventional farming. Even if you don't have room in your backyard for a raised garden bed, organic container gardening is a great way to get started. We use the organic products below and get juicy, delicious fruits and vegetables every summer! Learn how to garden here.
Tip: The EWG has a list of the worst food offenders when it comes to pesticide levels, called the Dirty Dozen list. Try to buy organic or grow your own fruits and veggies that are on the Dirty Dozen list: Strawberries, Spinach, Kale, Collard and Mustard Greens, Nectarines, Apples, Grapes, Cherries, Peaches, Pears, Bell and Hot Peppers, Tomatoes, and Celery.