12 Non-Toxic, Clean Burning Candles For A Healthy Home
If you're burning conventional paraffin candles, you may be polluting the air in your home. Cozy up to a clean-burning, non-toxic candle for a relaxing home ritual without the harmful chemicals.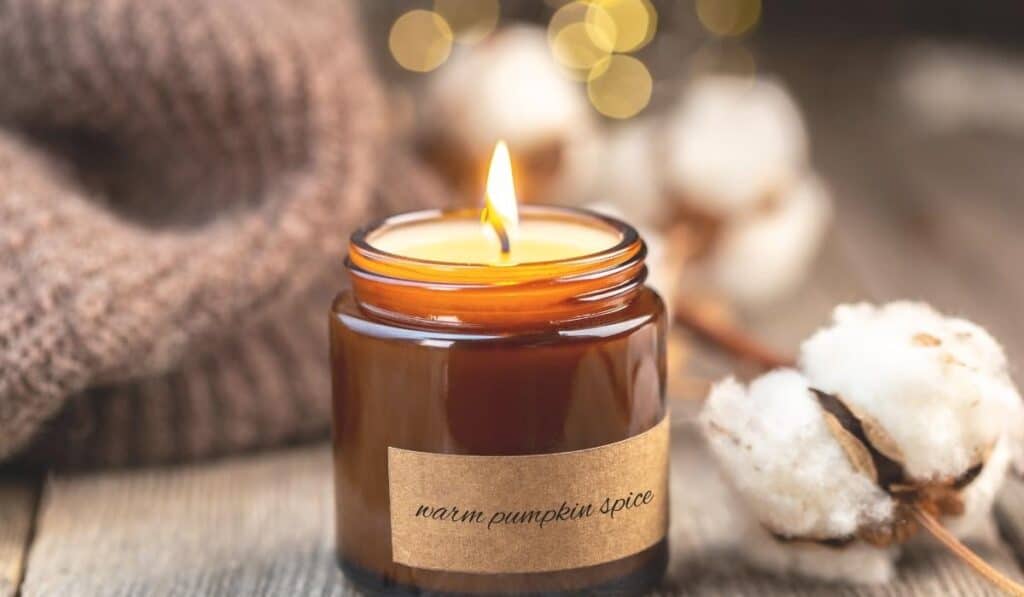 Disclosure: This post contains affiliate links, which means if you make a purchase through these links, we may receive a small commission at no extra cost to you.
A burning candle creates a cozy atmosphere that signals our senses to slow down and relax. The scent of a candle adds a layer of familiarity that can transport you to a fall day of apple pie baking, a winter night snuggled by the fire or a sunny summer day lounging on a picnic blanket. With all the cozy feelings a candle can bring, conventional candles can also cause allergies, breathing problems and headaches, and may contain chemicals that pose a risk to your health.
What To Avoid When Buying Candles
Paraffin Wax– Paraffin is a petroleum-derived wax that releases chemicals into the air when burned. The EPA released a report in 2001 indicating that paraffin wax candles cause indoor air pollution. In a 2009 study by South Carolina State University, researchers measured air quality after burning unscented paraffin wax candles and soy wax candles. The paraffin wax candles produced alkans, alkenes and toluene, which can cause health issues in humans, while the soy wax candles did not produce any harmful off-gassing.
Metal Wicks– Lead was banned from candle wicks in 2003, but there are other types of metal used to keep a cotton wick upright. As the wick burns, heavy metal particles disperse through the air.
Synthetic Fragrance– Fragrance can contain hundreds of chemicals in one formula. The addition of phthalates is a big health concern in fragrance formulations. Phthalates are widely used in fragrance formulations as solvents and fixatives to make scents last longer, but this chemical is an endocrine disruptor and can mimic hormones in the human body.
What To Look For In A Non-Toxic Candle
Wax: Some companies are tricky with words and blend soy or beeswax with paraffin, so look for 100% soy wax, 100% beeswax, 100% coconut wax or 100% vegetable-based wax.
Wick: Look for a cotton or hemp wick.
Scent: 100% pure essential oils or phthalate-free fragrance (from a reputable company)
Swapping out candles with artificial fragrance for non-toxic candles is an easy step toward a healthier home. Air fresheners with artificial fragrance are another source of unhealthy chemical exposure in the home, and my favorite air freshener swap will reduce harmful toxins in your home.
From soothing self-care essentials to hostess and holiday gift ideas, non-toxic candles are the perfect way to create a cozy and relaxing atmosphere for the home. I've found 12 brands of non-toxic candles that give you all the cozy feels without the harmful chemicals.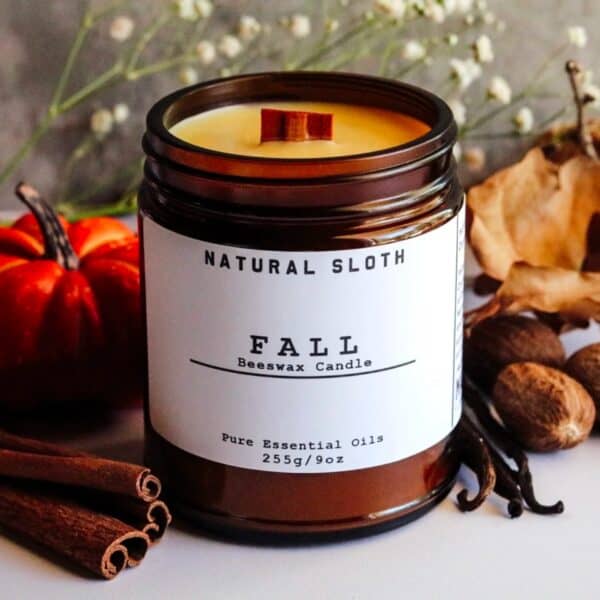 Cost: $27
Size: 4 oz, 9 oz
Burn Time: 50 hours for the 9 oz candle
Ingredients: 100% Beeswax + Coconut oil, lead-free wood wick, pure essential oils
Scents: Fall, Cozy, Winter, Christmas Tree
About The Company: This is a small Colorado-based company on Etsy with 5 star reviews. Christmas Tree scent sells out fast.
Shop: Natural Sloth Candles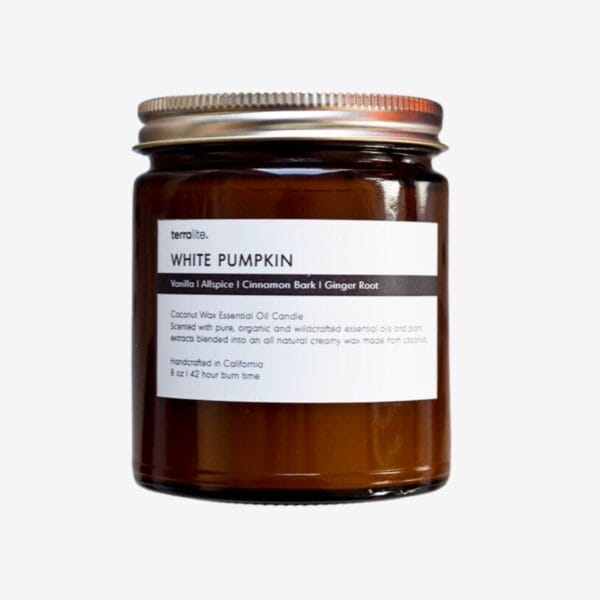 Cost: $18- $62
Size: 4 oz, 8 oz, 16 oz
Burn Time: 28 hours 
Ingredients: Coconut wax, hemp wick, essential oils, herbs
Scents: White Pumpkin, Lavender Lemonade, Coastal Ridge, Vanilla Mint, Bourbon Cedar, Desert Sage, Orange Creme, Vanilla Orchid, Red Mandarin, Orange Blossom, Grasslands, Woodland, Wild Lavender, Lemon Vanilla
About the Company: Terralite is a line of essential oil candles, fair trade tealights and organic bath & body products. All the materials they use – from the purest essential oils, plant extracts, grain and fruit waxes, to the containers the products live in, are thoughtfully selected for their beauty, quality and environmental sustainability.
Shop: Terralite Candles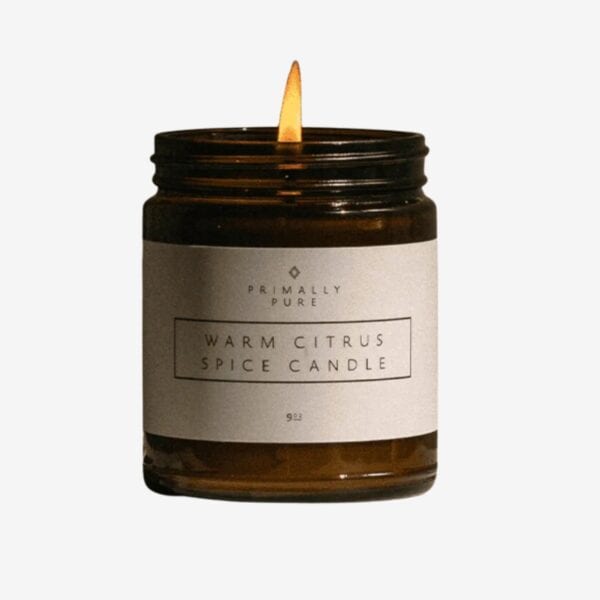 Cost: $46- $56
Size: 6 oz, 9 oz
Burn Time: 2 hours at a time
Ingredients: Blend of beeswax + coconut wax, cotton wick, essential oils
Scents: Warm Citrus Spice, Cool Citrus Breeze, Lavender + Mint, Crispy Smokey Woods, Sweet Floral Sage, Holiday Trio
About the Company: Primally Pure products are made with certified organic ingredients that are sourced with the utmost attention and care. They have a skincare and bodycare line that I also recommend.
Shop: Primally Pure Candles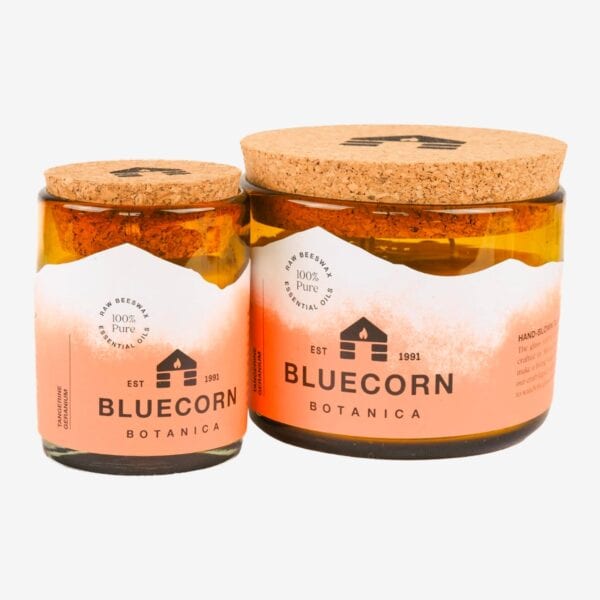 Cost: $11 – $35
Size: various sizes
Burn time: depends on size
Ingredients: 100% pure beeswax, Cotton wick, Scented with 100% pure essential oils
Scents: Lavender, Cypress & Sandalwood, Lemongrass, Cassia & Rosemary, Geranium & Tangerine, Cedarwood, Nutmeg & Lavender, Spruce, Vanilla, unscented.
About The Company: These candles are made in the heart of the Rocky Mountains. They source the finest beeswax, then lightly filter it to remove particulates while leaving the sweet scent and vibrant color intact. They test burn every batch and carefully choose the right wick to ensure a perfect burn.
Shop: Bluecorn Beeswax Candles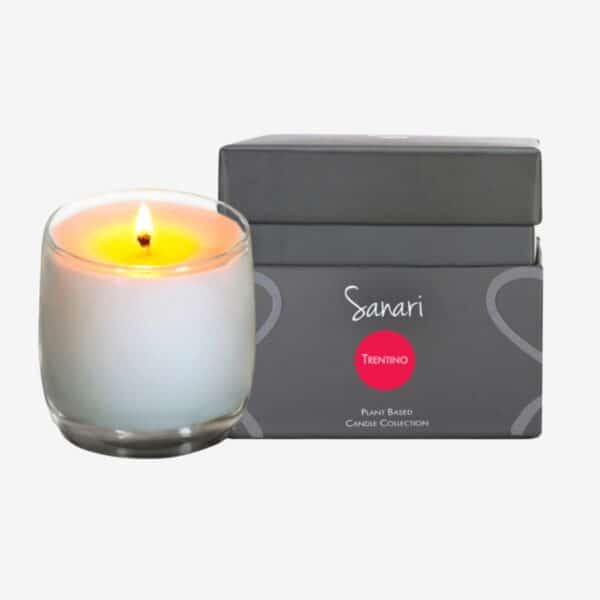 Cost: $31.99- $43.99
Sizes: 8.5 oz and 16 oz
Burn Time: 45 hours (8.5 oz), 80 hours (16 oz)
Scents: Trentino (Cinnamon, vanilla, clove), Granita (rosemary, grapefruit, oak), Biscotti (vanilla, nutmeg, cinnamon), Pompleomo (fir, chamomile, lavender), Crema Bucca (licorice vanilla, clove, cinnamon), Saman (Pomegranate, jasmine, rose), Giardino (bergamot, black pepper, patchouli), Sorbetto (blood orange, coconut, vanilla), Boasco (pine, douglas fir, mint), Fresco (Persian lime, basil, sage), Aria (tangerine, ylang ylang, lavender)
Ingredients: Organic coconut & non GMO soy wax, 100% unbleached cotton wide wick, Certified organic essential oils. Vegan and cruelty-free, Made with sustainably harvested, fair-trade, kosher ingredients, free of petroleum, synthetic fragrances, and chemical dyes or colourants, contains no lead
About The Company: The founder of this company was diagnosed with breast cancer and created Sanari candles as a way to enjoy candles without harmful chemical emissions. The candles are scented with organic essential oils and 5% of retail sales are donated to the National Breast Cancer foundation.
Shop: Sanari Candles
Cost: $30 for 8 oz
Size: 8 oz, 13.5 oz
Burn Time: up to 60 hours
Ingredients: coconut + soy wax blend, essential oils
Scents: Original, Cascadia, Recharge, Flora, Cinder, Wildwoods, Amour, Rose + Palo, Rose + Cannabis
About The Company: Woodlot was founded in 2014 out of the founders' home in Vancouver, Canada. Woodlot was born from a desire for natural, plant-based products which infused the best essential oils for aromatherapy.
Shop: Woodlot Candle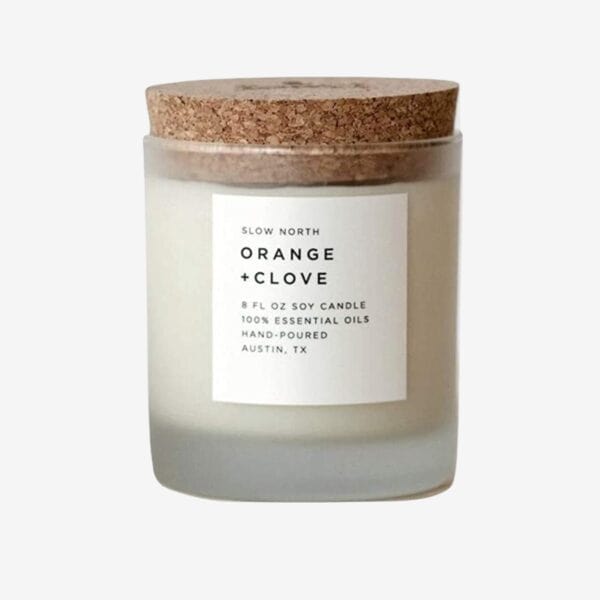 Cost: $34
Size: 8 oz
Burn Time: 60 hours
Ingredients: 100% soy wax, 100% essential oil, cotton wick
Scents: Orange + Clove, Midnight Garden, Grapefruit + Spearmint, Eucalyptus + Lavender, Lavender + Cedar
About The Company: Made with clean and safe ingredients. The packing materials and boxes are recycled, recyclable and biodegradable.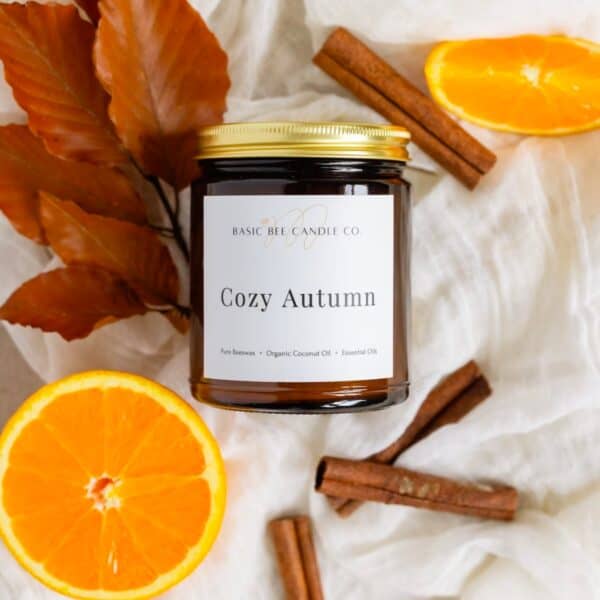 Cost: $25
Size: 8 oz
Burn Time: 30-35 hours
Ingredients: 100% Beeswax, lead-free cotton wick, pure essential oils
Scents: Pumpkin Spice, Honey & Lavender, Christmas Tree, Peppermint Stick, Cozy Autumn
About The Company: Basic Bee Candle Co. is a small company on Etsy with 5 star reviews. The pumpkin spice candle gets rave reviews.
Shop: Basic Bee Candle Co.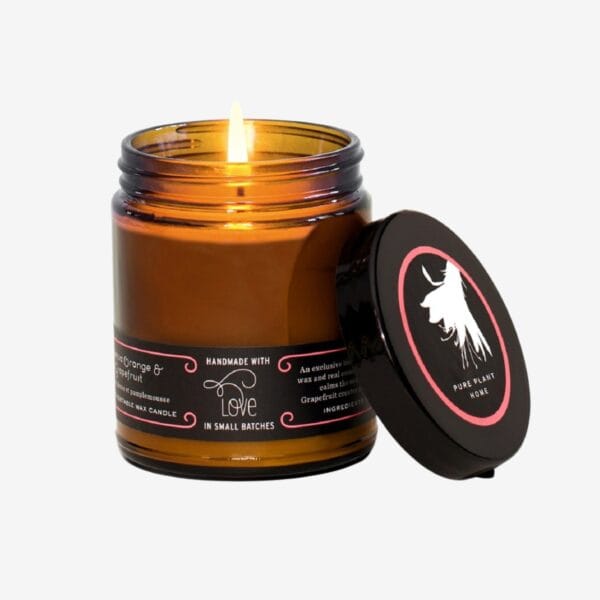 Cost: $19.88
Size: 6 oz
Burn Time: 40 hours
Ingredients: 100% Coconut wax, unbleached cotton wick, real essential oils
Scents: Mandarin Orange/Lemongrass, Lavender/Orange Blossom, Clove/Cardamom, Vanilla, Wildcrafed French Lavender, Italian Bergamot/Persian Lime, Valencia Orange, Grapefruit, Ylang Ylang/Jasmine Vanilla, Ginger/Vanilla
About The Company: The founder of Pure Plant Home Candles developed the candle line while going through a divorce as a way to heal her children, and her daughter is one of the company founders. The company mission is to contribute to the planet in a positive way through creating products with love and light. They are committed to creating a peaceful, sustainable, happier and healthy world.
Shop: Pure Plant Home Candles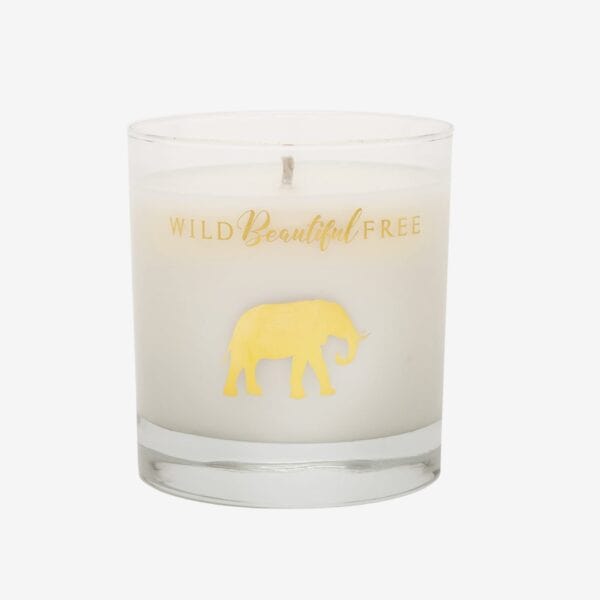 Cost: $34
Size: 7.5 oz
Burn time: 50-60 hours
Ingredients: 100% organic coconut wax, 100% organic aromatherapy grade essential oils. Without Harmful Solvents, Fragrances, Sprays, Metals, Paraffin, and GMO Soy Wax Found In Most Candles
Scents: Dream (lavender & Vanilla), Hope (citrus & Floral), Peace (wild berry, rose, winter spice)
About The Company: Wild Beautiful Free Gives 10% to Gorilla, Elephant, and Lion Rescue Sanctuaries. Our line of organic, vegan, eco-friendly candles helps raise awareness of endangered species and habitat destruction. Every purchase helps in part to fund animal and habitat protection efforts, ensuring the prosperity of humans and animals alike.
Cost: $16
Size: 8 oz
Burn Time: up to 55 hours
Ingredients: 100% Soy wax, cotton wick. All of our fragrance oils are phthalate-free and do not require a prop 65 warning. We choose to use fragrance oils over essential oils due to better scent throw, cost, and overall performance. 100% vegan.
Scents: Pomander, Winter Garden, Laundry Day, Tundra, Sanctuary, Awaken, Campfire, Coffeehouse, Rare Book Room, Fields of Provence, Mountainside Cabin, Birch Forest, Speakeasy, Sanskrit, Cozy Sweater, Bayberry, Winter Solstice
About The Company: Bookend Candle Co is a one-woman business operating out of a home basement candle studio. We offer 100% soy candles without dyes or phthalates and with cotton wicks. We stay as natural as possible without compromising quality and affordability. Each candle has been lovingly hand-poured, and each fragrance has been personally curated and blended (so please allow for small inconsistencies!). All of our products are vegan and neither we nor any of our direct vendors test on animals. We also do our best to keep our use of plastics to a minimum.
Shop: Bookend Candle Co.
Cost: $20
Size: 7.2 oz
Burn Time: 40-50 hours
Ingredients: 100% domestically grown soy wax, cotton core wick. Phthalate free, paraben free
Scents: Smoky Cinnamon, Golden Coast, Sunbloom, Spruce, Amber + Moss, Pinon, Sandalwood Rose, Teakwood + Tobacco, Black Soy, Sweet Grapefruit
About The Company: P.F. Candle Co. started as a one-woman operation in 2008 is now an entire team designing and producing candles under one roof in Southern California. As we grow, so does our commitment to sustainability, to our planet, and to our crew who makes it all happen. The entire P.F. collection is vegan, cruelty-free, and phthalate-free — always. All of our candles are made with 100% domestically-grown soy wax.
Shop: P.F. Candle Co.
More Natural Living Inspiration