My Favorite Clean & Organic Everyday Lotion For Dry Skin
Clean up your skincare routine by swapping out your drugstore lotion with a clean, all-natural non-toxic lotion. From basic body lotion to luxurious body butter, I'm sharing the perfect body non-toxic lotion brands to moisturize your dry skin.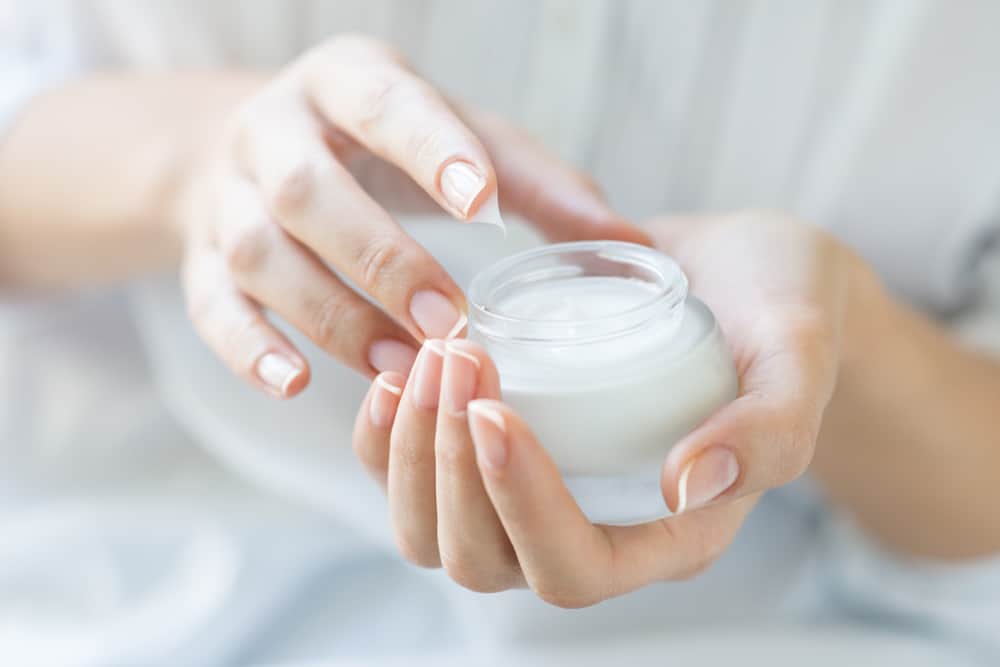 Disclosure: This post contains affiliate links, which means if you make a purchase through these links, we may receive a small commission at no extra cost to you.
Between all of the hand washing and dry air this winter, my skin has taken a beating. If I'm not on top of moisturizing, I get lizard skin pretty quickly.
My desktop, bedstand and bathroom counter all have a container of lotion at the ready. And I've gotten choosy over the lotions I use. There are lots of conventional moisturizers that contain endocrine-disrupting chemicals that I don't want on my body.
This Right To Know report on fragrance ingredients gives you a good idea of what isn't disclosed on ingredient lists (cosmetics, skin care and cleaning products). Unfortunately there are products sold in stores right now that contain concerning levels of harmful chemicals.
The goal for me was to find an organic or clean (free of parabens, phthalates, sulfates, and petrochemicals) lotion that had a low Environmental Working Group (EWG) Skin Deep score, worked within my budget and would lock in moisture, soothe my skin and keep it supple. I found 10 brands of clean, natural and organic lotion that I recommend and listed them below.
Conventional lotions may contain ingredients that are potentially harmful to your health. My daughter was gifted a bottle of Bath & Body Works Pink Cashmere lotion last year, and it's still sitting in the bathroom. I looked through the ingredient list and found some concerning ingredients on the label: fragrance (see below), methylparaben, propylparaben, BHT and diazolindinyl urea (a formaldehyde releaser).
I've included a graphic at the end of this post to highlight the comparison between the Bath & Body Works Pink Cashmere Lotion and my favorite Acure Seriously Soothing 24hr Lotion. With the ingredient lists side by side, you'll get a good idea of some of the harmful ingredients included in some conventional lotion formulations.
As a consumer and a parent, I prefer to use a lotion that's free from any of the ingredients listed below that have the potential to affect my family's health. We all have the power to make informed decisions about what we purchase. Here are some ingredients to look out for and avoid in hand and body lotion:
Avoid These Ingredients In Lotion
BHA and BHT- Butylated hydroxytoluene (BHA) and butylated hydroxyanisole (BHT) are preservatives derived from petroleum and found in some lotion formulations. BHA is an endocrine disruptor and a possible carcinogen (1). BHT is a respiratory irritant and is considered toxic or harmful to human organ systems (2).
Formaldehyde- Diazolidinyl urea, Imidazolidinyl Urea, DMDM hydantoin, methenamine and quarternium-15 are formaldehyde-releasing preservatives found in skin care products and cosmetics. Formaldehyde is a known carcinogen as well as a skin irritant (3).
Mineral Oil– You might find this listed as petrolatum, mineral oil, liquid paraffin, or paraffin oil on the ingredient list. Petrolatum is a byproduct of oil refining, and was originally discovered in the 1800's building up in the machinery of an oil rig. Petroleum jelly is highly susceptible to contamination of Polycyclic aromatic hydrocarbons (PAHs). Once PAHs enter the body, they are stored in the kidneys, liver, and fat cells. There are more than 100 types of PAHs, and about 15 are thought to be carcinogenic (cancer-causing). Petroleum jelly also contains xenoestrogens, which interact with hormone receptors and may increase estrogen-related health issues in the body (4).
Parabens- Parabens are a type of preservative used to prevent the growth of bacteria and prolong the shelf life of lip balm, deodorant, lotion, and other beauty products. The most commonly used are methylparaben, ethylparaben, propylparaben, isobutylparaben and butylparaben. Parabens disrupt hormone function and are linked to increased risk of breast cancer and reproductive toxicity. A 2004 study found high concentrations of parabens in breast tumor samples (5). The European Union banned the use parabens in cosmetics in 2012.
Phthalates- Phthalates are used to increase the flexibility and transparency in plastics. They're also found in beauty products, and they enhance product absorption, help products stick to your skin and keep fragrance smelling fresh. Phthalates mimic hormones, interrupting hormone production (6). A 2018 review found that current human exposure to phthalates may have effects on the male reproductive system (7).
Polyethylene glycol– Polyethylene glycol is used to make lotion thicker and better able to transport moisture to the skin. The manufacturing process and introduce impurities and by-products, such as ethylene oxides and 1,4-dioxane, which are known carcinogenic materials (8).
Synthetic fragrance- Beauty products can list fragrance as one ingredient and don't have to disclose the fact that these formulations may contain hundreds of ingredients. Synthetic Fragrance may contain carcinogens, endocrine disruptors, allergens, respiratory irritants and neurotoxic chemicals (9). Synthetic musks like galaxolide and tonalide, are linked to hormone disruption (10). Fragrance formulations also contain phthalates, which are hormone disruptors.
How Do Moisturizers Work?
Moisturizers replenish the skins moisture supply and trap that moisture from leaving the skin surface (11). Moisturizers provide water to the cell membranes on the top layer of skin, rehydrating and plumping cells in the outermost layer of skin. The occlusive substance in the moisturizer keeps the water from evaporating by forming a seal over the skin.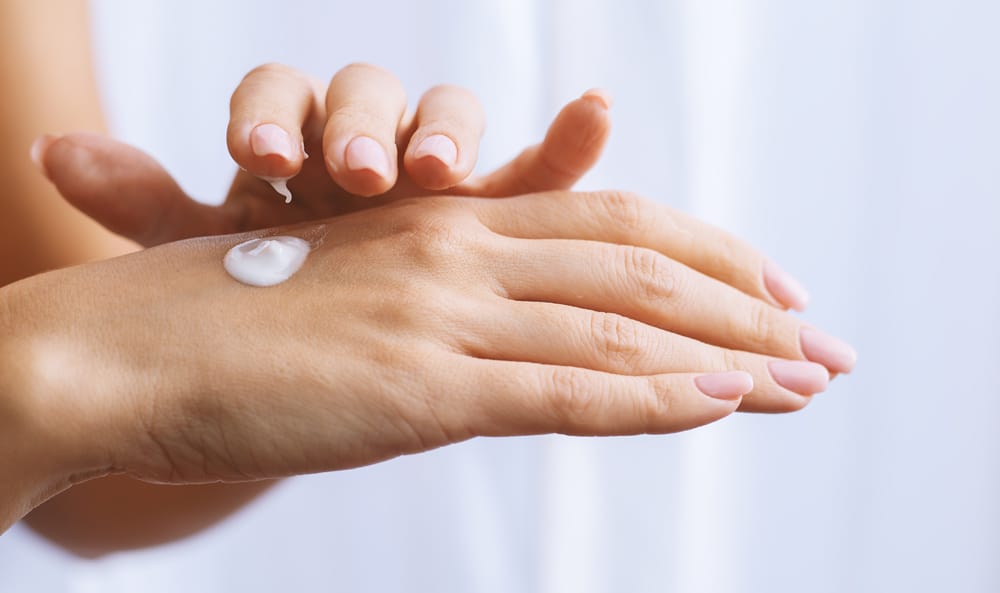 The Three Main Parts Of A Moisturizer (12)
Emollients: Emollient substances work to smooth, soften and hydrate your skin. Some examples of emollients are coconut oil, jojoba oil, apricot kernel oil, sweet almond oil, olive oil, argan oil, rosehip seed oil, and avocado oil.
Occlusives: Occlusive substances provide a physical barrier to block or seal the outer layer of skin, preventing water loss and keeping moisture locked in. Occlusives include shea butter, lanolin, beeswax, and cocoa butter.
Humectants: Humectants attract water and bind it to your skin. They work to keep your skin hydrated. Humectants include glycerin, honey and aloe vera juice.
Other Ingredients In Natural Moisturizer
Water: Water is the solvent for the other ingredients, while also providing hydration to the skin.
Emulsifier: An emulsifier acts to combine the oils with the water. Emulsifiers include beeswax, lecithin, and acacia gum.
Thickener and stabilizer: A thickener or stabilizer is used to create a stable emulsion. Natural thickeners include cetyl alcohol or xanthan gum.
Preservative: If there's water in your moisturizer or lotion, which there most likely is (a balm or salve does not contain water), the moisturizer will need a preservative. The preservative acts to destroy microorganisms and bacteria and prevents the growth of fungus, mold and yeast. Examples of natural preservatives include potassium sorbate and ethanol (alcohol is an astringent and may irritate sensitive skin).
Antioxidant: Antioxidants work to keep the oils with a short shelf life from going rancid. Vitamin E is commonly used.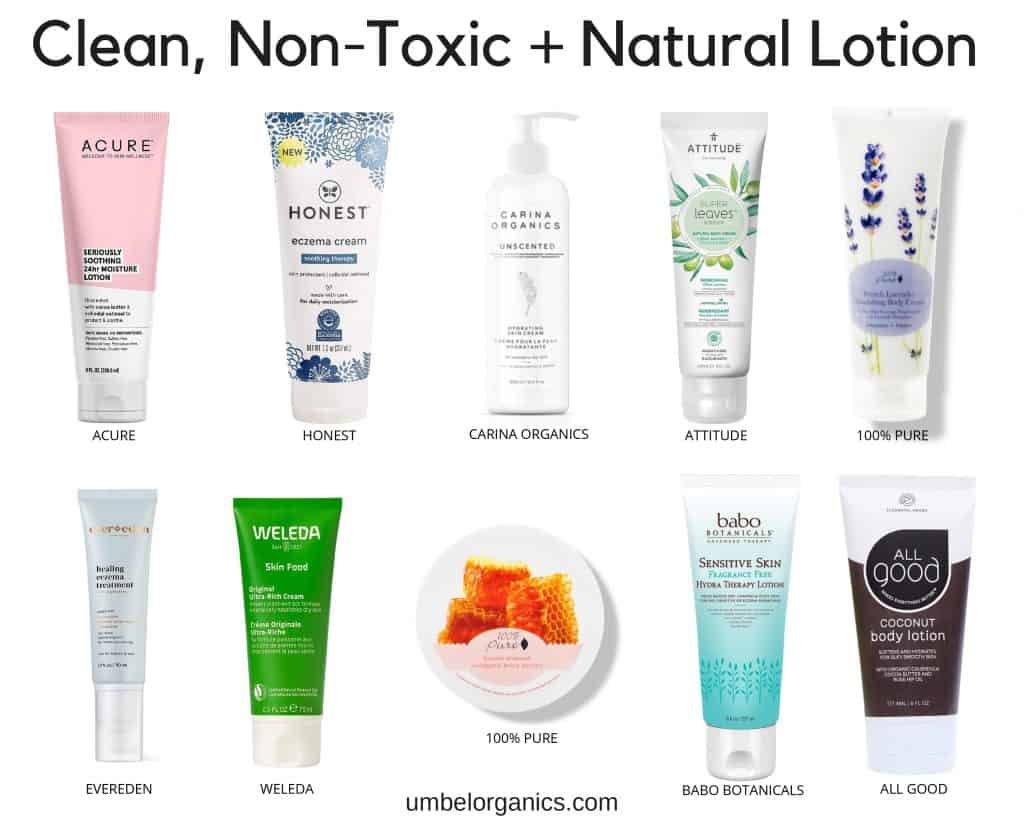 Clean, Non-Toxic Body Lotion
Acure Seriously Soothing 24hr Moisture Lotion
Cost: $1.48 per ounce
EWG Score: 2
My Take: This is one of my top lotion picks. It had a medium consistency and made my hands feel super smooth after rubbing it in. I felt like I was rubbing in a cloud. The lotion had no scent and did not make my hands feel greasy at all.
From the Acure website: Packed with cocoa butter, colloidal oatmeal and deeply moisturizing aloe. clinically shown to provide moisture for 24hrs when used as directed. 100% Vegan, Paraben free, Sulfate free, Mineral oil free, Petrolatum free, Formaldehyde free, Cruelty free.
Attitude Super Leaves Body Cream
Cost: $1.85 per ounce
EWG Score: EWG Verified™
My Take: I absolutely love this lotion – it's very hydrating and rubs in easily. It's one of my top picks. Attitude offers orange and lemon scents, a fragrance-free, and a baby lotion option.
From the Attitude website: ATTITUDE's Super leaves™ Nourishing Body Cream is enriched with the goodness of olive leaf extract known to help hydrate and soothe the skin. EWG Verified™, hypoallergenic and dermatologically-tested, this body cream includes moringa seed extract, known for its antipollution properties. Put the power of nature to work to give you a healthy and glowing skin!
Cost: $26 for 8 oz ($3.25 per ounce)
EWG Score: Not rated
From the 100% Pure website: Luxuriously creamy body lotion enriched with potent anti-aging vitamins, energizing green coffee, and brightening vitamin C for soft, youthfully supple skin.
Shop: 100% Pure Body Lotion
Babo Botanicals Sensitive Skin Hydratherapy Lotion- Fragrance Free
Cost: $1.51 per ounce
EWG score: New formula not yet rated
My Take: This lotion is nice and thick, but still rubs in easily and doesn't leave your skin feeling greasy. It had little to no smell when applying, and left my hands feeling soft and hydrated.  Babo Botanicals products are free of parabens, phthalates, mineral oil, sulfates, formaldehyde, almonds/peanuts, soy, dairy, and gluten.
From the Babo Botanicals website: An eczema lotion created for adults with very sensitive, dry or eczema prone skin. Non-greasy and lightweight texture immediately absorbs into the skin. Contains 2% Colloidal Oatmeal to help relieve, soothe, moisturize and heal. Natural Shea Butter, Sunflower and Sea Buckthorn Oil deeply moisturize. Hypoallergenic. Fragrance-free.
Cost: $2.67 per ounce
EWG score: 1
My Take: This lotion had a thick consistency and made my skin soft and hydrated. It rubbed in easily and wasn't greasy at all.
From the All good website: All Good Body Lotion repairs your dry skin for a youthful, non- greasy feel with rejuvenating organic botanical ingredients. We've taken care to produce the most soothing organic lotion possible with nature's safest and most potent organic ingredients and medicinal plants. Free of all the worrisome chemicals and full of all good botanicals and beneficial oils. GMO Free, Gluten Free, Vegan, Non-nano, Biodegradable.
Cost: $30 for 3.4 oz ($8.82 per ounce)
My Take: This thick body butter has an irresistible scent. Even though it was thick, it rubbed in easily and didn't leave a greasy residue.
From the 100% Pure website: Thick and decadent body butter deeply moisturizes and softens using creamy cocoa, shea, and avocado butters, with added hydration from aloe and rose hydrosol.
Weleda Skin Food Ultra-Rich Cream
Cost: $15.06 for 2.5 oz or $6.03 per oz
My Take: The fragrance in this formula comes from essential oils, and has a pleasant citrus and lavender scent. This cream is very thick and is a little hard to rub in, but once it's absorbed, it makes your skin feel soft and moisturized without feeling too greasy. I use it at night before bed.
From the Weleda website: Skin Food is a universal savior of dry, rough skin on faces, elbows, hands and feet. With extracts of gentle viola tricolor, calendula and chamomile, in a rich, thick base of oils and beeswax, Skin Food hydrates skin to give you a healthy-looking glow.
Evereden Healing Eczema Treatment
Cost: $26 for 1.7 oz ($3.71 per ounce)
From the Evereden website: A moisturizing and naturally-derived eczema cream that quickly relieves itchy skin, delivers lasting healing repair, and takes the worry away- all in a steroid-free formula. Formulated with our Barrier Restore Technology™ featuring naturally-derived anti-inflammatories: golden spent barley and quercetin, alongside skin-strengthening ceramides and colloidal oatmeal, this gentle-yet-powerful formula treats active flareups in babies, kids, and adults by clinically reducing skin redness & dryness by over 98%.**​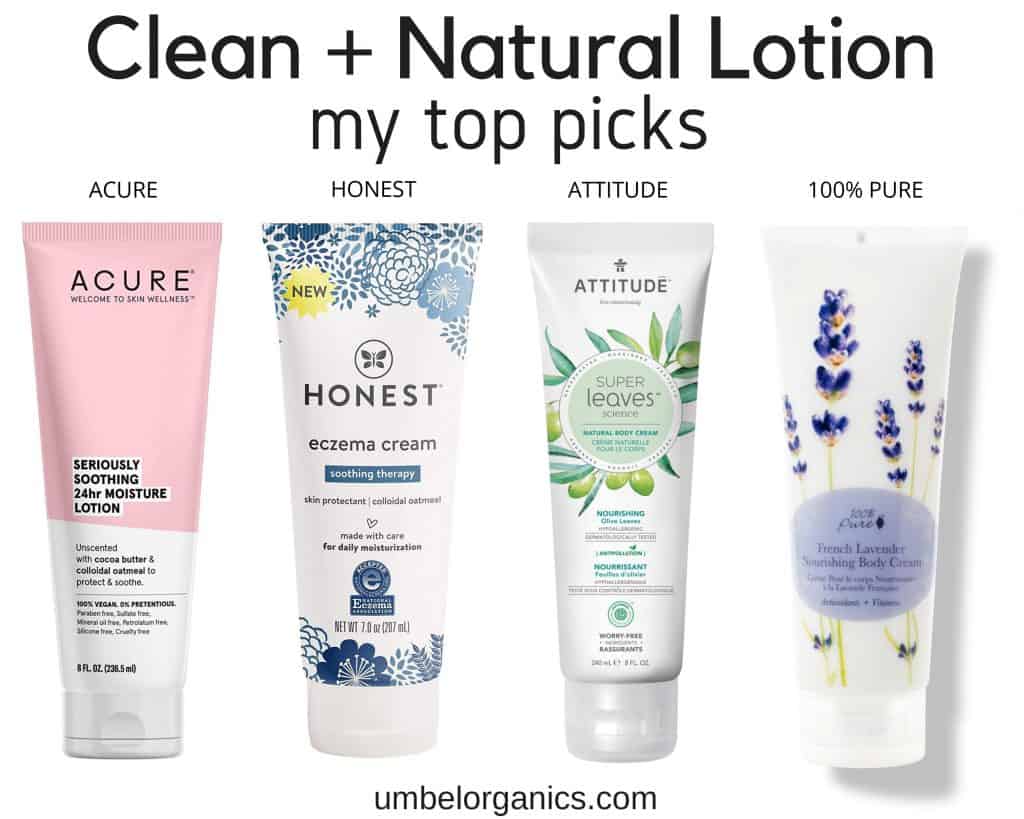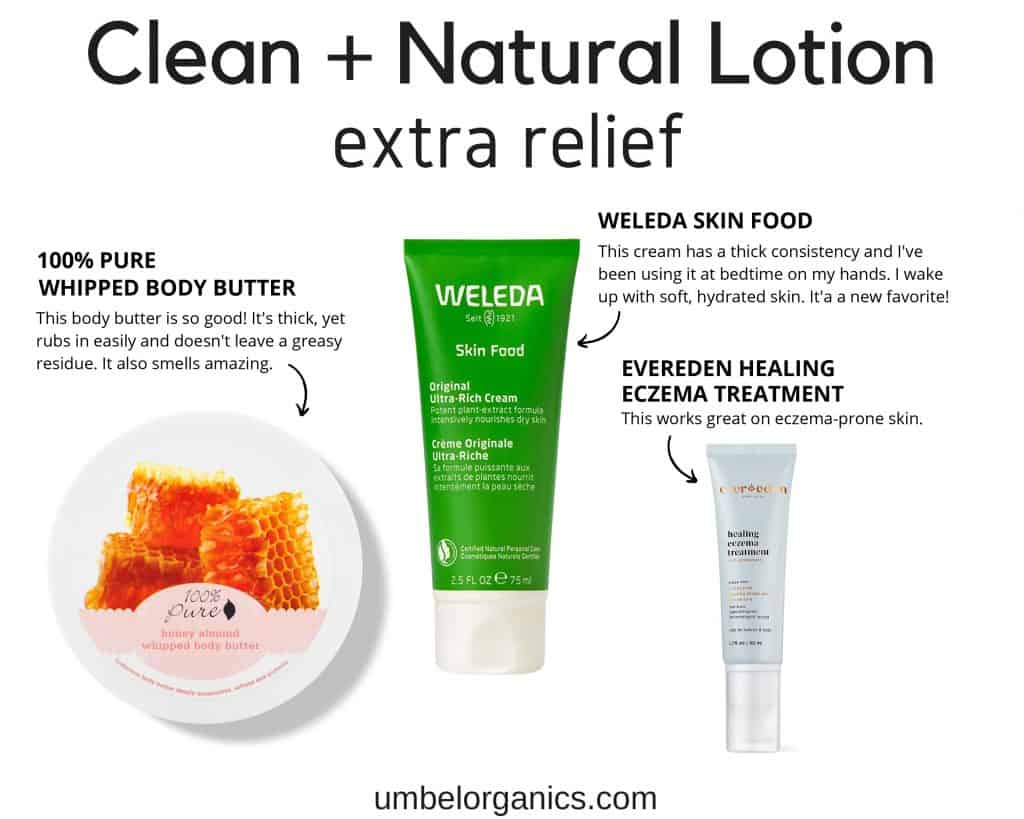 Shop Clean & Natural Lotion
Tips For Combatting Dry Skin
Turn your thermostat down a few degrees. Hot air tends to be drier than cooler air.
Run a humidifier to add moisture to dry air.
Avoid super hot baths and showers.
Use a mild, gentle soap. Avoid harsh deodorant soaps.
Apply a non-greasy hand cream after every washing.
Wear dish gloves when doing dishes.
For extremely dry hands, use this Night Treatment that works for my daughter: apply lotion to your hands, followed by a thick balm, cream or salve. Don't rub the balm in all the way, then put socks over your hands and keep the socks on all night. In the morning you'll wake up with smooth and soft skin on your hands.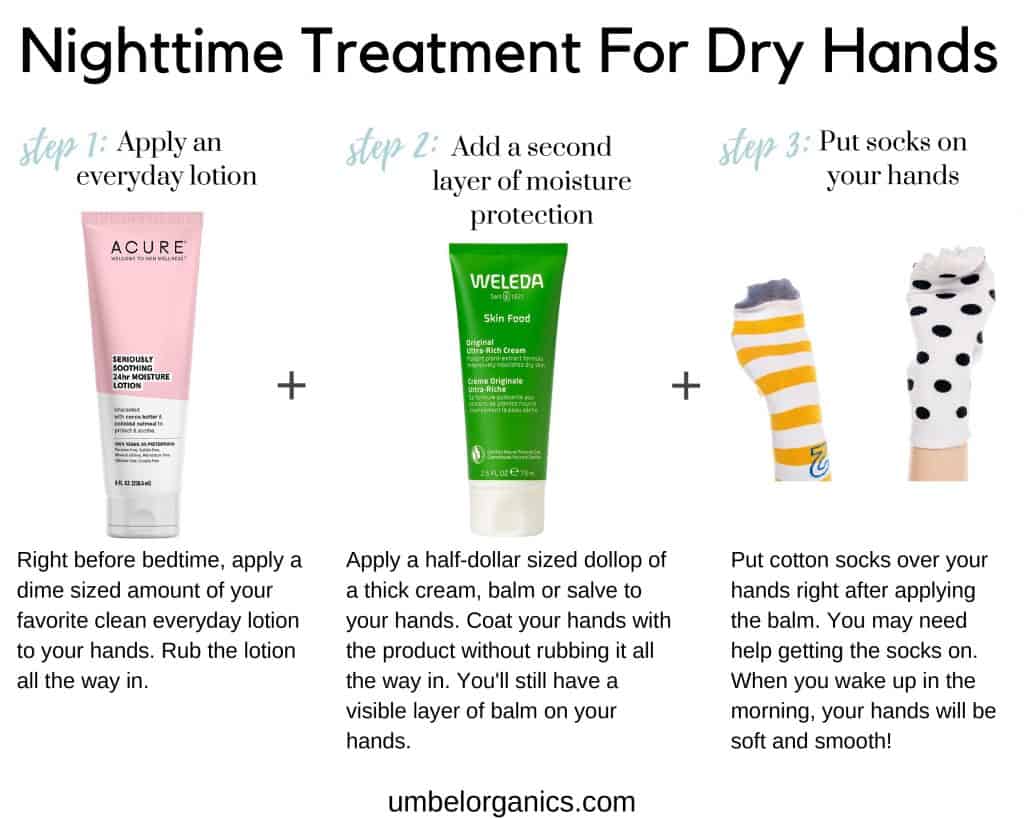 Shop Dry Skin Prevention & Relief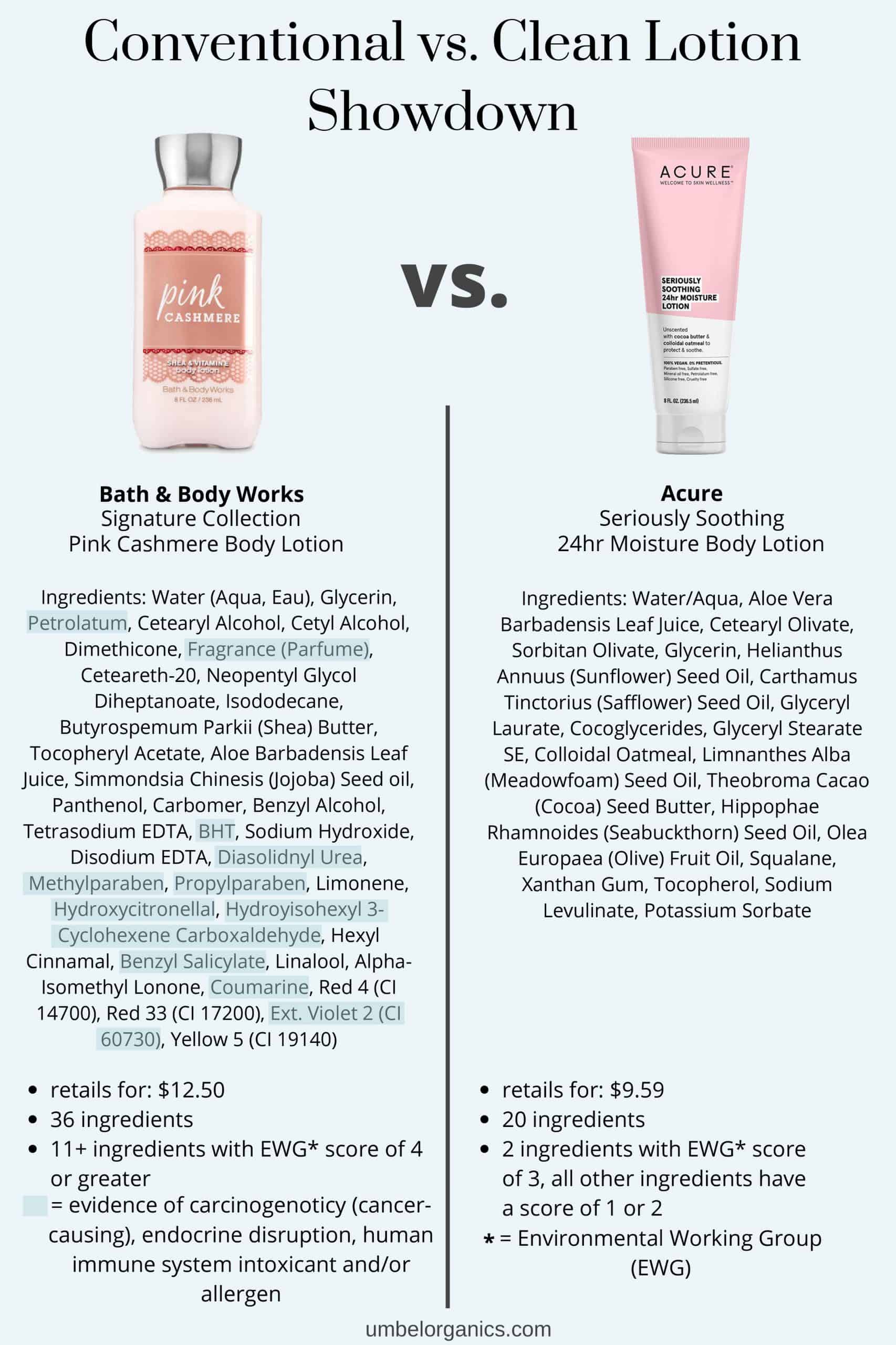 More Clean Beauty Inspiration