The Best Natural and Eco-Friendly Laundry Detergent Brands
Get your clothes fresh-smelling and clean with natural, non-toxic laundry detergent. Conventional laundry detergent contains ingredients that aren't good for your health or for the planet. We're sharing 8 brands of natural laundry detergent that are effective at dissolving dirt and stains without harmful chemicals.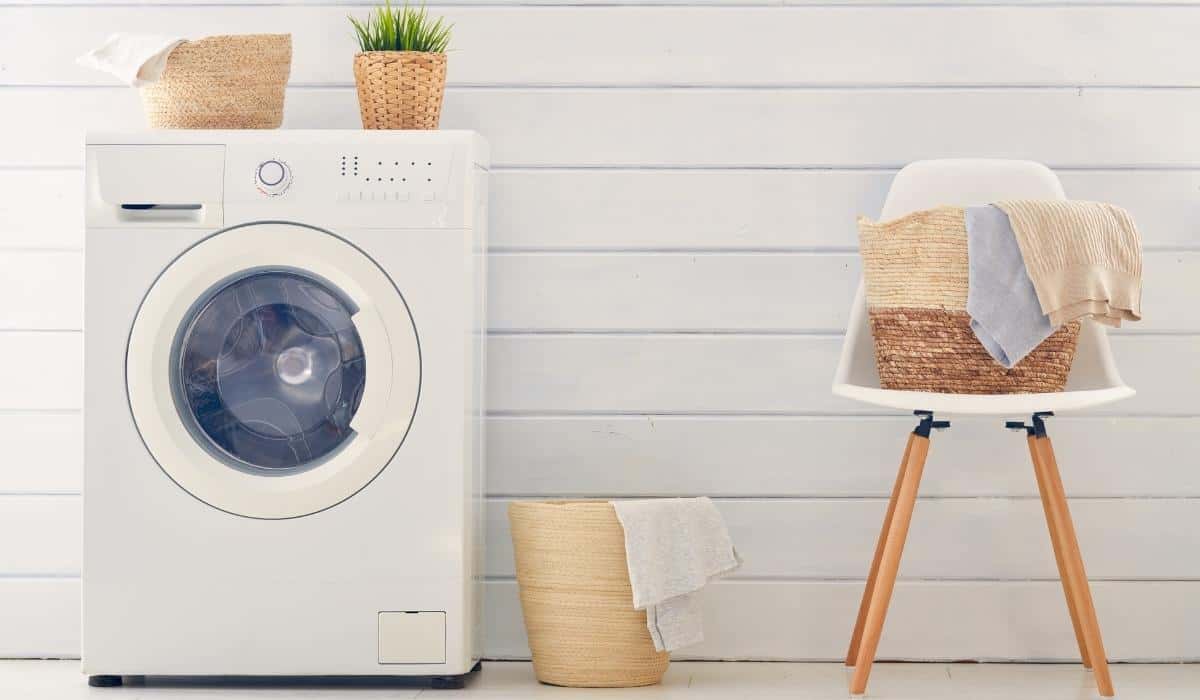 Disclosure: This post contains affiliate links, which means if you make a purchase through these links, we may receive a small commission at no extra cost to you.
I love putting on fresh, warm clothes straight from the dryer, but I've never been a fan of strong, perfume-y scents. With my sensitive nose and my daughter's sensitive skin, I've been super cautious to use gentle laundry detergent since she was a toddler. I've been trying out some new to me eco-friendly, non-toxic laundry detergent brands, and thought I'd share my experience.
Did you know companies that make laundry detergents are not required by law to disclose their ingredients?
When clothes are laundered, chemicals from the detergent can remain in the fabric. Those signature scents like Cherry Blossom and Botanical Rain are designed to permeate and stay in the fabric.
Synthetic fragrance contains phthalates to help your clothes smell "fresh and clean" all day and beyond. If you suffer from allergies and asthma, breathing in that fresh scent could exacerbate your symptoms. Hundreds of chemicals can be included in the "fragrance" label on an ingredient list. These chemicals may contain endocrine disruptors, allergens, respiratory irritants and possible neurotoxic chemicals and carcinogens.
Want to know why the optical brighteners in conventional detergents make clothes look so white? Optical brighteners have nothing to do with actually getting your clothes cleaner. They work by absorbing ultraviolet light and emitting visible blue light. This blue light tricks your eye by cancelling out any yellow or gray hues. Optical brighteners can cause irritation to those with sensitive skin.
Laundry detergent gets its cleaning power from surfactants. Surfactants in conventional laundry detergents can include chemicals that are hormone disruptors and some that are possible carcinogens (see below). Natural laundry detergent formulas contain non-toxic ingredients, like coconut oil-based surfactants, for cleaning power.
By purchasing natural laundry detergent that's free from synthetic fragrance, optical brighteners, artificial colors and surfactants that are harmful to your health (like Nonylphenol ethoxylate and Linear alkyl benzene sultanates (LAS)), you're making healthier choices for your family and for the environment.
Avoid These Ingredients In Conventional Laundry Detergent
Laundry Detergent And The Environment
The chemicals listed above get drained out along with your wastewater. In a USGS survey study, detergent metabolites were detected in 69 percent of streams tested.  We can all reduce the strain on our aquatic ecosystem and support a healthier environment by switching to a natural laundry detergent with eco-friendly, non-toxic ingredients.
Beyond laundry detergent, it's important to look for non-toxic all-purpose cleaners and non-toxic floor and bathroom cleaners that don't contain harmful ingredients. Look below for 8 of the best natural, non-toxic and eco-friendly laundry detergent brands that get your clothes clean without harmful chemicals.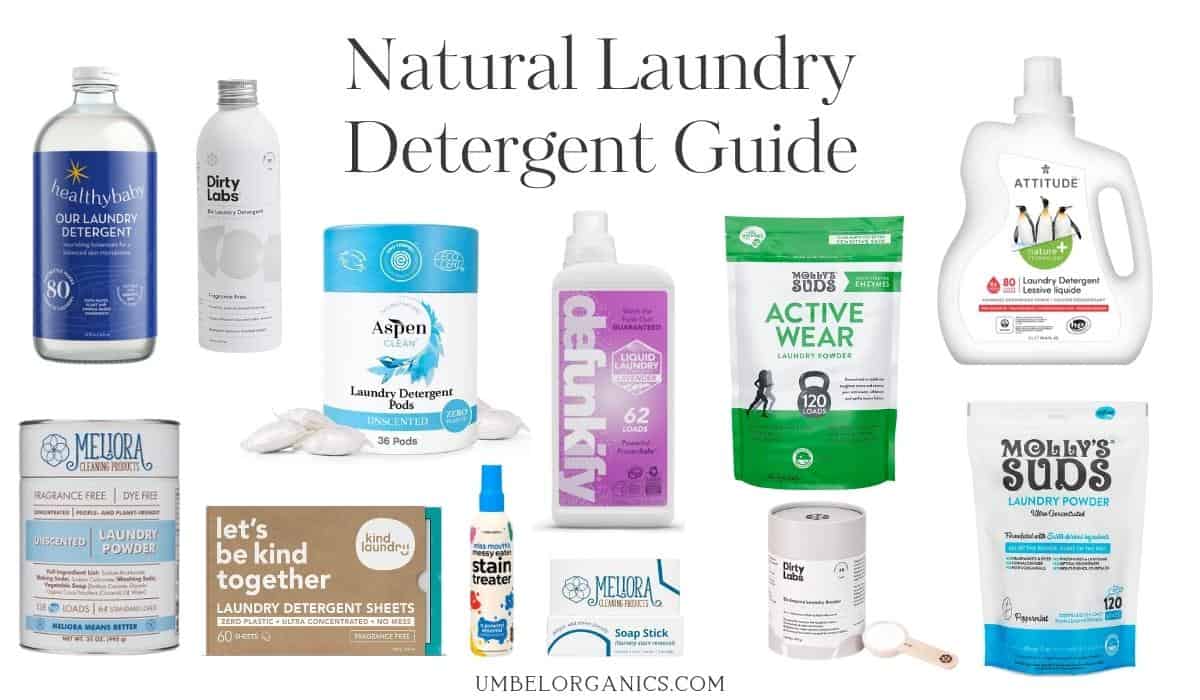 The Best Non-Toxic, Natural & Eco-friendly Laundry Detergent Brands
Defunkify
Defunkify Laundry Detergent
Cost: $0.39 per load
Scents: Lavender, Lemongrass, Free & Clear
EWG Rating: Free & Clear is EWG Verified, Lavender & Lemongrass score A
From the defunkify website: Defunkify Laundry Detergent has odor-crushing power. This detergent is super low sudsing and 87% bio-based. Made with ingredients approved by the EPA Safer Choice Program.
Washing Machine Compatibility: Standard, High Efficiency (HE)
Water Temperature Compatibility: Cold, Warm and Hot Water
Shop: Defunkify Laundry Detergent
Molly's Suds
Molly's Suds Laundry Powder
Cost: $0.17 per load
EWG Rating: A
Scents: Unscented, lavender, peppermint, ocean mist
From the Molly's Suds website: Molly's Suds Laundry Powder is made with only 4 earth-derived ingredients and scented with essential oils. It's safe for Everyone in your family, and safe on sensitive skin. Use either warm or hot water. If your clothing requires cold water, opt for Molly's Suds Liquid Laundry Detergent. Washes 120 Loads.
Washing Machine Compatibility: Standard, HE
Water Temperature Compatibility: Warm or Hot Water
Shop: Molly's Suds Laundry Powder
Molly's Suds Active Wear Laundry Powder
Cost: $0.21 per load
EWG Rating: A
Scent: Sport Fresh
From the Molly's Suds website: Molly's Suds Active Wear Laundry Powder is formulated with biodegradable active enzymes, baking soda and plant-based & earth-derived ingredients. It's specially formulated to fight the sweatiest, smelliest odors and to extend the life of your favorite activewear, athleisure clothing and other high-tech fabrics. Washes 120 Loads.
Washing Machine Compatibility: Standard, HE
Water Temperature Compatibility: Warm or Hot Water suggested
Shop: Molly's Suds Active Wear Laundry Powder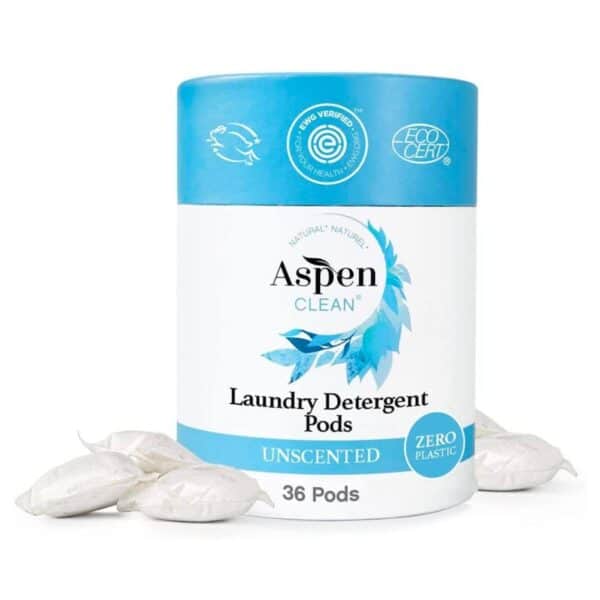 AspenClean
AspenClean Laundry Detergent Pods
Cost: $0.56 per load
EWG Rating: EWG Verified
Scents: Fragrance Free, Lavender, Eucalyptus
From the AspenClean website: AspenClean Laundry Detergent Pods are packaged with zero plastic, EWG-Verified and made with organic, plant-derived ingredients. These plastic-free laundry pods are hypoallergenic, safe for sensitive skin, baby-safe, and pet-safe, as well as Ecocert certified, vegan, and cruelty-free. Washes 36 loads.
Washing Machine Compatibility: Standard, High Efficiency (HE)
Water Temperature Compatibility: Cold, Warm or Hot Water
Shop: AspenClean Laundry Detergent Pods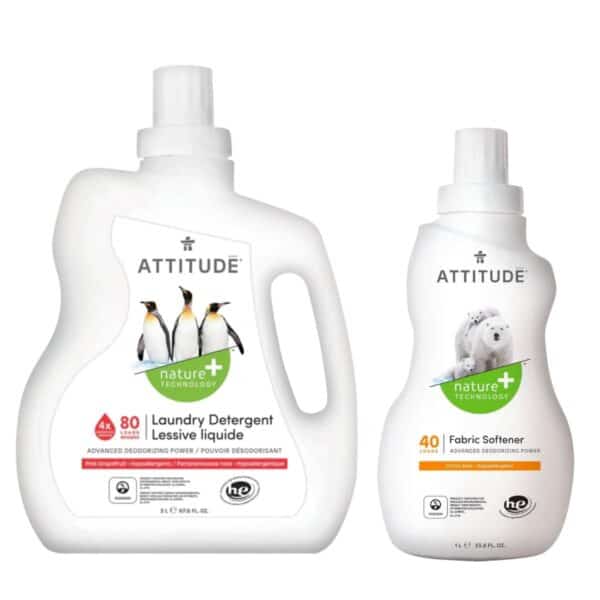 Attitude
Attitude Laundry Detergent
Cost: $0.34 per load
EWG Rating: A
Scents: Pink Grapefruit, Wildflowers, Citrus Zest, Summer Berries, Mountain Fresh, Lavender, and unscented
From the Attitude website: Attitude Laundry Detergent is ECOLOGO Certified and formulated with only natural and plant-derived ingredients. This laundry detergent will keep your clothes smelling fresh and clean thanks to its advanced deodorizing formula. Plus, it's biodegradable and sustainable, and contains no irritating enzymes – making it perfect for your family and the environment.
Washing Machine Compatibility: Standard, High Efficiency (HE)
Water Temperature Compatibility: Cold, Warm or Hot Water
Shop: Attitude Laundry Detergent, Attitude Baby Laundry Detergent
Attitude Sensitive Skin Fabric Softener
Cost: $0.39 per load
EWG Rating: A
From the Attitude website: Attitude Sensitive Skin Fabric Softener uses hypoallergenic, plant- and mineral-based ingredients, and it gently gets your fabrics cozy, soft and fresh. This hypoallergenic formula works with any temperature water cycle, including cold water cycles.
Washing Machine Compatibility: Standard, High Efficiency (HE)
Water Temperature Compatibility: Cold, Warm or Hot Water
Shop: Attitude Sensitive Skin Fabric Softener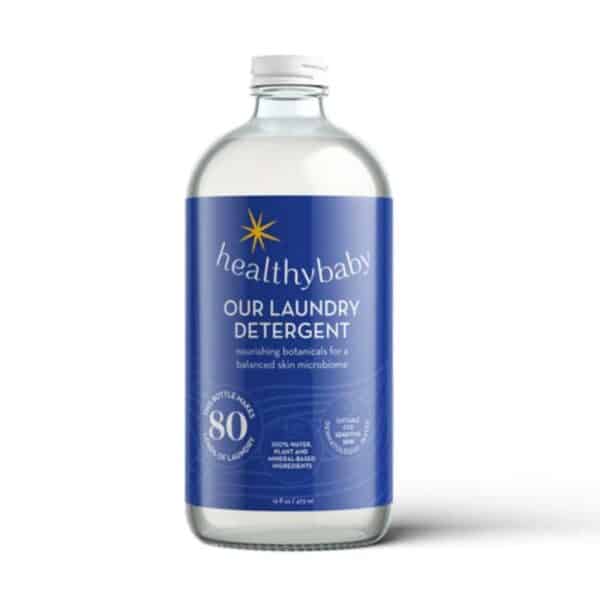 Healthybaby
Healthybaby Laundry Detergent
Cost: $0.38 per load
EWG Rating: EWG Verified
From the Healthybaby website: Healthybaby Laundry Detergent is a 100% plant, mineral, and water-based baby laundry concentrate. It's designed with a custom blend of natural cleansers, effective for cleaning yet gentle to baby's skin. THis is a highly concentrated formula, so you only need 2~3 pumps per laundry load. The plant-based enzymes and biodegradable cleansers safely remove odors leaving clothes naturally soft and fresh.
Washing Machine Compatibility: Standard, High Efficiency (HE)
Water Temperature Compatibility: Cold, Warm or Hot Water
Shop: Healthybaby Laundry Detergent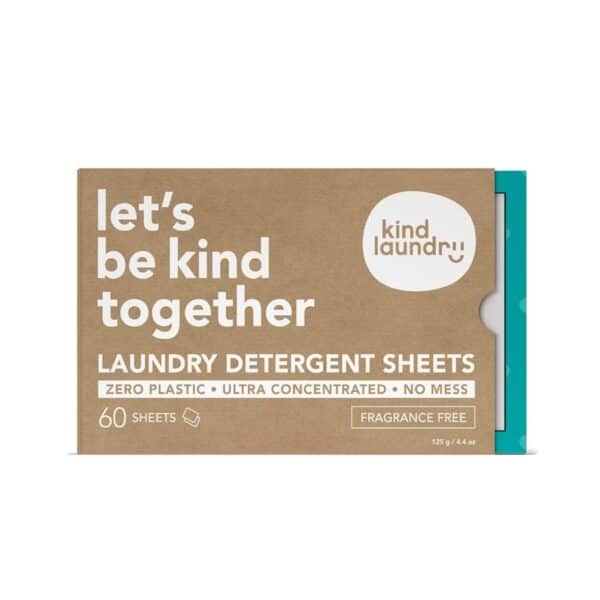 Kind
Kind Laundry Detergent Sheets
EWG Rating: Not rated
Cost: $0.28 per load
From the Kind Laundry website: Kind Laundry Detergent Sheets are 100% non-toxic and are  safe for newborn babies and those with skin sensitivities. These biodegradable laundry strips are hypoallergenic and made from plant-derived ingredients, and there is absolutely no plastic waste with the packaging. These laundry strips save space, create zero mess, are travel-friendly, and they're pre cut.
Washing Machine Compatibility: Standard, High Efficiency (HE)
Water Temperature Compatibility: Cold, Warm or Hot Water
Shop: Kind Laundry Detergent Sheets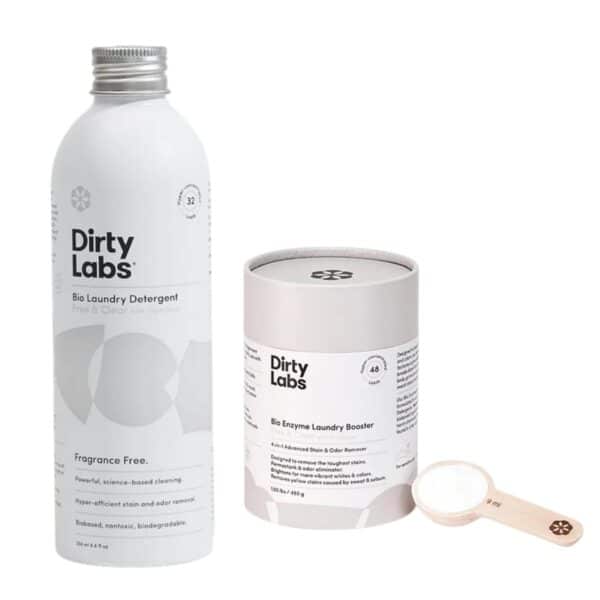 Dirty Labs
Dirty Labs Laundry Detergent
Cost: $0.44 per load
EWG Rating: EWG Verified (Fragrance Free)
From the Dirty Labs website: Dirty Labs Laundry Detergent contains advanced enzyme cleaning technology that precision targets stains and odors at their source while being extra gentle for you, your clothes, and the planet. This laundry detergent is consciously formulated with nontoxic, biobased ingredients, and is biodegradable, safe for sensitive skin, and free of dyes, sulfates, parabens, and all California Prop. 65 chemicals. The unscented Free & Clear detergent is free of dyes and fragrances and is formulated for the most sensitive skin. Recognized by the National Eczema Association (NEA).  Made proudly in the USA and septic-safe.
Washing Machine Compatibility: Standard, High Efficiency (HE)
Water Temperature Compatibility: Cold Water Optimized
Shop: Dirty Labs Laundry Detergent
Dirty Labs Delicate Wash Laundry Detergent
Cost: $0.56 per load
From the Dirty Labs website: Dirty Labs Delicate Wash Laundry Detergent is specially formulated for fine wools, silks, and hand wash only garments. This formula is free of dyes and fragrances and is formulated for the most sensitive skin.
Washing Machine Compatibility: Standard, High Efficiency (HE)
Water Temperature Compatibility: Cold Water
Shop: Dirty Labs Delicate Wash Laundry Detergent
Dirty Labs Laundry Booster
Cost: $0.38 per load
From the Dirty Labs website: Dirty Labs Laundry Booster was specifically formulated to work with Dirty Labs Bio Laundry Detergent to tackle your dirtiest, smelliest laundry – all while being safe for you and the planet. It's optimized to make whites and colors vibrant and eliminate the toughest stains and odors. 48 loads.
Washing Machine Compatibility: Standard, High Efficiency (HE)
Water Temperature Compatibility: Cold Water Optimized
Shop: Dirty Labs Laundry Booster
Meliora
Meliora Laundry Powder
EWG Score: A
Cost: $0.34 per load
Scents: Unscented, Lavender, Lemon, Lemon Lavender Clove
From the Meliora website: Meliora Laundry Powder is a people- and planet-friendly laundry detergent made with non-toxic ingredients and eco-friendly packaging. This powder detergent is just as effective as liquid detergent but is ultra concentrated, plastic-free, and preservative-free. It's vegan, cruelty-free, and MADE SAFE Certified. 1% of every sale goes towards environmental causes.
Washing Machine Compatibility: Standard, High Efficiency (HE)
Water Temperature Compatibility: Cold, Warm or Hot Water
Shop: Meliora Laundry Powder
Meliora Laundry Stain Stick
Cost: $10.99 for 1.7 oz ($6.46 per ounce)
EWG Rating: A
From the Meliora website: Pre-treat stains with a people- and planet-friendly option. Simply wet the fabric and rub the soap stick onto the stained area, then wash as usual. Free from plastic, dyes, preservatives, palm oil, fragrance.
Washing Machine Compatibility: Standard, High Efficiency (HE)
Water Temperature Compatibility: Cold, Warm or Hot Water
Shop: Meliora Laundry Stain Stick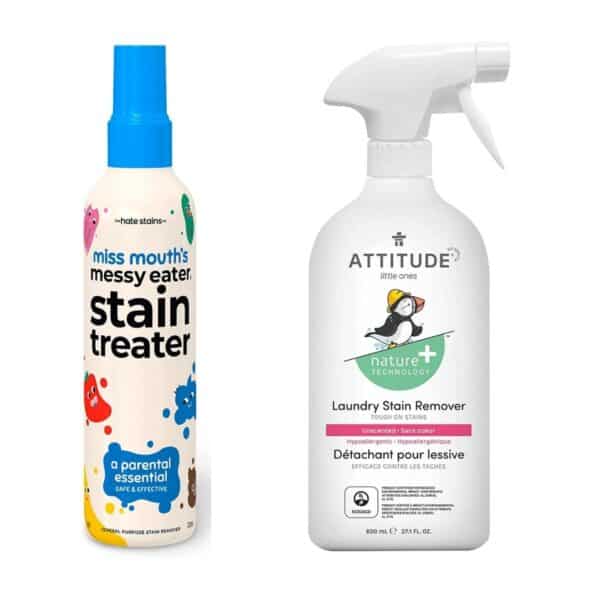 Stain Remover
Miss Mouth's Messy Eater Stain Treater
Cost: $2.09 per ounce
EWG Rating: A
From the Hate Stains Co. website: Miss Mouth's Messy Eater Stain Treater is a nontoxic & remarkably effective stain remover that quickly and safely treats stains. This stain treatment works just as well on food stains as it does on blood, diaper disasters and spit -up.
Washing Machine Compatibility: Standard, High Efficiency (HE)
Water Temperature Compatibility: Cold, Warm or Hot Water
Shop: Miss Mouth's Messy Eater Stain Treater
Attitude Baby Laundry Stain Remover
Cost: $0.33 per ounce
EWG Rating: A
From the Attitude website: Attitude Laundry Stain Remover uses only natural, efficient and hypoallergenic ingredients. This vegan and ECOLOGO Certified formula is safe for your baby's skin — and the environment!
Washing Machine Compatibility: Standard, High Efficiency (HE)
Water Temperature Compatibility: Cold, Warm or Hot Water
Shop: Attitude Baby Laundry Stain Remover
More Natural Living Inspiration