Keep Your Kitchen Toxin-Free With 6 Easy Swaps
From pots and pans to cleaning supplies, we share six simple swaps to reduce your family's exposure to harmful chemicals in the kitchen.
Disclosure: This post contains affiliate links, which means if you make a purchase through these links, we may receive a small commission at no extra cost to you.
The kitchen is one of the most important rooms in your home—it's where every meal is prepared to sustain your family. And you probably put a lot of effort into getting healthy food on the table. But beyond balanced meals and organic food, you might not realize that some of the pots and pans you cook with and the cleaners you use may contain chemicals that are potentially harmful to the health of your family.
If you want to reduce your family's exposure to toxins, the kitchen is a great place to start. Look below for six simple kitchen swaps to reduce your exposure to harmful chemicals in the kitchen. You can make small changes in the kitchen and then move on to other rooms in your home, making simple swaps to detox your entire home.
1. Ditch Non-Stick Cookware
With an easy-to-clean surface, non-stick cookware is a hard one to give up. But, you'll be one step closer to a non-toxic home once you do. As I mentioned above, we ditched our non-stick cookware 10 years ago, and I can tell you it's completely doable!
The problem with non-stick cookware and bakeware is the material used to create the non-stick surface. Non-stick coatings like Teflon contain per- or polyfluoroalkyl substances, or PFAS chemicals. At high heat (500°F), the non-stick coating releases fumes that are potentially harmful to your health. PFAS has even been linked to certain types of cancer.
Have you heard the term "canary in a coalmine"? In this case, it's "canary in the kitchen". Hundreds of pet bird deaths have been blamed on toxic emissions from non-stick cookware.
Are you thinking that there's no way your non-stick pans could get 500°F hot? Good Housekeeping performed a test to determine how fast three sets of non-stick pans (cheap and light, midweight, and heavy, high end) heat up past 500°F. All three pans heated up past 500°F in just minutes!
In our kitchen, we use a combination of stainless steel pots and pans and baking sheets, a ceramic Dutch oven, glass casserole dishes and a stoneware muffin tin and loaf pan. If you do have stuck-on food, soaking the pan for 10 minutes gets most food off.
There are plenty of great non-toxic cookware options for all home cooks. Home bakers can prepare muffins, cakes, cookies and more with impressive non-toxic bakeware options.
Non-Toxic Cookware And Bakeware Swaps
All Clad Stainless Steel Cookware Set– 18/8 stainless steel, 3-ply bonded.
Pyrex Deep Baking Dish Set With BPA-Free Lids– Thermal-resistant glass baking dish set.
Le Creuset White Enameled Cast Iron Dutch Oven– The interior enamel coating is in compliance with California Proposition 65.
Caraway– Ceramic coated cookware and bakeware without potentially dangerous chemicals like PTFE, PFOA, PFAS, Lead, and Cadmium.
Field Cast Iron Skillet– If seasoned regularly, this creates a natural non-stick coating for the cast iron surface. Lodge Cast Iron is a more budget-friendly option, but Field is slightly lighter (which I like).
Xtrema– 100% pure ceramic cookware from reputable companies is PFAS-free and non-toxic, and contains no glues, polymers, coatings or dyes.
2. Swap Conventional Kitchen Cleaner For Non-Toxic Cleaner
Your kitchen cleaning routine shouldn't involve using harmful toxins. It's possible you're breathing in asthma-inducing fumes and leaving a harmful residue where you prep and eat your food.
A bottle of Formula 409 Antibacterial Kitchen All-Purpose Lemon Fresh Cleaner gets a score of F from the Environmental Working Group (EWG). Several of the ingredients can cause respiratory effects, skin allergies and irritation, nervous system effects, general system/organ effects, and developmental and reproductive toxicity.
Greenwashing- watch out for companies that advertise all-purpose cleaners as "natural" without checking the EWG score. Method All-Purpose French Lavender Surface Cleaner also gets a score of F from the EWG. Several of the ingredients can cause respiratory effects, skin allergies and irritation, and developmental and reproductive toxicity.
Replace conventional kitchen cleaners with a toxin-free option. Below are kitchen cleaners that don't contain harmful ingredients like endocrine disrupting chemicals. They all get top grades from the EWG.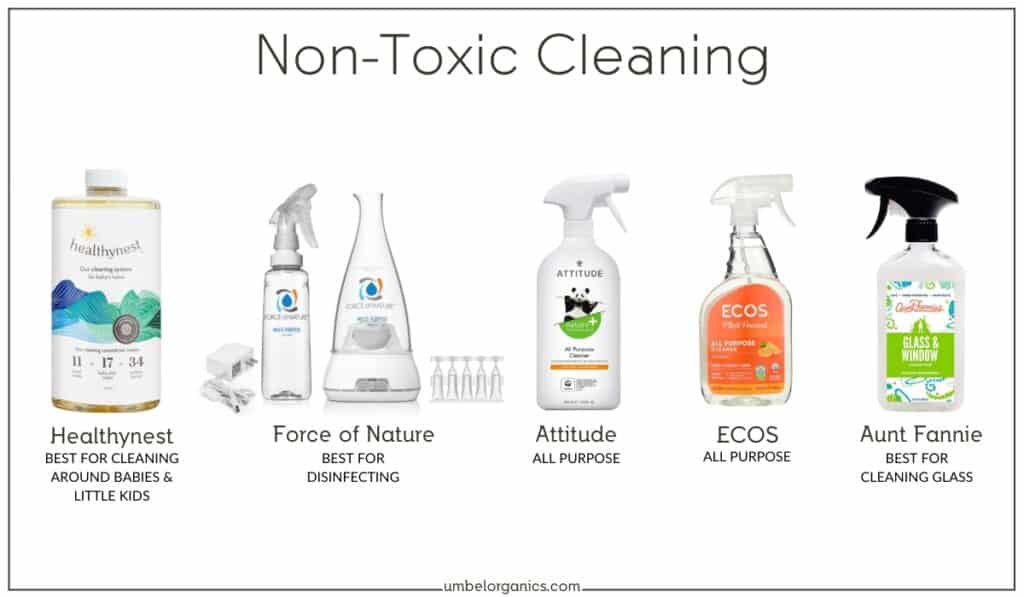 Non-Toxic Kitchen Cleaner Swaps
Healthybaby Cleaning Concentrate– A gentle yet effective solution for your family that's microbiome friendly, sustainable, and safe for baby's developing body and brain. Reduce, refill and reuse with our 100% plant and mineral-based cleaning concentrate and stainless steel bottles. One bottle of our multi-purpose cleaning concentrate makes 34 surface sprays, 17 hands soaps, or 11 baby bottle soaps.
Force of Nature– Electricity converts tap water, plus a capsule of salt, water & vinegar, into a cleaning powerhouse. One bottle cleans, deodorizes, disinfects and sanitizes. No toxins means no rinsing necessary.
Attitude All Purpose Cleaner– Contains plant- and mineral- based ingredients like saponin, a natural cleansing agent, your entire house will be sparkling clean! This powerful ECOLOGO Certified sustainable and biodegradable cleaner removes scum, mold and dust.
ECOS Orange Plus All Purpose Cleaner– This formula uses plant-powered ingredients to clean up even the toughest of residue. Powered by orange oil, one of nature's toughest degreasers.
Aunt Fannie's Glass & Window Cleaner– Let mirrors, windows and other glass surfaces sparkle without the use of harsh chemicals. No streaks, no blue stuff.
3. Replace Plastic Food Storage With Glass
Why risk storing your food in plastic containers that may leach chemicals? BPA is a known endocrine disruptor, and manufacturers have created a slew of plastic kitchen products that are BPA-free.
BUT, plastic containers labeled "BPA-free" don't necessarily mean they're any safer. They may contain other bisphenols, such as BPS, which have the same harmful properties as BPA. Even bisphenol-free plastics may contain other endocrine-disrupting chemicals.
The best solution is to store your leftovers in glass storage containers with lids.
Glass Food Storage
Bayco Airtight Glass Food Storage Containers With BPA-Free Lids– Made from high-quality borosilicate glass. These food prep containers come highly recommended.
Wean Green Glass Baby Food Storage Containers– Eco-friendly, tempered glass with BPA-free lids. Freezer, Dishwasher & Reheat Safe. They make sizes that are perfect for baby food storage!
Duralex– Extremely durable tempered glass- these bowls can be used for serving, food prep and food storage. Microwave and dishwasher safe. The lids are BPA-free.
Pyrex 18 Piece Glass Rectangular And Round Food Container Set– Durable, pure Pyrex® glass is microwave, dishwasher and freezer safe, and because it's stain and odor-resistant. We've had Pyrex food storage in our house for 2 decades!
Frego Glass & Silicone Food Containers– I've been searching for glass containers with silicone lids, and these award-winning plastic-free glass and silicone food containers were just what I wanted! Frego food storage contains no BPA, PVC or other toxins. Oven, Microwave and Dishwasher safe (even the silicone lids!) with borosilicate glass to offer better thermal range. I love that I can safely wash the lids in the dishwasher with no worry of plasticizers leaching!
4. Swap Paper Towels For Washcloths
I've made a lot of changes toward a non-toxic kitchen in the past 10 years, but paper towels just weren't on my radar until now. Here's what I've just learned: paper towels may contain formaldehyde, chlorine, and BPA.
Formaldehyde containing resins give paper towels their wet strength (durability when wet). Formaldehyde is a known carcinogen and is associated with irritation of the eyes, skin and throat.
Chlorine gives paper towels their characteristic white color. Dioxin is a by-product of the bleaching process, and exposure to dioxins can lead to altered liver function and impairment of the immune system and endocrine system.
BPA contaminates paper towels during the recycling process. BPA is a known endocrine disruptor.
After learning all of this, I'm ready to stop relying on paper towels for drying and clean-up and switch to reusable washcloths. Bonus—I read that switching out paper towels for reusable cloths can save a family $400 a year! Sustainable swaps in the kitchen can really add up for the good of our planet too!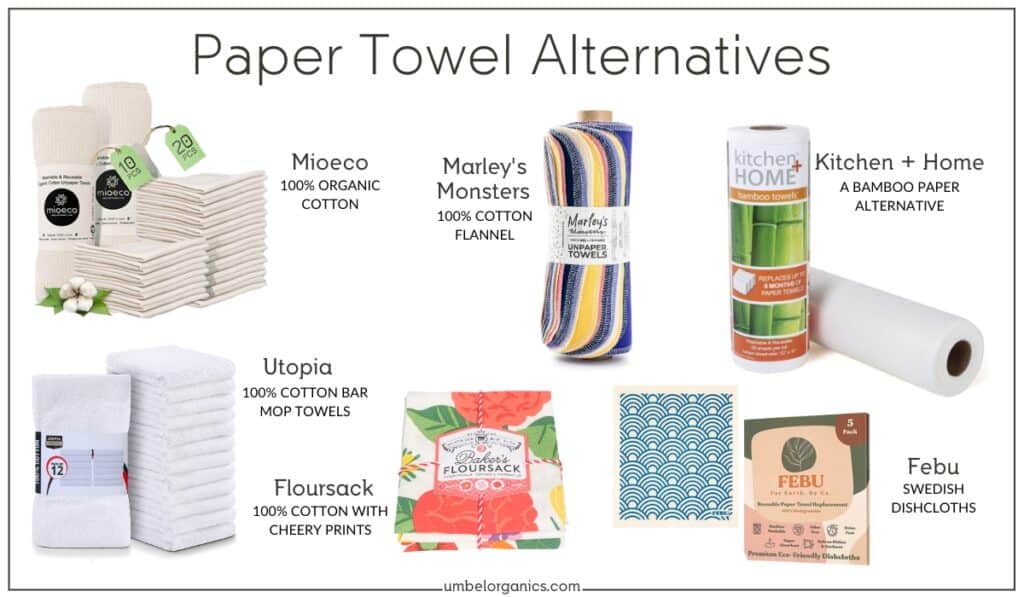 Reusable Alternatives To Paper Towels
Mioeco Reusable Paper Towels– 100% Organic Cotton. Manufactured in a fair trade certified factory. bleach free washable, reusable paper towels. Multi-Purpose & Super Absorbent.
Utopia Bar Mop Towels– 100% cotton and super absorbent.
Floursack Kitchen Towels– 100% cotton, highly absorbent kitchen towels with cheery prints.
Marley's Monsters Unpaper Towels– Each towel is 12″x10″.Towels are single ply 100% cotton flannel. Edges are sewn for durability and to prevent fraying.
Kitchen + Home Heavy Duty Machine Washable Bamboo Towels– Stronger, more absorbent and more durable than regular paper towels. Made from a sustainable certified organic bamboo source- one roll replaces 60 conventional paper towel rolls and fits in your regular paper towel dispenser. Reusable.
Febu Swedish Dishcloths– Eco-friendly, sustainable and zero waste paper towel alternative. Made from 70% Wood Pulp + 30% Cotton, these kitchen dish towels absorb 20X their weight in water, last up to a year and are completely biodegradable.
5. Replace Plastic Wrap And Plastic Baggies
Plastic wrap and plastic baggies are just so handy…but they're made with potential endocrine disruptors. Although phthalates were phased out of plastic wrap in 2006, low-density polyethylene (LDPE) or polyvinylidene chloride (PVDC) are now used.
LDPE may contain diethylhexyl adipate (DEHA), a potential endocrine disruptor and carcinogen. Another reason to make the swap? All that plastic builds up in landfills, adding to our long-term waste problem.
Sending my kids to school without a ton of single-use plastic in their lunch is something I've gotten better about, and there are so many stainless steel snack and lunch container options that work great on-the-go!
Non-Plastic Swaps For Plastic Wrap & Plastic Baggies
Beeswrap Clover Wax Food Wrap– Beeswax is what gives these sheets of organic cotton material its sticking power. The warmth of your hands helps you mold the wrap around food, bowls or plates. Washable and reusable over and over again.
Ukonserve Stainless Steel Lunch Containers– Made of 304 (18/8) stainless steel. The lids are plastic-free, durable, flexible, platinum-grade silicone.
Reusable Silicone Bowl Lids– These food-safe silicone lids create a tight seal on bowls and are both microwave and dishwasher safe.
Stasher– Made with incredibly durable, food-grade platinum silicone.
Spaza Cotton Dish Covers– Breathable cotton, no sweating of leafy greens and condensation.
Options To Filter Your Drinking Water
ProOne Stainless Steel Countertop Water Filter– Independently lab tested and proven to reduce/remove 200+ contaminants including fluoride, chlorine, chloramines, VOCs, bacteria, pharmaceuticals, lead and heavy metals, while leaving beneficial minerals in the water supply. NSF certified.
Aqua Tru Reverse Osmosis Countertop Water Filter– Patented 4-stage Ultra Reverse Osmosis® technology. Certified to NSF standards to remove contaminants, including lead, arsenic, PFAs, fluoride, chlorine, nitrates and many more. Filters last from 6 months to 2 years.
Brita Water Bottle With Filter– All Brita® filters cut chlorine taste and odor and reduce other contaminants, and our new and improved Longlast+ Filter removes 99% of lead and reduces the most contaminants vs. other pour-through systems.
Apec Reverse Osmosis Under Sink Water Filter– Guaranteed to remove up to 99% of harmful water contaminants such as chlorine, taste, odor, VOCs, as well as toxic fluoride, sodium, arsenic, lead, nitrates, heavy metals and much more. Provides fast flow rate with no wait time.
More Natural Living Inspiration