Hidden Sources of PFAS
Did you know that your cosmetics may contain the forever chemical, PFAS? We're sharing how to avoid exposure to PFAS, since it can lead to a number of adverse health effects. From ditching waterproof mascara to tossing long-lasting lipstick, read on for more simple ways to reduce your exposure to the forever chemical, PFAS.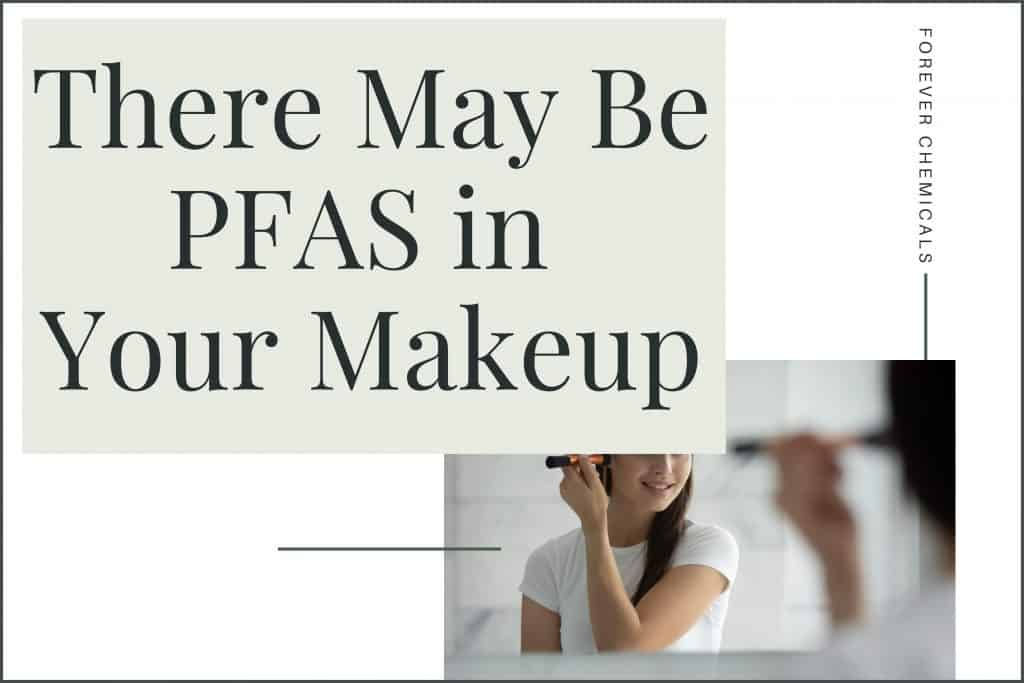 Disclosure: This post contains affiliate links, which means if you make a purchase through these links, we may receive a small commission at no extra cost to you.
According to a recent study, you may be unwittingly applying a dose of forever chemicals along with your long-lasting lipstick or waterproof mascara (1). Researchers at the University of Notre Dame measured fluorine levels in 231 cosmetic products sold in the US and Canada. High levels of fluorine, a marker for Per- and polyfluoroalkyl substances (PFAS), were detected in 52% of the samples. Twenty-nine of the high-fluorine products were further analyzed and 4-13 different PFAS chemicals were detected in all of the samples.
The cosmetic categories that had the highest percentage of high fluorine products were foundations (63%), eye products (58%), mascaras (47%), and lip products (55%). Makeup like mascara and lipstick are applied close to the eyes and the mouth, and if PFAS is present, this could easily be ingested and absorbed, causing possible health risks with repeated exposure over time.
Frustratingly, the vast majority of the cosmetics sampled in the study did not include PFAS on the ingredient list. As a general rule, avoid cosmetics marketed as waterproof or long-lasting. If PFAS is on the ingredient list, it will be listed as PTFE, Perfluorononyl Dimethicone, Perfluorodecalin, C9-15 Fluoroalcohol Phosphate and Perfluorohexane: avoid these products.
Senators Susan Collins (R-Maine) and Richard Blumenthal (D-Conn.) introduced a bill titled "No PFAS in Cosmetics Act" in order to require the FDA to ban the addition of PFAS to cosmetic products. If this bill passes, I will update the post (let's hope so)!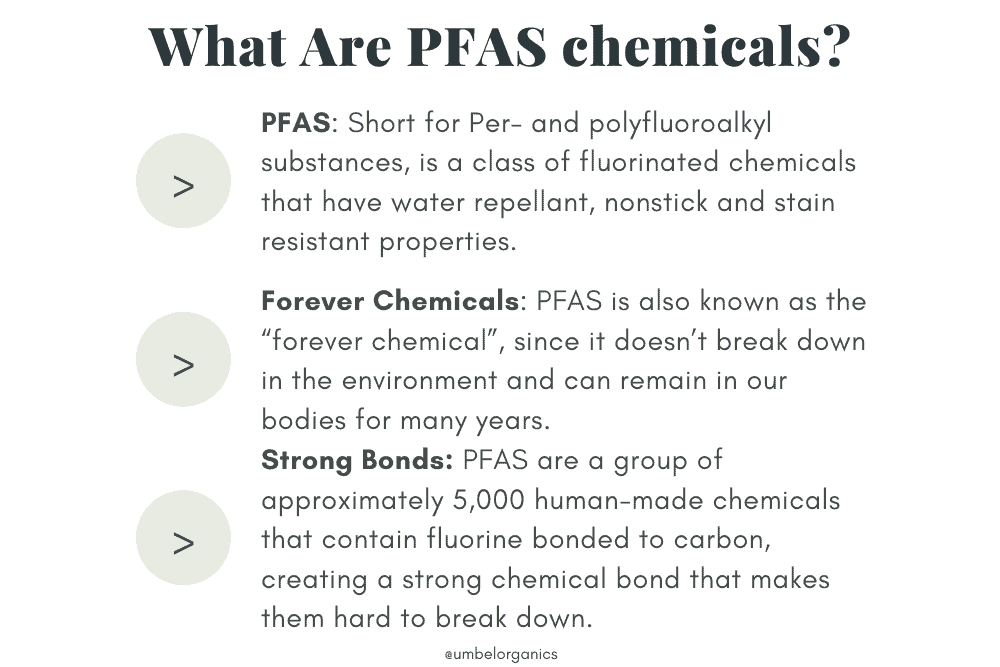 What Are PFAS?
PFAS, short for Per- and polyfluoroalkyl substances, is a class of fluorinated chemicals that have water repellant, nonstick and stain resistant properties. They are a group of approximately 5,000 human-made chemicals that contain fluorine bonded to carbon, creating a strong chemical bond that makes them hard to break down (2). PFAS are also known as the "forever chemical", since they don't break down in the environment and can remain in our bodies for many years.
PFAS And Health Risks
DuPont manufactured Teflon for decades, despite the fact that confidential internal company studies showed the chemicals caused cancer and birth defects.
Chemical waste containing PFOA from a Teflon manufacturing plant near Parkersburg, West Virginia leached into the groundwater and polluted the drinking water in the surrounding area. Studies of almost 70,000 people that lived near the Teflon plant linked PFOA in tap water to kidney and testicular cancer, thyroid disease, high cholesterol, ulcerative colitis and other health problems. Further research has associated PFAS with more health risks, including increased risk of asthma, immune system disfunction, decreased vaccine response in children, changes in liver enzymes, increased risk of high blood pressure and pre-ecalmpsia in pregnant women, small decreases in infant birth weight and weight gain in adults (3).
Although PFOA and PFOS have been voluntarily phased out by industry, they have been replaced by other chemicals in the PFAS family. GenX is a replacement for PFOA, yet studies suggest that GenX is linked to harmful effects in the liver and reproductive problems (4).
Where To Buy PFAS-Free Makeup
Credo Beauty is an extensive online clean beauty and skincare store. Credo Beauty bans over 2700 ingredients, including Perfluorinated compounds (PFASs or PFCs).
The Detox Market is another one of my favorite online clean beauty and skincare stores. They also ban Perfluorinated compounds (PFASs or PFCs), along with a long list of other harmful ingredients.
What Household Products May Contain PFAS?
Makeup & Skincare: Any cosmetic that is waterproof, long-lasting or durable may contain PFAS chemicals. Watch out for floss too!
Food: Microwave popcorn bags, sandwich wrappers, takeout containers, fast food wrappers, pizza boxes.
Kitchen: Certain non-stick pans and appliances like waffle irons, pressure cookers, coffee makers, blenders and juicers.
Home Decor: Stain resistant carpets, rugs, furniture, paint and stains.
Outdoor Gear: Outdoor gear & apparel with water repellant coating like backpacks, coats, shoes, tents, and the apple sport watch band.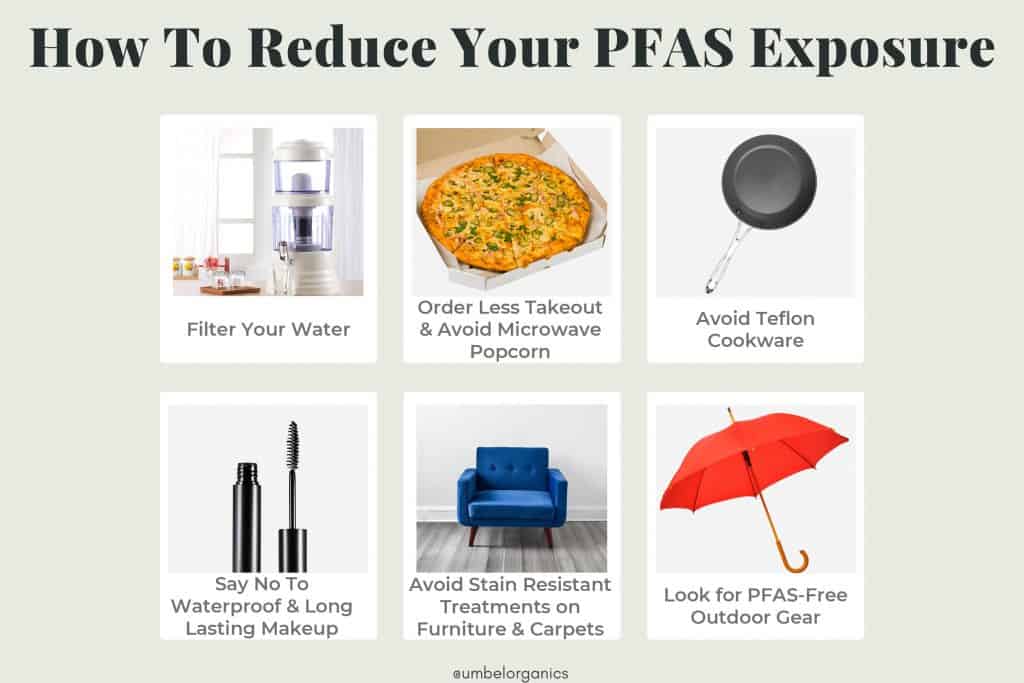 How To Reduce Your PFAS Exposure
Filter Your Water
Order less takeout and avoid microwave popcorn
Avoid Teflon cookware
Say No to waterproof & long lasting makeup
Avoid stain resistant treatments on furniture and carpets
Look for PFAS-free outdoor gear
PFAS-Free Household Products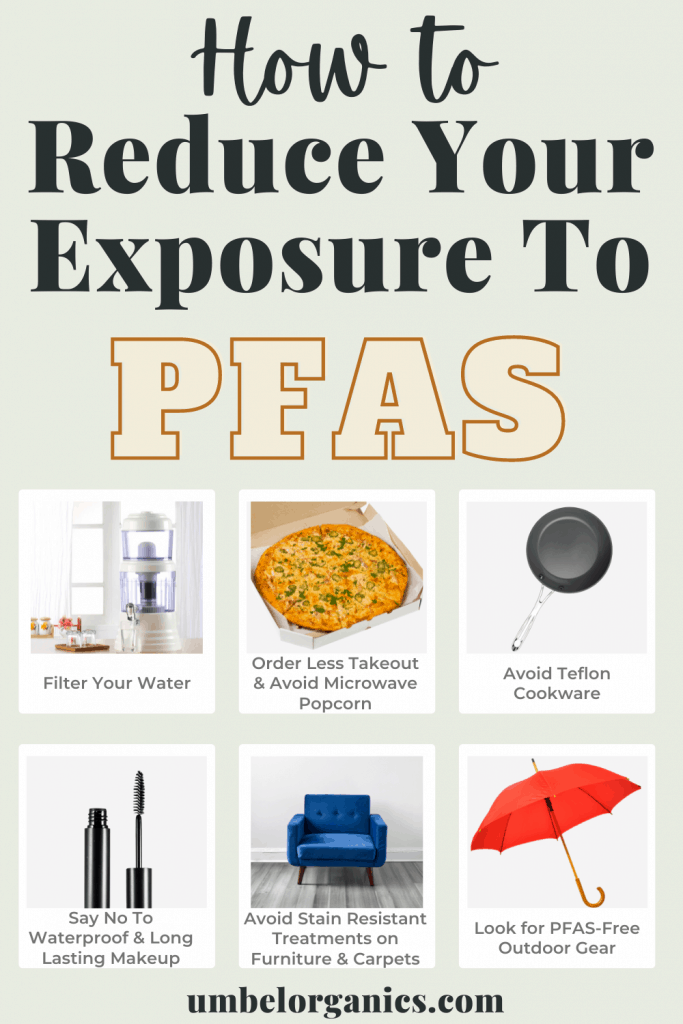 References
Whitehead, H. et al. Fluorinated Compounds in North American Cosmetics, Environ. Sci. Technol. 2021, June 15. doi.org/10.1021/acs.estlett.1c00240
ATSDR (Agency for Toxic Substances and Disease Registry) https://www.atsdr.cdc.gov/toxprofiledocs/index.html?id=1117&tid=237
The PFAS Project https://pfasproject.com/parkersburg-west-virginia/
Conley, J. et al. Adverse Maternal, Fetal, and Postnatal Effects of Hexafluoropropylene Oxide Dimer Acid (GenX) from Oral Gestational Exposure in Sprague-Dawley Rats. Environ. Health Perspect. 2019 Vol. 127, No. 3. doi: 10.1289/EHP4372