The Best Natural, Aluminum-Free Deodorant
Swap out your antiperspirant for natural deodorant without aluminum and other harmful chemicals. I'm sharing my favorite aluminum-free natural deodorant brands that are effective at controlling odor without blocking your pores.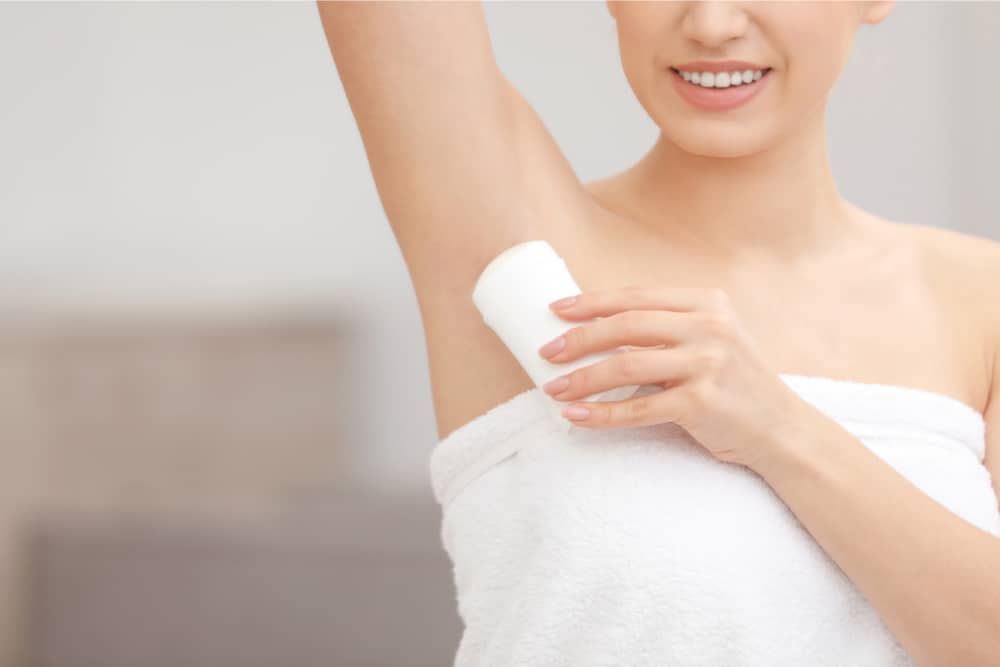 Disclosure: This post contains affiliate links, which means if you make a purchase through these links, we may receive a small commission at no extra cost to you.
I have a general rule of thumb for beauty and skin products that I use daily. I switch to a natural, clean, non-toxic version if it's a product I'm applying every day.
Skin is our biggest organ, and most of what we put on our skin is absorbed into the bloodstream. So why take chances?  Since I apply deodorant daily, usually to freshly shaven armpits, I don't want to expose my body to any unnecessary or harmful chemicals.
I've tested quite a few natural, aluminum-free deodorant brands, and I'm sharing my favorites. I've tested all of the brands below and they keep me odor-free and dry most or all of the time. Below the list of my favorite natural deodorant brands, I've got a Frequently Asked Questions section with an overview of body odor, what's wrong with conventional antiperspirant, ingredients to avoid and how to make the switch to natural deodorant, along with some other helpful questions and answers.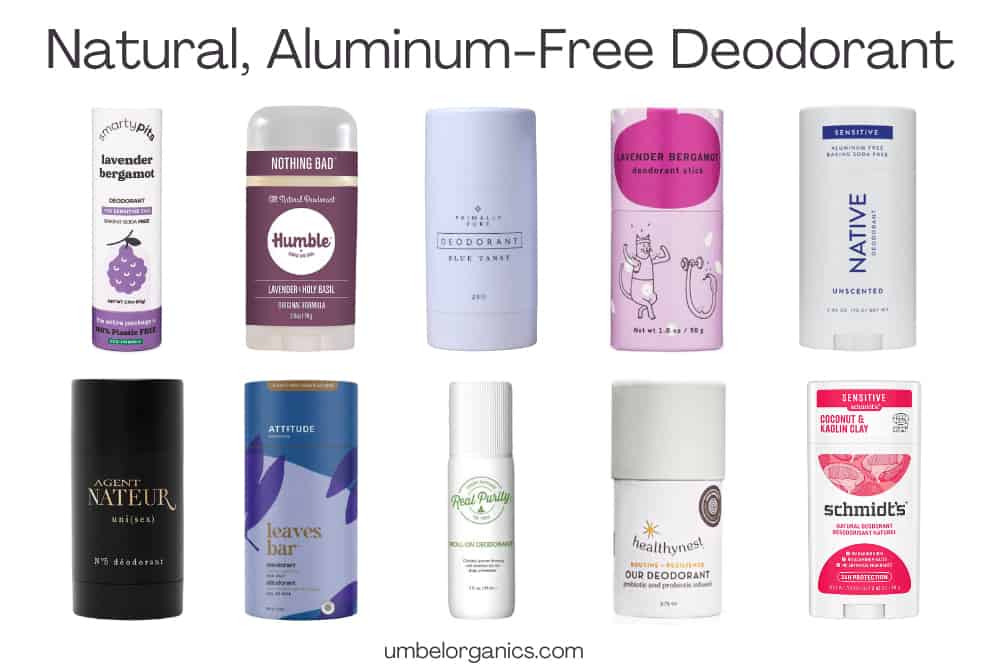 The Best Natural, Aluminum-Free Deodorant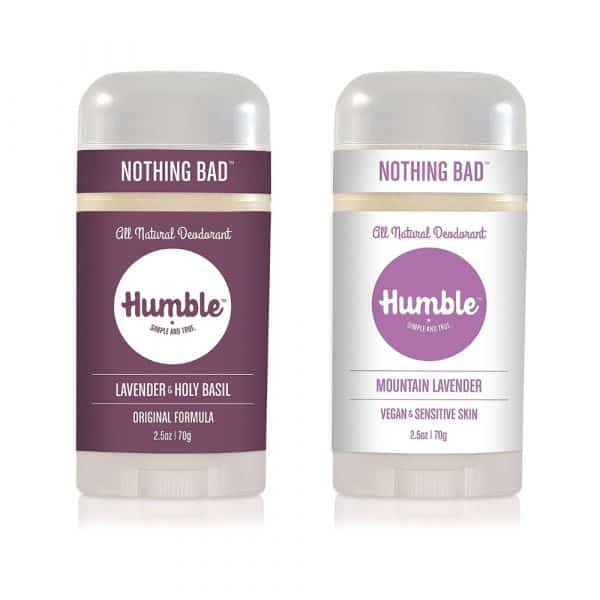 Humble Deodorant
Cost: $9.99 for 2.5 oz ($4.00 per ounce)
From the Humble website: Humble Deodorant is made with only the cleanest and simplest all natural ingredients so you can feel good about what goes on your body. Absolutely no aluminum, talc, parabens, or anything synthetic.
Tube: The full-size plastic containers are made with 75% post-consumer recycled (PCR) plastic.
Humble Original Formula Deodorant: This formula features 4 simple ingredients plus essential oils for scent. The Baking Soda Formula uses Non-GMO Corn Starch for dryness, baking soda for odor control, beeswax for texture, MCT Oil for hydration and essential oils & botanicals for scent.
Humble Vegan & Sensitive Skin Deodorant: If your underarm skin tends to be sensitive to baking soda, reacts easily, or you live a vegan lifestyle, try this vegan & sensitive skin formula. The Vegan & Sensitive Formula uses Non-GMO Corn Starch for dryness, magnesium hydroxide for odor control, wild candelilla wax for texture, MCT Oil for hydration and essential oils & botanicals for scent.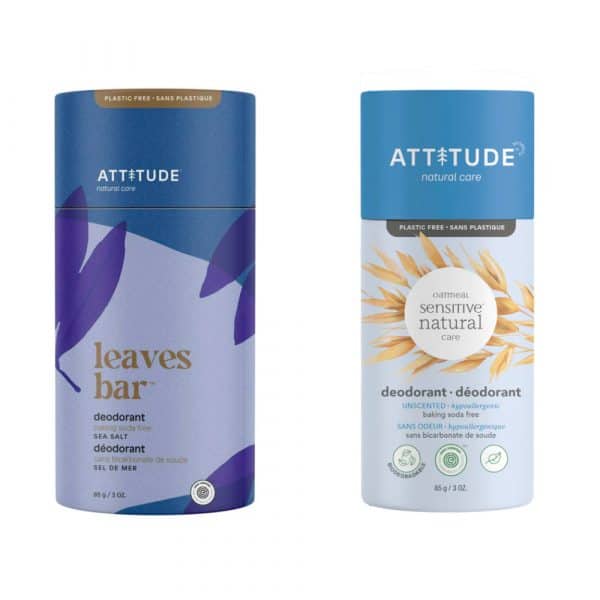 Attitude Deodorant
Cost: $10.95 for 3 oz ($3.65 per ounce)
From the Attitude website: All Attitude deodorants are plastic-free, aluminum-free, formulated with natural-based ingredients and optimized to perform. Attitude Plastic Free Deodorant is formulated to apply like a dream – with a smooth and non-greasy application… and it smells good!
Tube: Cardboard tube
Attitude Leaves Bar Deodorant: This plastic-free ATTITUDE leaves bar™ Deodorant is EWG VERIFIED™ and vegan, and it's designed to provide long-lasting protection and a soothing sensation without the use of aluminum or baking soda. White clay and magnesium hydroxide absorb moisture and prevent bad smells, and it glides on easily!
Attitude Sensitive Skin Deodorant: Attitude Plastic-Free Deodorant for Sensitive Skin is designed to provide long-lasting protection and a soothing sensation without aluminum or baking soda. Easy to apply, this creamy EWG VERIFIED™ deodorant glides easily on the skin, provides maximum hydration, and contains soothing, calming oatmeal.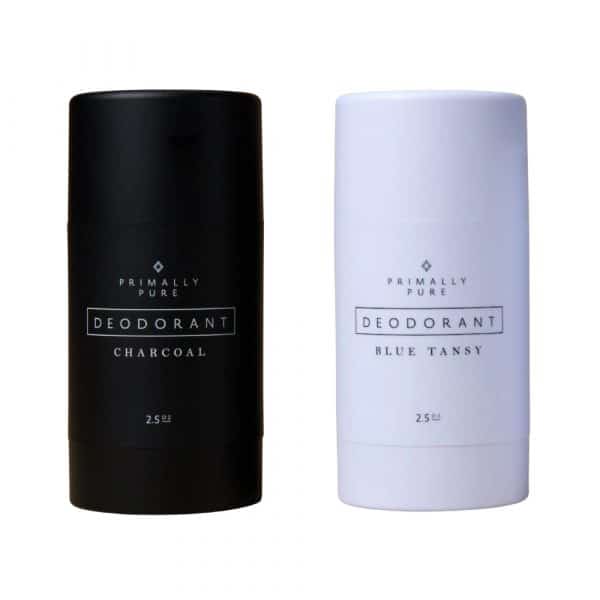 Primally Pure Deodorant
Cost: $16.00 for 1.7 oz ($9.41 per ounce)
From the Primally Pure website: Primally Pure Deodorant is made with good-for-you organic ingredients including grass-fed tallow, fair trade coconut oil, arrowroot powder, beeswax and essential oils (except unscented).
Tube: Plastic
Note: If you're vegan or vegetarian, this product won't work for you since it contains grass-fed tallow.
Primally Pure Charcoal Deodorant: Primally Pure aluminum-free natural charcoal deodorant contains a small amount of baking soda to combat odor and is fortified with kaolin clay (powerful detoxifier) and non-nano zinc oxide (soothes irritation). Made with other good-for-you organic ingredients including grass-fed tallow, fair trade coconut oil, arrowroot powder, beeswax and essential oils. Activated coconut charcoal contains added detoxifying benefits while also deodorizing and disinfecting. Goes on virtually clear and doesn't stain clothes.
Primally Pure Blue Tansy Deodorant: Blue Tansy Essential Oil powerfully combats inflammation, calms irritation and is potent in skin soothing properties. Goes on virtually clear and doesn't stain clothes.
Primally Pure Unscented Deodorant: The unscented sensitive deodorant effectively protects against unwanted odor + soothes sensitive pits without any essential oils.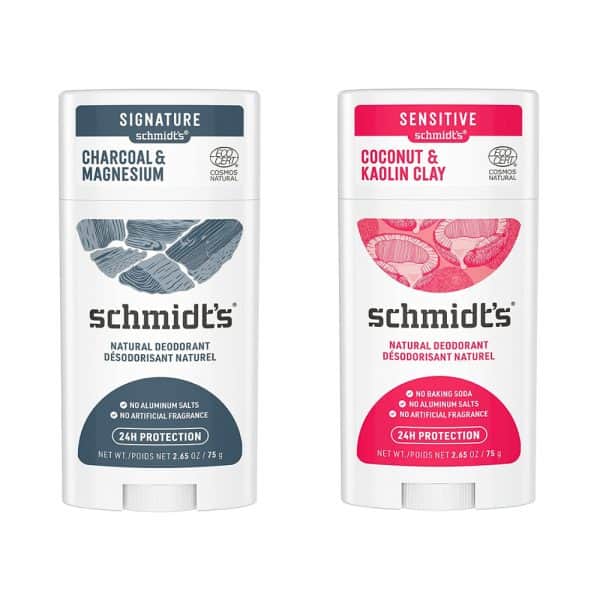 Schmidt's Deodorant
Cost: $9.47 for 2.65 oz ($3.57 per ounce)
From the Schmidt's website: Long-lasting, 48-hour odor protection made with essential oils — never artificial fragrance. Certified natural deodorant by EcoCert, Schmidt's Deodorant is formulated to be gentle on skin and go on smooth, using certified 100% natural origin ingredients. Schmidt's natural deodorant sticks help neutralize odor and keep you fresh with ingredients like shea butter, coconut oil, and essential oils.
Tube: Plastic
Schmidt's Deodorant With Baking Soda: This natural deodorant formula helps neutralize odor and keep you fresh, enriched with magnesium, and offers all-day 24 hour odor protection while being gentle on skin.
Schmidt's Sensitive Skin Deodorant: Schmidt's natural deodorant sticks made for sensitive skin help neutralize odor without baking soda and keep you fresh with ingredients like shea butter, coconut oil, and essential oils.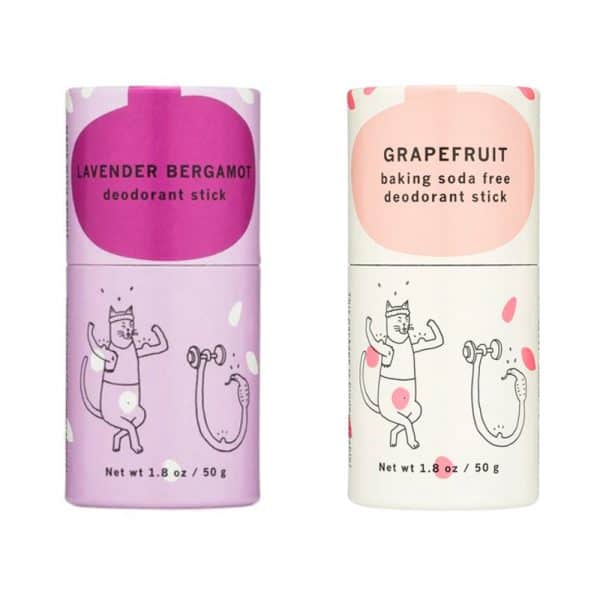 Meow Meow Tweet Deodorant
Cost: $14.00 for 1.8 oz ($7.78 per ounce)
From the Meow Meow Tweet website: Meow Meow Tweet Deodorant is a synergy of potent plant and mineral powders with essential oils that will keep you smelling oh-so fresh! Plus, it works to control odor!
Tube: Cardboard tube is 100% biodegradable and will compost in a year.
Meow Meow Tweet Deodorant With Baking Soda: Meow Meow Tweet's Deodorant Stick is a combination of sweet smelling essential oils and plant and mineral powders that effectively neutralize odor. Organic plant oils and butters hydrate and calm your sensitive underarm area, with only a touch of baking soda to kill stink-causing bacteria.
Meow Meow Tweet Deodorant For Sensitive Skin: This effective vegan all-natural deodorant stick is baking soda free for sensitive skin. A blend of potent plants and minerals comes together in a convenient biodegradable paper tube.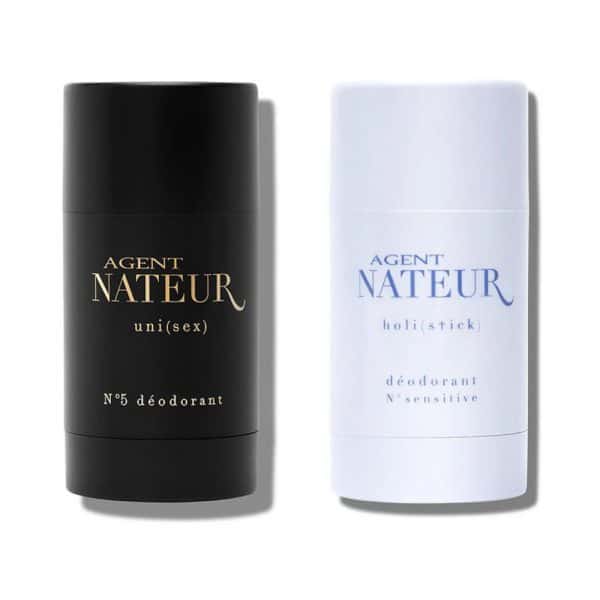 Agent Nateur Deodorant
Cost: $21 for 1.7 oz ($12.35 per ounce)
From the Agent Nateur website: Agent Nateur Deodorant is all natural, aluminum-free and contains no heavy metals. It prevents odor with a blend of essential oils and nourishes with coconut oil and avocado butter. Vegan, Non GMO, Gluten Free and Petrochemical Free.
Tube: Plastic
Agent Nateur Deodorant With Baking Soda: Contains nourishing oils, butters, and beeswax, and this formula is infused with aromatic essential oils to prevent odor and leave the skin feeling hydrated, soft and fresh.
Agent Nateur Sensitive Deodorant: This aluminum-free vegan deodorant was formulated with arrowroot powder for even the tenderest skin. This deodorant contains nourishing oils and butters that soothe dryness and essential oils of jasmine, bergamot, and sandalwood to create a balanced fragrance that prevents odor and soothes irritation.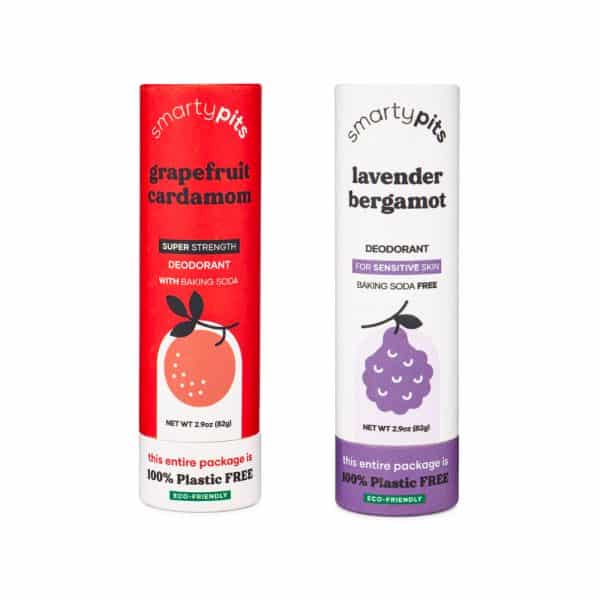 Smartypits Deodorant
Cost: $13.23 for 2.9 oz ($4.56 per ounce)
From the Smartypits website: Smartypits Sustainable Deodorant features a blend of vegetable-based powders and oils to help to absorb and wick away wetness, separating it from your skin with a moisturizing barrier. Mineral ingredients like magnesium neutralize the environment where the odor-causing bacteria thrives. Prebiotics (plant-based food for good bacteria) contribute to the biodiversity & strength of your skin microbiome.
Tube: The Smartypits sustainable line has a cardboard tube.
Smartypits Sustainable Deodorant With Baking Soda: The baking soda in the standard formula is the perfect option for controlling odor for those that don't have sensitive skin.
Smartypits Sustainable Deodorant For Sensitive Skin: The sensitive skin formula contains magnesium instead of baking soda.
Native Deodorant
Cost: $12.97 for 2.69 oz ($4.89 per ounce)
From the Native website: Native Deodorant is aluminum free and features naturally derived ingredients that are effective at providing all day odor protection. Native makes deodorant with ingredients you understand, you can focus on whatever your day has in store.
Tube: Plastic. Native also has a sustainable version of the baking soda deodorant, Native Plastic Free Deodorant.
Note: I only recommend the unscented deodorant, since Native does not disclose the ingredients on the scented versions.
Native Deodorant With Baking Soda: Contains coconut oil, shea butter, and baking soda and never aluminum, phthalates, or talc. This deodorant applies like a dream – a smooth, non-greasy application with no residue. You'll have effective odor protection all day long.
 Native Deodorant For Sensitive Skin: Formulated without baking soda for those with skin sensitivities.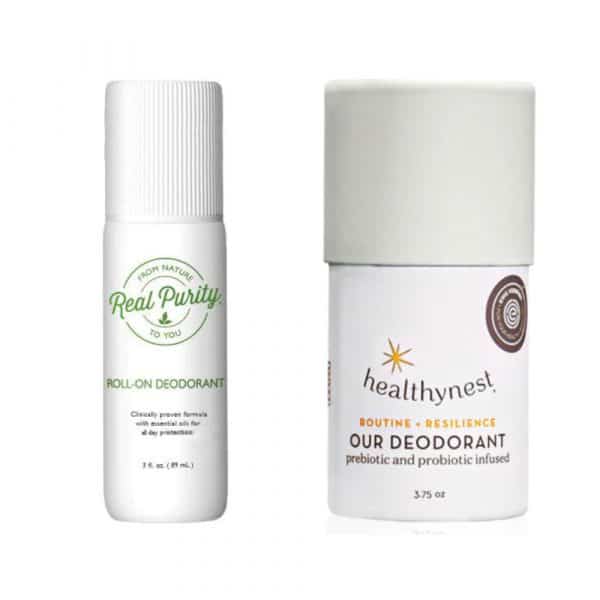 Real Purity Roll On Deodorant
Cost: $18.50 for 3 oz ($6.17 per ounce)
From the Real Purity website: Real Purity Roll On Deodorant is created with the most sensitive skin in mind, this quick drying formula will outlast even the muggiest, sweat-inducing activity. Pure essential oils provide a long-lasting, clean scent, while organic aloe and kosher vegetable glycerin keep your skin dry. Organic pure lavender essential oil eliminates odor without clogging your pores. Organic pure apricot oil keeps your skin dry and residue-free. Lavender and rosemary essential oils give you a fresh, clean scent.
Tube: Plastic
Real Purity Roll On Deodorant: This roll on formula is coconut oil free.
Healthynest Deodorant
Cost: $24 for 3.75 oz ($6.40 per ounce)
From the Healthynest website: Healthynest Deodorant was developed to be completely safe and effective for mom for during pregnancy and while nursing, when baby is exposed to the same chemicals as mom. Infused with pre-and-probiotics to support a healthy skin microbiome and manuka honey for its soothing, natural antibacterial properties, this deodorant is perfect for the whole family.
Tube: Plastic-Free cardboard tube
Healthynest Deodorant: Organic tapioca starch effectively absorbs moisture and reduces odor, and this formula is coconut oil free for stain-free application.
Frequently Asked Questions About Natural Deodorant
What Causes Underarm Body Odor?
Our bodies sweat when we exercise, to cool down from heat and when we're nervous or stressed. But sweat alone isn't what produces body odor. It's the interaction of sweat and bacteria on our skin that causes body odor. You've probably heard about the gut microbiome. We also have a bacterial microbiome on our skin.
In the underarm area, bacteria break down sweat, and the byproducts are compounds called thioalcohols. Thioalcohols produce body odor. We all try to avoid this stinky smell by using deodorant.
What's The Difference Between Antiperspirant & Deodorant?
Antiperspirant works by blocking sweat from leaving your body. The aluminum compounds in antiperspirant physically plug up the pores in your underarm so sweat can't escape. Without any sweat, bacteria have nothing to break down, so there's no odor.
Deodorant doesn't contain aluminum, so you'll still sweat with deodorant. It's designed to kill the bacteria that cause odor. It may also contain fragrance to mask smell. Deodorants also contain ingredients that absorb sweat and balance underarm pH levels. Conventional, non-natural deodorants contain synthetic fragrance and other chemicals that may adversely affect your health (see ingredient list below).
This is the perfect time to start using a natural deodorant with gentle yet effective ingredients.
How Does Natural Deodorant Work?
Instead of plugging up your pores, natural deodorant works to kill the bacteria present in your armpits. In a natural deodorant, look for:
Antibacterial ingredients: baking soda, coconut oil, hops extract and essential oils with antibacterial qualities (tea tree oil, lemongrass and rosemary are a few)
Sweat-absorbing ingredients: baking soda, arrowroot powder, cornstarch, kaolin clay and activated charcoal
Natural fragrance (essential oil blends): jasmine, bergamot, sandalwood, lavender, lemon, mint and rosemary are some examples.
pH altering ingredients: baking soda and cornstarch make the environment more hostile to bacterial growth.
Binder ingredients (common in stick deodorants): vegetable glycerin and natural waxes (like beeswax and candelilla wax)
Natural preservative ingredients: Vitamin E (tocopherol)
What Ingredients Should I Worry About In Conventional Antiperspirant & Deodorant?
Is There A Detox Phase?
I've been wearing natural deodorant for so long that I don't remember a detox phase, but from everything I've researched, it takes between 2-4 weeks to transition from an antiperspirant to a natural deodorant. Why? Aluminum compounds in antiperspirant act as plugs in each of the pores in your armpit. This gel-like plug literally stops you from sweating by blocking your pores.
Once you stop using antiperspirant, you'll start to sweat again, maybe even more than usual. Don't worry—this is just a phase and it won't last forever! Our bodies are designed to sweat as a means of cooling down and detoxing, and sweating is a necessary bodily function! Your system will balance out after a few weeks.
During the detox phase, there are many products that claim to detox the armpit, draw aluminum out of the pores, and remove bad bacteria. These products usually contain absorbent clay or charcoal. I've never tried a detox mask under my arm, but if you're experiencing intense body odor during the detox phase, it wouldn't hurt to try it.
You may also need to refresh with deodorant wipes throughout the day if you notice odor. Reapply deodorant after using a wipe.
IF you've been using a non-natural deodorant (not antiperspirant), the switch to a more natural brand is easier.
Will My Shirts Turn Yellow Under The Arms?
Most likely no. I have never experienced the yellowing of fabric in all my years of using natural and organic deodorants. One reason that fabric in the underarm area can yellow is from the reaction of antiperspirant, underarm sweat and skin bacteria.
Yellowing of fabric can occur from stress sweat too. Stress sweat produces a potent, milky kind of sweat that may cause yellow stains on certain fabric (yuck).
Wash shirts with sweat stains right away! Don't leave sweaty shirts at the bottom of your hamper. Make sure to launder as soon as possible and the stains should come out.
Does Natural Deodorant Rub Off On Clothing?
I put on a tight fitting black t-shirt right after applying a few swipes of Native unscented stick deodorant. The stick is a solid white color, and my black shirt was not covered in white smears. At most all I could see was a very faint, small white smudge on the side of the shirt. I actually had to look for it.
I dampened a washcloth, making sure to squeeze out most of the moisture, and dabbed at the white smudge. That was enough to remove it.
Can People With Sensitive Skin Use Natural Deodorant?
I have the most sensitive skin on my face, so I was worried that I'd have a bad reaction to natural deodorant. But for me, I've personally had no problems with natural deodorant. Baking soda is a big culprit in causing skin rashes, irritation and redness on sensitive underarm skin.
Essential oils are also a common culprit in causing allergic reactions on underarm skin. Either choose an unscented deodorant or try chamomile or calendula essential oils, which are safer for sensitive skin types.
Native Deodorant has a line of deodorant for sensitive skin. Meow Meow Tweet has a stick deodorant for sensitive skin with arrowroot powder- it's what I'm using now and I'm loving it!
Does Natural Deodorant Ever Stop Working?
Yes, and this has happened to me with the Primally Pure deodorant. I had ZERO odor for 4 months, and then I noticed that I was starting to smell. Not horribly, but enough that my own body odor was occasionally wafting by my nose. So I did some research to find out why this was happening. I had just gotten my period and was also going through a really stressful time.
Here's what I learned: hormonal fluctuations caused by your menstrual cycle, pregnancy, menopause, and stress can change your body odor. The sweat caused by stress creates a stinkier sweat than exercise sweat.
Stress sweat, as well as sweat produced by hormonal changes, is excreted by the apocrine glands, which are located near hair follicles found in the armpits and groin area. The sweat excreted from the apocrine glands contains proteins and fat. When this sweat reacts with the bacteria that naturally lives on the skin, the byproduct really smells.
Medication has been known to change your body odor. If you are on antibiotics, certain allergy medications, antidepressants and even Tylenol, this can cause your body odor to change.
Change in diet can also affect body odor. Are you eating more highly processed foods, red meat, or drinking more alcohol?
What did I do about it? I switched brands. You can try to switch back and see if the original brand works again after giving it some time.
Other Tips For Keeping Body Odor At Bay
Start with an unscented natural deodorant. You'll get a better idea of what brands work and don't work on you without masking underlying odor with essential oils.
Bathe on a regular basis. Washing regulates the bacterial count on your skin and helps keep unpleasant smells in check.
Worried about smell on-the-go? Stash a pack of EO Lavender Deodorant Wipes and a travel size Native deodorant in your bag before heading out. If you start to notice body odor, head into a bathroom and wipe your underarms with deodorant wipes, then apply travel sized deodorant to keep odor under control.
If you have sensitive skin, shave at night and apply deodorant in the morning. Make sure the deodorant is warm to prevent friction and dab instead of swipe if your skin is super sensitive. Switch to a sensitive formula without baking soda if a rash persists.
Diet-induced body odor is a real thing. Alcohol, red meat, fish, highly processed foods, cruciferous veggies like broccoli, onions & garlic and spices like curry can increase your body odor. Eat plenty of leafy greens!
Different people have different bacteria making a home on their skin—your body odor is unique to you. Managing body odor is equally individualized, so what works for one person may not work for another.
Does Natural Deodorant Dry Clear?
It's dries more like a translucent white. I swipe with an up and down stroke and I'm done (no need to apply a ton). When I wear a tank top, my underarms never have a white cast from deodorant. You can always use your fingers to rub the deodorant in if you're concerned.
More Clean Skincare Inspiration