The Best Non-Toxic Swaps For Teens
Conventional products for teens may contain harmful ingredients that disrupt hormones. I'm sharing all of the best non-toxic swaps for teens so you can create a healthy home environment for your teenagers.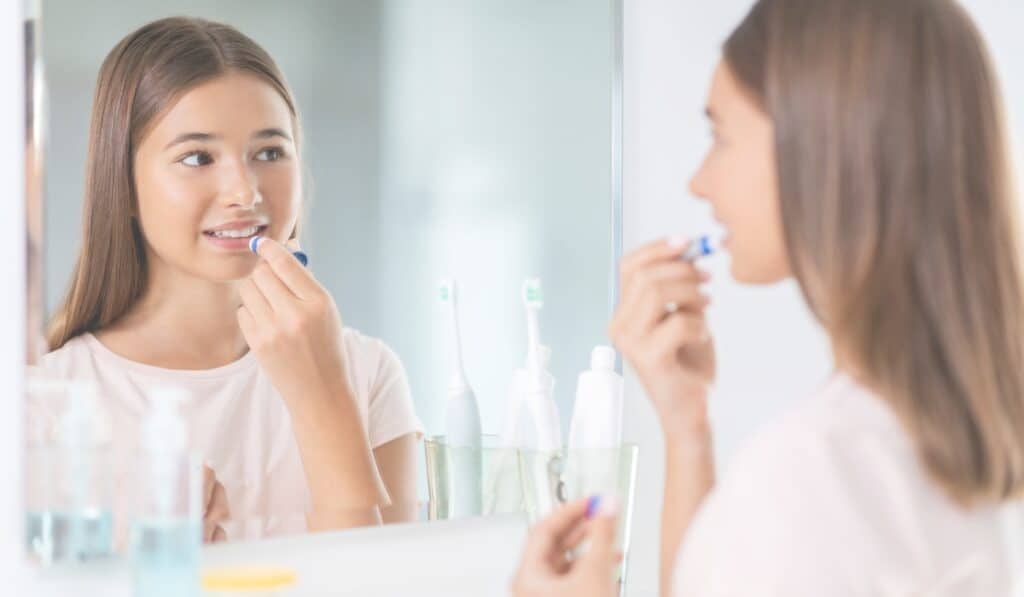 Disclosure: This post contains affiliate links, which means if you make a purchase through these links, we may receive a small commission at no extra cost to you.
Why Non-Toxic Swaps Matter
As a mom of 2 teen girls, I'm definitely aware that teens use more personal care products than their younger counterparts. The Environmental Working Group (EWG) found that teen girls use 17 personal care products a day on average, compared with 12 used by adult women. Some of the ingredients in conventional personal care products can put teens at risk of hormone-related health issues due to the endocrine disrupting chemicals that are added to formulations, especially synthetic fragrance and additives like BHA. 
In a UC Berkeley study of 100 adolescent girls, researchers measured levels of phthalates, parabens, triclosan and BP-3 in urine samples. After the study subjects used personal care and cosmetic products free of these chemicals, urine samples were taken again. The concentrations of these chemicals were reduced by up to 45% after just 3 days using products free from phthalates, parabens, triclosan and BP-3.
The chemicals detected in the blood of the adolescent girls are all endocrine disruptors. Endocrine disruptors either mimic, alter, or change the normal hormone levels in the body. The endocrine system produces hormones that regulate the reproductive system, and during the teenage years, it's more important than ever to make sure that the endocrine system is working properly in this tightly regulated system.  
Hormones play an important role in the way the body properly functions, and any disruption to the endocrine system or to hormone production, distribution or signaling can cause a wide range of health issues. Some of these health issues include: Reproductive abnormalities, Increased risk of developing cancer, Obesity, Attention and Behavioral problems in children, Asthma, Reproductive/Fertility problems, Diabetes, Autoimmune disorders.
The takeaway from the UC Berkeley study and teen hormone disruption is that the simple act of swapping out products with endocrine disruptors for non-toxic products can decrease levels of harmful chemicals in the body in a just short amount of time. Below I'm sharing my favorite non-toxic swaps for teens. Offer your teens non-toxic products to keep them as healthy as possible!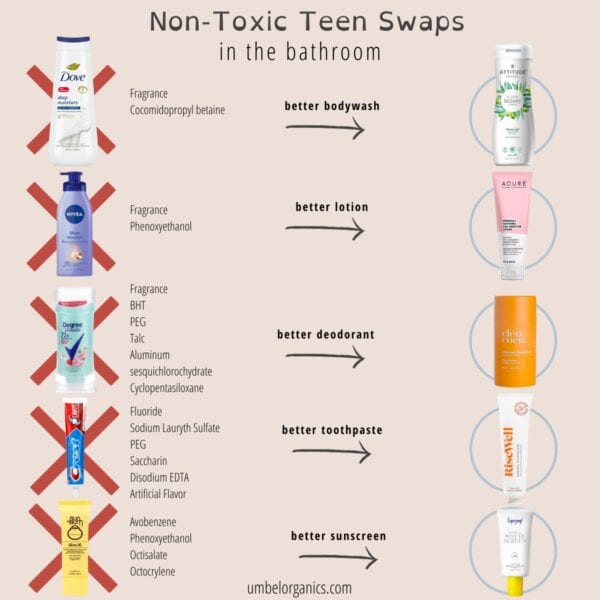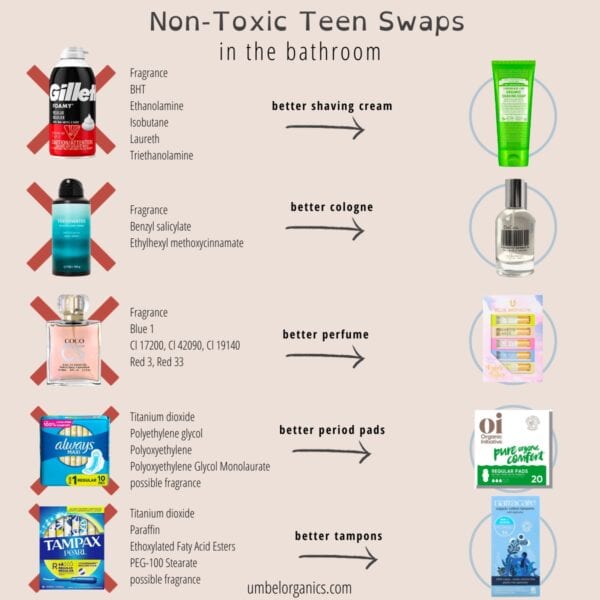 More Non-Toxic Swaps In The Bathroom
Over the last 30 years, the age of puberty onset in girls has decreased globally. It is theorized that the developing reproductive system is highly sensitive to endocrine disrupting chemicals, and that these endocrine disrupting chemicals play a role in the shift of pubertal timing. 
It's important for teens to avoid products that contain ingredients that can cause adverse health issues. An easy place to start is by checking your teen's products in the bathroom. Here is a list of ingredients to look out for and avoid: parabens, phthalates, BHT, fragrance, EDTA, Talc, PEG, Phenoxyethanol, Polysorbate and chemical sunscreen ingredients (Avobenzene, Octisalate, Octocrylene). The products below are free from endocrine disrupting chemicals.
Swap out conventional products in the bathroom for these non-toxic teen products:
Dr. Bronner's Organic Shaving Soap
DedCool Unisex Fragrance
Ellis Brooklyn Fairy Tales Rollerball Eau de Parfum Set
Organic Initiative Menstrual Products
Natracare Organic Menstrual Products
Although women's skincare seems to get all of the focus, there are many great non-toxic skincare products for men too. 
Conventional period pads and tampons contain a laundry list of potentially toxic chemicals. This chronic exposure over time to chemicals in pads and tampons may be harmful to a woman's health. Period pads and tampons may contain dioxins, phthalates, synthetic fragrance, and Volatile Organic Compounds (VOCs). Teen girls should be using organic period pads and organic tampons.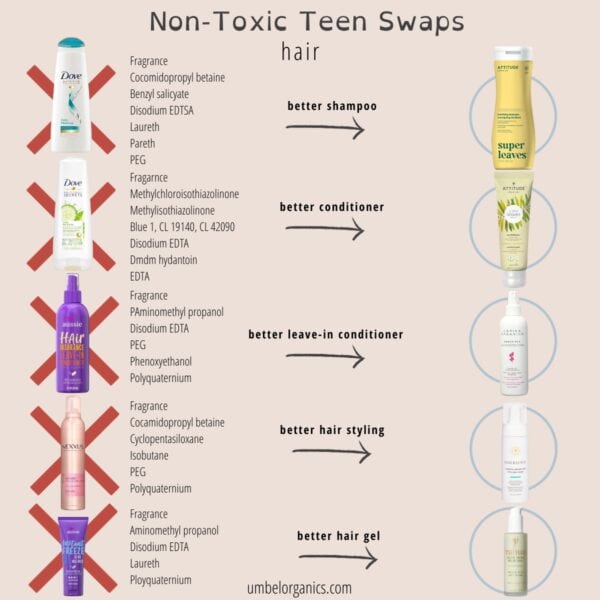 Non-Toxic Hair Swaps For Teens
Have you checked your teen's shampoo ingredients? Harsh ingredients like sulfates can strip your hair and scalp of natural oils, some chemicals commonly found in haircare products, such as Parabens, sulfates, and formaldehyde-releasing preservatives, have been linked to skin irritation, allergic reactions, hormonal disruptions, and other health concerns.
Opting for haircare products for your teen with non-toxic ingredients can help them maintain healthy hair while avoiding harmful chemicals. Swap out conventional hair products in the bathroom for these non-toxic hair products:
Attitude Clarifying Shampoo
Attitude Clarifying Conditioner
Carina Organics Leave-In Conditioner
Innersense Styling Foam
Rahua Aloe Vera Hair Gel
From thin hair to thick hair to curly hair, there are some amazing non-toxic shampoo brands on the market today. Beyond shampoo, non-toxic leave-in conditioner is an important component to healthy hair without the harmful chemicals.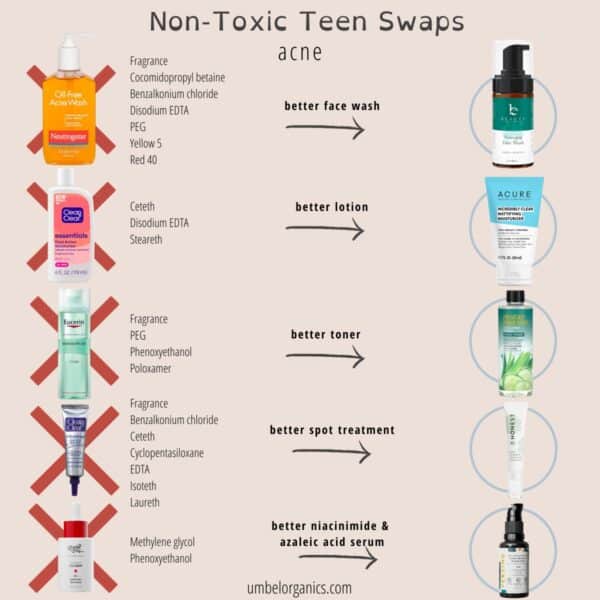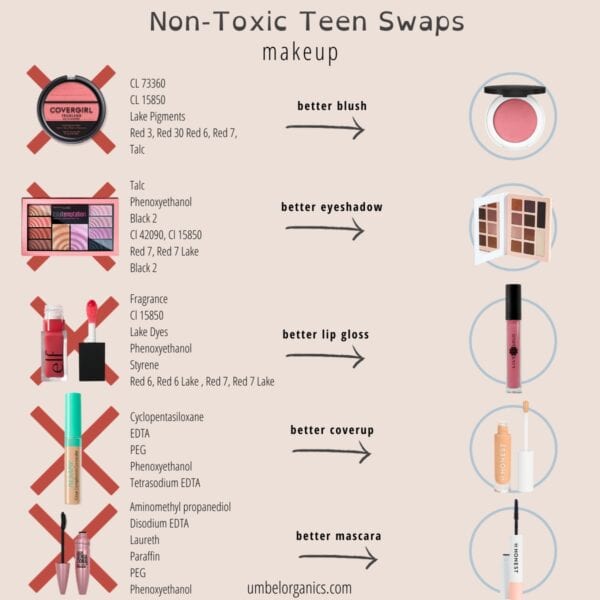 Non-Toxic Makeup Swaps For Teens
The Environmental Working Group (EWG) tested blood and urine samples from 20 teenage girls, ages 14-19. The teens had an average of 13 hormone-altering cosmetics chemicals in their bodies, including phthalates, triclosan, parabens, and musks. If you consider the amount of cosmetics a teenage girl (unisex as well) might apply daily, it can really add up. 
All of the drugstore makeup above contains ingredients that may be harmful to human health, including talc. Talc can contain asbestos, which is a highly carcinogenic compound. It is so important for the health of our teens to swap out makeup with harmful ingredients for makeup that doesn't contain ingredients that can cause cancer and disrupt their hormones. 
Here are some non-toxic makeup options for teens that are budget-friendly too:
Lily Lolo Pressed Blush
Honest Beauty Eyeshadow Palette
Lily Lolo Lip Gloss
Honest Fresh Flex Concealer
Honest Beauty Extreme Length Mascara and Lash Primer
Not all clean beauty will break the bank. I've found non-toxic makeup that's budget-friendly and perfect for teens. Beyond makeup, there are budget-friendly non-toxic face wash and non-toxic face lotion that are all under $30.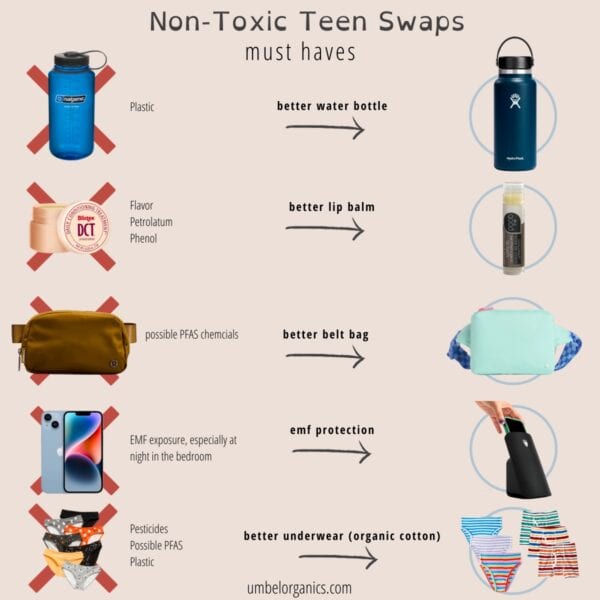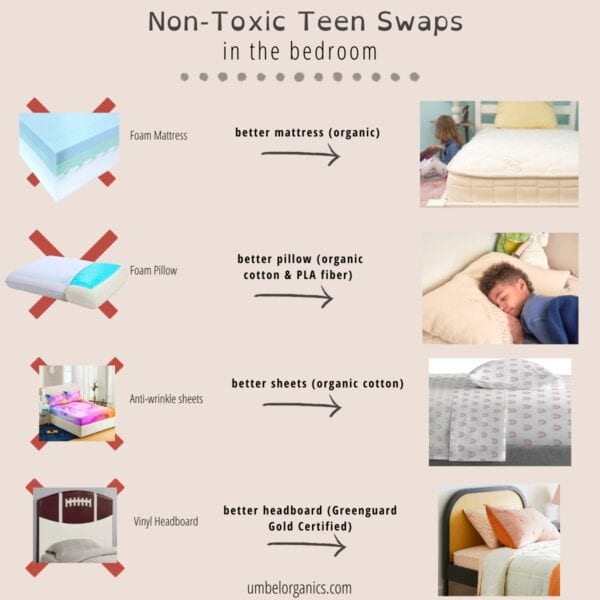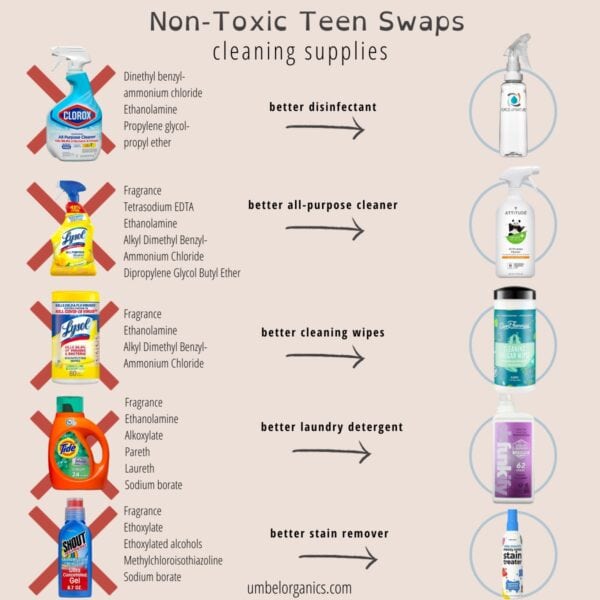 More Non-Toxic Inspiration For Teens