Clean & Natural Skin Care For Acne $25 & Under
Whether you're a teen, tween, or adult suffering from acne, this roundup of affordable, non-toxic, clean, natural and organic skin care is perfect for acne-prone skin. From face wash to moisturizer to blemish spot treatment to toner and masks, I've got a list of budget-friendly clean, natural, organic and non-toxic skin care products formulated for acne-prone skin. Everything is $25 & under!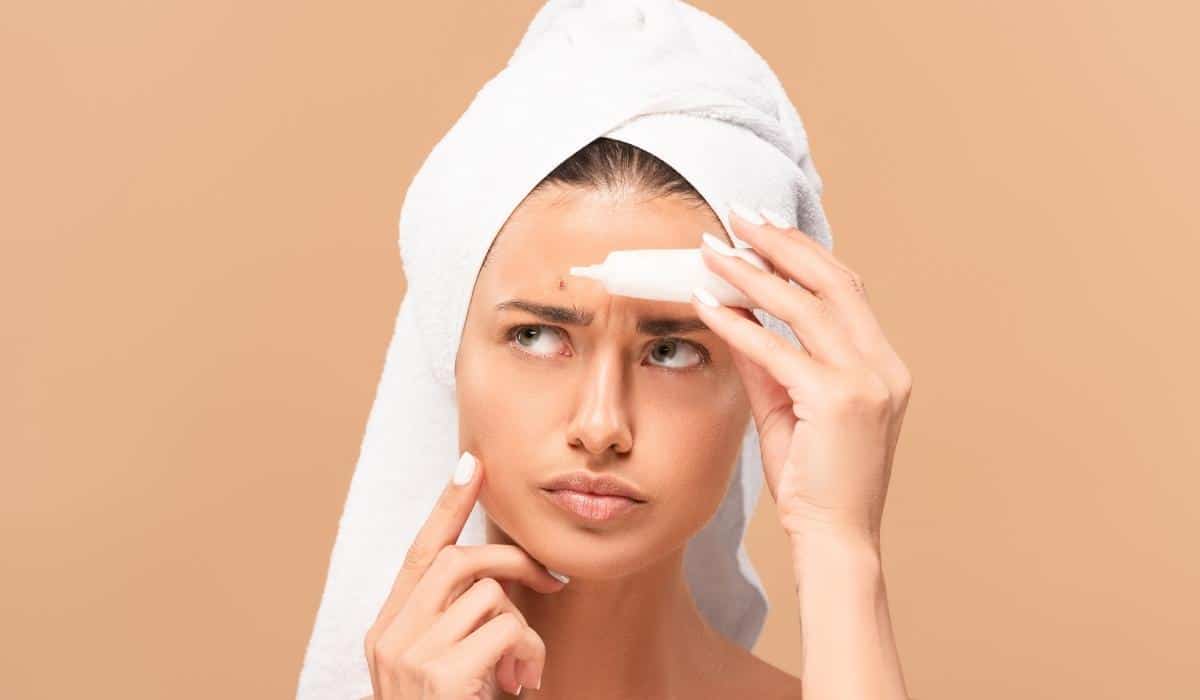 Disclosure: This post contains affiliate links, which means if you make a purchase through these links, we may receive a small commission at no extra cost to you.
With 2 teenage girls in the house, we've been trying to tame acne breakouts for well over a year now. It's been a slow and frustrating journey, and we've learned a lot along the way. I have a bunch of tips and tricks that may help you or your teen clear up acne. In severe acne cases, I recommend seeing a dermatologist.
For light to medium acne, I've rounded up affordable skin care products that don't contain synthetic fragrance, parabens and other potentially harmful chemicals. From face wash to moisturizer to blemish spot treatment to toner and masks, you'll find everything you need to clear up your skin from breakouts. Read my TIPS FOR REDUCING & PREVENTING ACNE section for best results.
What Order Should I Apply My Skincare For Best Results?
Before using a skin care product, read the label and follow the instructions. The general order for an acne skin care routine is as follows:
If using micellar water to remove makeup, apply first (this step is not totally necessary)
Cleanse your skin
Use a toner
Apply acne treatment
Apply moisturizer
Apply sunscreen in the morning
If using blemish patches, apply them at the end of your skin care routine. My daughter wears these hydrocolloid patches all day, then changes them out at night (it is the only thing that keeps her from picking).
Treatment masks for your face should not be applied every day (unless otherwise directed). I would recommend using a face mask treatment about once per week, and watch for any adverse reactions like red spots or dry patches. Before applying a face treatment mask, wash your face thoroughly to remove makeup and impurities, then apply a toner to enhance product penetration. Follow the instructions for applying your face mask – every brand is different, and you don't want to leave it on too long.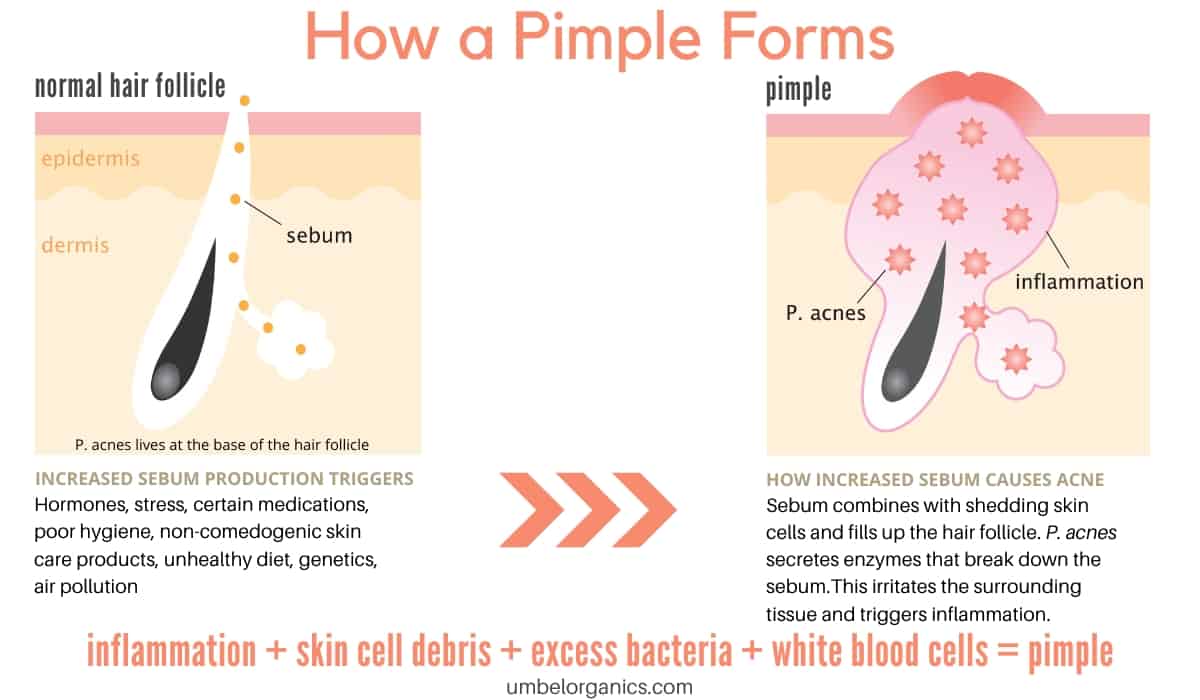 Tips For Reducing & Preventing Acne
Keep it simple with your skin care products. Too many products can irritate your skin.
DON'T over-scrub or over-exfoliate your skin (that goes for battery-operated scrubbers too). You may be tempted to try and scrub your acne away, but that will only make it worse. You don't want to remove your protective skin barrier or disrupt your skin's microbiome. Just like your gut and your mouth, your skin has a microbiome.
DON'T try every DIY face mask and scrub you see on the internet. My daughter read that scrubbing baking soda on your face gave you vibrant, acne-free skin. Not true!! See my point about the microbiome above. My daughter ended up with even worse acne, and it took a long time to balance her skin out.
Keep your face clean (or other areas affected by acne). Wash your face after exercising.
If you have greasy hair, shower daily. This has really decreased my daughter's acne. Find my favorite clean & natural shampoo brands here. If you can't shower, use dry shampoo to absorb hair grease.
DON'T pick or pop! This leads to more inflammation and possibly infection and permanent scarring. Plus, your hands have oils and bacteria on them that can be transferred to your face, making the situation worse. I highly recommend using zit patches, even during the day, to discourage picking.
Always wash your hands right before you apply any skin care products or makeup.
Wash your pillowcase often.
Wash your makeup brushes often.
Change out your towels and washcloths often. Gently pat your face dry.
Don't use face products, laundry detergent or dryer sheets with irritating fragrance.
Use an Ice Roller on your face every day for about 10 minutes. This makes my daughter's face look really refreshed and seems to keep her acne under control. Wash the Ice Roller thoroughly before putting it back in the freezer.
Eat a balanced diet (with plenty of fruits and vegetables), but don't beat yourself up if it's not perfect. Diet is only one part of the equation, and teens in particular should not be totally restricting themselves from pizza parties with friends and an occasional piece of cake!
Stay well hydrated.
Don't rush into buying every acne product out there to solve the problem. Start with one or two products and see how that goes for a few weeks.
If you're someone who talks on the phone a lot, keeping your phone next to the skin can cause irritation, which in turn can lead to acne. Try speakerphone, and clean your phone daily with an alcohol wipe.
Your hair products could be giving you hairline acne. Refrain from using hair products (other than shampoo and conditioner) for a few weeks to see if this reduces breakouts around the hairline. If hair products are a must for you, try switching to a gentle, unscented brand.
Try to reduce stressors and get enough sleep.
For severe acne, please see a dermatologist.
My daughter has had really good results banishing her acne with the Theraclear laser. Her dermatologist has a laser center associated with their office, and a nurse or aesthetician can perform the procedure. If your dermatology office is training a new technician, as this may cut costs significantly (we have done this with great results).
I've rounded up affordable clean, non-toxic, natural face products formulated for acne-prone skin, and they're all $25 and under! Swap out your conventional skin care products for a more natural brand that treats and controls acne and nurtures your skin – one that makes your face feel great! *Cost was calculated at the time this article was published, and is subject to change.
More Clean Beauty Inspiration