2023 Holiday Gift Guide
If you're looking for gift ideas for your whole family, there's a little something for everyone in this holiday gift guide. From babies to kids to teens to adults, this holiday gift guide has just what you're looking for!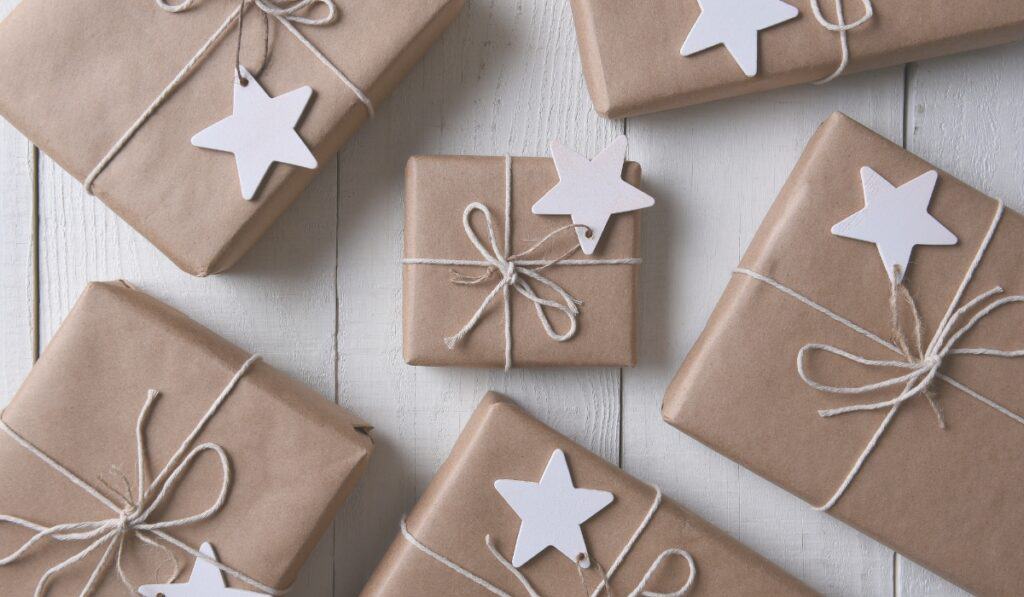 Disclosure: This post contains affiliate links, which means if you make a purchase through these links, we may receive a small commission at no extra cost to you.
If you're stumped for gift ideas this holiday season, I've got you covered! From the beginning of the New Year until now, I've been scouring the internet for all the greatest gifts. When it comes to babies, kids, teens and adults, you'll find something for everyone in this guide. 
Whether you're looking for a gift for your kids, husband or wife, sister or brother, mother or mother-in-law, treat them to any of the special gifts from my curated holiday gift guide. I've looked high and low for the best holiday gifts for everyone in the family, and you'll find presents for hosts, homebodies, relatives, kids and those that are hard to shop for.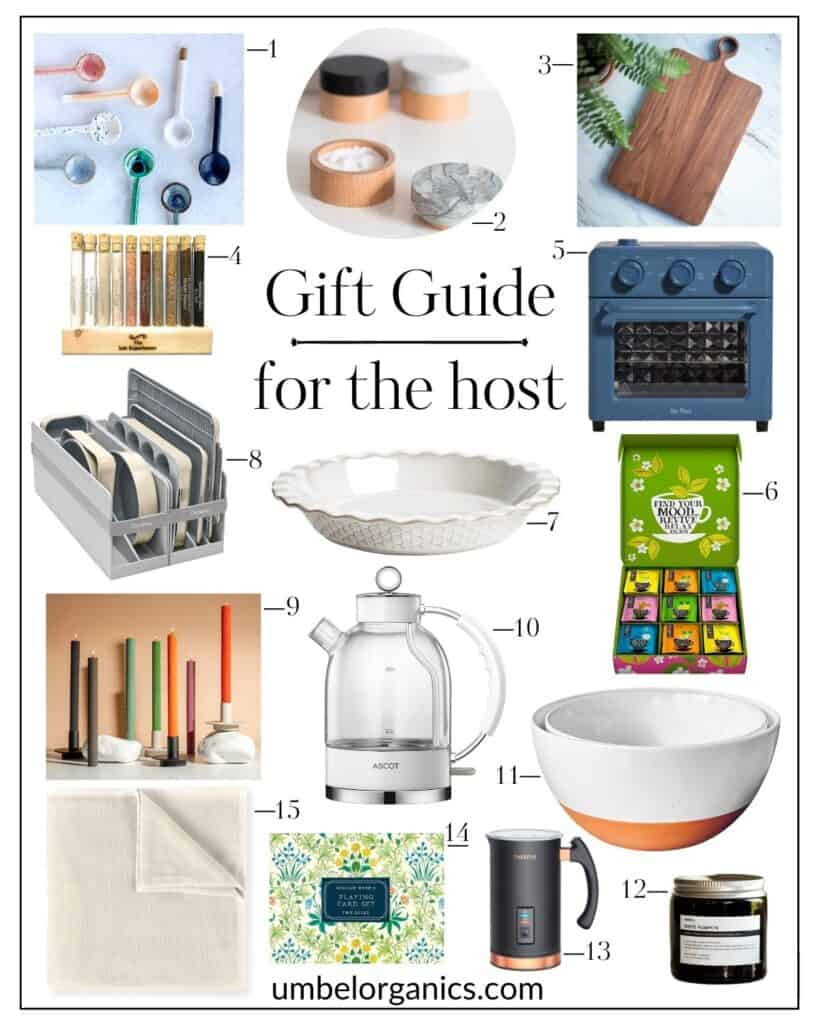 1// Ceramic Spoons– perfect for scooping sugar or salt.
2// Marble & Wood Salt Jar– a gorgeous way to store salt or spices.
3// Walnut Farmhouse Cutting Board– handcrafted from solid wood.
4// Gourmet Salt Sampler– 10 Delicious, Natural Finishing Salts from across the Globe!
5// Our Place Wonder Oven– 6-in-1 air fryer and toaster oven with steam infusion- PFAS-free.
6// Clipper Organic Tea Sampler– 7 tea flavors that are USDA Organic Certified, Non-GMO, Fair-Trade Certified, B-Corp Certified.
7// Le Tauci Ceramic Pie Pan– Lead-free non-toxic bakeware designed by Joanna Gaines.
8// Caraway 11-Piece Bakeware Set– This set includes 11 pieces, all featuring a toxin-free ceramic surface.
9// Tall Beeswax Candles– hand-rolled with 100% pure natural beeswax.
10// Ascot Glass Electric Tea Kettle– a stylish borosilicate glass tea kettle with Scandinavian roots.
11// Mora Ceramics Stacked Mixing Bowls– durable stoneware that's both stylish and functional.
12// Terralite Candles– formulated with the purest essential oils, plant extracts, grain and fruit waxes. 
13// Electric Milk Frother– whip milk into hot dense foam, hot airy foam, or cold froth, for a delicious velvety-smooth coffee.
14// William Morris Playing Card Set– The William Morris Playing Card Set features two standard size decks of playing cards in the famous Celandine and Seaweed designs.
15// Peacock Alley Cotton Throw Blanket– Standard 100 by OEKO-TEX Certified. Made from luxurious 100% long-staple cotton imported from Portugal and finished with a textured binding on all four sides for an elegant, tailored finish.
1// Jolie Filtered Showerhead– The Jolie Filtered Showerhead removes chlorine, heavy metals & other contaminants from your shower water — to improve your skin, hair and wellbeing.
2// Burton Women's Sapphire Gloves– Fleece fabric with teddy fur keeps your hands warm and dry while touchscreen-compatible Screen Grab® technology keeps you connected.
3// Alpyn Beauty Plumping Lip Mask– A silky, hydrating mask rich in hyaluronic acid and sweet agave for smooth and supple lips.
4// Henne Luxury Hand Cream– This elegant hand cream is fast-absorbing and hydrates the driest of hands.
5// Beyond Yoga Women's Moto Sherpa Jacket– Built with ultra cozy Sherpa Fleece and designed with a classic fleece zip-up design, this jacket is perfect for chilly days on the town.
6// Peridot Ring– A lovely little gift.
7// Goop Beauty Peptide Serum– Peptides are all the rage in skincare! Gwyneth teamed up with plastic surgeon Dr. Julius Few to create this winning non-toxic face serum.
8// Mara Sea Silk Lip Trio– deeply hydrates, plumps, and soothes dry, chapped lips. Included are two new shades, Nude Beach (pink mauve) and Toasty Rouge (warm red). Nourishing mango, shea and bacuri butters gives you a great application glide.
9// Lydia Oval Initial Bracelet– pair it with a Personalized Necklace.
10// CurrentBody LED Light Therapy Face Mask– This device combines Red (633nm) and near Infra-Red Light (830nm). Harnessed at the perfect measurement to rejuvenate the skin, these two wavelengths work below the skin's surface to stimulate the natural rejuvenation process, creating a complexion that is visibly glowing and noticeably healthier looking.
11// Leather Tote Bag– This satchel bag is spacious enough to carry your laptop but simple and elegant in design. 
12// Weezie Organic Makeup Towels– Set includes one Spa Headband (25×3 inches) and a pair of Eyelid Makeup Towels (13×13 inches). Makeup Towels are made in Portugal with 100% organic long-staple cotton.
13// Olukai Women's Pupa Mua Slippers– Wrapped in genuine fuzzy shearling, every step will surround you with softness.
14// Amber Night Reading Light– Read at night without disrupting your sleep. This mini reading light helps preserve your body's natural melanin production
15// 100 Ways To Change Your Life– Podcaster Liz Moody offers powerful, habit-building tips across subjects ranging from mental health, careers, relationships, confidence, and physical health in 100 fun-to-read, easy-to-digest parts that provide highly actionable tools and mindset-shifting ideas that will change every part of your life.
16// Quince Wide Leg Fleece Pants– Super soft eco-fleece provides next-level comfort . Pair with Quince Fleece Pullover Hoodie.
17// Cashmere Scarf– Comes in several color combinations.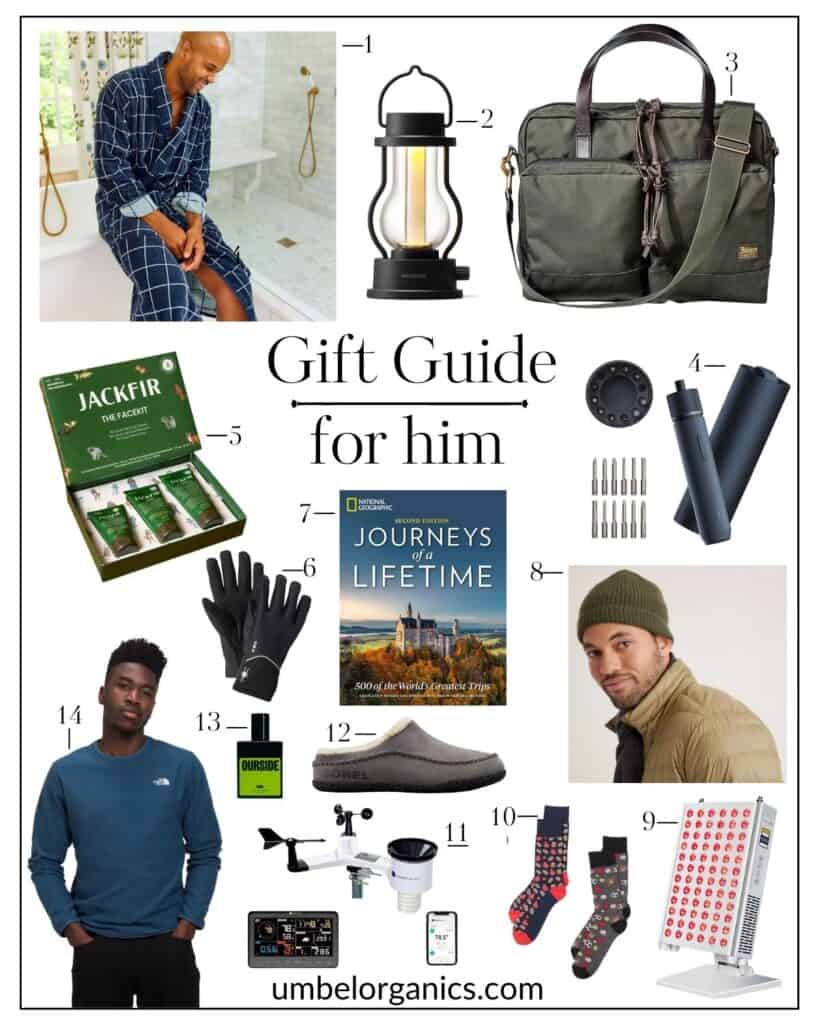 1// Weezie Men's Plush Organic Robe– features a smooth, velour-like exterior lined with traditional terry. Made in Portugal with 100% organic long-staple cotton. Hypoallergenic, low linting and OEKO-TEX® certified.
2// Balmuda Rechargeable Lantern– Changes from a fluctuating candlelight to an amber glow, and then to a warm white light.
3// Filson Dryden Briefcase– This versatile briefcase is made of abrasion-resistant 1000D Cordura® nylon that holds up to heavy use. A padded sleeve fits laptops up to 15".
4// Electric Cordless Screwdriver Set– I bought this for Father's Day for Jeremy and he said it's one of the best gifts he's received.
5// Jackfir Facekit– This clean skincare bundle contains a daily facial cleanser, a shave cream, and a daily facial moisturizer.
6// Smartwool Men's Fleece-Lined Gloves– Soft-brushed Merino and additional back-of-hand insulation give you even more comfort, warmth, and protection from the elements.
7// Journeys Of A Lifetime– 500 of the World's Greatest Trips from National Geographic. 
8// Quince Men's Cashmere Beanie– A sustainable and stylish way to keep his head warm.
9// Mito Adapt 2.0 Red Light– With 4 scientifically-backed wavelengths and 11 possible modes.
10// Pact Men's Organic Socks– Made of GOTS certified organic cotton, nylon and elastane.
11// Ambient Smart Weather Station– Wireless all-in-one integrated sensor array measures wind speed/direction, temperature, humidity, rainfall, UV and solar radiation.
12// Sorel Men's Falcon Ridge Slipper–  With a suede upper and wool and polyester lining, these slippers provide warmth, and a rubber sole adds traction to prevent slipping.
13// Ourside Dusk Cologne– Crafted in small batches with notes of amber, musk, bay and cedarwood.
14// The North Face Men's Alpine Polartec Crew– Everyday fleece for versatility and comfort. Lightweight but insulating.
Gifts For Tweens, Teens & Young Adults
This gift guide is perfect for teens, tweens and young adults. Whether you're looking a unique or trending gift, this guide has gift ideas for every tween, teen and young adult in your life. For more gift ideas, check out my 2022 Tween/Teen Gift Guide, and my 2021 Teen Gift Guide.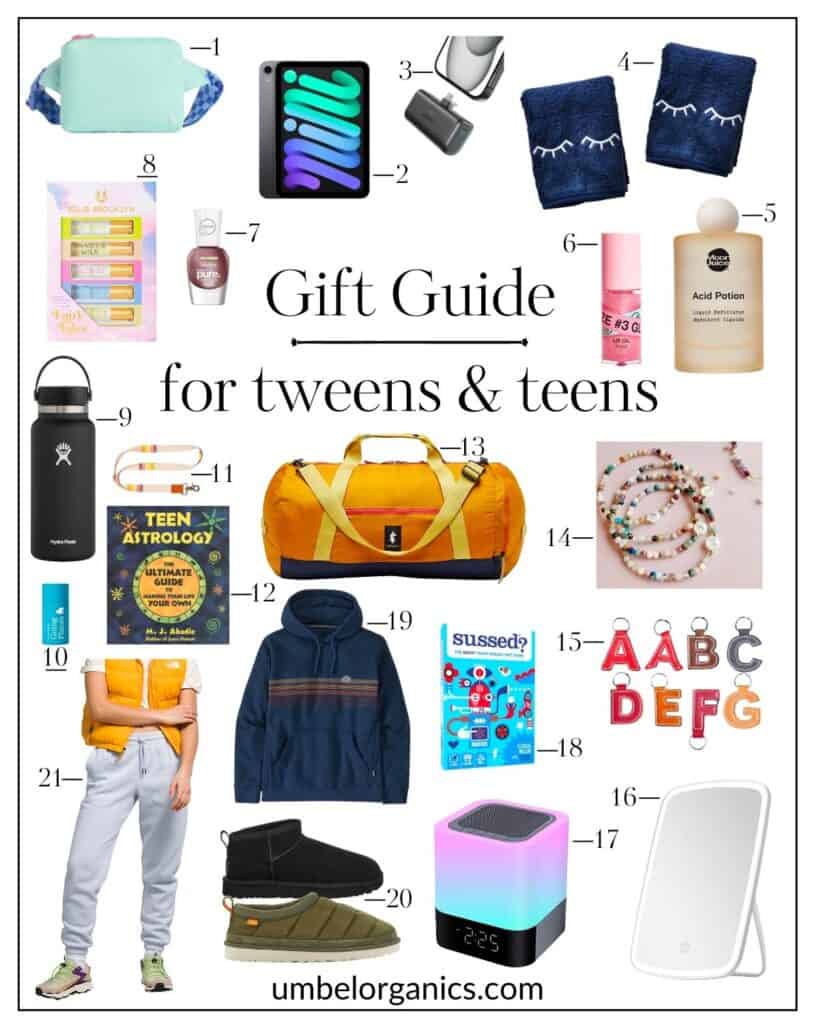 1// State Mini Fanny Pack– A PFAS-free fanny pack.
2// Apple iPad Mini 6– Pair this with an iPad Stylus Pen for the perfect teen gift!
3// Mini Portable Charger– This charger is the size of a lipstick tube.
4// Weezie Organic Makeup Towels– Set includes one Spa Headband (25×3 inches) and a pair of Eyelid Makeup Towels. Makeup Towels are made in Portugal with 100% organic long-staple cotton. 
5// Moon Juice Liquid Exfoliator– This AHA BHA Complex is a gentle exfoliator without the irritation. 
6// Innbeauty Project Lip Oil– A juicy, nourishing lip oil that gives you soft, plump and glossy lips.
7// Sally Hansen Good.Kind.Pure. Nail Polish– Free of 16 of the harshest chemicals normally found in nail polish- 47 colors to choose from.
8// Ellis Brooklyn Fairy Tales Rollerball Fragrance Gift Set– This set features SUN FRUIT (lush fruity floral), SCI FI (otherworldly, cool vanilla), VANILLA MILK (vanilla with an edge), FLORIST (bold white floral), SWEET (pear meets marshmallow) eau de parfums. 
9// Hydroflask Water Bottle– For hydration on-the-go.
10// Ursa Major Lip Balm– Hydrates and soothes with an eco-friendly tube. 
11// Neck Lanyard–  Tons of unique designs for men and women, with colors and patterns that range from classic and simple to bold and fun.
12// Teen Astrology: The Ultimate Guide To Making Your Life Your Own– This book provides full explanations of all astrological influences and all the necessary tables for locating planetary placements of friends and family.
13// Cotopaxi Duffel Bag– 45-liter travel duffel with removable shoulder strap for versatile carrying options. Made from recycled materials to reduce environmental impact.
14// Initial Bracelets– Gemstone, pearl and shell initial bracelets.
15// Leather Initial Key Ring– Handmade genuine leather.
16// Lighted Grooming Mirror– Rechargeable cordless mirror. 
17// Bluetooth Speaker Alarm Clock With Changing Lights– An alarm clock with all the bells and whistles.
18// Sussed Card Game– Over 200 thought-provoking questions to break the ice or compete to find out who knows each other best.
19// Patagonia Hoodie– Cozy hoodie made with recycled materials for breathable, wicking performance.
20// Ugg Tasman Puft Slippers and Ugg Classic Ultra Mini Slippers– Treadlite soles give traction indoors and outdoors.
21// The North Face Women's Fleece Sweatpants– The North Face Women's Half Dome Fleece Sweatpant keeps you cozy in casual and laid back settings.
Gifts For Babies & Kids
This kids gift guide is perfect for babies, preschoolers and elementary-aged kids, and is jam-packed with fun, unique and eco-friendly gift ideas for kids. Whether you're looking for arts & crafts gifts, games, cozy and soft gifts, and gifts for play, you'll find something for every kid on your list! For more gift ideas, check out my 2022 Gift Guide For Kids, my Eco-Friendly Gift Guide For Babies & Kids, my Holiday Organic Pajamas For Kids, and my Eco-Friendly Stocking Stuffers For Kids gift guide.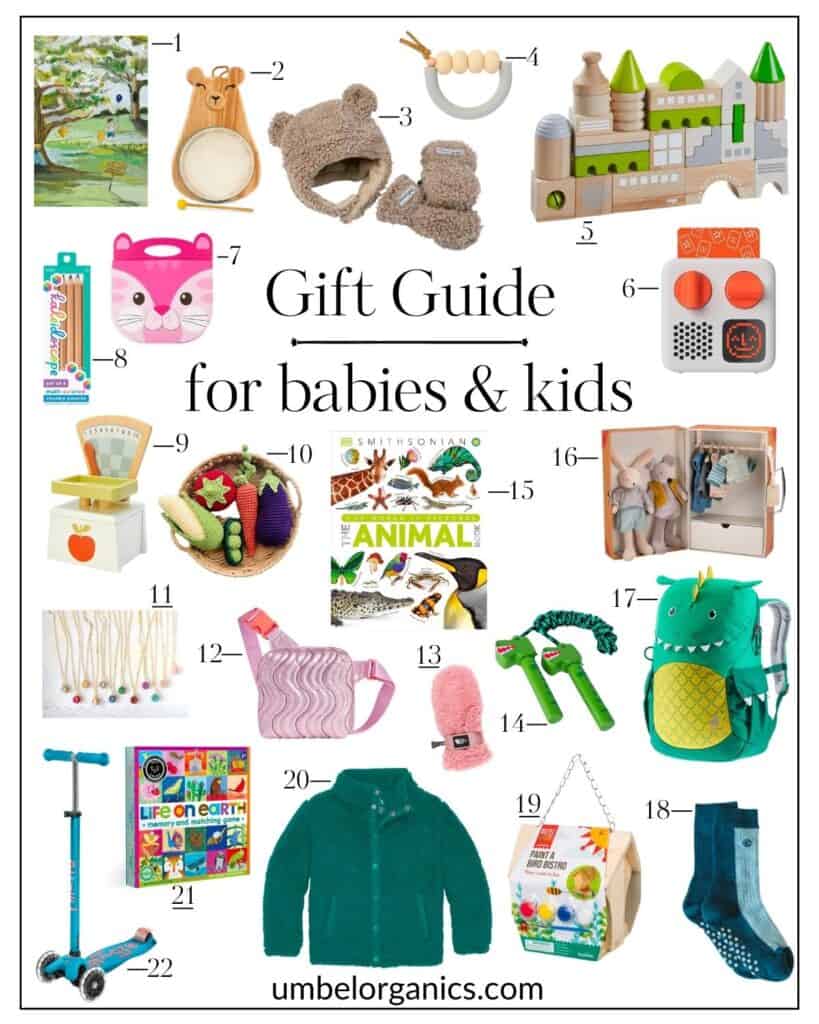 1// Winnie The Pooh Painted Edition– Exclusive collector's edition, featuring beautiful cover art from artist Laci Fowler and decorative interior pages, making it ideal for fiction lovers and book collectors alike.
2// Momma Bear Drum– Crafted from chemical free rubber wood with a non-toxic, clear-coat finish over natural wood and German-made, VOC free water-based paint.
3// Baby Teddy Mitten & Hat Set– Plush-lined hat and mittens are an essential for the baby in your life. 
4// January Moon Dandelion Arch Teether– 100% non-toxic silicone and polyester stretch cord.
5// Haba Coburg Building Blocks– Haba uses solvent-free paint or water-based stain in their products, so there is no need to worry when toys for babies end up in their mouths.
6// Yoto Mini Player– Simply pop an Audiobook Card into the Yoto Mini to play & remove to stop. All Content is safe & has been specially chosen & created with children in mind. 
7// Carry Along Cat Sketchbook– This cozy cat sketchbook is great for creating art on-the-go with its cute clasp nose & clever carry handles that's perfect for little hands.
8// Kaleidoscope Colored Pencils– Multicolored pencils packed with 5 shades each, more is what you get – more color, more creativity, and more fun.
9// Wooden Market Scale– This earth-friendly wooden toy promotes learning through play.
10// Crochet Veggie Set– cotton and wool yarn with polyester fiber fill. 
11// Initial Necklace– Comes in a variety of colors.
12// State Lorimer Kids Fanny Pack– This PFAS-free fanny pack allows kids to stay hands-free, sits crossbody, and holds all their on-the-go things.
13// The North Face Kids Suave Oso Mittens– Cozy fleece mittens for warm fingers on cold outings.
14// Dino Jumprope– Featuring double sided wooden dinosaur handles.
15// The Animal Book: A Visual Encyclopedia of Life on Earth– Stunning pictures .
16// Rabbit & Mouse Wardrobe– This sturdy cardboard suitcase opens up into a wardrobe containing Sylvain the rabbit, Nini the mouse and a selection of day and night time clothing.
17// Deuter Kikki Kids Backpack– Adorable PFAS-free backpack for animal-loving little kids
18// Q for Quinn Merino Wool Socks– With a full cushion on your feet for extra support, comfort and durability, these merino-rich (85% merino wool) socks will become your little one's winter favorite!
19// DIY Birdhouse Kit– This pine bird feeder kit includes four paint pots, 5 inch brush and a chain for hanging.
20// Primary Teddy Fleece– A cuddly jacket for inside and outside.
21// eeBoo Life On Earth Memory & Matching Game– Promotes memory and matching skills while teaching about wildlife from around the world.
22// Micro Kickboard Scooter– Micro's 3-wheeled Maxi Deluxe LED scooter, with a lean-to-steer design, offers a stable ride that supports children as they curve and carve the sidewalk.. Features two front LED motion-activated light-up wheels.