Holiday Gift Guide For Men
When it comes to men's gifts, picking the perfect gift can be tough. Whether you're looking for a fun, relaxing or splurge-worthy gift, this men's gift guide (and unisex too) has just what the men in your life want!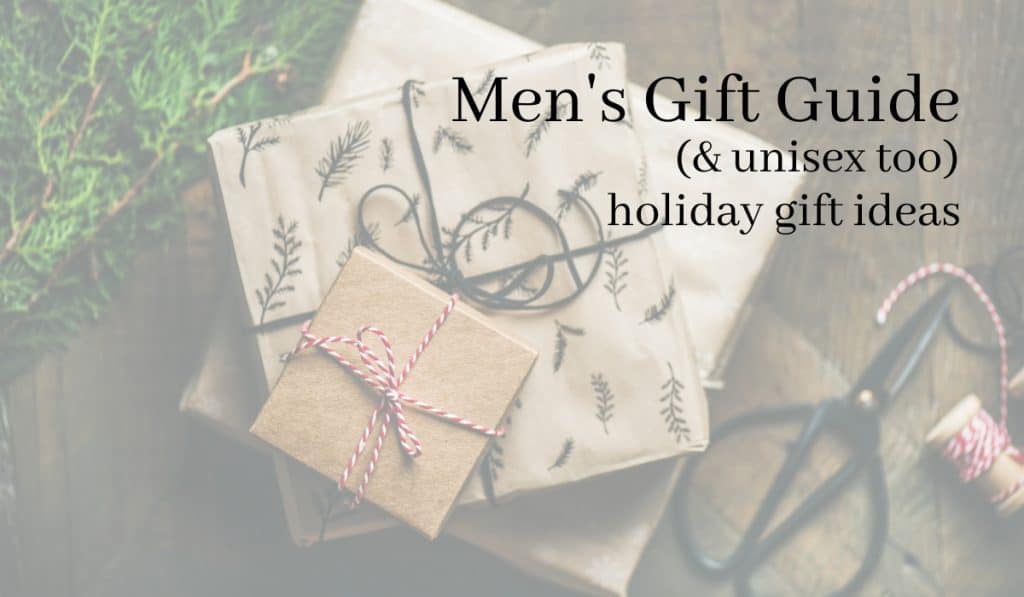 Disclosure: This post contains affiliate links, which means if you make a purchase through these links, we may receive a small commission at no extra cost to you.
For the men in your life, this men's gift guide has the perfect gift for him (and unisex too). I've scoured the internet for gifts that are unique, tasteful and all-around great for men. In this men's and unisex gift guide, you'll find useful and stylish gifts, with an emphasis on eco-friendly gifts that can be used again and again. Any of the picks from this gift guide for men would be just right for husbands, brothers, fathers, dads and in-laws.
With Jeremy in mind, I enjoyed putting together this roundup of men's gift ideas. If you're looking for more gifts for men, check out my Father's Day Gift Guide or my post on Clean & Non-Toxic Skincare For Men. This gift guide has a little something for every man in your life!
Gifts For Men
1// Patagonia Men's Better Sweater– Classic Patagonia fleece to keep you warm through the frigid months. Recycled material provides soft and toasty coverage.
2// Cashmere Beanie– Made from butter-soft pure Grade-A Mongolian cashmere, the ribbed texture and adjustable folded cuff creates a versatile design to be worn exactly how you like it.
3// Leather AirPod Case– Genuine leather with metal clasp. Wired and wireless charging compatible.
4// Activist Green Botanical Face Serum– This Serum is rich in omegas and antioxidants with nourishing seaweed, cleansing mānuka honey and kawakawa oils. Created to be deeply penetrative, healing, and anti-inflammatory to help soothe irritation, acne, and redness.
5// Italian Leather Travel Bag– Luxurious washed distressed Italian Leather, Large front pocket, perfect carry on, duffle or large shoulder bag size and looks great as an oversized crossbody. Great for travel or work.
6// Ugg Ascot Slippers– 100% leather and sheep fur with rubber sole.
7// Kodak Ultra Mini Pocket Projector– Pocket projector produces bright, vivid video & imaging for home entertainment.
8// The New York Times Explorer: 100 Trips Around The World– Get your bucket lists ready with the discoveries of Explorer, a curated collection of 100 dream trips from the distinguished travel writers and photographers of The New York Times.
9// Hydro Flask Wide Mouth Bottle with Flex Cap– 32 oz 18/8 pro-grade stainless steel.
10// Good Juju Moisturizing Shave Bar– Receive the smoothest shave with the Moisturizing Shave Bar. Formulated with skin-nourishing oils and butters to provide a silky smooth shave without stripping away moisture or drying the skin.
11// Marquis Brandy Decanter– Beautifully Gift Boxed for any occasion. Features a Diagonally Cut Lower Bowl, Intersecting Vertical Cuts and a Sculpted Stem. Made of Crystalline.
12// The Man Behind The Maps Book– Featuring over 200 ski resort trail maps hand-painted by one legendary artist, this beautiful 292-page hardcover coffee table book is the first and definitive compilation of the art created by James Niehues during his 30-year career.
13// Bosch Laser Measure– Features long range measuring with extreme accuracy and measures distances up to 65 feet to within 1/8 inch.
14// Leatherman Multi Tool– 100% stainless steel construction and removable wire/hard-wire cutters 17 TOOLS IN 1: The Rebar's bounty of tools. include knives, pliers, screwdrivers, wire cutters, an electrical crimper, a wire stripper, bottle and can openers, a file, a saw, an awl and a ruler.
15// Quince Men's Cashmere Crewneck Sweater– Lightweight, soft and cozy. The cashmere is sourced sustainably and ethically.
16// Italian Leather Wireless Charging Station– Luxury tech- premium Italian designer leather, durable high-grade aluminum alloy, and a braided nylon cable to our smart wireless charging technology.
17// Darn Tough Socks– Whether your hike is just a stroll with the dogs or a mission to a dream peak, slip on the Treeline Sock. These Micro Crews boast a mid-weight Merino wool blend.
18// Ursa Major Lip Balm– Protect, soothe and hydrate lips with this lip balm made for everyday explorers. Comes in eco-friendly, fully compostable paper tubes.
19// Porcelain & Olive Wood Razor Tray– A beautiful resting spot for a razor.
20// LED Flame Bluetooth Speaker– LED flickers warm yellow lights, forming a stunning flame, mimic extremely realistic & natural dancing flames, combined with audio function, to create a cozy atmosphere.
21// Grounds & Hounds Coffee– Every cup helps a pup! At Grounds & Hounds, we do what we can to support animal rescue initiatives and organizations by donating a portion of our sales to dogs in need of a helping hand. Organic whole bean coffee.
22// Walnut Wood & Steel Adjustable Dumbbells– Weight: 2 dumbbells total weight 20KG, Single weight 10kg. High-quality steel, electroplating process, smooth and bright. Natural walnut wood handle, polished smooth, natural texture, comfortable grip, make the dumbbell more gorgeous (note: the wood grain on the weight plate is a sticker, which can be removed). The steel double anti-skid lock makes the fitting piece more stable.