Holiday Gift Guide For Her
If you're looking for gift ideas for your wife, mother, mother-in-law, or a special women in your life, there's a little something for everyone in this holiday gift guide for her (and unisex too). From skincare to self-care to soft and cozy, this holiday gift guide for her has just what you're looking for!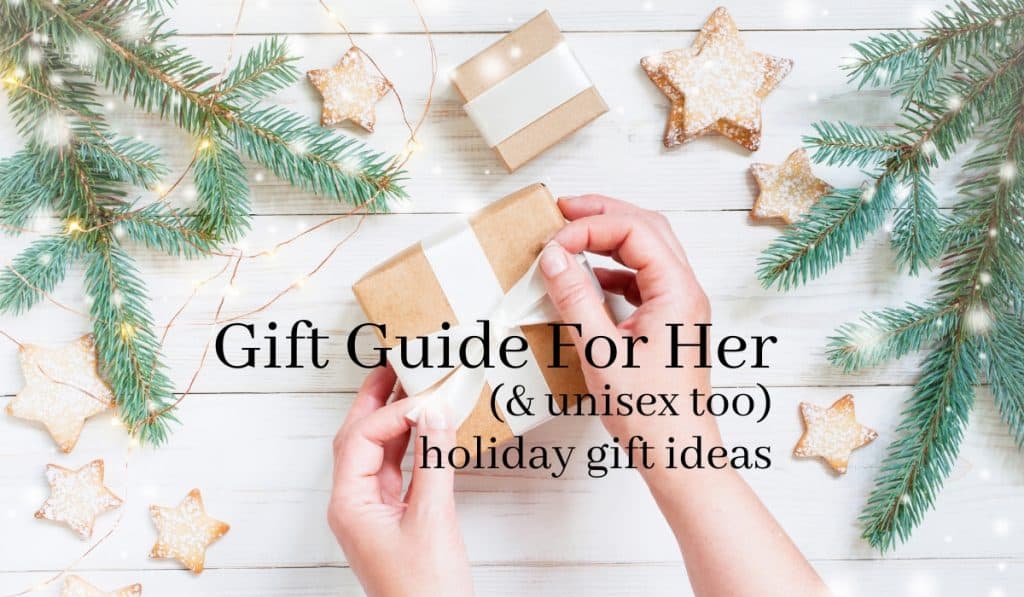 Disclosure: This post contains affiliate links, which means if you make a purchase through these links, we may receive a small commission at no extra cost to you.
Whether you're looking for a gift for your wife, sister, mother or mother-in-law, treat the deserving women in your life to any of the special gifts from my curated Gifts For Her holiday gift guide.
Whether she's into relaxing at home or you just want to spoil her, I've looked high and low for the best holiday gifts that we know she'll love. Let the women in your life know how amazing they are with any of the gifts for her below.
Gifts For Women
1// Italian Leather Sling Bag– Luxurious washed distressed Italian Leather.
2// Quince Mongolian Cashmere Scarf– This over-sized scarf can layer on anything for a chic look to stay warm all winter long. Our quality cashmere is incredibly long-lasting and three times as warm as wool, sourced sustainably and ethically.
3// Athr Beauty Rose Quartz Gemstone Palette– A stunning palette of colors in a sustainable case.
4// Henry Rose Windows Down Eau De Parfum– I'm not the only one who loves this clean perfume- it's a bestseller on Credo Beauty!
5// 14K Gold Diamond Bezel Necklace– This necklace has a beautiful cut diamond mounted in a bezeled setting of 14k gold.
6// Violets Are Blue Body Lotion– 5-star reviews! Violets are Blue Body Lotion with Avocado, Coconut, and Argan Oil is a gentle, easily absorbed lotion that is gentle on skin. This natural, all-over moisturizer is crafted with a special blend of nourishing oils. Coconut, Argan, Avocado, Sesame, and Castor with a hint of Lavender give skin full coverage of vitamins A, B1, B2, D, and E, leaving a supple, calmed complexion. Bonus – 10% of the purchase price of this product goes towards skincare donations for cancer patients.
7// Doctor Rogers Healing Balm– This multi-purpose ointment protects and soothes extremely dry skin, cracked hands and feet (trust me, it works), and many other skin irritations. Designed to promote skin healing, it can be used on cuts, scrapes, burns, or used as lip gloss, eyebrow gel, and to give a smoothed look to flyaways.
8// White Ceramic Mug– Perfect for coffee, tea and hot cocoa!
9// Three Ships Lip Treatment Kit– When your dry, flaky lips won't budge, use this two-pronged approach. Vanilla Lip Exfoliator followed by Buttercream Hydrating Lip Mask.
10// Le Prunier Plumscreen– I cannot live without this (not exaggerating). It's a luxurious everyday mineral sunscreen that does not look or feel like you're wearing sun protection.
11// Three Ships Biodegradable Eye Masks– visibly depuff, brighten and hydrate the delicate under eye area in just 10 minutes—without the need for excess plastic waste.
12// Apres Savasana Bath Soak– The Apres Savasana Soak by Pursoma is a 1-day cleanse package that will elevate your bath to the ultimate feeling of full-body calming and nourishment. Atlantic kelp, organic green algae, and sea salt will make the body feel detoxified while bestowing a nurturing feel and moisturization to the skin.
13// Burton Sapphire Gloves– DRYRIDE bonded fleece fabric with teddy fur keeps your digits warm and dry while touchscreen-compatible Screen Grab technology keeps you connected.
14// The New York Times: 36 Hours In Europe– This lovely book reveals Europe's brightest gems and best-kept secrets. From wine tastings in Burgundy to Flamenco in Seville, from historical Cyprus to easygoing Copenhagen, you'll find the antique and the cutting-edge, the renowned and the unexpected, and all distilled into neat 36-hour schedules.
15// Ilia The Eye Set Gift Set– Some of my everyday favorites are in this set! Features a full-size Limitless Lash Mascara for long, lifted lashes, a full-size Clean Line Liquid Liner to line and define eyes, and two mini Liquid Powder Eye Tints in matte and chromatic finishes for an easy wash of color on lids.
16// Luxe Baby Cashmere Crewneck Sweater– Snuggle into even softer cashmere that's lightweight and breathable.
17// Leather Tassle AirPod Case– Genuine leather with tassle and hook. Wired or wireless charging.
18// Mongolian Cashmere Robe– Lounge in luxury in the best cashmere robe around. Expertly crafted from the finest strands of 100% Grade Mongolian sustainable cashmere, it's exceptionally soft and warm.
19// Yogasleep Portable Sound Machine– Small and portable sound machine with 6 soothing sounds and a nightlight. Rechargeable. It fits perfectly in handbags, purses, suitcases, and diaper bags for travel.
20// Manduka eKO Yoga Mat– My favorite natural rubber, non-toxic yoga mat.
21// Bala Bangles– Made of the highest quality fitness materials – recycled steel wrapped in baby-soft silicone. Athletic elastic and hook and loop fasteners allow for a perfect fit every time.
22// Birkenstock Boston Shearling Shoe– Classic suede upper with shearling and cork footbed. EVA sole.
23// MitoPRO 300– I personally have the larger version for healing after back surgery, and I love it! Benefits include taming inflammation, improving skin tone and workout recovery!
24// Conscious Steps Women's Organic Socks– The perfect gift that gives back- every box protects Humanitarian partners, saves dogs, protects parks, protects the planet, saves LGBTQ lives, stops violence against women or gives water.