Eco-Friendly & Sustainable Gift Ideas
From eco-friendly kitchen essentials & home goods to sustainable skincare & beauty to eco-friendly gifts for him and her, this sustainable gift guide has something for everyone. Whether you need a green gift for a hard-to-shop-for relative, close family member or friend, you'll find the perfect eco-friendly and sustainable gift in this guide.
Disclosure: This post contains affiliate links, which means if you make a purchase through these links, we may receive a small commission at no extra cost to you.
If you're looking for the best eco-friendly and sustainable gift ideas, this gift guide has gift ideas for relatives, friends, your mother-in-law, your father-in-law, close family and anyone who is hard to shop for. You'll find unique and delightful eco-friendly and sustainable gifts for the kitchen and home, as well as eco-friendly clean beauty & skincare gifts and sustainable gifts for him and her.  Whether you're shopping for eco-friendly gifts for the holidays or another special occasion, look no further for the best green gifts!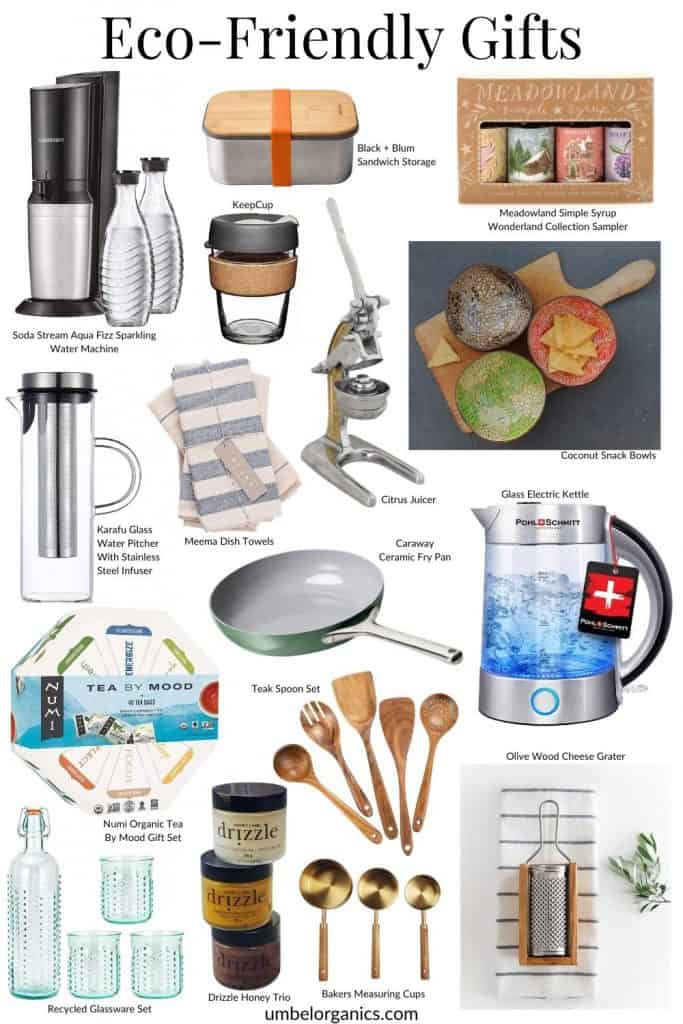 SHOP ECO-FRIENDLY GIFTS FOR THE KITCHEN
Soda Stream Aqua Fizz Sparkling Water Machine– Aqua Fizz takes your tap water from flat to sparkling in seconds, featuring a stunning design and a sleek dishwasher-safe glass carafe you'll love displaying.
Black + Blum Sandwich Storage– Stainless steel container with bamboo lid for on-the-go lunch.
KeepCup– The reusable KeepCup sizes replicate industry standard single-use cup volumes for the right coffee-to-milk ratio, ease of cafe workflow and speed of service. All products are independently lab tested to ensure they're free from BPA, BPS, phthalates including DEHP, lead and cadmium.
Meadowland Simple Syrup Wonderland Collection Sampler– An enchanting collection of 4 holiday simple syrups! Elevate your wintry cocktails or baked goods with these delightful flavors of gingerbread, winter forest, sugar plum and candy cane.
Coconut Snack Bowls– Handmade using coconut shells, decorated with broken egg shell and then coated with a food safe lacquer and smooth finish.
Citrus Juicer– Popular in juice markets all over Mexico, the Verve Culture Handmade Artisan Citrus Juicer is a countertop citrus juicer that provides a traditional citrus juicing experience!
Meema Dish Towels– Kitchen hand towels made with upcycled denim and cotton.
Karafu Glass Water Pitcher With Stainless Steel Infuser– Borosilicate glass water pitcher with stainless steel fruit infuser.
Caraway Fry Pan– Featuring a non-toxic ceramic-coated interior, this durable non-stick pan makes cooking easier than ever, cleaning (dare we say) enjoyable, and adds a pop of color to any home.
Glass Electric Kettle– Pohl Schmitt borosilicate glass and stainless steel electric hot water kettle.
Olive Wood Cheese Grater– Made from eco-friendly olive wood.
Bakers Measuring Cups– Stainless steel and wood measuring cups for baking.
Teak Spoon Set– Made from eco-friendly teak wood.
Drizzle Honey Trio– The Drizzle Taster Trio includes a 80g jar of White Raw Honey, Turmeric Gold Raw Honey and Cinnamon Spiced Raw Honey of local Canadian honey.
Recycled Glassware Set– Made in Italy, this set of 6 drinking glasses and 1 serving bottle is made of 100% recycled, soda lime glass.
Numi Organic Tea By Mood Gift Set– This assorted collection of Numi Organic Tea Blends comes in a whimsically elegant octagonal gift box. The perfect gift for any tea lover in your life. Contains teas from all caffeine levels and a wide range of moods and flavors.
SHOP ECO-FRIENDLY GIFTS FOR THE HOME
Nomadix Recycled Towel– Made from recycled plastic bottles and transformed into a sand-resistant, slip-resistant, and pet-hair resistant fabric, this eco-friendly towel is perfect for any messy or sweaty activity! It packs down tightly for lightweight travel and on-the-go living.
Floral Shopping Tote– The perfect eco-friendly gift to cut down on single use plastic bags. The generous handles make it easy to carry, even over the largest of coats.
Friendsheep Star Wool Dryer Balls– Made of 100% pure New Zealand wool (no cheap fillers!!), organic, chemical free, fragrance free, hypoallergenic. Eco-friendly and reusable for 1000+ loads each ball. Leaves your laundry naturally soft, reduces wrinkles and static cling.
Black & Green Stoneware Bowl– Handmade serving bowl.
Hydroflask Water Bottle– Reusable water bottle BPA-free, phthalate-free, and made of stainless steel; fits car cup holders.
ZZ Plant– This live plant is a drought-tolerant plant that can go weeks without water.
Finn Hot Water Bottle– Keep cozy with this fish-shaped hot water bottle. 100% lambswool cover, knitted in Scotland.
Beeswax Pillar Candle– Handrolled beeswax candle made by beekeepers.
Glass Hurricane Candle Holder– Hand-blown crystal clear glass, not machine made. Crafted with thick glass and a stable base for the Hurricane Candle Holder centerpiece.
Linen Waffle Throw Blanket– Oversized linen/cotton throws are stone washed, which provides maximum softness, has relaxed and cool look. Comes in a variety of colors and has a luxurious, soft feel.
Woven Rattan Tray– Handwoven tray with rattan fibers and wood handles.
Scoria Grip & Breathe Spray– Promotes relaxation & vitality for meditation and better breathing throughout the day. Also activates grip on your cork mat.
Scoria Cork Butterfly Yoga Mat– Sustainably harvested cork backed by natural tree rubber unlike other mats with synthetic TPE/PVC. Naturally anti-microbial cork surface eliminating odor for a non-toxic home or practice.
Cora Microfiber Laundry Ball– Did you know that every time you do your laundry, your synthetic clothes release hundreds of thousands of microfibers (tiny plastic and chemical coated fibers) that eventually end up in our waterways? The Cora Ball works by catching the microfibers that naturally shed from clothes in the wash.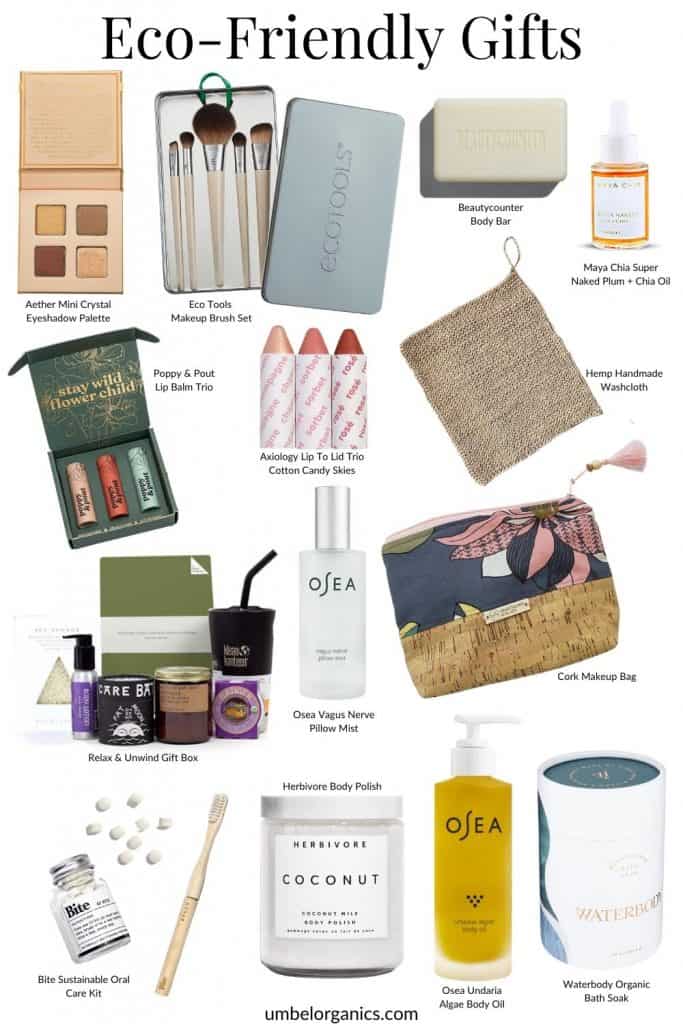 SHOP ECO-FRIENDLY CLEAN BEAUTY & SKINCARE GIFTS
Aether Beauty Topaz Mini Crystal Eyeshadow Palette– Good things come in small, sustainably-made packages. This crystal-charged eyeshadow palette features a combination of shimmers, mattes, and metallics infused with topaz to illuminate the eyelids.
Eco Tools Makeup Brush Set– The EcoTools Start the Day Beautifully Kit is designed with the makeup tools to simplify your daily beauty routine and organize your beauty space. This kit includes a core collection of 5 essential brushes and a storage tray.
Beautycounter Body Bar– Forms into a creamy lather and gently cleanses all over body. This citrus scented bar leaves skin feeling soft and hydrated, and doesn't strip skin of moisture.
Maya Chia Super Naked Plum + Chia Oil– A high-powered face oil that is free of essential oils, but smells delicious. Fast-absorbing and lightweight, it's powered by the complete Omega Fatty Acid profile of Plum and Chia Oil – and one of nature's most nutrient-dense antioxidants, including Astaxanthin (65x stronger than Vitamin C in combating free radicals).
Hemp Handmade Washcloth– Gently exfoliates and deep cleans the entire body leaving a refreshing feeling. Handmade using 100% natural fiber "Hemp", it is naturally antibacterial, antifungal & antistatic and wonderfully fine, tough and surprisingly soft making your body exfoliating routine! No plastic waste because they are 100% biodegradable.
Axiology Lip To Lid Trio Cotton Candy Skies– These zero waste wear-anywhere crayons, wrapped in eco-friendly paper, nourish and hydrate skin like a balm thanks to oils and antioxidants including elderberry, hemp and plum oil.
Poppy & Pout Lip Balm Trio– A trio of 100% natural ingredient lip balms. They are hand poured into beautifully designed, 100% recyclable cardboard tubes.
Relax & Unwind Gift Box– Includes Night Night Badger Balm 2oz, Fat and the Moon Self Care Mineral Bath Soak, Plaine Products Refillable Travel Size Natural Body Lotion, Nash and Jones Silk Sea Sponge, P.F. Candle Co. Golden Coast Soy Candle, Klean Kanteen Classic Insulated Tumbler with Straw and Lid 16oz, and A Good Company Dotted Stone Paper Bullet Journal.
Osea Vagus Nerve Pillow Mist– Contains a proprietary blend of essential oils that helps promote a sense of soothing before bed for a moment of balance and well-being.
Cork Makeup Bag– Made of cork and canvas fabric, fully lined.
Waterbody Organic Bath Soak– Using a blend of organic essential oils and wildcrafted Alaskan botanicals, these bath salts will whisk you away to the enchanting Northern Pacific to enjoy its natural wonders. Plus it is packaged in 100% compostable cardboard boxes for a zero waste self-care experience.
Osea Undaria Algae Body Oil– This lightweight, organic seaweed-based body oil leaves skin feeling nourished and revitalized. Acai and passion fruit even skin's appearance, while babassu and sesame oils hydrate for a youthful glow. Rejuvenating notes of citrus and cypress indulge skin and spirit alike.
Herbivore Coconut Body Polish– Uses nourishing coconut milk, virgin coconut oil and exfoliating sugar crystals to deeply hydrate and smooth skin. Additionally, shea butter and squalane moisturize, leaving your skin feeling silky soft all over with a delicious scent of real coconut.
Bite Toothpaste Bits– Includes sustainable hydroxyapatite toothpaste bits and a bamboo toothbrush.
SHOP ECO-FRIENDLY GIFTS FOR HIM & HER
Cork Shoulder Bag– Handmade in Portugal from cork that is naturally hypoallergenic, antimicrobial, waterproof, lightweight, durable, and biodegradable, this bag is also cruelty free and vegan.
Prana Women's Cozy Up Sweatshirt– Sustainable materials provide soft next-to-skin feel. Hemp fibers naturally resist odors. Ribbed cuffs and hem boost those cozy vibes. Standard fit and raglan sleeves keep you moving freely.
Pact Thermal Waffle Infinity Scarf– Made with Organic Cotton in a Fair Trade Factory.
Birkenstock Zermatt Shearling Women's Slippers– Wool and shearling slippers with a rubber non-slip sole.
Conscious Steps Socks That Save LGBTQ Lives– Each pair donates to saving LGBTQ lives through The Trevor Project. 75% Fairtrade Organic Cotton, 23% Recycled Polyester, 2% Elastane. GOTS Organic Certified, Fairtrade Certified, Vegan Certified, 1% for the Planet Partner.
Fjallraven Kaitum Women's Fleece Jacket– Functional wool blend regulates temperature and provides warmth. Cozy fleece as a stand-alone or midlayer around town or on hikes.
Barbour Merino Cashmere Scarf– A cozy winter scarf inspired by Barbour's Scottish heritage. Merino Cashmere blend for warmth and softness.
Smartwool Liner Gloves– Lightweight gloves made with a merino wool blend. Touchscreen compatible.
Patagonia Men's Better Sweater Fleece Jacket– Recycled polyester fleece offers super toasty warmth in cold weather.
Olukai Men's Moloa Slippers– Sheepskin and nubuck leather with a leather sole and drop heel.
Cork Bifold Wallet– Sustainable cork, vegan, slim design.
Fjallraven Kanken Re-Wool Backpack– A casual pack for everyday adventures. Made from recycled wool, giving this stylish little pack a natural finish. Two carry options deliver versatility, removable back panel doubles as a padded seat, front pocket offers storage for smaller valuables, side drop-in pockets perfect for a couple water bottles.
MORE GIFT GUIDE INSPIRATION