Kitchen & Foodie Holiday Gifts
This kitchen & foodie gift guide has unique, useful, eco-friendly and stylish kitchen gifts for every gourmand in your life. Any of the gifts from my gift kitchen and foodie guide would be lovely additions to your kitchen or for your in-laws or best friend.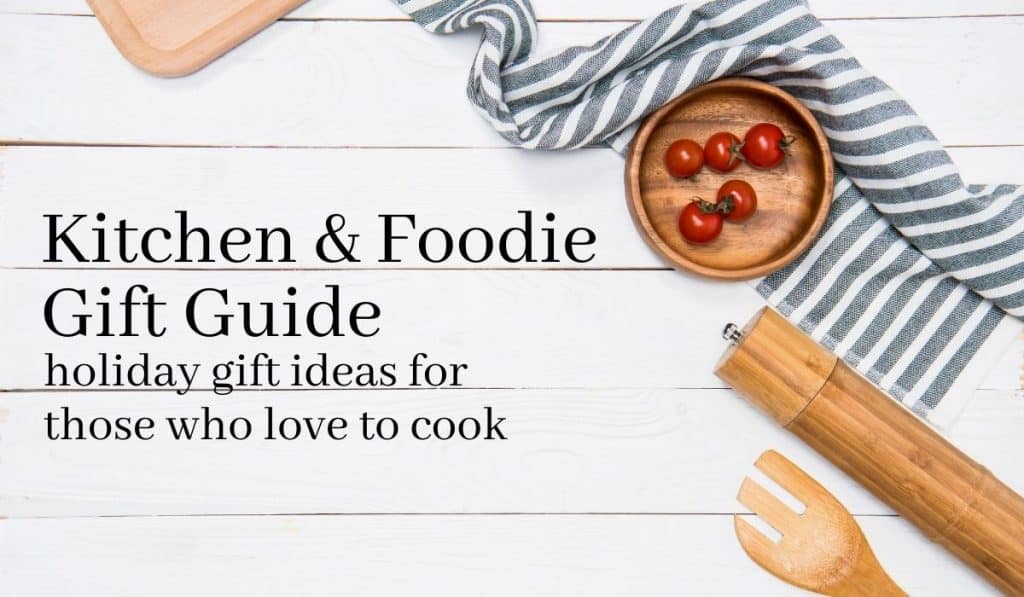 Disclosure: This post contains affiliate links, which means if you make a purchase through these links, we may receive a small commission at no extra cost to you.
I'm kicking off gift buying season with a kitchen & foodie gift guide. I love scouring the internet for gifts that are timeless and tasteful.
In this kitchen & foodie gift guide, you'll find useful and stylish kitchen gifts, with an emphasis on eco-friendly gifts that can be used again and again. Any of the picks from my gift guide would be lovely additions to your kitchen or the kitchen of your in-laws or best friend.
As someone who does a lot of cooking, I enjoyed putting together this roundup of eco-friendly kitchen gift ideas. I personally have many of the gifts on the list below in my own kitchen, and would happily unwrap and use the other kitchen-related gifts on the list too. This kitchen & foodie gift guide is geared toward those who love to cook and entertain.
Whether you want to gift a tried-and-true kitchen classic or a unique kitchen & foodie gift, this gift guide has a little something for every gourmand in your life!
Looking for more non-toxic and eco-friendly kitchen gifts? Check out these posts on Non-Toxic Bakeware, Non-Toxic Cookware and Non-Toxic Kids Dishes.
Kitchen Gifts
1// Marble Rolling Pin– Fox Run 100% marble and accented with sleek and smooth wooden handles.
2// Rustic Sugar Jar– Handmade stoneware sugar jar with lid. Cutout in lid for spoon (spoon not included).
3// Simply Organic Vanilla Bean Paste– Each spoonful contains specks of real, organic vanilla beans that bring a slightly crunchy texture to every recipe, from ice cream to crème brûlée, pudding and more. Made with only clean, organic ingredients – no GMOs, no artificial anything. Organic, gourmet baking made deliciously accessible.
4// Mason Cash Garlic Storer– Grater within base of lid creates very small pieces of garlic. Made by Mason Cash.
5// Bee Tea Infuser Mug– The Bee Tea Infuser features a stainless steel filter, and the lid is made of solid wood sustainably sourced from French forests.
6// Smitten Kitchen Keepers Cookbook– From best-selling author and seasoned food blogger Deb Perelman. A collection of essential recipes for meals you'll want to prepare again and again.
7// Talavera Coffee Cups & Saucers– Handmade by Mexican artisans, these pieces of art carry a story of tradition and culture from the region of Puebla, Mexico.
8// Sabre Bristrot Cake Server– 18/10 Stainless Steel with a brushed finish and has an acrylic colored handle (ivory, black, mixed, tortoise) or teak wood handle.
9// Maple Wooden Cake Stand– FSC-certified wood hardwood maple cake stand with a durable Corian top.
10// Lodge Cast Iron Pizza Pan– Perfect for traditional large 14-inch pizza crust. Allows you to bake to the edge while providing excellent heat distribution and retention for consistent, even cooking.
11// Caraway Ceramic Food Storage Set– Includes 14-pieces of easy-to-store, non-toxic ceramic-coated glass containers that are guaranteed to keep food extra fresh and organized.
12// World Traveller Spice Gift Box– Travel the world without leaving your kitchen with inspired global flavors, including Sweet Curry Powder, Mexican Adobo, Chinese Five Spice, and Israeli Za'atar spice blends.
13// Bluetooth Meat Thermometer– The first truly wireless smart meat thermometer. Monitor your cook using the FREE app. Dishwasher safe.
14// Laguiole Cheese Knife Set– This 5 knife set is made of high-quality stainless steel with luxurious curved handles decorated with the iconic Bee emblem.
15// Non-GMO Movie Night Popcorn Kit– Non-GMO Project Verified and grown in the Midwest USA. Light, crunchy and delightfully tasty! White Cheddar, Sweet & Salty Kettlecorn, Chili Lime, Buttery Caramel and Sizzling Sriracha gourmet popcorn seasoning.
16// Bekith Drinking Glasses– Set of 6 heavy-duty, lead-free drinking glasses.
17// Caraway Mini Fry Pan– Use for single-serve eggs or dinners for one to two. Featuring a non-toxic ceramic coating, this non-stick pan makes cooking easier than ever.
18// Caldo Linen Napkins– Perfect 90% linen / 10% cotton fabric blend ensures long lasting comfort; napkin works great as hand towels.
19// Adirondack Kitchen Cherry Wood Cutting Board– Made of solid cherry wood. All products are hand rubbed with an all-natural, homemade beeswax and coconut oil polish for protection and glow. Finish is non-toxic, 100% food safe, with zero VOCs.
20// Lomi Countertop Composter– Turn your food waste into plant-friendly dirt with this countertop composter!
21// Olive Oil Dispenser– Green Tint Glass & Stainless Steel Pourer- 5 star reviews!
22// Ramen Bowls– Handmade stoneware bowl has minimal design and calm color for everyday lunch and dinner routine. Ideal for Asian soups, salads and curry.
More Gift Guide Inspiration
Looking for more gifts? We have a whole section jam-packed with gift guides!