Eco-Friendly, Sustainable & Non-Toxic Mother's Day Gifts
There's something special for every mom in this eco-friendly, sustainable and non-toxic Mother's Day gift guide. From the kitchen to little luxuries to yoga to the garden, this Mother's Day gift guide has sustainable, eco-friendly and non-toxic gifts that are perfect for all of the moms in your life!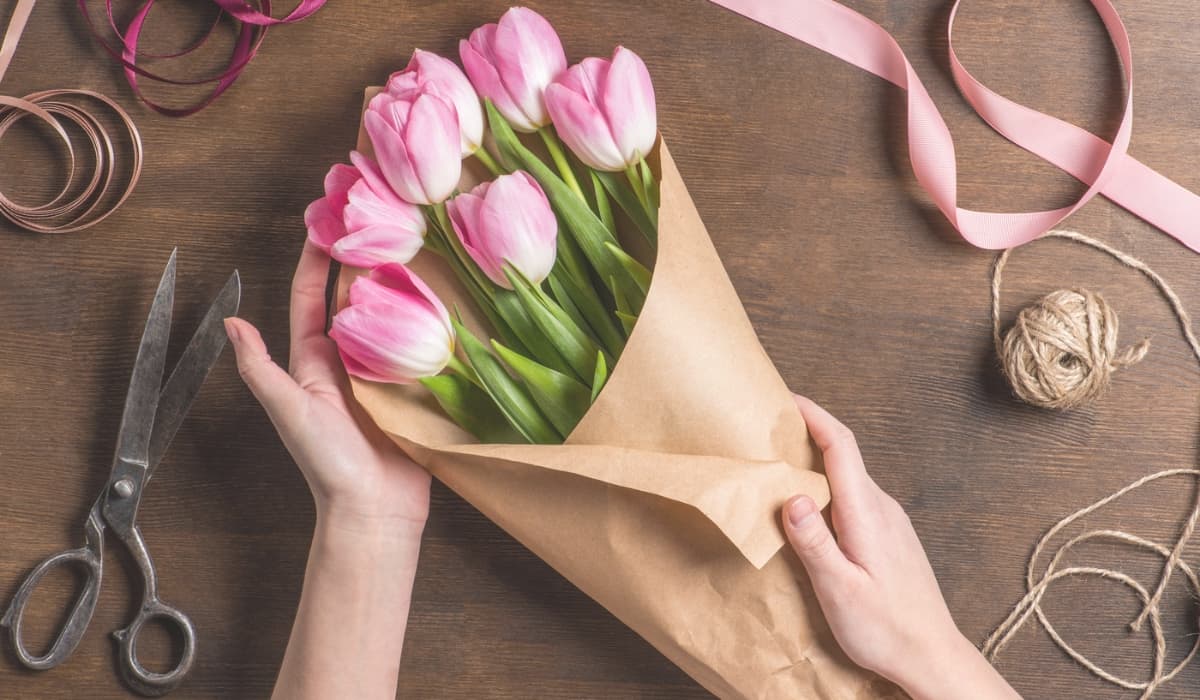 Mother's Day is a special occasion to show our love and appreciation for the amazing women in our lives. We can celebrate this day in a way that's also mindful of our planet and its resources.
That's why this gift guide is focused on eco-friendly, sustainable and non-toxic gift ideas that your mom will love, while also being kind to the environment. From climate conscious brands to eco-friendly  and non-toxic products, we've got you covered with ideas that are both thoughtful and sustainable. Let's celebrate mothers while also being mindful of our planet!
What to look for in an Eco-Friendly and Non-Toxic Gift
Eco-friendly and non-toxic gifts are made from materials that can be renewed and recycled. Materials like organic cotton, organic wool, cork and bamboo are kinder to the environment than products that are heavily sprayed with pesticides, non-renewable materials, or products that are coated in toxic chemicals like PFAS.  
Eco-friendly and non-toxic gifts that have little to no plastic parts. 
Buy eco-friendly and non-toxic gifts from companies that implement sustainable practices like using renewable energy sources to power their operations and reducing their overall carbon footprint.
Eco-friendly and non-toxic gifts are made without chemicals that are harmful to our health and the health of our planet.
Eco-friendly and non-toxic gifts can be used repeatedly, helping to reduce the amount of waste generated by disposable products.
For more Mother's Day gift ideas, check out Gift Ideas For Mother's Day 2022. If you're looking for eco-friendly and non-toxic gift ideas for Mother's Day, here are some of our favorites: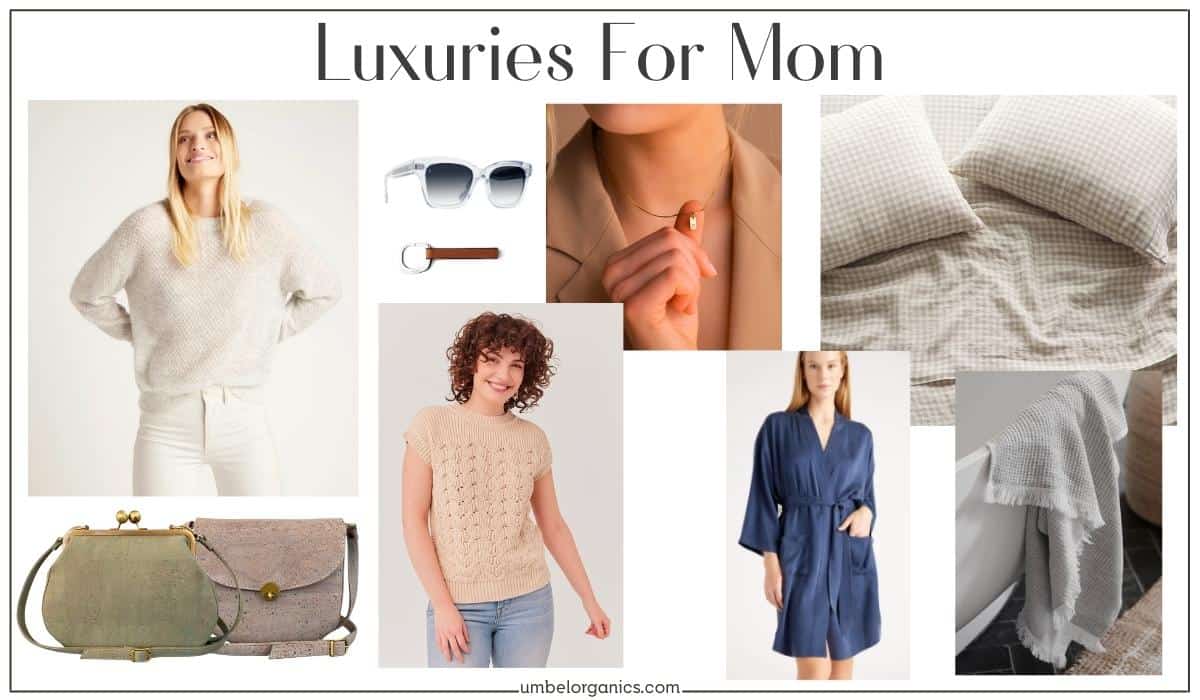 Luxuries For Mom
Give a deserving mother the luxury of slipping on a silk robe or cuddling up in cozy, non-toxic bedding. When it comes to clothing, bedding, towels and accessories, organic and sustainable fabric will make mom feel special.
Quince Baby Alpaca-Wool Diamond Stitch Crew– Alpaca wool is long lasting and resistant to pilling, and doesn't have the scratchiness of some other wools. The shearing process poses no harm to the alpacas, and their effective grazing habits actually reduce the environmental impact.
Cork Saddlebag– These beautifully handcrafted eco-friendly purses are soft and durable. 
Raen Optics Sunglasses– Made from environmentally friendly plant-based biopolymer created from wood pulp and cotton.
Square Keychain– A stylish leather keychain.
Pact Organic Cable Knit Sweater Vest– Super soft cable knit, organic cotton.
Initial Tag Necklace– Add each child's initials as a charm to this minimalistic, stylish necklace.
Quince Washable Silk Robe– This dreamy, silk robe is supple and super-chic. Made from 100% mulberry silk that's washable and low maintenance. 
The Citizenry Stonewashed Linen Sheet Set– Made using only the finest French flax and woven in the oldest, family-run linen mill in Portugal, each piece is Oeko-Tex® certified and made sustainably in a fair trade working environment.
The Citizenry Aegean Cotton Bath Towels– A luxe towel with lightweight waffle weave exterior and plush terry interior. Oeko-Tex® and Global Organic Textile Standard (GOTS) certified.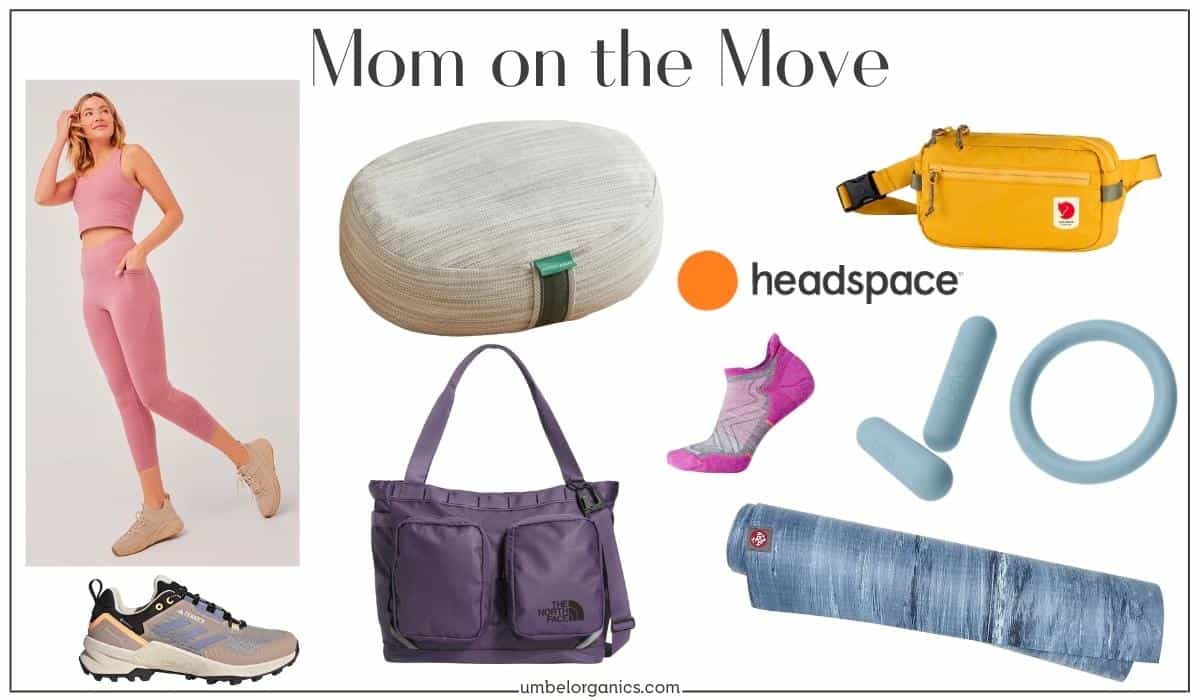 Mom On The Move
From yoga mats and weights that leach phthalates to PFAS-coated activewear, it can seem counterintuitive to try to get fit while being exposed to harmful chemicals. Gift a deserving mother some fitness gear that doesn't contain harmful chemicals. For more ideas, check out my non-toxic fitness guide.
Pact Organic Cropped Leggings– Organic cotton with a touch of stretch and 2 side pockets.
Adidas Terrex Hiking Shoes– The perfect shoe for trail running, hiking and off-road walks. Adidas aims to be climate neutral by 2025. 
Avocado Organic Meditation Pillow– MADE SAFE® certified yoga pillow features a buckwheat fill and GOTS organic certified cotton cover.
The North Face Voyager Tote– PFC-free gym bag, laptop sleeve and all-around perfect tote bag.
Headspace– Science-backed meditation and mindfulness app and online tool. Headspace helps you create life-changing habits to support your mental health and find a healthier, happier you.
Smartwool Run Cushion Ankle Socks– Cushion socks with merino wool fabric that excels at being breathable. 
Fjallraven Hip Pack– Stylish, compact hip pack for skiing, hiking, or travel. PFAS-Free.
Bala Power Rings and Bala Bars– non-toxic silicone coated weights. 
Manduka eKO Yoga Mat– Every EKO mat is made from biodegradable, 100% natural tree rubber with non-toxic foaming agents, non-azo dyes, no PVC or harmful plasticizers; All scrap is re-used for a zero waste manufacturing process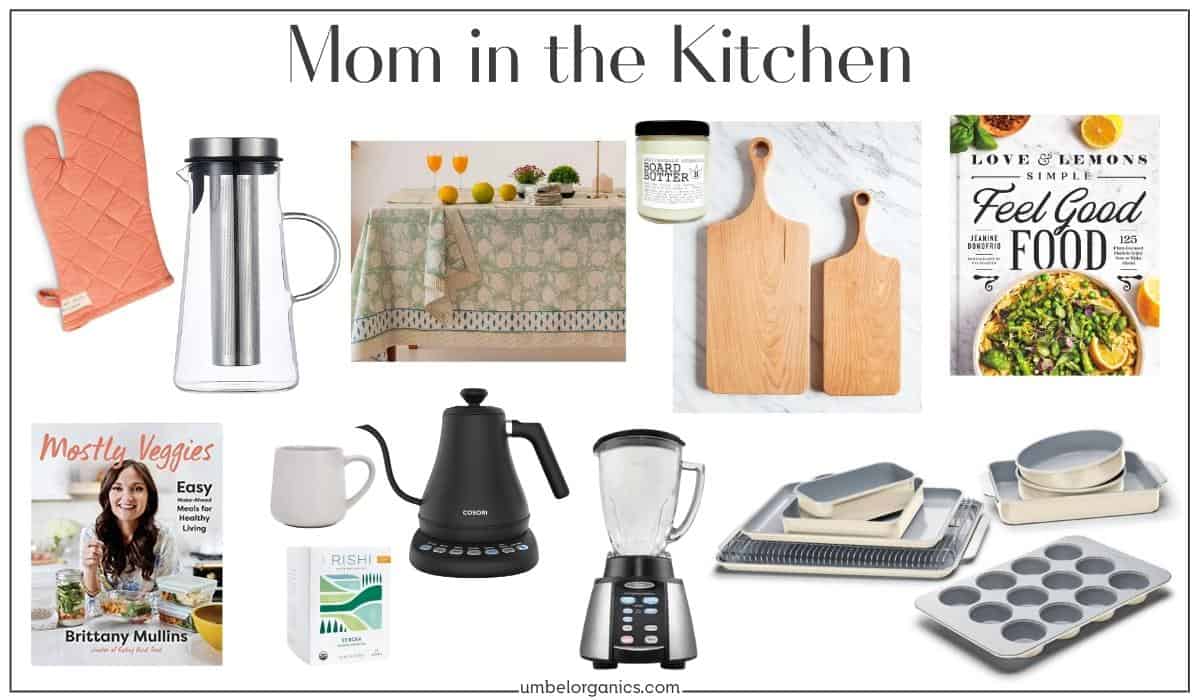 Kitchen Gifts
The kitchen is the heart of the home, and an eco-friendly and non-toxic kitchen gift would make mom feel extra special. For more ideas on cookware and bakeware without harmful chemicals, check out these non-toxic bakeware and non-toxic cookware guides. 
Full Circle Organic Cotton Oven Mitt– Plant-dyed organic cotton with terry liner.
Karafu Glass Water Pitcher With Stainless Steel Infuser– Borosilicate glass pitcher with stainless steel infuser for fruits and vegetables.
Mostly Veggies: Easy Make-Ahead Meals For Healthy Living– Whether you're a lifelong vegetarian or simply looking to incorporate more plant-based options into your diet, this cookbook by food blogger Brittany Mullins makes vegetables the star of every meal.
Block Print Tablecloth– 100% cotton elegant Indian floral block print design.
Rishi Tea– Organic cultivation and plastic-free teabags.
Ceramic Coffee Mug– Lead free, cadmium free 18 ounce mug for coffee or tea.
Cosori Electric Gooseneck Tea Kettle– Stainless steel electric kettle for the perfect cuppa.
Oster Blender With Glass Jar– This blender has a borosilicate glass blending jar. It has 7 speed settings and crushes ice in seconds.
EmpireSquid Organics Board Butter– Organic cutting board conditioning oil.
Adirondack Kitchen Solid Wood Cutting Boards– one solid piece of wood, no glue used.
Love & Lemons Simple Feel Good Food– Jeanine Difrono has crafted 125 plant-forward, fresh, nourishing, and flavor-packed meals, including both recipes made with minimal prep and ingredients ("at the ready"), and prepared-ahead-of-time recipes. 
Caraway 11-Piece Bakeware Set– PFAS-free ceramic coated bakeware, for non-stick baking without the harmful chemicals.
Skincare & Beauty Gifts
All deserving moms can use an eco-friendly and non-toxic skincare & beauty gift. Show your mom some love with a gift that promotes self care and pampering. For budget-friendly non-toxic skincare and beauty gift ideas, check out these posts: budget-friendly clean makeup, budget-friendly clean face lotion, and budget-friendly clean face wash. 
Fitglow Multi-Use Pressed Shadow + Blush– Natural mineral pigment available in nine versatile shades made for cheek, eyes, brows. Choose 4 colors to mix and match in the Fitglow Refillable Palette.
Violets Are Blue Body Cream– a heavenly whipped body cream that leaves behind a light scent that soothes the senses.
Three Ships Biodegradable Eye Masks– these eye masks help to visibly depuff, brighten and hydrate the delicate under eye area in just 10 minutes—without the need for excess plastic waste. 
Vertly Relief Lotion– a restorative, vitamin-packed lotion featuring CBD, arnica flower and magnesium. Good For: all skin types, overworked limbs and achy muscles.
Vertly Muscle Soak Bath Salts– Vertly Muscle Soak Bath Salts are clean, natural bath salts featuring a unique combination of natural salts, botanical infusions of lavender, lemon and clary sage and 100 mg of hemp-derived CBD per bag, a non-psychoactive compound found in cannabis.
Leaf Razor– Pivoting head, all-metal handle with 3 stainless steel blades 
Everist Waterless Body Wash Concentrate– This 100% plant-based concentrate is activated by the water in your shower. You'll love the ultra-clean formula that's packed with skincare ingredients to gently cleanse without stripping skin.
Osea Anti-Aging Body Balm– This rich body moisturizer contains acai and passion fruit oils to provide an intense feeling of non-greasy hydration that makes skin look firmer and revitalized.
Le Prunier Plum Beauty Oil– This 100% pure plum oil supports the appearance of a youthful, glowing complexion and makes skin feel silky to the touch. Ideal for all skin types, including mature and sun-damaged.
Le Prunier Plumscreen– It's hard not to fall in love with this sheer mineral sunscreen- perfect for everyday use (not hard core beaching).
Athr Beauty Rose Quartz Gemstone Palette– Really beautiful eyeshadow palette with clean ingredients and sustainable packaging.
Axiology Multi-Sticks– Add gorgeous color and shine to your lips, cheeks and eyelids with sustainable makeup sticks.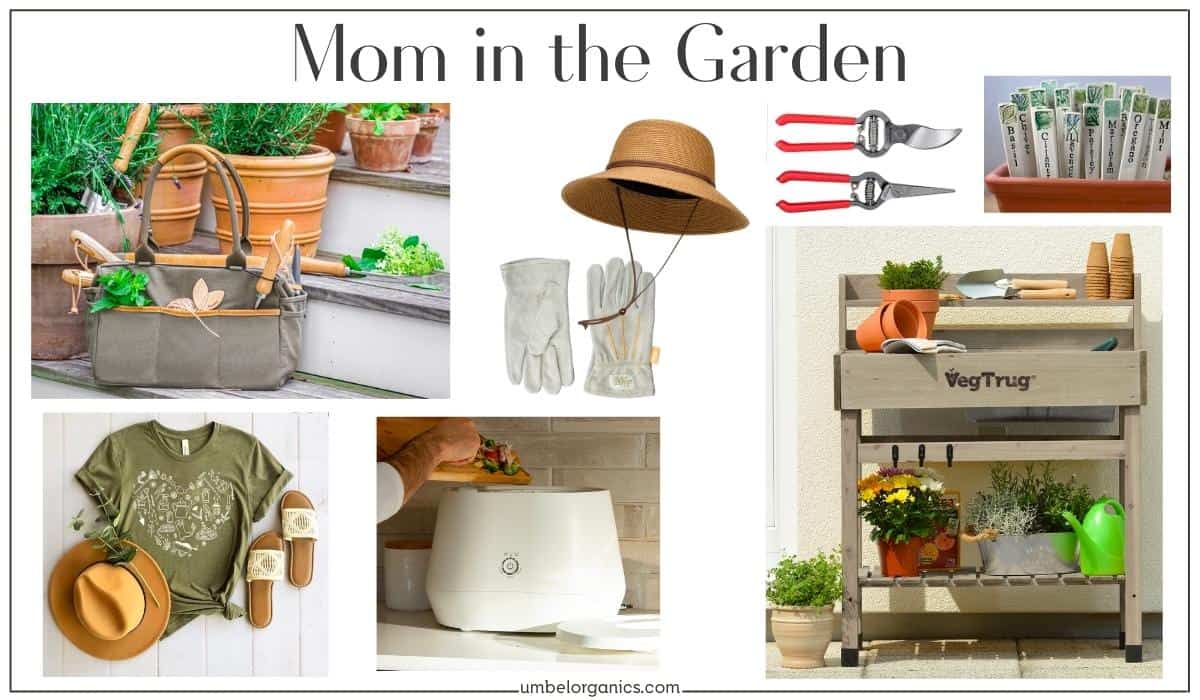 Garden Loving Mom Gifts
If mom has a green thumb, she will be thrilled by an eco-friendly garden gift. Check out my gift guide for gardeners for more gifts for garden lovers.
Garden Tote & Tool Set– This 7 garden tools gardening tool kit comes with everything you need to take care of your garden including a spacious canvas tote bags.
Gardener T-Shirt– Perfect for garden lovers!
Lomi Countertop Composter– Lomi is an odor-free, pest-free, mess-free composter that turns your food waste into plant food in less than 4 hours. It's the only carbon negative appliance in your home.
Leather Garden Gloves– Digz Women's Full Suede Leather Garden Gloves are constructed from a strong, durable 100% suede leather that resists abrasion and puncturing
Gardening Hat– Summer hat rated UPF 50+ with adjustable chin cord 
Herb Garden Markers– ceramic garden markers
Corona ClassiCUT Forged Bypass Hand Pruner– 100% recyclable packaging, planting over 15,000 trees to date, and by providing tools to organizations that help grow food and plant urban trees- also Corona Thinning Shears.
Pottery Barn Potting Table– the table has a removable (and washable) metal insert that can hold up to 10 liters of soil. A shelf at the back is designed to hold your filled pots ready for seeds or seedlings ready to be planted. Made from 100% FSC®-certified cedar wood with black plastic feet.
More Gift Guide Inspiration