How To Live A Natural Lifestyle On A Budget
I'm sharing simple and actionable tips so you can live a more natural lifestyle on a budget and reduce the toxic chemicals in your home without breaking the bank.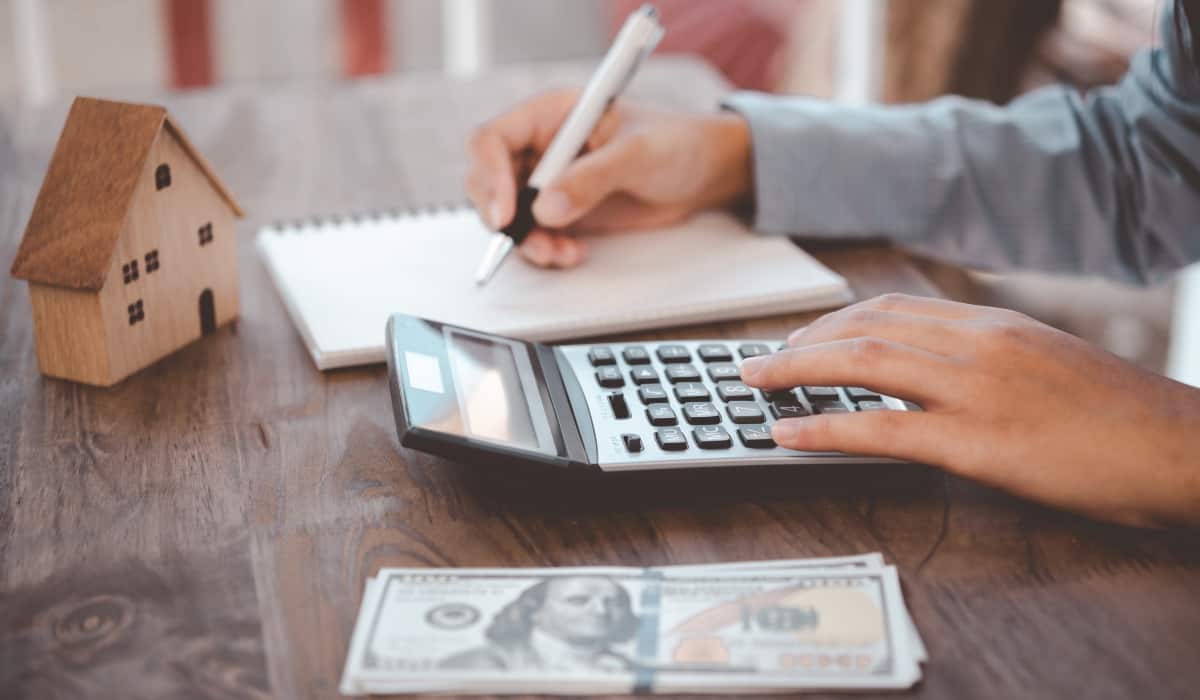 Disclosure: This post contains affiliate links, which means if you make a purchase through these links, we may receive a small commission at no extra cost to you.
We've all felt the effects of inflation on our bank accounts lately. If the cost of natural living and buying organic has held you back from making healthier lifestyle swaps, I'm here to tell you that there are ways to cut costs and still enjoy organic and natural products. 
If you're aiming to have a healthier home, stop bringing products into your home that contain harmful chemicals like endocrine disruptors and carcinogens and start bringing in healthier products. 
How To Spot Healthy Products
Examine product ingredients and research any chemicals that you are unfamiliar with or that are known to be harmful. The Environmental Working Group's (EWG) database is a great resource to get you started.
Look for products that carry third-party certifications like USDA Organic or GOTS Certified Organic for textiles. 
When it comes to saving money on natural living products, there are many areas of the home where you can use money-saving strategies to buy natural living products. There are four main household categories that I'm focusing on with money saving tips- personal care products, cleaning products, home goods and organic food products.   
Below I'm sharing some simple and actionable strategies to save money on organic and natural living products.
How To Save Money On Organic & Natural Cleaning Products
The amount of money you spend on organic and natural cleaning supplies can add up quickly, especially if you think you need a different cleaning product for every type of mess possible.
What's the difference between natural and conventional cleaning products? Natural cleaning supplies don't contain harsh chemicals like chlorine bleach, antibacterials and quaternary ammonium compounds, among other harmful chemicals. Here are some tips for saving money on natural cleaning supplies:
Make your own DIY organic cleaning products at home using simple, natural ingredients like vinegar, baking soda, and essential oils. This can save you money without exposing your family to harsh cleaning chemicals and is also better for the environment. 
Avoid buying single-use cleaning products like cleaning wipes and use a spray bottle and washable rag. Opt for wool dryer balls that you can reuse over and over again instead of dryer sheets. 
Buy Bulk Cleaning Products: Attitude Eco Cleaning Refills contain 64.7 ounces of their cleaning and laundry products, so you can refill a smaller spray bottle when it's empty. Truly Free is a brand that carries laundry detergent, spray cleaners, floor cleaner, dish soap and more, and none of the products contain harmful chemicals. Simply buy the container once and purchase concentrated refills as needed. Truly Free is both economical and eco-friendly.
Simplify your routine: you don't need 5 different kinds of stain remover when just one will suffice. Use one type of all purpose cleaning spray throughout the house instead of specific cleaners for each room.
Stock a cleaning caddy with natural cleaning supplies and carry it with you from room to room. If you use a natural cleaning caddy, you won't have to buy multiple cleaning products for each room.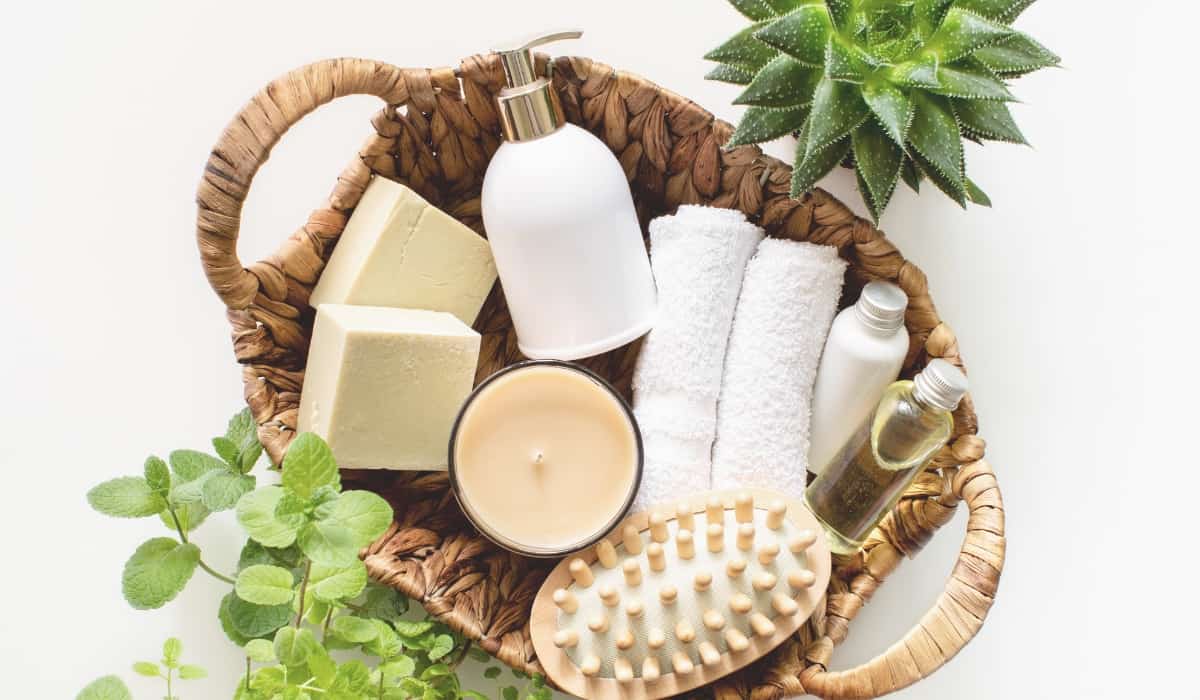 How To Save Money On Natural Personal Care Products
There are a wide range of prices when it comes to skincare products, and natural, clean and organic products can have a steep price tag depending on the brand. When looking for clean skincare and personal care products, avoid products that contain endocrine disruptors like synthetic fragrance. The EWG Skin Deep is a great place to look at the ingredients in specific products. 
If you want recommendations for specific brands of clean makeup and skincare that are budget-friendly, these articles on budget-friendly clean & natural makeup under $30, budget-friendly clean & natural face wash and budget-friendly clean face lotion have some great product options. 
Here are some tips to help you purchase organic skincare products without breaking the bank:
Set a budget: Determine how much you can afford to spend on organic skincare products. This will help you prioritize your purchases and make informed decisions.
Do your research: Check ingredient lists, read reviews and compare prices to find the best options within your budget.
Focus on essential products: Instead of buying a full range of skincare products, prioritize the essentials. Start with a cleanser, moisturizer, and sunscreen. These three products form the foundation of a good skincare routine.
Look for multipurpose products: Choose skincare products that serve multiple purposes. For example, a moisturizer with SPF can save you money by combining two products into one, like Acure Radically Rejuvenating Day Cream With SPF 30.
DIY skincare: Consider making your own skincare products using natural ingredients like a honey face mask. Simple recipes for face masks, scrubs, and moisturizers can be found online. This can be a cost-effective way to incorporate organic ingredients into your routine.
Buy in bulk or larger sizes: Purchasing personal care products in larger sizes or in bulk can often be more cost-effective in the long run. Attitude Eco Personal Care Refills and Griffin Remedy both sell bulk versions of their shampoo and conditioner.  
Sign up for newsletters and loyalty programs: Subscribe to newsletters or join loyalty programs of clean, natural and organic personal care brands. They often provide exclusive discounts, promotions, and early access to sales.
Shop during sales and promotions: Keep an eye out for sales, discounts, and promotions on organic skincare products. Black Friday, Cyber Monday, or seasonal sales are great opportunities to stock up on your favorite products at a discounted price. Safe & Chic has coupon codes right on their website, and Beauty Heroes has sales a few times a year.
Check for samples and travel sizes: Some brands offer samples or travel sizes of their products. This allows you to try out new products without committing to the full-sized version, saving you money in the process. The Detox Market has an option to purchase 3 skincare or makeup samples for $8.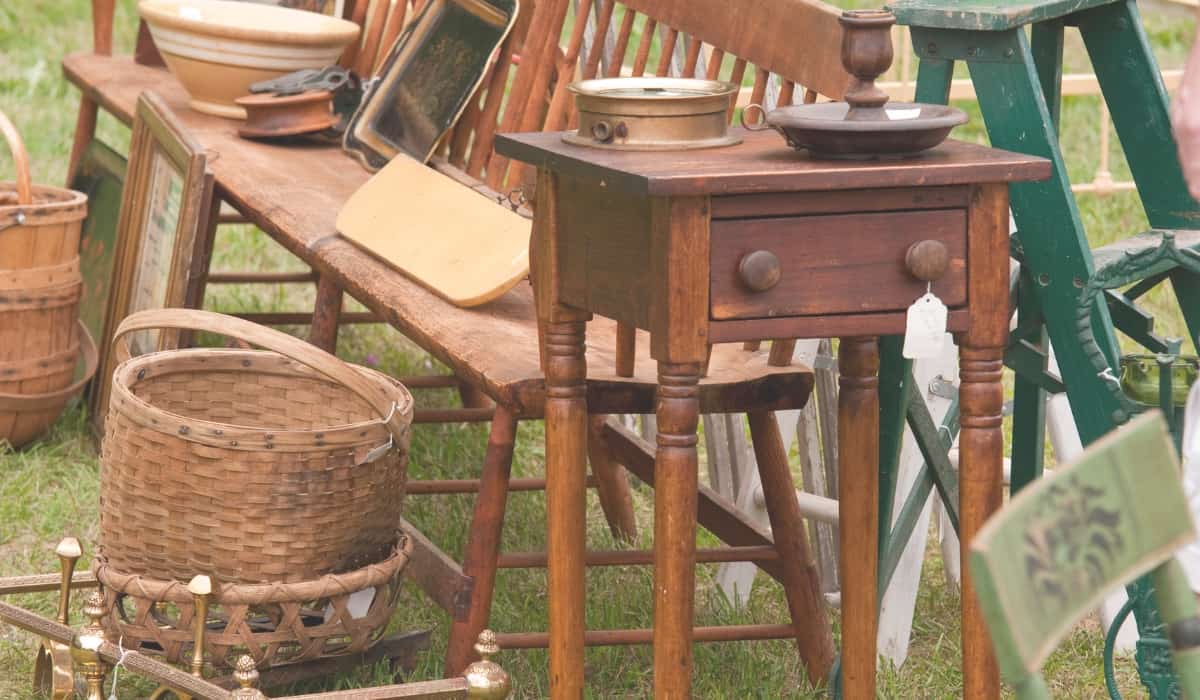 How To Save Money On Natural Home Goods
From couches to pillows, home goods refer to any items that we bring into the home to furnish it. Furniture that contains particle board will off-gas formaldehyde, which can cause cancer and other health issues.
Furniture cushions and textiles can be coated with fire retardant chemicals that are dangerous to human health. Carpets and rugs may contain endocrine disruptors like phthalates and dangerous VOCs. Purchasing non-toxic home goods requires some research and careful consideration.
Here are some tips to help you find affordable, non-toxic options:
Seek out for furniture and textiles made from natural and organic materials, such as solid wood, bamboo, or cork for furniture, and organic cotton or wool for rugs. Beyond rugs and furniture, there are affordable options for plastic-free home storage and organization products.
Look for specific certifications: Check for certifications like Greenguard, Oeko-Tex, or Global Organic Textile Standard (GOTS), which indicate that the products meet specific environmental and health standards.
Buy used solid wood furniture and wool rugs at yard & estate sales or on FB Marketplace & Craigslist. How to tell solid wood from particle board? Solid wood is heavier, there will be no veneer glued to the front of drawers, the drawers should be attached by tongue and groove, check the wood grain- if you can feel the wood grain and see a varying pattern, it's most likely solid wood.
DIY and upcycling: Consider repurposing or upcycling furniture and rugs to reduce costs. Look for solid wood pieces that can be sanded (wear a respirator and work outdoors), refinished, or painted using non-toxic paints and finishes.
Avoid flame retardant chemicals: Flame retardant chemicals are often found in furniture and rugs. Look for products labeled as flame-retardant-free or ask the retailer or manufacturer about their use of flame retardants.
Compare prices and brands: Shop around and compare prices from different retailers and brands. For GOTS Certified organic sheets and crib sheets, brands like Keababies and SOL Organics have high quality GOTS certified organic sheets and crib sheets at lower prices than their competitors.
Clearance sales and discounts: Keep an eye out for clearance sales, discounts, or seasonal promotions. Sign up for newsletters or follow social media accounts of eco-friendly furniture and rug companies to stay informed about any deals or discounts. My Green Mattress and Happsy are both budget-friendly brands of organic mattresses and they're typically more affordable than other organic mattress competitors. Take even more money off if you leverage sales at certain times of year like Memorial Day, 4th of July, Labor Day, Black Friday and President's Day.
Consider minimalism and multi-purpose items: Embrace a minimalistic approach and prioritize essential pieces. Look for furniture that serves multiple functions, such as storage ottomans or futons that can double as a bed.
Remember to carefully inspect any used items for signs of damage or infestations before purchasing. While buying non-toxic furniture and rugs on a budget may require some extra effort, it's an investment in your health and well-being.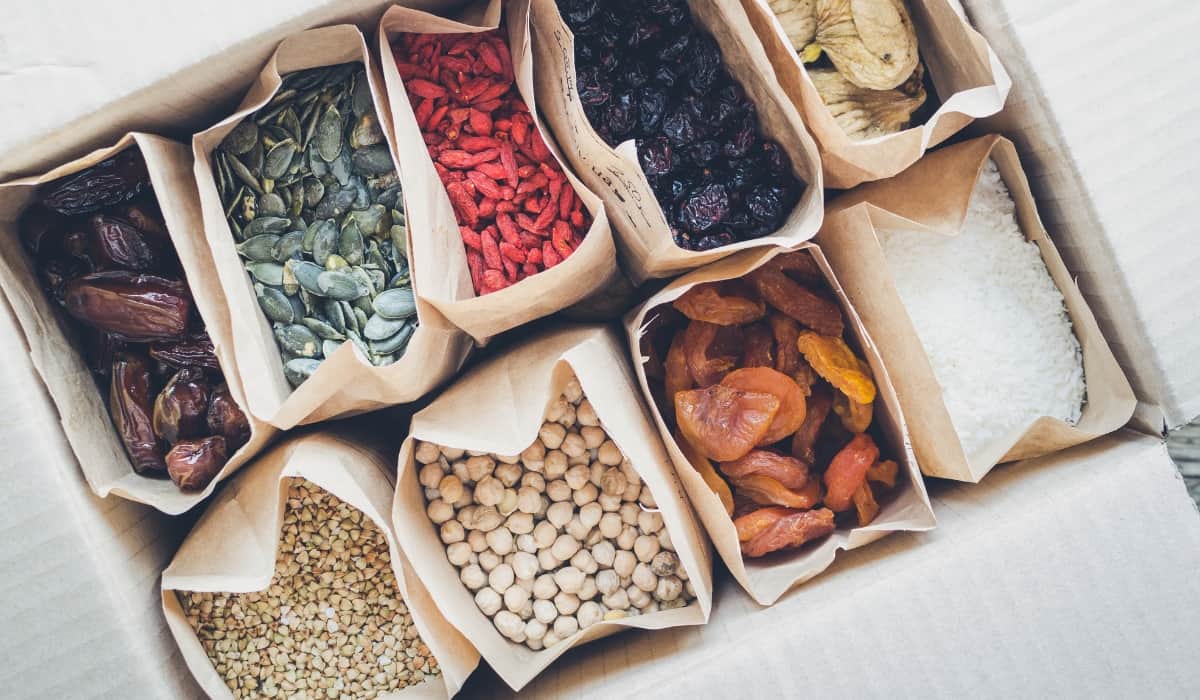 How To Save On Organic Food & Pantry Essentials
Choosing organic food may reduce your exposure to pesticide residues, although conventionally grown foods also undergo safety regulations to ensure pesticide levels are within acceptable limits.
Organic food production also prohibits the use of artificial additives, preservatives, flavors, and colors, as well as prohibiting GMOs. By supporting organic agriculture, individuals can contribute to sustainable farming methods and potentially minimize the environmental impact of conventional farming practices.
Plan ahead: Make a list of the organic products you need and stick to it when shopping. Avoid impulse buying and buying things you don't need.
Buy in bulk: Consider purchasing organic products in bulk, especially items like coffee beans, grains, legumes, nuts, and seeds. Bulk buying can often provide significant cost savings. Look for stores or co-ops that offer bulk bins where you can scoop out the desired quantity yourself.
Cook from scratch: Pre-packaged organic foods tend to be more expensive than cooking from scratch. Buying whole ingredients and preparing meals at home not only saves money but also gives you control over the quality and ingredients used. 
Explore frozen options: Frozen organic fruits and vegetables can be more affordable than fresh ones, and they retain their nutritional value well. Frozen products are often harvested at their peak ripeness and quickly frozen, making them a convenient and budget-friendly choice.
Grow your own: If you have the time, space, and inclination, consider starting a small organic garden. Growing your own herbs, vegetables, or fruits can be a rewarding way to obtain organic produce at minimal cost.
Join loyalty programs or co-ops: Some stores or co-ops offer loyalty programs or memberships that provide discounts on organic products. Thrive Market is a membership website and app that delivers high-quality grocery items as well as personal care and beauty products, cleaning products and health and wellness supplements. You can also buy meat and organic wine. Find out what I buy at Thrive Market.
Check the EWG Dirty Dozen: These foods on the "Dirty Dozen" list have the highest measured levels of pesticides, so purchase the organic version whenever possible.
Shop at farmer's markets: Shopping at local farmer's markets can often save you money on organic produce and other products.
More Natural Living Inspiration