Cleaning Caddy Essentials With Natural Cleaning Supplies
Streamline your cleaning routine with a convenient cleaning caddy that's stocked with natural, non-toxic cleaning supplies. Include multitasking non-toxic cleaning products, reusable microfiber rags, and a few other simple supplies in your grab-and-go natural cleaning caddy.
Disclosure: This post contains affiliate links, which means if you make a purchase through these links, we may receive a small commission at no extra cost to you.
There's something about spring that makes me want a fresh, clean home. My birthday falls in April, and every year I ask for a thorough housecleaning session as a birthday present. With the windows letting in a warm breeze and everyone in the family pitching in, it's a day I look forward to after a winter's worth of grime has built up.
This year I put together a handy cleaning caddy that can easily be moved from room to room. It's stocked with natural cleaning essentials that are safe for the whole family. If you're putting together a natural cleaning caddy, look below for everything you need.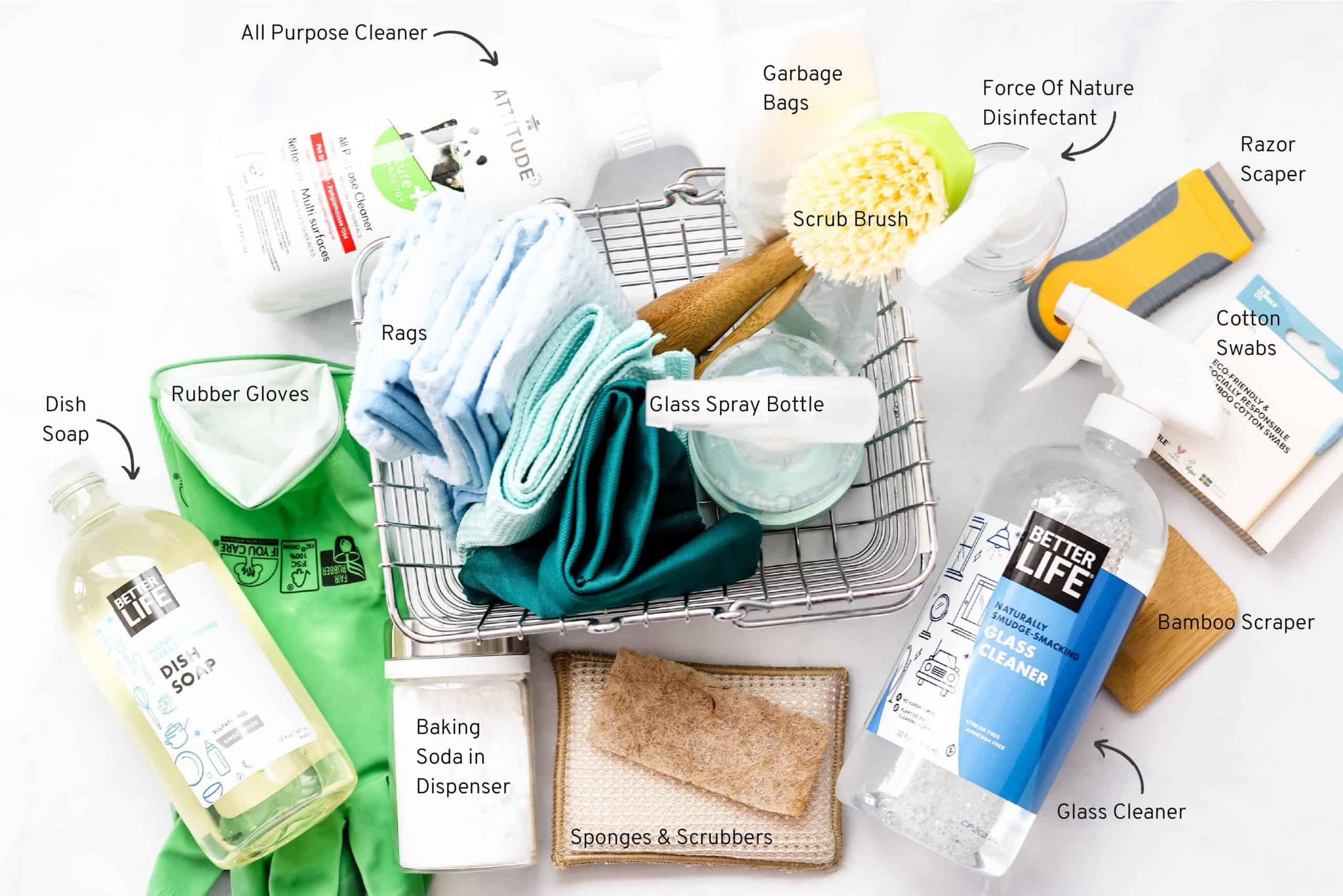 Start With A Caddy
Instead of storing cleaning supplies in every cupboard and cabinet in your house, a cleaning caddy is a handy and convenient way to stash your supplies in one place and carry as you clean. The cleaning caddies below are perfect for stashing all of your supplies.
Non-Toxic Cleaning Supplies
Here are the main ingredients to avoid in household cleaners:
Chlorine Bleach: a common household cleaner that can irritate the skin, nose, eyes, throat and lungs. Long-term bleach exposure can lead to asthma. Bleach is also highly reactive and can form other dangerous gases when it comes in contact with ammonia or acids such as vinegar.
Ammonia: Ammonia is caustic and very dangerous in concentrated form. Ammonia is a respiratory and skin irritant, and the fumes can also cause severe damage to your nose, throat, and lungs.
Phenol: Phenols are volatile chemicals that appear in most cleaning products that contain the suffix -sol. Concentrated phenols are are corrosive, so they can damage skin and mucous membranes, and they're also toxic if ingested.
Glycol Ethers– Acute exposure to glycol ethers can cause liver or kidney damage, and it can also cause fluid to accumulate in the lungs. Glycol ethers, such as 2-Butoxyethanol, are dangerous to ingest or inhale in significant quantities.
Phthalates: Phthalates are used to give cleaning products a long-lasting fresh scent. Exposure to phthalates may disrupt the normal functioning of the endocrine system.
Quaternary Ammonium Compounds or "Quats": Quats are known asthma triggers.
Sulfates: at concentrations greater than 2%, sulfates have been linked to skin irritation in humans and animals. Sulfate exposure, including Sodium Laureth Sulfate, can also cause eye and respiratory irritation.
 Antibacterials: Triclosan may still be found in cleaners. These banned substances have been linked to endocrine disruption and antibiotic resistance.
I've listed all the supplies I keep in my caddy for cleaning below – or you can simply use vinegar and water if you want to keep it super simple. It doesn't take much to get the job done. You can stash things like your toilet brush in the bathroom – no need to carry that everywhere!
Instead of bleach, I use Force Of Nature, a non-toxic disinfectant made with salt, vinegar, water and electricity. Read more about Force Of Nature in my post on How To Disinfect Your Home Without Harmful Chemicals.
For grimy sinks, a drop of dish soap, some baking soda and a scrub brush are really all you need to get the sink sparkling clean. You can also read up on floor cleaners that are safe for babies and pets.
Reusable Rags & Sponges
Eco-friendly rags and sponges can be tossed in the washer when you're done cleaning. Here are some options that I really like to have around for scrubbing and wiping:
Detailers
For hard to reach areas, stuck on bits and tiny crevices, you may need special tools – none of the special tools I use are expensive. I use a razor blade all the time in the kitchen for getting bits off our glass stovetop, and cotton swabs are a must for vents and small spaces.
Cleaning Helpers
I mix a half vinegar, half water solution in a glass spray bottle – it's always good to have a few extra spray bottles around. Keep a pair of rubber gloves in your caddy for cleaning bathrooms. I buy baking soda in bulk, and the dispenser below doesn't take up much space in the caddy. Stash some garbage bags in your caddy too – they come in very handy!
.