Plastic-Free Solutions For Storage & Organization
Organize your home with plastic-free and sustainable storage baskets and bins to keep your home tidy and free from clutter. From glass food storage canisters to baskets woven with eco-friendly materials to a bamboo desk organizer, we've gathered the best plastic-free storage solutions for organizing your clutter!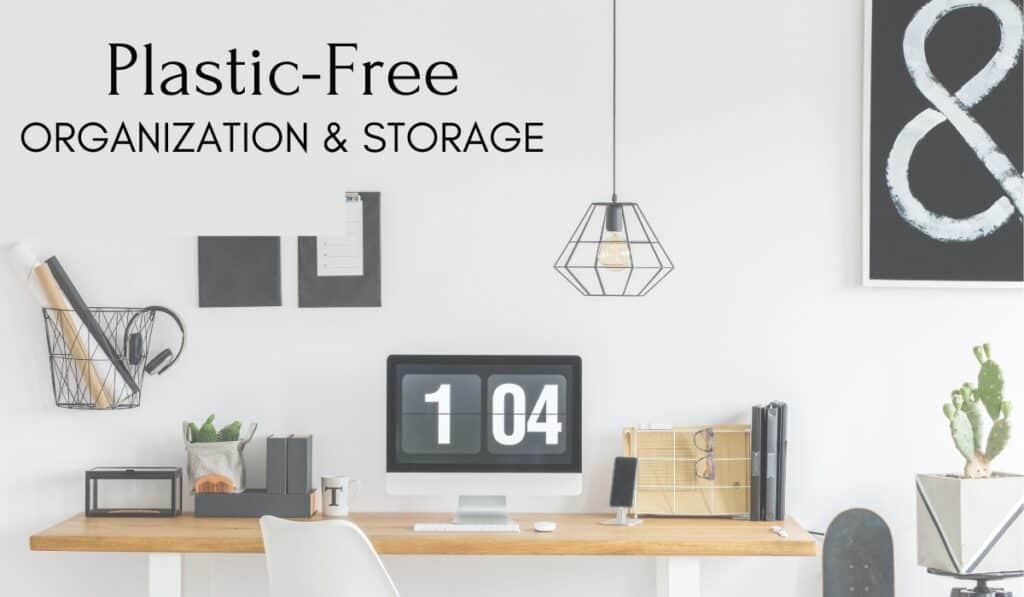 Disclosure: This post contains affiliate links, which means if you make a purchase through these links, we may receive a small commission at no extra cost to you.
It's a new year and it's time to organize. Instead of buying a bunch of plastic bins to corral your stuff, organize your home with plastic-free and sustainable storage baskets and bins.
As more plastic products fill our environment, we not only have to contend with plastic waste filling up our landfills and taking 1,000 years to degrade, but tiny plastic particles, called microplastics, are migrating all over the world, mixing in with dust and sand and traveling though ocean water. Microplastics can be found in marine animals, table salt and our drinking water, among other things. In fact, humans consume about 5 grams, the size of a credit card, of microplastics every week.
The problem is that there are tons of plastic organizers and plastic storage bins on the market. Every time you need a new storage bin or organizer for your pantry, office, bathroom or any other room in your home, purchase a plastic-free option.
Instead of plastic drawer dividers, buy sustainable bamboo ones. If you need a bin for storing throw blankets, consider a woven basket made with eco-friendly materials like seagrass. Place your pens and paper clips in a bamboo bin instead of a plastic one.
In the bathroom, use bamboo or metal storage containers. Plastic-free bathroom products will also cut down on your plastic use, especially when it comes to using bamboo toothbrushes in place of plastic ones.
There are also many opportunities to use plastic-free products in the kitchen. From stainless steel snack and lunch containers to everyday sustainable kitchen essentials, swapping plastic products for more eco-friendly ones will reduce plastic waste in landfills.
It's totally possible to organize your clutter and tidy your home without using plastic storage. Look below for plastic-free and eco-friendly storage solutions for every room in your home.