The Best Natural Dry Shampoo
Swap out your conventional dry shampoo for non-toxic, eco-friendly dry shampoo to absorb oil and support a healthy scalp. I'm sharing 7 of the best brands of clean, natural and non-toxic dry shampoo on the market.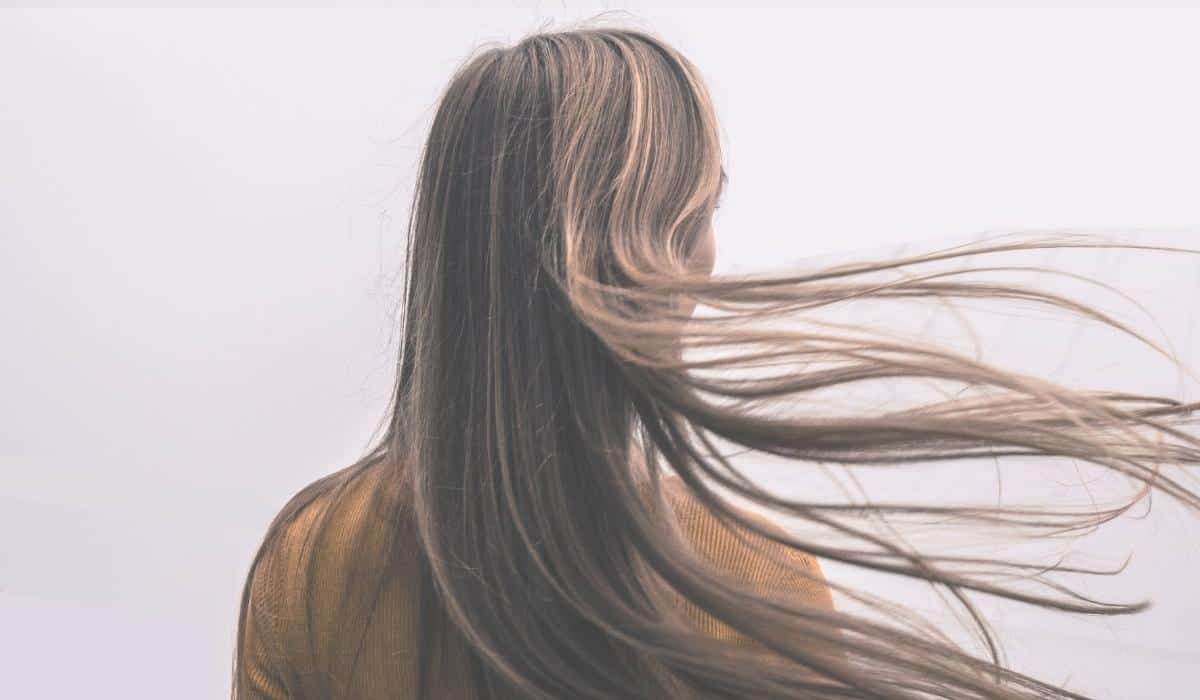 Disclosure: This post contains affiliate links, which means if you make a purchase through these links, we may receive a small commission at no extra cost to you.
When it comes to hair, mine is the perfect candidate for dry shampoo. It's fine, thin and seems to attract every grease molecule around.
By the evening, I've got an oil slick on the top of my head. It wasn't until a few years ago that my hairdresser suggested dry shampoo. Where has it been all my life?
If it's the end of the day and I've got a school meeting or am heading out for a Target run, I use a little dry shampoo to make my hair more presentable. With just a teeny bit of dry shampoo rubbed into the roots, it works like a charm to get rid of that oily look. Beyond using dry shampoo without harmful chemicals, look for non-toxic shampoo brands and non-toxic leave-in conditioner for a healthy hair routine.
Dry shampoo has been in the news lately due to benzene contamination of some spray dry shampoo brands- see more on that below. I have not included any aerosol dry shampoo products on my list of 7 non-toxic dry shampoo brands. Whether you have light hair or dark hair, there's a non-toxic dry shampoo brand below that doesn't contain any harmful chemicals. 
How Does Dry Shampoo Work?
Your scalp is covered with hair follicles. These follicles produce sebum, the natural oil that keeps your scalp healthy and softens your hair. While a certain amount of natural oil is normal, excess oil buildup gives your hair a greasy look.
The starch in dry shampoo soaks up excess oil and grease in your hair and scalp. This gives your hair a cleaner, fresher, non-greasy appearance. No water necessary!
Benefits Of Dry Shampoo
With dry shampoo, you can go a day or two longer without washing your hair.
Dry shampoo may give your hair more volume, thickness, and texture.
Touch up your hair with dry shampoo after a sweaty workout.
Dry shampoo can extend the life of a salon blowout.
If you've just colored your hair, frequent washing can cause the color to fade. Alternate washing with dry shampoo to extend the life of your hair color.
The addition of essential oils makes your hair smell fresh between washes.
If water isn't available, like on a camping trip or power outage, dry shampoo will tame the grease.
Do I Still Need To Wash My Hair?
Yes. Dry shampoo is not a replacement for washing your hair, it simply lengthens the time in between washing.
Are There Cons To Using Dry Shampoo?
Overuse of dry shampoo can dry out your hair, making it brittle and fragile. Your scalp may also start to feel itchy from overuse of dry shampoo.
Super dry hair is more vulnerable to heat damage and can break more easily. This is worst case scenario- just don't use dry shampoo every single day.
Ingredients To Avoid In Dry Shampoo
Benzene In Aerosol Dry Shampoo
Valisure, an independent laboratory that provides quality assurance throughout the healthcare industry, detected high levels of benzene in 70% of samples of aerosol dry shampoo. Eleven of the products sampled had over 10 times the safe limit of benzene exposure set by the FDA.
Benzene was not intentionally added as an ingredient to any of the dry shampoo products. It's thought that the contamination is a byproduct of the propellant used. Benzene contamination was also detected in aerosol spray personal care products like deodorant and sunscreen. 
Benzene exposure is associated with higher risk of cancer, and if you want to reduce your exposure to this carcinogen, I recommend avoiding all personal care products that come in an aerosol spray can. 
Natural Ingredients To Look For In Dry Shampoo
Oil absorbers: cornstarch, arrowroot powder, clay, baking soda, tapioca starch, rice starch
Essential oils for fragrance: lavender, rose, citrus peel oil
To darken: cocoa powder
How To Use Dry Shampoo
Start with dry hair.
Remove any barrettes, bobby pins or hair ties before applying dry shampoo.
Make sure your hands are clean, or you risk transferring more oils from your fingertips onto your hair roots.
If using your hands to apply, squirt a half-dollar sized amount of dry shampoo on the top half of your fingers.
I like to apply dry shampoo right underneath where I part my hair, in the roots. Massage your scalp to evenly distribute the product down to the roots with the tips of your fingers.
Alternatively, apply a small amount of dry shampoo directly into your roots by aiming and squirting the bottle and rub it in with your fingertips.
If applying dry shampoo with a flat brush (like a boar bristle hair brush or kabuki makeup brush), pour some dry shampoo onto the brush, shake off any excess dry shampoo and brush throughout your roots.
If you want volume, flip your head over and rub the dry shampoo into your roots.
If your dry shampoo is a powder or aerosol, don't breathe in any product. I hold my breath when applying the powder.
Dry Shampoo Tips
Once you rub the dry shampoo in, don't touch your hair. There are natural oils in your fingertips that transfer to your hair if you keep touching.
After applying dry shampoo, you can give you hair a blast of cool air from a blow dryer to give it some added volume and bounce.
If you notice some white powder hanging around your roots after application, take a damp washcloth and dab lightly at the white powder- it should disappear.
Add dry shampoo to clean hair before styling in a bun, braid, or updo to add some grip. Clean hair can be super slippery.
Apply a little dry shampoo to bobby pins or barrettes to help them stay in place.
The Best Non-Toxic Dry Shampoo For Healthy Hair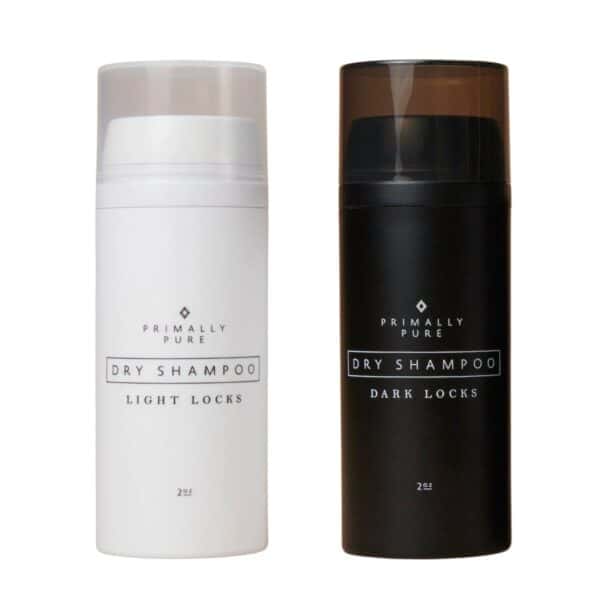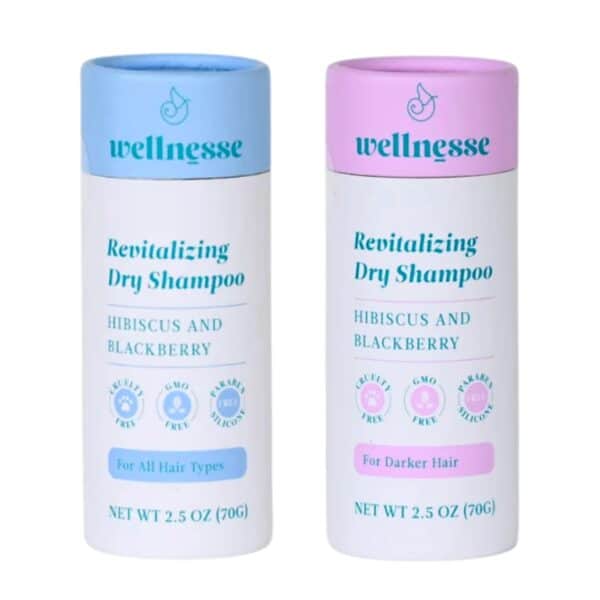 Wellnesse
Wellnesse Dry Shampoo
Cost: $19 for 2.5 oz ($7.60 per ounce). Use code Umbel for 15% off.
Ingredients used to absorb oil: cornstarch, tapioca starch
From the Wellnesse website: Wellness Dry Shampoo is packed with all-natural ingredients like kaolin clay, which absorbs four times its weight in oil. The formula includes tapioca, hibiscus, and cactus flower to reinforce hair growth and boost volume without disrupting the natural pH of your hair. Packaged in 100% recycled and recyclable cardboard, aerosol isn't your only option for dry shampoo anymore.
Formulas: Wellness Revitalizing Dry Shampoo for All Hair Types and Wellness Revitalizing Dry Shampoo for Darker Hair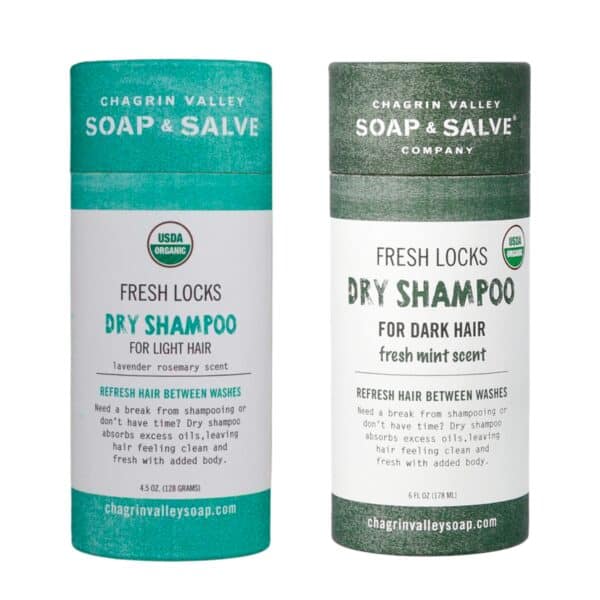 Chagrin Valley
Chagrin Valley Dry Shampoo
Cost: $18.50 for 6 oz ($3.08 per ounce)
Ingredients used to absorb oil: organic tapioca, organic arrowroot powder, kaolin clay
From the Chagrin Valley website: Chagrin Valley Dry Shampoo helps hair look clean & smell fresh when you have to skip the lather for a day or two. Certified Organic: Made without synthetic fragrances, aluminum, talc, micas, or preservatives, using ingredients that are Certified Organic, non-GMO, cruelty-free, sustainably produced and ethically traded. This formula uses organic arrowroot powder, tapioca flour and Kaolin Clay to absorb excess oil and refresh hair naturally. Vegan & Eco-Friendly: Packaged in recyclable paperboard tubes with a small plastic sifter cap.
Scents: Fresh mint, Lavender, Citrus Mint, Lavender Rosemary
Formulas: Chagrin Valley Dry Shampoo For Light Hair and Chagrin Valley Dry Shampoo For Dark Hair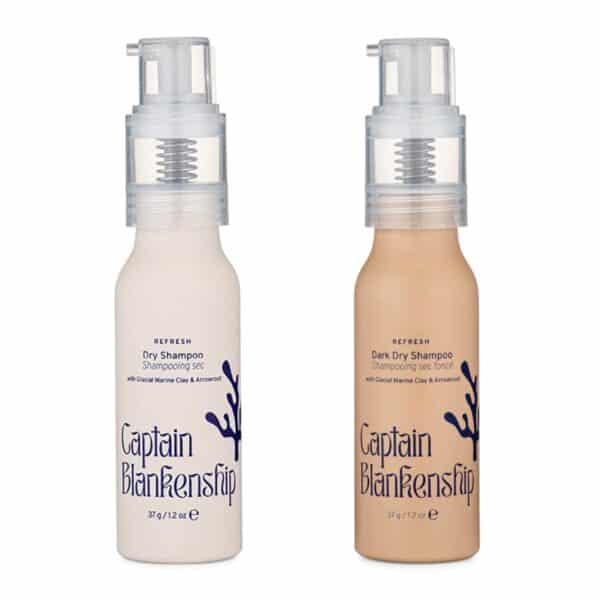 Captain Blankenship
Captain Blankenship Dry Shampoo
Cost: $26 for 1.2 oz ($21.67 per ounce)
Ingredients used to absorb oil: organic arrowroot powder, glacial marine clay, aluminum-free baking soda
From the Captain Blankenship website: Captain Blankenship Dry Shampoo features a talc-free formula and is an instant refresh for unwashed hair. Organic arrowroot powder and glacial marine clay work together to absorb oil, boost volume and refresh hair, while essential oils of rose geranium and palmarosa conjure an uplifting, wild rose coastal scent. Now with our innovative powder sprayer for targeted application.
Formulas: Captain Blankenship Light Dry Shampoo and Captain Blankenship Dark Dry Shampoo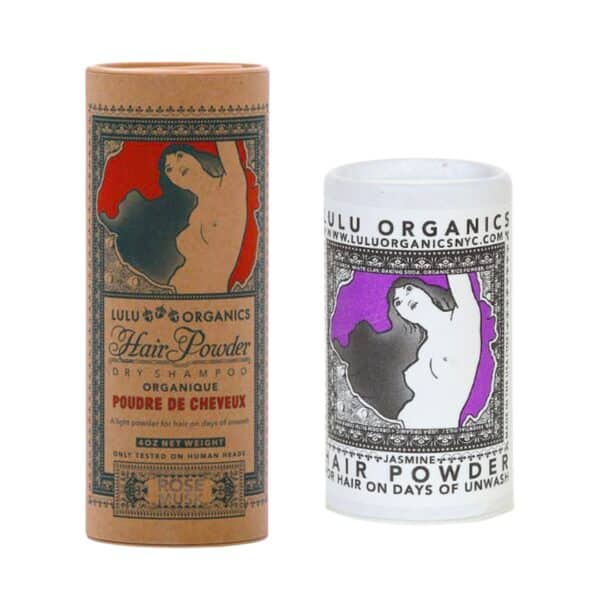 Lulu Organics
Lulu Organics Dry Shampoo
Cost: $28 for 4 oz ($7.00 per ounce)
Ingredients used to absorb oil: organic non-GMO cornstarch, white clay, baking soda
From the Lulu Organics website: Lulu Organics Dry Shampoo is a talc-free, organic dry shampoo powder that soaks up oil at the roots, giving you extra body and leaving your hair looking and smelling as fresh as a day-one wash. Talc Free, vegan, gluten free.
Scents: Geranium, Lavender & Clary Sage, Rose Musk,Vetiver & Black Pepper, Jasmine, Patchouli & Amber, Unscented
Formula: Lulu Organics Dry Shampoo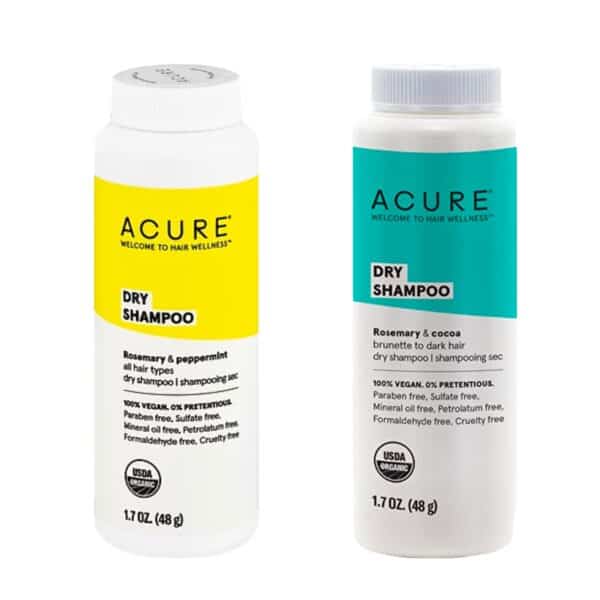 Acure
Acure Dry Shampoo
Cost: $8.69 for 1.7 oz ($5.11 per ounce)
Ingredients used to absorb oil: organic cornstarch, organic arrowroot powder, kaolin clay, baking soda
From the Acure website: Acure Dry Shampoo is convenient and effective for all hair types and contains cocoa & rosemary. The formula is easy to use, fast acting, and absorbs oil and removes grime without water. Paraben free, Sulfate free, Mineral oil free, Petrolatum free, Formaldehyde free, Cruelty free. 100% Vegan, USDA organic.|
Formulas: Acure Dry Shampoo For All Hair Types and Acure Dry Shampoo For Dark Hair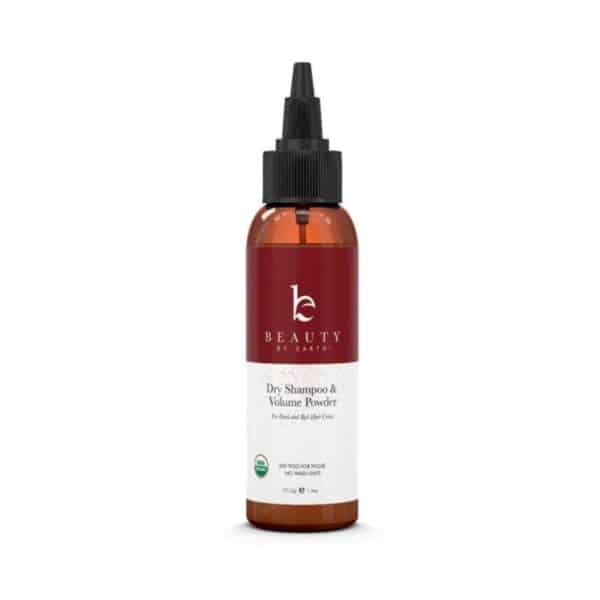 Beauty by Earth
Beauty By Earth Dry Shampoo & Volume Powder
Cost:$21 for 2.5 oz ($8.40 per ounce)
Ingredients used to absorb oil: organic cornstarch, organic arrowroot powder, kaolin clay, baking soda
From the Beauty By Earth website: Beauty by Earth Dry Shampoo is an organic dry shampoo that will give you healthy locks and volume. It's the gentle way to deal with drab, drained, or dirty hair.
Formula: Beauty By Earth Dry Shampoo & Volume Powder
More Natural Living Inspiration