Swap Out Your Drugstore Makeup For Clean & Natural Eyeliner
The best clean and natural kohl eyeliner brands for clean beauty without harmful chemicals. Read my reviews to find out which brands go on easily and have the most staying power.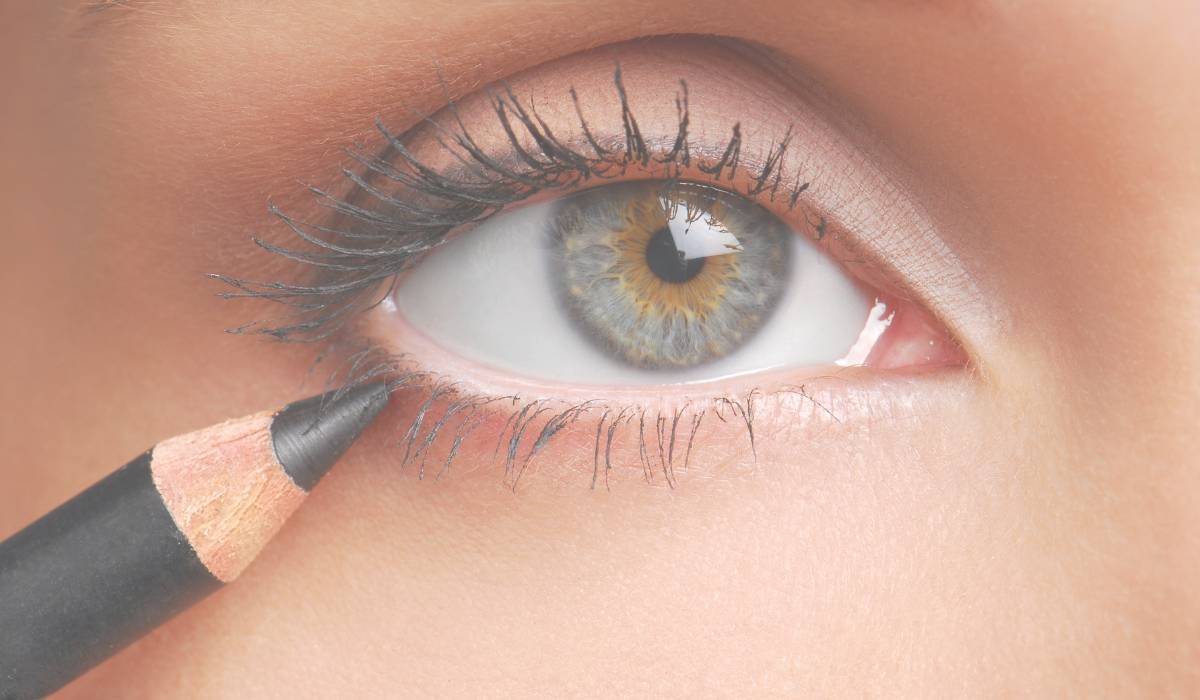 Disclosure: This post contains affiliate links, which means if you make a purchase through these links, we may receive a small commission at no extra cost to you.
My signature look in middle school was a thick line of bright purple eyeliner, and I wore that same crayon-like look all through high school. Luckily I've moved on from that look and swapped out the bright purple for charcoal, and I wear either charcoal or black eyeliner exclusively now.
Why did I make the switch to natural eyeliner?
According to the American Optometric Association, makeup debris and particles can get into the tear duct and other parts of the eye and can cause dermatitis, dry eye, blocked ducts and other reactions. So that means all the harmful chemicals in traditional makeup are making their way into your eyes.
Aside from getting makeup residue in your eyes, cosmetics and personal care products can enter the body through dermal exposure. With women and teenage girls using more personal care and cosmetic products than men, it comes as no surprise that women have higher urinary concentrations of phthalates, parabens and other concerning chemicals.
That's where natural, clean and organic personal care and cosmetic products come in.
In a study of 100 adolescent girls, researchers measured levels of phthalates, parabens, triclosan and BP-3 in urine samples. After the study subjects used personal care and cosmetic products free of these chemicals, urine samples were taken again. The concentrations of these chemicals were reduced by up to 45% after just 3 days using products free from phthalates, parabens, triclosan and BP-3.
That's enough research right there to convince me to make the switch to clean, natural and organic skincare and cosmetics, and hopefully you're ready to make the switch too. I tested 10 brands of natural, clean and organic eyeliners in search of the perfect one—one that went on smoothly and had staying power. And I found one that I love! Read on for what to look for in a clean eyeliner, reviews and my favorite brands.
Avoid These Ingredients In Eyeliner
Aluminum Powder- Aluminum powder is a metallic compound used as a cosmetic colorant in eye makeup. It's a byproduct of aluminum manufacturing and is considered a neurotoxin. It is listed on makeup labels as aluminum, LB Pigment 5 or pigment metal.
BAK- Benzalkonium chloride (BAK) is a preservative found in eyeliner, mascara and makeup remover.  A 2009 study found BAK to be toxic to the epithelial cells of the eyes. BAK may be listed as benzalkonium chloride, quaternium-15 or guar hydroxypropyltrimonium chloride.
BHA and BHT- Butylated hydroxytoluene (BHA) and butylated hydroxyanisole (BHT) are preservatives derived from petroleum and found in some mascara formulas. BHA is an endocrine disruptor and a possible carcinogen. BHT is a respiratory irritant and is considered toxic or harmful to human organ systems.
Carbon black- Carbon black delivers color to traditional mascara and other eye makeup. It's been linked to cancer and organ system toxicity. Look for labels with carbon black, D & C Black No. 2, pigment black 6 or 7, acetylene black, channel black, furnace black, lamp black and thermal black.
Coal Tar Dyes- Coal tar is recognized as a human carcinogen and may be contaminated with low levels of heavy metals. These dyes are used as a colorant in eye makeup. You may find them listed as CI followed by a five digit number. (includes FD&C Blue No. 1 or Blue 1, Green 3, Yellow 5, Yellow 6, Red 33, etc.) They may also be labeled as Aminphenol, Diaminodenzene or Phenylenediamine.
Ethanolamine compounds (labelled as DEA, TEA and MEA)- Ethanolamines may be contaminated with nitrosamines, which are cancer-causing chemicals.
Formaldehyde- Diazolidinyl urea, Imidazolidinyl Urea, DMDM hydantoin, methenamine and quarternium-15 are formaldehyde-releasing preservatives found in cosmetics. Formaldehyde is a known carcinogen as well as a skin irritant.
Parabens- Parabens are a type of preservative used to prevent the growth of bacteria and prolong the shelf life of lip balm, deodorant, lotion, and other beauty products. The most commonly used are methylparaben, ethylparaben, propylparaben, isobutylparaben and butylparaben. Parabens disrupt hormone function and are linked to increased risk of breast cancer and reproductive toxicity. A 2004 study found high concentrations of parabens in breast tumor samples. The European Union banned the use parabens in cosmetics in 2012.
Synthetic fragrance- Beauty products can list fragrance as one ingredient and don't have to disclose the fact that these formulations may contain hundreds of ingredients. Synthetic Fragrance may contain carcinogens, endocrine disruptors, allergens, respiratory irritants and neurotoxic chemicals (14). Synthetic musks like galaxolide and tonalide, are linked to hormone disruption. Fragrance formulations also contain phthalates, which are hormone disruptors.
What Ingredients To Look For In Natural Eyeliner
Wax– beeswax or carnauba wax
Oil– jojoba oil, hydrogenated vegetable oil, sunflower seed oil, etc.
Pigments– iron oxide, mica
Preservatives– vitamin E, citric acid, zinc
How To Apply Eyeliner
I have completely switched up the way I apply eyeliner from when I first started. My old method of applying eyeliner involved pulling the skin tightly on the corner of my eye. With the skin tight, I would draw a line on the top lid. NO, NO, NO! This method stretches your skin, and who wants the skin near their eyes to stretch out and get all crepey?
Start with a sharp point or tip. I don't need to sharpen my eyeliner every day (I do it about once a week), but the whole process of applying eyeliner goes so much smoother with a sharp tip.
The BEST method of applying eyeliner to your top lid is to look straight in the mirror when applying, taking care NOT to pull the skin tight on your eyelid. This is a one-handed job (your hand is holding the eyeliner, that's it).
I start at the center of my lid and draw a line outward, toward the outer corner of my eye. The tip of your eyeliner should be as close to the roots of your lashes as possible. Your eyeliner should be creamy enough to go on easily in one line or a few short strokes, and you don't need to wiggle the eyeliner forcibly back and forth.
For the second step, I draw a line from the center of my eyelid inward, toward the inner corner of my eye. You can use a q-tip to remove any errant marks and to help shape the line. Yes, it's that simple! Remember, you don't need to touch or pull any skin on your face to apply eyeliner. I learned this method from a talented makeup artist at Bobby Brown, and I'm glad I made the switch a long time ago. For everyday wear, I only line my top lid.
For a more dramatic look (special occasions, dinner out, etc.), I line my lower lashes, as well as my upper lashes, with eyeliner. For the lower lid, start at the outer corner and draw a line as close to your lash roots as possible. I draw the line on the top part of the roots (close to but not on the waterline) and correct with a q-tip. This line is drawn very thin, so make sure your eyeliner is sharp.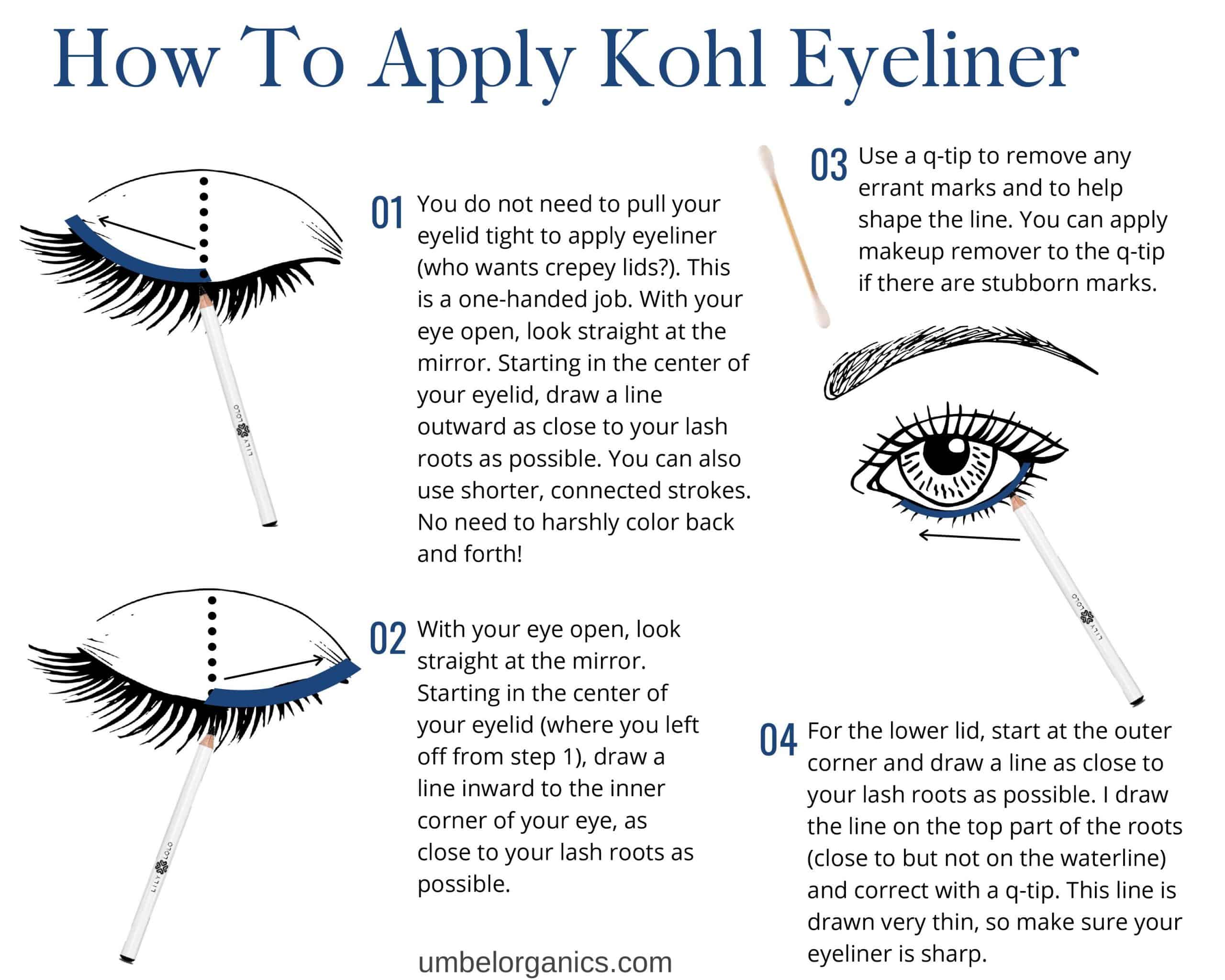 Beyond beauty products, look for skincare products without harmful chemicals. Swap out conventional body lotion for natural body lotion and use non-toxic lotion on the kids in your family. If you're on a budget, there are face lotion brands that are budget-friendly but don't contain toxic ingredients.
Although I tested 12 brand of natural eyeliner, only 6 made the cut. Aside from the 6 brand below, I tested eyeliner from Alima Pure, Inika, Pacifica, Ere Perez, Burt's Bees and Kjaer Weis. The 6 clean and natural eyeliner brands below were my favorite, and the first one listed gets top prize for gliding on effortlessly and staying on all day.
Clean & Natural Eyeliner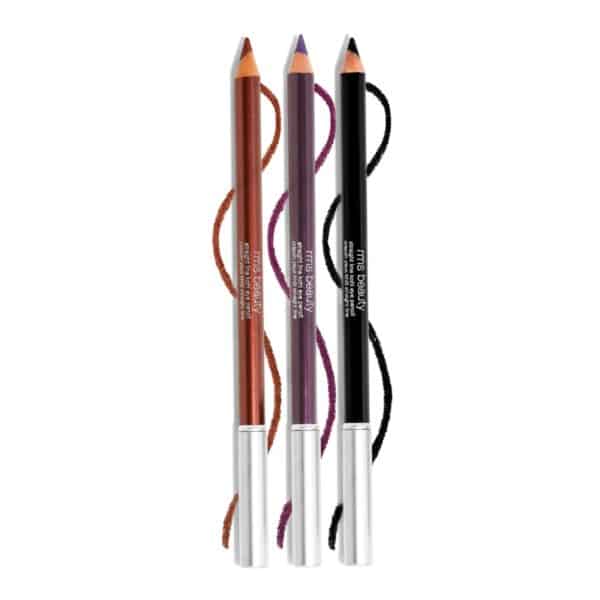 RMS Beauty Straight Line Kohl Eyeliner
Cost: $22
Colors: HD Black, Bronze Definition, Plum Definition
From the RMS Beauty website: Infused with mango and meadowfoam seed oils for nourishment and a velvety smooth application, the dual-sided classic wood pencil features a sponge tip on one end to blend and smudge. Also included is a custom rms beauty sharpener to keep things precise. Wooden pencil with aluminum caps. Outer carton made of 80% post consumer recycled paper and vegetal ink.
Why I love This Eyeliner: This one is my new favorite! It glides on easily, has a nice deep pigment, and stays on all day.
Shop: RMS Beauty Straight Line Kohl Eyeliner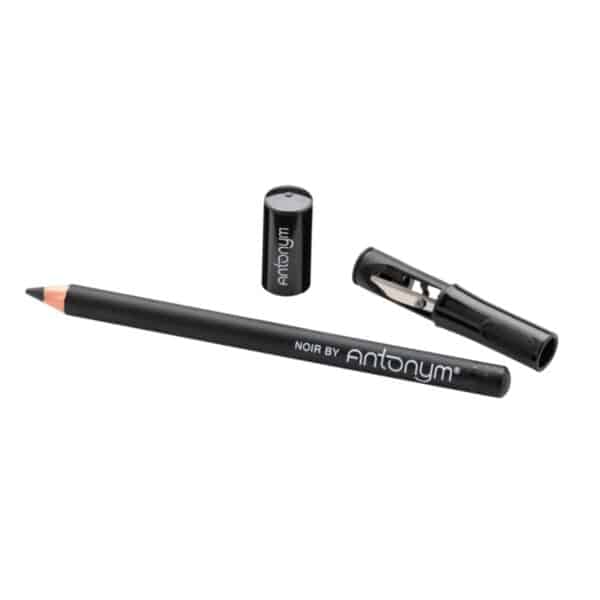 Antonym Eye Pencil
Cost: $21
Colors: Noir, Brown
From the Antonym website: This certified natural water resistant eye pencil has a soft and smooth application and a rich color pay-off. The formula was created to provide a long lasting, waterproof coverage guaranteed to help you achieve your desired look. You can use the eye pencil to create a precise line on the upper eyelid to a perfect smudge for the a sultry, smoky eye. Made with ingredients that are of 100% natural origin, the pencil is free of preservatives and dermatologically approved, safe to use in the rim of the eye. Moisturizing ingredients and natural anti-oxidants of marula oil, jojoba oil, candelilla and carnauba are excellent for sensitive skin. The eye pencil includes a detachable, precision-made sharpener.
Why I love This Eyeliner: I've used Antonym eyeliner for years- it goes on smoothly and stays on fairly well. RMS Beauty eyeliner has just recently taken top spot, but this comes in at a close second.
Shop: Antonym Eye Pencil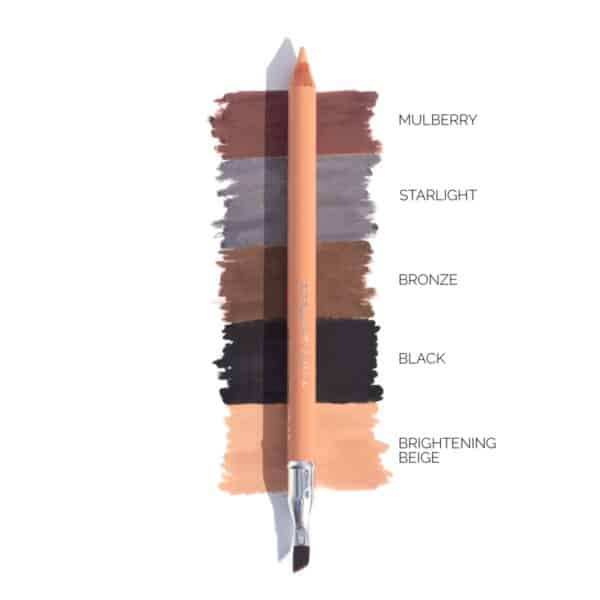 Fitglow Vegan Eye Liner
Cost: $24
Colors: Brightening Beige, Black, Bronze, Mulberry, Starlight
From the Fitglow website: Line your eyes with this long wearing, natural vegan eye pencil. Take your look from a simple line to a soft smokey eyeshadow by blending with the buffing brush.
Why I love This Eyeliner: This one glides on easily, but it doesn't have as much staying power as RMS. I love the color choices!
Shop: Fitglow Vegan Eye Liner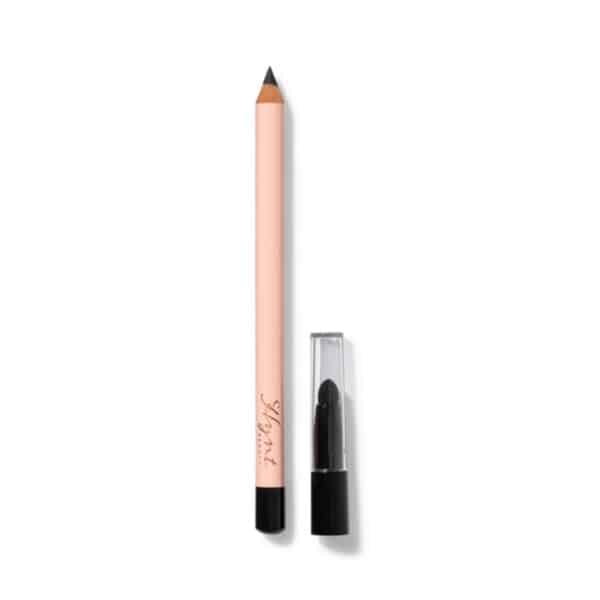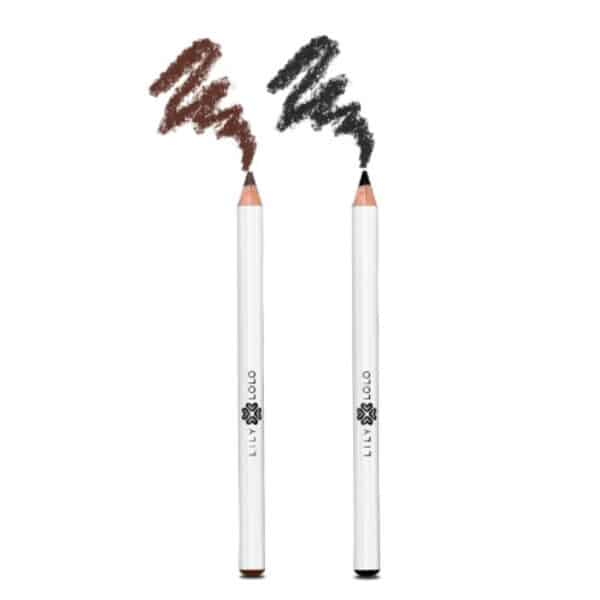 Lily Lolo Eye Pencil
Cost: $16
Colors: Black, Brown
From the Lily Lolo website: Soft and smudgy – great for smoky eyes. There are no artificial ingredients, just long lasting colour with a smooth, creamy texture. Made with pure inert minerals and completely free of GMOs, nano-particles, talc, additives, harsh chemicals, parabans, gluten, bismuth oxychloride, dyes, fillers, fragrance, preservatives, petroleum based chemicals, and other questionable ingredients.
Why I love This Eyeliner: It's the most affordable eyeliner that I tried and liked.
Shop: Lily Lolo Eye Pencil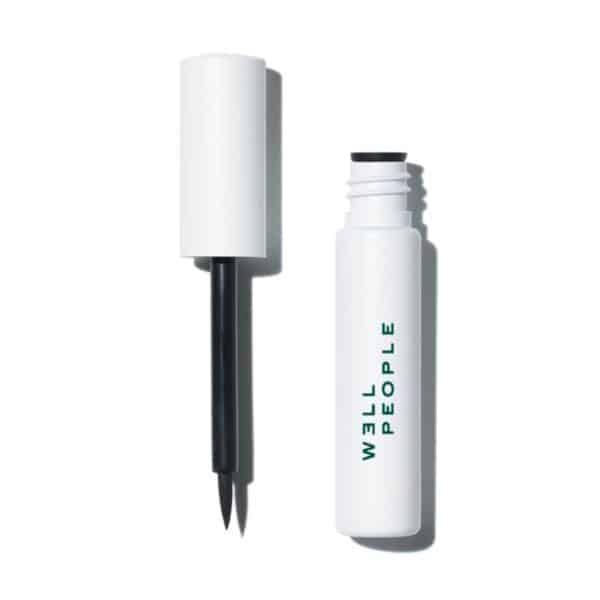 W3LL People Liquid Eyeliner
Cost:$16.99
Color: Black
From the W3LL People website: This long-wear black liquid eyeliner features plant-powered ingredients and a fine brush tip for ultimate precision. It delivers high pigment in a rich, black color and the formula is hydrating and smudge-resistant.
Why I Love It: This liquid liner is infused with plant-based ingredients and it has bold staying power.
Shop: W3LL People Liquid Eyeliner 
More Clean Beauty Inspiration