Non-Toxic Workout & Fitness Gear For Working Out At Home
Work out at home without being exposed to harmful chemicals in your workout and fitness gear. From non-toxic yoga mats to non-toxic dumbbells to non-toxic fitness rings, we've got you covered with the best non-toxic fitness gear that's perfect for your home gym.
Disclosure: This post contains affiliate links, which means if you make a purchase through these links, we may receive a small commission at no extra cost to you.
A plethora of online workout classes and Youtube fitness channels have made home workouts more convenient than ever. With just a yoga mat and a pair of dumbbells, you can get a full body workout right in the comfort of your own home.
It was last year that my old yoga mat literally started to fall apart. After doing some research, I learned that most yoga mats are made of toxic materials like PVC and phthalates that are bad for your health and for the environment. I wrote a post on non-toxic yoga mats and shared my favorite yoga mats. But what about other workout equipment like fitness weights? Dumbbells can be made with toxic materials like phthalates and exercise balls can be made with PVC.
Look below for the harmful chemicals that may be lurking in your fitness gear and what to avoid. We've got you covered if you're looking for non-toxic fitness mats, non-toxic dumbbells, non-toxic fitness rings and more.
Harmful Chemicals To Avoid In Fitness Gear
Phthalates– Phthalates are plasticizers that are added to everything from yoga mats to fitness weights to make the plastic used in the product more pliable. Phthalates are added to all sorts of common household items like cosmetics, containers for food and drinks and baby toys. Phthalates have been linked to a variety of health concerns, including endocrine disruption, impacts to reproductive systems and some forms of cancer (1, 2).
BPA– Plastics used for yoga mats and fitness weights may contain this endocrine-disruptor. A 2018 study linked BPA with significant changes in insulin response levels (3), and a 2019 study found a positive association between BPA and coronary heart disease (4)
PVC– Exposure to PVC, aka Polyvinyl Chloride, is associated with an increased risk of certain cancers. Toxic metals are used as stabilizers in PVC, including lead, a neurotoxin, and cadmium, a carcinogen (5). Aside from the human health impacts, PVC is an environmental pollutant. During various stages of PVC production and disposal, dioxins and mercury are released into our air, water and soil (6). Dioxin is a well-known carcinogen and can affect the reproductive, immune, endocrine and neurological systems (7).
California Proposition 65 Warning Label
You may see the California Proposition 65 warning label on some, if not most, fitness equipment. There are currently over 900 chemicals on this list (see them all listed here), including some phthalates and formaldehyde. If your fitness gear does not include the California Proposition 65 warning label, this may be a good indication that your fitness gear does not contain harmful chemicals.
I'm sharing a list of fitness gear that's perfect for your home gym and doesn't contain toxic chemicals like phthalates and PVC. When it comes to non-toxic yoga mats, dumbbells and fitness balls, you can work out knowing that you're not being exposed to harmful chemicals. Look below for the best non-toxic fitness gear that's perfect for your home gym.
The fitness gear below is perfect for supporting your non-toxic workout, with accessories ranging from non-toxic water bottles to non-toxic muscle rollers. Plastic water bottles contain Bisphenols like BPA and other toxic chemicals that can harm your health. Make the switch to a stainless steel water bottle, and swap out your foam roller for a sustainable, earth-friendly cork roller. Organic cotton gym towels are also an eco-friendly way to work out!
Trident Organic Cotton Gym Towels– GOTS Certified Organic Cotton. Highly Absorbent, quick drying, compact and lightweight. Perfect for the gym – comes in 3 colors: Orange, Grey and Green.
Thinksport Insulated Sports Water Bottle– Contoured design makes the bottle easy to hold for sports. The bottles are made of 18/8 medical-grade 304 stainless steel and do not have any type of liner.
Scoria Grip & Breathe Spray– Promotes relaxation & vitality for meditation and better breathing throughout the day. Activate your cork mat's grip by spritzing with this spray.
Scoria Cork Roller– Made with sustainable cork, this natural cork roller releases tension, massages your tissues, and helps you gain sore muscle relief. Benefits of massage include relieving pain and increasing circulation.
Scoria Cork Massage Balls– Lightweight cork that's eco-friendly & easy to carry! Comes in 3 sizes.
Have you tried Bala non-toxic weights yet? I love my sage green ones, and I recommend them to anyone who wants to work out at home with non-toxic weights. Bala features non-toxic fitness rings, beams, bars and bangles, and they're made with recycled steel and wrapped in inert silicone.
Bala Beams– made with recycled steel wrapped in baby-soft silicone (15 & 25 lbs)
Bala Bars– made with recycled steel wrapped in baby-soft silicone (3 lbs)
Bala Power Rings– made with recycled steel wrapped in baby-soft silicone (5, 8, 10 & 15 lbs)
Bala Bangles– made with recycled steel wrapped in baby-soft silicone with athletic elastic fasteners (1 & 2 lbs)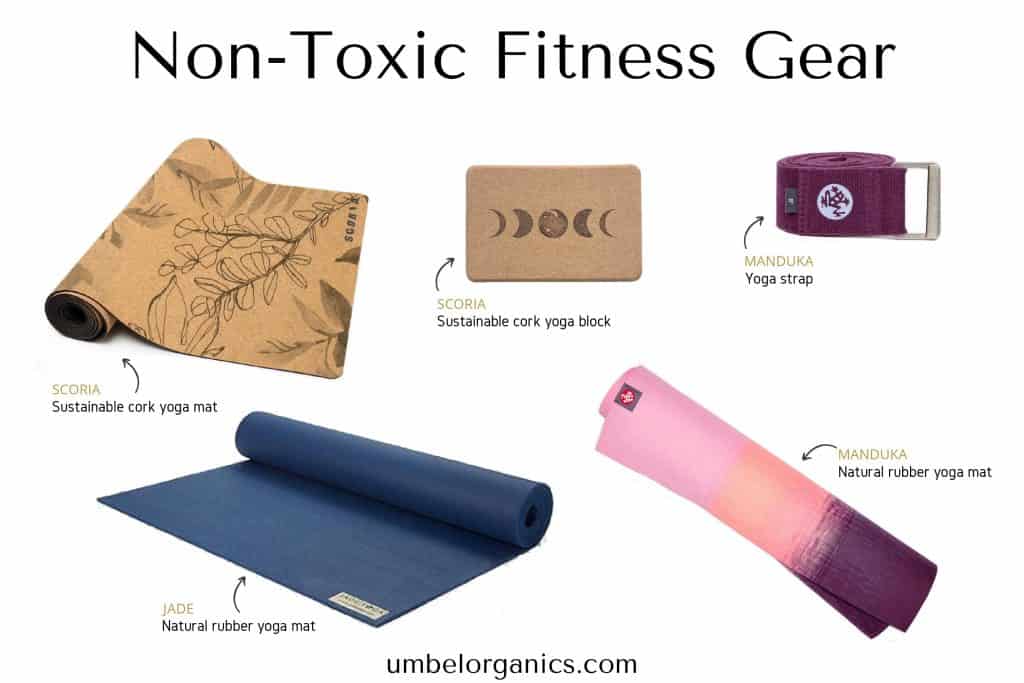 Yoga and fitness mats are the worst offenders when it comes to toxic workout surfaces. Practice your downward dog and your planks without exposing yourself to phthalates and PVC with any of the non-toxic fitness and yoga mats below.
Scoria Cork Yoga Mat– For a non-toxic home, this mat is made with a naturally anti-microbial cork surface to eliminate odor. This cork is sustainably harvested and backed by natural tree rubber unlike other mats with synthetic TPE/PVC.
Scoria Cork Yoga Block– Made of 100% natural sustainable cork.
Jade Fusion Yoga Mat– Jade mats are made sustainably with natural rubber tapped from rubber trees, a rapidly renewable resource and are made in the United States in compliance with all US environmental, labor and consumer protection laws. Jade plants a tree for every mat sold – with over One Million Trees planted so far.
Manduka eKO Yoga Mat– Responsibly sourced, 100% non-Amazonian tree rubber. Naturally springy with grippy hand-poured texture. Biodegradable and eco-sensitive.
Manduka Align Yoga Strap– Made with unbleached natural cotton webbing- perfect for stretching and support.
Besides silicone-coated weights, stainless steel and cast iron dumbbells are a great non-toxic alternative for your at-home fitness routine. Add in a leather-bound weighted medicine ball and natural rubber fitness bands and you'll have everything you need for a non-toxic workout!
EcoWise Fitness Ball– Made with burst-resistance TPR (Thermo Plastic Rubber) material, 100% recyclable, free of latex, PVC and phthalates. Max static weight: 300 lbs.
Sunny Health & Fitness Chrome Dumbbells– Solid steel collars and handle. 33 pounds total adjustable heavy-duty solid, steel dumbbells.
Vintage Leather Weighted Medicine Ball– Crafted from leather that's soft to the touch, these medicine balls will give you the vintage look at feel of a classic medicine ball
Papababe Rubber & Cast Iron Dumbell Set– Includes- 5,10,15,20,25 lbs pair with rack. Made of Solid cast iron core for reliable strength, Rubber coating helps prevent damage to floors and equipment.
Aeromat Natural Rubber Fitness Bands– Thick, natural rubber high resistance fitness bands. 15-200 pounds.
More Natural Living Inspiration