Low-Tox & Non-Toxic Summer Essentials
Get ready for warm weather with low-tox and non-toxic summer essentials. Have fun in the sun without the harmful chemicals!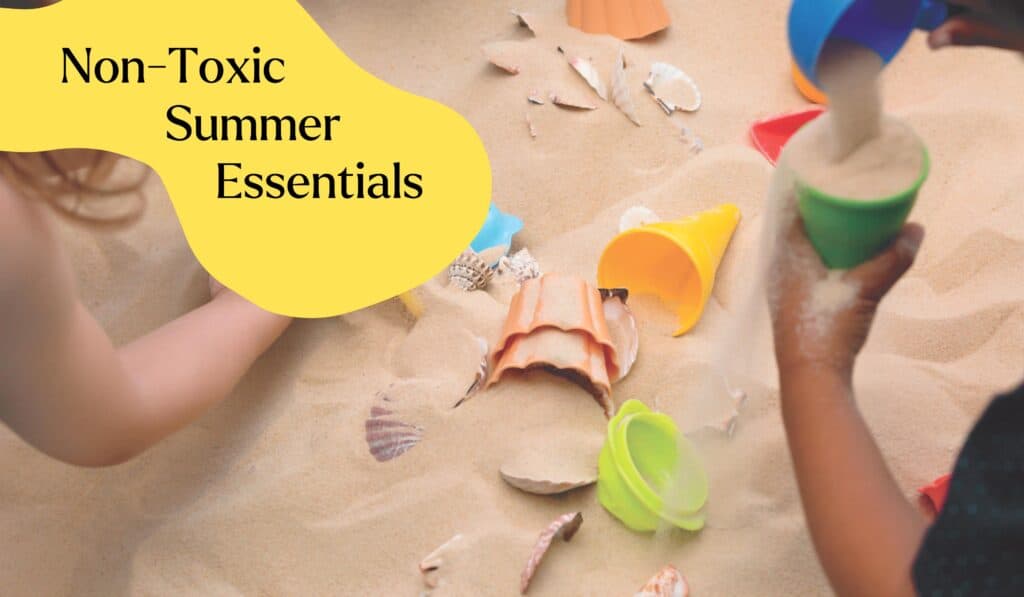 Disclosure: This post contains affiliate links, which means if you make a purchase through these links, we may receive a small commission at no extra cost to you.
Summer is here and it's the perfect time to swap out all of your summer products that contain toxic chemicals for safer products. 
Toxic chemicals are a part of our everyday lives, but we can reduce our exposure to harmful chemicals by choosing products that aren't loaded with endocrine disruptors, carcinogens and other toxic chemicals.
Before you head out for some warm weather fun, take inventory of all of your favorite and most-used products for summer living. Read the ingredients and double check them in a clean living app or on the Environmental Working Group website. 
Below I'm sharing all of my favorite non-toxic and low-tox products that are perfect for fun in the sun without the harmful chemicals!
Non-Toxic Summer Body Care
You're applying lotion and deodorant directly to your skin, sometimes several times a day. Conventional body care products can be loaded with endocrine disruptors and other harmful chemicals. Take good care of your body and look for products without ingredients like parabens, phthalates and ethoxylated ingredients. Look for non-toxic deodorant, teen deodorant, body lotion, kids lotion, and sunless tanner. Here are some of my non-toxic body care favorites:
Humble Rosemary & Mint Deodorant– Just 4 simple ingredients, plus essential oils and botanical extracts to create a variety of scents. Humble Brands Aluminum-free Original Formula Deodorant is made with non-GMO corn starch, beeswax, baking soda, and MCT oil.
Honest Sensitive Lotion– Fragrance-free sensitive lotion for the body and face. Contains calendula and aloe to soothe and moisturize skin. Free from parabens, phthalates, dyes, synthetic fragrances and formaldehyde donors.
Beauty by Earth Vanilla Coconut Body Scrub– This exfoliating scrub gives you smooth moisturized skin and is made with organic ingredients.
Beauty by Earth Self Tanner Lotion– Beauty by Earth is formulated with organic aloe vera, shea butter & many botanical extracts that benefit and hydrate your skin without dyes or toxins.
Non-Toxic Sun Protection
It's important to pay attention to both active and inactive ingredients in your sunscreen. Chemical sunscreen ingredients like oxybenzone are readily absorbed through the skin, and behave like a hormone disruptors. Look for non-nano zinc oxide as the active ingredient in your sunscreen. There are lots of great mineral sunscreen brands on the market.
Earth Mama Kids Mineral Sunscreen SPF40– Contains zinc oxide for broad spectrum sun protection. Free from chemicals that are potentially harmful to people and the planet like oxybenzone or octinoxate, artificial fragrance, nano particles or parabens.
Babo Botanicals Sheer Mineral Sunscreen SPF50– Protects skin from the sun's harmful UVA and UVB rays. The hydrating, fast absorbing formula contains 24 plant-based ingredients including sunflower oil and shea butter to moisturize and soothe sensitive skin. 
Supergoop! Mineral Matte SPF40– 100% mineral mattifying face sunscreen with non-nano zinc oxide and titanium dioxide. Perfect for the face!
Beauty by Earth Lip Balm SPF15– Provides sun protection with non-nano zinc oxide, hydrating ingredients, and a burst of fruity flavor. It's made with certified organic ingredients and is certified by NSF.
Babo Botanicals Baby Face Mineral Sunscreen Stick SPF50– Features a lightweight, fragrance-free formula that glides on sheer and is designed for sensitive skin. Gently formulated with 100% non nano zinc oxide and 70+% organic Ingredients. 
Non-Toxic Haircare For After Swimming
Chlorine from pools and salt from the ocean can leave your hair dry and brittle. Choose a non-toxic shampoo to get your hair clean- the one below is formulated specifically to use after swimming.
Babo Botanicals Swim & Sport Shampoo + Wash– The Swim & Sport Shampoo & Wash is infused with clarifying ingredients to help remove salt, sweat, chlorine and minerals. To restore much-needed moisture, this shampoo & wash is fortified with aloe vera, vitamin B, and sustainably sourced passion fruit oil. Swim & Sport Shampoo & Wash is gentle enough for daily use, so go ahead and get messy! Suitable for all ages.
Babo Botanicals Swim & Sport Conditioner– This purifying conditioner replenishes, hydrates and purifies the hair, scalp, and skin after pool, beach, or outdoor activity that result in sweat or dirt. 
Non-Toxic First Aid
You'd be surprised at how many harmful ingredients make their way into first aid products. Who needs synthetic fragrance in their aloe vera after-sun gel? Unfortunately, it happens all the time, but I'm sharing some non-toxic products that help you heal without the harmful chemicals.
Doctor Rogers Healing Balm– Dermatologist created, multi-tasking balm to use on chapped lips, dry cuticles, tattoos, burns, cuts and scrapes. Perfect for adding shine to lips and to tame brows and flyaways. This natural, plant based balm works to support and hydrate the skin while it heals. 
Beauty by Earth Aloe Vera Gel– This gel is a quick, cool soothe from almost any minor burns like sunburns. Formulated without parabens, phthalates, petroleum, Troclosan, synthetic dyes and fragrances.
Kinfield Anti-Itch Balm– This balm features cajeput and eucalyptus oils to help relieve any itch, along with 10% colloidal oatmeal, turmeric, and arnica to calm inflammation and soothe skin. Use it for instant relief from bug bites, itching, inflammation, or other minor irritations.
Active Skin Repair Gel– Replace your medicine cabinet with this all natural and non-toxic wound care solution. It's non-sensitizing and contains no steroids, no synthetic antibiotics, no alcohol and no harsh or stinging chemicals.
Non-Toxic Backyard
After being cooped up all winter, eating outside feels like a treat. Celebrate summer with a lunch or dinner picnic. Here are some low tox ways to enjoy a picnic in your backyard or at a nearby park.
Wicker Picnic Basket– Dual entry handmade willow picnic basket.
Rattan Folding Beach Chair– Frame-made of pine wood, solid and sturdy, high density structure and strong load-bearing capacity; seat-made of rattan, eco-friendly and natural, handmade and odorless.
Pendleton Wool Picnic Blanket–  A portable blanket for outdoor concerts, spontaneous picnics and naps in the shade. 100% wool with a functional roll-up design, leather-trimmed carrying handle and nylon backing.
Outdoor Eating & Entertaining
Summer is time for firing up the barbie and enjoying outdoor living. Single use dinnerware, aka paper plates, are not so great for the environment and can actually be coated with PFAS chemicals. Melamine plates may not be breakable, but they are not a material that I recommend. If acidic or hot food is placed on a melamine dish, melamine, which contains formaldehyde, can leach from the dish into the food, and has been detected in urine of those eating off melamine plates. Crow Canyon is a great brand that makes porcelain enamel coated stainless steel dinnerware, and it's really hard to break. You can also use Cherry Wood Plates and Cherry Wood Bowls for a non-toxic and non-breakable option.
There are a lot of great options if you're looking for non-toxic dishes for kids. Avanchy dishes for babies and toddlers are made with organic bamboo and food grade stainless steel with silicone, they are non-toxic, earth-friendly, BPA, BPS, PVC, Lead, and Phthalate free. 
Here are some hard-to-break dishes and drinking cups that are great for outdoor eating and entertaining:
Crow Canyon Porcelain Enamel Beverage Dispenser– This non-toxic drink dispenser holds 15 quarts to keep your guests hydrated and happy. The steel core and enamel coating allow for both cold and hot drinks to be stored. 
Crow Canyon Weston Lobster & Crab Enamelware– This elevated enamelware collection is synonymous with the timeless nautical style of New England.
Green Steel Drinking Cups– 18/8 Stainless Steel drinking cups that are perfect for outdoor use.
Hydroflask Kids Water Bottle– Made with 18/8 pro-grade stainless steel to ensure durability, pure taste and no flavor transfer. BPA-Free & Toxin-Free. Free from toxins, free from worry.
Bobo & Boo Kids Dinnerware Set– Made from renewable plant-based fibers. Plant-based resin with zero melamine. Dishwasher and microwave safe, biodegradable and compostable.
Onyx Stainless Steel Popsicle Molds– Make popsicles all summer long with 18/8 stainless steel molds.
Grilling
Stainless Steel Grill Basket– enjoy the delicious BBQ food all summer long with this grill grate.
Stainless Steel & Rosewood Grill Utensil Set– High quality 2mm stainless steel with rosewood handles.
Bugs Away
Naturally repel mosquitoes and other pesky insects on your patio and in your outdoor space with the suggestions below:
Outdoor LED Yellow String Lights– Mosquitoes don't gravitate toward warm yellow LED light bulbs since the yellow wavelengths are beyond the insect's range of vision.
Aire Candle Co. Not Citronella Candle– 100% pure beeswax, non-toxic candle that combines 100% pure, sustainably-sourced Lemon Eucalyptus, Tea Tree, Lavender, Peppermint essential oils, each known to repel different insects.
Kinfield Golden Hour Repellent– This formula that repels mosquitos with a unique strain of Indonesian citronella. 
Yard & Garden
Garden hoses can contain nasty chemicals like phthalates, lead, antimony and bromine. A drinking water safe hose with a lead-free nozzle is your best low tox choice. Also look for kid-safe, pet-safe and bee-friendly organic weed killer to keep your lawn and garden healthy while getting rid of unwanted weeds. 
Eley Drinking Water Safe Hose– This drinking water safe polyurethane garden hose has lead-free brass fittings.
Earth's Ally Weed & Grass Killer– Powered by sea salt, the Earth's Ally formula quickly kills common weeds to the root and offers a safer alternative to harsh chemicals when used as directed.
Non-Toxic Summer Fun
Did you know that most kiddie pools and sand toys are made with plastic that contains additives like BPA, phthalates and PVC? The reality is that plastic is hard to avoid, but not impossible, when purchasing outdoor toys for kids. If you are buying plastic, look for beach toys without harmful additives. That goes for kiddie pools too!
Wooden Sand & Water Picnic Table– Made of solid fir wood, polypropylene water and sand containers, and polyester umbrella.
Scrunch Silicone Pail– Fully collapsible, made of food grade silicone.
Hape Sand & Water Wheel– Free from BPA, PVC and phthalates and made from high-quality plastic.
Green Toys Loader Truck– Made with 100% recycled, safe, high density polyethylene plastic (#2) that is  BPA, phthalate, and PVC-free. 
Hape 5-in-1 Beach Set– Completely free from BPA, PVC and phthalates and made from high-quality plastic.
Step2 Play & Shade Pool– Made of durable HDPE plastic (Resin Code #2). This is the same plastic that milk jugs are made of.
Primary Swim Diapers– This non-bulky swim diaper is made to be worn alone or with a disposable diaper inside. Polyester lining with a UPF 50 weave.
Bubbles & Sidewalk Chalk
Bubble Tree Sustainable Bubble Wands– Non-toxic bubble solution with a reusable aluminum bottle.
Urban Infant Non-Toxic Sidewalk Chalk– Non-toxic sidewalk chalk produced with child safe pigments. Contains 5 pieces of oversized chalk.
Backyard Fun
As I mentioned above, the reality is that plastic is hard to avoid, but not impossible, when purchasing outdoor toys for kids. Flimsy plastic toys can break down in the sun and leach microplastics everywhere, including our waterways. Look for wooden toys and games when possible.
West Path Organic Cotton Beach Towel– G.O.T.S. Certified Organic Cotton, Fair Trade Certified, Extra tight weave, Large Dimensions 72 in. x 37 in.
Pine Wood Cornhole Game– Handmade outdoor yard game.
Quut Flying Disc & Sand Sifter– This BPA, Phthalate, latex free toys functions as a flying disc or sand sifter, and it's recyclable.
Swurfer Wooden Tree Swing– This kids swing is made of a durable maple wood that is curved for a comfortable but safe swing. Dimensions: 18″ L x 6″ wide.Heavy Duty Soft Braided Rope.
More Non-Toxic Summer Inspiration