The Best Clean Lip Balm With Mineral SPF
Your delicate lips are prone to UV damage, so what's the solution? Apply a lip balm with SPF before going outside! The best way to protect your lips all year long is with mineral SPF lip balm, and I've found 8 clean mineral sunscreen lip balm brands that are perfect for protecting your pout.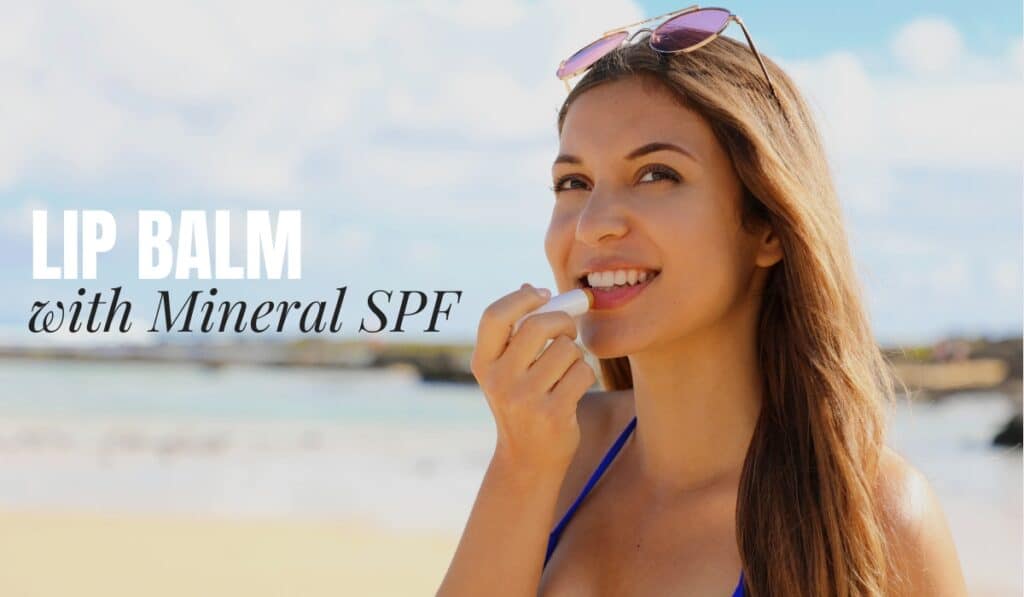 Disclosure: This post contains affiliate links, which means if you make a purchase through these links, we may receive a small commission at no extra cost to you.
You're a pro at slathering your face and body with sunscreen, but what about your lips? This often overlooked area of the body is prone to UV damage. What's the solution? Apply a lip balm with SPF before going outside.
The best way to protect your lips all year long is with mineral SPF lip balm, and I've found 6 clean mineral sunscreen lip balm brands that I think you'll love.
The skin on your lips is structurally different than the skin on the rest of your body. The topmost protective layer, called the stratum corneum, is much thinner on the lips. Lip skin has little to no melanin, so it isn't well equipped to protect against UV light. The takeaway is that your lips are at a high risk of getting sunburned.
What's Wrong With Too Much UV Exposure On The Lips?
UV Rays Age The Lips: When UV Light hits the lips, it damages lip plumping collagen and thins the lip skin, causing wrinkling and lip lines.
Develop Actinic Keratosis– These pre-cancerous scaly, non-healing patches (also called actinic cheilitis) can progress into squamous cell skin cancer.
Cold Sore Eruptions– UV rays can reactivate the herpes simplex virus that causes cold sores on the lip area.
Chemical Or Mineral Sunscreen?
Mineral: Zinc oxide and titanium dioxide are the 2 mineral active ingredients used in sunscreen. Zinc oxide is one of the most effective sun protectors available, blocking out both short and long wave UVA rays and all UVB rays. Titanium dioxide is extremely effective at blocking short-wave UVA and UVB. At this time, the FDA (the Food and Drug Administration of the USA) recognizes Zinc Oxide and Titanium Dioxide as the only safe and effective active ingredients in sunscreen.
Chemical: The active chemical sunscreen ingredients oxybenzone, octinoxate and homosalate are established endocrine disruptors (1, 2). Endocrine disruptors have adverse effects on hormone function and human reproduction (3, 4). Currently, the FDA recommends further study on the safety and efficacy of the 12 following SPF ingredients: cinoxate, dioxybenzone, ensulizole, homosalate, meradimate, octinoxate, octisalate, octocrylene, padimate O, sulisobenzone, oxybenzone, and avobenzone.
What's My Choice: Mineral Or Chemical?
I use mineral sunscreen ingredients for my lip balm with SPF. Beyond your lips, protect your whole family with mineral sunscreen, and don't forget mineral sunscreen for your face!  It's also a good idea to avoid direct sunlight for long periods during peak hours and to wear a UV protective hat. I've rounded up 6 brands of lip balm with mineral SPF below that are free from parabens, phthalates, endocrine disruptors and ingredients that may be harmful to your health. Check out my top picks for mineral SPF lip balm below!
Attitude
Attitude Lip Balm SPF15
Cost: $5.95 for 0.3 oz
Active Ingredient: 10% non-nano zinc oxide
From the Attitude website: Attitude Lip Balm SPF15 features a biodegradable formula that offers sun protection against UVA and UVB rays with non-nano zinc oxide. This SPF lip balm is enriched with a blend of plant and mineral based ingredients like shea butter, argan oil, coconut oil and castor oil to soften your lips and restore their suppleness. Plastic-free, EWG VERIFIED™.
Shop: Attitude Lip Balm SPF15
All Good
All Good Lip Balm SPF20
Cost: $3.99 for 0.15 oz
Active Ingredient: 8% non-nano zinc oxide
From the All Good website: All Good Lip Balm SPF20 is crafted with plant-based suncare ingredients that blend in with your skin, glide on easily, and hydrate your lips without having to reapply. Vegetarian, cruelty-free, paraben free, oxybenzone free, Healing protection made from plants Water-resistant, reef safe lip balm. This brand also makes All Good Lip Balm SPF15.
Shop: All Good Lip Balm SPF20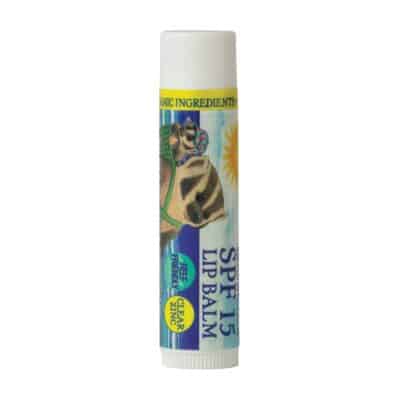 Badger
Badger Clear Zinc Lip Balm SPF15
Cost: $3.99 for 0.15 oz
Active Ingredient: 8% uncoated clear non-nano zinc oxide
From the Badger website: Badger Clear Zinc Lip Balm SPF15 is an unscented, moisturizing & water-resistant lip balm with 97% organic base ingredients and Clear Zinc Oxide which rubs in clear. No added fragrance. Moisturizing base of organic beeswax, shea and cocoa butter, and extra virgin olive oil. Reef friendly and biodegradable, no oxybenzone and no octinoxate.
Shop: Badger Clear Zinc Lip Balm SPF15
More Natural Living Inspiration