The Best Non-Toxic Cutting Boards For A Healthy Home
If you're looking for the best material for a non-toxic cutting board, we have all the details you need to slice and dice without harmful chemicals. We help you choose a non-toxic cutting board that's best for preparing meals without formaldehyde-based adhesives.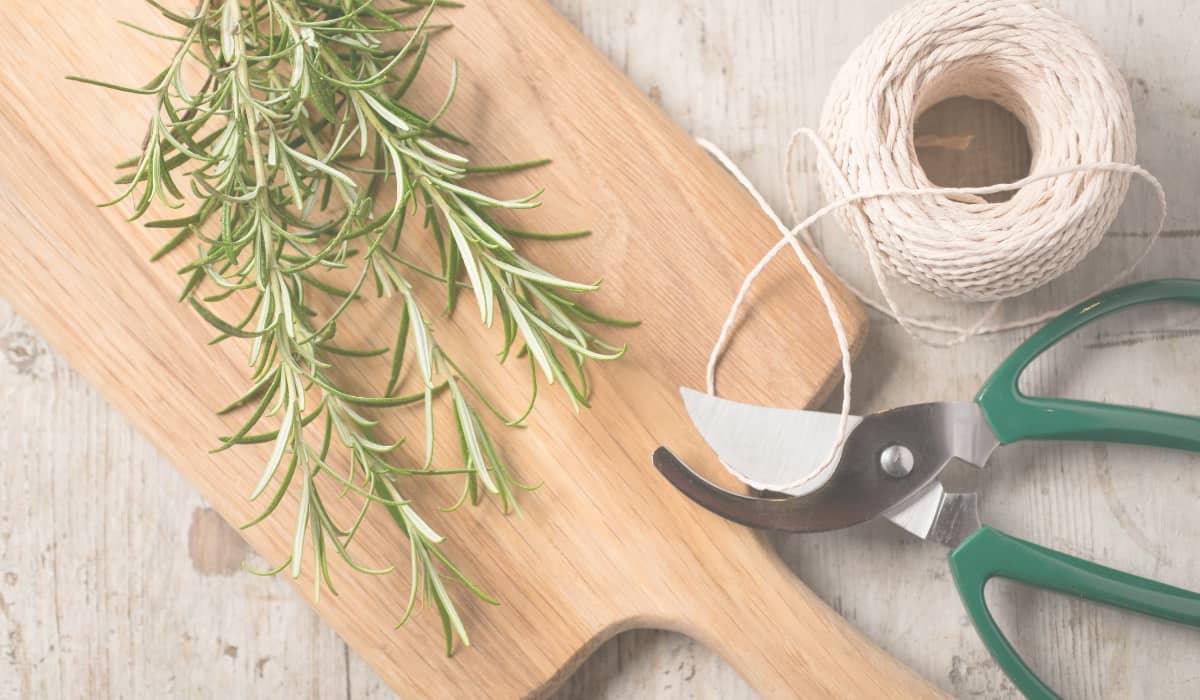 Disclosure: This post contains affiliate links, which means if you make a purchase through these links, we may receive a small commission at no extra cost to you.
Whether you're chopping, slicing or dicing a pile of vegetables or a slab of meat, you may not have put much thought into the material your cutting board is made of. But, for both health and environmental reasons, there are certain advantages that some cutting board materials have over others, especially a solid wood, non-toxic cutting board.
When preparing a healthy meal for your family, you don't want your food exposed to harmful chemicals that may be in your cutting board. Choose a solid wood, non-toxic cutting board for the healthiest way to prep your food. Beyond cutting boards, look for non-plastic kitchen products and do a detox of the products in your home, tossing items that are endocrine disruptors like air fresheners.
Let's have a closer look at materials you should avoid in kitchen cutting boards and what material to look for in a good, non-toxic cutting board:
Materials To Avoid In Cutting Boards
Microban– If your cutting board claims to be antimicrobial, antibacterial, or low odor, it contains Microban. Microban is a proprietary mix of chemicals that may contain Triclosan, an endocrine-disrupting chemical that can cause bacterial resistance (1). Microban is engineered to protect products from bacteria, mold and in some cases algae that can cause stains, odors and product deterioration. Microban protection is not designed to protect users from disease causing microorganisms.
Plastic– Plastic cutting boards may contain chemicals like phthalates, DEHA and Bisphenols, all of which are endocrine disruptors, that are often used in the production of plastic items. If you place hot food on a cutting board or if the board is scratched, this can cause either chemical leaching or microscopic pieces of plastic to migrate onto your food. Aside from the risk of being exposed to endocrine-disrupting plasticizers, plastic cutting boards are not as hygienic as wooden cutting boards when it comes to bacteria. After a sharp knife makes permanent cut marks in the plastic board, bacteria can migrate into these crevices and become a breeding ground for more bacteria. A 1994 study found that bacteria levels on plastic cutting boards were significantly higher than bacteria levels on wood cutting boards measured several hours after inoculation with an equal amount of bacteria (2). When it comes to the environment, plastic cutting boards will not decompose or biodegrade in your lifetime and contribute to our overall plastic pollution problem.
Composite Cutting Boards (including melamine bamboo & epicurean wood fiber)- Avoid cutting boards made of wood or bamboo pieces that are glued together with binding resins and adhesives, since they often contain formaldehyde, a known carcinogen, and other additives.
Cutting Boards Treated With Chemical-Based Wood Stains (like acrylic and urethane) or treated with non-food grade mineral oil, which contains glyphosate and atrazine. These stains and treatments are in direct contact with your food.
What Material Is Best For A Cutting Board?
Solid wood– Look for hardwood cutting boards made from a solid block of wood that does not use glues or resins to attach any pieces together. Wood has antibacterial properties, and if bacteria is trapped in the grains, it cannot survive and replicate. Wooden cutting boards also don't dull your knife edge as much as a material like hard stone or glass. What types of wood are best for cutting boards? Look for maple, walnut, cherry, beech, or teak wood.
Second best: If you need a large cutting board surface, you may not be able to find a big enough solid wood piece. If this is the case, I have one recommendation for a teak cutting board (Ziruma Teak Cutting Board, see description below) that has solid wood boards glued together with formaldehyde-free, food safe glue.
Non-Toxic Cutting Boards
1// Adirondack Kitchen Cherry Wood Cutting Board– Made of solid cherry wood. All products are hand rubbed with an all-natural, homemade beeswax and coconut oil polish for protection and glow. Finish is non-toxic, 100% food safe, with zero VOCs.
2// Treeboard Cutting Boards– These natural, solid slabs of hardwood don't contain glue and petroleum products. Treeboard is committed to making pure wooden products for your kitchen and home, while helping preserve North American forests.
3// Maple Landmark Maple Cutting Board– Made in Vermont, USA from hardwood maple. 13″ long, 5″ wide and 3/4″ thick solid maple. Unfinished wood.
4// Cherry Wood Cutting Board– This board is offered in the very proportionate 8 inches by 12 out of ONE piece of Cherry wood. It is around three quarter of an inch thick. The width could be within 1/2 an inch under or over 8 inches as not all wide boards are created equal. The length however is a guaranteed 12 inch. The sides have been rounded by a hand plane. The two ends have a bevelled relief on the lower side for your fingers to easily pick the board up. It is finished with beeswax and smells great.
5// Dream Wood Wild Cherry Cutting Board– Wild black cherry cutting board with no glue seams is 9 3/8" by 14 3/8" & 1/4″ thick. Sanded and finished with vegetable oil. Made in small batches from trees cut from managed woodlot in Michigan.
6// Koehl Karpentry Walnut Cutting Board– Made from one solid single piece of walnut wood- no glue or joints. 16x12x1.75″ Will finish with fractionated coconut oil upon request- Just write "fractionated coconut oil" in the special notes section when you place your order.
7// Rose Hammer Solid Maple Cutting Board– This is a solid hard maple cutting board measuring 9″ by 14″ by 1″. Crafted from a solid piece of hard maple hardwood. (No glue) Grain patterns may vary due to natural grain variation in wood but the overall appearance is similar.
What Finishes Are Best For Protecting A Wood Cutting Board
The one downside of a wood cutting board is that it will need to be oiled occasionally. I would oil a wooden cutting board with a finish that's worthy of eating off, like beeswax, fractionated coconut oil, walnut oil, linseed oil (from flaxseeds), carnauba wax or MCT oil.
Non-Toxic Board Oils
EmpireSquid Organics Board Butter– Made with organic coconut oil, beeswax, essential oils and vitamin E. A star seller on Etsy!
Redwood Bluepine Cutting Board Oil– Redwood Bluepine Wood Salve is an all natural, non toxic wood finish for cutting boards, butcher blocks, bowls, utensils, toys, pretty much anything made of wood. Handcrafted in small batches from fractionated coconut oil and beeswax. Both are Oregon Tilth certified organic. Coconut oil helps prevent wood from drying and cracking, and beeswax provides an extra layer of protection from liquids and stains.
Caron & Doucet Cutting Board Oil– 100% plant-based cutting board oil (does not contain petroleum chemicals like mineral oil). Made with FOOD GRADE coconut oil and enhanced with natural essential oils.
WORKTOP CUTTING BOARD
When I need a clean surface for rolling out pie dough, shaping cookies, and kneading bread dough, I use a marble worktop cutting board. This surface will dull knives very quickly, so it is best for bread and bakery items.
Fox Run Marble Pastry Board– Made of 100% genuine marble – 16 x 20 x 0. 75 inch. A natural elegant stone with unique patterns and colorations; Due to natural variations in the marble, color may differ from the images. Non-slip rubber feet on bottom, provides protection for your countertop.
More Healthy Home Inspiration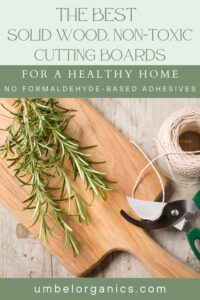 References
(1)Weatherly, L. and Gosse, J. Triclosan Exposure, Transformation, and Human Health Effects. J Toxicol Environ Health B Crit Rev. 2017; 20(8): 447–469.
(2) Ak NO, Cliver DO, Kaspar CW. Cutting Boards of Plastic and Wood Contaminated Experimentally with Bacteria. J Food Prot. 1994 Jan;57(1):16-22. doi: 10.4315/0362-028X-57.1.16. PMID: 31113021.