The Best Non-Toxic Yoga Mats
Whether you're practicing sun salutations or doing crunches, you're probably spending a lot of time on your yoga mat. Exercise and yoga are great for your health, but breathing in toxic fumes from a PVC yoga mat is not. From natural rubber to cork, non-toxic yoga mats are better for your health and the environment. Make the switch to a non-toxic yoga mat now!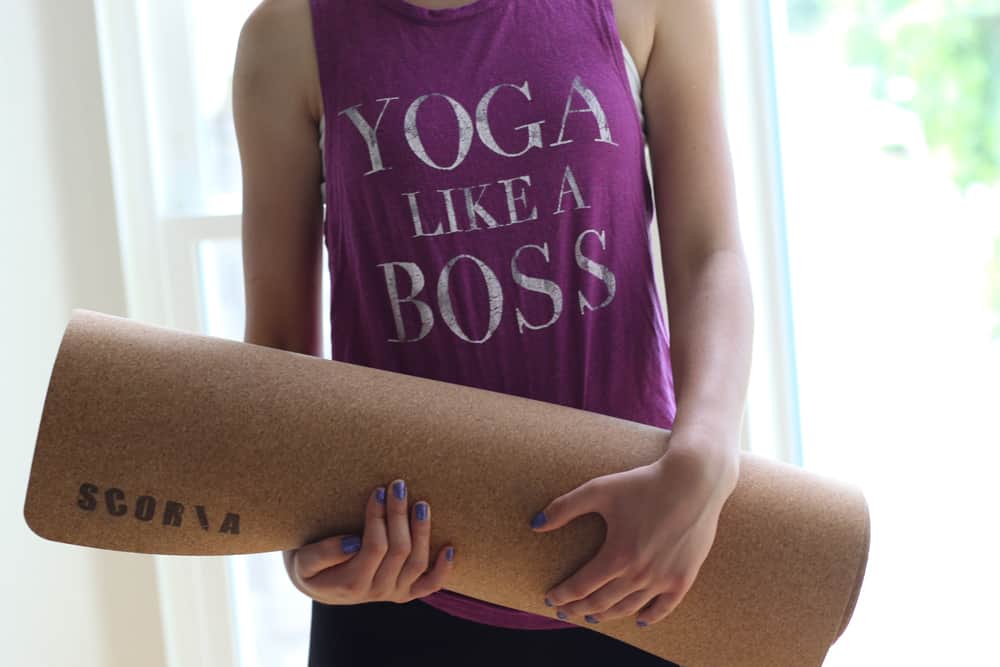 Disclosure: This post contains affiliate links, which means if you make a purchase through these links, we may receive a small commission at no extra cost to you.
Since we don't plan on heading back to the gym anytime soon, our whole family is doing online workouts and yoga routines at home. We don't have enough yoga mats to go around (and the ones we have are breaking down – see image below), so I ordered a few more mats to try. In the past I've bought the cheapest mats I could find at TJ Maxx or Marshalls, but I learned there are lots of toxic chemicals that go into making the cheapest yoga mats. A non-toxic yoga mat will cost you considerably more money than a cheap one. But considering the harmful chemicals that are in most yoga mats, I'm willing to make the switch. Read on to find out more about how the chemicals in cheap yoga mats can affect your overall health.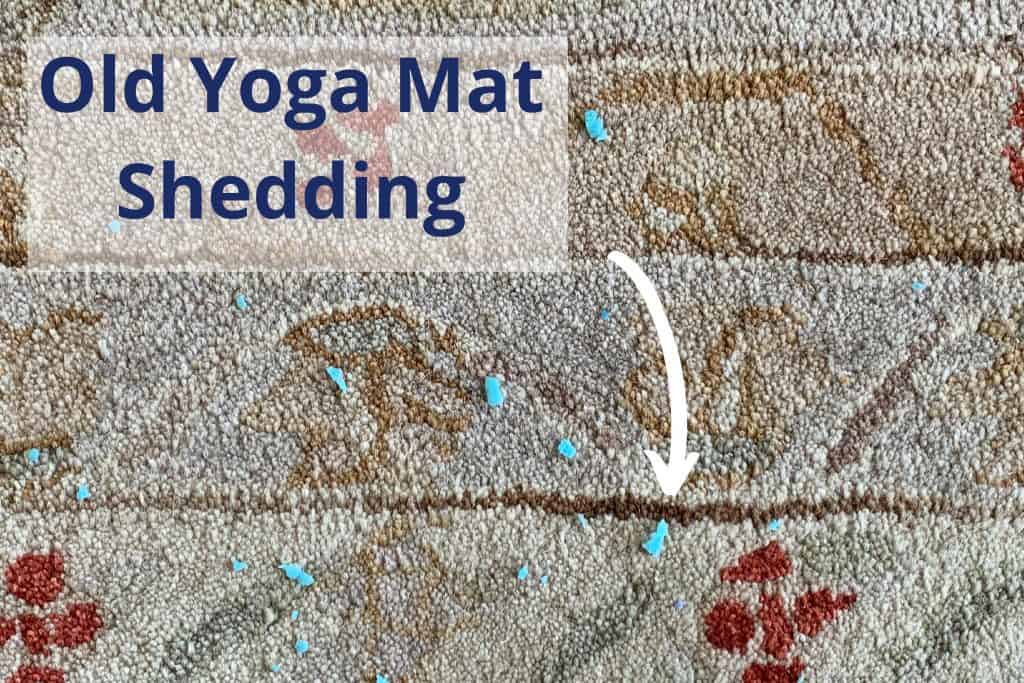 Yoga mats, especially the $12 ones you get at TJ Maxx, are most commonly made from PVC, aka Polyvinyl Chloride. The plastic is made soft and pliable from the addition of phthalates. Phthalates are added to all sorts of common household items like cosmetics, containers for food and drinks and baby toys. Phthalates have been linked to a variety of health concerns, including endocrine disruption, impacts to reproductive systems and some forms of cancer (1, 2).
PVC may also contain traces of the endocrine-disrupting chemical Bisphenol-A (BPA). A 2018 study linked BPA with significant changes in insulin response levels (3), and a 2019 study found a positive association between BPA and coronary heart disease (4). As another added health risk, toxic metals are used as stabilizers in PVC, including lead, a neurotoxin, and cadmium, a carcinogen (5).
Aside from the human health impacts, PVC is an environmental pollutant. During various stages of PVC production and disposal, dioxins and mercury are released into our air, water and soil (6). Dioxin is a well-known carcinogen and can affect the reproductive, immune, endocrine and neurological systems (7).
This is enough to convince me to switch out all of our PVC yoga mats for alternative, PVC-free options. Luckily there are brands that use non-toxic and eco-friendly materials in the construction of their yoga mats.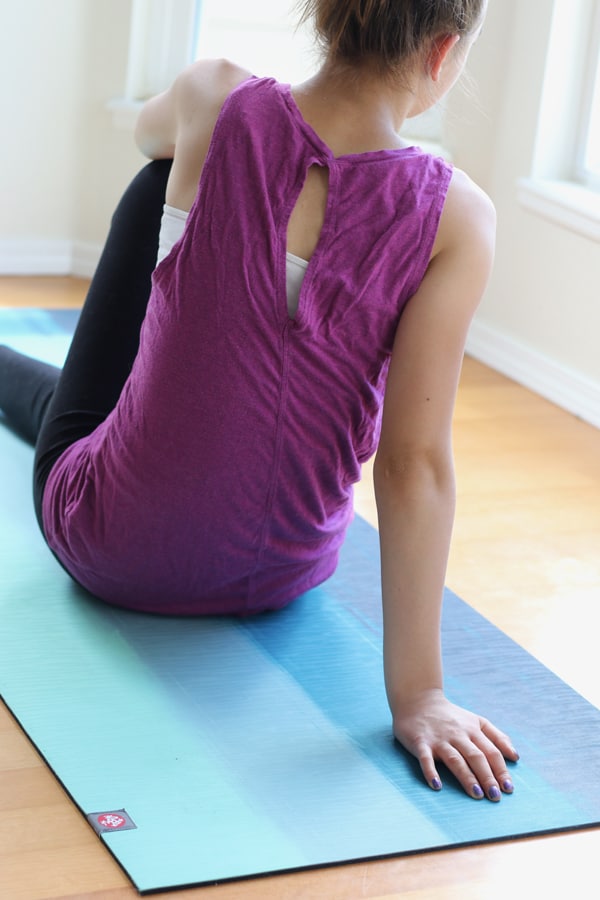 PVC-Free Material Used For Yoga Mats
Natural Rubber is an eco-friendly material that's derived from the sap of a rubber tree. If you're allergic to latex, don't use a natural rubber yoga mat. As far as cushioning goes, natural rubber provides a supportive surface for your joints. It has good grip and is easy to clean. It is also recyclable. One drawback is that rubber mats can be heavy, especially if you want more cushioning. Basically, the thinner the mat, the lighter it is. You'll need to air out a natural rubber mat for a few weeks after purchase – don't worry, the rubber smell does go away (unless your nose is inches from the mat). If you're looking for cushion and some give for your joints as well as a non-toxic material, go with natural rubber.* Natural recycled rubber, on the other hand, is held together with an unknown synthetic chemical.
Cork is an eco-friendly material that comes from the bark of the cork oak tree in Portugal. The bark regenerates over time. Cork is naturally anti-microbial, so it won't get moldy. It also has good gripping capability (the more you sweat, the better the grip) and is easy to clean. As with natural rubber, the more cushioning a cork mat has, the heavier it will be. If you want a yoga mat that can withstand lots of sweat (think hot yoga), go with a cork mat.
Jute is a strong, rough fiber that's used in some yoga mats. Jute is meshed with PER (Polymer Environmental Resin) for cushioning and grip. PER is a synthetic material that is phthalate-free, although it may still have negative effects on your health.
Hemp and organic cotton This is an alternative to natural rubber and cork. You won't get the same grippy feel and cushion. Look for organic materials.
TPE (thermoplastic elastomer) is a synthetic rubber that is free from PVC, latex, lead, bisphenols like BPA and BPS and phthalates. TPE can apparently be recycled and requires less energy to manufacture than PVC mats. Don't leave TPE yoga mats in the sun or expose to high temperatures, as they will break down. Although TPE does not contain PVC, it is a synthetic material with no specific composition. According to Leafscore, it could be made from rubber, plastic, a mixture of the two, or from something else entirely. I'm skipping yoga mats made from this material.
NBR Foam or Acrylonitrile Butadiene Rubber NBR foam is a synthetic rubber copolymer of acrylonitrile (ACN) and butadiene. Synthetic rubber may contain PAHs (Polycyclic Aromatic Hydrocarbons) and heavy metals (8). I'm skipping yoga mats composed of this material.
Choosing A Yoga Mat
Open-celled: An open-celled yoga mat is porous, able to absorb sweat and moisture. The surface will be textured so your hands and feet won't slip. Open-celled yoga mats are typically used for hot yoga since there's a lot of sweating going on. Open-celled mats are harder to clean. A vinegar solution works well for cleaning this type of yoga mat. Jade yoga mats are open-celled.
Close-celled: A closed-cell yoga mat is not absorbent, so it doesn't absorb bacteria. This is the type of mat you'll find at most gyms and yoga studios because they're easy to clean. They're also known to be more slippery than an open-celled mat, and they tend to last longer. My Manduka eKO mat is close-celled, but I find that it's not slippery at all.
Thickness: Yoga mats come in a range of cushioning, and thickness levels that vary between just over 1 mm thick (often used for travel due to the light weight) to 9 or 10 mm thick. As someone who suffers from knee problems, I like a yoga mat with some cushion. My Manduka eKO Yoga Mat  and my Scoria Cork Yoga Mat are both 6mm thick. They're a little on the heavy side, but I don't tote them around, so it's not a big deal compared with my comfort level. You may want to purchase a thinner mat if you bring it back and forth from a yoga studio, or if you don't want to drag around a heavy mat.
Grip & Material: As far as material goes, if you have a latex allergy, avoid natural rubber. Cork would be a great option. Also, if you absolutely detest the smell of rubber, cork is the way to go. My rubber mats have considerably less smell than when they first arrived, but the smell is not 100% gone when you put your nose right up to them. I have a really strong sense of smell and the rubber mats no longer bother me. The cork mat arrived with way less smell than the natural rubber ones. As far as grip goes, you won't know until you try. Personally, I found the natural rubber mats that I tested to be grippier than the cork mat.
Non Toxic Yoga Mats
Sizes: Manduka eKO series comes in different thicknesses- 1.5 mm (2.2 lbs), 4 mm (5 lbs), 5mm and 6 mm (7 lbs) and 2 lengths (71" and 81").
Cost: $44-$120
My Take: I have the 6mm mat, and it's on the heavy side. BUT, that is definitely a good thing, since my knees love the extra cushion. It does start off with a strong rubber smell that you can actually detect from across the room. I've had this mat for over a month now, and there is still a faint smell if you stick your nose down near the mat, but the original strong rubber smell has dissipated. Out of all the non-toxic yoga mats I tested, this one is my favorite. It has a grippy, non-slip texture on the top layer, so I feel like my sweaty hands won't go anywhere if I'm doing pushups or downward dogs. Even though the rubber is firm, it is also forgiving on my joints. It just feels good to get on this mat and work out. It is also my daughter's favorite mat.
From the Manduka website: The eKO® Series, made of all natural, biodegradable non-Amazon harvested tree rubber. 99% latex free. The sealed-cell surface has a slip-resistant pattern that provides a stable practice with wet-grip. Manufactured without any toxic glues or foaming agents and is more durable than other natural rubber mats found in the marketplace. Manufactured with zero waste and with no harmful plasticizers. Free of toxic chemicals, dyes and phthalates, which disrupt your hormone balance. The bottom layer is thick and spongy to provide comfort and cushion on any surface. Manduka mats are closed-celled.
Sizes: Jade Voyager 1.58 mm thick, Jade Travel 3.18 mm, Jade Fusion 7.9 mm; Jade Harmony is 4.76mm (comes in 68, 71 and 74 inches long)
Cost: $39.95-$134.95
My Take: This mat is the grippiest mat that we tested. It smelled really bad when it arrived, but the smell seems to be going away a little, although it does still stink. One thing that bugs me is that the edge curls down, so it doesn't lay perfectly flat. It is very reasonably priced compared to the other natural rubber mats.
From the Jade Yoga website: All of Jade's eco-friendly yoga mats are made with natural rubber and contain no PVC or other synthetic rubbers. 99% latex free. In addition to natural rubber, our mats contain both natural and man-made components. The precise components of our mats are proprietary (the last thing we want is someone knocking off our mats). Jade mats contain no PVCs, phthalates, heavy metals or flame retardants. Made in the USA. All components are approved by FDA for use in rubber in continuous contact with food. Through its partnership with Trees for the Future, JadeYoga plants a tree for every yoga mat you buy. If you purchase a specific color mat, $5 is donated to cancer or autism charities. Jade mats are open-celled.
Size: 72"x26", 4.2mm, 5.5 lbs
Cost: $140-$185
My Take: I'd love to try this mat, but it's a little on the pricey side. I'm impressed with the non-toxic materials used, and I like the yoga alignment marks on the mats.
From the Liforme website: The Liforme Mats are made from our high quality natural rubber base and our specially engineered, proprietary and completely unique eco-polyurethane. Both these materials are fully biodegradable and sustainably produced materials that are completely non-toxic. The bottom layer of our mats is made from natural rubber, and natural rubber does contain latex. However, our top surface does not contain latex.
Sizes: commuter: 72"x24", 3.5mm (5.3 lbs), studio: 72"x24", 4.5mm (5.7 lbs); xtra thick: 72"x24", 6mm (8.8 lbs); xtralong: 80"x26", 4.5mm (9.7 lbs)
Cost: $92-$109
My Take: I have the Scoria 6mm mat. It is really heavy and long, but I wanted the extra cushion from a 6mm mat. This mat feels a little stiffer than the Manduka since the top layer is cork. The top layer of cork also doesn't feel as grippy as the Manduka. It didn't have a strong smell on arrival, although if you put your nose really close it has a very faint rubber smell, but it smelled the least of all the mats I tested. This is definitely a strong contender for top mat.
From the Scoria website: Scoria makes cork yoga mats combined with natural rubber. There are no glues or any harsh chemicals added or used. The cork grains are bonded by light, water based eco adhesives to a natural base cloth under high temperature between natural rubber and cork. We use high temperature to make use of the already sticky quality of the natural latex in the rubber. No trees are cut down or harmed in the making of the mats. The cork is stripped from the tree after maturation (around 26 years), and is stripped again after every 9-12 years. The stripping of the cork is a sustainable process that allows cork to regenerate on the tree and unlike the myth of cork being endangered, it actually helps the process of producing more cork for the trees. Backed with natural tree rubber. For every 1 mat sold, 10 meals are donated to those in need. 100% natural cork and tree rubber, ultra-grip for sweat, lose the towel , sustainably harvested, for a non-toxic practice, no pvc, per, tpe or harsh chemicals, perfect for hot yoga, gentle yoga, meditation, stretching, naturally anti-microbial eliminating odor.
Basically Perfect Cork Yoga Mat
Size: 72"x24", 5mm, 6.4 lbs
Cost: $70
My Take: Although I don't have this mat, I like the materials used. It's also very reasonably priced.
From the Basically Perfect website: Made from 100% natural, sustainably-sourced cork and tree rubber. Non-toxic, free of phthalates, PVC, TPE, foam, adhesives and harsh chemicals. Unrivaled grip. Earthy and grounding feel. Non-slip cork texture will get even grippier with sweat. No yoga towel needed. Ideal for hot yoga. Self-sanitizing and naturally antimicrobial. Surface stays fresh, free of germs and bacteria. No odor.
Size: 70″x 25″, 5mm thick
Cost: $162-$174
My Take: If you want to skip the natural rubber mats and use organic cotton, this is the mat for you. It does have a natural rubber backing for non-slip grip, and textured channels on top so your hands and feet won't slip.
From the Oko Living website: Each mat is handloomed 100% raw organic cotton and plant dyed using an ancient process that preserves the bioactive medicinal qualities of the plants. You will love the soft, cushy feel, herbal aroma and natural beauty of this mat. Includes FREE Case and Laundry Soap Nuts.
Shop Non-Toxic Yoga Mats
Free Online Yoga & HIIT Workouts
How To Clean Yoga Mats
Don't use alcohol, petroleum-based solvents or high concentration essential oils on your yoga mat. These solutions can cause the mat to break down and dry out. Essential oils also may cause your mat to become slippery, and the smell may be overpowering if you use too much.
To disinfect your mat, combine of equal parts distilled water and white vinegar in a spray bottle and spritz the solution on your mat, letting it sit for 10 minutes before wiping off. Alternatively, fill a spray bottle half full with distilled water and add witch hazel to 90% full. Tea tree oil can be added for disinfecting purposes, but this can be very concentrated, so a few drops are all you need.
To clean dirt & grime off your mat, put a few drops of dish soap (1 or 2 drops) in a spray bottle with warm water, shake to combine, and spritz on your mat. Wipe off with a damp towel.
More Natural Living Inspiration