Gift Guide For The Natural Beauty Lover
Looking for gift ideas for clean beauty lovers? From hair products to gift sets to makeup, this stocking stuffer and gift guide has all the best natural beauty products for the beauty obsessed. Perfect for teen girls too!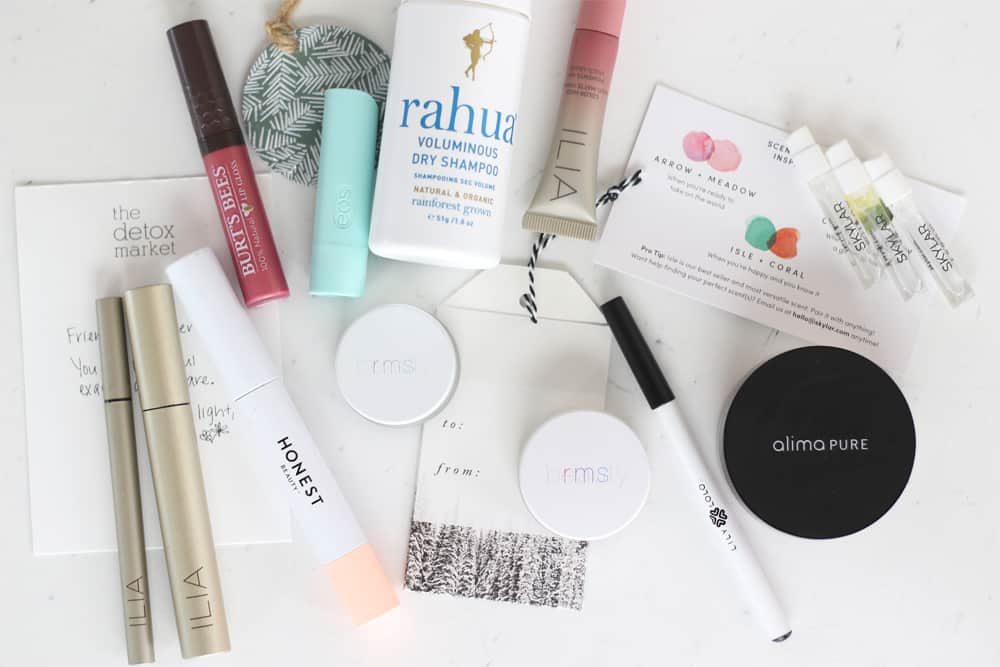 Disclosure: This post contains affiliate links, which means if you make a purchase through these links, we may receive a small commission at no extra cost to you.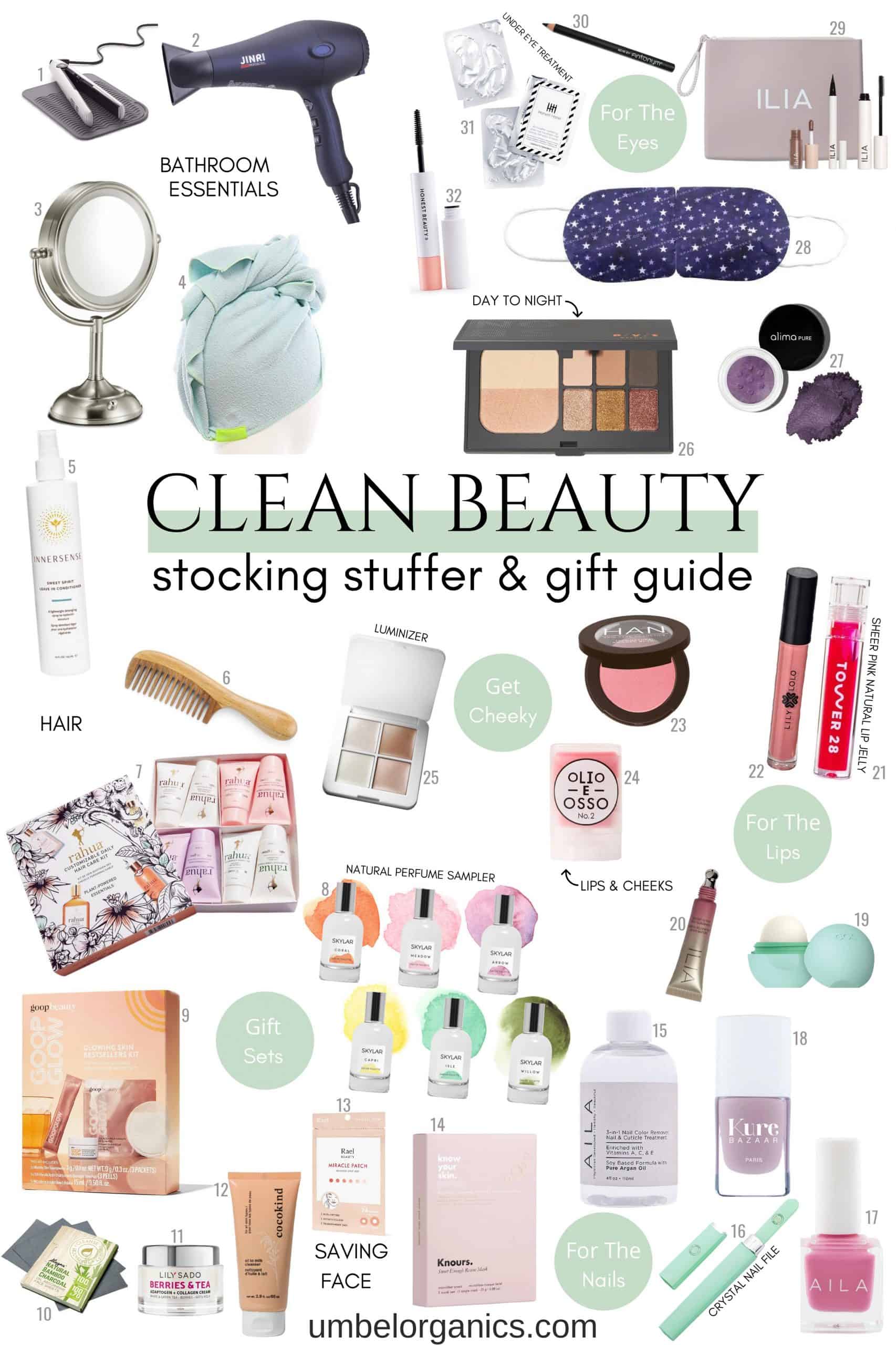 1// Oxo Good Grips Heat Resistant Silicone Travel Mat for Curling and Flat Irons
2// Jinri Professional Salon Grade Negative Ionic Hair Dryer:  Features DC motor with 2 Speeds, 3 heat settings, a cool button, and concentrator & diffuser attachments.
3// Vesaur Lighted Makeup Mirror: 10X Magnifying Vanity Mirror with 32 medical LED Lights, and adjustable brightness (0-1100Lux)
4// Aquis Hair Turban: Hands-free microfiber towel for faster hair drying
5// Innersense Sweet Spirit Leave In Conditioner: I love Innersense hair products, and leave-in conditioner is perfect for stubborn tangles.
6// Oneador Handmade 100% Natural Green Sandalwood Wide Tooth Comb: Helps relieve tension and stimulate the scalp, prevents tangled hair and split ends, and is anti-static.
7// Rahua Daily Hair Care Kit: Rahua Customizable Daily Hair Care Kit allows you to find the perfect shampoo and conditioner to suit your hair care needs. Rahua Customizable Daily Hair Care Kit is a shampoo and conditioner each to help nourish, strengthen, hydrate, protect and maintain the health of the hair and scalp.
8// Skylar Perfume Sample Palette: Clean, hypoallergenic, and cruelty-free. Sample all 6 for just $20 and receive a $20 credit toward your favorite scent!
9// GOOPGLOW Glowing Skin Bestsellers Kit: Goop GOOPGLOW Bestsellers kit is a 3-piece skincare set containing bestselling products from Goop designed to help exfoliate, smooth and brighten skin. This kit offers a daily drink for glowing skin, made with six skin-supporting antioxidants.* a clinically proven dual-action exfoliator that polishes skin, and a clinically proven overnight glycolic acid peel that helps exfoliate and brighten skin while you sleep.
10// Alayna Natural bamboo Charcoal Blotting Papers: Oil Blotting Sheets: Remove shine on-the-go. Remove excess oil and shine with 100 Organic Blotting Papers.
11// Lily Sado Berries & Tea Adaptogen + Collagen Cream: An affordable plant-powered moisturizer that hydrates and soothes. It contains a powerful blend of antioxidant-rich Adaptogens that have been hallmarks of Eastern medicine for 5,000 years:White & Green Tea Matcha, Gotu Kola, Japanese Knot Root and Licorice Root.
12// Cocokind Oil to Milk Cleanser: an oil cleanser that you can actually wash off! this gentle cleanser transforms into milk upon contact with water, leaving skin soft, replenished, and hydrated.
13// Rael Acne Pimple Healing Patches: Includes 96 transparent patches to extract all the pus and impurities straight from the source.
14// Knours. Sweet Enough Rescue Face Mask Sheet: Perfect to use during your period, when both body and mind are weary, or whenever skin needs a treat, this mask is formulated with restoring and hydrating honey extract – the best remedy for skin's worst week. Like a boost of energy, the mask instantly revitalizes and rejuvenates tired skin.
15// Aila 3-in-1 Nail Color Remover With Pure Argan Oil: Soy oil removes the nail polish without stripping the nail of its natural oils and Argan oil has anti-fungal properties.
16// Professional Salon Crystal Nail File: Long lasting double sided tempered glass.
17// Aila 8 Free Nail Polish: Gluten-free, Vegan, Made WITHOUT Parabens, TPHP, and Sulfates, Cruelty-free, Chip-resistant, super shiny, long-lasting, and Made in the USA.
18// Kure Bazaar Nail Polish: The exclusive 10 free formula maintains the vitality of nails by respecting their natural regenerative cycle.
19// eos Organic Sphere Lip Balm – Sweet Mint | Certified Organic & 100% Natural | Deeply Hydrates and Seals in Moisture. One of my favorites for dry lips.
20// Ilia Color Haze Multi-pigment: With jojoba and coconut oils, this multitasking cream is equal parts nourishing and flattering. I love this product!
21// Tower28 ShineOn Lip Jelly: A non-sticky lipgloss with the comfort of a balm. This clean gloss contains a unique combination of 5 natural oils to protect and sooth lips.
22// Lily Lolo Lip Gloss: This 100% natural, liquid lipstick contains conditioning oils and essential fatty acids to maintain soft, happy lips.
23// HAN Pressed Blush: Brightens the complexion with skin nourishing ingredients for a healthy-looking glow. Made with soothing rice powder instead of talc and nourishes with argan oil and shea butter.
24// Olio E Osso No. 2 Balm: Nourishing on lips and cheeks, soothing on skin and hair, and adored by all who discover them.
25// RMS Beauty Luminizer X Quad: These four high-impact luminizers can be worn alone, blended for a custom glow or mixed into any product for super luminosity.
26// PYT Day-To-Night Eyeshadow Palette– This go-to on-the go palette features a small but mighty collection of four matte and four shimmer shades that flatter every skin tone. That's eight shades you'll actually use! Enriched with vitamin E for nourishing staying power, these powerful pigments layer beautifully for more intensity and are a dream to apply.
27// Alima Pure Luminous Shimmer Eyeshadow: Luminous Shimmer Eyeshadows work overtime as shadows, shimmer liners and highlighters. Highly pigmented with a metallic finish, it's like finding a pot of gold at the end of the rainbow.
28// Spacemasks Self Heating Eye Mask: A self-heating, jasmine-infused eye mask that relieves tiredness, eye strain and other tensions. The warmth comes alive as soon as you open it.
29// Ilia Eye Love Clean Eye Makeup Set: A trio (Liquid Powder Chromatic Eye Tint in Fresco, Limitless Lash Mascara in After Midnight and Clean Line Liquid Liner in Midnight Express) of Ilia bestselling eye essentials in Ilia's lavender travel bag.
30// Antonym Eye Pencil: This is my favorite clean eyeliner that stays put and comes with a high-quality sharpener.
31// Honest Hazel 3-Treatment Eye Gel Packs: Contains powerful natural ingredients. Cactus Collagen works to reduce puffiness, Aloe Vera soothes, Arbutin combats dark circles and discoloration, and Vitamin C and E work to decrease the appearance of fine lines.
32// Honest Beauty Extreme Length Mascara and Lash Primer: 2-in-1 primer and mascara works together for lush length, volume and definition. Made without Parabens, Paraffins, Silicones, Mineral Oil, Synthetic Fragrances, Cruelty Free, Dermatologist & Ophthalmologist Tested. My favorite natural mascara budget-pick.
More Natural Living Inspiration