Teen, Tween & Young Adult Clean Beauty Gift Ideas
Looking for skincare and makeup gifts for a teen or young adult? These clean beauty and skincare gift ideas are perfect for teens, tweens and young adults that crave some color and glow in their makeup and skincare routine.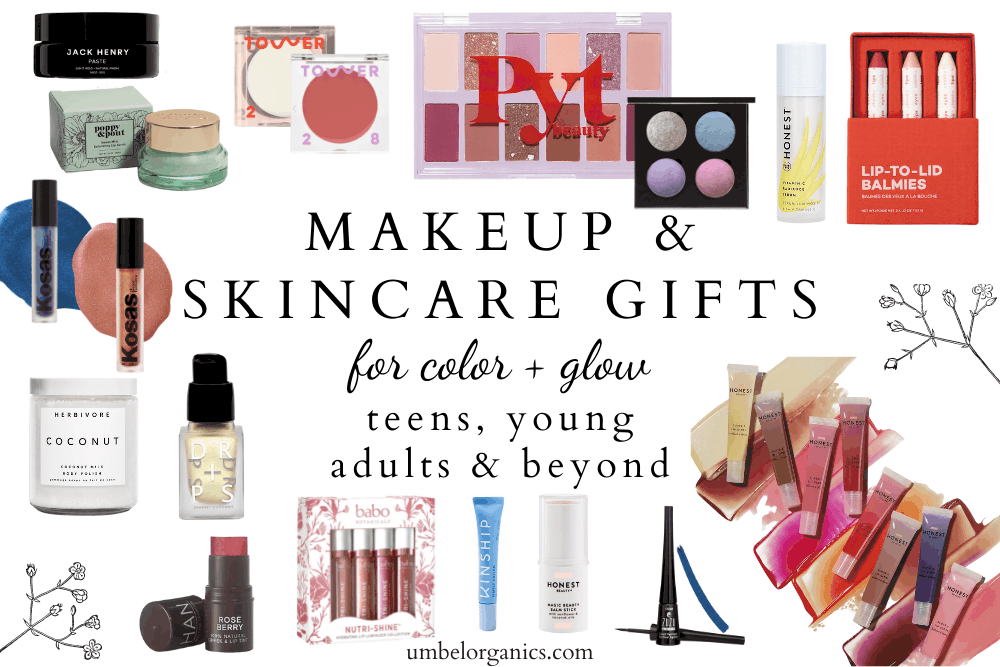 Disclosure: This post contains affiliate links, which means if you make a purchase through these links, we may receive a small commission at no extra cost to you.
If you're hunting down gifts for your teen, tween or young adult, this gift guide has clean beauty and skincare gifts that any teen would love to unwrap.
This gift guide for teens, tweens and young adults is packed with colorful and luminous clean makeup and skincare for radiant, glowing skin. Look below for clean beauty and skincare gift ideas for your teen, tween or young adult!
Clean Beauty Gifts For Teens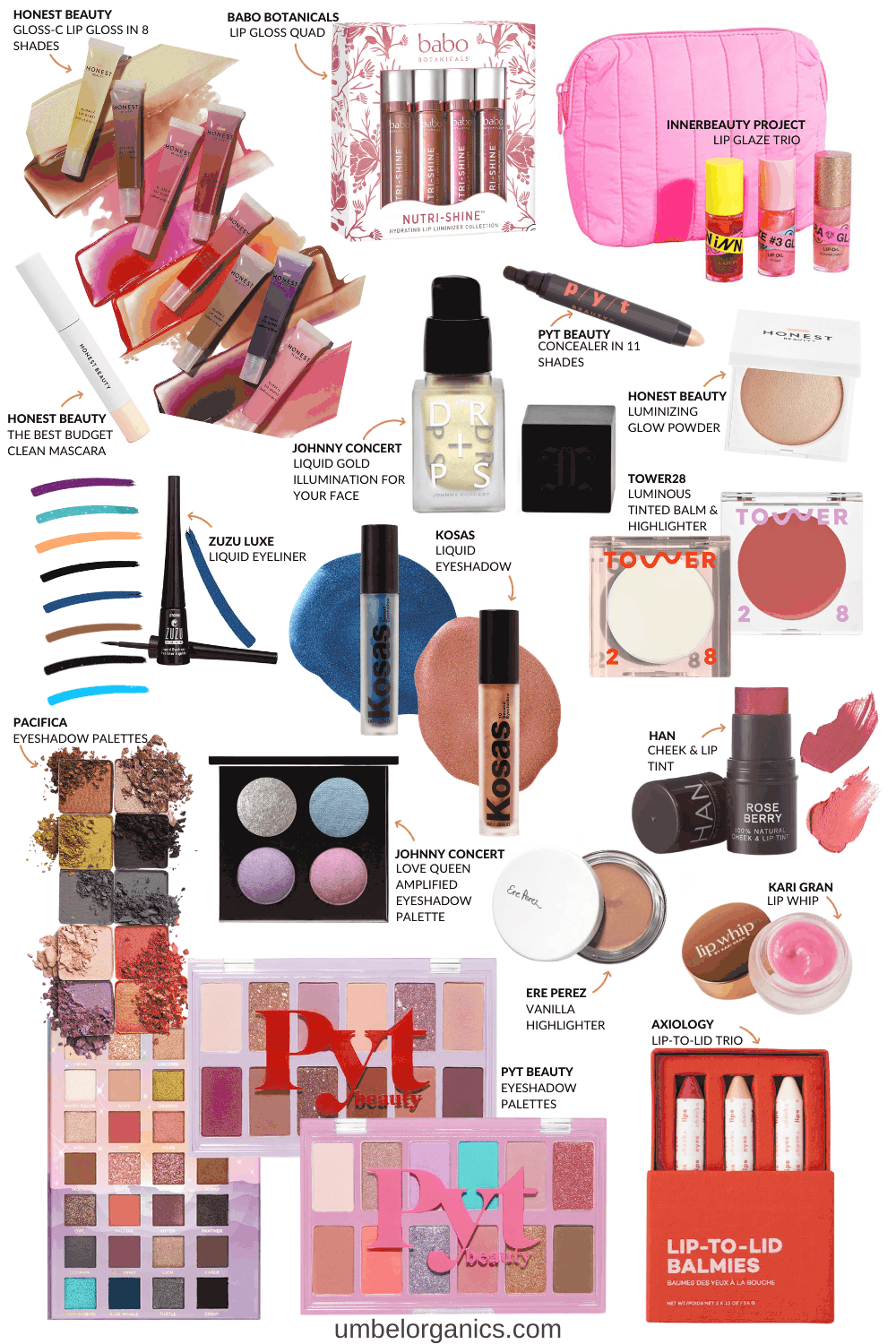 Johnny Concert Drips Liquid Luminizer a serum and highlighter in one, that uses natural antioxidants to give you a healthy glow.
Tower 28 BeachPlease Luminous Tinted Balm long-lasting, buildable color in 6 shades for luminous, second-skin finish.
Tower 28 Superdew Highlighter Balm a natural, lit-from-within glow for glossy, luminous skin.
Han 100% Natural Cheek & Lip Tint  3-in-1 and easy to apply multitasker for cheeks, lips, and eyes.
Ere Perez Vanilla Highlighter Scented with natural vanilla and evoking the feel of luxury, it's the ultimate cream highlighter.
Honest Beauty Luminizing Glow Powder silky, baked face powder for subtle shimmer without the added shine.
PYT Beauty All + Nothing Concealer conceals, brightens, and sculpts at home or on-the-go for a seamless matte finish.
Clean Skincare For Teens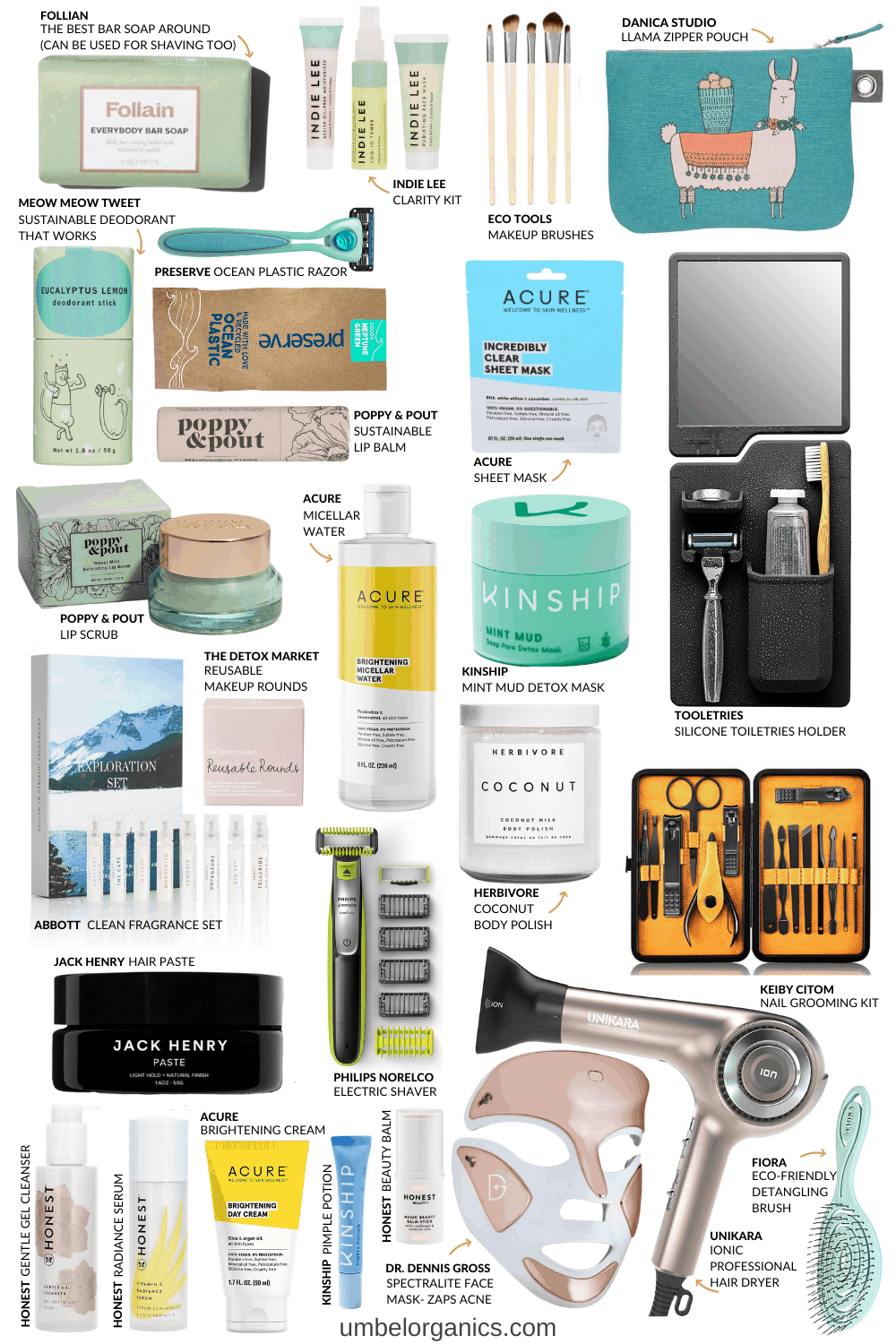 Follian Bar Soap a sustainable way to get clean with a mild unisex scent and moisturizing foamy lather. Perfect as a shave cream too.
Meow Meow Tweet Eucalyptus Deodorant this compostable stick deodorant is a synergy of potent plant and mineral powders with sweet smelling and mighty essential oils that will keep you smelling oh-so fresh!
Herbivore Coconut Body Polish nourishing coconut milk, virgin coconut oil and exfoliating sugar crystals to deeply hydrate and smooth skin.
Poppy & Pout Lip Balm hydrate your lips with 100% natural ingredients- hand-poured into eco-friendly paper tubes!
Poppy & Pout Lip Scrub sugar and essential oils to help clean and gently exfoliate your lips. Our Exfoliating Lip Scrub will exfoliate dead skin and leave your lips feeling soft and smooth!
Abbott Exploration Clean Fragrance Set 8 fragrances crafted by Abbott's master perfumers. Each parfum depicts nature and is inspired by different destinations.
Jack Henry Hair Paste packed full of active plant and herb extracts containing potent phytonutrients that stimulate the cells in the hair follicle and feed your scalp to keep your hair growing thick and healthy.
Philips Norelco Hydrid Electric Trimmer + Shaver a revolutionary electric grooming tool with OneBlade to trim, edge, and shave hair.
Preserve Recycled Plastic Razor made with recyled ocean plastic. 25% of the proceeds of popi by Preserve products will be donated to non-profits that work to clean up Oceans and beaches, support marine conservation, and research plastic pollution.
Eco Tools Makeup Brushes makeup brushes made from earth-friendly ingredients.
Reusable Makeup Rounds Simple, soft, and sustainable, Reusable Rounds are made with 70% bamboo and 30% organic cotton.
Llama Zipper Pouch for storing skincare essentials all in one spot.
Tooletries Silicone Mirror + Toiletries Holder organized toiletries in the shower.
Nail Grooming Kit an essential 15 piece set for hand care, facial care and foot care.
Dr. Dennis Gross SpectraLite Face Mask LED mask offering professional red and blue wavelength light therapy to smooth wrinkles, diminish discoloration, and clear acne for a beautiful, youthful complexion.
Unikara Ionic Professional Hair Dryer the innovative and durable 1875W DC motor improves airflow by 30% to dry your hair in super-fast time. The intelligent constant temperature system provides balanced heat to protect hair from damage.
Fiora Naturals Detangling Brush flexible bristle brush bends and flexes to gently remove knots without breakage. Crafted from Earth-Friendly material and 100% biodegradable.
More Gift Guide Inspiration