Eco-Friendly & Non-Toxic Dorm Room Essentials
If your teen is heading off to college, load up on eco-friendly dorm room essentials to reduce your plastic waste and your toxin load. From sleeping to studying to organizing to eating, we've found the best eco-friendly and non-toxic dorm room essentials to help you green up your dorm room!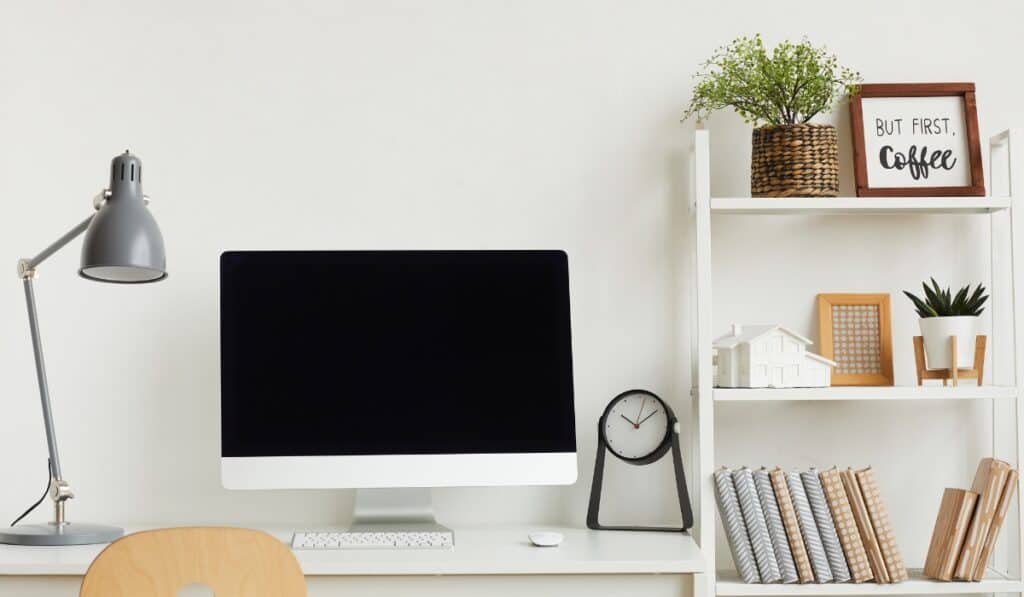 Disclosure: This post contains affiliate links, which means if you make a purchase through these links, we may receive a small commission at no extra cost to you.
If you're heading off to college, load up on eco-friendly dorm room essentials to reduce your plastic waste and your toxin load. Choose sustainable and non-toxic options like a reusable glass coffee mug, non-plastic organizers and organic towels and bedding.
In order to create a cleaner college living environment and keep up your healthy, eco-friendly and non-toxic lifestyle, we've got recommendations that are perfect for greening up your dorm room living! From sleeping to studying to organizing, we've found the best eco-friendly and low-tox recommendations for dorm room essentials below.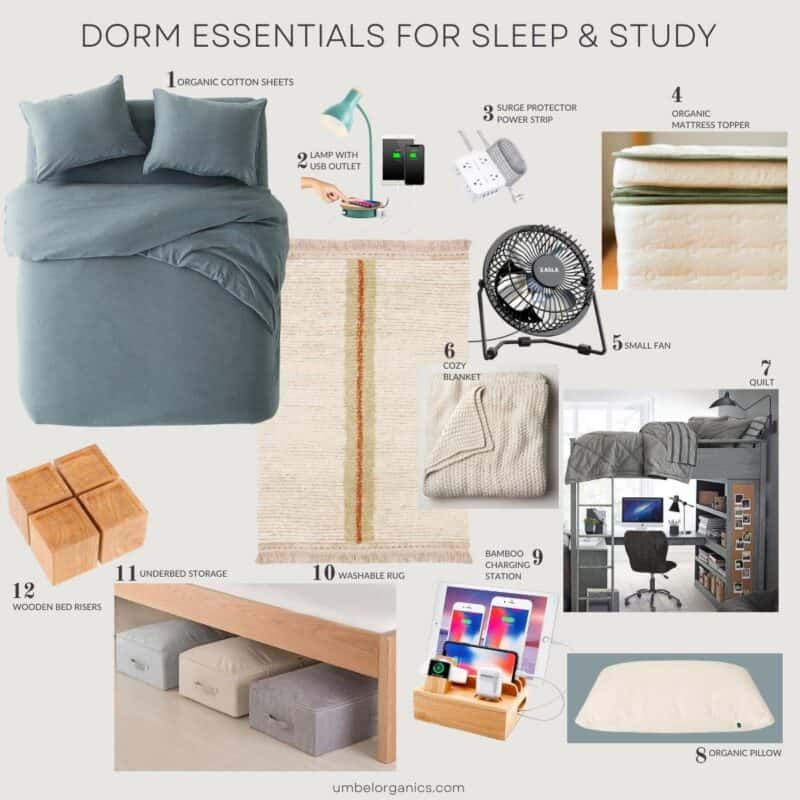 Eco-Friendly Sleep & Study
1// Pact Organic Cotton Jersey Sheet Set– 100% pure organic cotton jersey. Includes fitted sheet, flat sheet and pillowcase.
2// Desk Lamp– This 3-way dimmable led desk lamp with Wireless charging can fast-charge compatible iPhone and Samsung devices up to 10W. The charger and desk light is powered separately, and the lamp features an adjustable and flexible gooseneck.
3// Surge Protector Power Strip– The 3-side power strip with 8AC widely outlets and 4 USB charging ports(Total 5V/3.1A) can power up to 12 devices simultaneously. With built in Smart IC technology, the usb port can auto detect and deliver appropriate current to your devices, each port up to 5V/2.4A max.
4//Naturepedic Twin XL Mattress Topper– Add a layer of cushioning and comfort to your mattress with the Adagio 2″ certified organic mattress topper. Don't forget an Organic Cotton Mattress Pad Cover!
5// Small Metal Fan– This desk fan features an upgraded motor with fast operating speed, strong airflow to cool you down in no time, runs quietly, all-Metal Construction.
6// Knit Blanket– Machine washable cozy sweater knit blanket. Standard 100 OKEO-TEX certified.
7// Quilt & Sham– STANDARD 100 by OEKO-TEX® Certified: tested for 350+ harmful substances to keep you and your family safe from chemicals common to textile manufacturing.8// Naturepedic Oragnic PLA Pillow– Naturepedic PLA batting is derived entirely from sugarcane. Outer cover is 100% certified organic cotton.
9// Bamboo Charging Station– 6 in 1 bamboo charging station with stand charges up to your 6 devices simultaneously, comes with a wall output plug, from which helps keep your desktop neat and tidy.
10// Lorena Canals Washable Rug– This product is independently-tested: Non-Toxic Dyes + Inks, Lead Safe, No Added Formaldehyde, BPA + BPS Free, No PFAS, No Flame Retardants, No Known Harmful Phthalates. This small area rug is made of 97% cotton, 3% other fibers, and is reversible and machine washable.
11// Underbed Organizers– This linen storage box is special designed for your under bed or on the top of your closet, and has a lid to protect blankets and clothes from dust. Or try convenient Underbed Storage With Wheels.
12// Wooden Bed Risers– Made of natural and heavy-duty solid wood material, environmentally friendly and sturdy.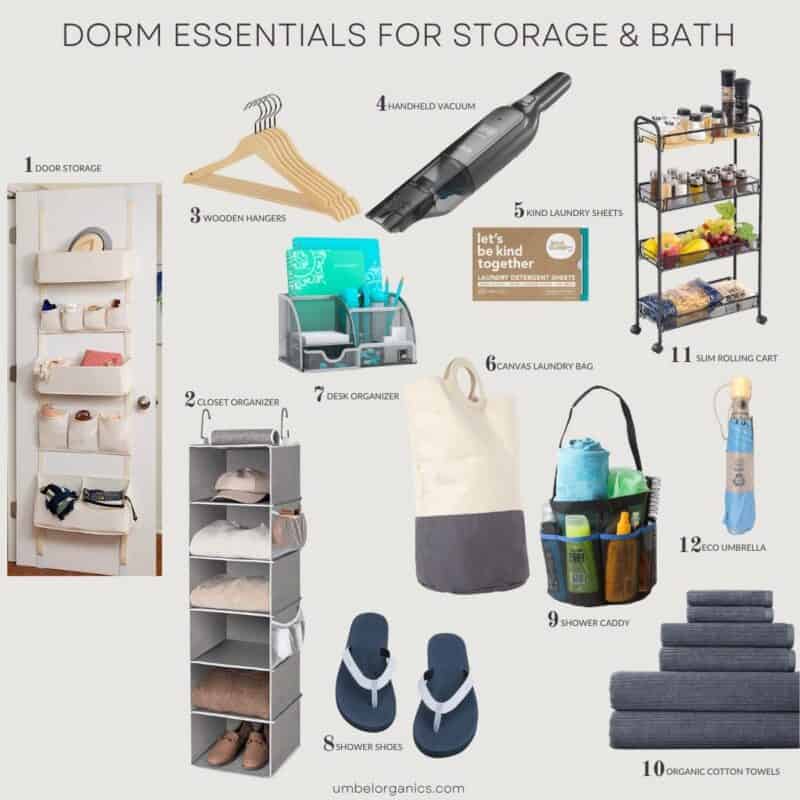 Eco-Friendly Storage & Bath
1// Over-The-Door Closet Organizer– Hangs over the door for simple storage and easy access and holds up to 8 pairs of shoes. Canvas Organizer has cardboard stiffener in back of each panel for added support. Metal hooks secure over the door.
2// Hanging Closet Organizer– Made of canvas and reinforced with heavy-duty fiberboard, the closet organizer can hold a weight of up to 50 lbs without bending the top. Hang the closet organizer with either hook-and-loop fastener or hooks. Both fit most garment rods.
3// Wooden Hangers– Strong and durable wooden hangers with swivel hooks.
4// Black + Decker Dustbuster AdvancedClean Slim Cordless Hand Vacuum– Designed to deliver more than 3 times than our leading handheld vacuum. Up to 14mins runtime per charge. Ultra-Compact & Lightweight Design​, Easy empty the dustbin with twist-off bowl and washable filter.
5// Kind Laundry Detergent Sheets– Get your clothes clean with these eco-friendly space-saving laundry sheets.
6// Canvas Laundry Bag– Canvas laundry bag with reinforced handles. Can be monogrammed.
7// Mesh Desk Organizer– For pens, pencils, scissors, etc.
8// Indosole Eco Flip Flops– Perfect eco-friendly shower shoes. Indosole is a Certified B Corp. These vegan flip flops feature Upcycled ENVRO Rubber Tire Outsoles make this an All-Terrain Slip-on Flip-Flop Sandal with Sure Surface Grip, a natural rubber non-slip footbed and an enviro-fiber strap.
9// Portable Shower Caddy– Easily tote your bathroom essentials from your dorm room to the bathroom and back.
10// Organic Cotton Bath Towel Set– 100% organic cotton bath towels in an ultra-light weight and channeled pattern for excellent absorbency, superior softness, and lightning-quick drying time. Has a loop for hanging on a hook.
11// Slim Rolling Cart– This slim cart provides has 4 shelves to store all of your essentials. Made of strong steel wire mesh. The shelves have raised sides to keep items in place.
12// Totes Eco 'Brella– This auto open/close umbrella features a 44″ arc, patented wide tie strap, canopy made of 100% recycled PET plastic bottles, frame made of 70% recycled material and a handle that's constructed from bamboo. The fabric is certified free of environmentally harmful substances and the single panel and strap are printed with "70% recycled".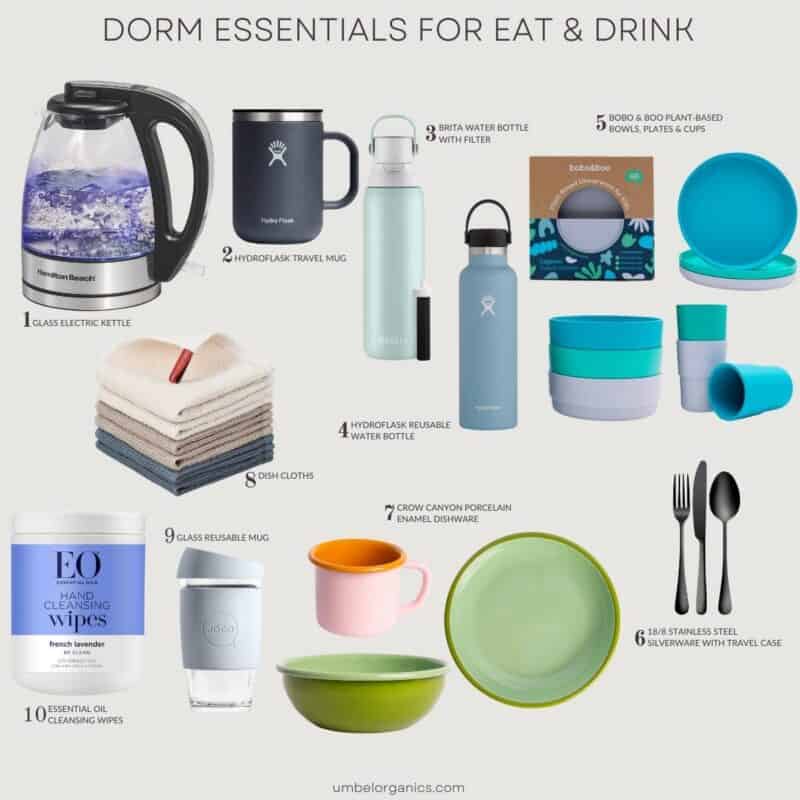 Eco-Friendly Eating & Drinking
1// Glass Electric Tea Kettle– This cordless kettle features glass sides with stainless steel accents. Automatic shut off: Boil-dry protection means the kettle will turn itself off when water is hot and ready to serve.
2// Hydoflask Travel Mug– Made with 18/8 pro-grade stainless steel to ensure pure taste and no flavor transfer. BPA-Free & Toxin-Free. Free from toxins, free from worry.
3// Brita Water Bottle With Filter– Brita's Premium Filtering stainless steel bottle holds 32 ounce of water, and is designed with a Brita filter that fits in the straw that makes water taste great and keeps water cold for 24 hours.
4// Hydroflask Water Bottle– Reusable stainless steel water bottle.
5// Bobo & Boo– The Bobo & Boo Kids Dinnerware Set is made from 100% plant-based materials, making them THE most eco-friendly dinnerware on the planet. Made from all-natural and sustainable crop fibres, our plant-based range are melamine-free and 100% biodegradable and compostable. Microwave and dishwasher safe. Biodegradable and compostable. Free from BPA, toxins, and melamine. Although this set was designed for little kids, it works for college kids too (my college-age daughter has a set!)
6// Stainless Steel Travel Utensils– Made from 18/8 high quality stainless steel, this 2-setting utensil set comes with a travel case.
7// Crow Canyon Porcelain Enamel Dishware– Each eco-friendly piece is made from porcelain-covered steel that's lightweight, durable, naturally non-stick and easy to clean without plastic coating. Shatterproof, not microwaveable. Crow Canyon Porcelain Enamel Mug, Crow Canyon 24 oz Porcelain Enamel Bowl, Crow Canyon Porcelain Enamel Plate
8// Absorbent Dish Cloths– 100% cotton dish cloths for mopping up spills.
9// Joco Reusable Glass Cup– Borosilicate glass reusable coffee or tea mug with silicone sleeve and top.
10// EO Cleansing Hand Wipes– Keep hands clean and fresh with our French Lavender Hand Sanitizing Wipes, 99.9% effective against most common germs, thanks to the 62% alcohol content. EO Hand Sanitizing Wipes are made with organic ingredients and are synthetic fragrance free, paraben free, cruelty free, and certified gluten free.
More Eco Living Inspiration