The Best Natural & Sustainable Bar Soap Brands
Natural bar soap is an eco-friendly and non-toxic way to clean up your bathroom routine. These 7 brands of all-natural, non-toxic and organic bar soap are packed with skin nourishing ingredients and don't contain any harmful chemicals. Ditch plastic bottles and get clean with safe and sustainable bar soap.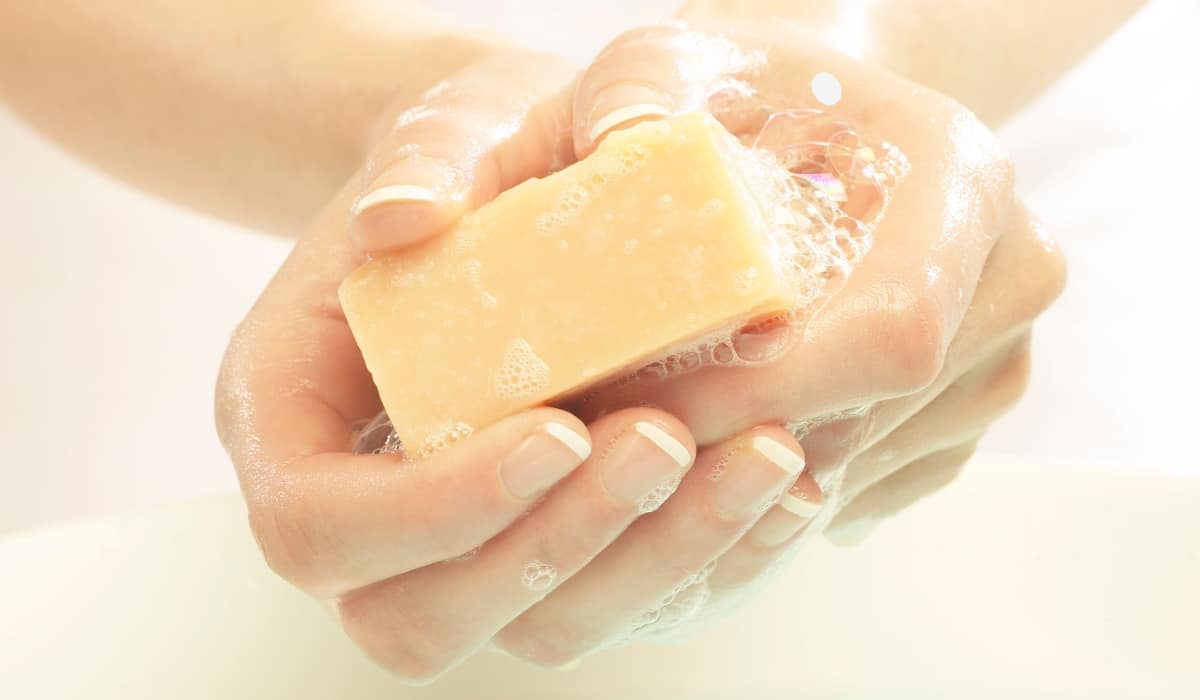 Disclosure: This post contains affiliate links, which means if you make a purchase through these links, we may receive a small commission at no extra cost to you.
One of the easiest swaps for safer skincare and sustainability is to replace your body wash with a bar of soap. Bar soap has gotten a bad rap in the past for stripping skin and leaving behind a gunky mess. But not all bar soaps are created equally. I've found 6 brands of all-natural, non-toxic and organic bar soap brands that are packed with skin nourishing ingredients and don't contain any harmful chemicals. Natural bar soap is an eco-friendly and non-toxic way to clean up your bath routine.
Are you ready to reduce plastic waste in your home?  Liquid soaps in a plastic bottle require five times more energy during production and 20 times more energy is required for the packaging in plastic bottles. And you're left with a plastic bottle that you must recycle or dispose of.
Why use all-natural, non-toxic and organic soap? Organic and all-natural soaps are either unscented or scented with pure essential oils. Drugstore soap may contain artificial fragrances, dyes, and additives. Some of these ingredients have been linked with endocrine disruption and other adverse health issues. Here are some ingredients to avoid when shopping for bar soap:
Ingredients To Avoid In Bar Soap
How Is Soap Made?
Bar soap is a chemical reaction between oil, water and lye. Lye, otherwise known as sodium hydroxide, is caustic on its own, but when chemically bonded with oil and water, transforms into soap. Other ingredients may be added to the basic formula to provide additional benefits.
Ingredients like shea butter, coconut oil, and olive oil may be used in the soap recipe for hydrating the skin. Activated charcoal may be added to the soap to draw out oils and dirt if oily skin is an issue. Anti-inflammatory ingredients like aloe vera can be added for calming the skin. Pure essential oils may be added to the basic soap recipe for scent.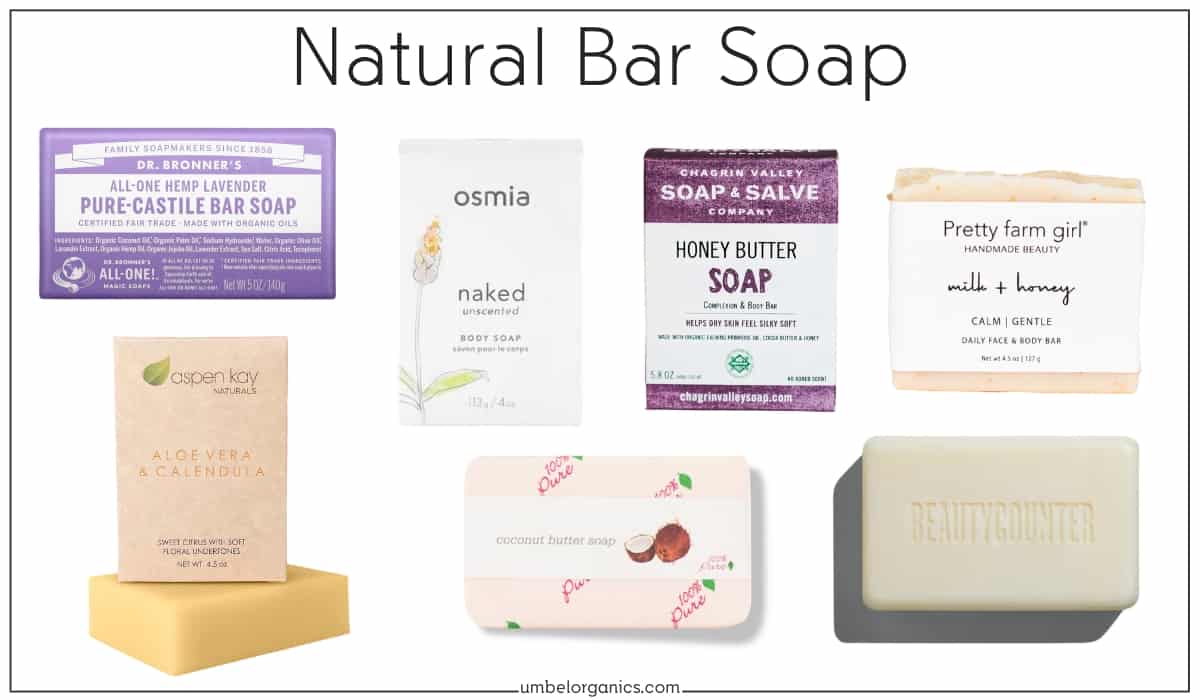 Replace your body wash with any of the 6 brands of natural bar soap below for a safer and more sustainable way to get clean.
Dr. Bronner's
Dr. Bronner's Pure Castile Bar Soap
Cost: $4.99 for 5 oz ($1.00 per ounce)
Scents: Baby Unscented, peppermint, Lavender, Almond, Citrus, Tea Tree, Rose, Eucalyptus
Why I Love It: This is a great, long-lasting, budget-friendly bar soap!
From the Dr. Bronner's website: Made with certified fair-trade ingredients and organic U.S.-grown hemp seed oil for a soft, smooth lather that won't dry your skin. Biodegradable in a 100% post-consumer recycled wrapper.
Giving Back: Dr. Bronner's All-One International is an initiative to ensure that mission-aligned brand activism is a priority for our international partners in countries we distribute to around the world. Dr. Bronner's also supports of youth programs/charities—boosting lives and communities at home and abroad.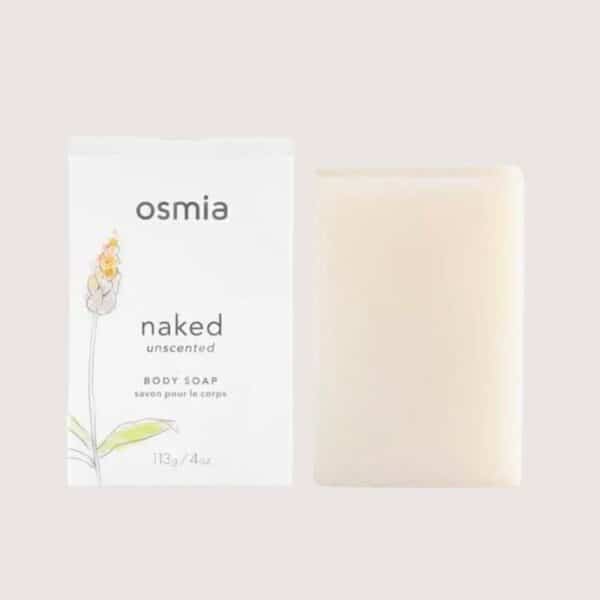 Osmia
Cost

: $16 for 4 oz ($4 per ounce)

Scents

: Unscented

From the Osmia website

: Break the irritated skin cycle and restore your skin to a healthy, functional state. With no essential oils and ten simple, high quality ingredients, Naked is a reset button for sensitive skin. It's wonderful for new moms, babies, and any other humans with sensitive skin. 

Shop

:

Osmia Unscented Bar Soap
Beautycounter
Cost

: $22 for 5 oz ($4.40 per ounce)

Scent

: Citrus Mimosa

What I love

: If you're looking for a luxurious bar soap that leaves your skin silky and moisturized, this bar is for you! The creamy lather doesn't dry out your skin and both my husband and I love the subtle scent.

From the Beautycounter website

: This nourishing bar has a creamy coconut-derived base formulated with organic coconut oil, shea butter, and a refreshing citrus mimosa scent — perfect for a gentle cleanse that moisturizes and softens without stripping skin. 

Shop

:

Beautycounter Body Bar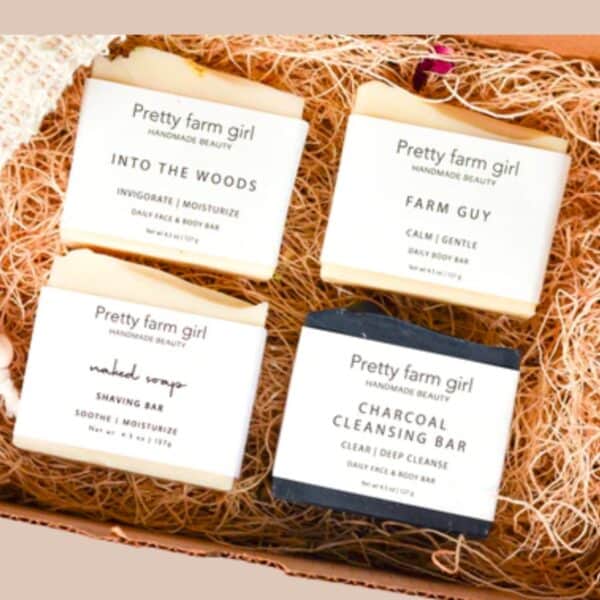 Pretty Farm Girl
Cost

: $7.99 for 4.5 oz ($1.78 per ounce)

Scents

: Sweet almond + honey, pink salt + grapefruit, calm, Into the woods, lavender + mint, buttermilk, coffee + cream, lemon + mint, pumpkin spice, farm girl, farm guy 

From the Pretty Farm Girl website

: Handcrafted in small batches with the finest & freshest organic ingredients. When possible, ingredients are sourced from Pretty Girl Farm and other small farms in the community.  Pretty Girl Farm Bar Soaps are clean, natural, and luxurious products that your skin will love!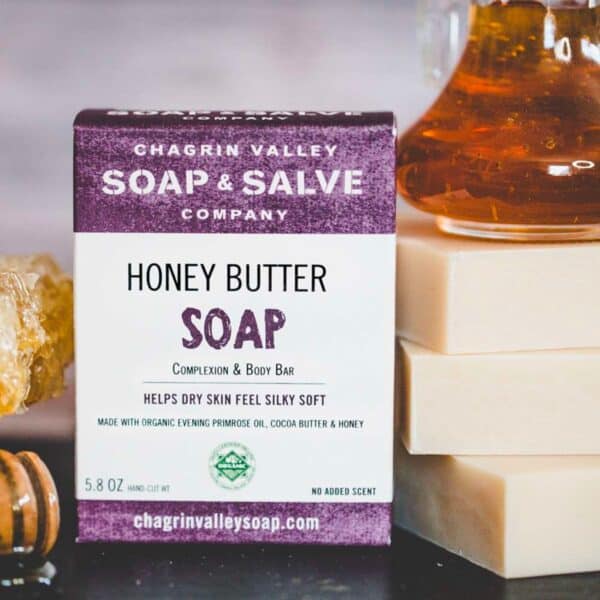 Chagrin Valley
Cost: $9.50 for 5.8 oz ($1.64 per ounce)
Scents: 36 combinations for every skin type & personal care need
From the Chagrin Valley Soap & Salve website: Handmade from scratch, using the cold processed method, one batch at a time – to ensure freshness, consistency, and perfection. Rich, nutritious, moisturizing organic shea butter, cocoa butter, mango butter and honey create a super moisturizing bar. Fresh, sustainable, cruelty-free, natural and organic ingredients are used to craft wholesome, safe, natural organic, and effective skin and hair care products free from artificial ingredients and synthetic chemicals.
Giving Back: Read all about Chagrin Valley's environmental commitments here.
Shop: Chagrin Valley Bar Soap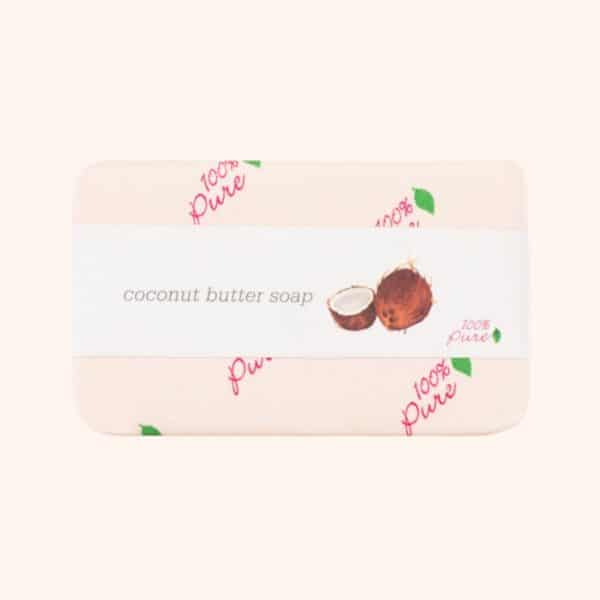 100% Pure
Cost: $15 for 4.5 oz ($3.33 per ounce)
Scents: Coconut Butter, Mango Butter, Lavender
From the 100% Pure Website: Deeply moisturizing, triple milled vegetable soap gently cleanses skin without stripping or drying. Made with rich shea butter, fatty acid rich coconut oil and silky smooth olive oil, this bar soap is a truly decadent treat for skin. This soap's rich, creamy lather is infused with the scent of sweet, juicy mango.
Giving Back: Choose where your donation goes at checkout- 1 order equals one bowl of dog food donated to a shelter or a tree planted.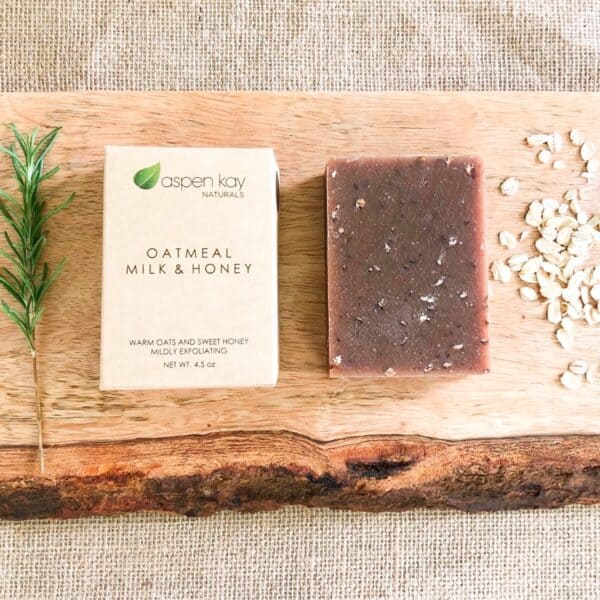 Aspen Kay Naturals
Cost: $8.98 for 4.5 oz ($2.00 per ounce)
Scents: Turmeric, Dead Sea Mud & Charcoal, Aloe Vera & Calendula, Oatmeal Milk & Honey
My Take: This soap really moisturizes my skin.
From the Aspen Kay website: Made with certified organic aloe vera juice, organic calendula and naturally colored with organic turmeric. Lightly scented with pure essential oils. Made using the cold process method. Gentle enough for sensitive skin. Made by hand in small batches to ensure quality. Not tested on animals.
More Natural Living Inspiration