10 Eco-Friendly & Non-Toxic Makeup Brands
Go green with your beauty routine and ditch the plastic compacts and applicators. Reduce your plastic waste with the best sustainable and non-toxic makeup brands that are as good for your face as they are for the planet.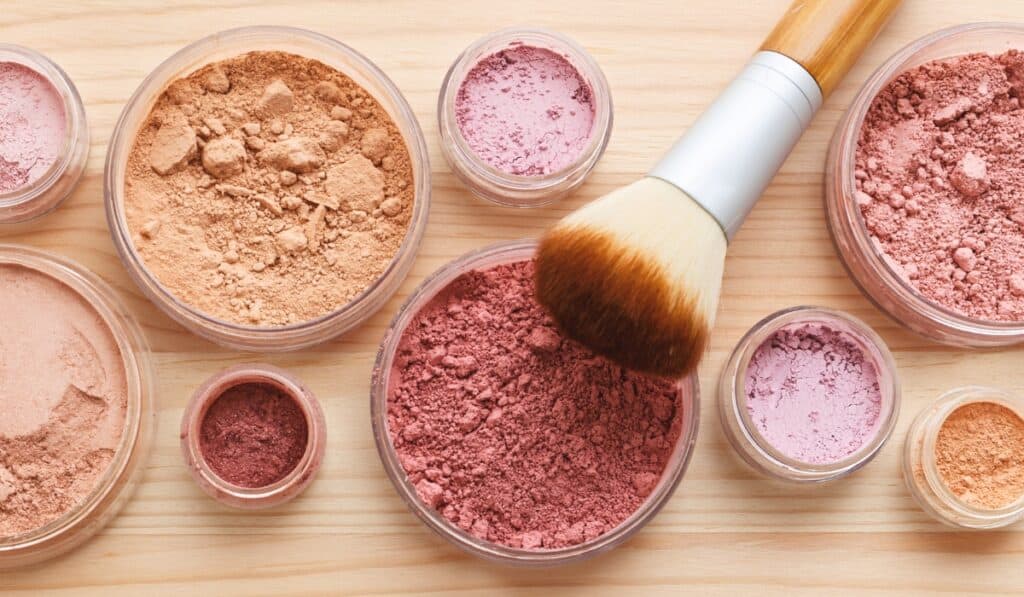 Disclosure: This post contains affiliate links, which means if you make a purchase through these links, we may receive a small commission at no extra cost to you.
Is your makeup drawer overflowing with plastic bottles, jars and compacts? The reality is that most of the plastic from your beauty routine gets tossed in the trash, and it can take up to 1,000 years to decompose. There's a good chance the plastic compact you put in the recycling bin won't even be recycled – only around 9% of plastic ends up being recycled.
Facts About Plastic Waste
The good news is that there are alternative non-plastic packaging materials that can be recycled or composted. Below are some common sustainable materials that are used instead of plastic packaging for beauty and makeup products.
Glass- Glass can be recycled an endless number of times and it never loses quality and purity. It does not leach any toxic chemicals into the products that it houses. The downside is that not all glass gets recycled, and it does not break down in the landfill.
Bamboo- Bamboo is one of the fastest growing plants in the world, and regenerates quickly after harvest. Bamboo is a renewable and sustainable resource, and does not need fertilizer to grow. Bamboo is also grown without the use of pesticides, as it is naturally resistant to pest and fungi infestation. Bamboo is biodegradable and decomposes within six months. The downside is that bamboo sometimes has a plastic liner, and it needs to be separated before being recycled.
Paperboard Tubes- Paperboard tubes are easy to recycle at recycling centers, and they have a high recycling rate. The downside is that if the paperboard has a plastic liner, it needs to be separated before being recycled. Paperboard does not hold up well if it gets wet.
Aluminum– Aluminum can be endlessly recycled. If aluminum ends up at the bottom of the sea, it oxidizes and turns to dust. The downside is that if the aluminum has a plastic liner, it needs to be separated before being recycled. Cleaning out the tubes can be difficult, and the product packaging may just get thrown away.
Although there are still plastic parts in some of my beauty products, I'm trying to make small changes that will eventually lead to a more plastic-free beauty routine. I use an empty plastic Bobbi Brown compact to house my Elate Beauty pressed eyeshadow refill. I'm trying to find creative ways to not toss what I already have. Elate is just one of the beauty companies listed below that has impressed me with their low waste beauty products.
Beyond sustainable makeup, go green with sustainable skincare brands and consider going eco-friendly in your entire bathroom.
Read on to discover 10 brands of non-toxic makeup products that use sustainable, eco-friendly and mostly plastic-free packaging – some of these brands still use some plastic, depending on the individual product.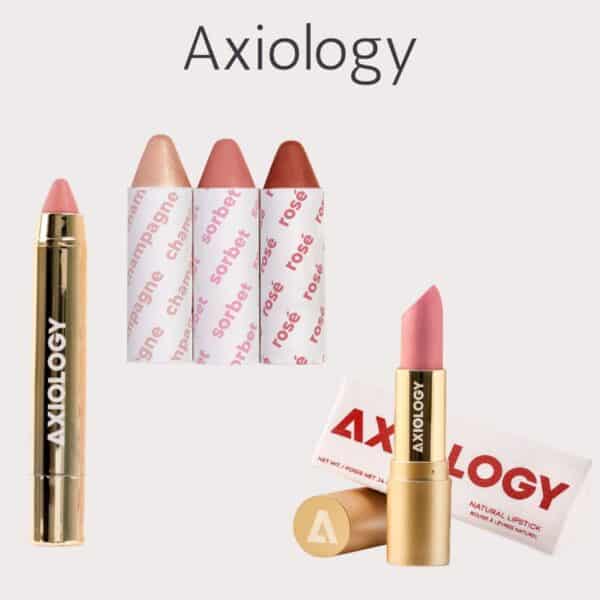 Axiology
The founder of Axiology, Ericka, set out to make cruelty-free vegan lip balm and lipstick. This might be the most interesting "About me" page I've read in a while!
Packaging: Axiology multi-use balmies are 100% zero waste. The lipstick and lip crayon tubes are made from 50% post-consumer recycled plastic, and the boxes handmade from recycled trash by a women's cooperative in Bali.
Products: Multi-use balmies, lipstick, lip crayons and highlighters.
Ingredients: Cruetly-free, vegan, no plam oil, gluten free, spy free, no synthetic fragrances.
Product Spotlight: Axiology Multi-Sticks, Axiology Lip-to-Lid Balmie Stick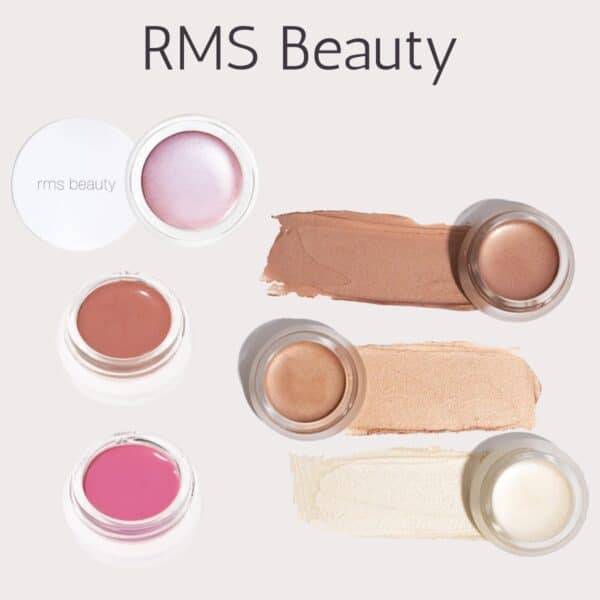 RMS Beauty
Founded by makeup artist Rose-Marie Swift in 2009, RMS Beauty prioritizes pure, high-quality, toxin-free ingredients.
Packaging: All RMS Beauty cream products come in recycled glass pots, and the boxes are made from 80% post-consumer recycled fiber and manufactured using 100% wind power.
Products: Concealer, blush, lip to cheek stains, foundation, highlighter, eyeshadow and more.
Ingredients: Everything created by RMS Beauty is non-GMO, soy-free, gluten-free (except for the volumizing mascara!), and cruelty-free. RMS Beauty uses raw, food grade, organic, wildcrafted and natural ingredients that are as close to their natural state as possible. Cruelty-free, non-GMO, gluten free, paraben free, nano free, sulfate free, phthalate free, talc free.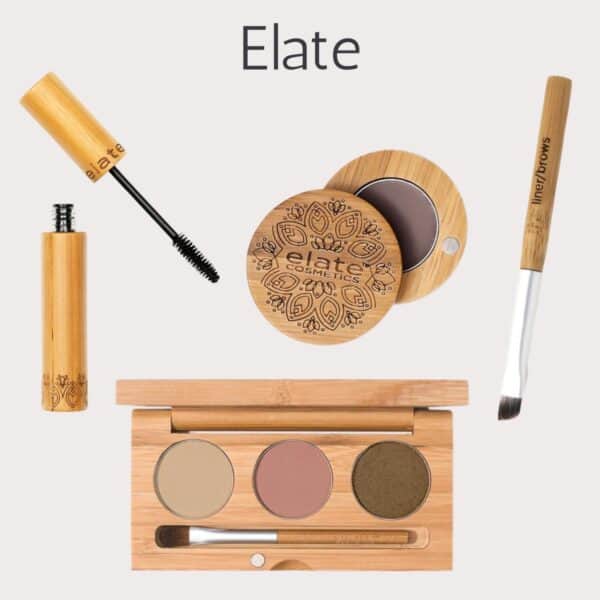 Elate Cosmetics
Elate Cosmetics, a sustainable & low waste cosmetic brand, chooses ethics over ease, and prioritizes people and the planet. 697,270 plastic packages have been kept out of landfills with our refillable products, 157,528 gardens have been grown from our seed paper packaging, and over 15,000 trees have been planted with Elate orders-every order plants a tree!  B corp certified. We meet the highest verified standards of social and environmental performance, transparency, and accountability. Elate Cosmetics commits at least 2% of sales to charitable causes each year through their Social and Environmental Impact program.
Packaging: Compact refills, like the Pressed Eye Color, are packaged minimally in a seed paper envelope that can be planted to grow wildflowers. All of the Elate Cosmetics compact refills fit into the magnetic bamboo palettes or compacts. The product line is 75% waste-free and the company is actively working to increase that number. They do use some recyclable plastic, but mostly use sustainable and easily recyclable materials like aluminum, glass, bamboo, and seed paper.
Products: Mascara, eyeshadow, brow balm, eye pencils, foundation, concealer, blush, bronzer, lip pencil, lip balm, lip stick, lip gloss and more.
Ingredients: Vegan, cruelty-free.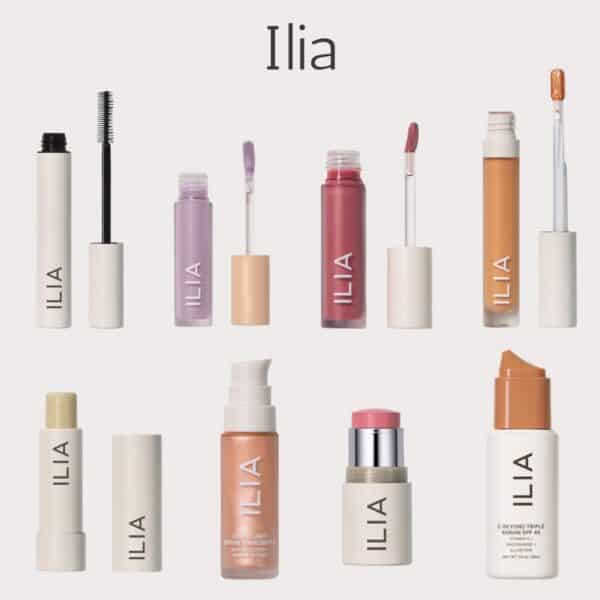 Ilia
The Ilia line of clean, sustainable makeup was founded by Sasha Plavsic. Her vision was to create safe, effective and natural skincare and makeup with sustainable packaging. 1% of sales go back to the planet.
Packaging: Ilia uses recycled aluminum, glass components, and responsibly sourced paper. U.S. customers can mail in up to 10 empty beauty products per month—Ilia brand or any other brand—and Pact Collective will break it down responsibly, so it doesn't end up in a landfill.
Products: Ilia has a large suite of skincare and makeup products, but they're well known for their popular mascara (I use it myself and love it). The line also includes lip gloss and multi-stick,
Ingredients: Conscious, carefully-selected ingredients, and no compromises.
Product spotlight: Ilia Limitless Lash Mascara and Ilia Liquid Powder Chromatic Eye Tint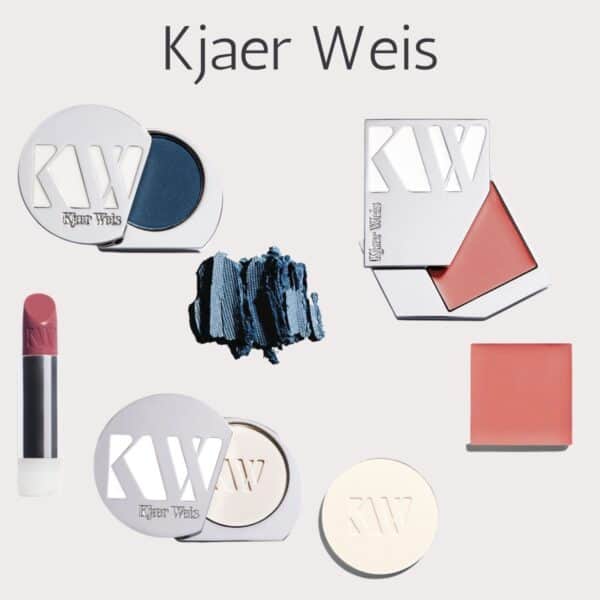 Kjaer Weis
As an in-demand makeup artist, Kirsten Kjaer Weis found that people were sacrificing the health of their skin by using irritating, synthetic makeup. Kirsten created Kjaer Weis – a pioneer in high-quality organic, sustainable, luxury beauty.
Packaging: Features metal compacts (not recyclable) with refills that are packaged in cardboard.
Products: Blush, bronzer, highlighter, lipstick, lip gloss, eyeshadow, mascara and more.
Ingredients: Natural and organic ingredients. Not tested on animals. They use beeswax in some products, so are not vegan. Paraben-free.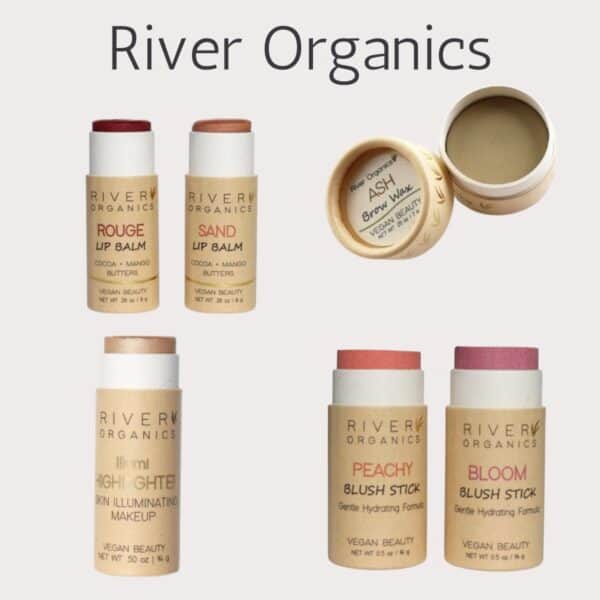 River Organics
River Organics is an independent beauty company, located in Wilmington, NC. And conceived by a natural product chemist and his wife.
Packaging: Eco-friendly paper tubes, glass bottle for facial oil. River Organics takes care to ship thoughtfully in recycled envelopes from Eco-Enclose, sugarcane-based labels and without additional marketing material or packing.
Products: Blush, concealer, highlighter/bronzer, brow wax, mascara, lip balm w/ colors, they also sell imperfects.
Ingredients: Formulated to be safe and hydrating. Vegan, Cruelty-free, organic plant oils, free from phthalates, parabens, synthetic fragrances.
Product Spotlight: River Organics Bloom Blush Stick, River Organics Highlighter Stick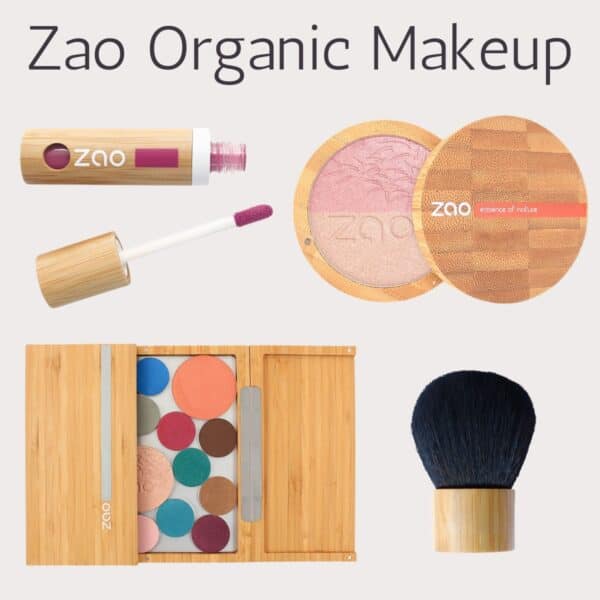 Zao Organics
Zao Organics is a French cosmetics brand that manufactures sustainably crafted products with a low carbon footprint, consciously contributing to our planet's conservation. The packaging, made from controlled harvested bamboo, is stylish, elegant and durable, and the innovative bamboo refill system increases sustainability and cost-effectiveness.
Packaging: Zao Organics products are housed in bamboo cases and compacts and some plastic parts. Most products have refills, and the company is transitioning to cardboard refills.
Products: Blush, foundation, concealer, mascara, liquid eyeliner, eyeshadow, eyebrow powder, lip gloss and more.
Ingredients: 100% natural, certified organic, toxic-free, cruelty-free, gluten-free and vegan.
Product Spotlight: Zao Organics Compact Blush, Zao Organics Eyeshadow, Zao Organics Bamboo Makeup Palette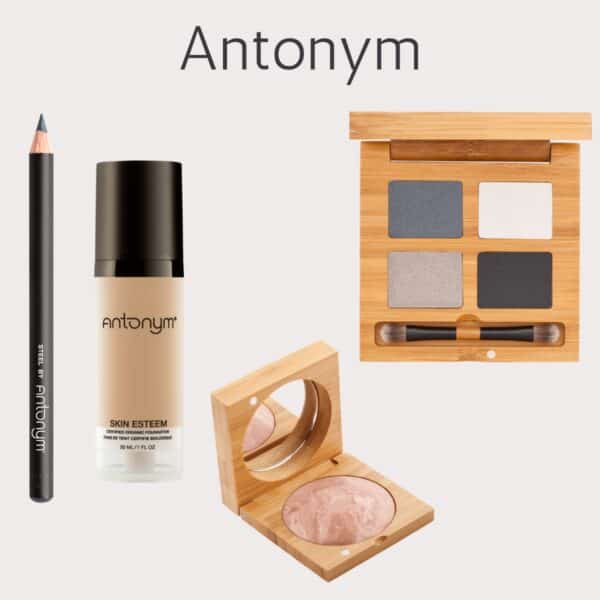 Antonym Cosmetics
Antonym Cosmetics is a natural makeup line that offers professional level performance without compromising the integrity of the makeup ingredients.
Packaging: Antonym Cosmetics compacts are made of sustainable bamboo. The paper they use is either recycled or FSC (sustainable forest) paper.
Products: Foundation, blush and highlight, eye pencil, eye shadow, lip pencil and more.
Ingredients: Free from parabens, phthalates, sulfates, synthetics oils, artificial fragrances, petrochemicals, preservatives, GMOs, mineral oils, fillers. Certified by ECOCERT (products and packaging are third-party verified to be up to certain environmental standards). Cruelty-free and vegan (the only non-vegan ingredient used is the beeswax in the lipstick).
Product Spotlight: Antonym Baked Blush, Antonym Eye Pencil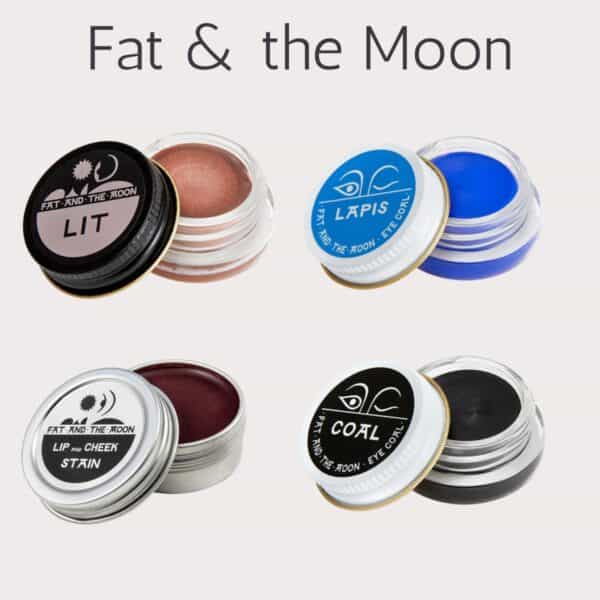 Fat and the Moon
Fat and the Moon founder Rachel Budde has built her company around providing handcrafted, herbal body care products to those seeking natural and effective alternatives to chemical-filled products. They are a small, handmade-to-order business.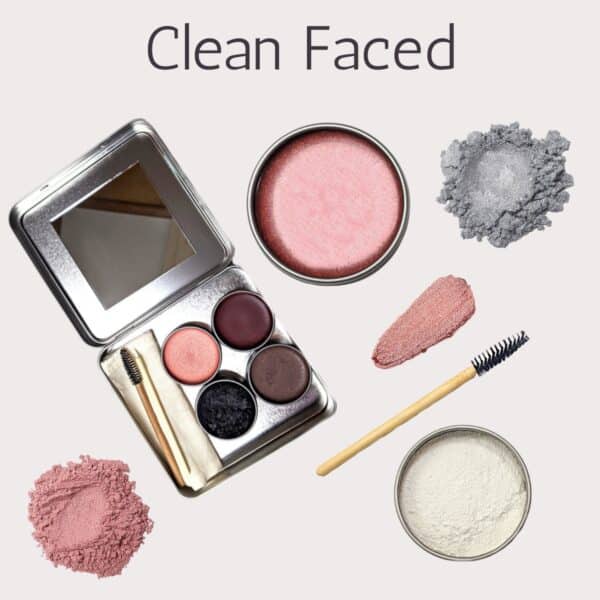 Clean Faced Cosmetics
Clean Faced Cosmetics are made by hand in Michigan and sold via Etsy. You can order refills and send back the containers to be reused.
More Inspiration For A Plastic-Free Home