8 Steps To An Eco-Friendly Lawn
Maintain a thriving yard with these eco-friendly backyard tips. We're sharing 8 eco-friendly steps to yard care that are not only good for your lawn but kinder to the planet.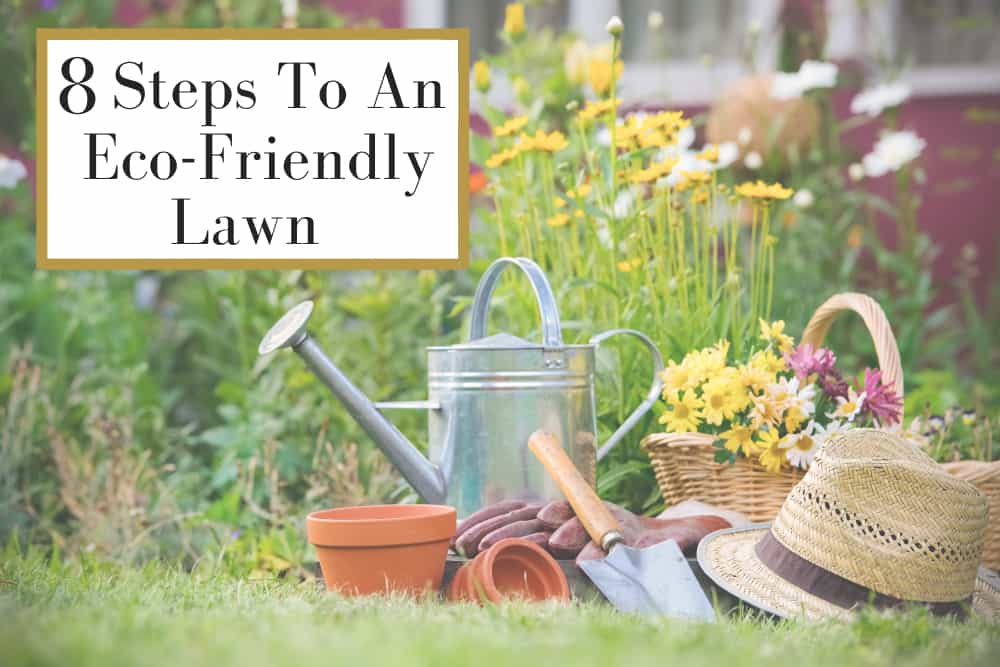 Disclosure: This post contains affiliate links, which means if you make a purchase through these links, we may receive a small commission at no extra cost to you.
You want to be more eco-friendly while not giving up the lawn where you kick around the soccer ball, swing a croquet mallet, and watch your kids do endless somersaults and cartwheels. Short of xeriscaping every inch of your yard, there are steps you can take for an eco-friendly approach to lawn care. It's possible to be kinder to the environment while maintaining a thriving yard and garden.
We're sharing 8 eco-friendly steps to yard care that are not only good for your lawn but kinder to the planet.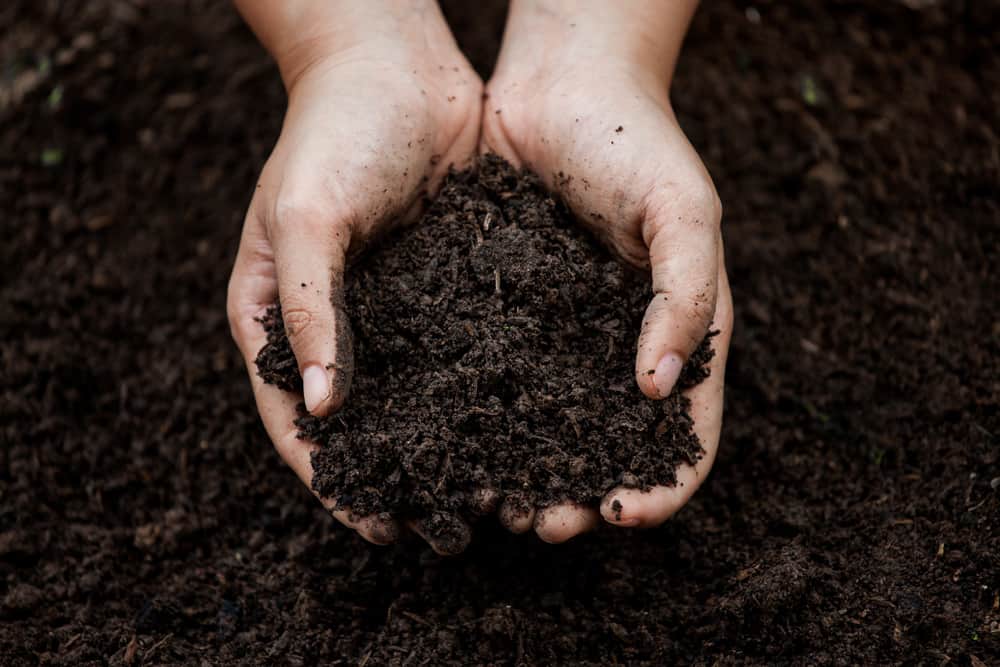 Test Your Soil
Healthy soil is the best way to support a healthy lawn. Just as a house is built on a strong foundation, your lawn should be built on a healthy soil foundation. Test your soil using an at-home soil testing kit to find out more about the structure and composition of your soil and what nutrients are lacking. With this information, you won't add unnecessary nutrients to the lawn that can cause runoff and affect the health of your grass.
Luster Leaf Soil Test Kit– This soil test features quick, at home results for Soil pH, Nitrogen, Phosphrous and Potash. This innovative and inexpensive soil test kit has an easy-to-use capsule system and patented color comparators, and contains all components needed for 40 tests. 10 for each of pH, N, P and K. Simple, with detailed instructions included. Great for beginners and experienced gardeners alike. Soil pH preference list for over 450 plants included.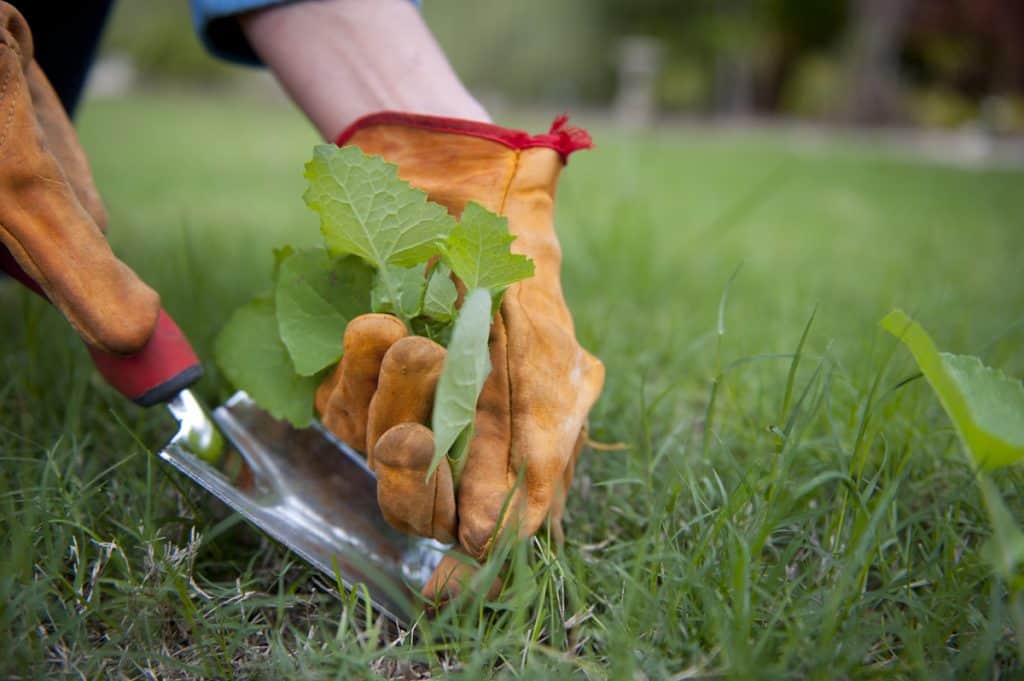 Switch To Organic Lawn Treatments
Conventional lawn products contain harmful chemicals that you don't want in your backyard. Kid-safe, pet-safe and bee-friendly organic and non-toxic lawn products are the best way to keep your lawn and garden healthy while being kind to the environment.
Organic fertilizer– Use an organic fertilizer to enrich your lawn. Fertilizers usually contain nitrogen, phosphorus, and potassium in an optimal ratio. Organic fertilizer may contain plant or animal matter like manure or bone meal, which work slowly to improve soil health over time. Applying too much fertilizer can lead to unnecessary runoff, which can contaminate waterways. Your best bet is to apply lawn fertilizer when rainfall is not expected within 24 hours of application. Try Espoma Organic Lawn Food.
Organic Weed Killer– Weeds hijack nutrients from the soil and crowd out the plants that you actually want in your yard and garden. Conventional weed killer deposits harmful chemicals around your yard and garden, so it's safer for humans and the environment to use organic weed killer. Read all about our 6 favorite brands of organic weed killer here. Sunday Weed Warrior is OMRI organic certified and fast-acting!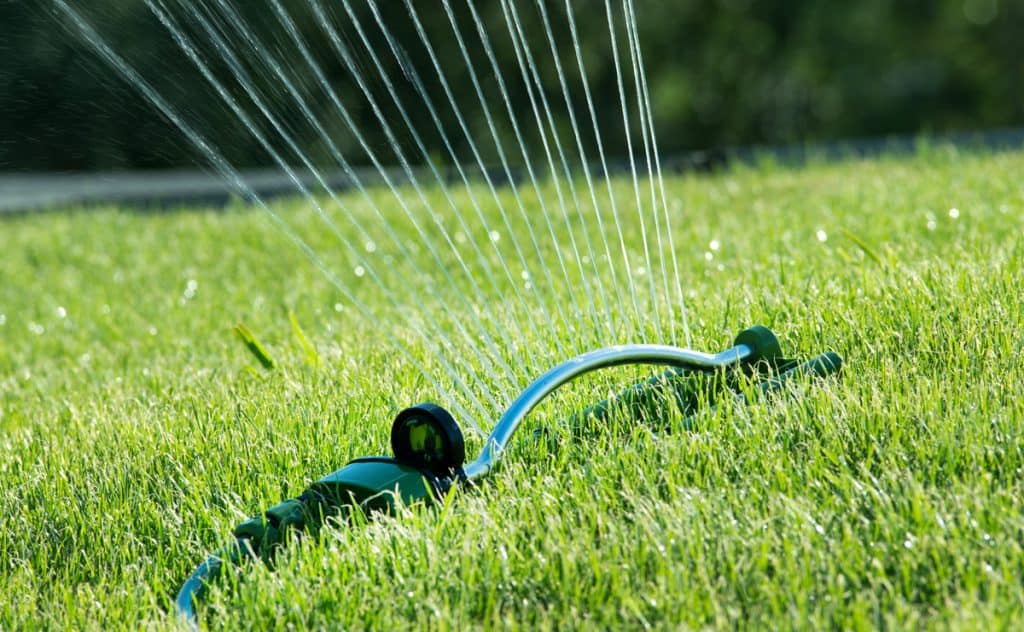 Water Wisely
How and when you water your lawn can affect the root system of your lawn. If you water your lawn too frequently and for shorter periods of time, this fosters a shallow root system.
Backyard Tip: To encourage a deep root system, water infrequently and for longer periods of time. Need a non-toxic hose? Check out our favorite hose that doesn't leach harmful chemicals here. We just ordered this Water Right 500 Series Drinking Water Safe Hose.
Best time to water: The best time to water your yard is in the early morning before 10 a.m. Watering after 10 will cause water loss from evaporation. Alternatively, watering at night causes your lawn to be damp and moist for a long period of time, and this can promote disease, fungal growth and invite pests.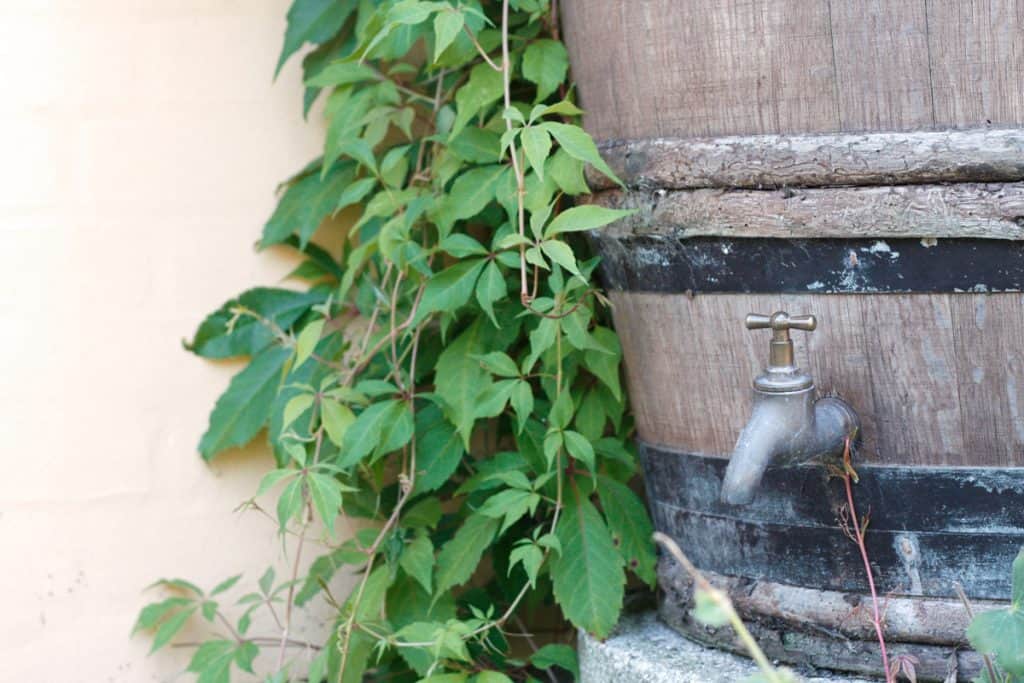 Get A Rain Barrel
Collect and store rainwater in a rain barrel and redistribute the water when needed. If needed, elevate your rain barrel on a stand and let gravity do the work. For every inch of rain that falls on one square foot of your roof, you can harvest 0.6 gallons of water.
Good Ideas Rain Barrel– Catch and store rainwater in a 50 Gallon faux wood rain barrel. Includes brass spigot so you can easily connect your hose or for use as an overflow spout. Made of the industry's strongest polyethylene resin, It won't rot like wooden barrels, and stands up to the cold without cracking or splitting. Collecting rainwater can help lower water bills and is easy on the environment. Flat-back and front-side overflow design lets the barrel rest up against your house, but without the worries of water washing over your wall.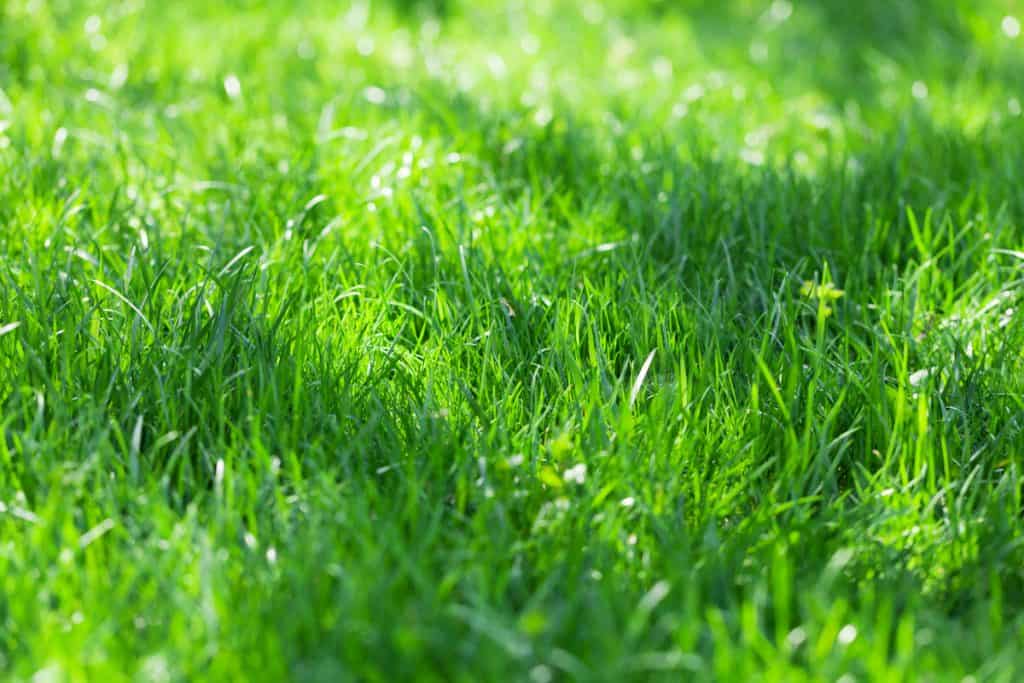 Mow High
Tall grass is healthy grass – it encourages a deep root system, shades out weeds and controls lawn pest populations. Cut your grass at the higher end of the recommended cutting height for the grass variety in your yard. Another grass cutting rule of thumb: Use the rule of thirds. If your grass height is 3 inches tall, don't cut more than 1 inch of the grass height.
Backyard tip: If your mower has a mulching blade, use it to cut the grass into fine clippings and deposit them back onto the lawn – this is an easy way to recycle organic material. If your mower doesn't have a mulching blade, you can get one at your local hardware store and install it fairly quickly. Also, keep the blade on your mower sharp to cleanly cut the grass.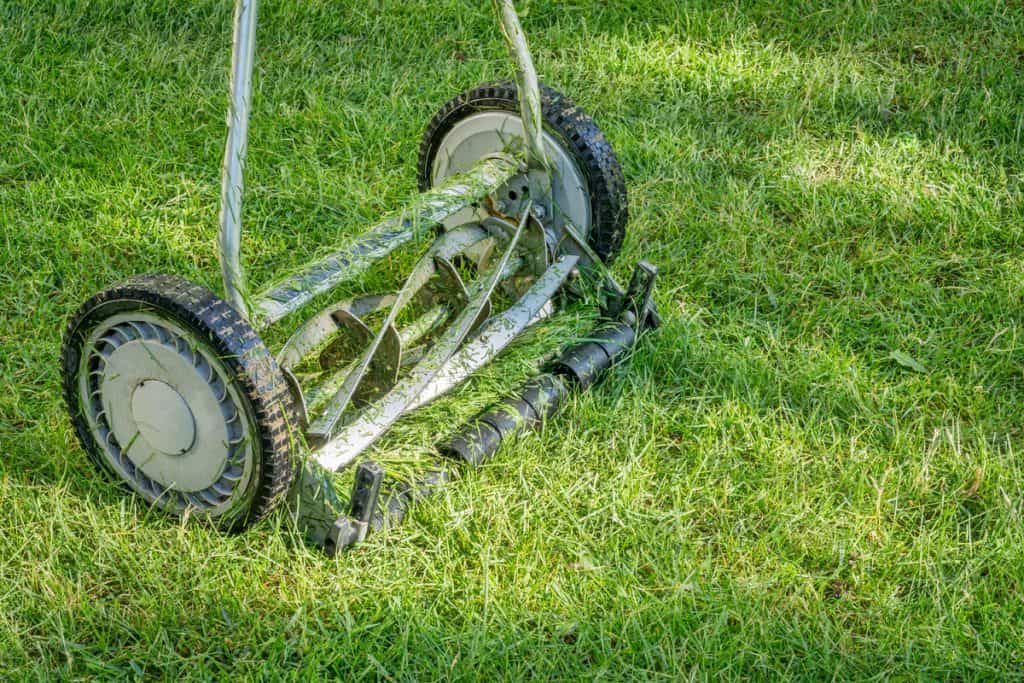 Compost & Mulch
Start a compost pile in a corner of your yard to recycle food scraps and yard waste. Learn more about how to start a compost pile here.
Compost is so good for promoting healthy soil. It improves drainage in heavy clay soils, and increases water retention in sandy soils, helps stabilize soil pH, improves the effectiveness of organic fertilizers, prevents nutrients from leaching and it improves resistance to disease. The basic recipe for compost is 3 parts brown (shredded leaves, straw, cornstalks) to 1 part green (grass clippings, kitchen scraps, coffee grounds, eggshells).
You can mow leaves with the lawnmower to quarter-inch bits and use as mulch in garden beds or at the base of trees. Leave your grass clippings as you mow since they're healthy for your lawn and will decompose quickly.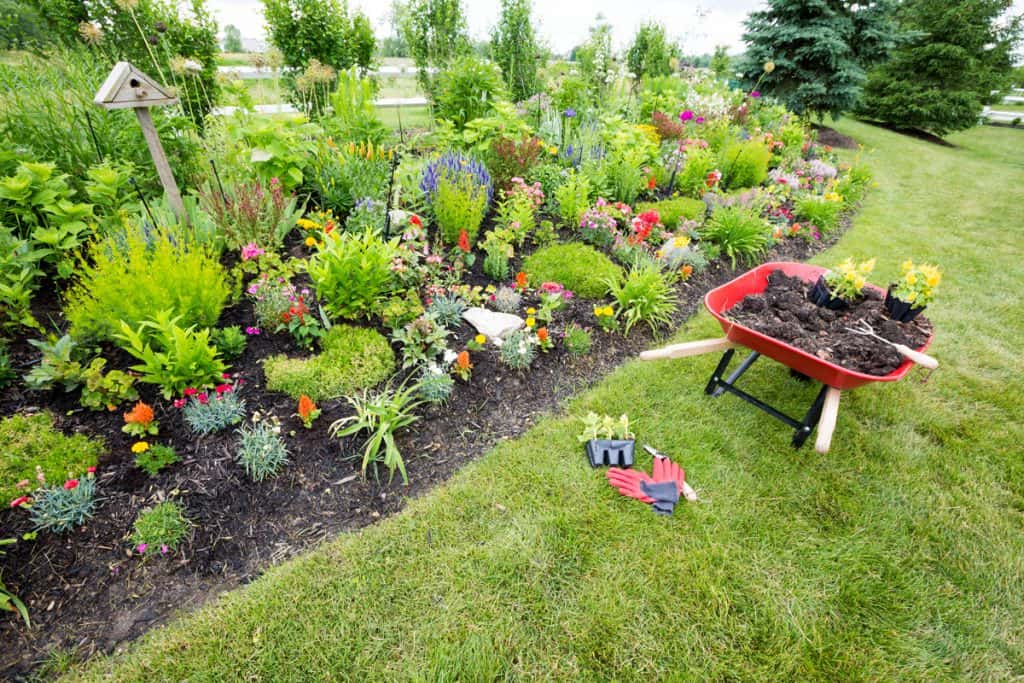 Plant Native Plants
Add border gardens to your yard and plant native plants. Go to your local nursery and ask for native plants and they should be able to give you suggestions for the best native plants for your yard. Native plants are beneficial in your yard because they don't require fertilizers or pesticides, and they don't need as much watering as non-native plants. Native plants tend to be low maintenance since they are already adapted to the local climate and to local pests.
More Backyard & Organic Garden Inspiration