Spruce Up Your Patio With These Design Ideas
Upgrade your outdoor space with fresh and inspiring ideas for your patio or deck. From outdoor lighting to lounge chairs to dining sets to outdoor rugs and planters, we've found all the outdoor necessities you need to turn your backyard into an oasis. Spruce up your outdoor space with these 40 inspiring patio and backyard design finds.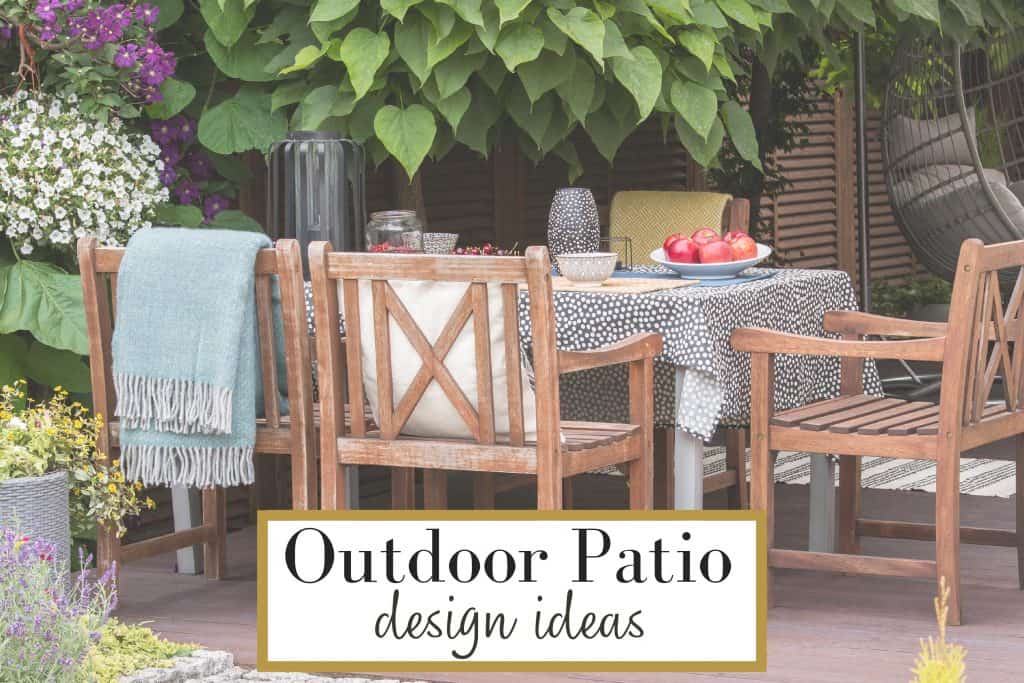 Disclosure: This post contains affiliate links, which means if you make a purchase through these links, we may receive a small commission at no extra cost to you.
Our backyard living space needs major sprucing up, and I've gathered some design inspiration to make our patio a more inviting space. There are many elements that go into a space to make it more welcoming, such as warm string lights, a comfy lounge chair and beautiful planters. I would ultimately like an outdoor patio that makes me feel like sitting back, relaxing, and sipping on a cold drink.
I've gathered  over 40 design finds from five categories (lounging, dining sets, planters, outdoor lighting and rugs & pillow) for inspiration on sprucing up your backyard and patio.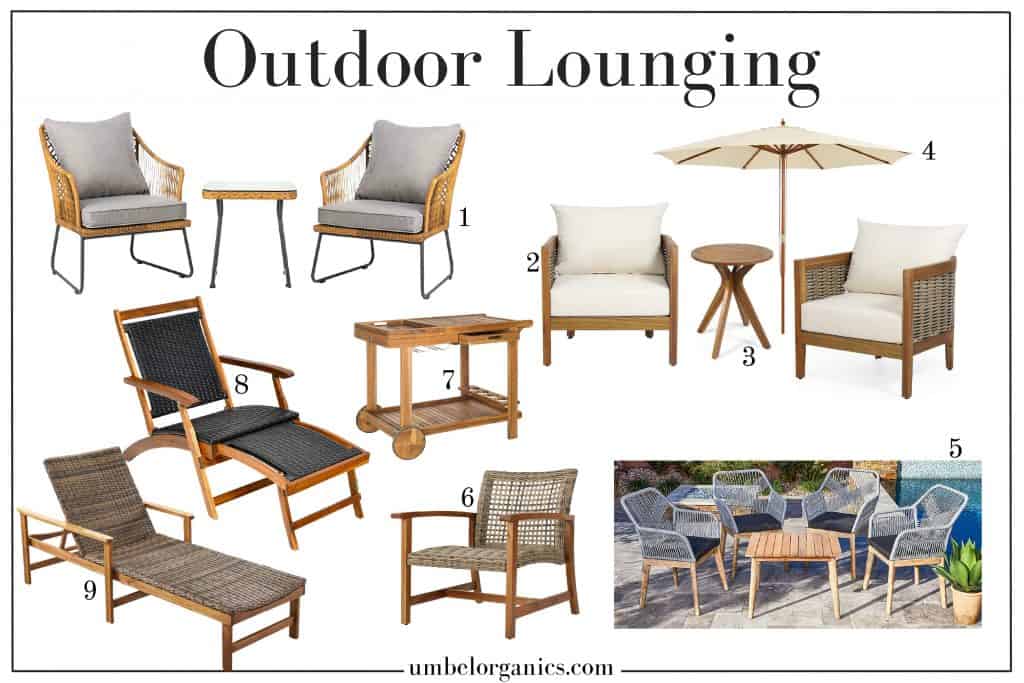 Are you ready to relax? I've chosen outdoor chairs and loungers with wood frames with sustainability and good looks in mind. Acacia wood is strong, durable, eco-friendly and can withstand the elements. You'll find outdoor club chairs, loungers, bistro tables and more!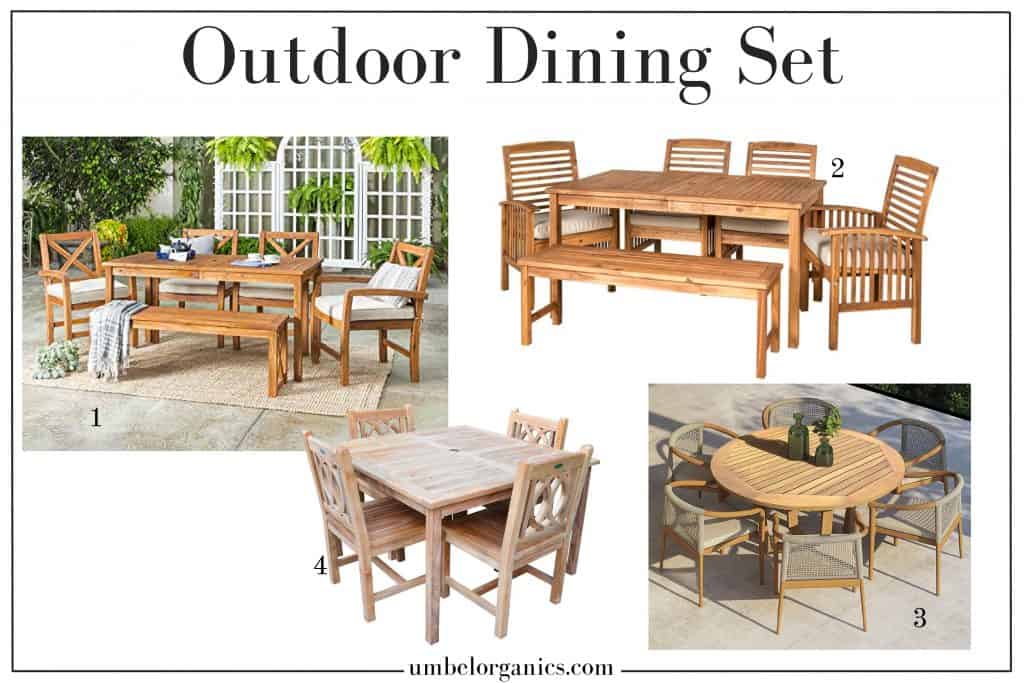 Outdoor Dining Sets
Eating outside in agreeable weather is one of the small joys in life. These outdoor dining sets are all sustainable hard wood and will look gorgeous on your patio!
1// Walker Edison Del Ray 6 Piece Acacia Wood Dining Set– Dimensions: Table: 30″ H x 55-79" L x 35" W, Chair: 37″ H x 24″ L x 27″ W – Bench: 18″ H x 53″ L x 14″ W. Each chair supports up to 250 lbs. Bench supports up to 400 lbs. Resistant to a variety of outdoor elements. Apply teak oil every 2-3 months.
2// Walker Edison Maui Modern Acacia Wood outdoor Dining Set– Dimensions: Table: 30″ H x 55-79" L x 35" W, Chair: 37″ H x 24" L x 20" W – Bench: 18″ H x 53″ L x 14″ W. Each chair supports up to 250 lbs. Bench supports up to 400 lbs. Dining Table supports up to 100 lbs.. Resistant to a variety of outdoor elements. Apply teak oil every 2-3 months.
3// Teak Dining Set With Round Table– Crafted with a solid teak frame, the 6 chairs feature natural-textured rattan woven rope.
4// Teak Outdoor Bistro Square Dining Set– Grade A legally sourced Teak wood. The teak table weighs approximately 75 LB. The overall height is 29 1/2in and the tabletop dimensions are 47in by 47in. The teak chair weighs approximately 30 LB. The overall height is 36 1/2in and the total depth is 25 1/2in.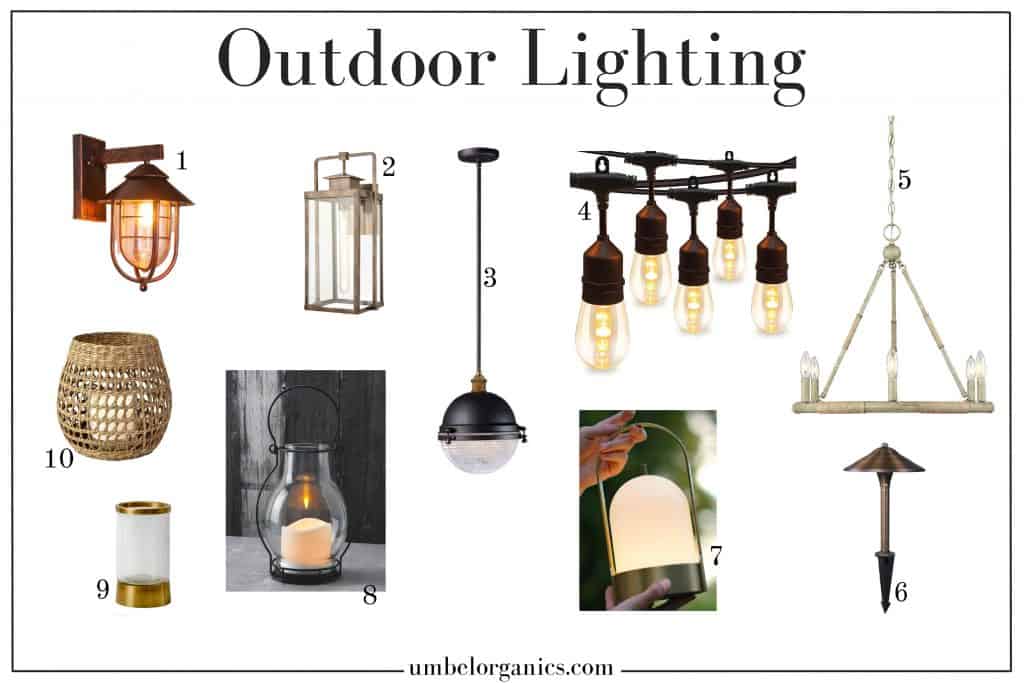 Outdoor Lighting
The right outdoor lights set the stage for a magical evening. From string lights to outdoor sconces, perfect your ambience with beautiful outdoor lights.
1// Copper Outdoor Wall Mounted Light– An antique copper finish gives this design a wonderfully industrial feel.
2// Crested Butte Outdoor Sconce– Mission style vintage brass.
3// Portside Outdoor Pendant– features a solid dome of aluminum finished in Oil Rubbed Bronze with solid brass hardware finished in Antique Brass. The Clear prismatic glass diffuser completes the authentic look of this outdoor collection.
4// Outdoor String Lights– Warm white LED string lights. Low voltage and safe drop design.
5// Natural Wood Chandelier– 6 light chandelier with rope accents.
6// Mini Path Light– constructed of solid brass for durability and beauty. It projects an 8-foot diameter region of illumination.
7// Portable Cordless Table Lamp– Portable Lamp with Smooth Handle – Made of steel with brushed finishing. Perfect for camping, BBQ, outdoor party, etc. Rechargeable Lithium Battery – Can be used up to 7 Hours.
8// Outdoor Solar Candle Lantern– The solar panel located discreetly in the candle charges by day for an energy-efficient glowing light at night. Mimics the glow of a real candle.
9// Gold Rimmed Glass Hurricane– Serene Spaces clear glass hurricane.
10// Wicker Tea Light Candle Holder– Seagrass wicker tealight candle holder made by MadeTerra artisans in Vietnam.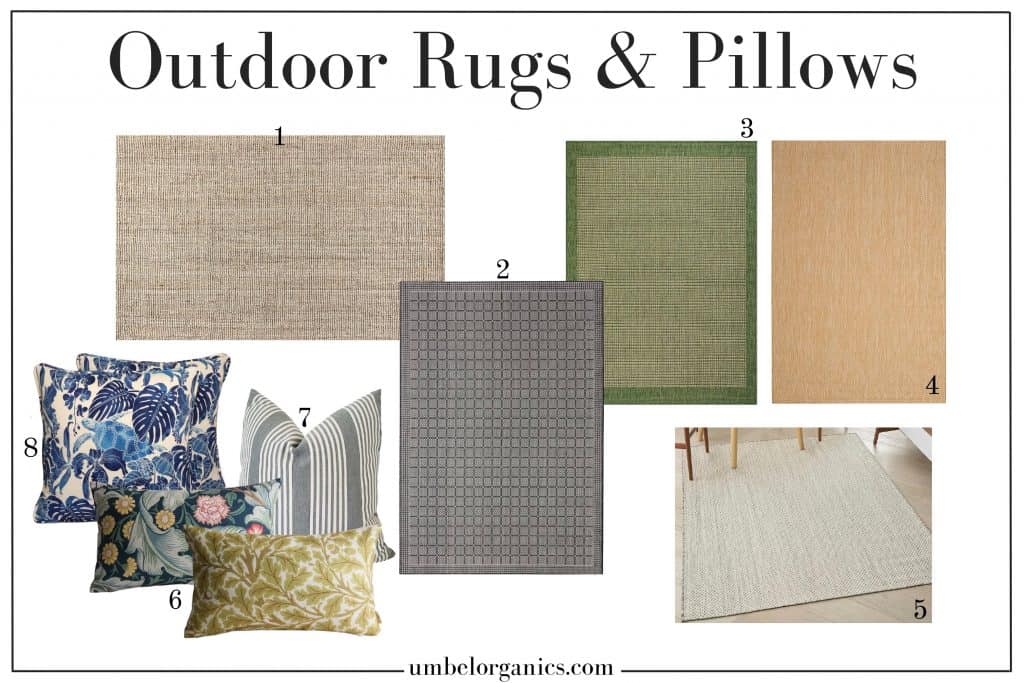 Outdoor Planters
Outdoor planters come in all sorts of shapes and sizes. Bring some greenery into your patio space with a few well-placed planters.
1// Terra Cotta Square Flower Pots– These Aged terracotta square Herb Floral flowerpots, come in a set of three in different sizes. APPROX – Small =15 x 15 x 6 cm, Medium 19.5 x 19.5 x 7 cm. Large = 24 x 24 x 9.3 cm. With there Rustic look would decorate any Garden. Ideal for Planting Flowers Herbs Plants with there already drilled holes to release excess water.
2// Window Box Planter– Lightweight faux concrete- 17.5" X 7", 25.5" X 9"
3// Hanging Planter Baskets– these hanging planters come with 4 predrilled, built-in drainage holes to ease the concern of overwatering for your indoor and outdoor plants. Your ferns, pothos, ivy and spider plants will thrive in these porous, breathable hanging planters. lightweight materials and adjustable hanger.
4// Unbreakable Flower Pot Planter– Sunnydaze garden pots have a 20 inches diameter x 15 inches tall; Weighs 3.2 pounds per planter; Unbreakable and lightweight.
5// Concrete Rectangular Planter– Made of concrete and weather-resistant fiberglass that have all the advantages of these materials, such as strength, durability, weather and damage resistance, and long-lasting color and has a drainage. 31″L x 15″W x 15″H.
6// Round Cement Planter– 14 inch diameter cement planter.
7// Big Pond Garden Planter– Round fiberglass planter- Small Size : 22x22x11 Weight : 12lbs Capacity : 12 gallons. Medium Size : 25x25x12 Weight : 18lbs Capacity : 17 gallons. Large Size : 28x28x13 Weight : 25lbs Capacity : 25 gallons
8// Fossil Stone Planter– Classic Home And Garden Honeysuckle Planter with 15 inch diameter, lightweight. Volume: 13-inch 3. 6 gallons; 15-inch 5. 6 gallons. Container Size: Large.
More Backyard Inspiration