I Tested Caraway Bakeware And Here's What I Found
I got out my oven mitts and tested Caraway non-toxic bakeware to see if it lived up to the hype. Find out if my baked goodies stuck to the pan.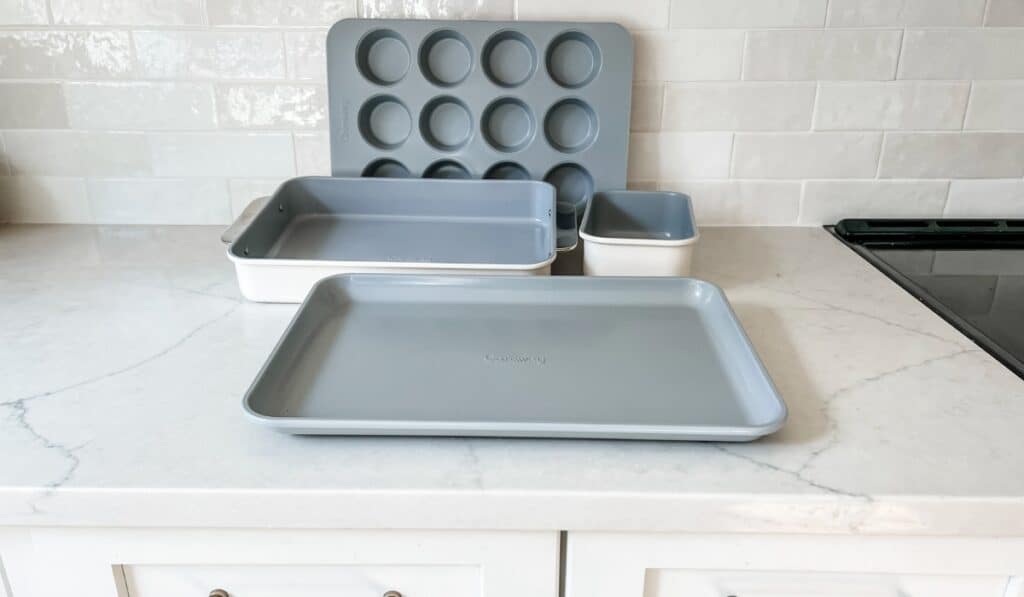 Disclosure: This post contains affiliate links, which means if you make a purchase through these links, we may receive a small commission at no extra cost to you.
I've baked many cakes throughout the years that have stuck to the side of the pan and left a crater-like hole in the cake. Why ruin a perfectly good cake with a pan that doesn't perform optimally?
That's where Caraway Bakeware comes in. Most non-stick cake pans have a fluorinated coating, meaning that PFAS chemicals give the pan non-stick properties that keep baked goods from sticking. However, this isn't always a good thing. PFAS coatings have been implicated in causing health related issues like changes in immune system response, increased risk of testicular and kidney cancer, changes in cholesterol and liver enzymes, increased risk of preeclampsia in pregnant women among other health risks.
I recommend non-toxic cookware and non-toxic bakeware for a healthy home. For this review, I tested several baking products from Caraway non-toxic bakeware and I'm sharing my honest thoughts below.
What's Different About Caraway Bakeware?
With Caraway bakeware, you get all the benefits of non-stick cookware without the harmful chemicals like heavy metals, PTFE, PFOA and PFAS. It's SGS third party certified as well as California Prop 65 tested and passed. Caraway makes non-toxic ceramic coated bakeware that does not contain PFAS chemicals.
Why You Should Avoid PFAS Chemicals
PFAS, short for Per- and polyfluoroalkyl substances, is a class of fluorinated chemicals that have water repellant, nonstick and stain resistant properties. Teflon utilizes PFAS chemicals (PFOA was used until 2002, but other PFAS chemicals are now used) in order to obtain non-stick properties.
Studies of almost 70,000 people that lived near a Teflon plant linked PFOA in tap water to kidney and testicular cancer, thyroid disease, high cholesterol, ulcerative colitis and other health problems.
Further research has associated PFAS with more health risks, including increased risk of asthma, immune system disfunction, decreased vaccine response in children, changes in liver enzymes, increased risk of high blood pressure and pre-ecalmpsia in pregnant women, small decreases in infant birth weight and weight gain in adults.
Although PFOA and PFOS have been voluntarily phased out by industry, they have been replaced by other chemicals in the PFAS family. GenX is a replacement for PFOA, yet studies suggest that GenX is linked to harmful effects in the liver and reproductive problems.
What I Love About Caraway Bakeware
I absolutely love the way Caraway non-toxic bakeware looks in my kitchen. It's stunning, and there are so many stylish colors to choose from. I also love that all parts to my Caraway Bakeware are oven safe and won't rust. I've had to throw away many rusty, warped baking sheets. It's a bonus that all of my baked goods have heated up evenly and I don't have to worry about fluorinated chemicals leaching into my baked goods. I'm a huge fan of the non-stick surface and I love how easy Caraway pans are to clean.
Caraway Bakeware Features
Caraway cookware and bakeware features an aluminum core completely surrounded in sol-gel, a ceramic non-stick coating. This ceramic coating is made from inorganic natural ingredients that are 100% safe to use in contact with all foods (FDA approved). The main ingredient in the coating is silicon dioxide (silicon and oxygen), which is what sand is made of. If you're looking for the best, safest, healthiest non-stick bakeware, Caraway is the way to go!
You can purchase Caraway bakeware pieces separately:
Or you can purchase a Caraway bakeware bundle:
Caraway bakeware comes in an array of beautiful colors to compliment your kitchen: cream, navy, slate, gray, perracotta, sage and marigold. They also carry an Iconic color scheme – black or white (with gold handles if handles are present)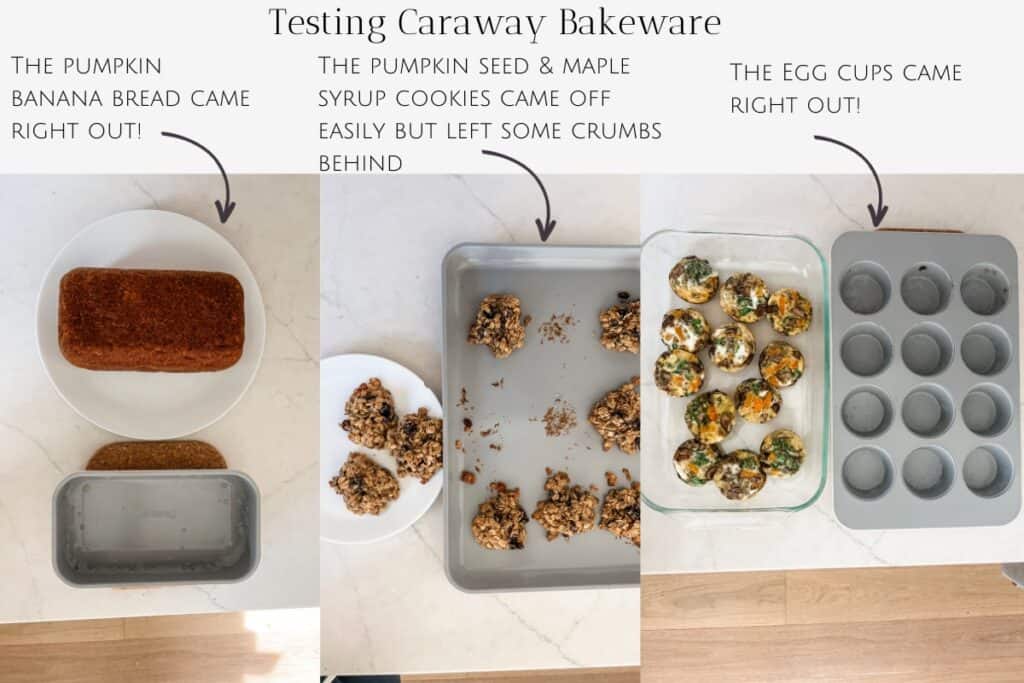 My Experience With Caraway Bakeware
When I'm baking, I usually go through the tedious process of cutting out the right size of parchment paper to fit the pan. If I'm baking a cake, I also butter and flour the sides. In order to properly test the non-stick ability of the Caraway pans, I skipped the my normal routine and simply went without any preparation like parchment paper.
I made a batch of veggie egg cups to test the muffin pan. After taking them out of the oven and cooling for a few minutes, the egg cups slid right out of the muffin pan with no stuck food on the sides.
I made a batch of pumpkin seed maple syrup cookies to test the baking sheet. After taking the cookies out of the oven and letting them cool, I found that they did not slip off the surface. I had to run a silicone spatula under them to get them off, and some crumbs stuck to the bottom of the baking sheet. During the removal process, the integrity of the cookie remained, so I wasn't left with crumbly cookies. The crumbs cleaned off fairly easily.
I then tested the loaf pan with a loaf of banana pumpkin bread. After taking the bread out of the oven and letting it cool for a while, the bread slipped right out of the pan with no sticking.
All in all, I was impressed with the non-stick ability of Caraway non-toxic bakeware, although if you bake with super sticky ingredients like maple syrup or honey, your baked goods may not slide off quite as easily and there may be some crumbs left behind.
What Sets Caraway Bakeware Apart From The Rest
Caraway non-toxic bakeware is oven-safe up to 550 degrees F. 
At high heat (500°F), fluorinated non-stick coatings release fumes that are potentially harmful to your health. PFAS has even been linked to certain types of cancer. Have you heard the term "canary in a coal mine"? In this case, it's "canary in the kitchen". Hundreds of pet bird deaths have been blamed on toxic emissions from PFAS-coated non-stick cookware.
Caraway bakeware has an edge on planet-friendly practices. Caraway's manufacturing process releases 60% less CO2 compared to conventional methods. Your Caraway product will arrive at your home in recycled cardboard packaging with a complimentary sustainable cork trivet. Caraway treats workers at all levels of manufacturing in an ethical manner with fair pay, regulated hours and benefits.
What Are The Cons Of Caraway Bakeware?
You can't use metal utensils on the non-stick coating. Depending on how you use this type of bakeware, the coating may not last that long. Basically you can't scratch the surface or be rough and aggressive with your baking. The bakeware may last longer than the cookware since most of us aren't constantly stirring and scraping. I've had mine for years, but I'm very careful not to let the surface get scratched. The Caraway Prep & Boards Set includes birch wood utensils that can be used on the surface and will not scratch it. 
Caraway bakeware is not dishwasher safe.
Caraway bakeware comes in at a higher price point than your basic stainless steel sheet pan.
More Healthy Home Inspiration