The Best Patio Plants To Green Up Your Space
Green up your patio with beautiful, lush potted plants. We're sharing 12 potted plants that will transform your patio into an outdoor oasis.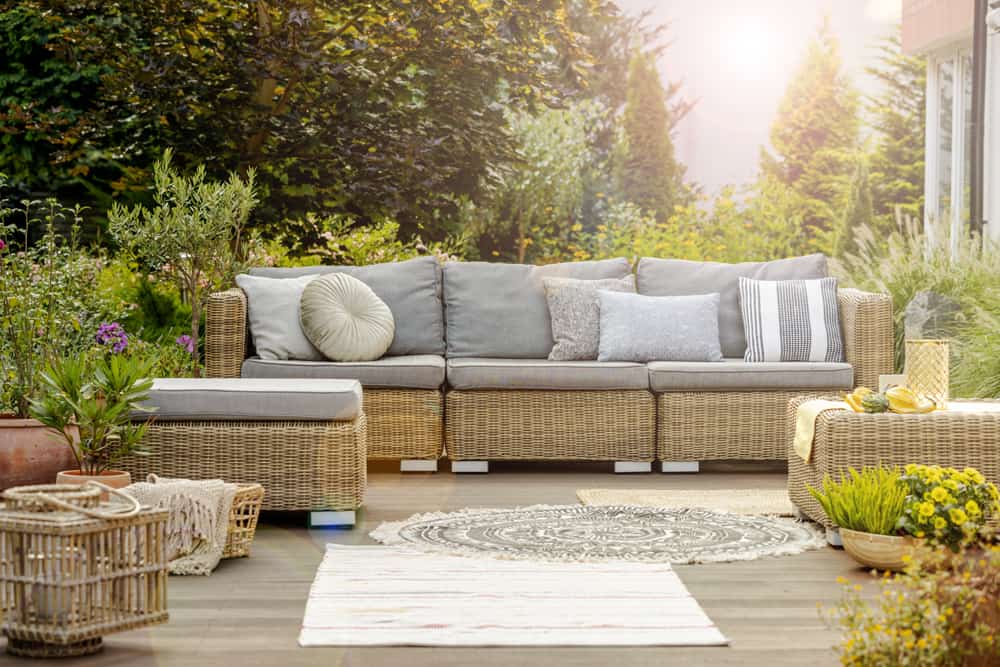 Disclosure: This post contains affiliate links, which means if you make a purchase through these links, we may receive a small commission at no extra cost to you.
With the arrival of warm weather, your patio becomes the best place to lounge and sip a refreshing drink, read a good book and hang out with friends. An inviting patio is like an outdoor extension of your living room, and comfy seating, side tables and an outdoor rug are a must. Add elements like greenery in large planters to transform your patio into an outdoor oasis. Head here for more patio design inspiration, including planters, dining sets and outdoor lighting.
We've found 12 potted plants, bushes and mini container trees to add beautiful lushness to your outdoor patio. Be sure to check your USDA hardiness zone to find the perfect plants for your location. Consider how much sun your patio gets and check the plant label to find a plant that has similar sun requirements as your patio.
Make your patio a delightful place to relax and entertain with the addition of calming, grounding patio plants like classic ferns, dwarf citrus trees or bountiful berry bushes. Look below for our favorite patio plants to add to your outdoor patio space.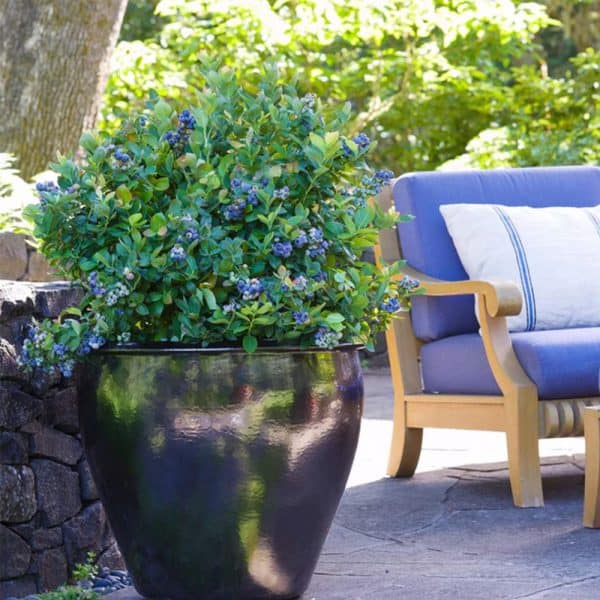 Blueberry Bush
Bushel & Berry Peach Sorbet Blueberry Bush grows into a compact shrub and is perfect for container growing. The bigger the container, the bigger your harvest. These berries taste like a combination of a homemade peach cobbler and traditional, sweet blueberries. This blueberry bush produces delicious, large berries with a firm texture. Cold Hardy. You can plant this bush in the ground and it only reaches about 2 feet in height.
Mature Height: 1-2 ft.
Mature Width: 1-2 ft.
Sunlight: Full Sun
Growth Rate: Moderate
Harvest Time: July
Year to Bear: Can Fruit the 1st Year
Botanical Name: Vaccinium corymbosum
Grows Well In Zones: 5-10 outdoors
Shop: Bushel & Berry Peach Sorbet Blueberry Bush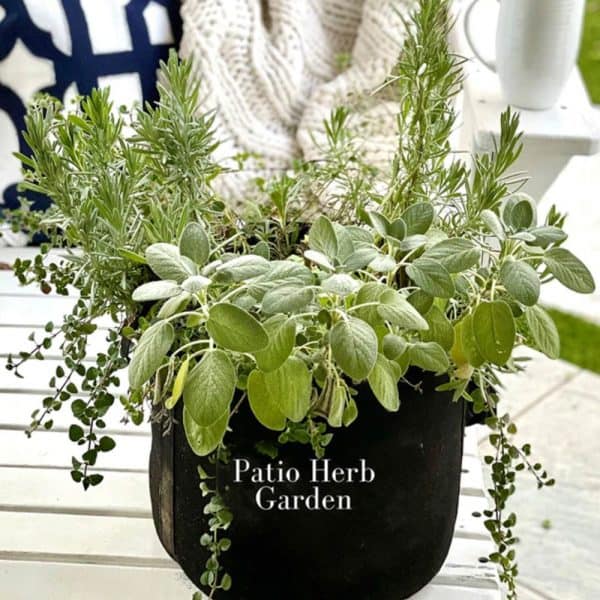 Container Herbs
This Patio Herb Garden includes everything you need to plant, grow, harvest, eat, and repeat a season of fresh herbs. The all-in-one kit includes 6 fully rooted, seasonal herb plants customized to your growing zone, a grow bag made of strong, breathable (and reusable) fabric, coir-compressed and washed coconut husks that will improve the air porosity and moisture retention of your garden's media, soil additives and customized nutrients for your plants. Your seasonal herbs will be ready for their first harvest in approximately 2-3 weeks. The more frequently you harvest the herbs, the more they'll continue to produce throughout the season.
Mature Height: 1-2 ft.
Mature Width: 1-2 ft.
Sunlight: Full Sun
Growth Rate: Fast
Drought Tolerance: Good
Grows Well In Zones: 4-11 patio
Shop: Patio Herb Garden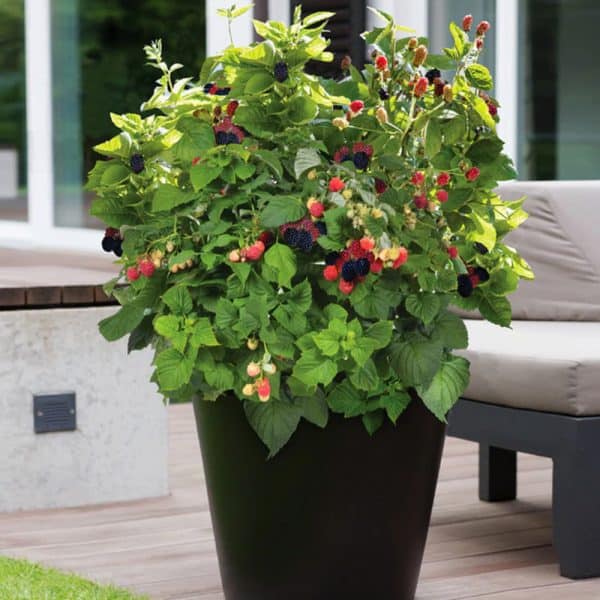 Blackberry Bush
This Bushel & Berry Baby Cakes Blackberry Bush produces fruit twice in the first year. Plant the Baby Cakes Blackberry in spring and pick the first batch of berries by midsummer. In most regions, your plant will produce two fruit seasons every year—bearing fruit a second time in fall. This blackberry plant is self-pollinating and disease-resistant. Plant in full sunlight, water regularly, and watch it blossom with beautiful white blooms in spring and big, juicy blackberries in summer and fall. Limited Yard Space? These Will Thrive in Containers. The Baby Cakes Blackberry grows up to 4 ft. tall. And 4 ft. wide.
Mature Height: 3-4 ft.
Mature Width: 3-4 ft.
Sunlight: Full Sun
Growth Rate: Slow
Botanical Name: Rubus x 'APF-236T' PP 27,032 CPBR 6,059
Grows Well In Zones: 4-8 outdoors
Shop: Bushel & Berry Baby Cakes Blackberry Bush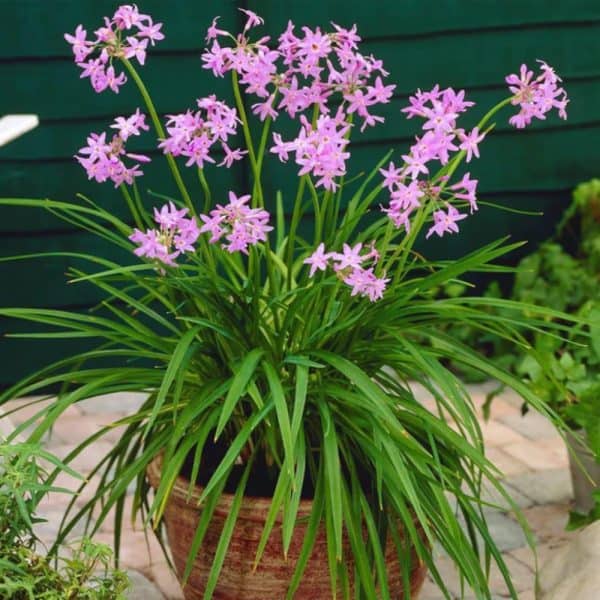 Garlic Plant
The Society Garlic Plant features soft lilac blooms and grassy, richly-hued green foliage. Spreads slowly, propagates easily and works as a showy house plant in colder areas. The Society Garlic is tolerant of both cold and drought and can be brought.
Mature Height: 1-2 ft.
Mature Width: 1-2 ft.
Sunlight: Full-Partial
Growth Rate: Moderate
Botanical Name: Tulbaghia violacea
Grows Well In Zones: 7-10 outdoors
Shop: Society Garlic Plant
Hydrangea
This Peacock Hydrangea is disease-resistant, fast-growing, and tolerant of tough conditions. Whether you live in a climate with -10-degree temperatures or reside in the desert and miss a few waterings, your Peacock Hydrangea continues to thrive.
Mature Height: 3-5 ft.
Mature Width: 2-5 ft.
Sunlight: Part Shade/Part Sun  (Zones 6-9) Full Sun in Zones 4-6
Growth Rate: Fast
Botanical Name: Hydrangea macrophylla 'Peacock'
Grows Well In Zones: 5-9 outdoors
Shop: Peacock Hydrangea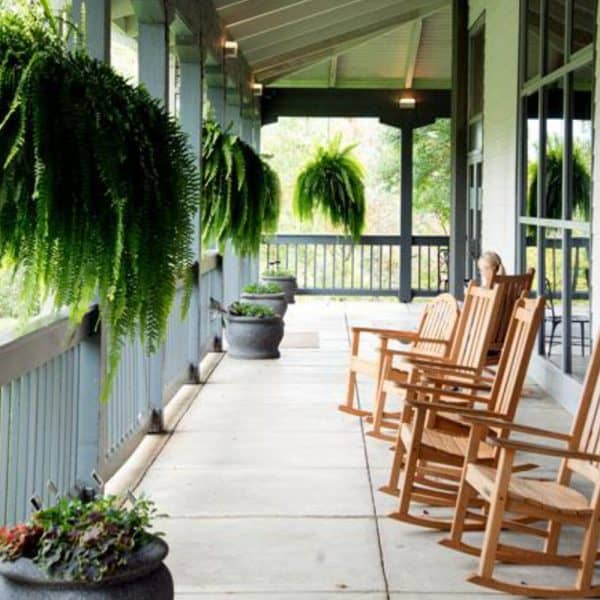 Ferns
The Boston Fern features lush green fronds in the classic fern shape. It loves humidity and indirect light. This plant is non-toxic and safe for pets.
Mature Height: 2-3 ft.
Mature Width: 2-3 ft.
Sunlight: Full-Partial
Growth Rate: Fast
Botanical Name: Nephrolepis exaltata
Grows Well In Zones: 4-11 patio / 9-11 outdoors
Shop: Boston Fern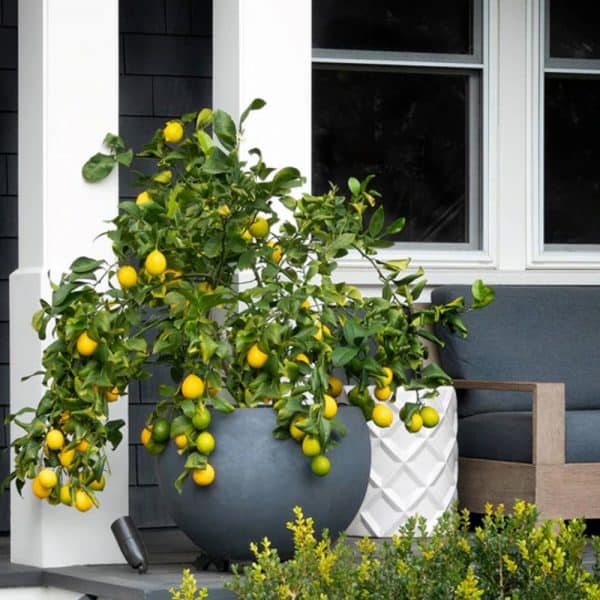 Lemon Bush
Meyer Lemons are a cross between sour lemons and sweet oranges. This Meyer Lemon Bush is a prolific producer of sizeable lemons, and you'll get fruit as soon as the first year. It thrives indoors or out. The blooms self-pollinate, so you can produce fruit and one-of-a-kind fragrance with just one bush.
Mature Height: 5-10 ft. unpruned
Mature Width: 3-4 ft.
Sunlight: Full Sun
Spacing: 8-10 ft.
Growth Rate: Moderate-Fast
Drought Tolerance: Good
Harvest Time: February-March
Year to Bear: Can Fruit the 1st year
Botanical Name: Citrus × meyeri 'Improved'
Grows Well In Zones: 4-11 patio / 8-11 outdoors
Shop: Meyer Lemon Bush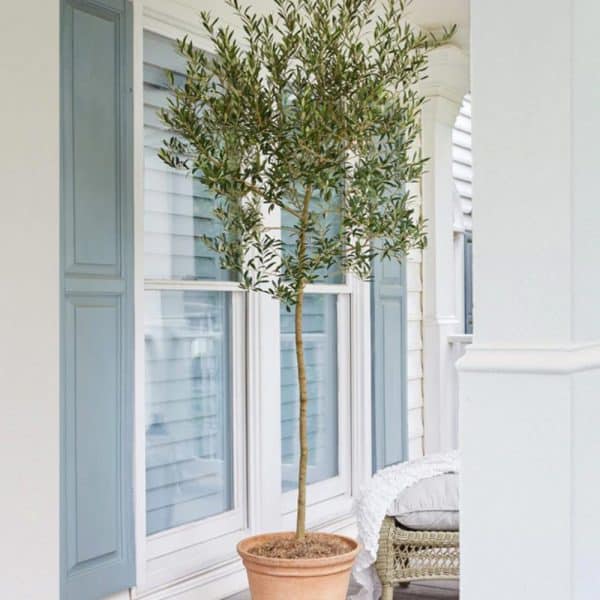 Olive Tree
Arbequina olives have amazing, rich flavor. This Arbequina Olive Tree produces up to 20 pounds of olives each year. They're seldom bothered by pests and will grow organically. Plant outdoors in areas with temperatures as low as 10 degrees. Drought tolerant.
Mature Height: 20 ft.
Mature Width: 12 ft.
Sunlight: Full-Partial
Growth Rate: Moderate
Harvest Time: October-November
Year to Bear: Can Fruit the 1st year
Botanical Name: Olea europaea 'Arbequina'
Grows Well In Zones: 4-11 patio / 8-11 outdoors
Shop: Arbequina Olive Tree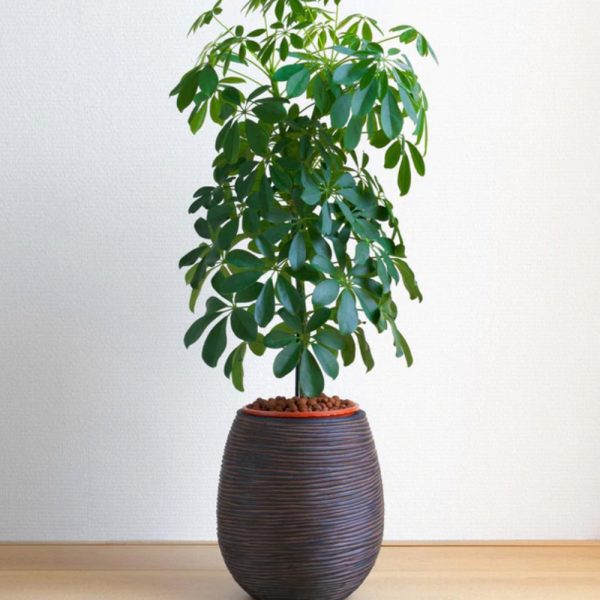 Dwarf Umbrella Tree
Easy to Grow, Indoors or Out. The Dwarf Umbrella Tree features no-fuss maintenance and year-round, glossy dark green leaves. The Dwarf Umbrella Tree is perfect as a house or patio plant in colder climates, but must stay indoors in the winter. In warmer climates (growing zones 9-11) the Umbrella Plant can be planted outdoors.
Mature Height: 10-15 ft. (easily trimmed)
Mature Width: 8 ft.
Sunlight: Indirect Light
Growth Rate: Moderate
Botanical Name: Schefflera arboricola
Grows Well In Zones: 4-11 patio / 9-11 outdoors
Shop: Dwarf Umbrella Tree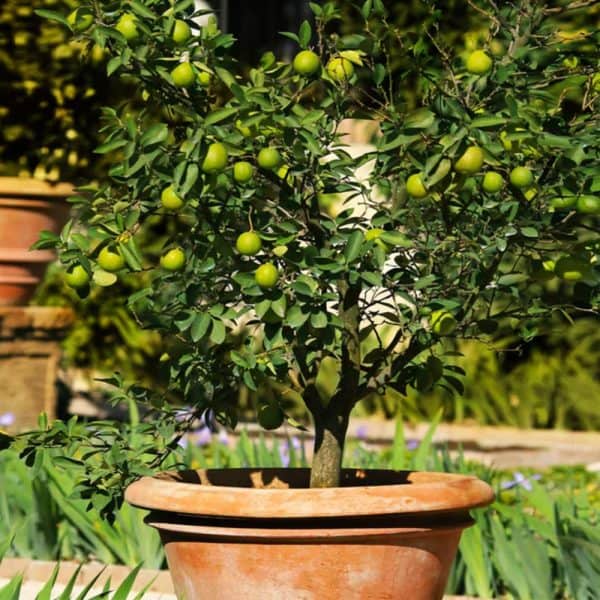 Key Lime Tree
Packed with delicious, deep green fruit, this Key Lime Tree will yield baskets of incredible limes either in your garden, potted on your deck or patio or inside your home. All it takes is a sunny spot in just about any location. Naturally resistant to pests and diseases, so you can grow your Key Limes organically. Larger sizes can fruit as soon as the first year.
Mature Height: 8 ft. pruned
Mature Width: 6-8 ft.
Sunlight: Full-Partial
Growth Rate: Moderate
Harvest Time: August and December
Year to Bear: Can Fruit the 1st year
Botanical Name: Citrus aurantifolia
Grows Well In Zones: 4-11 patio / 8-11 outdoors
Shop: Key Lime Tree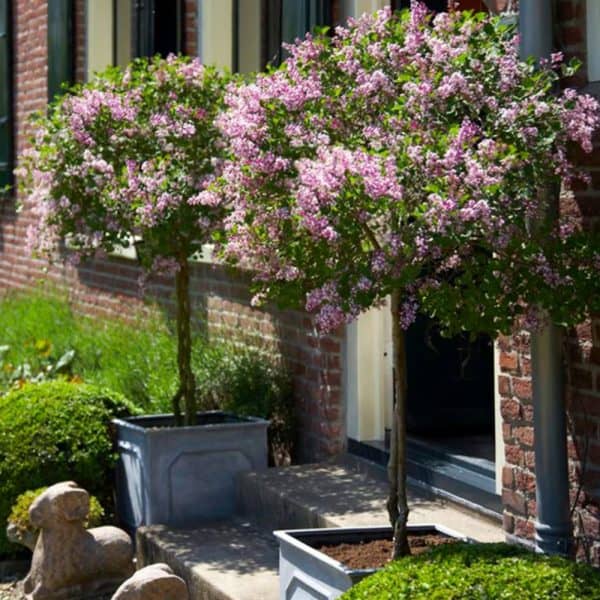 Bloomerang Lilac
This Bloomerang Lilac Tree blooms twice each year – once in mid-May and again from July until the first frost. It has a signature fragrance described as a jasmine-like scent that's refreshing and sweet.
Mature Height: 6-7 ft.
Mature Width: 4-5 ft.
Sunlight: Full Sun
Growth Rate: Fast
Botanical Name: Syringa 'SMSJBP7' PP26549
Grows Well In Zones: 3-7 outdoors
Shop: Bloomerang Lilac Tree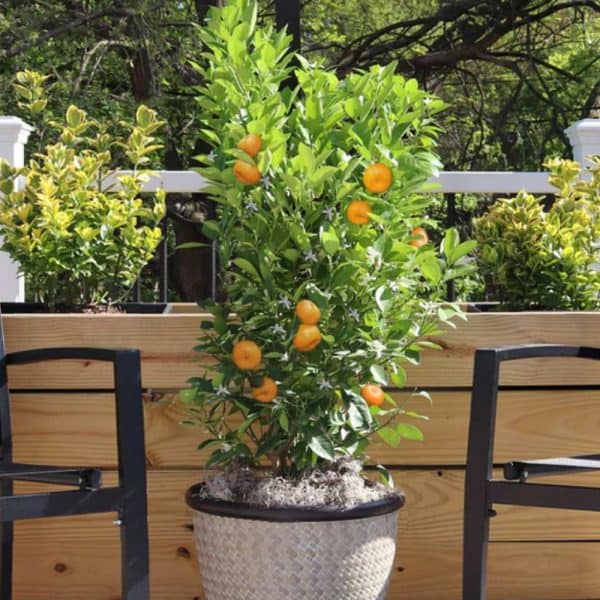 Calamondin Bush
The Calamondin Bush produces cold hardy and crisp citrus that are a cross between a mandarin and a kumquat. The Calamondin Bush can be grown in a container or as a hedge. In colder climates, grow the Calamondin Bush in a container and move it indoors during winter months, or cover your outdoor bushes for chilly weather easily.
Mature Height: 8 ft.
Mature Width: 5 ft.
Sunlight: Full-Partial
Growth Rate: Moderate
Drought Tolerance: Good
Harvest Time: August-October
Year to Bear: Can Fruit the 1st year
Botanical Name: Citrus mitis
Grows Well In Zones: 4-11 patio / 8-11 outdoors
Shop: Calamondin Bush
More Backyard & Organic Garden Inspiration