Eco-Friendly & Non-Toxic Gift Ideas For Dog Lovers
Whether your dog loves toys, treats or pampering gifts, this gift guide has eco-friendly and non-toxic gift ideas for your loyal pooch. There are also a few gifts that will make your life easier as a pet parent! From organic dog treats to an eco-friendly leash to a non-toxic ball, you'll find the perfect gift for your dog in this eco-friendly and non-toxic gift guide.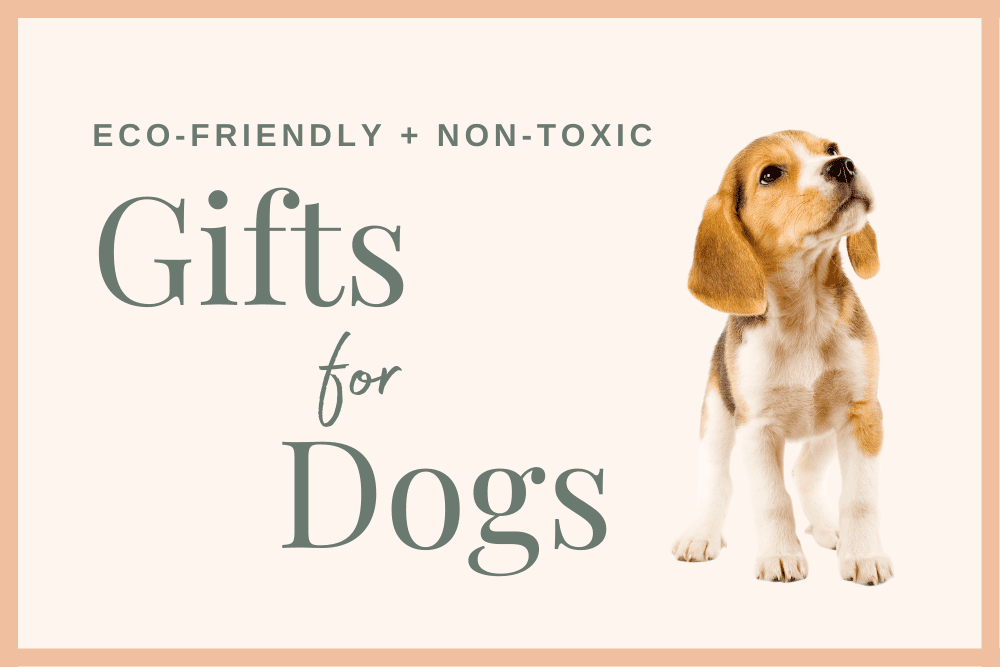 Disclosure: This post contains affiliate links, which means if you make a purchase through these links, we may receive a small commission at no extra cost to you.
Are your furry friends on the gift list this holiday season? Our dog Teddy is super easy to please – he eats just about anything and chews on a wide variety of items (including off-limits household things), so finding gifts for him is never a problem. This year we're gifting Teddy some eco-friendly gifts that are made from materials like sustainable hemp and non-toxic chew toys that don't contain harmful chemicals. I care just as much about keeping Teddy healthy as I do the rest of my family.
This dog-friendly gift guide has ideas for natural treats, dog toys that don't contain harmful chemicals, an eco-friendly leash and collar, and a few extras that are helpful to pet parents, including our favorite DNA test for breed identification, and you can read more about it here. Happy dog gifting!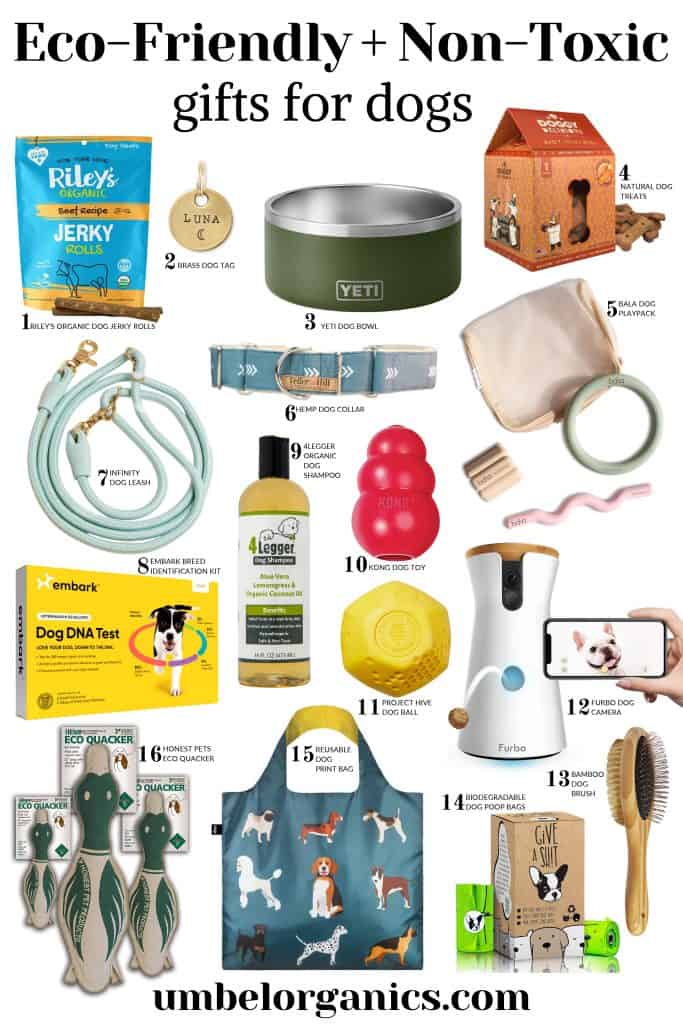 1// Riley's Organic Dog Jerky Rolls– Made with organic beef.
2// Brass Dog Tag– Hand Stamped Personalized Custom Pet ID Tags for Dogs and Cats in Solid Brass
3// Yeti Dog Bowl– The Yeti Boomer Dog Bowl holds 8 cups (64 ounces) of kibble, water, or prime cuts. Made with sturdy 18/8 stainless steel with a non-slip bottom.
4// Natural Dog Treats– No additives or preservatives, no corn, no wheat and no soy. Made with organic sweet potatoes.
5// Bala Dog Playpack– Comes with silicone-coated mini sand bangles (great for stuffing with treats) mini power ring, mini beam and mesh carrying case.
6// Hemp Dog Collar– Made with eco-friendly hemp webbing.
7// Infinity Dog Leash– Can go from a classic leash to a waist leash, tether, semi-slip collar, and so much more! Made from eco-friendly recycled polyester with brass hardware, this product repurposes roughly 5 plastic bottles.
8// Embark Breed Identification Kit– the most accurate DNA test for discovering the breed composition of your dog.
9// 4Legger Organic Dog Shampoo– Sustainably sourced, certified organic ingredients. This shampoo is perfect for dogs with itchy skin and is easy to lather and rinse.
10// Kong Dog Toy– Every dog owner should have several of these treat-stuffable, indestuctible toys.
11// Project Hive Dog Ball– The erratic bounce of this ball keeps your dog happily engaged. It is also strong and durable for aggressive chewers. Works great with dog ball throwers and is safe, non-toxic, BPA-free, latex-free, phthalates-free, durable rubber.
12// Furbo Dog Camera– 2-Way Audio & barking alert: Furbo's barking sensor detects when your dog is barking. It sends push notifications to your smartphone when it detects barking. Know what's going on at home and talk to calm them down via the app. Fun treat tossing: Toss a treat to your dogs via the free Furbo iOS/Android app. Fill it with your dogs' favorite treats & play a game of catch.
13// Bamboo Dog Brush– Double-Sided Bamboo Dog Brush with a sisal bristle side that gently pulls out loose hair and evens out their coat and a wire bristle side for thick fur and lightly-matted patches. When it's time to retire the brush, simply pull out and recycle the pins and compost the rest of the brush!
14// Biodegradable Dog Poop Bags– 100% home compostable and biodegradable dog poop bags – Our poop bags for dogs are ethically sourced and carefully manufactured from 100% botanical plant components. We use only Cornstarch, BPAT (biodegradable and compostable polymer), and edible glycerin in the nature-based creation of our dog waste bags. 10% of profits go to Soil Dog Foundation.
15// Reusable Dog Print Bag– Reusable tote for stashing all the dog things.
16// Honest Pets Eco Quacker– Made from hemp and wool.
More Gift Guide Inspiration