What Breed Am I?
With many doggie DNA testing kits on the market, we chose the most accurate one for discovering the breed composition of our puppy, Teddy. With Embark, we were excited and surprised to discover the complex mix of breeds that give Teddy his quirky characteristics and handsome good looks.
Disclosure: This post contains affiliate links, which means if you make a purchase through these links, we may receive a small commission at no extra cost to you.
Shelter dogs come in all shapes and sizes, and most people who adopt pound puppies have a burning curiosity about the breed profile of their dog. We adopted our puppy Teddy from a rescue in Denver, and the only information they gave us was that he was picked up with his sister on the streets of Kansas.
We immediately started making guesses about his breed. Jeremy was positive he was a purebred Rhodesian Ridgeback (without the ridge) and I was leaning that way too. Jeremy was so confident that he even bought a book on Rhodesian Ridgebacks! Our vet guessed lab mix, and we had plenty of strangers and friends weigh in, ranging from redbone coonhound to fox red lab to Rhodesian ridgeback and a bunch of guesses in between. Truth be told, Teddy's genetic makeup was a complete mystery.
Curiosity got the best of us, and we decided to get a doggie DNA test for Teddy. Lucky for us, Jeremy is an evolutionary geneticist by profession, so finding the best, most accurate DNA test is right up his alley, and something he can sift through and understand way more easily than I can.
After going down the rabbit hole and thoroughly researching the doggie DNA tests currently on the market, he chose Embark as the best test kit.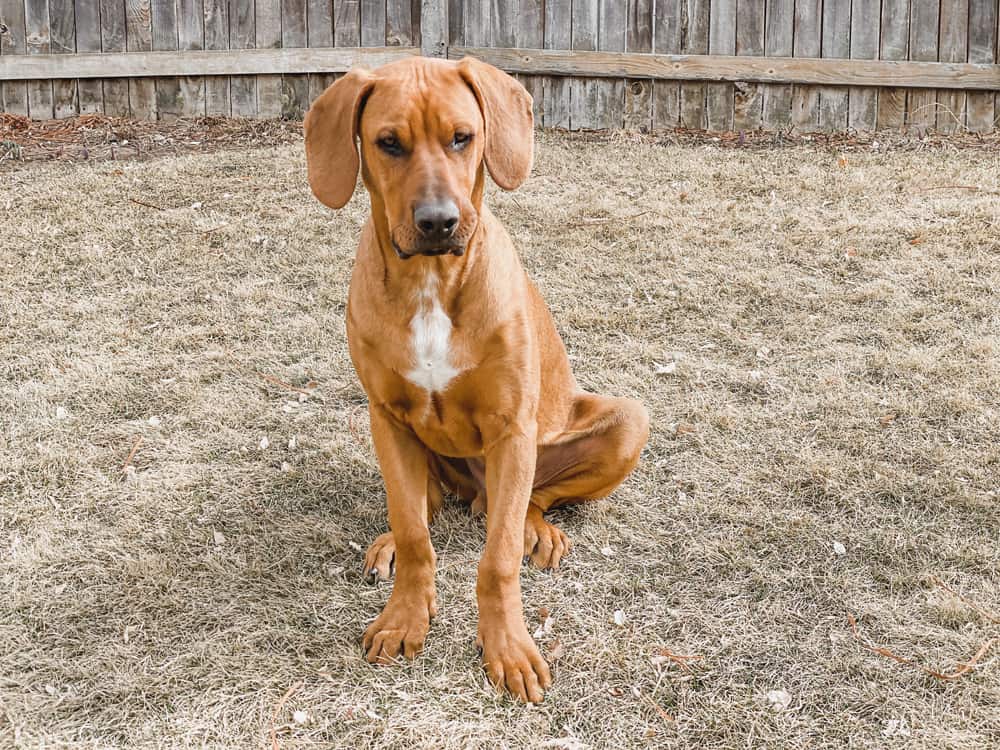 Why Embark?
Embark captures over 200,000 genetic markers, which is twice as much genetic information as the competition. In layman terms, Embark has more resolution than any other test out there, and that's especially important when you have a lot of breeds involved. Embark more accurately identifies complicated mixes of breeds.
Embark tests more breeds than any other test, over 350 breeds, types, and varieties, and even includes wolf, coyote, and village dog ancestry – together these breeds cover over 98% of dogs in America
More Facts About Embark
Embark is the official dog DNA test of the Westminster Kennel Club Dog Show.
Embark is an official research partner of Cornell University College of Veterinary Medicine and has geneticists and veterinarians on staff to ensure accuracy.
Dr. Adam Boyko of Cornell University College of Veterinary Medicine, Embark developed a custom extension of the Illumina Canine HD genotyping array capturing over 200,000 genetic markers. That's over twice as much genetic information as the competition.
Embark is the world's first canine relative finder. They connect you with other Embark dogs that are related to your pup based on the percentage of DNA they share!
How long does it take? Typical turnaround time from when your test kit is returned to us is 2-4 weeks.
You can purchase the Embark Breed Identification Kit to discover your dog's breed composition or the Embark Breed + Health Kit, which looks at over 350 breeds and more than 200 genetic health risks.
What Breed Is Teddy?
Let the results speak for themselves:
Our kids coined the term "boberman", with a long "o", for Teddy's breed mix. We did an internet search and found a breed combo called a "boxerman", and the first image that came up was a puppy that looked very similar to Teddy. Teddy is extremely smart (probably the Doberman) and also extremely stubborn (probably the Bassett Hound). He can figure out how to open complicated latches on drawers and gets commands on the first try. He is also super protective of his property, and has the deepest bark I've ever heard. Here's where the stubborn comes in: if we are on a walk and he spots something interesting, he will literally sit still and not move an inch until he is ready to get up and continue. All in all, Teddy is a lovable, sweet, delightful puppy, and we're so glad he is part of our family!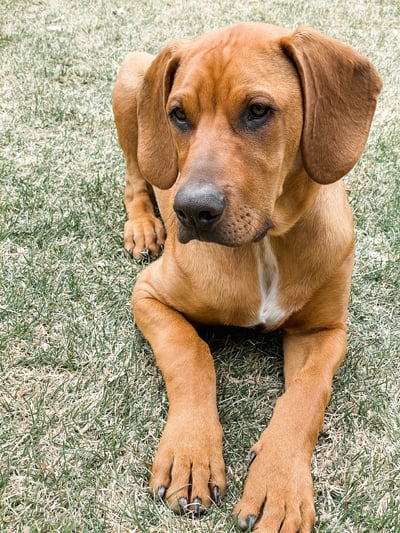 One Of Our Favorite Features Of Embark – Meet The Relatives
Embark offers the ability to find your dog's relatives – from close to distant. Embark tells you, based on science, how much DNA your dog shares with other Embark dogs in their database and offers you the ability to connect directly with them.
Do you remember when I mentioned above that Teddy was found in Kansas wandering the streets with his sister? Teddy's sister happens to be in the database, and we connected with her owner! His sister Gaia lives in Denver, and after messaging her owner, we plan to have the siblings meet at a park for a playdate! Gaia's vet guessed that she was a Rhodesian Ridgeback too. Gaia's dad told us she's just as stubborn and smart as Teddy is!
Teddy also has a purebred Doberman Pinscher auntie named Eleanor Roosevelt, and a cousin with his own Instagram account!
We had so much fun discovering Teddy's breed makeup, and would highly recommend using Embark if you're curious about your dog's breed composition.
Purchase the Embark Breed Identification Kit to discover your dog's breed composition or the Embark Breed + Health Kit, which looks at over 350 breeds and more than 200 genetic health risks. If you decide to get your dog tested, we'd love to hear the results!
More Natural Living Inspiration